February, 27, 2013
Feb 27
12:44
PM ET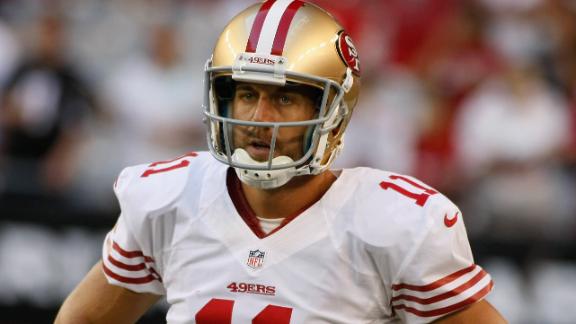 Quick thoughts after the
San Francisco 49ers
reached
agreement on a trade
sending quarterback
Alex Smith
to the
Kansas City Chiefs
:
Credit Smith: Teams covet quarterbacks, but they haven't been shelling out huge money for unproven ones since the Kevin Kolb deal in Arizona. Matt Flynngot far less last offseason, for example. The success Smith has enjoyed the past two seasons, particularly in 2012, made him more appealing than the typical quarterback to hit the trade market. The 49ers went 19-5-1 with Smith starting over the past two seasons. Go ahead and credit the 49ers' coaching staff, but also realize the Chiefs' staff, led by Andy Reid, knows a little about quarterbacks, as well.

Weak draft: Draft analysts have been lamenting the absence of top quarterback prospects in the 2013 draft. The Chiefs, with the first overall choice, might agree. They could still draft a quarterback early, but moving to acquire Smith right after the combine affirms perceptions about the quarterbacks in the next rookie class and their readiness.
Compensation: Initial reports suggest the 49ers are getting the 34th overall choice and a 2014 conditional pick from Kansas City. That would be an outstanding deal from the 49ers' perspective. Is that the full deal? We do not know whether the Chiefs were able to get any draft compensation back from San Francisco. The fact that Kansas City picks so high in the second round enhances the value for San Francisco, which also picks 31st. Stay tuned.
Cap savings: This trade means the 49ers will not have to pay a $1 million bonus or $7.5 million salary to Smith for 2013. His projected $8.5 million cap number for 2013 vanishes from the books. That should give the 49ers greater flexibility to sign other players. Of course, San Francisco is now in the market for a backup quarterback, but even a veteran will cost much less than Smith was going to cost. Starter Colin Kaepernick's contract counts $1.4 million against the cap, far below average even for backups.
Not on schedule: The 49ers do not play the Chiefs this season. The Chiefs do not play any NFC West teams. Kansas City's opponents comprise the other AFC West teams, plus Houston, Indianapolis, Dallas, the New York Giants, Cleveland, Jacksonville, Tennessee, Philadelphia, Washington and Buffalo.
Chiefs on speed dial: It's been a while since the 49ers and Chiefs collaborated on quarterback trades involving Joe Montana and Steve Bono. Still, we can add Smith's name to the list of quarterbacks San Francisco has traded to Kansas City.
The right thing: The 49ers, of course, had to look out for their own interests in dealing Smith. Still, it's good to see them trading him to a team with a solid offensive-minded coach, an established running back, potential on the offensive line and (if re-signed) a top receiver in Dwayne Bowe. Smith is falling into a relatively favorable situation. That should feel right for the 49ers, who clearly appreciated what Smith had given to the organization.
No Arizona: News broke this week that Arizona was also interested in Smith. The 49ers weren't going to make a deal in the division, most likely. The Cardinals knew that. They weren't counting on Smith. Their search for quarterback answers continues.
September, 8, 2011
9/08/11
11:02
AM ET
Cool note from ESPN Stats & Information: First-year
San Francisco 49ers
coach Jim Harbaugh is the last quarterback other than
Peyton Manning
to start a regular-season game for the
Indianapolis Colts
.
That will change when
Kerry Collins
replaces an injured Manning in the Colts' lineup for Week 1.
The first preseason game I covered as an NFL beat reporter featured Manning making his first start against the
Seattle Seahawks
in the Kingdome. His very first pass found
Marvin Harrison
for a 49-yard touchdown. Preseason games are generally without much meaning, but could there have been a more fitting beginning for Manning?
For a fuller appreciation of Manning's durability and consistency in starting 227 consecutive games, I went through Pro Football Reference counting how many quarterbacks had started for current NFC West teams since Manning made his regular-season debut. There have been 48. That figure includes 14 for the
St. Louis Rams
, 13 for the 49ers, 11 for the
Arizona Cardinals
and 10 for the Seahawks.
A few notes on the 48 players to start for current NFC West teams since 1998:
There have been two Brocks (Berlin, Huard), two Charlies (Frye, Whitehurst), two named Chris (Chandler, Weinke), two Jeffs (Plummer, Martin), three Johns (Friesz, Navarre, Skelton), one Jon (Kitna), two Matts (Hasselbeck, Leinart), two Shauns (Hill, King), three Steves (Young, Bono, Stenstrom) and two Trents (Dilfer, Green).
Two, Young and Warren Moon, have been enshrined in the Pro Football Hall of Fame since Manning's streak began.
Dilfer and Warner started for more than one current NFC West team since Manning's streak began. Warner started 57 games for Arizona and 50 for St. Louis. Dilfer started 12 for Seattle and six for San Francisco.
Hasselbeck has the most total starts for current NFC West teams with 131, followed by Marc Bulger (95 for St. Louis), Jake Plummer (73 for the Cardinals) and Jeff Garcia (71 for the 49ers).
Smith -- Alex, not Troy -- owns the most starts among current NFC West players with 50, all for San Francisco.
Eight of the 48 were one-and-done as starters: Berlin, Scott Covington, Ty Detmer, Glenn Foley, Friesz, Frye, Navarre and Weinke. Nineteen have made at least 10 starts.
The NFC West will have two starters new to the division in Week 1:
Tarvaris Jackson
and
Kevin Kolb
.
The chart shows start totals by team for the 48. The NFC West changed membership with realignment in 2002. I'm going back to 1998 for the four teams currently in the division.
June, 30, 2011
6/30/11
1:00
PM ET
»
Best of NFC
:
East
|
West
|
North
|
South
»
AFC
:
East
|
West
|
North
|
South
As part of Best of the NFL Week on ESPN.com, here are five bests for the NFC West:
[+] Enlarge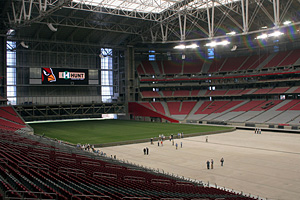 AP Photo/Roy DabnerThe Arizona Cardinals boast having the first fully retractable field in the country.
Best stadium innovation:
I'm all for downtown stadiums with open roofs and cityscape views. That wasn't practical in Arizona, where temperatures exceed even
Kurt Warner
's sizzling playoff passer rating. The Cardinals made the most of their climatic predicament by going with a retractable roof and, remarkably, what they hail as the first fully retractable
field
in the country. The natural-grass surface spends about 150 days each year basking in the Arizona sunshine, requiring only about an hour to slide back inside on a massive tray weighing 17 million pounds (the rough equivalent of 47,200 Deuce Lutuis). Cardinals players get to escape the heat on game days while playing on a natural-grass surface that ranks among the very best in biannual player surveys.
Best alumni assimilation:
This one isn't close. Keena Turner is the 49ers' vice president of football affairs. Guy McIntyre serves as director of alumni. Jesse Sapolu, Steve Bono and Eric Wright are alumni coordinators. Dwight Clark is a business consultant. Team president Jed York grew up around the team during its 1980s glory days. He was a fan first and it shows in how eagerly the 49ers embrace their past. The other NFC West teams also employ former players, but not to the same degree. Retired Rams great Jack Youngblood has even accused that organization of failing to adequately embrace its alumni.
Best team facility:
Few team headquarters in any sport can compete with the $75 million facility Seahawks owner Paul Allen constructed on Lake Washington, south of Seattle. The practice fields overlook the water, with swank homes staring back from the opposite shore. Giant doors slide up for an open-air experience in the players' weight room, offering views of the practice field and, nearby, the water. The team has flown in free agents via seaplane, docking right at the facility. Square footage is right around 200,000 -- second highest in the NFL,
according to the team
-- and includes an indoor practice facility adjacent to the locker room. No other facility in the division comes close.
Best billionaire owner:
Allen has the clear edge for now based on the Seahawks' success over the past decade, but Stan Kroenke's prospects deserve our attention. Kroenke has proven himself as a capable owner in other sports. He has also engaged his fellow NFL owners in ways Allen simply refuses to do. That gives Kroenke the ability to make the Rams more relevant at the league level. Seattle's profile has suffered with Mike Holmgren and Tod Leiweke leaving the organization in recent years.
Best training camp venue:
The Seahawks have it nice on Lake Washington, but there's something special about going away to camp if the venue is right. Northern Arizona University fits the profile for the Cardinals. It's far enough from Phoenix to escape the blistering heat, but close enough for fans to turn out in large numbers. The high-desert scenery and nearly 7,000-foot elevation combine to set apart NAU from other camp venues in the division and the league overall.
October, 9, 2009
10/09/09
2:06
AM ET

Posted by ESPN.com's Mike Sando
Eighteen years before Deion Sanders and MC Hammer would
surface as characters
in the
Michael Crabtree
drama, the following scene unfolded at Fulton County Stadium in Atlanta:
The 49ers took a late lead over the Falcons when John Taylor beat Sanders to catch a long touchdown pass from Steve Bono.
The Falcons won the game with a Hail Mary pass from Billy Joe Tolliver to Michael Haynes with 1 second remaining.
Falcons coach Jerry Glanville celebrated on the sideline by hugging and screaming with Hammer, who was decked out in violet.
Brett Favre, a Falcons rookie, celebrated on the field.
NFL Network just replayed the fourth quarter of this game. Crabtree was 4 years old when the game was played Nov. 3, 1991.
I love watching old games. This one featured a few fights. That Falcons' locker room must have been a sight with Sanders, Hammer, Andre Rison and friends.
September, 7, 2008
9/07/08
4:04
PM ET
Posted by ESPN.com's Mike Sando
SAN FRANCISCO -- Niners quarterback Alex Smith wore a sweatsuit, not a uniform, during pregame warm-ups at Candlestick Park today.
Smith stood on the sideline and chatted with the occasional passerby, at one point stepping behind the bench to speak with former 49ers quarterback Steve Bono.
The Smith-Bono pairing seemed fitting given Bono's role as player alumni coordinator. The 49ers are already on the record saying Smith's salary would prevent him from returning to the team in 2009 as a backup. The shoulder injury Smith suffered Friday might accelerate the process.
Smith told reporters a decision on his shoulder has not been made. Placing Smith on injured reserve would end his season and, most likely, his 49ers career.
August, 21, 2008
8/21/08
4:00
PM ET
Posted by ESPN.com's Mike Sando
Dan from Knoxville writes: Mike, I have been a 49ers fan since birth. I think that Mike Nolan is a great coach. Think of that HUGE mess he had to fix when he arrived. He has drafted some fantasic players and has this team so close. I have been reading that many are troubled with the future of the staff. The offense will improve this year and the defense will be scary good, just wait. If Nolan leaves, just hire Martz as the coach/OC and its problem solved. I hope to be rollin' with Nolan for a long time. Great Job on the blog. By the way, Alex Smith should lose his job. He is terrible.
Mike Sando: Mike Nolan is obviously a very good football coach. The question is whether he's a good head coach in the NFL. That distinction stands until Nolan proves he can handle all aspects of the job. The situation with Alex Smith last season was unfortunate for all involved. The head coach ultimately bears more responsibility than the then-23-year-old quarterback.
Nolan isn't to blame for losing Norv Turner. That one change might be as responsible as anything for derailing Smith's career.
---
Sam from Springfield, Mo., writes:
Mike - Now that
Steven Jackson
is ending his holdout, I am guessing that this will make Bulger a lot happier. Marc will now have Steven to get the ball to, and the opponent's defense will now have to worry about Jackson running over them, meaning that Marc will stay on his feet more often. I'm not too worried about him being able to turn on that 'NFL switch', I'm confident that he will be ready to go when we meet the Eagles. What I want to know is will Jackson being back in Horns make a difference in the NFC West standings?
Mike Sando: Yes, I do think Jackson is good enough to make that kind of difference. Without Jackson, I would put the Rams fourth in the division. With Jackson, I think the Rams have a chance to be better than that. Their depth still might be the worst in the division, but the Bulger-Jackson combination is a good one. Protection is always the key for Bulger. He's not the sturdiest guy and he's not the same when he's getting hit.
---
Jason from Greeley, Colo., writes:
Hey, Mike great job with this blog. It's nice to have another source for great Cardinals info. With all of this hoopla about Q (
Anquan Boldin
), are there any developing stories flying under the radar this week? Any stories that might be more positive? It always seems that Cardinals fans only ever get bad news; (knocking on wood that there is no more serious bad news)
Mike Sando: Thanks, Jason. Much appreciated. The added depth on defense is certainly a positive story for Arizona. Travis LaBoy and Clark Haggans should help that team. Dominique Rodgers-Cromartie is a positive story. Tim Hightower's running has been another positive development for this team. I'll be at the Cardinals-Raiders game on Saturday night, keeping an eye out for other developments, good and bad.
---
Aaron from Redmond, Wash., writes: Hey Mike! I was wondering what your thoughts are as far as the current jogjam at running back. Do any of them have any trade value? I know you have stated, and I totally agree, that Justin Forsett has done enough to earn a roster spot. But if the coaches disagree, there isn't much chance of him clearing waivers and signing him to the practice squad, is there? You stated in your coverage of saturday's game that there were scouts from 11 teams at Qwest, not including the Bears (who really need a RB). Surely more than 1 of them would take notice if he became availible. Considering we got him in the 7th round, wouldnt it be better to try and at least get back our investment by trading him for a 7th round pick? Or maybe even get a better pick, since I'm sure if the draft was done over today, that he would not last till the 7th round this time. What do you think? Are there any trade possibilities for the Hawks at RB? (preferably Duckett if anyone would want him) Or will we have to risk losing a promising young guy to another team? Thanks!
Mike Sando: Forsett is an interesting case. No team is likely to sign him as a starter. He simply isn't big enough to be that 20-carry player, most likely. The most likely scenario, I think, would be to keep six this season.