May, 20, 2013
5/20/13
6:00
PM ET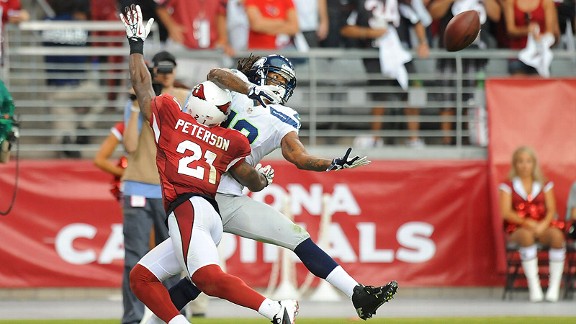 Norm Hall/Getty ImagesArizona's Patrick Peterson has Seahawks WR Sidney Rice covered during their Sept. 9, 2012 game.
Patrick Peterson
should become the best cornerback in the NFC West and beyond. The talent is obviously there. Coaches and teammates rave about Peterson's commitment.
"If we have this discussion in a year, he is top three in the league and if not, No. 1," ESPN.com NFL scout Matt Williamson predicted Monday.
Peterson's ability shined through in Cian Fahey's recently published
game-by-game analysis
using the all-22 coaches' video made available to the public last year.
Some background: Last week, Fahey
came away impressed
after taking an in-depth look at
Seattle Seahawks
cornerback
Richard Sherman
. When I expressed an interest in seeing something similar for Peterson,
Fahey said on the spot
he'd put one together within a week. Here we are.
Fahey's analysis showed Peterson at his best against wide receivers such as
Sidney Rice
,
Julio Jones
and
Roddy White
. Peterson struggled some against smaller, quicker wide receivers such as
Steve Johnson
,
Danny Amendola
and
Davone Bess
.
Michael Crabtree
's physical play around the goal line was also a problem. Physical play is one area where Sherman in particular excels among corners.
"There is no shame in spending time as a prince learning the role of the king before you take his seat," Fahey concluded. "For most, it is a necessary step. Peterson is an exceptional talent and athlete, but he is no exception when it comes to developing as a pro. He must refine his talent, but once he does he may have no equal."
Unlike Sherman, Peterson often tracked the opponent's best wide receiver all over the field, play after play. That made Peterson's job tougher than Sherman's job, a key distinction when evaluating the best cornerbacks.
Darrelle Revis
, widely regarded as the NFL's top corner before suffering a knee injury last season, has set the standard recently for eliminating opponents' top wideouts.
"Peterson can be a Hall of Fame corner," Williamson said. "In a league full of superb athletes, he is in the top 1 percent. He is not yet half the technician of Revis, but he is learning and his upside is higher than the upside for any corner in the league."
Peterson's relative difficulties against slot-type receivers might not be a problem to the same extent in the future. One, Peterson will most likely continue to improve. Two, Arizona added slot corners
Javier Arenas
and
Tyrann Mathieu
to match up with some of those smaller, shiftier wideouts.
"Slot corner is really its own position," Williamson said. "A slot receiver like
Wes Welker
has a two-way go and there's no sideline as the helper for the corner. I could see Peterson being a bit of a fish out of water against some of those guys."
Cardinals receiver
Larry Fitzgerald
said last offseason he thought Peterson was quickly on his way to becoming the best cornerback around.
"From a physical standpoint, he has no weaknesses at all," Fitzgerald said. "Most guys you go against, bigger guys, I can manipulate them on the field or physically. Patrick is just so different. He has the game-changing speed. He can run with anybody in the league. His ball skills are like playing with another receiver. He can tackle you in the run game. He knows what's going on, is a student of the game.
"You want to draft a guy to carry the torch for your team, Patrick Peterson epitomizes that. Just his maturity. He's 22 years old [now 23]. He just got married. His outlook on life, the way he carries himself, the way he performs, it's like a 30-year old. He just gets it. To get it at that young of age, that is a scary combination when you couple that with elite talent."
November, 13, 2012
11/13/12
9:57
AM ET
Falling
1. Wayward Rams rookies.
The
St. Louis Rams
battled to a 24-24 tie in San Francisco without cornerback
Janoris Jenkins
or receiver
Chris Givens
. Coach Jeff Fisher named both players inactive for violating team rules. Jenkins had been struggling in recent weeks. Givens was coming on strong and had produced at least one 50-plus reception in five consecutive games, a rookie record. The Rams ran their offense through
Danny Amendola
, but they certainly could have used another big-play threat in such a close game. Jenkins and Givens saw their stock fall Sunday.
2. 49ers run defense.
The Rams weren't the first team to have success with inside runs against nose tackle
Isaac Sopoaga
and the 49ers' usually stellar defense.
Steven Jackson
(101 yards),
Marshawn Lynch
(103) and
Ahmad Bradshaw
(116) have topped 100 yards rushing against San Francisco over the 49ers' past four games. The team had allowed just one 100-yard rusher (Lynch) over its previous 43 games.
3. Isaiah Pead, Rams RB.
The rookie running back lost a critical fourth-quarter fumble against the 49ers. The 49ers took over at the St. Louis 20 and scored a quick touchdown for a 21-17 lead with 8:29 remaining in regulation. Pead fumbled during a kickoff return following a 49ers touchdown. The miscue was part of a 19-second sequence in which a 10-point Rams lead turned into a four-point Rams deficit.
4. Rams' opposing QBs.
The Rams sent 49ers quarterback
Alex Smith
to the sideline with a concussion Sunday. They previously picked off Seattle's
Russell Wilson
three times and sacked Arizona's
Kevin Kolb
nine times. The rough treatment largely explains why the Rams are 2-0-1 in the NFC West after going 0-6 in the division last season.
Rising
1. Danny Amendola, Rams WR.
Amendola caught 11 passes on 12 targets for 102 yards against the 49ers. Penalties wiped out a 62-yard punt return and an 80-yard reception for Amendola. So much for easing back into the Rams' offense following a five-week injury absence. Amendola ranks 14th in the NFL with 14 third-down receptions despite missing all that time. His 12 third-down receptions for first downs rank tied with
Wes Welker
and
Steve Johnson
for 12th most in the NFL.
2. Sam Bradford, Rams QB.
Aaron Rodgers
and
Tom Brady
overshadowed Bradford in the Rams' two most recent games before Sunday. Bradford stepped up in class against the 49ers' defense and won more battles than he lost. He completed 8 of 12 passes for 102 yards on third down. He completed 14 of 19 passes for 126 yards and a touchdown in the fourth quarter and overtime.
3. Ball hogs.
The Seattle defense forced the
New York Jets
into five three-and-out possessions. The Seahawks' offense possessed the ball for 12:05 of the fourth quarter. Seattle has held possession for more than 24 of 30 minutes in fourth quarters over the team's past two games. Lynch leads the NFL in rushing yards (270) for fourth quarters and overtimes. He had six carries for 60 yards in the fourth quarter Sunday. Lynch finished with 127 yards. His production helped Seattle's offense finish what its defense started.
4. Rams offensive line.
Rodger Saffold
returned to the lineup at left tackle, but the Rams were still without projected starters at left guard and center. Together, the line won more battles than it lost against the 49ers' defense. Bradford took two sacks in 39 drop backs. Jackson topped 100 yards rushing. The Rams finished with 159 yards rushing and a 4.3-yard average. They had 458 yards
May, 19, 2012
5/19/12
9:00
AM ET
There's little sense in taking the bait when
San Francisco 49ers
coach Jim Harbaugh tells a radio program
Michael Crabtree
"
has the best hands I've ever seen
on a wide receiver."
Anyone with a strong grasp of NFL history would place Cris Carter, Raymond Berry and Steve Largent on a short list for receivers with the surest hands.
Hall of Famer Ken Houston, speaking for
a 2008 piece
on all-time great wideouts, stood up for AFL stars Otis Taylor and Lionel Taylor.
"Lionel Taylor, I mean, he would catch a BB," Houston said.
Green Bay Packers
general manager Ted Thompson, speaking for the same piece, said
Randy Moss
, then with New England, had the best hands in the NFL at that time (2008).
"A lot of guys can catch," Thompson said then. "He can catch on any platform, as we say in scouting. He can adjust and catch it over the top of somebody's head, catch it falling down, and it doesn't matter if he is covered."
With Moss now on the 49ers, it is possible Crabtree does not possess the best hands among wide receivers on his own team.
Oops. I wasn't going to take the bait on this one, but now it's too late. Time to regroup.
Bottom line, I suspect Crabtree has impressed Harbaugh this offseason, and Harbaugh would like that to continue for as long as possible. By offering such strong public praise for Crabtree, Harbaugh is setting a standard for Crabtree to meet this season. He realizes Crabtree has the ability to meet that standard, or else he wouldn't make the statement.
We should all recall Harbaugh's calling quarterback
Alex Smith
"elite" and promoting him for the Pro Bowl last season. Then as now, Harbaugh was standing up for his guy. Smith enjoyed the finest season of his career and even outplayed the truly elite
Drew Brees
at times during the 49ers' playoff victory over New Orleans. The way Harbaugh backed Smith played a role in that performance, in my view.
Back to Crabtree. He has the ability to rank among the most sure-handed receivers in the game. He has not yet earned that status, but now he has little choice, right?
As the chart shows, Crabtree finished the 2011 season with 12.2 receptions per drop, which ranked 28th in the NFL among players targeted at least 100 times.
Larry Fitzgerald
led the NFL with 80 receptions and only one drop. Those numbers are according to ESPN Stats & Information, which
defines drops
as "incomplete passes where the receiver should have caught the pass with ordinary effort."
Crabtree suffered six drops last season by that standard, a few too many for the player with the best hands his head coach has ever seen on a wide receiver.
November, 23, 2010
11/23/10
10:45
AM ET
Count the
St. Louis Rams
'
Danny Amendola
and the
Seattle Seahawks
'
Mike Williams
among NFC West players to meet or exceed expectations in this unpredictable 2010 season.
Both players shined during training camps. Would they produced when it mattered? Yes, and then some.
Amendola and Williams rank among the NFL's top five in third-down receptions this season. Amendola ranks second with 22. Williams ranks tied for fourth with 20.
Both also rank among the league leaders in turning those third-down receptions into first downs. Williams ranks third with 16 conversions. Amendola ranks tied for fifth with 14.
The foot injury Williams suffered against New Orleans on Sunday has the potential to alter the Seahawks' season. Williams has become a physically dominant wideout. His ability to overpower defensive backs allows quarterback
Matt Hasselbeck
to throw with more confidence. The Seahawks have not said how long Williams might need to recover.
Another NFC West receiver you might know something about,
Larry Fitzgerald
, ranks tied for ninth with 16 third-down receptions. He is tied for 12th with 11 conversions. Teammate
Steve Breaston
has 11 conversions on 13 third-down receptions.
Frank Gore
leads the
San Francisco 49ers
in third-down receptions with 15, but only six of them produced first downs. Teams generally check down to running backs. Receiver
Michael Crabtree
has a team-high nine conversions in 10 third-down receptions.

NFC WEST SCOREBOARD
Thursday, 9/4
Sunday, 9/7
Monday, 9/8