August, 28, 2012
8/28/12
12:53
PM ET
Regular blog commenter
4949Centennial
hit the NFC West mailbag after watching the
San Francisco 49ers
' defense struggle against
Peyton Manning
and the
Denver Broncos
in the team's third preseason game.
"How concerned 49ers fans should be after Denver game?" he asks. "IMO, not much, but wanted to get your take."
Sando:
The 49ers have a well-coached defense stocked with front-line talent. They'll be fine as long as their key players remain available to them.
Aldon Smith
's health is one variable to watch.
The 49ers are not going to dominate on defense from wire to wire this season. They open at Green Bay. They play road games against New Orleans and New England. Even last season, the 49ers gave up yardage in huge chunks against the best offenses they faced.
To review
, "The 49ers allowed 422.5 yards per game last season when facing
Michael Vick
,
Matthew Stafford
,
Eli Manning
and
Tony Romo
, up from 270.1 yards per game against all other quarterbacks.
Aaron Rodgers
,
Tom Brady
,
Drew Brees
and
Jay Cutler
join Manning and Stafford on the schedule this season."
The 49ers should be better on defense even if their final stats aren't as good. They'll be more familiar with the scheme. They should be better at cornerback. The front seven remains fearsome.
But it's also possible the defense will find itself in tougher situations. The offense was sensational in avoiding turnovers last season. A few more turnovers would put opponents in better position to score points. The special teams were similarly dominant last season. A less dominant performance in that area would put additional stress on the defense.
I'm guessing the 49ers will take a couple steps backward from a statistical standpoint. But their defense should again be a strength and something that helps their chances in the postseason.
Some of the most dominant defenses in NFL history feasted on weak quarterbacks.
As we discussed
, the 2000
Baltimore Ravens
faced
Jay Fiedler
,
Brad Johnson
,
Kordell Stewart
,
Steve McNair
,
Mark Brunell
,
Vinny Testaverde
,
Jake Plummer
,
Kent Graham
,
Tim Couch
,
Scott Mitchell
,
Akili Smith
,
Doug Pederson
,
Ryan Leaf
and a declining
Troy Aikman
.
How the 49ers' schedule shapes up will hinge, in part, on how well several less-proven quarterbacks fare this season. That list includes
Christian Ponder
,
Mark Sanchez
,
Ryan Fitzpatrick
,
John Skelton
/
Kevin Kolb
,
Russell Wilson
,
Sam Bradford
and
Ryan Tannehill
.
February, 4, 2012
2/04/12
8:16
PM ET
INDIANAPOLIS -- Thirteen modern-era NFL players were finalists for enshrinement Saturday in the Pro Football Hall of Fame.
Only one was named offensive or defensive player of the year during his career.
That was the Seattle Seahawks' Cortez Kennedy. His eight Pro Bowls, all-1990s selection and
overall dominance
made my job as his presenter quite simple. State the facts and let Kennedy's career do the talking. Picking the final five out of 15 modern-era finalists is always tough, however, because it usually requires leaving off worthy candidates.
[+] Enlarge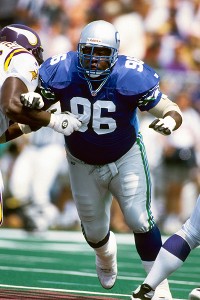 US PresswireNo doubt, Seattle's Cortez Kennedy was one of the most dominant defensive players of his era.
The 43 other selectors and I met for more than seven hours before identifying Kennedy, Chris Doleman, Dermontti Dawson, Curtis Martin and Willie Roaf as the class of 2012. Jack Butler made it as a seniors candidate.
A few thoughts on the process and the results:
This class made it through at a good time. Larry Allen, Michael Strahan, Jonathan Ogden, Warren Sapp, Bryant Young, John Lynch and Steve McNair become eligible for the first time in 2013. Shaun Alexander, Derrick Brooks, Marvin Harrison, Rodney Harrison, Tony Dungy and Mike Holmgren join the list in 2014. Isaac Bruce, Edgerrin James, Walter Jones, Junior Seau, Chris Samuels, Kurt Warner, Ty Law and Orlando Pace are among those eligible beginning in 2015.
Former St. Louis Rams
and Arizona Cardinals
cornerback Aeneas Williams should feel great about cracking the final 10 in his first year as a finalist. Williams had 55 career interceptions and scored nine touchdowns. He was a big-time playmaker for bad and good teams alike.
The situation at receiver remains a mess and it's not going to get easier with Harrison becoming eligible in a couple years. Voters are having a tough time deciding between Cris Carter and Andre Reed. Both made the final 10 this year. Reed made the final 10 last year as well. Having both crack the final 10 this year made it harder for one of them to break through. Voters were more likely to choose one wideout when forced to pick only five players.
Former San Francisco 49ers owner Eddie DeBartolo Jr. did not make the reduction from 15 to 10. I think it's tougher for voters to quantify how owners and even coaches -- think Bill Parcells, who missed the cut from 10 to five -- contributed to their teams' success. The discussions for Parcells (55-plus minutes) and DeBartolo (42-plus minutes) were more than twice as long as the discussions for other candidates. Hall bylaws prevented voters from considering the legal troubles and suspension that preceded DeBartolo's exit from the game.
DeBartolo was a finalist in part because he hired Bill Walsh, promoted a winning culture, cared tremendously for his players and helped win five Super Bowls. He spent this weekend with former 49ers player Freddie Solomon, who is in the final days of a battle with cancer. The 49ers' renewed success this past season also reflected well on DeBartolo, who has become a tremendous resource for current team president Jed York, his nephew.
Electing one pass-rusher (Doleman, who spent part of his career with the 49ers) to the Hall could give former 49ers and Dallas Cowboys pass-rusher Charles Haley an easier time in the future. But with Strahan joining the conversation in 2013, Haley faces stiff competition again. Former Rams pass-rusher Kevin Greene did not make the final 10 despite 160 career sacks.
It's been a whirlwind day. Hall bylaws prevent me from sharing specifics about what was said in the room during the proceedings. The Hall also asked voters not to reveal their votes outright. I voted for five of the six players enshrined on the final cut and supported others. As always, however, reducing to only five in the end required leaving off candidates I hope will make it in the future.
February, 3, 2012
2/03/12
6:50
AM ET
INDIANAPOLIS —
Peyton Manning
's professional future likely does not hinge on the identity of his dinner partners.
Still, if Arizona's
Larry Fitzgerald
is indeed planning on grabbing a bite with the potential free-agent quarterback, Cardinals fans can feel a little better about their team's chances for landing Manning should he become available.

Fitzgerald has friendships with players throughout the league. He also has, at times, hinted that the Cardinals needed to make certain moves to improve their roster. A year ago, the Cardinals were reportedly
consulting Fitzgerald
on their choice of quarterback
Kevin Kolb
.
Kent Somers of the Arizona Republic
offers this on Manning: "The Cardinals likely will be among many teams to express interest should the Colts release Manning some time in the next month or so. But I would think any team interested in paying huge amounts of money to acquire Manning would want to put him through a rigorous throwing session."
Also from Somers
: Fitzgerald denies any plans to have dinner with Manning.
Dan Bickley of the Arizona Republic
says a Fitzgerald-Manning meeting is on the schedule. Bickley also quotes
Kurt Warner
as saying the Cardinals let too many good players get away following their Super Bowl run. Warner: "Any time a team starts to do that, losing pieces they say are replaceable ... you don't replace great players. They don't come around a dime a dozen. You have to hold on to them. If you can't hold on to all of them, you have to make a committed effort to hold on to some of them and build around them. They still have Larry (Fitzgerald), of course, but you need more than that to win in this business. And that's the biggest lesson the Cardinals, and any team, can learn. It's very difficult to replace guys who are integral to a team's success."
Darren Urban of azcardinals.com
checks in with Cardinals players for thoughts on the Super Bowl. Daryn Colledge, formerly of the Packers: "You think about what it was it was like going through media day and training for that extra week and spending the week. You remember what it was like going through it with your guys. I have positive thoughts about it all because I won. It's probably different than guys who did not win."
Also from Urban
: thoughts on Larry Fitzgerald, Peyton Manning and other subjects. Urban: "Tom James of the Terre Haute Tribune-Star, who has covered the Colts for years, reported mid-day that Fitz and Colts quarterback Peyton Manning were expected to have dinner, which obviously caught everyone's eye. Fitzgerald and Manning are friends — Fitz seems to be friends with pretty much every high-profile player there is — and so it could mean nothing about the future. But it's hard to believe, with everything happening, the subject wouldn't come up."

Mathew Hathaway of the St. Louis Post-Dispatch
breaks down the proposal for Edward Jones Dome upgrades delivered to the Rams by the local stadium authority. Hathaway: "The Rams have until March 1 to accept or reject the CVC proposal, and until May 1 to make a counteroffer. The two sides would go into arbitration if a deal isn't struck by June 15. Without an agreement, the Rams would be free to relocate after March 1, 2015."
Noted:
Accepting the offer seems highly unlikely. We should expect the sides to go back and forth over the coming months.
Bernie Miklasz of the St. Louis Post-Dispatch
offers various Rams notes, including one from former Tennessee running back
Eddie George
about the nature of Jeff Fisher's offense. George: "Sure, a lot of what we did was based on the power running game, but
Steve McNair
didn't get to three Pro Bowls or win the league MVP award just by handing the ball off. We did a lot of damage with our passing game. He (Fisher) likes to take shots down the field."
Jim Thomas of the St. Louis Post-Dispatch
says the Falcons' Les Snead interviewed with the Rams for their general manager's job.

Matt Maiocco of CSNBayArea.com
breaks down the 49ers' defensive line, noting that just about every player at the position performed at a high level. Maiocco on
Isaac Sopoaga
: "Sopoaga did an excellent job of clogging the middle and keeping offensive linemen from getting to the second level to block inside linebackers
Patrick Willis
and
NaVorro Bowman
. The 49ers ranked third in the NFL, allowing just 3.2 yards a carry, on run plays up the middle. That is a direct reflection on Sopoaga's ability to hold the point and stand his ground against the power run game."
Ray Ratto of CSNBayArea.com
offers thoughts on the 49ers' and Raiders' stadium situations. Ratto says the 49ers could not count on the Raiders to hold up their end in a joint-usage agreement. Ratto: "So it makes perfect sense that the 49ers are going their own way on a stadium, and that the NFL acknowledged this by freeing up the $200M in loans to help make that happen. Nobody knows what the Raiders are or what they want to be, and waiting around for them to discover that has proven far too expensive for all parties concerned."
Tim Kawakami of the San Jose Mercury News
provides details on the 49ers' new ownership situation. Kawakami: "Yu and Boston Celtics LP Mark Wan were coming on as separate 1 percent investors in the 49ers. I think both are officially co-owners now. According to an NFL source, Yu and Wan purchased the 1 percent shares for $8.5M apiece, putting a value of $850M on the 49ers franchise–interestingly, the same total as the stadium financing project. I also believe that Yu has an option to buy up to 5 percent over a period of time."
Howard Mintz of the San Jose Mercury News
provides details of the 49ers' stadium funding and the reaction from Santa Clara. Mintz: "With the stadium project steamrolling forward, Santa Clara officials did move this week to remove the only potential roadblock, filing a lawsuit to keep stadium opponents from trying to put the project back on the ballot."

Brady Henderson of 710ESPN Seattle
says Seahawks receiver
Mike Williams
plans to cut weight for the 2012 season. Williams: "I've got to get better, I've got to get faster, I've got to get more explosive. I won't be playing at 240 this year. I'm going to go down and go a lot lower than that just to give myself the best chance."
Danny O'Neil of the Seattle Times
says there's a decent chance the Seahawks and other teams with top running backs will use the franchise tag to keep them. He says
DeAngelo Williams
' five-year, $43 million contract could complicate negotiations. The franchise tag could cost about $7.7 million on a one-year basis.
Clare Farnsworth of seahawks.com
, mindful of
Cortez Kennedy
's status as a Hall of Fame finalist, says the voting process forces tough choices.
January, 18, 2012
1/18/12
1:42
PM ET
Mel Kiper's first mock draft

for 2012 provides the foundation for discussing how NFC West teams might proceed this offseason.

I'll conclude with a look at Kiper's plans for the
St. Louis Rams
, who hold the second choice.
2. St. Louis Rams: Justin Blackmon, WR, Oklahoma St.

Kiper's give:
There's a clear value question here, because I think St. Louis could leverage this position to trade down for more picks for 2012 and into the future, and then still target Blackmon perhaps a few spots later. But if the Rams can't find a dance partner for a trade, Blackmon still represents precisely what this offense needs. It should be noted there are a number of teams drafting behind St. Louis that need an elite wide receiver.
Sando's take:
Jeff Fisher will put his stamp on this draft class. Trading down makes the most sense given the Rams' many needs. Fisher wants to emphasize running the ball, protecting the quarterback and forcing turnovers. All coaches value those things, of course, but Fisher focuses more on them. Some offensive-minded coaches might be more inclined to talk about quarterback play, for example. Fisher's Titans twice used first-round picks for receivers, taking
Kevin Dyson
16th overall (1998) and
Kenny Britt
30th (2009). Adding a receiver early in the draft carries obvious appeal for the Rams. They appear less likely to re-sign
Brandon Lloyd
now that offensive coordinator Josh McDaniels has left for New England. Fisher's Titans and Houston Oilers picked among the top 10 overall three times. They chose
Vince Young
third (2006),
Adam Jones
sixth (2005) and Steve McNair (1995) third. Fisher was not the ultimate voice in personnel, however.
January, 10, 2011
1/10/11
4:59
PM ET
Clinching the NFC West title and winning a playoff game has dropped the
Seattle Seahawks
from eighth to 25th in the 2011 NFL draft order.
The slide will continue with every additional Seattle victory.
Beating St. Louis and New Orleans over the last two weeks has not filled draft needs, of course. Seattle still needs to identify its long-term quarterback. With that in mind, I've put together two charts showing quarterbacks drafted around where Seattle could have and currently would select.
The first chart shows every quarterback since 1990 drafted between the fifth and 15th overall choices, including six selected between fifth and seventh. Seattle would have been drafting in this general range if St. Louis had won the NFC West.
Arizona (fifth) and San Francisco (seventh) hold picks in this range, so the chart adds context for their choices as well.
Five of the 11 quarterbacks drafted fifth to 15th since 1990 have earned Pro Bowl honors. The three with plus signs next to their career start totals appear likely to start considerably more games in the future.
As the second chart shows, one of the nine quarterbacks drafted 20th through 30th since 1990 has earned Pro Bowl honors. One other,
Tim Tebow
, remains early enough in his career to qualify as a potential candidate for such honors down the road. Again, plus signs highlight totals likely to increase substantially over time.
Aaron Rodgers
, the lone Pro Bowl choice from this group so far, was an exception as the 24th player chosen in the 2005 draft.
NFL teams have drafted 22 quarterbacks among the top four choices since 1990. I'll list them below by overall draft spot.
First overall:
Sam Bradford
,
Matthew Stafford
,
JaMarcus Russell
,
Alex Smith
,
Eli Manning
,
Carson Palmer
,
David Carr
,
Michael Vick
,
Tim Couch
,
Peyton Manning
,
Drew Bledsoe
,
Jeff George
.
Second overall:
Donovan McNabb
,
Ryan Leaf
,
Rick Mirer
.
Third overall:
Matt Ryan
,
Vince Young
,
Joey Harrington
, Akili Smith,
Steve McNair
,
Heath Shuler
.
Fourth overall:
Philip Rivers
.
October, 28, 2010
10/28/10
4:04
PM ET
Boxing great Marvin Hagler once criticized Thomas Hearns for postponing their fight over a finger injury, suggesting a tougher man would have cut off the appendage before missing a $3 million payday.
Pro Football Hall of Famer
Ronnie Lott
once had part of a finger removed so he could play in a game for the
San Francisco 49ers
.
I recall seeing
Steve McNair
shrug off a dislocated finger during a game. Anyone familiar with NFL Network programming has probably noticed
Brian Baldinger
's pinky, which looks more like a diagram for a post pattern (not a skinny post, either). And Rams fans have probably seen former receiver
Torry Holt
's mangled finger (a "
trophy
" he credited with helping him catch passes).
Where does Rams running back
Steven Jackson
stand on the finger pain spectrum? Jackson has told reporters he plans to play in Week 8 despite undergoing finger surgery Monday,
according to Brian Stull of 101ESPN St. Louis
.
September, 8, 2010
9/08/10
10:44
AM ET
Chris Johnson
is up,
Brett Favre
is down and
Donovan McNabb
is out since
the final MVP Watch
from last season.
[+] Enlarge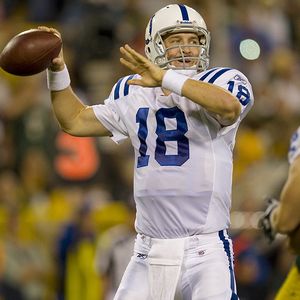 Jeff Hanisch/US PresswirePeyton Manning has thrown for 4,000 yards in 10 of his 12 NFL seasons.
The initial list for 2010 overlooks defense entirely, with good reason. Lawrence Taylor was the last defensive player to win the award and that was 24 years ago. Some of the leading defensive candidates from last season --
Elvis Dumervil
and
Darren Sharper
come to mind -- are dealing with injuries.
Peyton Manning
could win the award every season. There isn't a surer bet in the league. He's reached 4,000 yards passing nine times in the past 10 seasons and his teams have averaged 12.7 victories over the past seven. What more could anyone want from an MVP candidate?
Answer: another 2,000-yard rushing season from Johnson, this time with a winning record for the
Tennessee Titans
.
Johnson was the sixth player in NFL history to reach the milestone, but the first to do so for a team with a non-winning record. O.J. Simpson (1973), Barry Sanders (1997) Terrell Davis (1998) won MVP awards (Sanders shared his with Favre). Eric Dickerson (1984) lost out to Dan Marino. Jamal Lewis (2003) watched Manning and Steve McNair share the award. Manning beat out Johnson last season.
A look at some of the favorites heading into the 2010 season ...
January, 14, 2010
1/14/10
10:07
AM ET

Bob McManaman of the Arizona Republic
checks in with Cardinals receiver Early Doucet, who has overcome a rough start to his career. Coach Ken Whisenhunt: "One thing we've been consistent with is we've made our players earn their opportunities on the field," coach Ken Whisenhunt said. "Look at even Kurt (Warner). Kurt had to earn that job, too. I think it builds a hunger and confidence within these players. Early had it tough, but that created a toughness in Early. He understood what it took for him to prepare and get ready to play, and you're seeing it pay off now. His confidence has soared, and (against the Packers) we got a chance to see that really blossom."
Dan Bickley of the Arizona Republic
says the Cardinals' defense has much to prove against the Saints. Antrel Rolle: "People can sleep on us all they want. We know what type of defense we are. We're not always going to play our best game. But we know what we're capable of, and we realize our mistakes when they happen."
John Faherty of the Arizona Republic
says the Phoenix area is home to quite a few Saints fans displaced by Hurricane Katrina.
McManaman and Kent Somers
of the Arizona Republic offer Cardinals-related notes. Darnell Dockett and Gabe Watson want the ball in goal-line situations.
Also from Somers
: Gerald Hayes and Anquan Boldin missed practice again Wednesday. Both could practice Thursday, Whisenhunt said.
Darren Urban of azcardinals.com
says Karlos Dansby is contributing for the Cardinals even though his stats aren't as good this season. Urban: "For the Cardinals, Dansby gives the defense an anchor around which the rest of the pieces can be placed. While the veteran still can step into the spotlight -- witness Sunday's wild-card performance, when he tipped a pass to cause an interception, forced a key fumble and later returned a fumble for the game-winning touchdown -- it's Dansby's reliability that makes him valuable."
Karen Crouse of the New York Times
says Kurt Warner contemplates retirement in part because he wants to spend more time with his kids. Wife Brenda: "He wants to be as good a dad as he is a quarterback. He wants to be there, be in the moment with them, and football takes him away from that."

Jim Thomas of the St. Louis Post-Dispatch
joins colleagues in projecting Marc Bulger's future with the Rams. Thomas: "I still think it's better than 50-50 that Bulger will not be back. And if he's traded to a non-contending team he may pull a Jake Plummer and just retire. But in order to dispose of Bulger, the Rams need two quarterbacks — a veteran and a draft pick. How they fare on those two fronts over the next three months might have a lot to do with whether Bulger returns to St. Louis in 2010." I see no way for the Rams to bring back Bulger under his current contract, which features an $8.5 million salary for 2010. That is far too much money for what Bulger has been able to offer in return.
Turf Show Times' VanRam
says the stats show the Rams' offense to have been worse than its defense, and the team needs playmakers.

Matt Barrows of the Sacramento Bee
checks in with Bobby April, who met with Mike Singletary regarding the 49ers' opening for a special-teams coach. Barrows: "April, 56, said he had a good conversation with Mike Singletary in Orlando on Tuesday. He said that Singletary did not offer him the job, although the two plan to speak by telephone later this week. April also has met with the Steelers about their vacancy at special teams coordinator and that he's heard from other teams as well."
Also from Barrows
: 49ers defensive lineman Ricky Jean-Francois is awaiting word regarding the safety of relatives affected by the earthquake in Haiti. Barrows: "He said he spoke briefly with his brother who said that he had to dodge a falling ceiling fan when the earthquake struck. When he went outside, his bother saw that much of Port-au Prince, a city of 2 million, had been flattened."
Matt Maiocco of the Santa Rosa Press-Democrat
says Nate Clements, Michael Lewis and Brandon Jones need to justify their salaries or take paycuts before returning in 2010. Maiocco: "The question is whether the 49ers are prepared to pay Clements $6 million to play cornerback. That is more than twice Shawntae Spencer's scheduled salary. There is no hurry to get Clements to accept a pay cut, if that's the route the 49ers plan to take. The 49ers can hold onto Clements until the final cuts to determine what a fair price for his services would be for the 2010 season."

Dave Boling of the Tacoma News Tribune
makes the case for the Seahawks to hire Floyd Reese as their general manager. Boling: "Some of the other GM candidates may be young and promising and on the way up. But Reese has actually done this and proven he can do it over the long haul. In his first season as top executive with the franchise that turned into the Tennessee Titans, he hired Jeff Fisher, who has been the head coach ever since. ... The Seahawks have the No. 6 and No. 14 picks in the first round of the upcoming draft, so this will be critical. How has Reese done in such situations? Well, in 1996, he used the No. 14 pick to get running back Eddie George, who was offensive rookie of the year and went to four Pro Bowls. With the No. 16 pick in '99, he added defensive end Jevon Kearse … defensive rookie of the year. His No. 15 pick in 2002 was Albert Haynesworth, a two-time Pro Bowl run-stopping beast. As for that high pick? With the No. 3 selection in '95, he drafted quarterback Steve McNair, a three-time Pro Bowl player who was the NFL co-MVP in '03."
Danny O'Neil of the Seattle Times
says the Seahawks are interested in Jerry Gray as a potential defensive coordinator. O'Neil: "Gray is a candidate as defensive coordinator, and Dan Quinn, Seattle's defensive line coach, is also a consideration to keep on staff. Quinn also is thought to be a potential target of the New York Jets, whom he worked for before coming to the Seahawks. Gus Bradley, the Seahawks defensive coordinator last year, also has a chance to stay on Seattle's staff."
Also from O'Neil
: Pete Carroll's former associate, Daryl Gross, explains why he likes the Seahawks' new coach.
Greg Johns of seattlepi.com
sizes up the Rooney Rule as it applies to the Seahawks' recent coaching search. Johns: "In cases like Seattle's, where a team has already identified its top candidate, the interview becomes a token effort and seems demeaning to candidates who are essentially being used just to fulfill the obligation. Yet there is another way to look at this, even in the awkward case of Leslie Frazier's chat with Seattle. If not for the Rooney Rule, (Tod) Leiweke would have never talked to Frazier. He never would have met with him for four hours, been impressed by what he saw and then spread the word to other NFL execs who might someday be looking for their own coach."
Also from Johns
: Lawyer Milloy says Carroll's training camps were as hard as those run by Bill Parcells. Johns: "Obviously, I think the biggest difference was there wasn't the scare tactics that you had with a Parcells or (Bill) Belichick or someone like that. Does that mean he's a player's coach? I don't know. But when you go to the playoffs two years in a row, I don't think that's being a mediocre coach."
December, 13, 2009
12/13/09
10:59
AM ET

Eric D. Williams of the Tacoma News Tribune
does not expect the Seahawks to name a new general manager anytime soon. Williams: "League rules mandate that the Seahawks wait until the end of the season before asking permission of another organization to contact a potential candidate under contract whom the Seahawks covet. And if that team makes a deep run into the playoffs, Seattle may have to wait until February to finish the vetting process."
Clare Farnsworth of seahawks.com
checks in with right tackle Ray Willis, a co-captain who has started every game for the Seahawks this season. Coach Jim Mora: "Ray is a strong presence in the locker room. The guys listen to him and he's got toughness, and we're looking for toughness."
Dave Boling of the Tacoma News Tribune
profiles Seahawks linebacker David Hawthorne. Boling: "When he showed up, undersized and unheralded, Hawthorne made people notice him from the first practice. Whenever there was tackle that looked like a car wreck ... Hawthorne was involved. Whenever helmets flew off or the sound of contact caused heads to turn, Hawthorne was supplying the pop."

Kent Somers of the Arizona Republic
says the Cardinals have fared better than some teams coming off Super Bowl defeats. Kurt Warner: "I just think we believe a little bit more now than we did last year. I think there was a period of time [last season] where we were kind of satisfied with where we were. I just think confidence was built after some of the things we did last year."
Also from Somers
: Some Cardinals players are suffering from a respiratory ailment.
Bob McManaman of the Arizona Republic
says the Cardinals will not celebrate too wildly if they claim the NFC West title at Candlestick Park on Monday night.
Also from McManaman
: Karlos Dansby is playing with two separated shoulders. McManaman: "It was a play Karlos Dansby has made before, but this one was different. When he dropped back into coverage last Sunday and leaped to make a critical, two-handed interception of a Brett Favre pass, it hurt Dansby as much as it hurt the Minnesota Vikings. That's because the Cardinals linebacker has basically been playing with a pair of separated shoulders. The pain has been there for the better part of a month now, but it hasn't stopped Dansby, who, with 95 tackles, is in line to finish the season as the Cardinals' leading tackler for the third consecutive year."
Darren Urban of azcardinals.com
says having Anquan Boldin and Steve Breaston healthy makes a big difference for the Cardinals. Urban: "I don't think you can measure the impact of having a healthy Boldin and Steve Breaston back in this game, compared to the first meeting. And that doesn't include how much more effective Tim Hightower and Beanie Wells have been. I know the Cards and Niners have recently always had close games. But frankly, I don't see the teams being that close right now. Not if the Cards play the way they can."
Also from Urban
: He expects the Cardinals' offensive line to play better Monday night than it did against the 49ers in Week 1.

Jim Thomas of the St. Louis Post-Dispatch
revisits the Rams' Super Bowl victory a decade ago. Thomas: "The day after the Super Bowl, Tom Nütten boarded a pickup truck in downtown St. Louis. Each truck had a bale of straw to sit on, with two Rams players per truck. It was freezing cold. Nütten heard a din in the background, but couldn't see anything." Nütten: "And then the truck turned the corner onto Washington Avenue, and what was it -- a quarter million people on the street cheering? That gave me chills over and over again."
Also from Thomas
: a look at what members of that championship team are doing now. Linebacker Mike Morton is a dentist in North Carolina.
More from Thomas
: Alex Barron's matchup against Kyle Vanden Bosch is a key one when the Rams and Titans play Sunday.
Bernie Miklasz of the St. Louis Post-Dispatch
sound wistful looking back on that 1999 Rams season, noting that team owner Georgia Frontiere has passed away, while Dick Vermeil and Mike Martz are out of coaching and the opposing quarterback in that Super Bowl game, Steve McNair, met a horrible death. Miklasz: "Given that the 1998 Rams went 3-13, there's always hope for a turnaround. But such optimism will be difficult to muster Sunday in Nashville. Seeing the Rams and Titans will conjure up the old regrets and sorrow."
Also from Miklasz
: Steven Jackson and Chris Johnson should put on a show.

Matt Barrows of the Sacramento Bee
says 49ers receiver Michael Crabtree disputes some passes that might have been characterized as drops.
Also from Barrows
: revisiting the curse of Terrell Owens. Owens: "Maybe to remove the curse, they have to put me back in that uniform."
More from Barrows
: The 49ers' defensive backs hope an aggressive approach helps them against Larry Fitzgerald, Boldin and Breaston.
Matt Maiocco of the Santa Rosa Press-Democrat
checks in with 49ers quarterback Alex Smith, asking how Smith deals with dropped passes. Smith: "It does no good, especially during game situations, to really worry about things like that. Do your job to the best of your ability. Go out there and try to execute it. Those things are going to happen. Dropped balls are going to happen just like errant passes are going to happen. You try to minimize them as much as possible."
Also from Maiocco
: a look at the 49ers' relative success against Fitzgerald in the Nate Clements era.
Daniel Brown of the San Jose Mercury News
says the 49ers' offense is seeking improvement on third down. Brown: "The problem for the 49ers: the Cardinals defense that they face on Monday night at Candlestick Park happens to specialize in stopping teams when it counts. Arizona ranks second in the NFL by holding opponents to a 33.1 percent conversion rate on third downs. Only the Cincinnati Bengals (32.9 percent) are better. And if gets to third-and-long, forget it. Arizona has allowed only 7 of 57 third-down conversions of 10 yards or more." The 49ers fared well in third-down conversions against the Cardinals in Week 1.
John Crumpacker of the San Francisco Chronicle
profiles 49ers assistant coach Jim Tomsula. Crumpacker: "Certainly Tomsula's career arc is anything but typical. Concurrent with coaching stateside at Catawba and Charleston Southern, Tomsula hauled wife Julie and daughters Britney, now 16, and Brooke, now 14, to Europe every spring for nine years to coach in Germany, Scotland and England."
Also from Crumpacker
: Crabtree is producing.
December, 2, 2009
12/02/09
12:00
PM ET
Bill Belichick and the
New England Patriots
could not stop
Drew Brees
.
The weekly MVP Watch list stood no chance, either.
Brees' pinpoint accuracy even on long passes sent me flipping through data from ESPN Stats & Information for some sort of quantitative measure. Sure enough, it was there. Brees is the only quarterback in the league completing at least half his passes on throws traveling longer than 20 yards in the air.
The 38-yard touchdown pass Brees threw to Robert Meacham against New England couldn't have been placed any more accurately.
Brees' perfect passer rating for the game and the Saints' dominant victory against a winning team reordered the MVP Watch list at the top. Brees jumped from third to first, with
Brett Favre
and
Peyton Manning
each moving down one spot.
The NFL has not had co-MVPs since Manning and
Steve McNair
shared the award following the 2003 season.
Brees and Favre appear worthy at this point in the 2009 season (although the Titans'
Chris Johnson
might have
something to say
about that).
Favre has completed 70 percent of his passes for 1,193 yards, 12 touchdowns and no interceptions over his last four games. Brees is completing 69.9 percent with 1,111 yards, 11 touchdowns and three picks over the same stretch.
Favre draws Arizona in a nationally televised game Sunday night, a week after the Cardinals watched Tennessee's
Vince Young
pass for a career-high 387 yards against their defense. Brees draws a Redskins defense that has allowed only 11 touchdown passes all season.
Week 13 might offer an MVP opening for Manning if he can end the Titans' winning streak. Manning completed a season-high 81.8 percent of his passes for 309 yards and three touchdowns against Tennessee in Week 5.
July, 10, 2009
7/10/09
8:05
AM ET
Posted by ESPN.com's Mike Sando

Paola Boivin of the Arizona Republic says there's a market for the lifestyle Kurt and Brenda Warner promote in their new book. Recent events have created what she calls an uneasy juxtaposition: "On the same day police declared that a former NFL quarterback died at the hands of his mistress, I am staring at an active NFL quarterback luring hundreds to a book signing that celebrates his relationship with his wife and seven children."
Darren Urban of azcardinals.com, in response to SI.com's Don Banks, thinks it's no big deal if Matt Leinart spends another year on the bench. The team just paid big bucks to Kurt Warner. There's no way Leinart should get on the field if Warner is able to play.
Revenge of the Birds' Hawkwind sizes up the Cardinals' linebackers and how they fit into a 3-4 defense. He mentions nine other 3-4 teams. I would add the Broncos and Chiefs to the list.

Taylor Price of 49ers.com says kicker Joe Nedney expressed concerns for former teammate Steve McNair's family following the retired quarterback's murder. Nedney: "I'm still trying to wrap my mind about the whole situation. But ultimately my heart goes out to his family, especially to his wife Mechelle, and his four sons. I hope they can get through this whole thing, too."
Dan Brown of the San Jose Mercury News runs the 49ers' practice schedule for training camp. Only four practices open to the public this year.
David Fucillo of Niners Nation solicits votes for the best outside linebackers in team history. Dave Wilcos was a seven-time Pro Bowl choice and five-time All-Pro during the 1960s and 1970s. He had prototypical size (6-foot-3 and 240 pounds) and missed only one game to injury.

Turf Show Times' VanRam projects the Rams' 53-man roster. I love these exercises and will do them for each team periodically as the season approaches. VanRam gives the Rams four running backs, six wide receivers and 10 offensive linemen. I think keeping 10 offensive linemen would be a luxury. All but five NFL teams kept nine or fewer on the initial cutdown to 53 players last summer. Every NFC West team kept nine. But we shall see.
Nick Wagoner of stlouisrams.com checks in with tight ends coach Frank Leonard as part of his continuing series on the Rams' assistants. Leonard is one of the louder assistant coaches I've heard as far as how he projects himself during practices.
Tim Klutsarits of examiner.com breaks down some of the best players in Rams history by various positions.

John Zenor of the Associated Press
says former Seahawks running back Shaun Alexander is traveling the country on a Christian mission trip while hoping an NFL team requests his services as a player. Alexander says he has received no offers yet.
Art Thiel of seattlepi.com reports in detail from Mount Rainier following the recent climb featuring Roger Goodell and Jim Mora. Thiel: "Breaking through, Goodell and the rope teams continued at a measured pace onto the summit, arriving not long after sunrise. It was 9 degrees. The wind was picking up, clouds were back to re-sock the mountain, uncharacteristic for July. The celebration was brief in order to make safely the long slog down by mid-afternoon."
Dan Arkush of Pro Football Weekly says early signs suggest Max Unger could start for the Seahawks as a rookie. I've felt this way since draft day. Unger's versatility allows him to play any of the three interior positions, where the incumbent starters are coming off injury-shortened seasons.
Chris Sullivan of Seahawk Addicts is excited about the possibility of Unger becoming a starter.
John Morgan of Field Gulls reflects on Patrick Kerney's lost 2008 season while trying to project the Seattle defensive end's future. Morgan: "Kerney's got about as bad a bunch of injuries as a defensive lineman can have without losing his back or knees. I don't expect a precipitous drop, though it's happened to better ends than Kerney, but anything approaching his 2007 is far fetched."
July, 7, 2009
7/07/09
9:15
AM ET
Posted by ESPN.com's Mike Sando

The St. Louis Post-Dispatch reached into its archives for a 2000 story about Steve McNair's performance against the Rams in the Super Bowl. Wrote Bill coats: "Tennessee had a final drive after Isaac Bruce's electrifying 73-yard touchdown catch with 1:54 remaining. The Titans started on their 12-yard line, but the splendidly elusive McNair quickly guided them downfield. McNair wriggled out of trouble and hooked up with wide receiver Kevin Dyson for a 16-yard gain to the Rams 10. Six seconds were on the clock as the Titans took their last timeout and mapped the strategy for a final play. Again, it was McNair to Dyson, who gathered in the pass at about the 5. [Mike] Jones wrapped him up at the 3, and Dyson's outstretched arms wound up about a yard short as time expired."

Clare Farnsworth of Seahawks.com says rookie quarterback Mike Teel is eager to learn from starter Matt Hasselbeck. Teel: "I always heard about how good Matt was. To actually watch him work and the way he goes about it, the mental approach he takes towards it is incredible. For me, to come in and watch how he does it, you can't even put into words how beneficial that is."
Jerry Brewer of the Seattle Times checks in with Seahawks coach Jim Mora and NFL commissioner Roger Goodell as they prepare to climb Mount Rainier. Brewer: "I've been looking at Mount Rainier since I was a little boy, but I can't say that I ever aspired to climb. So now that I've kind of set my sights on this, I don't really have any goals past that as far as mountains are concerned. In terms of going to Mount McKinley or something like that after this, I don't know. I'm too old. And I've got too many kids running around that need me."
Aaron Weinberg of Seahawk Addicts challenges an NFC West assistant coach's contention that Hasselbeck is declining. Weinberg: "At 34-years-old he's not getting much better but the Addicts seam to universally agree that a healthy Matt unlocks success for the 2009 season. He missed nine games last year due to injury so you might wanna' just toss out 2008. By all accounts, Matt seems healthy and clicking."

Matt Maiocco of the Santa Rosa Press-Democrat says Bob Titchenal, an original 49ers player and a former coach at San Jose State, passed away at age 91. A sign of how much times have changed: Titchenal played center on the football team at 6-foot-2 and 190 pounds.
Also from Maiocco: Allen Rossum is a prohibitive favorite to emerge as the 49ers' return specialist, although the team has depth at the position. That depth was tested last season after injuries sidelined Rossum and Nate Clements.

Darren Urban of azcardinals.com questions whether Darnell Dockett wrote the "announcement" suggesting Dockett had no plans to demand a trade or otherwise protest his contract. Urban: "Now, did Darnell write this? Uh, it's tough to think so. It's written like a press release and unlike anything Dockett has put on his Twitter page, including the tweet to announce that he'd have an announcement. ... Here's the question now: Will Anquan Boldin have a similar message when he arrives at camp?"
August, 21, 2008
8/21/08
4:00
PM ET
Posted by ESPN.com's Mike Sando
Dan from Knoxville writes: Mike, I have been a 49ers fan since birth. I think that Mike Nolan is a great coach. Think of that HUGE mess he had to fix when he arrived. He has drafted some fantasic players and has this team so close. I have been reading that many are troubled with the future of the staff. The offense will improve this year and the defense will be scary good, just wait. If Nolan leaves, just hire Martz as the coach/OC and its problem solved. I hope to be rollin' with Nolan for a long time. Great Job on the blog. By the way, Alex Smith should lose his job. He is terrible.
Mike Sando: Mike Nolan is obviously a very good football coach. The question is whether he's a good head coach in the NFL. That distinction stands until Nolan proves he can handle all aspects of the job. The situation with Alex Smith last season was unfortunate for all involved. The head coach ultimately bears more responsibility than the then-23-year-old quarterback.
Nolan isn't to blame for losing Norv Turner. That one change might be as responsible as anything for derailing Smith's career.
---
Sam from Springfield, Mo., writes:
Mike - Now that
Steven Jackson
is ending his holdout, I am guessing that this will make Bulger a lot happier. Marc will now have Steven to get the ball to, and the opponent's defense will now have to worry about Jackson running over them, meaning that Marc will stay on his feet more often. I'm not too worried about him being able to turn on that 'NFL switch', I'm confident that he will be ready to go when we meet the Eagles. What I want to know is will Jackson being back in Horns make a difference in the NFC West standings?
Mike Sando: Yes, I do think Jackson is good enough to make that kind of difference. Without Jackson, I would put the Rams fourth in the division. With Jackson, I think the Rams have a chance to be better than that. Their depth still might be the worst in the division, but the Bulger-Jackson combination is a good one. Protection is always the key for Bulger. He's not the sturdiest guy and he's not the same when he's getting hit.
---
Jason from Greeley, Colo., writes:
Hey, Mike great job with this blog. It's nice to have another source for great Cardinals info. With all of this hoopla about Q (
Anquan Boldin
), are there any developing stories flying under the radar this week? Any stories that might be more positive? It always seems that Cardinals fans only ever get bad news; (knocking on wood that there is no more serious bad news)
Mike Sando: Thanks, Jason. Much appreciated. The added depth on defense is certainly a positive story for Arizona. Travis LaBoy and Clark Haggans should help that team. Dominique Rodgers-Cromartie is a positive story. Tim Hightower's running has been another positive development for this team. I'll be at the Cardinals-Raiders game on Saturday night, keeping an eye out for other developments, good and bad.
---
Aaron from Redmond, Wash., writes: Hey Mike! I was wondering what your thoughts are as far as the current jogjam at running back. Do any of them have any trade value? I know you have stated, and I totally agree, that Justin Forsett has done enough to earn a roster spot. But if the coaches disagree, there isn't much chance of him clearing waivers and signing him to the practice squad, is there? You stated in your coverage of saturday's game that there were scouts from 11 teams at Qwest, not including the Bears (who really need a RB). Surely more than 1 of them would take notice if he became availible. Considering we got him in the 7th round, wouldnt it be better to try and at least get back our investment by trading him for a 7th round pick? Or maybe even get a better pick, since I'm sure if the draft was done over today, that he would not last till the 7th round this time. What do you think? Are there any trade possibilities for the Hawks at RB? (preferably Duckett if anyone would want him) Or will we have to risk losing a promising young guy to another team? Thanks!
Mike Sando: Forsett is an interesting case. No team is likely to sign him as a starter. He simply isn't big enough to be that 20-carry player, most likely. The most likely scenario, I think, would be to keep six this season.