NFC West:

Steve Sarkisian
December, 10, 2011
12/10/11
11:20
AM ET
A few thoughts and notes on former
Seattle Seahawks
coach Jim Mora emerging as the
next coach at UCLA
:
Mora's contract with the Seahawks runs through the 2012 season. The team is still paying him.
The Atlanta Falcons were still paying Mora when the Seahawks hired him as an assistant under Mike Holmgren before the 2007 season. A year later, the Seahawks announced Mora had signed a five-year deal that would make him Seattle's head coach once Mike Holmgren stepped down.
Mora has been working for NFL Network and as a Fox game analyst with play-by-play man Ron Pitts. He was scheduled to work the Atlanta-Carolina game Sunday. Update: This section amended after another member of the Pitts-Mora broadcast team, sideline reporter Drea Avent, deleted her tweet about Mora expressing interest in the UCLA job last week.
I've long thought Mora might be well suited for the college game, but I never envisioned him coaching for one of Washington's conference rivals. Mora played for the Huskies. He was blindsided when the Seahawks fired him to hire Pete Carroll. Now, he'll be coaching for UCLA against his alma mater -- and against Carroll's former right-hand man at USC, Huskies coach Steve Sarkisian. Weird.
Mora is tireless. He keeps himself in freakishly good physical condition. He's extremely competitive. Those qualities should serve him well as a recruiter and in general. The college game also requires coaches to become schmoozers. It requires them to relate with boosters, speak at banquets and kiss up to high school players (and their parents). Mora has a hard time hiding his true feelings. He is not a schmoozer. This could be interesting. Eventual clashes with university administrators would come as no shock.
Mora will probably be back in the NFL at some point. I wouldn't be surprised if he eventually coached at his alma mater, either. He's only 50 years old.
Mora's search for a staff at UCLA could target some current NFL assistants. Mora has ties to San Francisco 49ers running backs coach Tom Rathman. They were assistants together for the 49ers years ago. Greg Knapp, quarterbacks coach for the Houston Texans, was Mora's offensive coordinator for the Seahawks. Ed Donatell, the 49ers' secondary coach, was Mora's defensive coordinator in Atlanta. Mora's defensive coordinator in Seattle, Gus Bradley, remains in that role and presumably would have nothing to gain by taking a college job. Seahawks line coach Tom Cable was once rumored as a candidate for the UCLA job. Mora's hiring ends any shot at that happening, a good thing for the Seahawks.
Looking forward to Mora's introductory press conference. He could be entertaining -- sometimes a little
too entertaining
for his own good -- in those settings.
April, 7, 2011
4/07/11
9:53
AM ET

Aaron Wilson of National Football Post
says the Seahawks are holding a private workout with University of Washington quarterback Jake Locker. The team already has an outstanding feel for Locker. Most of Seattle's coaches and top personnel people attended Locker's recent pro day. Coach Pete Carroll and his former USC assistant, Huskies coach Steve Sarkisian, spoke at length during the pro day. Their relationship should help inform Carroll on Locker, a player Carroll already knows well from facing him in the Pac-10.
Doug Farrar of Sports Press Northwest
has a hard time envisioning Ryan Mallett fitting in the Seahawks' offense. Farrar: "The 5.47 40-yard dash Mallett ran at his pro day is a concern to a degree, but it's more about his extremely slow 10-yard splits – quarterbacks don't generally run 40 yards in a straight line, but they are often asked to get outside the pocket and make shorter runs to stay alive and continue to make plays. Because of his height, Mallett takes too long to reset his body after moving in and out of the pocket, and quarterbacks have to have quicker reactions than ever before."
Adam Caplan of Foxsports.com
says the Seahawks' contract with receiver Mike Williams is filled with incentives designed to protect the team.
Earlier:
Williams contract details
. The Seahawks set up the deal so they could get out of it at any time without much complication. I was a little surprised Williams accepted it, but his willingness to do so showed he was serious about holding up his end.

Darren Urban of azcardinals.com
is sticking with LSU cornerback Patrick Peterson as his choice for the Cardinals at No. 5. Urban: "The idea Von Miller will be selected before the Cards pick is gaining steam (at this point, I also tend to believe it). The way things break down, QB Blaine Gabbert has been popular as a remaining candidate -- along with Patrick Peterson -- and guys like Mel Kiper and Todd McShay are saying the Cards will/should take Gabbert. I'll stick with the idea of Peterson in such a scenario."
Also from Urban
: Cardinals quarterbacks coach Chris Miller reflects on how pro days have changed since he entered the NFL in 1987. Urban: "After Miller finished at Oregon, he played in three postseason all-star games – the Blue-Grey, the Senior Bowl and the Hula Bowl. He attended that year's version of the combine. Then he waited. There were no pre-draft visits to take, even though he was one of the elite quarterbacks (Miller was taken 12th, Vinny Testaverde went No. 1 while the Cards, picking sixth, took the infamous Kelly Stouffer). He didn't go to the draft either. Instead, he had about 60 family and friends at a local spot in Oregon, getting up at 4:30 a.m. – the draft was on Saturday at 8 a.m. EST, or 5 a.m. on the West Coast. No prime-time event then."

Kevin Lynch of Niner Insider
has this to say about the 49ers' new radio commentator, Eric Davis: "Davis was greatly influenced by Ronnie Lott and kept Lott's spirit alive in the locker room with his work ethic and the seriousness with the way he went about his task. Davis will likely provide more insights on what it means and what it is like to be a player, something he relayed often in his work at Comcast Sportsnet."
Daniel Brown of the San Jose Mercury News
recalls a couple classic calls from Davis' predecessor, Gary Plummer. Brown: "Plummer irritated the 49ers by admonishing receiver Michael Crabtree for his lackadaisical play. He said on the air that Crabtree ought to be benched for a Week 1 effort that included misplaying two balls into interceptions and drawing two penalty flags. Later in the season, Plummer openly questioned offensive coordinator Jimmy Raye's play-calling against the Raiders. Plummer wondered why the 49ers kept running the ball up the middle against a makeshift defensive line that was vulnerable on the edges. After Bill LaFleur shanked his final punt of a miserable 2003 season, Plummer blared: 'So long, Bill LaFleur. Get back to the sidelines, keep going and don't stop until you're on a plane.' "

Nick Wagoner of stlouisrams.com
checks in with Rams general manager Billy Devaney for thoughts as the team dives into staff meetings to discuss draft prospects. Devaney, coach Steve Spagnuolo, assistants and personnel people are meeting to discuss a different position each day. Devaney: "It's kind of fun because everybody has their say. Nobody is dogmatic. I usually don't say anything and Spags may voice an opinion a little bit here and there but we want coaches and scouts to have the freedom to express themselves without thinking, 'Oh God, the general manager or head coach doesn't like this guy.' We want them to be absolutely comfortable giving their opinions on a player."
Gary Horowitz of the Statesman Journal
catches up with Rams running back Steven Jackson, who attended an Oregon State practice recently while on business for Nike. Jackson addressed the team after practice. Jackson: "I'm not sure how long it's been since I've been on campus, but I did not know there was a weight room right there. These things that you guys have the privilege to have, understand that guys have laid the groundwork for that. And you guys will lay the groundwork for the next generation."
March, 30, 2011
3/30/11
6:32
PM ET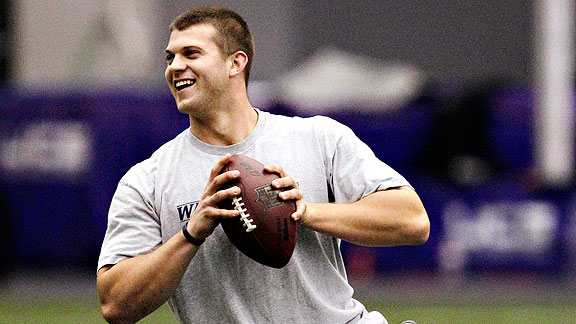 AP Photo/Elaine ThompsonWashington quarterback Jake Locker didn't appear to do anything to hurt his draft status at his pro day on Wednesday.
SEATTLE -- The guest list for
Jake Locker
's pro day at the University of Washington offered up a few surprises.
Former
Seattle Seahawks
running back
Shaun Alexander
, in town on business, dropped by the Dempsey Indoor facility. Former NFL officiating czar Mike Pereira, in town for a meeting related to his role as interim head of Pac-10 officials, also attended.
Former Washington quarterbacks Warren Moon, Damon Huard, Brock Huard (working for ESPN), Hugh Millen, Cary Conklin and Sonny Sixkiller were there.
The quarterback-needy
Tennessee Titans
sent a large contingent featuring vice president of player personnel Ruston Webster, offensive coordinator Chris Palmer and pro scouting director Lake Dawson. Keith Gilbertson (
Cleveland Browns
), Randy Mueller (
San Diego Chargers
), Bob Ferguson (
Indianapolis Colts
) and Mike Sheppard (
Jacksonville Jaguars
) were among the former Seahawks staffers in attendance.
The Seahawks' current decision-makers and most of their coaches drove over from team headquarters, no surprise given the proximity and coach Pete Carroll's ties to Huskies coach Steve Sarkisian, his former USC assistant.
But if the Seahawks' division rivals have any interest in Locker, they hid that interest quite well. The
Arizona Cardinals
and
San Francisco 49ers
did not send representatives, to my knowledge. They certainly did not have any high-profile staffers in attendance. That comes as a bit of a surprise given their obvious needs at quarterback and Locker's potential availability early in the second round, if he slips outside the first.
"I never read anything into which teams attend pro days," Locker's agent, David Dunn, said on the field following the workout. "I've had too many players selected by teams that weren't at pro days or didn't even visit with players."
Fair enough, but teams generally pay closer attention to quarterbacks. The 49ers sent Jim Harbaugh to
Blaine Gabbert
's pro day at Missouri. Cardinals coach Ken Whisenhunt ran Auburn's
Cam Newton
through various throws at a recent workout.
"With quarterbacks, you want to be able to touch and feel and see how they are as people as well as athletes and players," Dunn said.
Locker was not the only Washington prospect performing for scouts, but he was the main draw. He did nothing obvious to damage his draft stock during the workout. He completed all but a couple of passes while showing fluidity in his drops and a short delivery, according to scouts who agreed to speak in general terms and not for attribution.
"I've never nitpicked a guy like I've nitpicked Locker," one of them said. "The guy is a winner, and at the end of the day that has to count for something."
Locker has been working with former NFL quarterback Ken O'Brien to bring his hand over the top more quickly when delivering the ball.
The controlled environment was set up to make him look good. No NFL coaches or personnel people asked Locker to perform unscripted throws. They watched Locker zip the ball with ample velocity and accuracy most of the time, save for a couple high throws that his overworked wide receiver, D'Andre Goodwin, snatched away from his body.
"I'm focusing on the fluidity of the drop, getting my feet in the right spot and just bringing the hand over the top as quickly as I could, rather than dragging my hand," Locker said afterward. "I have a tendency to do that sometimes. I want to bring my hand over the top and really point that finger at my target. I have been spinning the ball a lot better and it's been coming off my hand a lot better."
Locker's relatively low completion percentage at Washington and his inexperience running a pro-style offense have raised questions about his readiness for the NFL. Can he read defenses? Can he throw accurately and on time from the pocket? To what degree did a weak offensive line and receiving corps hamstring him in college?
I've heard differing opinions from scouts as to how well Locker would fit with the NFC West teams that need quarterbacks (Seattle, Arizona and San Francisco).
"A lot of people seem to have him pinpointed to Seattle at No. 25, but I don't think that makes any sense at all," Matt Williamson of Scouts Inc. said. "It works for people who do not know the X's and O's of it all. At 25, he has some value. He went to school in that area. It is easy to say that is a good fit, but I think Seattle is going more and more to a pure West Coast offense, and Locker doesn't fit the West Coast offense at all."
The Cardinals pick fifth and the 49ers pick seventh, earlier than Locker is expected to come off the board. Seattle is one of the few quarterback-needy teams picking later in the first round, when Locker figures to become a more likely selection.
"Jake seems to be an acquired taste," Dunn said. "The more you watch him on film, the more that you are around him, the more you like him."
How well Locker would fit with the Seahawks could hinge on the degree to which Williamson is right in his assessment of how Seattle's offense will evolve.
New coordinator Darrell Bevell comes from the Andy Reid/Mike Holmgren branch of the West Coast offense, a branch that relies more heavily on short, precise passes. Before Bevell replaced Jeremy Bates, the Seahawks had been running Mike Shanahan's version of the West Coast system featuring more quarterback movement, hard play-action fakes and deeper throws requiring greater arm strength.
Carroll, who attended the workout Wednesday, has said the Seahawks do not plan to significantly diverge from the system they ran last season. But it's plausible to think that Bevell's background could steer them away to some degree.
"You do have to be a precise passer in a Bill Walsh, traditional West Coast offense," Rob Rang, senior analyst for NFL Draft Scout, said from the Dempsey Indoor facility. "But I like any offense that is going to use Jake Locker's mobility as an asset rather than just keeping him pinned in that pocket. If you can use his legs as a weapon, that is where he has been his most accurate. He made significant improvements in his accuracy from the so-called pocket in this workout, but at the same time, his strength remains throwing on the move."
Rang said he would draft Locker in the first round as long as the team in question has a veteran starter in place.
I stood next to Moon, the retired Hall of Famer, throughout the workout. Moon said he sees the NFL game evolving to favor quarterbacks with mobility. Life for traditional pocket passers is getting tougher, in his view. Locker's athleticism and scrambling ability separate him from most prospects. He has run the 40-yard dash in 4.52 seconds, a time that holds up against those posted by some wide receivers. But quarterbacks must also succeed as pocket passers to make it in the NFL.
"Locker is pretty accurate outside the pocket," Williamson said, "but as far as going 1-2-3 and getting it out, having good footwork, hitting a guy in stride, he is terrible. I don't see that fit at all. I do not think he is going to be the precise passer Harbaugh is looking for, either. I can see someone like Arizona being really interested in him in Round 2. They might like a more 'toolsy' guy, like a
Ben Roethlisberger
."
Williamson sees Locker appealing to a coach such as Shanahan, who might see Locker as a cross between
Jay Cutler
and
Jake Plummer
, two quarterbacks Shanahan coached in Denver. That's the type of quarterback Seattle was seeking when Jeremy Bates was coordinating their offense. It's the type of quarterback the Seahawks might still value if Bevell installs the type of system Carroll has favored previously.
"I don't know in the NFL right now if people run different offenses," Sarkisian said. "It's so much of a copycat league and everybody runs so many things that are similar that it's hard to say that New England is different than Pittsburgh that is different than Seattle that is different from the Chargers. They all have their focal points, but at the end of the day, there are a lot of similarities. Things will be tailored for him [Locker], like they are for every quarterback, but I just think he fits in as an NFL quarterback."
March, 29, 2011
3/29/11
4:33
PM ET
Living in the Pacific Northwest creates travel challenges much of the time, but not Wednesday.
[+] Enlarge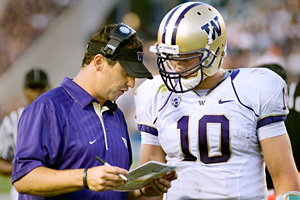 Douglas C. Pizac/US PresswireWashington Huskies coach Steve Sarkisian, left, believes Jake Locker has a bright NFL future.
Quarterback
Jake Locker
's pro day at the University of Washington makes for a relatively short drive. I'll be heading over there for the action, which
ESPN3.com will carry
at 2 p.m. ET
Three of four NFC West teams approach the 2011 NFL draft with unsettled quarterback situations. My plan Wednesday is to explore how Locker would or would not fit in the division. If you've got thoughts, please share them. I'll incorporate them in the piece I put together Wednesday.
Locker's perceived stock lacks definition within the first couple rounds.
I'm not sure what Locker can accomplish at a pro day. Throwing well in a controlled environment seemingly would not alleviate well-established concerns about accuracy. Throwing poorly would reinforce those perceptions.
Locker's college coach, Steve Sarkisian, summed up Locker this way when
speaking with reporters Tuesday
:
"My view of Jake Locker as a pro-style quarterback is that he is a true sophomore coming out early going in the NFL draft. He's had two years in a pro-style offense of learning the nuances of this thing, from the drops to the protections to the coverages to the route recognition, the reading, the route adjustments that all have to take place, the fundamentals that it takes.

"To me, his upside is huge. Whoever gets him is going to get a player that continues to deveop and is going to work at it and they are going to get someone who is a tremendous leader, not only on the field but off the field, in the community, which matters, and someone who is going to be mature enough to step into the huddle with a 10-, 12-year, 13-year, 14-year veteran and call the play with conviction, and execuate a play -- especially late in games.

"I think so much with Jake that got missed here for us, if you look at the way he performed in the fourth quarter, especially in final drives over the last two years, those were special plays and special drives. You watch the NFL on Sundays, how many times games come down to that final drive, and he's got that ability to make plays in the final drive that ultimately win games, that ultimately win playoff games, that ultimately win Super Bowls. I think that is why he is going to be special down the road."
Quarterbacks drafted early become long-term investments. They're also expected to play sooner, not later. If Locker needs some seasoning, being drafted a bit later could help his career by reducing the pressure to produce right away. Sarkisian seemed to acknowledge as much with his comments about the exceptionally athletic Locker being in the early stages of development as a pro-style quarterback.
March, 9, 2011
3/09/11
1:45
PM ET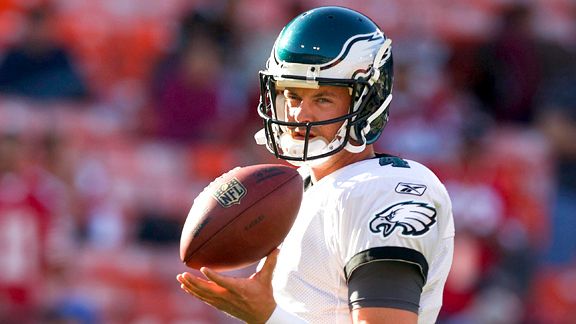 Jason O. Watson/US PresswireSeattle would be a logical destination for Kevin Kolb if the Eagles decide to trade their backup QB.
Ten years have passed since the
Seattle Seahawks
acquired
Matt Hasselbeck
from the
Green Bay Packers
and named him their starting quarterback.
That move worked out well.
Hasselbeck went to three Pro Bowls and a Super Bowl, but now he is 35 years old and without a contract for 2011. The team could still re-sign him, or it could build around a younger quarterback -- perhaps even one with a similar background.
The
Philadelphia Eagles
'
Kevin Kolb
is 26 years old and, like Hasselbeck, he learned from Andy Reid. Reid, entering his 13th season as the Eagles' head coach, oversaw quarterbacks in Green Bay during Hasselbeck's rookie season there.
The tie-ins do not end there.
Seattle's new offensive coordinator, Darrell Bevell, spent the past five seasons in Minnesota under Reid's former offensive coordinator, Brad Childress. The offense Bevell plans to run in Seattle shares a heritage with the one Philadelphia had in mind for Kolb when the Eagles drafted him 36th overall in 2007.
In other words, Kolb to Seattle would fit with history and with the present should the Eagles decide to trade him.
"I would give up my first-round pick for him in a heartbeat if I were Seattle," Matt Williamson of Scouts Inc. said.
The price of doing business
Kolb has started only seven games, all of them over the past two seasons. He has played well at times, but not well enough to beat out
Donovan McNabb
or
Michael Vick
. Those seven starts might not enhance Kolb's value, but with Vick's style inviting injuries, the Eagles could be reluctant to sell their backup.
Just about every player has a price.
In 2001, Seattle sent the 10th overall choice and a third-rounder to Green Bay for Hasselbeck and the 17th overall selection.
In 2007
, Houston sent the eighth overall choice and two second-rounders, including one in 2008, to the
Atlanta Falcons
for
Matt Schaub
and the 10th overall choice.
Seattle does not have a third-round pick in the 2011 draft. It holds the 25th overall choice, a pick slightly more valuable than
the price paid for Hasselbeck
:
The Hasselbeck trade saw Seattle send the 10th and 72nd choices in the 2001 draft to Green Bay for the 17th choice. The 10th and 72nd choices are worth 1,530 points on the NFL's trade-value chart. The 17th pick is worth 950 points. The difference between those values -- 580 points -- represents the price Seattle paid for Hasselbeck.

The 33rd overall choice is worth 580 points on the chart, meaning the Seahawks gave up the equivalent of the first choice in the second round for Hasselbeck (assuming the current 32-team structure).
With that in mind, it's tougher to envision the other quarterback-hungry NFC West teams parting with a first-rounder for Kolb. The
Arizona Cardinals
hold the fifth overall choice. The
San Francisco 49ers
pick seventh.
Seattle, by winning in Week 17 and in the wild-card round, saw its draft position fall from eighth to 25th. The fall hurt their prospects for landing a quarterback early in the draft, but that pick could still help them acquire one by trade.
"They might have to do better than that," Williamson said. "If I were Philly, I would say, 'Let me see what the Vikings are going to give up.' You might get more than Seattle's first-round pick. But that is a good opening tender. It might get it done."
The right fit
The Seahawks aren't the only NFC West team running a variation of the West Coast offense. The 49ers' Jim Harbaugh is installing one, too. That would, on the surface, make San Francisco a logical destination for Kolb as well.
That was my thinking, anyway, in
discussing
Kolb's
value
previously.
"Seattle is the best fit for him in the division," Williamson said. "San Francisco and Arizona want to be more downfield passing teams as opposed to traditional West Coast. Seattle is going to be more and more West Coast. That is what they are built to do, what they are going to do, and what Kolb is going to do."
Seahawks coach Pete Carroll has suggested his offense will change only minimally with Bevell taking over for Jeremy Bates, who was fired. Bates leaned toward Mike Shanahan's version of the West Coast offense, a variation favoring quarterbacks with stronger arms. That explains why Seattle acquired
Charlie Whitehurst
, a quarterback with a strong arm and shorter-range accuracy deficiencies, from the
San Diego Chargers
last offseason.
Harbaugh has publicly embraced the Bill Walsh offense, or at least key elements of it. But the style Harbaugh ran at Stanford would presumably carry over.
"On offense, his identity is going to be built around the power run game, play-action pass and a physical presence," ESPN Pac-10 analyst Brock Huard said when the 49ers hired Harbaugh.
Harbaugh has repeatedly talked up 2010 starter
Alex Smith
, who is unsigned for 2011.
"To jump from Smith to Kolb, I wouldn't give up the Niners' first-round pick, because he is not the perfect guy for them," Williamson said. "I'm not backing Alex Smith by any stretch of the imagination. It just doesn't seem like you give up on the pass-rusher or cornerback, someone who is going to be a staple of your defense, for Kevin Kolb when he is not the best fit for you offensively."
Alternatives in the draft
[+] Enlarge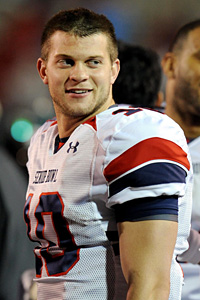 Chuck Cook/US PresswireQB Jake Locker might be available to the Seahawks, who hold the 25th pick in April, but Matt Williamson of Scouts Inc. says he's not a good fit for Seattle's scheme.
Mel Kiper's latest mock draft,
available to Insider subscribers
, has Seattle selecting Washington quarterback
Jake Locker
at No. 25. Kiper suggests Locker's accuracy might improve if given more time to throw. Seattle remains in the early stages of rebuilding its offensive line, but Locker wouldn't start right away.
Seattle will make an informed decision on Locker either way, based on Carroll's longstanding relationship with Washington coach Steve Sarkisian.
"I'd rather have Kevin Kolb than Locker," Williamson said. "He is a better fit, more proven, definitely a better NFL player today -- and it's not like he's old. I don't think Locker fits the West Coast at all. He's too erratic, has a low completion percentage and the ball doesn't come out of his hands clean all the time."
Missouri's
Blaine Gabbert
and Auburn's
Cam Newton
will presumably be long gone when Seattle uses that 25th choice. Kiper's latest mock suggests both will be gone even before Arizona selects fifth overall. Early in the evaluation process, Kiper had Arkansas'
Ryan Mallett
landing in Seattle, but Mallett hasn't even been a first-rounder in the past two Kiper mocks.
As for other top college prospects?
"I wouldn't use a pick as high as Seattle's for
Christian Ponder
or
Andy Dalton
," Williamson said.
The final analysis (for now)
Re-signing Hasselbeck still stands as a viable option for Seattle. Hasselbeck would fit Bevell's offense better than he fit Bates' system. But if Hasselbeck can get a longer-term commitment from a team better positioned to support him and win now -- Minnesota comes to mind primarily -- this could be time for Seattle to move on.
The Seahawks have positioned themselves well enough from a salary standpoint to use free agency if and when a salary cap returns. General manager John Schneider has said he'll be more aggressive than his mentor, Ted Thompson, in pursuing veterans. The team has ample resources to pursue what could be a longer-than-usual list of free agents. And the past year has shown the Seahawks will use the trade market without hesitation.
Those factors make it easier, in theory, to part with with a draft choice for Kolb.
"Keep the front seven intact, get
Red Bryant
back from injury, add
Robert Gallery
in free agency, use the second-round pick on a corner and your are a better team than you were a year ago, and the future is set up better than before," Williamson said. "You let Hasselbeck walk, you say Whitehurst could still be a high-upside No. 2, and we have our guy in Kolb. If you can get it done for the 25th pick, I'm not sure how you can pass that up."
May, 3, 2010
5/03/10
10:20
AM ET

Jim Thomas of the St. Louis Post-Dispatch
says first-round pick Sam Bradford made the Rams smile during their post-draft camp. Offensive coordinator Pat Shurmur: "Sam did a terrific job. All the reasons for drafting him were obvious. He's very smart. Got a great command of the huddle. He's got great attention to detail. By the end of the weekend, he was repeating things like he got 'em in the installations. And he's very talented. So you take the talent and then the 'work hard' and I think he progressed well in five practices."
Also from Thomas
: checking in with some of the Rams' long-shot rookies.
Bryan Burwell of the St. Louis Post-Dispatch
says Rams coach Steve Spagnuolo has a plan for Bradford, but not a concrete timetable.
Bernie Miklasz of the St. Louis Post-Dispatch
says it's time for Rams fans to move on from a troubled recent past.
Jim Rodenbush of the St. Louis Globe-Democrat
says the Rams kept Bradford under center during his first camp. Shurmur: "He's a natural quarterback. The focus of this camp was to do pretty much everything under center, so we could work on the 1-, the 3-, the 5-, the 7-step drop. As time goes on, what naturally happens is (he'll) get smoother and smoother."
Also from Rodenbush
: Spagnuolo thought rookie Mardy Gilyard appeared natural fielding punts.

Matt Barrows of the Sacramento Bee
sizes up position battles for the 49ers. Barrows: "Make no mistake. Anthony Davis is the favorite to win this battle [at right tackle] beginning in Week One, but he won't be handed the job. Adam Snyder was rolling with the first-team offense at right tackle while second-year player Alex Boone already has worked himself into the conversation after transforming his body in the offseason. [Jimmy] Raye called Boone's conditioning 'tremendous' and the best competition might end up being between Snyder and Boone for the backup spot. Conditioning will be one of the hurdles for Davis. His feet were as quick and impressive as advertised during the rookie minicamp, but he wilted toward the end of each session. He might want to do a few (hundred) gassers between now and the next OTA."
Also from Barrows
: Taylor Mays knows where he needs to improve.
More from Barrows
: Free-agent cornerback William James is expected to visit the 49ers.
Phil Barber of the Santa Rosa Press-Democrat
passes along comments from 49ers offensive coordinator Jimmy Raye. Raye on Alex Smith: "There's a tremendous change in him from the way he carries himself and walks in and out of the building with an air of confidence, a totally different guy. If you want to digress to when he came here a year ago and he was six or seven weeks into the year, it's a totally different guy. In terms of his confidence, familiarity with what he's doing, his sense of entitlement, I think all of those things are manifesting themselves right now because of the success that he had, even though some people may deem it as minimal or maybe even being a little suspect about it. For him, from what I've seen, there's been a tremendous change."
Also from Barber
: Quotes from defensive coordinator Greg Manusky.
More from Barber
: Observations after watching the 49ers' rookies. Also, Mays says his post-draft beef with Pete Carroll won't linger. Mays: "I haven't talked to him. But I'm sure I'll talk to him, and I know he didn't take it personal. And if I saw him right now, I know there wouldn't be any bad blood. I'm sure I'll talk to him in the next couple weeks. There's definitely no bad blood. I wouldn't think he'd feel that way toward me, and I hope he wouldn't think that I feel that way towards him."
Daniel Brown of the San Jose Mercury News
says 49ers first-round choice Mike Iupati is getting advice from former NFL guard Jerry Kramer. Both played at Idaho. Kramer: "He can move for a big sucker. I haven't seen a guy pull like that in a long time."
Howard Mintz of the San Jose Mercury News
says some Santa Clara residents might not want Raiders fans descending on the 49ers' new stadium as part of a shared-stadium arrangement.
David White of the San Francisco Chronicle
says the 49ers are exploring whether Ted Ginn Jr. can help them at receiver, not just as a returner.

Danny O'Neil of the Seattle Times
says defensive tackle Red Bryant is among the players getting work at defensive end in the Seahawks' new scheme. This is more evidence the Seahawks' 4-3 defense will have 3-4 characteristics and even look like a 3-4 at times.
Also from O'Neil
: Mike Williams looks like he's headed for a career revival in Seattle. Carroll: "He's definitely at a place where he's really competitive physically. It's the best I've seen him since maybe his sophomore year of college. He's very serious about it, so maybe he gets a chance to give us some help."
Clare Farnsworth of seahawks.com
says cornerback Marcus Trufant enjoyed a strong minicamp after injuries slowed him last season. Trufant did make multiple plays on the ball, although the photo associated with this item appears to show Trufant getting beat deep.
Ben Malcolmson of seahawks.com
offers photos from minicamp weekend, including one showing University of Washington coach Steve Sarkisian.
Greg Johns of seattlepi.com
passes along Bryant's thoughts on playing in a new spot. Bryant: "The only difference is it's just more space. As far as me being able to take the line of scrimmage and hold the point, I'm pretty good at that. So it almost feels natural. The transition isn't as hard as I first thought it would be. When he first told me, I didn't know. But I've been doing it a few practices now an steadily getting better. I still have a lot to work on, but the coaches believe I can play it, I believe I can play it, my teammates believe I can play it. So we'll see what happens."
Eric D. Williams of the Tacoma News Tribune
says Seahawks first-round choice Russell Okung had plenty to digest during his first minicamp.
Also from Williams
: The Seahawks like what they see from rookie receiver Golden Tate. Offensive coordinator Jeremy Bates: "I know one thing, over the past two days he's been very impressive. His work ethic has been unbelievable. He's very aggressive as far as attacking the ball when the ball's up in the air. He still has to learn the offense. He has a long way to go, and he has a big playbook to study. But we're excited to have him."
Dave Boling of the Tacoma News Tribune
says Okung was impressive Friday, then faced some challenges Saturday -- a typical pattern for rookies at their first camp. Ben Hamilton, Matt Hasselbeck and Lawyer Milloy are among the veterans lending their expertise.

Kent Somers of the Arizona Republic
says the Cardinals feel no need to rush out and sign a veteran cornerback for depth. Coach Ken Whisenhunt wants to monitor players through May and into June. Whisenhunt: "Then we'll be doing more of our sub-receiver sets where we've go three and four [receivers]. That's really where you've got the chance to see different players in different spots. I liked what I saw from the standpoint of the numbers of guys that look like they have the ability to play."
Also from Somers
: The Cardinals held their annual rookie dinner. Also, Matt Leinart wasn't wearing a glove on his throwing hand during the recent camp, a change.
Bob McManaman of the Arizona Republic
checks in with Toler, who is looking to seize a starting job at cornerback following Bryant McFadden's departure via trade. Whisenhunt: "Greg's got to earn it. "Physically, he's very gifted and we're going to have to see him do it on a consistent basis in order for him to become a starter. But you're excited because he does have the athletic tools and you have seen him do it in a game. But can he continue to do that? That's the big question."
Darren Urban of azcardinals.com
says the Cardinals expect to have each of their rookies back for organized team activities -- unlike last season, when Ohio State's graduation schedule prevented Beanie Wells from participating.
Also from Urban
: The Cardinals' young defensive backs are fighting to improve their spot on the depth chart. Dominique Rodgers-Cromartie: "When B-Mac got traded, that hurt me a little bit because he was a good, good, good friend of mine. When he was gone it was like, 'Damn, who is going to step up and be that leader?' It put pressure on us young guys to step up and do the right thing. I feel confident. I've got a player in Mike Adams. And G.T. [Toler], once he gets in that book, there will be no drop-off."
March, 11, 2010
3/11/10
9:50
AM ET

Bernie Miklasz of the St. Louis Post-Dispatch
says the Rams should draft Oklahoma quarterback Sam Bradford. Miklasz: "Bradford has accuracy, he's a winner, he scored high on the intelligence test and by all accounts is a high-character individual. If his shoulder is good to go -- and every indication is that it will be -- then he's worthy of the top pick. Especially for a team that does not have a quarterback. And before anyone has another anxiety attack, let me add this: Yes, the Rams need receivers and a better offensive line. I know that. I also know it would be silly to hurl an overexposed Bradford into a shark tank. The wiser approach would be to gradually ease him in. But the Rams wouldn't be drafting Bradford with 2010 in mind; we're talking about a long-term franchise piece here. This is about the big picture. And it's another reason you keep Steven Jackson; a strong running game will help protect a kid quarterback."
Jim Thomas of the St. Louis Post-Dispatch
says the Rams re-signed tight end Daniel Fells after declining to tender him as a restricted free agent.
Also from Thomas
: "If Bradford checks out medically, and throws the heck out of the ball during his pro day in Norman, Okla. on March 25, it makes all the sense in the world to draft him at No. 1 overall. And I write this as a guy who absolutely loves what Ndamukong Suh can do on the football field."
Howard Balzer of the St. Louis Globe-Democrat
offers Rams-related thoughts, including this one: "The debate over whether the Rams should select quarterback Sam Bradford or defensive tackle Ndamukong Suh will rage over the next six weeks, but let's spare the hyperbole that claims Suh is a once-in-a-generation player and that he is a sure thing. There are no sure things in projecting college players to the NFL, and the reality is that high-picked defensive tackles have just as bad or even worse a track record in the NFL than quarterbacks."

Danny O'Neil of the Seattle Times
sizes up the Seahawks' quarterback situation after Seneca Wallace's trade to the Browns. O'Neil: "Seattle is in the midst of its first significant shake-up in the pocket since 2005, when backup Trent Dilfer was traded to Cleveland. For the past five years, Matt Hasselbeck and Wallace have been the top two rungs in Seattle's quarterback hierarchy."
Clare Farnsworth of seahawks.com
says Pete Carroll, John Schneider and a full cast of Seahawks personnel people attended the University of Washington pro day. Farnsworth: "The Seahawks are the local NFL team and there is that connection between Huskies coach Steve Sarkisian, who left USC for the UW last year, and Carroll, who left USC for the Seahawks this year.
Adam Schefter of ESPN
says former Seahawks and Cardinals receiver Jerheme Urban has signed with the Chiefs, reuniting Urban with former Cardinals offensive coordinator Todd Haley.

Kent Somers of the Arizona Republic
says the Cardinals' haven't committed to Matt Leinart as their starter. He lists Derek Anderson, Marc Bulger, Charlie Whitehurst, Jake Delhomme and Brian St. Pierre as possible competitors for the job. Somers on Bulger: "He's still on the Rams' roster but they are expected to release him, probably after the draft. The timing is tricky for the Cardinals, who would miss out on some other candidates by waiting. Bulger has a lot of experience and is a good guy who wouldn't cause problems in the locker room. But he has taken a pounding over the past few years." There were rumblings during the season that Bulger might retire, but we haven't heard much on that front recently. If Bulger did decide to stop playing, he would be best off to wait until the Rams release him. Otherwise, he might have to pay back bonus money.
Also from Somers
: Anthony Becht re-signs, while Larry Foote and Joey Porter are visiting this week.
Darren Urban of azcardinals.com
says Arizona should be pretty much set at tight end after re-signing Anthony Becht and Stephen Spach.
Also from Urban
: Adrian Wilson doesn't think the Giants have the best safety tandem in the league, apparently.

Matt Barrows of the Sacramento Bee
says the 49ers might have only casual interest in running backs Leon Washington and Justin Fargas.
Matt Maiocco of the Santa Rosa Press-Democrat
says 49ers coach Mike Singletary is taking an active role in scouting. Meanwhile, the Redskins are showing some interest in swing tackle Barry Sims. Maiocco: "The Redskins, who brought in offensive tackle Tony Pashos for a free-agent visit last week, are showing interest in unrestricted free agent Barry Sims. Pashos signed with the Browns, while Sims remains a free agent. The Redskins' offensive line coach is Chris Foerster, who held the same job with the 49ers last year. Sims does not appear to be in a hurry to sign. He's just waiting to see where his best opportunity emerges. The 49ers have expressed an interest in bringing him back -- at the right price.
November, 27, 2009
11/27/09
12:30
PM ET
Two weeks have passed since Steve Muench of Scouts Inc. shared
insights on offensive linemen
who might appeal to NFC West teams in the 2010 NFL draft.
[+] Enlarge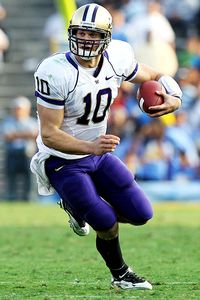 Charles Baus/Icon SMIJake Locker could be an attractive option for several NFC West teams.
Steve and I changed the subject to quarterbacks in our latest conversation.
The 49ers, Seahawks and Rams currently hold five first-round selections. All three could be in the market for quarterbacks of the future.
Mike Sando:
Are there any quarterbacks worth taking at the top of the draft?
Steve Muench:
Personally, coming into the season,
Sam Bradford
looked like that guy, no question. Now there are other concerns with the injury and also that he did not look as dominant even before the injury because he didn't have the strong supporting cast -- which, fair or unfair, is going to hurt him. They looked at times like they were playing intramural teams in 2008. I am still very high on Bradford because he made throws under pressure in the national championship game and against Texas that made me feel this is a kid who can get it done.
The issues -- how good was the supporting cast -- are overrated for me. I have seen him make throws where he is popped in the mouth and he has all the tools to do it. Teams need to check out the shoulder. In terms of skill set, he doesn't have a rocket of an arm. He can make all the throws. The thing I like is how smart he is. They did spread the field a lot. That helped him a lot to create matchups, but when he drops back and he makes reads, he rarely makes mistakes.
Mike Sando:
And yet
Jake Locker
is the name we're hearing most at the top of the QB draft class. I know Scouts Inc. has Locker first, Bradford second and
Jimmy Clausen
third among college QB prospects. Then we have Colt McCoy and
Tim Tebow
.
October, 23, 2009
10/23/09
8:48
AM ET
Posted by ESPN.com's Mike Sando

Kent Somers of the Arizona Republic
says Cardinals running back Tim Hightower practices kicks once a week in case something happens to Neil Rackers. Coach Ken Whisenhunt: "Even though we have fun with it, let's not underestimate the importance of it. If it was a critical extra point and Neil were to get knocked out covering a kick the way he does, it could be something that would be important."
Also from Somers
: The Cardinals' relatively good health remains a key for them. Somers: "Coaches and players said a variety of factors have contributed to the Cardinals' good health: the off-season program conducted by John Lott, the strength and conditioning coach; a sensible training camp with a minimal amount of hitting; and players investing time and money for extras, such as stretching coaches and massages. Oh, and a good amount of luck."
Pete McElroy of azcardinals.com
examines the team's recent success away from home. Larry Fitzgerald: "There has to be a lot more focus on road. You're in a hotel room and away from home and out of your routine. When you're at home … it's a different comfort. When on the road you're kind of a little on edge and you don't know what to expect. You kind of have that mentality where you have to throw that first punch and get it going."
Darren Urban of azcardinals.com
says protecting Kurt Warner is critical for the Cardinals against the Giants. The Giants sacked Warner once and hit him 12 times during a victory at Arizona last season.

Jim Thomas of the St. Louis Post-Dispatch
says the Rams could have veteran safety James Butler back in the lineup Sunday. Thomas on receiver Donnie Avery: "After sitting out Wednesday's practice, WR Donnie Avery (hip) saw limited action on Thursday. He seemed to be running pretty well, although he came up gimpy after diving for a deep ball on one play."
Also from Thomas
: Quarterback Kyle Boller is playing the role of Peyton Manning in practice to get the Rams' defense ready for the real thing. Boller makes up some of the calls he barks out at the line of scrimmage. Boller, joking around: "I just lay in bed at night and think about 'em. Today, (the coaches) wanted me to emphasize a couple city names and ice cream flavors. A bunch of the other stuff, I just make up off the top of my head."
Bernie Miklasz of the St. Louis Post-Dispatch
tentatively singles out Washington's Jake Locker as the college quarterback best suited for the Rams in the 2010 draft. Miklasz: "Big (6-3), strong and athletic, Locker has a plus arm, and a quick release. He's been thriving in the pro-style offense installed by first-year head coach Steve Sarkisian. Also, Locker is being tutored by one of the best, QBs coach Steve Clarkson, who in the past has worked with Ben Roethlisberger, Matt Leinart and others. Clarkson cleaned up Locker's mechanics and the improvement was immediate."

Matt Barrows of the Sacramento Bee
says 49ers receiver Michael Crabtree would have to learn 45-50 plays in preparation for his NFL debut Sunday. Also from Barrows: "It was only a glimpse, but an interesting one nonetheless. As we were waiting for Crabtree to arrive, I saw Jed York giving Steve Mariucci a tour of the facility today. I wasn't covering the team back in 2002, but I do know that Mariucci's firing after that season didn't exactly go smoothly."
Matt Maiocco of the Santa Rosa Press-Democrat
says 49ers quarterback Alex Smith is counseling Oklahoma quarterback Sam Bradford on how to proceed with shoulder rehabilitation. Maiocco: "Smith said he did not lead Bradford in any way, but he said he went through all the scenarios with him. Smith sustained a grade-3 separation, which is similar to the severity of Bradford's injury. Bradford has yet to announce his plans - whether he will have surgery or not. Also, Bradford has a decision after this year to return for his senior season or declare for the NFL draft."
Daniel Brown of the San Jose Mercury News
sizes up the matchup between 49ers cornerback Nate Clements and Texans receiver Andre Johnson. Forget about comparisons to Fitzgerald. Clements: "If you look at it just based on size and weight, they're similar. But they're completely different. They both have strength. Larry Fitzgerald has those excellent hands and he likes to jump up. Andre Johnson can flat-out run. He has good hands, as well, but he's on vertical routes."
The San Francisco Chronicle
says voters should support a measure lifting a ban on selling naming rights to Candlestick Park. I doubt passage would help keep the 49ers from exploring stadium options elsewhere, however.

Clare Farnsworth of seahawks.com
says players plan to get away and refresh their minds during the bye week. Matt Hasselbeck will be attending his kids' soccer games. Hasselbeck on bye weeks: "It's really nice waking up on Monday morning not feeling like you've been in a car wreck."
John Morgan of Field Gulls
sizes up Seahawks quarterback Mike Teel, concluding that the rookie needs to become much more consistent. Morgan: "Mike Teel cannot consistently make his passes. Sometimes he steps back, sees his man, cocks, plants and beans the cheerleader. It's not about sailing it or throwing it behind the man, it's about his accurate-to-whiff ratio, and it isn't good. He can zing one to Ben Obomanu in stride and then power a wobbler that bucks and bends like a knuckleball." If Teel were consistent, of course, someone would have drafted him earlier than the sixth round.
April, 9, 2009
4/09/09
8:45
AM ET
Posted by ESPN.com's Mike Sando

Darren Urban of azcardinals.com describes Larry Fitzgerald as "totally recharged" following his adventure through Africa and the Middle East. Fitzgerald: "Best trip ever. I am totally recharged. It feels so good to get back in here. I'm so happy to see a good turnout and getting ready to get it again. I was itching to get back in the gym. It's home away from home." Fitzgerald has lots more planned for his offseason, starting with a trip to Minnesota for the annual golf tournament honoring his late mother, Carol.
Revenge of the Birds' Hawkwind says Karlos Dansby's unsettled contract situation could affect the Cardinals' draft plans. I think the team needed to address linebacker anyway. The need certainly grows if getting a deal with Dansby isn't likely.

Dave Mahler of Seattle's KJR radio checks in with Seahawks left tackle Walter Jones. This link goes directly to an audio file. Jones sounds relaxed and upbeat in discussing the change from Mike Holmgren to Jim Mora. Jones says he feels good, still loves competition and feels invigorated learning a new offense. Jones on the Cardinals: "They are a team that won the conference, they won the division, so they are the team to beat. That is your motivation."
Greg Johns of seattlepi.com found a grateful prospective Seahawk in former Western Washington linebacker Shane Simmons. Simmons has worked construction and as a personal trainer since the Raiders released him after the 2008 preseason. Simmons is participating in the Seahawks' minicamp on a tryout basis.
Dave Boling of the Tacoma News Tribune says Jim Mora appears comfortable in his new role as the Seahawks' head coach in the post-Mike Holmgren era. Boling: "Here's a difference that's fair to mention, although probably meaningless: Mora has a whistle. Holmgren let others blow the whistle. Draw your own conclusions."
Eric D. Williams of the Tacoma News Tribune checks in with Jones and Seahawks offensive line coach Mike Solari. Solari says the Seahawks installed zone concepts last season in anticipation of using them in 2009. The team did not use them in 2008.
Michael Steffes of Seahawk Addicts isn't buying talk that the Seahawks are seriously considering Matthew Stafford with the fourth overall choice. Steffes: "[Matt] Stafford maybe, but choosing Mark Sanchez would be counter to everything this team has done since 2005. Hopefully there is enough hype that someone wants to move up, but I wouldn't count on it."
Danny O'Neil of the Seattle Times says Seahawks quarterback Matt Hasselbeck expressed frustration over how his injury situation was handled last season. Hasselbeck put it this way: "Knowing that there's a high likelihood that I'm not going to play and not necessarily being able to come out and say."
Also from O'Neil: Seahawks long-snapper Tyler Schmitt says he's 100 percent after undergoing back surgery last season.
Don Ruiz of the Tacoma News Tribune says Holmgren watched practice at the University of Washington. Holmgren and new Huskies coach Steve Sarkisian have strong ties to USC.
Bob Condotta of the Seattle Times says Holmgren watched practice Wednesday at the University of Washington. Holmgren's son-in-law coordinates recruiting for the Huskies. Sarkisian: "It's an honor and hopefully our kids recognized that and hopefully he can continue to come out. It's fun. ... Hopefully we play a little better as a team the next time he comes out."

Matt Maiocco of the Santa Rosa Press-Democrat leans on draft analyst Rob Rang in assessing which running backs the 49ers might consider in the draft. Iowa's Shonn Greene is one candidate. Rang also thinks Chris Wells could go in the top 10. Rang: "I have a hard time thinking they would do that because I think they have too much respect for what Frank Gore brings. They don't want to [upset him]. But Beanie Wells is a spectacular talent. He's a Larry Johnson -- almost an Adrian Peterson -- kind of talent. But he needs to be coddled, and Mike Singletary's strength probably is not in coddling players."
Also from Maiocco: The 49ers are sprucing up their facilities while expanding square footage from 45,000 to 54,000.
Florida Danny of Niners Nation unveils a roughly 4,500-word dissertation on the 49ers' draft history since 1994. Lots of information in here. I checked some of it against my own information and it matched up. For example, the 49ers have indeed drafted 20 players from Pac-10 schools and 19 from SEC schools since 1994, more than they have drafted from other conferences.
Matt Barrows of the Sacramento Bee says Norfolk State cornerback Don Carey is visiting the 49ers and Seahawks, among other teams. Purdue running back Kory Sheets is also visiting the 49ers.

VanRam of Turf Show Times wonders how the Rams can upgrade at receiver, noting that Football Outsiders has suggested Eagles restricted free agent Hank Baskett. VanRam: "That seems unlikely until you consider that the Eagles are interested in some big names like [Chad] Ocho Cinco and earlier talk about being a player for Anquan Boldin. If that happens, they might be willing to let Baskett walk since they also have Kevin Curtis, DeSean Jackson and Reggie Brown on the roster, unless they see his productivity from last season as a sign of things to come."
Jim Thomas of the St. Louis Post-Dispatch says holding training camp away from their facility wasn&#39
;t practical for the Rams this year, in part because changes to the coaching staff and front office left little time to formulate plans.