November, 2, 2012
11/02/12
3:00
PM ET
Steve Spurrier has suggested
Alabama might be good enough
to defeat an NFL team.
I'm not sure whether Spurrier was serious, but as
Seattle Seahawks
coach Pete Carroll pointed out, the notion is ridiculous (unless, perhaps, Spurrier had the 2002-03
Washington Redskins
in mind).
"Alabama's got a great team and Nick [Saban] is a fantastic coach," Carroll said, "but when you match up the interior lines against regular NFL teams on either side of the ball, it wouldn't even be close."
Athletic prodigies occasionally flourish in the professional ranks. LeBron James was 18 years old when he had 25 points, six rebounds, nine assists and four steals in
his NBA debut
.
In the NFL, rules prohibit players from participating until they're at least three years removed from high school. It's generally thought athletes aren't ready for the physical pounding until they're older. Rookies face adjustment periods. Even the best ones can appear lost during the first days of training camp.
The majority of players on Alabama's roster will likely never play in the NFL. It is absurd, then, to think those players would defeat a roster filled with players who are, by definition, good enough to play in the league.
For fun, I've put together a chart showing 2012 NFL draft choices from Alabama. There were eight, including four first-rounders. Injuries have sidelined three of them. Four others have played quite a bit. Another pick, fullback/tight end Brad Smelley, is on the
Cleveland Browns
' practice squad.
We'll have to wait and see if Alabama produces 22 rookie starters, three full-time specialists and some core special-teams players for NFL teams in 2013. Kind of thinking not.
January, 24, 2012
1/24/12
2:37
PM ET
A few notes after participating in a conference call featuring new
St. Louis Rams
offensive coordinator Brian Schottenheimer:
QB coach on way: The Rams did not have one last season. Then-coordinator Josh McDaniels handled that role. Schottenheimer plans to hire one and said the subject was one of the first things he discussed with new coach Jeff Fisher. Schottenheimer: "Because there are so many things that come across your plate as a play caller and coordinator, you need someone for Sam (Bradford) or any of the quarterbacks to go to and be hearing the same voice."
Two backs: Schottenheimer believes in supplementing the starting back with a change-of-pace runner. He emphasized the need for depth everywhere, including that position.
Clemens fan: Look for the Rams to re-sign backup quarterback Kellen Clemens, who was with Schottenheimer on the New York Jets. Schottenheimer described himself as a "big fan" of Clemens and someone who supported the drafting of him.
Philosophy: The offense St. Louis will run has roots in the Don Coryell digit system, though Schottenheimer said his offense would be more concept-based than reliant upon actual numbers. Schottenheimer learned the game from his famous father, Marty, but he initially thought he would fall under the West Coast tree. He pointed to Mike McCarthy, Jimmy Raye and Steve Spurrier as coaches he had borrowed from over the years. He learned the Coryell-based offense from Jerry Rhome in St. Louis during the 1997 season, when Dick Vermeil was coach. Schottenheimer said he likes the way "the formations flow" and the flexibility afforded coaches on game days.
Sam Bradford: Schottenheimer met with Bradford recently and plans to streamline the transition by making sure the terminology associated with a new system isn't a stumbling block. Schottenheimer: "The most important thing is not getting caught up in terminology. That will not be a problem. I understand how smart he is."
On his Jets departure: Schottenheimer had only good things to say about his six seasons with the Jets. He said he was ready for a change and does not think he would have remained in New York even if the Jets had finished the season strong.
The Rams' new defensive coordinator, Gregg Williams, is also scheduled to be available Tuesday. I'm also about to speak with Bernie Miklasz for our weekly spot on 101ESPN St. Louis. Back in a bit.
April, 27, 2011
4/27/11
1:45
PM ET
Colleague Kevin Seifert showed
some daring
by sending TCU quarterback
Andy Dalton
to the
Minnesota Vikings
at No. 12 in a recent
ESPN.com mock draft
.
He wasn't arguing for Dalton's value so much as saying the Vikings' need for a quarterback might compel them to take one there.
[+] Enlarge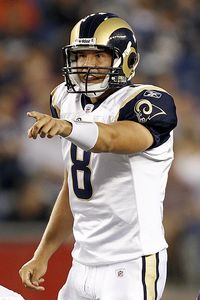 AP Photo/Winslow TownsonDid the Rams "reach" to get quarterback Sam Bradford in the first round last year?
"To me,"
Seifert later wrote
with first-year Vikings coach Leslie Frazier in mind, "there is no better time to jump to the other side than in a coach's first year, giving him a building block for the rest of his program."
The key, of course, is not mistaking anchors for building blocks.
Steve Mariucci was the
San Francisco 49ers
' first-year coach when the team used a 1997 first-rounder for
Jim Druckenmiller
, a blunder softened only by
Steve Young
's presence on the roster. That experience should not directly influence the 49ers' thinking as they consider first-round quarterbacks for new coach Jim Harbaugh, but it's a reference point.
With Harbaugh and the 49ers in mind, I went through recent drafts to see which teams with first-year head coaches used first-round selections for quarterbacks. More precisely, I looked at all first-round quarterbacks since 2000 to see which ones had first-year head coaches.
Six of the last eight first-round quarterbacks --
Matthew Stafford
,
Mark Sanchez
,
Josh Freeman
,
Matt Ryan
,
Joe Flacco
and
JaMarcus Russell
-- joined teams with first-year head coaches. All but Russell remain franchise quarterbacks in their teams' eyes. All but Russell are still playing for their original head coaches. Four of the six had winning records in 2010.
For most of those franchises, value and need lined up pretty well, and first-year coaches benefited.
"If you don't have a quarterback, you're drafting maybe a different kind of running back, maybe a different kind of offensive lineman, than if you have somebody," Lions coach Jim Schwartz told reporters at the scouting combine. "We had
Calvin Johnson
, but our ability to get
Jahvid Best
,
Nate Burleson
in free agency, to draft
Brandon Pettigrew
-- those pieces were because of the quarterback that we have."
We could also argue that the
St. Louis Rams
were better off building their offensive line and other areas of their roster before making
Sam Bradford
the first overall choice in 2010. They could have drafted Sanchez or Freeman instead of defensive end
Chris Long
in 2009, then spent subsequent selections on players to build around one of those quarterbacks.
Bradford and Denver's
Tim Tebow
were the "other" first-round quarterbacks in the eight-man group featuring Stafford, Sanchez, Freeman, Ryan, Flacco and Russell.
In general, getting the right quarterback for a first-year head coach puts a franchise in strong position for the long term. There's no sense forcing the issue, however, because the wrong quarterback can drag down any coach, regardless of tenure.
A coach such as the Vikings' Frazier might have a harder time waiting. His contract runs only three seasons and ownership expects quick results. Harbaugh has a five-year deal with the 49ers. Expectations are high, but there's less urgency for immediate results.
The first chart shows the 14 first-round quarterbacks since 2000 that landed with returning head coaches.
The second chart shows the 14 first-round quarterbacks since 2000 that landed with first-year head coaches.
July, 12, 2010
7/12/10
8:00
AM ET

Bernie Miklasz of the St. Louis Post-Dispatch
says he expects the St. Louis Rams' contract talks with first-round draft choice Sam Bradford to begin this week. Miklasz: "Rams chief operating officer Kevin Demoff, who will return from a brief vacation early next week, plans to get together with Bradford's agent, the Clayton-based Tom Condon." Condon has lots of experience representing highly drafted quarterbacks. Seems to me he and the Rams will find a way to get Bradford into camp on time or close to it. Having Bradford there from Day 1 benefits all parties. Everything we've seen from Bradford suggests he'll be eager to get into camp on time. And it's the player who can ultimately determine when he gets into camp. Players tend to have their breaking points. The San Francisco 49ers' Michael Crabtree was an exception last offseason. In Seattle, 2009 first-round choice Aaron Curry reached his breaking point about one week into camp. A deal then got done quickly. The issues that delayed Crabtree's arrival -- namely his contention that he should have been drafted earlier and valued at a higher level than Darrius Heyward-Bey -- do not apply to Bradford's situation.

Matt Maiocco of CSNBayArea.com
says during a chat he thinks the NBA's recent experience with Lebron James pretty much ensures the return of the franchise tag in the NFL, which will pretty much prevent someone such as Tom Brady from signing with the 49ers or anyone else. Maiocco: "No player is going to be bigger than the NFL. The Patriots will have the chance to place the franchise tag on Brady to retain his services. Now, if he's so disgruntled, he could demand a trade. But, I'd still say, there's a very slim chance Brady will be playing for the 49ers while he's still among the game's elite quarterbacks." Peyton Manning is probably the closest thing the NFL has to a player who is bigger than even his team, but his value is also highest to the Colts based on what all parties have invested over the years. Pro football is so much more a team sport than pro basketball. That is one reason why pro football players have a harder time commanding as much guaranteed money. An All-Star basketball player is generally worth more to his team than a Pro Bowl football player.

Greg Johns of seattlepi.com
explains how to register for Seahawks practices at training camp. Johns: "Fans interested in attending Seahawks' training camp practices this summer will be able to pre-register on the team's website starting Monday at 10 a.m. Open practices at the team's Virginia Mason Athletic Center in Renton will be held from July 31 through Aug. 16, but will be available only to those who sign up in advance at seahawks.com. The team will also host an open practice at Husky Stadium on Sunday, Aug. 8 that will not require preregistration since the stadium has plenty of seating. Registration for the VMAC practices will be available on a first-come, first-serve basis and fans 15 years or younger must be accompanied by an adult. A $5 transportation fee will be charged per person, as fans will be required to park at an off-site location and be shuttled to the VMAC before and after each practice."
John Morgan of Field Gulls
says the Seahawks' Olindo Mare will probably remain underappreciated even though the Seahawks named him their franchise player.
Ben Malcolmson of seahawks.com
profiles quarterbacks coach Jedd Fisch, whose coaching career began improbably with Steve Spurrier at the University of Florida. Malcolmson: "Fisch blindly and ambitiously packed up and went to school in Gainesville, with no connections to Spurrier or the program. He tried being an equipment manager for the team his freshman year, but that didn't pan out. Then he decided to get back to hands-on coaching by volunteering at a high school just off campus. ... But then fortune struck and Fisch's hard work began to pay off with a glimmer of hope. An assistant coach for the Gators was recruiting one of the players on Fisch's high school team, and before long, he had invited Fisch to do odd jobs around the football office. (Fisch) spent a year quietly laboring before another assistant started giving Fisch higher-profile tasks."
Sam Farmer of the Los Angeles Times
lists three NFC West players -- Justin Forsett, Dashon Goldson and Calais Campbell -- among his potential breakout players for 2010. I thought Campbell broke out last season with 7.0 sacks, a high number for a 3-4 defensive end. Farmer on Forsett: "Forsett, in his third season out of Cal, is everything LenDale White wasn't — undersized, dedicated, productive, and an instant Pete Carroll favorite. The Seahawks had the league's 26th-ranked running game last season, but they might have been much more effective had they put the ball in Forsett's hands. The 5-foot-8, 194-pound back averaged 5.4 yards in 114 carries with four touchdowns, and caught 41 balls out of the backfield. He was far more explosive than Julius Jones, who was limited to fewer than 50 yards in more than half of his starts last season."

Darren Urban of azcardinals.com
thinks the Cardinals should be ranked higher than ESPN had them recently. He also wonders how Adrian Wilson's name could elude a CBS list of top NFL safeties. Urban: "Wilson isn't better than Brian Dawkins these days? And even if you feel that strongly about Bernard Pollard or Nick Collins, Wilson has to be in the discussion, right?" Yes.
Also from Urban
: The Cardinals' top five draft choices remain unsigned after the team reached agreement with sixth-round choice Jorrick Calvin, a potential return specialist. Urban: "Calvin, a cornerback who did not play his senior season at Troy because he was academically ineligible, is trying to find a spot in the team's secondary. But his most likely avenue to the active roster would be on returns, after averaging 10 yards a punt return and 25.7 yards a kick return in 2008."
February, 24, 2010
2/24/10
2:00
PM ET
»
NFC Busts/Gems
:
East
|
West
|
North
|
South
»
AFC
:
East
|
West
|
North
|
South
»
Draft Watch
:
Biggest needs
(2/17) |
Busts/gems
(2/24) |
Schemes, themes
(3/3) |
Recent history
(3/10) |
Needs revisited
(3/17) |
Under-the-radar needs
(3/26) |
History in that spot
(3/31) |
Draft approach
(4/7) |
Decision-makers
(4/14) |
Dream scenario/Plan B
(4/21)
Each Wednesday leading up to the NFL draft (April 22-24), the ESPN.com blog network will take a division-by-division look at key aspects of the draft. Today's topic: Busts and late-round gems.
Arizona Cardinals

Gems:
With the 129th choice of the 1963 NFL draft, the Cardinals selected ... Jackie Smith, tight end, Northwestern State. Smith spent 15 seasons with the organization during a Hall of Fame career, earning him high standing on any list of Cardinals draft gems. Hall of Famer Larry Wilson, chosen 74th overall in 1960, also belongs in the conversation. More recently, the team found
Anquan Boldin
,
Aeneas Williams
,
Adrian Wilson
and
Darnell Dockett
outside the top 50 overall choices.
Busts:
Quarterbacks George Izo and Kelly Stouffer combined to play two games for the Cardinals, both by Izo, despite joining the team as top-five overall selections. Izo, the second player chosen in the 1960 draft, tossed 12 career touchdown passes with 32 interceptions, most for the Redskins. Stouffer, picked sixth in 1987, never signed with the Cardinals, missing his rookie season before landing in Seattle via trade. The Cardinals have whiffed on quite a few other players, but these two stand out.
San Francisco 49ers

Gems:
Jesse Sapolu
, Tommy Hart, Dwight Clark and Jerry Mertens earned Pro Bowl berths as position players despite being selected between the 239th and 289th overall choices in their draft classes.
Charles Haley
,
Terrell Owens
and
Joe Montana
were chosen between the 82nd and 96th choices.
Busts:
Quarterback
Alex Smith
(2005) and receiver Harry Babcock (1953) are the only players drafted first overall by the 49ers. Smith still has a chance to change his legacy, but so far it's not looking good. The 49ers whiffed on Steve Spurrier with the third overall choice in 1967.
Jim Druckenmiller
stands out as a memorable first-round disappointment in more recent years.
Seattle Seahawks

Gems:
Michael Sinclair
and
Michael McCrary
became Pro Bowl defensive ends after Seattle made them seventh-round choices in the early 1990s. Running back
Chris Warren
was a fourth-round find in 1990. Overall, though, the Seahawks haven't unearthed a long list of draft gems. Trading up in the second round to select three-time Pro Bowl linebacker
Lofa Tatupu
was an impressive move.
Busts:
Rick Mirer
(1993) and Steve Niehaus (1976) never lived up to expectations as the second overall choices in their draft classes. Ownership's decision to select quarterback
Dan McGwire
with the 16th pick in 1991 looks even worse when one considers that coach Chuck Knox wanted
Brett Favre
instead.
St. Louis Rams

Gems:
Finding defensive end Andy Robustelli with the 228th choice of the 1951 draft stands out as significant even though Robustelli spent much of his Hall of Fame career with the Giants. Larry Brooks, Harold Jackson and Drew Hill all went to Pro Bowls after the Rams drafted them 323rd overall or later. Pass-rusher
Kevin Greene
was a fifth-round find in 1985. The Rams found Hall of Famer
Jackie Slater
in the third round (1976).
Busts:
Terry Baker won the Heisman Trophy and played in the Final Four while at Oregon State, but that didn't do the Rams much good after they drafted the quarterback first overall in 1963. Baker played three NFL seasons without completing a touchdown pass. The selection of
Lawrence Phillips
with the sixth choice of the 1996 draft stands out as one of the team's worst draft decisions in more recent memory. As of 2009, Phillips was serving a 31-year prison sentence.
January, 26, 2010
1/26/10
7:08
PM ET
Aaron from Augusta, Maine writes: Mr. Sando, I was curious as if you could do some research on NFL head coaches coming from big college programs, such as Nick Saban, Steve Spurrier, Butch Davis, Dennis Erickson, Jimmy Johnson, Barry Switzer, and their first drafts draft as head coach.

Any evidence to show their new NFL teams drafting an unusually high amount of players from their former schools? Pete Carroll seems to have more control over personnel than most of these other coaches, but thought it could give Seahawks fans an idea about the amount of former Trojans heading to the Northwest. Thank you and keep up the good work.

Mike Sando: Good idea. Carroll actually downplayed USC talent the other day, suggesting during an interview with KJR950 Seattle that he was surprised so many of his former players became first-round picks. It's potentially self-serving for him to suggest he won with talent that wasn't as good as advertised, but I didn't get the feeling Carroll was eager to rush out and draft a bunch of former USC guys.

This is the sort of project I'd like to spend a little more time on, but for the sake of answering your question quickly, I singled out four of the coaches you mentioned and crunched some numbers using my draft database. Steve Spurrier, Butch Davis, Nick Saban, Dennis Erickson and Jimmy Johnson each spent relatively short periods of time with their first NFL teams. For this reason, I looked at all of their NFL drafts, not just those associated with their first seasons. I figured these coaches would have been familiar with most or all of the college players leaving their former programs during the time periods in question.

I did not consider Switzer because the Cowboys hired him several years after he left Oklahoma.

Johnson's Cowboys drafted more players from Miami -- seven -- than from any other college program. Florida was next at four, followed by Penn State and Tennessee with three apiece. Johnson could have had special insight into the Miami players after coaching the Hurricanes. It's also true that lots of teams drafted players from Miami. We'll see that as this exercise continues.

Spurrier's Redskins drafted two players from Tennessee and one apiece from 11 other schools, including the Florida program he left.

Davis' Browns drafted four players from Miami, more than from any other program, during his run as Cleveland coach. They drafted three apiece from Virginia Tech, Florida and Boston College.

Erickson, who left the Hurricanes for Seattle in 1994, drafted only one player from Miami, 1997 seventh-rounder Carlos Jones, in four seasons with the Seahawks. Seattle drafted three from Florida and two from four other schools while Erickson was head coach through the 1998 season.

Saban's Dolphins drafted one player from the LSU program he departed. They drafted two from Auburn, more than from any other program, and one apiece from 10 schools (including LSU).

Hope that helps.
January, 21, 2009
1/21/09
12:35
PM ET
Posted by ESPN.com's Mike Sando
Senior Bowl week is giving the 49ers fertile ground to interview various NFL assistant coaches for their opening at offensive coordinator.
We can add Ravens quarterbacks coach Hue Jackson to the list, according to Matt Maiocco of the Santa Rosa Press-Democrat. Jackson worked with Joe Flacco this past season. He also worked with former 49ers coordinator and preferred scapegoat Jim Hostler, the Ravens' receivers coach.
Jackson was with the Falcons and Bengals before joining the Ravens. As offensive coordinator for the Redskins in 2003, Jackson called plays under Steve Spurrier. He was previously offensive coordinator at USC from 1997 to 2000.