August, 23, 2010
8/23/10
11:05
PM ET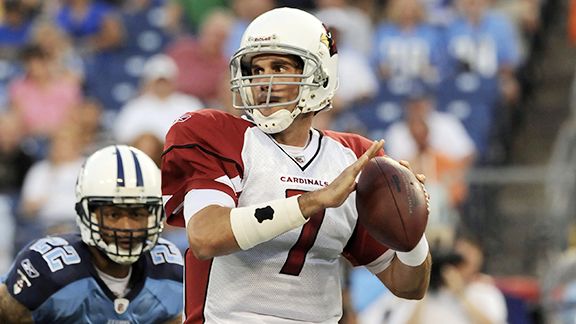 Jim Brown/US PresswireMatt Leinart struggled against the Titans on Monday, going three-and-out three times.
Coach Ken Whisenhunt and the
Arizona Cardinals
gave quarterback
Matt Leinart
little help Monday night during a
24-10 loss
. The
Tennessee Titans
did Leinart no favors by blitzing against an offensive line that wasn't game-planning, this being preseason.
The Cardinals needed to see Leinart persevere anyway, or at least provide a spark, and it did not happen -- again. Three three-and-out possessions against the Tennessee Titans was not good enough given how much Leinart still must prove.
By my count, Arizona has scored two touchdowns -- wait,
make that one
-- in 39 possessions with Leinart at quarterback since the 2009 regular-season opener. That figure counts playoff games last season and two exhibition games this summer. Both Arizona touchdowns came during Leinart's only 2009 regular-season start, a game the Cardinals nearly won at Tennessee (and one was on a kickoff return). Some of those 39 possessions fell during clock-killing situations when the Cardinals weren't even trying to score, so the number is misleading without the right context.
Still, Leinart hasn't really earned the right to say it's only preseason -- exactly what he told ESPN's Michele Tafoya on the sideline -- even though this really is only preseason.
More on Leinart to come. Let's jump into seven observations before the Titans dial up another blitz:
[+] Enlarge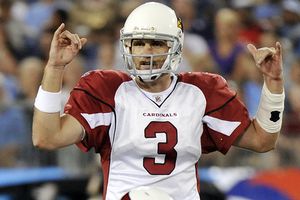 AP Photo/Frederick BreedonDerek Anderson completed 11 of 19 passes for 105 yards against Tennessee.
1. Leinart has a big target on his back.
Fortunately for him, backup
Derek Anderson
hasn't shown the accuracy to hit it. Anderson brings some swagger to the Cardinals' offense. The team perked up once Anderson entered the huddle. Leinart managed no first downs in his only three drives. Anderson converted one on his first play. Watching Anderson badly miss
Steve Breaston
wide open in the end zone had to make Whisenhunt cringe, however. Leinart has a better grasp of the offense, too.
2. Whisenhunt could have helped Leinart more.
Whisenhunt could have shown some confidence in Leinart by going for it on fourth-and-1 from his own 41 on the opening drive. He opted for a punt instead -- an easy call if the game had counted, but a missed opportunity under the circumstances. Leinart needed help. The Cardinals' pass protection struggled against the Titans' blitzes, typical for preseason. Receiver
Larry Fitzgerald
wasn't playing and at least one other receiver, rookie
Stephen Williams
, seemed to surprise Leinart with the route he ran on a third-and-1 play. Leinart gets the benefit of the doubt on that one. He knows the offense. Williams is an undrafted free agent.
3. The defense brings an attitude.
Joey Porter
drilled Titans running back
Chris Johnson
early.
Clark Haggans
brought down Johnson hard.
Darnell Dockett
and
Calais Campbell
tagged Titans quarterback
Vince Young
to force an incompletion. These were some early signs that Arizona can play with attitude on defense. On the periphery,
Stevie Baggs
might have helped himself.
4. Trumaine McBride had a rough night.
The race between McBride and
Greg Toler
to start at right cornerback should end with Toler winning the job. That was the expectation entering camp, anyway. McBride didn't help himself Monday night. He gave up one play over the middle, got away with interference after getting beat deep, then gave up a third-down reception. McBride even hit teammate
Adrian Wilson
while trying to make a tackle well downfield. I didn't see Toler as much, so it'll be interesting to hear Whisenhunt's take once the staff breaks down the game.
5. Arizona might have the divison's best special-teamer.
LaRod Stephens-Howling
plays special teams at a Pro Bowl level. He was bouncing off defenders during an early return. The MNF crew replayed some of Stephens-Howling's efforts against the Titans during the 2009 regular season, another reminder that Stephens-Howling dominates in coverage. The
San Francisco 49ers
'
Michael Robinson
is terrific on special teams, too -- check out his brutal block during the opening kickoff Sunday night -- but Stephens-Howling is right up there among the best.
6. Beanie Wells has to earn his place.
What was Wells doing in the game well into the second half? He was doing what backups do. Yes, Wells is still a backup. Whisenhunt isn't going to hand starting status job to him. Makes sense on one level, but if Wells had suffered an injury carrying the ball with less than 5 minutes remaining in the third quarter? He didn't, so all is well.
7. It's not too late for Leinart.
A strong showing from Leinart in the third exhibition game could make the Cardinals feel better about their offense in the post-Warner era. The 49ers'
Alex Smith
stepped up Sunday night despite playing without
Frank Gore
,
Michael Crabtree
or
Vernon Davis
. The
Seattle Seahawks
'
Matt Hasselbeck
made a positive statement Saturday night. The
St. Louis Rams
'
Sam Bradford
will try to do so Thursday night. There's still time for Leinart. Remember, he completed 24 of 38 passes for 346 yards and three touchdowns against Green Bay in the third exhibition game last season.
July, 30, 2010
7/30/10
3:50
PM ET
The question in the headline seems misplaced given popular perceptions about the team that subtracted
Kurt Warner
,
Anquan Boldin
,
Karlos Dansby
,
Antrel Rolle
and others.
But all is not lost for the two-time defending NFC West champion Cardinals.
It'll take a team effort for Arizona to pull off another division title, just as it took one to complete this blog entry -- the fourth and final one in
our series
asking whether NFC West teams have improved this offseason. Facebook friend Barrett came through with the portion of our analysis focusing on offense. Branden, a Facebook friend I've tailgated with before Cardinals games, joined fellow Cardinals fans Jack and Jacob in filling out the remaining categories. I'm pleased by the final result and hope you find it thought-provoking.
Thanks to all the others who
answered the call
. My only regret was not being able to use them all.
Quarterback
Barrett:
It's
Matt Leinart
's time to prove capable of leading an NFL team from behind center. If he falters,
Derek Anderson
will be waiting to show that he can return to his Pro Bowl form from 2007 -- when he had targets such as
Kellen Winslow
Jr. and
Braylon Edwards
. Fifth-round rookie
John Skelton
may have the physical attributes Ken Whisenhunt looks for in a quarterback, but he remains a project. Verdict: worse.
Sando:
Max Hall
is another rookie quarterback to watch on the Cardinals' roster. I hear they like what they've seen so far. I also think Leinart can outperform the low expectations his critics have set for him. But there's no getting around the obvious here. The Cardinals were better at quarterback when they had Warner.
Running back
Barrett:
In a pass-oriented offense,
Beanie Wells
and
Tim Hightower
combined to rush for 1,391 yards and 15 touchdowns, but they also fumbled the ball nine times and lost six of those. Both backs are looking to get even more carries this season, with
Jason Wright
and
LaRod Stephens-Howling
perhaps having an increased opportunity to get touches over last season (combined nine attempts for 32 yards last season). Verdict: same.
Sando:
This group should only improve as Wells gets more seasoning and the Cardinals give him more opportunities. The knock on him coming out of college was that he was soft. Cardinals players challenged Wells to prove doubters wrong. Wells responded by running tough and running hard. The prime-time game against the
New York Giants
comes to mind. I think Wells can take it to another level.
Wide receiver
Barrett:
Even with Boldin being traded away to the Ravens,
Larry Fitzgerald
will still be a top receiver.
Steve Breaston
is no stranger to lining up as the No. 2 in Boldin's absence.
Early Doucet
showed what he is capable of during last season's playoff run. Now, let's see if he can produce similarly over the course of a full season.
Andre Roberts
is an excellent draft pick for depth to compete with
Onrea Jones
at the No. 4 spot and I expect him to spell Breaston for punt-return duties. However formidable this receiving corps still seems, the Cardinals will miss what No. 81 brought as a player, competitor, teammate and leader. Verdict: worse.
Sando:
The Cardinals somehow won a higher percentage of games recently when Boldin did not play. I agree they'll miss the toughness he brought. Boldin might have helped an inexperienced quarterback such as Leinart more than he helped Warner. Breaston brings more speed to the offense. Depth is certainly worse without Boldin, but it was also apparent Boldin might be declining some. I'll agree with your general assessment.
Tight end
Barrett:
Anthony Becht
,
Ben Patrick
and
Stephen Spach
are all back from last season, plus
Dominique Byrd
. Tight ends caught a whopping 23 passes for the Cardinals last season. It seems their primary function in Whisenhunt's offense is to offer run blocking and an occasional check-down. However, this may change ever so slightly as the focus shifts to a more balanced attack. Verdict: same.
Sando:
If there's an upgrade, it comes from having Patrick for a full 16 games. He missed the first four last season while serving an NFL suspension. Once Patrick returned, the Cardinals felt more comfortable using two tight ends. Wells had good success running from some of these double-tight personnel groupings. I think we could see more of those now that Warner is gone and the team has fewer front-line options at wide receiver.
Offensive line
Barrett:
With the free-agent additions of
Alan Faneca
and
Rex Hadnot
, starting quality and depth are already improved on a unit that has seen more postseason action in the past two seasons than any other offensive line in the NFL. This lessens any blow the line might take if an overweight
Deuce Lutui
does not return. There's also a second-year man by the name of
Herman Johnson
who just might be big enough to take over his spot. Verdict: better.
Sando:
Faneca is a huge name and I think he's got something to prove after the
New York Jets
dumped him. The word among NFL people is that Faneca has fallen off significantly and he could be a liability. The leadership and toughness he brings will have value, but how well can he play at this stage? I do not know. The Cardinals have in recent seasons stressed the importance of continuity on the offensive line. They'll have new people in three or four of the five starting spots, so the continuity is gone. Throw in a new starting quarterback and there's a lot of work to do. This group is better on paper based on the additions, but I'm not sure it'll be more effective (although the shift to more of a power running game could play to the strength of these linemen, something to keep in mind).
Offense overall
Barrett:
Whisenhunt has always geared his offenses to the players' strengths. With key losses in Warner and Boldin and the acquisition of Faneca, it sure looks like the Cardinals are shifting toward a more balanced attack. But one thing is for certain, and that is the quarterback cannot be expected to produce the way Warner did. Verdict: worse.
Sando:
You're right about Whisenhunt and his staff. They'll rise to the challenge and give the Cardinals their best chance to succeed on offense. The running game should be strong. They'll play to Leinart's strengths as well. But the points will be harder to come by and that'll make it tougher for the Cardinals to win games. The offense will be different and less prolific.
Defensive line
Branden:
The line up front starts and ends with the performance of
Darnell Dockett
. He has become more of a leader this offseason and his play on the field already speaks for itself.
Calais Campbell
has made many lists as one of the breakout players in the league. Whisenhunt has brought many of his rookies along slowly, so
Bryan Robinson
will most likely start at nose tackle, but rookie
Dan Williams
should get plenty of time and I expect him to take over the starting role by midseason. Depth-wise,
Alan Branch
and
Gabe Watson
are in make-or-break seasons, and while Branch showed more ability and versatility last year in his time at defensive end, they will have to step up to strengthen depth at the position.
Kenny Iwebema
is a serviceable backup and special-teamer. Verdict: better.
Sando:
It'll take a while for Williams to hit stride, but his addition can only improve what was already a pretty good situation for Arizona. Having the pressure on Watson and Branch can only help. It's tough for 3-4 defensive ends to get much notice, but Arizona has two of them worth our praise.
Outside linebackers
Branden:
There has been talk about the age of
Clark Haggans
and
Joey Porter
. Both are 33. While they will start, expect to see plenty of others in special situations -- including
Will Davis
, who played well last year as a rookie until suffering a knee injury.
Cody Brown
is practically a rookie and needs to contribute to help this position. Others at the position include
Mark Washington
and CFL star Stevie "Shakespeare" Baggs. Are they better as a unit than last year? Questionable.
Bertrand Berry
and
Chike Okeafor
performed average last year, and I'm not sure how much Porter has left. Verdict: same, but young guys need to step up.
Sando:
Someone pointed out to me that Porter and Haggans are younger than Berry, but it's small consolation for Arizona. You're right about the young guys needing to step forward. I could see Porter getting close to double-digit sacks even though Matt Williamson of Scouts Inc. thinks Porter has declined dramatically. Others have said Porter collected "cheap" sacks in recent seasons. Cheap ones are better than none at all. This group probably isn't going to decline dramatically. It wasn't all that great last season. Okeafor is out of the league, after all, and Berry retired.
Inside linebacker
Branden:
Losing Karlos Dansby will be difficult to overcome because he was a jack of all trades. However, I'm not as high on him as many others were -- Dansby had no Pro Bowls -- and I'm glad the Cardinals did not overpay for him. The addition of
Paris Lenon
as a stopgap and the drafting of
Daryl Washington
should help somewhat, but the injury to
Gerald Hayes
is a major issue. This group is thin and I believe the Cardinals will look to add a veteran when cuts are made. Verdict: worse.
Sando:
There's little getting around the problems Arizona faces at this position. We can talk about the defensive line being strong enough to cover somewhat, and that might be the case once Williams develops at nose tackle, but we're not fooling anyone in the meantime. The Cardinals tried to sign
Keith Bulluck
, but they lost him to the New York Giants. They also claimed
Alex Hall
off waivers, but the Giants beat them to the punch on that one, too, thanks to a higher waiver priority. Expect Arizona to keep monitoring the waiver wire here.
Cornerback
Branden:
Dominique Rodgers-Cromartie
is a Pro Bowler, so that helps with one side of the field.
Bryant McFadden
, traded back to Pittsburgh this offseason, was not much help on the other side last year, but he fared well in run situations.
Greg Toler
has the physical tools to be a good corner, but he is raw and needs to show his ability this preseason.
Michael Adams
is a special-teamer and the others, including
Trumaine McBride
, are OK backups. The Cardinals generally bring multiple safeties on the field in passing situations, so depth isn't a huge concern, but it's a valid question. The performance of this group hinges on DRC's ability to stay healthy and Toler's performance. Verdict: same or better if Toler steps up.
Sando:
The Cardinals aren't afraid to make changes, that's for sure. They could have stuck with McFadden, but his contract was a little steep for what they were getting in return. Whisenhunt seemed quite strong in his praise for Toler and he generally isn't wrong on these things. There's potential for this group to drop off, though. At least McFadden was a known quantity. The Cardinals take pride in developing young players and they'll need to be right on Toler to justify their decisions at the position.
Safety
Branden:
Adrian Wilson
is one of the five best safeties in the league, and it is a shame more people don't realize that. I think
Kerry Rhodes
will actually be an upgrade over Rolle as he knows where he is supposed to be, while Rolle was just learning the free safety position. I think Rolle has the potential to be better in the long run, but the starting tandem should be fine. Second-year man
Rashad Johnson
needs to step up and perform to the high praise from college coach Nick Saban. He just seemed lost last year.
Matt Ware
is a solid backup and plays well in passing situations.
Hamza Abdullah
is also a decent backup. Verdict: same, with the ability to be better in passing situations.
Sando:
I've found informed fans to be a bit overly critical of safeties. I'm not saying that's the case with Branden, but there's definitely a feeling among some Arizona fans that Rolle was overrated and Rhodes will actually provide an upgrade. I don't really see it athletically or for the long term, but acquiring Rhodes showed the Cardinals had a plan once Rolle's contract forced their hand. The Cardinals seem encouraged by what they're seeing from Johnson recently. I heard nothing positive about him last season. Re-signing Ware stood out as an underrated move. He's had some value as one of the first defensive backs off the bench.
Defense overall
Branden:
The Cardinals had more than 40 sacks last season and I think they can achieve that number again this year with their defensive line and some contribution from the outside linebacker position. I'm concerned about their inside linebackers' ability to stop the run, but again, I think much of that hinges on their ability to penetrate up front. The secondary has a chance to be very good, but I'm not sold. This was not a spectacular unit last year as evidenced by their giving up 90 points in two playoff games. They are more acquainted with the scheme and I think Billy Davis is a good defensive coordinator, but he will have to get creative again this year. The offense will not be scoring 50-plus points this year, so this unit will have to perform well for ...
Sando:
Branden's evaluation cut off there for some reason, but that's OK. We've got a deep roster of contributors and I'll lean on them for the rest of this exercise. The last point Branden raised was the one I wanted to touch upon in this space. It'll be tougher getting to 40 sacks again with fewer points on the board. It'll be easier, in theory, for the other team to stick with its running game. That appears problematic for Arizona given the issues at inside linebacker. But if Hayes can return in September, perhaps the Cardinals can stabilize the middle of their defense. They're fortunate to have such a terrific box safety in Wilson. I'll now turn to Cardinals fan Jack for the section on special teams.
Special teams
Jack:
I'm very excited about the special teams of the Cardinals, actually. Stephens-Howling performed quite well as a rookie returning kicks, and he should do even better this year now that he has his feet wet. Breaston didn't do well returning punts last season, so the Cardinals need to make a change, particularly with Breaston as the No. 2 receiver. I hope Andre Roberts gets a shot. As for the kickers, I hope that
Jay Feely
will be more consistent than
Neil Rackers
.
Ben Graham
was great last season, and I expect the same from him this year. Verdict: better.
Sando:
Rackers did some great things during his tenure in Arizona, but seeing him line up in the clutch was enough to make even non-fans nervous for him. Kicker is one position where teams can plug in free agents pretty easily, so Arizona could be fine with Feely. Stephens-Howling is already one of the best special-teams players in the league. He deserves Pro Bowl consideration. Cards fan Jacob is on deck with a look at the coaching.
Coaching
Jacob:
What more can be done by Whisenhunt? He is a proven winner and has taken this Cardinals franchise to heights never before imagined. Russ Grimm is widely considered one of the best head-coaching candidates. People will bang on the fact that the cardinals play in the NFC West and have been inconsistent at times throughout the year. However, they are 4-2 in the playoffs under Whisenhunt with both losses to the Super Bowl champions. Winning in the playoffs comes down to game plans, managing the emotions of the game and players -- and that is where Whisenhunt excels. His best coaching job will be showcased this year if the Cardinals can capture another division title. Verdict: same or better.
Sando:
I'm sure Whisenhunt is relishing the challenge. The Cardinals are being counted out prematurely. Whisenhunt will probably get the most from them. The coaching staff will deserve high praise if Leinart develops into a winning quarterback. Whisenhunt's Arizona legacy is largely established. He can only help it this season. With that, we go back to Jack for the final two sections.
Schedule
Jack:
I'd love to see the Cardinals take advantage of playing the AFC West this season. They still do have some tough games, though, most notably against Dallas, San Diego, Minnesota and New Orleans. Still, if they don't get eight or nine victories out of this schedule, it will be a disappointment.
Sando:
Three of the first four games are on the road. The fifth game is at home -- against the Super Bowl-champion
New Orleans Saints
. Welcome back to the lineup, Matt Leinart. Finishing the season against Dallas and San Francisco gives the Cardinals an opportunity to gain ground in the NFC, but neither game will be easy.
Final thoughts
Jack:
I want so badly to say the Cardinals are better than the 49ers. They can be, but they'll have to prove it. Perhaps the Cardinals' best chance is to take advantage of an easy schedule and snag a wild-card spot. I believe they'll get eight or nine victories, though. I hope for more.
Sando:
The Cardinals won 10 games last season with more talent. It's reasonable to expect them to slip back into the 8-8 range. That's where I see the Cardinals finishing and it'll be no shock if they fail to reach .500 for the first time under Whisenhunt. This is a transition year. They'll find out whether Leinart is their quarterback and if they win more than eight games along the way, or even if they avoid a losing season, I'd consider 2010 a success.
July, 30, 2010
7/30/10
7:58
AM ET

Darren Urban of azcardinals.com
isn't sure what to make of a
report
suggesting the Cardinals plan to meet Friday with Darnell Dockett and agent Drew Rosenhaus regarding a contract.
My thoughts
from the most recent NFC West chat: "Dockett discussed his feelings about his contract with me at the Pro Bowl. My sense is that he has a point of no return in his mind -- in other words, there's a point where he wants a deal from the Cardinals or he'll set his mind to playing out this deal and leaving when he can. I don't know when that point would be. It's an emotional issue for Dockett and he gets worked up about it sometimes. Then he probably has time to cool down and reevaluate. We know he's going to work hard and play hard for the Cardinals. That is his identity and he's not changing on that front, in my view. I'm sure he'll discuss the contract and his expectations at some point."
Kent Somers of the Arizona Republic
quotes Bill Barnwell of Football Outsiders this way on Matt Leinart: "Most quarterbacks in the league would lose their jobs to Kurt Warner. We think he'll be a lot better than people are projecting. He'll be back practicing with the first team getting first-team reps (snaps). We've found that when guys come in as a starter and practice all week, they play about 10 percent better than when they come in as reserves."
Also from Somers
: a look at sleeper candidates for the Cardinals at outside linebacker, including Stevie Baggs. Somers: "Three NFL teams released him before he landed in the Canadian League. Two CFL teams released him and he played in the Arena League before returning to the CFL. He led the league in sacks last year with 12. To make the Cardinals roster, he needs to show those same skills this preseason."
The Associated Press
says University of Phoenix Stadium suffered minor damage in a storm Thursday.

Ben Malcolmson of seahawks.com
says coach Pete Carroll has installed a scoreboard near the Seahawks' practice field, the better to keep score during drills. Malcolmson: "As part of the head coach's practice philosophy, Carroll likes keeping score during drills, all in an effort to raise the tenor of competition and increase the level of play. In sports, the scoreboard acts as the ultimate symbol of competition — and now it's even on the Seahawks practice field."
Clare Farnsworth of seahawks.com
checks in with offensive coordinator Jeremy Bates, who has this to say about Matt Hasselbeck: "Matt has been [here] every day, starting in February, and he's mastered the playbook. When the quarterback understands it as well as he does, it makes all the other positions step up to get to his level. It definitely starts with the quarterback, and Matt is so smart and his football IQ is off the charts. He's bought in." This piece also includes a position-by-position look at the roster on offense.
Danny O'Neil of the Seattle Times
says Chester Pitts could earn as much as $2 million from the Seahawks after agreeing to terms on a one-year contract. Pitts can play guard or tackle, but first he'll have to prove he can bounce back from serious knee surgery.
Greg Johns of seattlepi.com
quotes Leroy Hill's attorney this way after police sought phone records potentially showing Hill had violated a no-contact order: "This prosecutor is not doing anything I wouldn't expect a prosecutor to do when there is a witness who refuses to cooperate and wishes there was no prosecution. It sounds like there is a bad situation with the warrant. But frankly, they're just searching for evidence and it's entirely normal at this stage for that occur. I don't expect this search warrant issue will amount to anything. We're working toward a settlement toward the underlying assault charge and I expect we'll either resolve or try it (in court) and this warrant will be a distant memory at some point. It's just a prosecutor being careful."
Eric D. Williams of the Tacoma News Tribune
says the 2009 Seahawks scored on only 6.3 percent of their opening drives, 27th in the NFL. What was the percentage for their other drives?
John Morgan of Field Gulls
offers 15 areas of focus heading into Seahawks training camp. On Aaron Curry: "Curry looked pretty awesome in last year's camp, and so this might speak to the above. Curry is coachable and toolsy as all get out, and I expect him to look very good in camp, but I will watch for improvement."

Bryan Burwell of the St. Louis Post-Dispatch
says the Rams and Sam Bradford's agent need to set aside petty differences to make sure Bradford is in camp right away. Burwell: "Given all that's at stake for the Rams organization and the talented young face of the franchise, it's rather baffling why a deal hasn't already been consummated. And the fact that it's still not done makes me wonder why everyone involved -- and that means the Rams management, Bradford's agents and the rather intelligent rookie QB himself -- can't understand the concept of penny wise, pound foolish." The first full-squad practice is usually the target.
Bill Coats of the St. Louis Post-Dispatch
says Rams guard Mark Setterstrom is headed for injured reserve, as expected.
Jim Thomas of the St. Louis Post-Dispatch
says Rams coach Steve Spagnuolo left open the possibility that Rodger Saffold could play left tackle and Jason Smith could play on the right side. That seems unlikely given Smith's status as the second overall choice in the 2009 draft, but the division-rival Cardinals used the fifth choice in the 2007 draft for a player they used on the right side until this season. Levi Brown is moving to left tackle.
Steve Korte of the Belleville News-Democrat
says the Rams plan to have more live tackling this summer. Spagnuolo: "There will be some of that in there. We'll pick and choose. I banged my head against the wall in the offseason when I was putting that practice schedule together. You walk that fine line. You want your team to be tough, you want to be able to tackle, you want to be able to block and do all those things, and I don't think you just flip a switch and do it on game day. If you work on it too much and get guys banged up and you don't have a team, that's not good either. I remember the feedback from last year. These guys liked it. Now they don't want to do it every day, every period, but it's football. I hope they like it, because if they don't, we'll be in trouble."

Matt Maiocco of CSNBayArea.com
says 49ers first-round choice Anthony Davis and third-rounder Navorro Bowman have agreed to contract parameters and will sign Friday. Maiocco: "Coach Mike Singletary, perhaps anticipating all rookies under contract, decided to open practice a day earlier than originally planned. The 49ers on Thursday added a 90-minute 'shells' practice to their camp itinerary for Sunday. The team will put on full pads for two practices, as regularly scheduled, on Monday."
Also from Maiocco
: He thinks the 49ers would not pursue a contract extension for Alex Smith during the season if the quarterback were playing at a high level. Maiocco: "I think the 49ers will want to see the full sample size of the entire season. I don't believe there would be much risk in losing Smith to another team if he were to have a strong year. The reasons: I just can't see the 49ers not giving him a fair offer, and I can't see him wanting to go elsewhere and starting anew."
Daniel Brown of the San Jose Mercury News
wonders whether this is the year the 49ers meet expectations.
Matt Barrows of the Sacramento Bee
says a source told him the 49ers considered trading running back Glen Coffee during the draft.
July, 28, 2010
7/28/10
8:44
AM ET

Bryan Burwell of the St. Louis Post-Dispatch
likes the championship banners coach Steve Spagnuolo has displayed in honor of the Rams' past, but he also thinks it's time for the team to show significant improvement in the present. Burwell: "I believe that while this isn't necessarily the breakthrough year for the Rams, it has to be the year when we see strong evidence that this is finally an ascending team. They have a new franchise quarterback (Sam Bradford) to groom, two potential young offensive tackles (Jason Smith and Rodger Saffold) to transform into reliable anchors, a superstar running back on the mend (Steven Jackson) and a stable of unproven young wide receivers who will be given every opportunity to confirm the unsubstantiated support they've been given by the coaches and front office."
Bill Coats of the St. Louis Post-Dispatch
says the Rams still have interest in Brian Westbrook and the team is "hopeful" it can sign him. Adding Westbrook would help lots on paper. The Rams would have addressed an area that needed addressing. Westbrook could be a good fit in a backup role because he would be less prone to injury. It's just tough to expect much from 30-year-old running backs. Westbrook turns 31 in September.
Jim Thomas of the St. Louis Post-Dispatch
says the Rams expect Jackson to practice Saturday for the first time since back surgery. Also, the Rams are holding evening practices during this training camp in an effort to beat the heat and allow more fans to attend.
Also from Thomas
: a chat transcript in which he says the Rams never made an offer to Terrell Owens.

Phil Barber of the Santa Rosa Press-Democrat
offers highlights from the 49ers' annual "State of the Franchise" gathering. Coach Mike Singletary called new offensive line coach Mike Solari "one of the finest coaches anywhere in America." Singletary also said the 49ers were as talented as any team.
Also from Barber
: Fred Dean, John Henry Johnson, Ronnie Lott, Hugh McElhenny, Joe Montana, Joe Perry, Bob St. Clair, Dave Wilcox and Steve Young are expected to attend Jerry Rice's Hall of Fame induction.
Matt Maiocco of CSNBayArea.com
says the 49ers expect to have their draft choices signed in time for camp.
Also from Maiocco
: The 49ers plan to sell seat licenses that never expire and can be transferred once the team's new stadium is finished.
Matt Barrows of the Sacramento Bee
offers 49ers-related notes, noting that first-round choice Anthony Davis has been working out at the facility since organized team activities ended in June. Also, the 49ers think their new stadium will empty 50 percent faster than Candlestick Park following games.
Also from Barrows
: a look at the 49ers' situation at safety and a reminder that Reggie Smith could be in the mix eventually. Barrows: "Because it takes a while to develop young safeties and because of the uncertainty among the 49ers' starting safeties -- starter Michael Lewis is 30 and his salary is creeping upward -- the 49ers very well may keep all of their young safeties on the 53-man roster this year, although (Curtis) Taylor still has practice-squad eligibility. Look for undrafted rookie Chris Maragos, who teamed with Mays to compose the third-team safety duo this spring, to be another practice-squad candidate."
Tim Kawakami of the San Jose Mercury News
says improving the offensive line was the 49ers' top priority this offseason.
David White of the San Francisco Chronicle
says there was less bluster from the 49ers at their annual gathering this year.
Scott Allen of Raising Zona
checks in with Cardinals receiver Andre Roberts, who has this to say: "I do believe I have a great chance at being the number 3 or 4. I just need to learn my plays and gain the confidence of the quarterback and I believe I'll be right there in the hunt."

Kent Somers of the Arizona Republic
expects the Cardinals' Gerald Hayes and O'Brien Schofield to open training camp on the physically unable to perform list.
Also from Somers
: The Cardinals released tackle Devin Tyler to make room on the roster for the newly signed Schofield.
Darren Urban of azcardinals.com
raises 10 questions heading into the Cardinals' training camp. The fourth question -- where will the pass rush come from? -- is one the Seahawks and Rams also might be asking. Urban: "The Cardinals piled up 42 sacks last season, their highest total in years and they did it by committee. Defensive linemen Darnell Dockett and Calais Campbell tied for the team lead with seven. The idea in signing linebacker Joey Porter, who had 9.0 sacks for Miami, is that he can provide more of a dynamic pass rush than what the Cards were getting last season from Bertrand Berry or Chike Okeafor. Campbell, at end in a 3-4 look, should increase his total, and Dockett comes across like a man on a mission (and in search of a new contract). Even if Porter doesn't revert to his stellar 2008 (17 sacks), he needs to be a difference-maker. The Cards also need help from some unknown factor, whether it is Cody Brown, Will Davis, Mark Washington or Stevie Baggs." It's reasonable to expect more from Porter than the Cardinals got from Berry and Okeafor last season.
Revenge of the Birds' Andrew602
checks in with Cardinals receiver Onrea Jones. Jones on what it takes to earn a roster spot: "Well I know one thing -- it's special teams -- to find the right spot on special teams. Mike Adams was big as a gunner last year on special teams. I kind of look up to him for that. Because he's been in the Super Bowl and he knows what he's doing. And that's one thing I've learned from Sean Morey also. I'm really concentrated on special teams, gunner, trying to get a spot on the kick off team, kick off return, any special teams I can get on, that's my ticket. Obviously you have to make plays as a wide receiver. I'm battling for a number 4 and 5 between me and Andre. Whoever gets that spot, he has to have a big role on special teams. As long as I can produce on special teams, I know I'll be alright."

Pro Football Weekly's NFC West preview
singles out Laurent Robinson, Alex Smith, Justin Forsett and Ben Patrick as potential fantasy sleepers in 2010. On Forsett: "Although he is expected to battle Jones for touches in every game, Forsett has the kind of big-play ability (5.4 yards per carry in '09) as a runner, receiver and returner to develop into a surprisingly effective fantasy force. Forsett twice ran for 100 yards when Jones was out with injuries last season and could be increasingly effective both running and catching passes out of the backfield behind what figures to be a more stable offensive line." It's just tough to know how much playing time each Seattle running back will get this season. Leon Washington's status is one key variable.
April, 6, 2010
4/06/10
2:08
PM ET
Quite a few mock drafts have Arizona addressing outside linebacker early in the 2010 draft. Those projections seem reasonable even though the Cardinals have taken steps to protect themselves.
Clark Haggans
is back. Arizona added
Joey Porter
as an unrestricted free agent and Stevie Baggs from the CFL. The Cardinals hope 2009 draft choices
Cody Brown
and
Will Davis
can develop.
I asked Steve Muench of Scouts Inc. about the draft possibilities following
a recent conversation
about
Sam Bradford
's perceived rise.
Steve Muench: Brandon Graham from Michigan could last there if the Patriots do not take him. Sergio Kindle is a guy you could use in that scheme. Another guy who had a great combine is Jerry Hughes. He is someone that is rising at the right time. We had him as an early second-round pick. It's not a stretch for him to rise up six or seven picks. He really moved well during drills and did not look like a defensive end. He looked like a linebacker.
Jason Worilds from Virginia Tech, we have him as a third-round grade. He has chronic shoulder problems, which is right away a red flag. I think he would easily go early in the second round if he had a clean bill of health. I really like how versatile he is as a pass rusher.
Hughes does a great job working the outside shoulder and bending back inside. He has a low center of gravity, great balance, good speed. I think Worilds does a better job throwing different hings at offensive linemen. He can set you up a little more. He'll get chipped by a back, doubled by a tight end. He's a tough kid. He'll come off the field, pop his shoulder back into place and go back on the field.
Teams running 3-4 defenses sometimes successfully rely on older players familiar with the scheme. Arizona has not re-signed
Chike Okeafor
, who recently turned 34, and
Bertrand Berry
is retiring. Porter recently turned 33. The draft could help Arizona get younger at the position while buying insurance in case Brown or Davis fails to develop.
February, 22, 2010
2/22/10
8:00
AM ET

Darren Urban of azcardinals.com
says the next two weeks are big for the Cardinals. He expects the Cardinals to release Antrel Rolle. Urban: "What that means is anyone's guess. The Cardinals believe Rolle would like to come back, but again, it's all relative when it comes to dollars. Could the Dolphins -- and Miami is home for Rolle -- come calling for big bucks given their issues with current free safety Gibril Wilson? Might the Giants, who had all kinds of secondary issues, choose to siphon away the guy who sealed their fate this past season? Someone else?"
Also from Urban
: Cody Brown is looking to bounce back from an injury-shortened rookie season. Urban: "The Cardinals still have veteran Clark Haggans, and Brown's good friend and fellow second-year player Will Davis made surprisingly solid strides in his own transition from college defensive end to linebacker. The Cardinals also signed CFL co-sack leader Stevie Baggs to see if Baggs can transition to the NFL. But it's Brown and another young player -- Mark Washington, who was signed to the practice squad with a month left in the season -- that have made enough of an impression the Cards hope pan out into production." Coach Ken Whisenhunt sounded optimistic about the situation at outside linebacker during a radio interview with KTAR 620 last week.

Danny O'Neil of the Seattle Times
wonders what Walter Jones has planned for the 2010 season. Jones indicated via Twitter on Super Bowl Sunday that he might be retiring, but he hasn't clarified those remarks. O'Neil: "The NFL Players Association Benefits department has received no documentation or any other indication he has officially retired. Jones is signed for next season at a salary of $7.3 million, but Seattle is not obligated to pay that total unless he's on the regular-season roster when the season begins. The fact the NFL's salary cap may disappear in two weeks makes the paper-value of Jones' contract even less relevant because he won't be eating up salary-cap space the Seahawks could otherwise spend."
Greg Johns of seattlepi.com
says there's no guarantee the Seahawks are excited about acquiring Brandon Marshall from the Broncos. Johns: "Should the Seahawks be interested? Marshall has averaged 102 catches for 1,236 yards over the past three seasons. T.J. Houshmandzadeh calls him the best receiver in the NFL. But there also is a big price with Marshall, both in terms of what it would cost to acquire and sign him as well as the difficulties he's caused his team at times. I'd label it a long shot that Marshall winds up in Seattle, but with a new regime and a desire by Pete Carroll to find greatness, never say never." I'd say it's likely the Broncos trade Marshall this offseason and, until we hear otherwise, Seattle would have to rank among the more logical destinations.

Matt Maiocco of the Santa Rosa Press-Democrat
sizes up the 49ers' current quarterbacks, noting that they've had a hard time living up to the team's history at the position. Maiocco: "From my viewpoint, Alex Smith has not convinced anybody he can be a reliable quarterback in the league. But, as he turns 26 in May, he has not proven to be a total lost cause, either. Only people who are biased one way or the other have already made those determinations. There's no question he has progressed when he's been on the field. He improved from his first season to his second. After his third and fourth seasons were virtually wiped out due to injuries, he was better in his fifth year than in his second. It's hard to believe he's reached his potential. But we also do not know how much higher he can go. For the first time, he will not have to spend the offseason learning a new system. He has a better supporting cast than any point in his career. He must take that next step in 2010."

Turf Show Times' VanRam
says it's still possible for Sam Bradford or Jimmy Clausen to improve their draft standing significantly, perhaps enough for the Rams to consider one of them with the No. 1 overall choice. VanRam: "If Bradford looks like he did during his 2008 season when he works out for scouts on March 25 and his health checks out, it's hard not to imagine him as a legitimate first overall pick. If Jimmy Clausen puts to rest questions about his maturity, blows the door off his team interviews and looks sharp at his work out, he'll be in a similar situation as Bradford, solidifying his place in the conversation of potential top picks." The Rams need to draft a quarterback early at some point, but they need to do it for the right reasons. Lots of teams have regretted taking quarterbacks early.
February, 18, 2010
2/18/10
11:10
AM ET
The Seahawks have reportedly added two former CFL players this offseason. The Rams tried to sign one of them, Ricky Foley. The Cardinals signed Stevie Baggs, formerly of the Saskatchewan Roughriders.

All this activity across the border made me wonder whether we're seeing more CFL players than usual landing with NFL teams.

The numbers are slightly up, according to the CFL. Along the way, I learned how these signings generally work.

A typical CFL contract includes an NFL option window that usually begins Jan. 1 and always ends Feb. 16. Players with such options in their contracts can sign with NFL teams during that window. If later released from the NFL, the player's rights revert to his previous CFL team.

Thirteen CFL players with options in their contracts signed with NFL teams during their option windows, up from 10 last offseason. Five others -- all three added by NFC West teams so far, plus Ryan Grice-Mullen of the Dolphins and Martell Mallett of the Eagles -- agreed to NFL deals as free agents untethered to Canadian teams.

Six of the 10 from last offseason returned to the CFL. But Cameron Wake and Stefan Logan made significant impacts. Wake has challenged Joey Porter for playing time in Miami. Logan became a return specialist in Pittsburgh.

The chart shows all 18 players added from CFL teams this offseason. The CFL confirmed 17 of them, but had no information yet on Foley's reported deal with Seattle, which might not be official yet. I added Mallett to the list after realizing he had been omitted.

February, 5, 2010
2/05/10
7:40
AM ET

Darren Urban of azcardinals.com
thinks defensive end Calais Campbell can get 10 or more sacks in a season. Urban: "But in the 3-4 alignment, the Cards need speed and youth outside. Will Davis looked decent as a rookie before getting hurt. We'll see on Cody Brown; he's going to go through a rookie year all over again after getting injured in the preseason. The Cards think Mark Washington looks the part and could be a find after getting him on their practice squad. Stevie Baggs isn't young (he's 28) but maybe he has turned the corner in the CFL. If one of those guys -- plus whomever the Cards draft at the spot, and they will take a pass rusher, I'd think -- pans out, the Cards' pass rush could be formidable, given what they already showed they can do." Matt Leinart is another key to the pass rush in Arizona. Rushing the passer becomes much easier when a team has points on the board and a lead.
Also from Urban
: a look at Baggs, signed from the CFL.
Kent Somers of the Arizona Republic
analyzes the Cardinals' specialists. Somers on kicker Neil Rackers: "There is a contigent of fans who would like to see Rackers replaced. And it's true he hasn't been good in the clutch. But as with any change, the Cardinals need to ask themselves if they can find anyone better. Rackers was one of several kickers who struggled in the playoffs." The Cardinals could need Rackers more in the clutch as their margin for error shrinks without Kurt Warner.

Matt Maiocco of the Santa Rosa Press-Democrat
checks in with Ray Brown, the 49ers' new assistant offensive line coach. Brown: "Being smart, being tough, being physical, knowing what to do, knowing your assignments. All those things are going to apply to modern-day football. It's never going to change. It's going to be about leverage. It's going to be about being physical. It's going to be about being a good man. And I think that has a lot to do with whether you're successful or not. We got some good people in this organization. We got some young players who need some grooming and growing. We got great teachers on the staff. I think those combinations will lead us to being a much better football team."
Also from Maiocco
: a look at the 49ers' running backs. Maiocco: "So, do the 49ers need another running back to give them more of an outside threat? I think it will be difficult for a rookie to get much playing time on offense. But, clearly, where the 49ers need help is in the return game. It would fill a major need to get an elusive running back to play no more than a handful of offensive snaps a game while also taking over the punt- and kick-return chores."
Matt Barrows of the Sacramento Bee
says Brown and 49ers offensive line coach Mike Solari have much work to do in helping the line improve.
Also from Barrows
: summaries of recent interviews 49ers quarterback Alex Smith conducted with radio stations. Smith: "There is no formula for winning on offense. You can't go out there and say, 'Hey, we're going to run the ball 40 times a game and we're going to be three yards and a cloud of dust.' That's just not the way it is. Defenses are too good in this league. You have to be able to do both. You have to run and pass it. You have to be able to line up in different formations and be able to give defenses different looks and you have to be versatile. And I think that's where we're headed and where we need to be headed."

Greg Johns of seattlepi.com
says the Seahawks' coaching staff under Pete Carroll isn't particularly young, at least in key spots. Johns: "If you look strictly at the 11 primary assistant coaching positions on the team -- offensive and defensive coordinators, quarterback, running back, wide receiver, offensive line, tight ends, defensive line, linebackers, defensive backs and special teams -- Carroll's core staff is actually slightly older and more experienced than last year's group."
Eric Williams of the Tacoma News Tribune
says Luke Butkus and Dave Canales were two previously unreported names to surface on Carroll's coaching staff.
John Morgan of Field Gulls
says an improved offense is one key to sprucing up the Seahawks' pass rush. The Seahawks never had great defenses during their most successful seasons under Mike Holmgren, but they did maximize their defensive ability by putting up points.

Jim Thomas of the St. Louis Post-Dispatch
says the Rams tried out a defensive end prospect from Canada, Ricky Foley. Thomas: "One of Foley's former B.C. Lions teammates, Cameron Wake, had 5.5 sacks last season for the Miami Dolphins. The Rams could have a glaring need at the defensive end position in 2010. Leonard Little is an unrestricted free agent, and is contemplating retirement. James Hall also is an unrestricted free agent, and Victor Adeyanju will be a restricted free agent in an uncapped year."
Bernie Miklasz of the St. Louis Post-Dispatch
says Marshall Faulk is the latest former Rams player to criticize the current leadership. Faulk: "I don't like the road that they're going down. With guys like myself. And guys who can help deal with what it's like in St. Louis. And I think that they just don't know. I'm not out to hurt the team. I want to see the Rams survive. I have a job to do in talking about the Rams, and trust me -- it hurts me, it pains me, to see what's being put out on the field. My objective is not to belittle or down-talk the Rams. I want to talk good about them. I want to praise them. I want to be sitting here right now, reliving the days when we played well, and happy because the Rams are in the Super Bowl. Sometimes, in their cloak-and-dagger atmosphere of shutting down Rams Park, and not inviting guys into this and that, and wanting to keep everything in house, you alienate yourself from getting opportunities of getting inside information. And having guys and people who could be very instrumental to the program help you. They've taken down photos of some of the great Rams players. For what? Why? I don't want to take shots. I don't know, but I'm pretty sure -- there's never been a first-time head coach, a first-time GM and a first-time president turn a team around. You need some experience from somewhere. You need some help. You need some inside information. Because all of your jobs are new." Great fodder for scheduled media appearances by Steve Spagnuolo and Billy Devaney as Super Bowl week wraps up Friday.
February, 4, 2010
2/04/10
6:44
PM ET
FORT LAUDERDALE, Fla. -- Cardinals fans might want to check out
the Web site
for their
newest pass-rushing prospect
.
CFL star Stevie Baggs sounds like quite a guy:
philanthropist
,
athlete
and
entrepreneur
.
"Known for making major moves both On and Off the field,"
Baggs' bio
reads, "Stevie 'Shakespeare' Baggs is a force hard to resist,"
Well, then.
Look out, NFC West.
If you've seen Baggs play, what do you think?