NFC West:

Stock Watch 2010
October, 27, 2010
10/27/10
1:45
PM ET
»
NFC Stock Watch
:
East
|
West
|
North
|
South
»
AFC
:
East
|
West
|
North
|
South
FALLING
1. Max Hall, Cardinals QB.
Completing 4 of 16 passes before suffering a concussion knocked down Hall's stock considerably even though this was only his second NFL start. Hall struggled in the wet, windy conditions at Qwest Field. He looked better against New Orleans two weeks earlier and he'll need to look better against Tampa Bay in Week 8. At least he won't have to worry about wrapping his small hands around a cold, wet football.
2. David Carr, 49ers QB.
The 49ers have given
Alex Smith
five-plus seasons to prove himself as a legitimate NFL starting quarterback. They gave Carr six games on the bench and 13 pass attempts against Carolina before deciding he wasn't the answer against Denver in Week 8. Carr is earning more than $3 million per season from the 49ers. One question: Why?
3. Tim Hightower, Cardinals RB.
Hightower ran hard and ran effectively against Seattle, but he lost a fumble for the third time this season and the seventh time in his last 20 games. The Cardinals' margin for error is too slim to tolerate regular turnovers. Hightower could lose his starting job as a result.
[+] Enlarge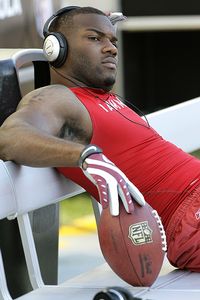 AP Photo/Charles Rex ArbogastRunning back Beanie Wells should see increased playing time in Arizona.
RISING
1. Mike Williams, Seahawks WR.
Twenty-one receptions over two games would pump up the stock for just about any wide receiver. Williams has become a force on third down. He has nine third-down receptions, eight for first downs, during the Seahawks' recent victories over Arizona and Chicago.
2. Troy Smith, 49ers QB.
Smith figured to get playing time at some point once the 49ers knew Alex Smith would miss games. But right away? The 49ers like what Smith offers in the leadership department and they've got nothing to lose at this point. Offensive coordinator Mike Johnson worked with Smith in Baltimore. Will the rapport help on game days?
3. Beanie Wells, Cardinals RB.
The Cardinals haven't named Wells their starter for Week 8, but he stands to benefit from lost playing time for Hightower. Wells did not find much running room against the Seahawks, but the Cardinals know he can run the ball. They need to see him make strides in other areas. Wells did make an exceptional catch on a pass out of the backfield.
October, 20, 2010
10/20/10
1:00
PM ET
»
NFC Stock Watch
:
East
|
West
|
North
|
South
»
AFC
:
East
|
West
|
North
|
South
FALLING
1. Preseason predictions.
Those would include mine, not that anyone could have known
Marshawn Lynch
would revitalize Seattle's offense while the Seahawks allowed zero sacks during a road victory against the
Chicago Bears
. I mean, really, could anyone have seen that coming back in August? Or even two weeks ago? This was the year San Francisco appeared in position to hold off Arizona for the top spot in the NFC West, with Seattle and St. Louis trailing. Six weeks into the season, we could rank the teams in reverse order of expected finish without stretching too far. But it's a week-to-week existence in the NFC West and throughout much of the league. Fortunes change quickly.
2. Seahawks' special teams.
Golden Tate
muffed a Bears punt at the Seattle 7-yard line and was fortunate to recover. A penalty against the Bears wiped out a kickoff return for a touchdown. An off-target punt allowed the Bears'
Devin Hester
to return the ball 89 yards for a touchdown in the final minutes, forcing Seattle to sweat out a victory unnecessarily. Punter
Jon Ryan
was excellent to that point in the game and Seattle's special teams remain strong overall, but a couple high-profile miscues can ruin everything.
3. Arizona Cardinals.
It's not their fault the rest of the NFC West went 3-0 during Arizona's bye week. It's not their fault Buffalo traded Lynch to the Seahawks shortly before the Cardinals' visit to Qwest Field. It's not their fault the Rams somehow rebounded from a 44-6 defeat in Detroit to beat a San Diego team that had blown out Arizona two weeks earlier. The reality, though, is that the Cardinals unexpectedly lost sole possession of first place in the division.
[+] Enlarge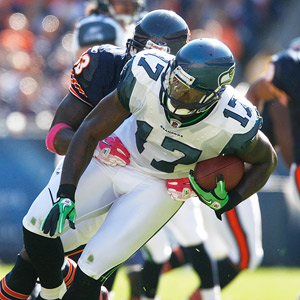 AP Photo/Nam Y. HuhIn Seattle's win over Chicago, Mike Williams went over the 100-yard receiving mark for the first time this season.
RISING
1. Mike Williams, Seahawks WR.
Ten catches for 123 yards will raise the stock for just about anyone. Williams' stock has already risen significantly since his surprise signing in Seattle during the offseason. It took a sharp turn upward Sunday. Williams made key catches on third down. He made a difficult catch near the ground in tight quarters along the goal line. Through his efforts, the Seahawks didn't have to hear about
Deion Branch
catching nine passes for 98 yards in his first game after Seattle traded Branch to New England.
2. Ken Flajole, Rams defensive coordinator.
The Rams' defense has outperformed outside expectations. Seven sacks against
Philip Rivers
helped the Rams hold the Chargers well below their season averages for total yards and passing yards in particular. San Diego managed only 287 yards, 102 lower than its previous worst this season. The Rams ended the Chargers' 13-game streak with at least 300 yards. Flajole doesn't get as much credit as he otherwise might because the Rams have a defense-minded head coach, but more will come his way if St. Louis keeps this up on defense.
3. Frank Gore, 49ers RB.
Gore's stock generally doesn't change much, but his 64-yard run and 149-yard rushing performance against Oakland proved critical in the 49ers' first victory of the season. Gore was coming off a two-fumble performance during a 27-24 defeat to the
Philadelphia Eagles
. He also stepped out of bounds before making a reception during that game. Gore appeared
primed for a rebound game
, and he got one.
October, 13, 2010
10/13/10
12:45
PM ET
»
NFC Stock Watch
:
East
|
West
|
North
|
South
»
AFC
:
East
|
West
|
North
|
South
FALLING
1. Jed York, 49ers president.
Let's go right to the top. It's not Mike Singletary's fault the 49ers hired an inexperienced, apparently one-dimensional head coach. It's not Singletary's fault expectations surged when York promised a playoff appearance last season. It's not Singletary's fault that York came out this week saying the 49ers would win the division despite their 0-5 start. It's not
Alex Smith
's fault the 49ers committed to an unproven quarterback when
Donovan McNabb
was available during the offseason. York is the one who enthusiastically hired Singletary, then watched as the organization moved forward without viable fallback options at head coach and quarterback. York appears to have the right intentions, but to say the organization has fallen short on the execution front would be an understatement.
2. Steve Spagnuolo, Rams coach.
That failed onside kick to open the Detroit game put the spotlight on Spagnuolo following one of the more discouraging performances of this young NFC West season. The Rams had won two games in a row, beating the
Washington Redskins
and
Seattle Seahawks
with strong defensive efforts. They should have been competitive, at least, against a 0-4 Lions team. Losing 44-6 to one of the worst teams in the league will drag down the stock of any head coach.
3. Sam Bradford, Rams QB.
Losing top receiver
Mark Clayton
for the season accounts for Bradford's inclusion on this list. Bradford has played more like a veteran than a rookie for significant stretches this season. That was not the case Sunday and Clayton's early departure from the game obviously hurt. On a side note, I could have named in this spot any number of 49ers players, from Smith to the uncharacteristically fumble-prone
Frank Gore
, but York served as 49ers catch-all this week. As for Bradford? His long-term stock forecast remains decidedly positive. It's the short-term outlook that took a hit when Clayton's patella tendon gave out.
RISING
[+] Enlarge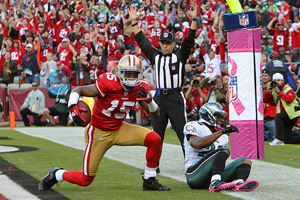 AP Photo/ Bill NicholsMichael Crabtree had his most productive game of the season Sunday against the Eagles.
1. John Schneider, Seahawks GM.
The Seahawks didn't even play in Week 5, but they scored a significant victory by landing a 2011 fourth-round draft choice from New England in the
Deion Branch
trade. The Patriots hold two fourth-rounders, their own and one from Denver. Seattle gets the highest of those two choices. I wondered whether Seattle could get even a fifth-round choice for the 31-year-old Branch. Getting the better of two fourths allowed Seattle to recoup most of the value lost when Seattle sent its own fourth-rounder to Buffalo for
Marshawn Lynch
.
2. Kerry Rhodes, Cardinals S.
Two fumble recoveries for touchdowns in a two-week period will get any safety noticed. Rhodes made other significant plays during the
Arizona Cardinals
' 30-20 victory over New Orleans. The Arizona defense played its best game of the season and Rhodes played a key role.
3. Michael Crabtree, 49ers WR.
Nine catches for 105 yards against Philadelphia showed the 49ers are more committed to getting the ball in Crabtree's hands. Crabtree has 14 receptions for 163 yards in the two games since Mike Johnson replaced Jimmy Raye as offensive coordinator. He had six catches for 81 yards in the 49ers' previous three games.
September, 29, 2010
9/29/10
1:55
PM ET
»
NFC Stock Watch
:
East
|
West
|
North
|
South
»
AFC
:
East
|
West
|
North
|
South
FALLING
1. Mike Singletary, 49ers coach.
The "falling" list isn't long enough to single out every 49ers individual worthy of mention under the designation. We can start and end with the head coach. Mike Singletary's coaching future appears shakier with every defeat. His stock is falling. Singletary's most important decision as head coach -- hiring an offensive coordinator -- came unraveled with Jimmy Raye's firing after only three games this season.
2. Andre Roberts, Cardinals wide receiver.
The Cardinals are desperate for help at receiver, but Roberts hasn't been ready. The team tried him at punt returner against Oakland and Roberts, a third-round choice, misplayed at least one of two punts that fell shorter than anticipated. The Raiders recovered both of them and nearly won the game as a result.
3. Tim Hightower, Cardinals running back.
The running game perked up immediately with
Beanie Wells
making his 2010 debut. Hightower was on the "rising" list a week ago after his 80-yard touchdown run gave the Cardinals their only touchdown against Atlanta. There was not much he could do about Wells' return. He had 11 carries for 40 yards against the Raiders.
RISING
[+] Enlarge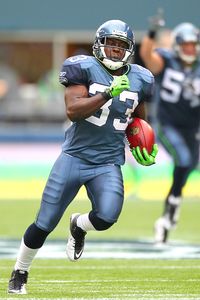 Otto Greule Jr/Getty ImagesLeon Washington's two kick returns for touchdowns keyed Seattle's upset of San Diego.
1. Leon Washington, Seahawks running back.
Two kickoff returns for touchdowns allowed the Seahawks to beat San Diego even though Seattle squandered two clear scoring chances in the first half. The Seahawks' personnel people deserve some credit here, too. They're the ones who identified Washington as a low-risk, high-reward acquisition.
2. Steve Spagnuolo, Rams coach.
Spagnuolo badly needed a boost after a disappointing performance at Oakland in Week 2. Beating a
Washington Redskins
team featuring defensive coordinator Jim Haslett and quarterback
Donovan McNabb
should carry extra meaning. Haslett coached the Rams previously, so losing to him would have looked bad on Spagnuolo's résumé. McNabb was familiar with the Rams' coaching staff from the time they shared in Philadelphia, and there was some thought St. Louis should have pursued McNabb during the offseason.
3. Beanie Wells, Cardinals running back.
Wells had 14 carries for 75 yards against the Raiders. He ran with authority. The Cardinals might need to rely on him even more now that knee surgery will sideline No. 2 receiver
Steve Breaston
for the next couple of games, at least.
September, 22, 2010
9/22/10
11:00
AM ET
»
NFC Stock Watch
:
East
|
West
|
North
|
South
»
AFC
:
East
|
West
|
North
|
South
FALLING
1. Delanie Walker, 49ers tight end.
The fumble he lost at the New Orleans 8-yard line killed a potential scoring drive, turning momentum against the 49ers. The running game seemed to perk up with rookie
Nate Byham
on the field as the second tight end and situational fullback. But that fumble was what landed Walker on this list.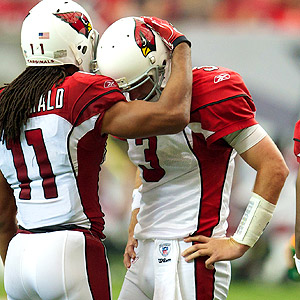 Dale Zanine/US PresswireDerek Anderson threw two INTs and no touchdowns against Atlanta.
2. Derek Anderson, Cardinals quarterback.
Seattle's
Matt Hasselbeck
probably deserved a spot on this list, so I'll mention him, too. But Arizona hadn't gone a full game without a third-down conversion since a Sept. 28, 2003, defeat at St. Louis, a span of 109 regular-season games. That it happened in Anderson's second start with the team drags down his stock.
3. Steve Spagnuolo, Rams coach.
Spagnuolo admitted the Rams appeared undisciplined against Oakland in Week 2. The team hasn't shown an ability to win close games even against bad teams. The defeat in Oakland was ugly.
RISING
1. Alex Smith, 49ers quarterback.
Smith hasn't led a fourth-quarter comeback victory since 2007, but he came close Monday night, forcing a tie against New Orleans with an impressive drive late. Two interceptions proved costly, but it was tough to fault Smith for one of them.
2. Golden Tate, Seahawks wide receiver.
Tate's stock fell when Seattle named him inactive for Week 1. Sufficiently motivated, the rookie broke out in Week 2 with a 63-yard punt return and 52-yard reception on his first two NFL touches. He's the new punt returner.
3. Tim Hightower, Cardinals RB.
Hightower ranks sixth among NFL players in rushing yardage after collecting a career-long 80-yard scoring run during an otherwise forgettable game against Atlanta. Hightower is averaging 7.0 yards per carry, putting more distance between himself and injured challenger
Beanie Wells
.
September, 15, 2010
9/15/10
4:55
PM ET
»
NFC Stock Watch
:
East
|
West
|
North
|
South
»
AFC
:
East
|
West
|
North
|
South
FALLING
[+] Enlarge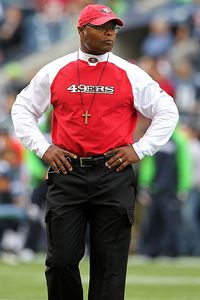 Otto Greule Jr/Getty Images49ers coach Mike Singletary and his staff have to work out communication issues before their next game.
1. Mike Singletary, 49ers coach.
The 49ers looked impressive marching onto the field in rows of five, arms locked and moving with near-military precision. They did not appear so organized during the game, however, and the head coach is ultimately responsible. This wasn't the first time the 49ers have had problems getting plays from coordinator Jimmy Raye to quarterback
Alex Smith
in time to operate smoothly. Singletary needs to make sure the problems get fixed right away or his stock won't be the only thing falling. He'll lose credibility with players even as they respect him personally.
2. Alex Smith, 49ers QB.
The 49ers aren't asking Smith to carry the offense. They still want to run the ball with
Frank Gore
and let others --
Michael Crabtree
and
Vernon Davis
, specifically -- make the big plays. The running game isn't going to be effective every week, however, and in those times it's important for the quarterback to step forward. Smith completed a high percentage of passes early against the Seahawks, but he showed zero ability to spark the offense when the team needed a jolt. Converting only one time in 15 third-down chances will always drag down a quarterback's stock.
3. Rookie receivers.
Seattle's
Golden Tate
and Arizona's
Andre Roberts
weren't active in Week 1 even though both teams had uncertainty at the position heading into the season. Tate was a second-round choice. Roberts was a third-rounder. I spoke with Tate in Seattle's locker room Wednesday and he said the experience has reminded him to take nothing for granted. He knows he needs to work on the little things -- the way he drops his weight at the top of a route, for example -- to earn the trust of quarterback
Matt Hasselbeck
and the coaching staff. Tate will make plays for Seattle at some point this season. But nothing will be handed to him. A shoulder injury set back Roberts during camp.
RISING
1. Pete Carroll and staff.
The Seahawks' performance against the 49ers validated everything Carroll had been talking about all offseason. Hanging a 31-6 defeat on the favored division-rival 49ers showed, at least for a week, that rebuilding and winning aren't always exclusive. The Seahawks appeared be more talented and better equipped following an offseason filled with roster moves and a couple high-profile subtractions (that of
T.J. Houshmandzadeh
, primarily). Carroll and staff outcoached their San Francisco counterparts through their initial plan and through adjustments. This was a great start.
2. Steve Breaston, Cardinals WR.
It's time to recognize what the Cardinals have known for some time. Breaston is a legitimate starting receiver, but he still benefits from the mindset he needed while breaking into the league as a fifth-round draft choice. That makes Breaston a perfect fit in Arizona, where Cardinals coach Ken Whisenhunt values what Breaston represents. In Week 1, Breaston caught each of the seven passes thrown to him, gaining 132 yards. He made a touchdown-saving tackle during one
St. Louis Rams
fumble return. He saved another Rams touchdown by forcing a fumble.
3. Mark Clayton, Rams WR.
Not many receivers could catch 10 passes for 119 yards while avoiding assignment errors one week after joining their new teams. Clayton did that because he works hard and understands concepts, meaning there's more real learning than mere memorization when he applies himself. Clayton and Rams rookie quarterback
Sam Bradford
are only beginning to build a rapport. They should remain productive and become even better together over time.
Note:
Breaston's teammate,
Adrian Wilson
, easily could have landed in one of these three spots following his performance against the Rams. I chose to recognize the others in part because Wilson already enjoys elevated stock value as a Pro Bowl regular. Seattle's Hasselbeck was another consideration, but the format allows for only three choices in each category.