NFC West:

Stock Watch NFC
September, 13, 2011
9/13/11
1:00
PM ET
»
NFC Stock Watch
:
East
|
West
|
North
|
South
»
AFC
:
East
|
West
|
North
|
South
FALLING
1. St. Louis Rams' mojo.
Rams fans are advised to skip ahead to the third item in the "rising" section below. This item could be too painful for them. The Rams' early schedule was going to be tough enough already without subtracting key players from the lineup. Sure, quarterback
Sam Bradford
(finger), tackle
Jason Smith
(ankle) and cornerback
Bradley Fletcher
(toe) could be healthy enough to play against the
New York Giants
in Week 2. None figures to be full strength, however, and there's little or no chance the Rams will have running back
Steven Jackson
(quadriceps), cornerback
Ron Bartell
(neck) or receiver
Danny Amendola
(elbow). The Giants are also riddled with injuries, but at least they'll be at home.
2. Seattle Seahawks special teams.
The Seahawks pulled within 19-17 in the final four minutes against the Niners when their coverage units imploded, allowing two quick return touchdowns. Losing fullback
Michael Robinson
and cornerback
Byron Maxwell
to injuries weakened Seattle on special teams, no question. But those personnel losses could not excuse allowing a 102-yard kickoff return and a 55-yard punt return to
Ted Ginn Jr
. Seattle return specialist
Leon Washington
was already having a tough game when he ran down on the kick coverage team as Ginn gathered momentum for his 102-yarder. Washington tried to get around 49ers linebacker
Blake Costanzo
, and when he did, there was room. Ginn: "The guy that really gave it away to me was Leon."
3. Arizona Cardinals cornerbacks.
Rookie
Patrick Peterson
and former wide receiver
A.J. Jefferson
were making their first regular-season starts at cornerback for the Cardinals. By the time their day was done,
Cam Newton
had passed for 422 yards, a record for a rookie making his first start. Peterson and Jefferson were not solely to blame, of course. Effective coverage requires trust and coordination throughout the secondary. Still, coach Ken Whisenhunt was diplomatic when he said: "I think if we can get these two young guys to keep improving and getting more time in these games, we're going to be OK."
RISING
[+] Enlarge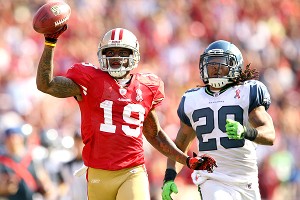 Ezra Shaw/Getty ImagesTed Ginn Jr.'s two touchdowns were the difference in San Francisco's win over Seattle.
1. Ginn and the San Francisco 49ers' special teams.
The 49ers entered Week 1 as the only team in the league featuring a snapper, kicker and punter with at least one Pro Bowl appearance apiece. Brad Seely, in his first season with the 49ers, is a two-time special-teams coach of the year. Costanzo,
Colin Jones
and
Bruce Miller
earned roster spots largely for their strength on special teams. Coach Jim Harbaugh says he thinks the 49ers spend more time than most practicing special teams. Get the idea? Beyond Ginn's returns, the punt that
Andy Lee
dropped at the Seattle 1-yard line was also pivotal. The 49ers won the field-position game, critical to the outcome. Lee set a franchise record for gross average (59.4) among players with more than one punt. His net average (54.2) was sensational.
2. Ray McDonald, 49ers defensive end.
It's tough to believe McDonald hadn't started a game since 2008 before Sunday. The 49ers gave him a $5 million signing bonus as part of a five-year, $20 million contract during the offseason. McDonald was a problem for Seattle from the beginning. He finished the game with six tackles, including three behind the line of scrimmage. He had one sack and three total quarterback hits. The 49ers felt as though McDonald had shown signs in the past that a breakthrough could be on the way. This performance showed they might have been right.
3. Cadillac Williams, Rams running back.
As promised, Rams fans, there was a reward for you in the end. Williams' 19-carry, 91-yard performance validated the Rams' decision to sign Williams for veteran depth behind Jackson. The team previously did not feel as though its backups could carry a full workload from game to game. It's looking like the Rams will need Williams to fill that role for at least one game, and it's looking like Williams will be ready.
October, 6, 2010
10/06/10
1:30
PM ET
»
NFC Stock Watch
:
East
|
West
|
North
|
South
»
AFC
:
East
|
West
|
North
|
South
FALLING
1. Derek Anderson, Cardinals QB. The Cardinals benched him only four games into the season. The move might not be permanent, but it was telling. Anderson had to know the Cardinals were entertaining other long-term plans at the position, but he probably figured to get longer than 14 quarters.
[+] Enlarge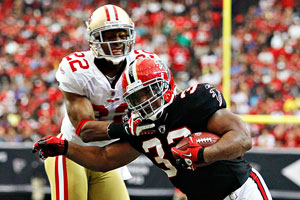 Kevin C. Cox/Getty Images49ers cornerback Nate Clements' fumble might have cost San Francisco a victory.
2. Nate Clements, 49ers CB.
Clements was enjoying a strong game against the
Atlanta Falcons
until he lost a fumble during an interception return, then ducked out of the locker room without publicly accounting for his miscue. The decision to go for a touchdown return was not the best decision given the score and game situation. If Clements was going to go for the return, he needed to make ball security his top priority.
3. Justin Forsett, Seahawks RB. Marshawn Lynch's addition to the Seahawks means Forsett no longer projects as the starter this season. Seattle has big plans for Lynch. The bye week gives the Seahawks time to prepare Lynch for the team's game against Chicago. Forsett will remain an important part of the rotation, but he's a less important part now.
RISING
1. Sam Bradford, Rams QB. Throwing two touchdown passes to help end the Rams' 17-game NFC West losing streak means Bradford is providing immediate returns on a long-term investment. He's looking like the best quarterback in the division only four games into his career.
2. Taylor Mays, 49ers S. The 49ers' decision to release veteran safety Michael Lewis became less of a story when Mays replaced him capably and, by the way, accounted for half the team's points with a spectacular special-teams touchdown. Consider this a running start for Mays.
3. Max Hall, Cardinals QB. Hall is on the rising list the way Forsett is on the falling list -- through circumstances involving another player. Anderson's benching, whether permanent or not, suggests Hall will probably be starting for the Cardinals sooner, not later.
May, 13, 2010
5/13/10
1:00
PM ET
»
NFC Stock Watch
:
East
|
West
|
North
|
South
»
AFC
:
East
|
West
|
North
|
South
Falling


Veteran cornerbacks.
The 49ers appear to be moving on without 35-year-old
Walt Harris
and 32-year-old
Dre' Bly
. Their newest corner,
William James
, is younger (30) and has far fewer games on his odometer. The Seahawks have not re-signed 31-year-old corner
Ken Lucas
, who started six games for them last season and 106 games in eight previous NFL seasons. Lucas visited the Titans this offseason, but Tennessee signed 27-year-old Rams and Falcons castoff
Tye Hill
. Seattle drafted cornerback
Walter Thurmond
, 22. The Cardinals went younger at corner this offseason by trading
Bryant McFadden
, 28, while hoping
Greg Toler
, 25, takes over for him in the lineup. The Rams got younger at the position by parting with
Jonathan Wade
, 26, and drafting
Jerome Murphy
, 23.
Rising


NFC West storylines.
The banter between Cardinals defensive lineman
Darnell Dockett
and 49ers tight end
Vernon Davis
indulged fans of both teams. Division rivalries are fun, anyway, and this is definitely a rivalry. Some 49ers fans like to point to the team's storied past while dismissing the Cardinals as a long-floundering franchise. That thinking is fine if we're on a field trip to the Pro Football Hall of Fame. It's outdated in this context. The Cardinals have won the last two division titles. They swept the 49ers in 2008. The 49ers swept the Cardinals last season. Both teams have ascending Pro Bowl-caliber players -- Dockett and Davis among them. Both have young first-round quarterbacks trying to salvage their careers. Good stuff.
May, 6, 2010
5/06/10
1:00
PM ET
»
NFC Stock Watch
:
East
|
West
|
North
|
South
»
AFC
:
East
|
West
|
North
|
South
Falling

Steven Jackson, Rams RB:
The player the Rams need most -- their only draft choice of the 2000s to earn a Pro Bowl berth -- should be ready for training camp. That's good for Jackson and good for the Rams. But the news that Jackson underwent back surgery in April meant Jackson's symptoms did not improve enough on their own. Minimally invasive procedures allow doctors to address a herniated disk without traumatizing surrounding areas. There's a good chance Jackson will move past this injury and continue to produce at a high level. Surgery still stands down the list of preferred options. Jackson turns 27 this summer and injuries have slowed him each of the past three seasons. His back surgery serves as a reminder that Jackson's hard-charging style comes with a price.
Rising

Patrick Willis, 49ers LB:
Getting Willis re-signed through the 2016 season stands as a victory for the 49ers and certainly for Willis, who enters his fourth NFL season knowing he fits prominently into the team's long-term plans. There should have been little doubt. The 49ers were never going to let Willis get away. Money talks, however, and this deal shouts Willis' status as the best young inside linebacker in the game. The timing for an extension didn't seem right. The NFL labor situation made it harder for teams to structure extensions in ways that worked for both parties. Willis was also coming off knee surgery that, while minor, had sidelined him this offseason. Willis becomes one of the few high-profile players to transcend the current labor uncertainty.
April, 29, 2010
4/29/10
1:00
PM ET
»
NFC Stock Watch
:
East
|
West
|
North
|
South
»
AFC
:
East
|
West
|
North
|
South
Falling

Deuce Lutui, Cardinals guard.
Lutui played well enough in 2009 to earn consideration for a long-term contract, but like most players, he's not valuable enough to leverage his team into action. Staying away from the offseason program would have been enough to lower Lutui's stock on its own. Recent moves by the Cardinals have only dropped that stock further. Line coach Russ Grimm has a long list of starting-caliber guards to consider after Arizona signed
Rex Hadnot
and nine-time Pro Bowler
Alan Faneca
in free agency. Arizona has enough depth for Grimm to consider using longtime left guard
Reggie Wells
at right tackle. The only realistic option for Lutui is the same one he's had all along: report in shape, compete hard and show the Cardinals he deserves a long-term deal.
Rising

Pete Carroll, Seahawks coach.
Carroll cleared an important first hurdle as the Seahawks' coach and highest-ranking personnel authority when he oversaw an ambitious and productive first draft in Seattle. No team knows whether the players it drafts will become stars, but the Seahawks earned rave reviews from their handling of the draft, and those reviews appeared warranted. Seattle landed highly regarded players at positions of great need while also maneuvering to land running backs
Leon Washington
and
LenDale White
. Carroll and general manager John Schneider also validated the collaborative spirit CEO Tod Leiweke stressed in hiring them following a tumultuous period in the team's front office. It's still early. Carroll has much to prove. So far, however, so good for Seattle.
April, 15, 2010
4/15/10
1:00
PM ET
»
NFC Stock Watch
:
East
|
West
|
North
|
South
»
AFC
:
East
|
West
|
North
|
South
Falling

Shahid Khan, Rams bidder.
The Illinois billionaire entered this week as the apparent favorite to take over majority stake in the Rams. Appearances can be deceiving. Khan abruptly found out his bid would be pushed to the background while Stan Kroenke attempted to increase his 40 percent stake into full ownership. Kroenke had that right. To my knowledge, no one publicly expressed an expectation it would happen. It did, and Khan's stock took a huge hit.
Rising

Kroenke.
The billionaire owner of the NBA and NHL teams in Denver might need to adjust his portfolio to comply with NFL rules on cross-ownership. That shouldn't be too tough. Where there's a will -- and a billion dollars -- there's usually a way. Kroenke was probably underestimated after staying in the background as the Rams' minority owner for all these years. This was his first chance to take over the team and he pounced on it. He would instantly become the second-richest owner in the NFL (and in the NFC West).
April, 8, 2010
4/08/10
1:00
PM ET
»
NFC Stock Watch
:
East
|
West
|
North
|
South
»
AFC
:
East
|
West
|
North
|
South
Falling

Leroy Hill, Seahawks LB.
A recent guilty plea in a 2009 marijuana-possession case could produce a one-game suspension for Hill to begin the regular season. The league typically doesn't announce such suspensions until shortly before the season, but a forced hiatus without pay would be consistent with precedent. Hill has never started 16 games in an NFL regular season. He's part of a linebacking corps that hasn't lived up to expectations, mostly because of injuries. Hill, lost for five games after suffering a groin injury in the season opener last season, previously missed season openers in 2005 and 2006.
Rising

Dominique Rodgers-Cromartie, Cardinals CB.
Reports from Arizona suggest the Pro Bowl cornerback is aggressively rehabbing the knee injury that required offseason surgery. Rodgers-Cromartie is the most talented cornerback in the division. He earned a Pro Bowl berth last season even though he could have played better. Getting the knee healthy will be important as Rodgers-Cromartie seeks to regain his confidence and continue progressing toward elite status.
April, 1, 2010
4/01/10
1:00
PM ET
»
NFC Stock Watch
:
East
|
West
|
North
|
South
»
AFC
:
East
|
West
|
North
|
South
Falling

David Carr, 49ers QB.
NFL teams are not rushing out to hire reporters for personnel jobs, but if you can find a positive media review from Carr's debut at the 49ers' organized team activities, be sure to pass it along. "If there's a training camp competition -- if it's CLOSE AT ALL between presumed No. 1
Alex Smith
and Carr -- then the 49ers are in some trouble," Tim Kawakami of the San Jose Mercury News wrote, "because Carr's not the answer." The Sacramento Bee's Matt Barrows used the word "frazzled" to describe what he saw from the 49ers' new backup passer, softening the description by noting that any quarterback might appear that way in his first practice with a new team. "The thing that immediately caught the eye," Matt Maiocco of the Santa Rosa Press-Democrat wrote, "was his throwing motion, which appears unorthodox -- similar to a dart thrower." Hey, 49ers quarterbacks haven't thrown enough darts over the years, and it is early. So far, though, not so good.
Rising

Joey Porter, Cardinals OLB.
I was saving a spot for Porter in the "falling" section until authorities in Bakersfield, Calif., decided against filing charges against him following a DUI-related arrest. Porter's stock did take an initial hit and the incident isn't something he'll display proudly on his résumé, but the quick about-face from authorities was a welcome development for Porter and the Cardinals. The team recently agreed to pay a $4 million signing bonus to Porter as part of a three-year deal. The NFL processed the contract Monday, just as it was appearing Porter might be in line for league discipline. That would have been bad. But Porter can now participate in the Cardinals' offseason program without directing any of his energies toward the legal process. The story should be a non-issue when the team reports for training camp, which is another bonus.
March, 25, 2010
3/25/10
1:00
PM ET
»
NFC Stock Watch
:
East
|
West
|
North
|
South
»
AFC
:
East
|
West
|
North
|
South
Falling

Scot McCloughan, former 49ers GM.
News of his potential departure began filtering out about this time last week. The 49ers announced a "mutual parting" after five days of silence. Even some of McCloughan's longtime friends in scouting have told me they never saw it coming. It's just stunning for a GM to vanish from the scene without even making a formal comment -- just as his team finally appears in position to contend for a playoff spot with the players he helped assemble. It's all a little surreal. This marks a professional low point for McCloughan. He'll be back in some capacity. He's not yet 40 and his reputation as a scout shouldn't suffer in the long term.
Rising
Trent Baalke, 49ers player personnel director.
McCloughan's departure left Baalke in charge of the 49ers' draft room. Baalke has a chance to show he can lead the 49ers' personnel department. If the draft appears to go well, it's conceivable Baalke could remain in charge through the 2010 season at least. He probably never would have wanted to take the top job under these circumstances, but the opportunity is still a good one. The timing of McCloughan's departure makes it extremely difficult and probably unlikely for the 49ers to go outside the organization for a new personnel chief this offseason. The need for continuity makes Baalke the logical choice to remain in a leadership role. Pro personnel director Tom Gamble is also in the mix.
March, 11, 2010
3/11/10
1:00
PM ET
»
NFC Stock Watch
:
East
|
West
|
North
|
South
»
AFC
:
East
|
West
|
North
|
South
Falling

Shaun Hill, 49ers QB
The 49ers' former starting quarterback became their former No. 2 quarterback when the team signed
David Carr
to a two-year deal. Hill can point to a 10-6 starting record and support from the 49ers' locker room. Usually reserved Pro Bowl linebacker
Patrick Willis
even criticized the 49ers' interest in Carr via Twitter (later apologizing). Of all the 49ers' quarterbacks in recent seasons, Hill was the only one with a winning record and the only one to demonstrate clear leadership skills. Hill can't measure up physically to Carr or starter
Alex Smith
, and there was a sense he had peaked during the 2008 season. Hill went only 3-3 as the starter last season (Smith went 5-5). His salary is $1.5 million in 2010 and the 49ers appear positioned to part with him.
Rising

Steve Breaston, Cardinals WR
Arizona's decision to trade receiver
Anquan Boldin
moves Breaston into a starting role. The Cardinals acknowledged as much by tendering Breaston to a first-round choice as a restricted free agent. Breaston played nearly 65 percent of the Cardinals' offensive snaps last season. That figure should rise as the Cardinals move on without Boldin. Breaston provides needed speed to the Cardinals' offense. He should also be healthier this season after fighting through a knee injury last season. Breaston should have little trouble increasing his receptions total from 55 last season closer to the career-high 77 he caught in 2008, even without
Kurt Warner
at quarterback.