April, 20, 2011
4/20/11
8:49
PM ET
SANTA CLARA, Calif. -- Roughly 45 NFL prospects with Bay Area ties spent Wednesday afternoon running through drills at
San Francisco 49ers
headquarters.
Their local pro day wasn't the story.
For the first time since Jim Harbaugh took over as the 49ers' head coach in early January, his staff was on the field directing actual football players through actual football drills. What a concept.
[+] Enlarge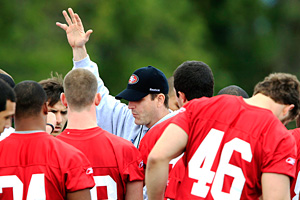 AP Photo/Paul SakumaJim Harbaugh got a chance to run football drills for the first time as the head coach in San Francisco.
Harbaugh stood behind the quarterbacks while they threw passes to receivers running three-step slants first, then other routes.
Down the field, receivers coach John Morton showed himself as one of the more vocal staffers, criticizing and encouraging players' techniques at a decibel level high enough to carry clearly for 30 yards on a blustery day.
"I want to see you come off the ball!" Morton shouted.
Offensive coordinator Greg Roman, a stout man from New Jersey with a background as a defensive lineman at John Carroll University, took the lead in running tight ends through receiving drills. With Roman operating the drills, tight ends coach Reggie Davis pulled players to the side for individual instruction.
Harbaugh chatted with various staffers during breaks in the action. He stood between Roman and offensive line coach Tim Drevno for a while. Later, Harbaugh and general manager Trent Baalke appeared comfortable joking with one another. The atmosphere was loose and it was clear everyone was happy to finally get onto the field.
The three-plus months without organized on-field sessions seemed much longer for a staff eager to get going. NFL rules governing the ongoing lockout prevent coaches and players from interacting over the phone, let alone on the field. But the period of forced separation could help in some ways.
"One thing this lockout has done that has been positive for us as an offensive staff is just being able to get the trust with the coaches and know each other and comb through our systems and really take advantage of each coach's talent before you present it to the players," Harbaugh said after three hours on the field.
Special-teams coach Brad Seely has a presence more commanding than I had anticipated. He looks like a former offensive lineman and he is one, having played at South Dakota State in the 1970s.
The 49ers ran punt prospects through a drill I hadn't seen before. Each return man held a football in his hands as a punted ball approached from about 40 yards away. The returner would throw the ball he was holding into the air, catch the punted ball and then catch the ball he'd thrown aloft.
Results were comical at times, with footballs bouncing off players.
Linebackers coach Jim Leavitt stood out among defensive staffers. He took the lead in demonstrating drills requiring players to run through padded obstacles, flip their hips as they rounded a corner, backpedal to another corner, maneuver sideways while crossing one leg over the other and then sprint toward a finish line where they started.
Harbaugh watched these drills with great interest and enthusiasm, cheering on some of the 15 players he knew from his days coaching them at Stanford.
Laughter broke out when quality control coach Ejiro Evero, a former player at UC Davis and camp invite with the
Oakland Raiders
, slipped and fell on the natural grass practice field while trying to keep pace with one of the prospects.
Defensive coordinator Vic Fangio isn't known as a yeller and that was evident. I heard him offering instruction a couple times, but others stood out more.
Harbaugh paid attention to the quarterbacks, and to the small stuff. He asked offensive line coaches if they were finished occupying an area he sought to open up for passing drills. He instructed equipment staffers to relocate a water station he thought stood too close to an agility drill's finish line.
Some of the bigger-name college invites didn't participate. Cal defensive lineman Cam Jordan did not attend. Eastern Washington running back
Taiwan Jones
, having already helped his stock by running blazing 40-yard times, attended but did not participate.
Nebraska's
Roy Helu
and Cal counterpart
Shane Vereen
competed hard and evenly drills for running backs. Harbaugh said he would have to watch the video to see which one came out ahead.
"I loved it, I absolutely loved it," Harbaugh said. "Those guys are highly thought of running backs that are going to go high in the draft. For them to come out here and compete, you could see they joy they had in competing, getting in the one-on-ones, getting in the seven-on-sevens, that got me fired up."
April, 11, 2011
4/11/11
8:45
AM ET

Matt Scott of the Guardian
says St. Louis Rams owner Stan Kroenke is poised to take majority control of the Arsenal soccer team. Scott: "Kroenke has been a prime mover in the establishment of the Arsenal Fanshare scheme that promotes equity ownership by fans. Unlike other American owners of Premier League clubs, Kroenke is therefore believed to be unlikely to push for 100 percent control and delisting of Arsenal. Malcolm Glazer removed Manchester United from the stock exchange after taking control of the club in 2005, as did Randy Lerner at Aston Villa. Sunderland and Liverpool are other Premier League clubs in U.S. hands, with Birmingham City, Blackburn Rovers, Chelsea, Fulham and Manchester City being the other foreign-owned clubs in England's top flight." This would be the second time Kroenke has flexed his ownership muscle recently. He surprised some by exercising an option to become majority owner of the Rams. I don't see any reason, on the surface, for this latest move to affect Kroenke's ownership of the Rams, other than to give him yet another team to monitor more closely.
Also from Scott
: What are the ramifications of Kroenke's expected move? Scott: "Kroenke first opened talks with shareholders about investment in Arsenal in 2005 and, after a troubled early courtship (remember Peter Hill-Wood's 'we don't want his sort' bluster), the U.S. billionaire is now a director whose full takeover offer is being recommended by the board." Kroenke has shown an ability to earn trust. He did it within the NFL, leading owners to embrace his move to take majority control.

Darren Urban of azcardinals.com
checks in with new defensive coordinator Ray Horton for thoughts on Super Bowls. Horton had this to say about the James Harrison interception return against the Cardinals in the Super Bowl following the 2008 season: "You can look at each guy and think, 'If one guy does one thing different, he doesn't score.' It was a dramatic play and it turned the game around. It won or lost that Super Bowl. Really, if James Harrison would have done what he was supposed to do … the play (the Cards called) was a perfect play and they would have scored, walked in and probably won the game. But because one guy did something different … the ramifications …" That was definitely a huge play, but it wasn't big enough to prevent Arizona from taking the lead in the final minutes. The Cardinals' inability to close out that game on defense stands out to me as the bigger story from that game -- and one of the reasons the team is on its third defensive coordinator in what will be four seasons.

Matt Maiocco of CSNBayArea.com
says Arkansas quarterback Ryan Mallett is scheduled to visit the 49ers beginning Monday. Maiocco: "The 49ers have spent a lot of time studying the quarterbacks in this draft class. The organization is expected to use one of their top selections to address the position. But Andy Dalton of TCU is the only other quarterback reported to visit with the 49ers. Colin Kaepernick of Nevada worked out for the 49ers last month. He is not scheduled to visit Santa Clara. The 49ers attended Ricky Stanzi's second pro day at Iowa recently, but there are no plans to bring him in for a visit, either."
Also from Maiocco
: how the 49ers plan to proceed with draft choices immediately following their selection, should the lockout continue. Maiocco: "The 49ers own the seventh overall pick, which should occur after 6 p.m. (PT) on Thursday, April 28. The 49ers are planning to hold a press conference in Santa Clara the following day. The 49ers might even bring in their second- and third-round draft picks from Friday, April 29, for a visit to the organization's Santa Clara facility on Saturday, April 30. But any players chosen during the draft must be out of the building when the final selection is made."
Matt Barrows of the Sacramento Bee
says the 49ers are showing predraft interest in change-of-pace running backs, including Taiwan Jones of Eastern Washington University.

Greg Lamm of TechFlash
checks in with Seahawks president Peter McLoughlin, who has this to say about the team's efforts to sell season tickets during the lockout: "Our season ticket holders have been very good. Our renewal rate is very good, consistent with last year. I think our fans are being patient. They are taking a wait-and-see attitude. So are our sponsors. They are making plans with the anticipation that we'll be playing, and that's what we are encouraging."
Mike Triplett of the New Orleans Times-Picayune
says it's possible a quarterback-hungry team could trade into the Saints' No. 24 spot in the 2011 NFL draft, leap-frogging the Seahawks. But as
ESPN's John Clayton points out
, that strategy hasn't worked out so well.