August, 31, 2013
8/31/13
11:20
AM ET
Parys Haralson
and
Delanie Walker
departed the
San Francisco 49ers
' roster this offseason after entering the NFL has 2006 draft choices with the team.
Another member of that 49ers draft class, fullback Michael Robinson, was a valued contributor to the division-rival
Seattle Seahawks
when the team released him Friday with age and salary-cap considerations in mind.
The 2006 class has been good to the 49ers. The team continues to get top-shelf contributions from tight end Vernon Davis, one of the team's two first-round picks from that 2006 class.
Mike Nolan was coach and Scott McCloughan was general manager for the 49ers back then. Some of the personnel moves they made continue to sustain the team.
Frank Gore
,
Tarell Brown
,
Patrick Willis
,
Joe Staley
,
Ray McDonald
and Davis remain as players drafted under Nolan. All are valued contributors. Another Nolan-era pick,
Adam Snyder
, is back with the team as a reserve offensive lineman after spending 2012 with Arizona.
Davis is one of 10 first-round picks from 2006 playing with his original team. The list also includes
A.J. Hawk
,
Haloti Ngata
,
Chad Greenway
,
Tamba Hali
,
Davin Joseph
,
DeAngelo Williams
,
Marcedes Lewis
,
Nick Mangold
and
Mathias Kiwanuka
.
September, 4, 2012
9/04/12
8:51
AM ET
The
San Francisco 49ers
made it through last season just fine with only three outside linebackers on their roster.
Whether they can do so as well this season probably won't be known right away.
Replacing the injured
Parys Haralson
with former
Arizona Cardinals
starter
Clark Haggans
was a move that will play out over the season, not over the next couple weeks. That is why the DUI-related suspension Haggans could be facing might not hurt the team all that much if it happens at all. That assumes
Aldon Smith
will be healthy enough to contribute fully.

Matt Barrows of the Sacramento Bee
explains the situation in detail: "The 49ers also will be playing two pass-oriented offenses over the first two weeks: Green Bay and Detroit. That means they likely will be in their nickel formation for much of those games. In those instances,
Demarcus Dobbs
would be able to fill in as an extra pass rusher if there were more injuries at outside linebacker or if the 49ers wanted to give one of their linebackers a rest. The team released four outside linebackers last week, including their preseason sack leader,
Eric Bakhtiari
. The team also was impressed with
Ikaika Alama-Francis
, who joined the team late in the summer but who looked good in the finale Thursday."
Noted:
If Smith misses time and Haggans receives a suspension, the 49ers will find themselves in a tough spot. Smith, Haralson and
Ahmad Brooks
were the outside linebackers last season. Each played in all 16 games.
Taylor Price
of 49ers.com looks at the team's captains for 2012.
Tim Kawakami of the San Jose Mercury News
explains why he's picking someone other than the 49ers for the Super Bowl this year. Kawakami: "The 49ers are just barely out of my Super Bowl consideration because, in retrospect, maybe last year was when it all lined up for them… and they were a close miss. Can everything that went right for Jim Harbaugh's crew in 2011 go so smoothly in 2012? The 49ers are immensely talented, but injuries and bad breaks have a way of evening out from year to year. So I'm going to skip ahead to the 2013 campaign for any 49ers Super Bowl prophesizing."

Jim Thomas of the St. Louis Post-Dispatch
offers a feel for what it's like when little-known players receive their release.
Terrance Ganaway
, one of the newest Rams, on his recent departure from the Jets: "I never go out, and I don't drink, but we went to the bar and we just watched the (Aug. 30) Philadelphia-Jets game, which was on replay. And the bartender asked us: Were we Jets fans?"
Bernie Miklasz of the St. Louis Post-Dispatch
says the Rams resemble an expansion team after gutting the roster under new coach Jeff Fisher and new general manager Les Snead. Miklasz: "That notion will anger and frustrate some, but that's how I see it. And it doesn't bug me, because I've avoided delusional behavior to take the long view since Fisher and Snead set up at Earth City. This disaster wasn't going to be cleaned up in a year, or after one offseason. I'd rather see the new bosses start fresh, start over, and cultivate a roster that can grow. That makes more sense than keeping older, marginal players employed."
Stephen Holder of the Tampa Bay Times
says the Seahawks will not owe a conditional draft choice to the Bucs for
Kellen Winslow
because the teams' trade was contingent on Winslow appearing on the 53-man roster. He says the Bucs would get a pick if Winslow re-signed with the Seahawks.
Noted:
The first part is consistent with what we knew at the time of the trade. I'd be surprised if re-signing Winslow would require Seattle to part with a pick, however. Winslow is a free agent. That would generally nullify any trade parameters.

Danny O'Neil of the Seattle Times
says the Seahaws' offensive options appear more familiar without Winslow or
Terrell Owens
in the picture. O'Neil: "Two weeks ago, you looked on the field and wondered how they were going to shoehorn Winslow and Owens into an offense that already included starters like Miller and
Sidney Rice
. Things aren't so crowded now, and they're a lot more familiar. Of the six receivers and three tight ends currently on the roster, only three are new:
Braylon Edwards
,
Charly Martin
and
Evan Moore
. Edwards could end up starting as split end
Golden Tate
's status is uncertain. He did not practice Monday after suffering a knee injury in the exhibition game last Thursday. Friday, a source indicated the injury was likely to keep Tate out the next two weeks."
Eric D. Williams of the Tacoma News Tribune
says Seahawks offensive lineman
James Carpenter
"feels great" about returning to practice following an extensive knee rehab.
Also from Williams
: a look at the Seahawks' secondary.
Dave Boling of the Tacoma News Tribune
explains how Charly Martin earned a roster spot at receiver for Seattle against what seemed like long odds. Boling: "Martin scored points with the staff with his special teams play, and with his consistency catching the ball and running routes. But he also earned the trust of a very important teammate: rookie quarterback
Russell Wilson
. When Wilson broke free for a 32-yard touchdown in the preseason opener against Tennessee, Martin blocked his man from about the 15-yard line into the end zone to clear the way. Thirteen days later, as Wilson was about to get nailed by Kansas City's
Tamba Hali
, Martin broke free and pulled in a touchdown throw from Wilson. This builds an important rapport."

Paola Boivin of the Arizona Republic
checks in with backup quarterback
Kevin Kolb
. Kolb on why he didn't win the starting job: "I don't think there's one thing. My thinking of the deal is you just work as hard as you can possibly work and put in the time. I know there's still good things to come here. I keep telling y'all that every time something bad happens, and that's the perspective that I'll keep."
Kent Somers of the Arizona Republic
looks at how the Cardinals plan to piece together their offensive line. Somers: "
Rich Ohrnberger
will be the backup guard/center on Sunday, I assume. The backup tackle with be
Pat McQuistan
or
Nate Potter
, depending upon how quickly McQuistan can pick up the offense and game plan."
Darren Urban of azcardinals.com
looks at the Cardinals' offensive lineup.
Larry Fitzgerald
: "We'll go out and play against Seattle, a really good defense last year, and we will know exactly where we are at that opening drive. We'll try to move the football and get things done, and if we're not (settled), it'll show."
August, 10, 2012
8/10/12
11:30
AM ET
Three things to watch for Friday in the Arizona Cardinals' preseason road game against the Kansas City Chiefs at 8 p.m. ET:


1. QB competition.
John Skelton
gets the start after coming off the bench to lead a 14-play, 90-yard drive to the Cardinals' lone touchdown against New Orleans in the Hall of Fame game Sunday. Skelton appeared relaxed and comfortable with the offense during that game. He kept his eyes downfield while under pressure (even while getting hit) and generally seemed unperturbed. Skelton's competition for the starting job,
Kevin Kolb
, faced greater pressure and appeared a little more harried before leaving with an injury. Coach Ken Whisenhunt has said he expects Kolb to play against the Chiefs. His public comments to that effect put pressure on Kolb to play through whatever pain he's experiencing. In that context, it's important for Kolb to play and improve upon his brief showing against the Saints. A repeat of Sunday night would put Skelton in the lead.
2. Stewart Bradley's progress.
The Cardinals didn't get much from Bradley last season after signing him to a five-year, $30 million deal in free agency. As a result, they leveraged a pay cut from the 28-year-old inside linebacker this offseason. Bradley has responded favorably. Against New Orleans, he appeared more comfortable in Arizona's 3-4 scheme. Bradley played freely and aggressively, a continuation of progress made late last season. Now, with incumbent starter
Paris Lenon
recovering from an ankle injury, Bradley should get an extended opportunity against the Chiefs.
3. Pass protection.
This has been a problem area for years in Arizona. Kolb was under siege during the Hall of Fame game. The right side of the offensive line has new faces since this time last season.
Brandon Keith
, the starter a year ago, is out of the league. Former right guards
Rex Hadnot
and
Deuce Lutui
are gone.
Jeremy Bridges
and rookie
Bobby Massie
are the right tackles. Free-agent addition
Adam Snyder
is at right guard. Just about any line needs time and reps to round into form. This game gives Arizona another chance to work toward that end. Left tackle
Levi Brown
faces a potentially tough matchup against Chiefs pass-rusher
Tamba Hali
, who has 26.5 sacks over the past two regular seasons. Hali has not been a preseason phenom. He has three sacks in six career preseasons.
July, 25, 2011
7/25/11
7:42
PM ET
I've taken the NFL's official free-agent list and worked it into
a useful Excel file
for your tracking and projecting pleasure.
This lets you slice, dice and sort information by team, player, classification, position and more.
The chart lists street free agents (FA), franchise players, restricted free agents (RFA), players who negotiated rights of first refusal (
Kevin Curtis
is the only one) and unrestricted free agents (UFA).
I was expecting to see more franchise players listed.
Phil Dawson
,
Tamba Hali
,
Logan Mankins
and
Vincent Jackson
were the only franchise players listed in the official league release. This is a fluid situation with lots of surprises. I'll seek answers and report back when I get them.
Non-rookies without contracts for 2011 cannot practice until Aug. 4, even if they sign before then. Teams with lots of roster spots to fill will have a harder time practicing effectively before then.
April, 12, 2011
4/12/11
1:00
PM ET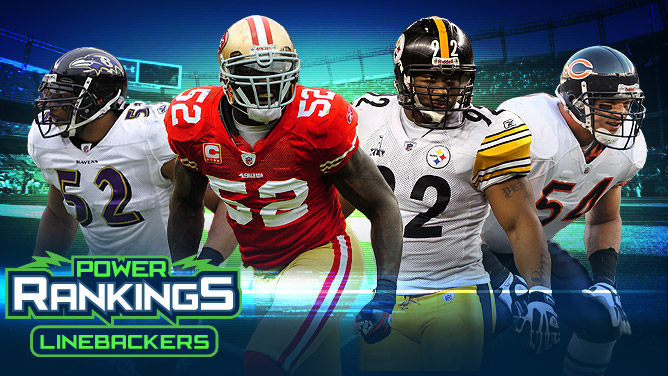 ESPN.com IllustrationSan Francisco's Patrick Willis ran away from the field in our voting for the NFL's best linebacker.
ESPN.com's NFL writers rank the top 10 linebackers in the league today. Next week: Top 10 cornerbacks.
San Francisco 49ers
linebacker
Patrick Willis
beat out a strong and diverse field for top billing in ESPN.com's latest positional power rankings.
All eight panelists ranked Willis among their top three, elevating the 26-year-old perennial Pro Bowler above
James Harrison
and
DeMarcus Ware
as our No. 1 linebacker in the NFL.
Even 12-time Pro Bowler
Ray Lewis
, the dominant linebacker of his era, pointed to Willis as
a worthy successor
to his undisputed reign. Not that Lewis is finished just yet. He placed fifth in the rankings behind Willis, Harrison, Ware and the
Green Bay Packers
'
Clay Matthews
. But there was no more complete linebacker than Willis.
"Nobody in the NFL plays their position better than Patrick Willis, and that is saying a lot," said Matt Williamson of Scouts Inc., whose insights helped shape my ballot. "He is as good a linebacker as
Peyton Manning
is a quarterback, as
Andre Johnson
is a receiver, as
Adrian Peterson
is a running back. He has no weaknesses."
Willis, a three-time Associated Press All-Pro first-team selection, is the first 49ers player since
Ronnie Lott
to earn Pro Bowl honors in each of his first four seasons.
Joe Thomas
and Peterson are the only other 2007 draft choices with four Pro Bowls.
Apples and oranges:
Comparing linebackers from 3-4 schemes to their 4-3 counterparts proved problematic for some panelists. AFC East blogger Tim Graham ranked Ware
first among pass-rushers
three weeks ago, but only ninth among linebackers.
"Patrick Willis,
Brian Urlacher
and Ray Lewis would be great linebackers in a 3-4 or a 4-3," Graham explained. "DeMarcus Ware and
Cameron Wake
might not even be linebackers if they played in Indianapolis, Tennessee or Minnesota. At some point, I had to value elite pass-rushing abilities on my list even though those players aren't universal-type linebackers."
There was room for differing views. ESPN.com's John Clayton and AFC North blogger James Walker ranked Ware first among linebackers and first among pass-rushers. AFC South blogger Paul Kuharsky ranked Ware first among linebackers and second among pass-rushers.
"Separating Ware, Willis and Harrison is like splitting hairs, because it really depends on what you want in a linebacker," said Walker, who went with Ware, Willis and Harrison atop his ballot. "Ware is a slightly better pass-rusher than Harrison, and Willis is a future Hall of Famer in his prime. Age also has to be a consideration if you're building a defense, and Harrison will be 33 in May. But they're all great."
First things first:
Graham and NFC North blogger Kevin Seifert joined me in ranking Willis first. AFC West blogger Bill Williamson had Willis second only to Harrison.
"When I think of linebacker play in the current day, James Harrison pops out," Bill Williamson said. "I think he's the gold standard of complete linebacker play. Look at
his signature play
in the Super Bowl against Arizona. That play will forever be part of NFL lore. Patrick Willis, who is also a great player, doesn't have that play on his résumé. Plus, Harrison is an ornery cuss on the field. The man was born to be a 'backer."
Willis can't match Harrison in Super Bowl memories -- he could use a quarterback, for starters -- but he's not hurting for signature plays:
Lewis pointed to Willis when ESPN's Dana Jacobson recently asked him which young linebacker reminded Lewis of himself.
"I just love the way he plays the game," Lewis said. "He plays the game with a fire. He reminds me of myself -- a lot, a lot, a lot."
Unanimous decisions:
The top five finishers received votes from all eight panelists. The gaps between highest and lowest votes fell between four and seven places for all but Willis, who ranked no lower than third.
Seifert ranked Lewis third. I had Lewis 10th and feared I might be measuring him against himself. No list of top linebackers would be complete without him, I thought, but a younger generation is taking over.
Hugs for Suggs:
Lewis' teammate,
Terrell Suggs
, finished just out of our top 10 despite getting a No. 5 ranking from Kuharsky.
[+] Enlarge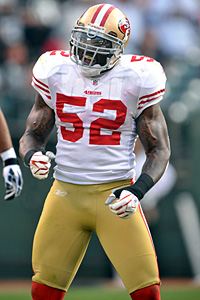 Kirby Lee/Image of Sport/US PresswirePatrick Willis has averaged nearly 149 tackles per season since joining the league in 2007.
"I unabashedly love Suggs, and frankly would have placed him higher if I thought there was any way he needed help to crack the top 10," Kuharsky said. "To me, there is a great deal of subjectivity in ranking this position when mixing guys from 4-3s and 3-4s, so I did a lot of know-them-when-I-see-them ranking. Suggs is absolutely a top-10 guy to me."
Clayton, Seifert, Graham and I did not list Suggs on our ballots while searching for the right mix of 3-4 and 4-3 talent.
Fit to be tied:
The players tied for ninth on our list illustrate the varied criteria for the position. Kansas City's
Tamba Hali
is a pure pass-rusher in the Chiefs' 3-4 defense. Carolina's
Jon Beason
is a traditional 4-3 linebacker with the versatility to play multiple spots. He changed positions twice in 2010.
Beason peaked at No. 5 on my ballot. NFC South blogger Pat Yasinskas had Beason sixth and considered ranking him higher.
"There was a time when I would have ranked Beason in the same echelon as Willis," Yasinskas said. "I think he has a chance to re-emerge if Carolina can put a better team on the field, particularly by getting better at defensive tackle and keeping blockers off Beason. If that happens, I think Beason can be as good as any linebacker in the league."
Youth on his side:
New England's
Jerod Mayo
appeared on six of eight ballots, ranking sixth overall between Lewis and Urlacher. At 25, Mayo was one of two linebackers younger than Willis to earn a spot among the top 10. Matthews, 24, was the other. Graham ranked Mayo third.
"Nose tackle
Vince Wilfork
might be the anchor of the Patriots' defense, but Mayo is the one who ties their defense together," Graham said. "Mayo is a tackling machine who compensates for shortcomings at outside linebacker and injuries along the defensive line. He would be a star in any system."
On an island:
Four linebackers received a single vote. That list featured
Brian Orakpo
(Clayton),
Lance Briggs
(Seifert),
London Fletcher
(Walker) and Wake (Graham).
Best doesn't mean most valuable:
Matt Williamson called linebacker the toughest position to evaluate. I'll close by passing along a few of his thoughts:
"Willis is so exceptional it would be a coin flip with Ware. Willis has no weaknesses, but if I were a general manager, I would take Ware because pass-rushers are so hard to find. You can get away with a C-level middle linebacker and still have a good defense. You can have a two-down run-stopper and pull him out in nickel."

"Ray Lewis would not be in my top five at this point. For his age, he is still exceptional and a borderline Pro Bowler, but he doesn't run like he did. I remember when I was with the Browns, I looked at every report the team had written since 1999 and Lewis had the highest grade ever given out. He was nearly perfect."

"Hali is a one-trick pony, a pass-rusher, but he is great at it -- as good as any pass-rusher in the league."

"Beason is like Patrick Willis, but he is 95 percent of him. He can play outside, inside, he's smart -- but there is so little around him that people don't realize how good he is."

"Pass rushing is Clay Matthews' greatest gift, but he is the prototypical outside linebacker. He's a great technician and way more explosive and athletic than people realize. He's good in coverage, not great, but they line him up all over."

"London Fletcher is underrated, but not in this conversation. How Beason is to Willis, Fletcher is to Lewis. He is smaller and slower than Lewis, good among older guys."

"Brian Urlacher is still a really good player, but the top 10 might be a stretch. I would take him ahead of Lewis, behind Beason and Willis among 'Mike' 'backers. He is good in coverage. People forget that he was a safety at New Mexico. He doesn't run like he used to and is just not as dynamic as he was in the day."

"The Steelers have the best linebackers in the league. LaMarr Woodley is very strong and in that conversation too. Definitely top 15. Harrison is great against the run, extremely strong and one of the few linebackers in the league that is a difference-maker from an attitude standpoint. He brings attitude to the table like a Jack Lambert or a Dick Butkus or a Ray Lewis type. He is feared. He is one of the best leverage players in the league, great in pursuit, tenacious as hell. The other guy to know about is Lawrence Timmons. He will be spectacular."
March, 22, 2011
3/22/11
1:33
PM ET
Chris Long
's increased sack production and overall strong play last season moved him into the periphery of discussions about the NFL's best pass-rushers.
Long was the lone NFC West player to draw a vote in ESPN.com's recently posted
power rankings for pass-rushers
. Tim Graham of the AFC East ranked Long 10th on his ballot, a reflection of the progress Long continues to make.
"He was always around the ball and led the NFL in quarterback hurries, according to Football Outsiders," Graham said. "He was tied for sixth in quarterback hits. He didn't have the best sack total, but sacks aren't everything."
I agree. Long came close to cracking my top 10, but the players I ranked had generally produced at a higher level over the course of multiple seasons. Projecting their future production seemed more reliable, although Long's current trajectory suggests he'll gain traction in the discussion.
A quick look at my top 10:
Back to the NFC West:
Chris Clemons
,
Raheem Brock
,
Justin Smith
and
James Hall
joined Long in causing problems for opposing offenses last season.
Smith had 8.5 sacks, a high number for a 3-4 defensive end.
November, 12, 2010
11/12/10
9:22
AM ET

Bryan Burwell of the St. Louis Post-Dispatch
says the Rams' responded appropriately when the team brought members of the armed forces to their facility for practice and lunch on Veteran's Day. Center Jason Brown lost his older brother in Iraq. Brown: "He was killed September 20, 2003. He was based out of Abu Ghraib prison outside Baghdad. A mortar shell hit their tent at night. The mortar shell hit a table in front of him about waist high, and he took most of the impact and shrapnel, which meant there were several of his comrades behind him. ... He saved many of their lives. He was 27 at the time, the same age I am now."
Bernie Miklasz of the St. Louis Post-Dispatch
says Rams quarterback Sam Bradford has had success against the blitz.
Jim Thomas of the St. Louis Post-Dispatch
says Bradford has reached rookie milestones. Thomas: "For one, he has a 4-1 record at home, and that's something no quarterback taken No. 1 overall has accomplished as a rookie since the first year of the common (AFL-NFL) draft in 1967."
Also from Thomas
: Former 49ers safety Michael Lewis offers tips as the Rams prepare for his former team. The bitterness Lewis feels toward the 49ers apparently makes him feel good about sharing secrets. Lewis: "The coaching staff, they've done a great job of doing their homework on the 49ers. And that's pretty much all I'll say."
Bill Coats of the St. Louis Post-Dispatch
says the Rams' rookies are trying to avoid hitting a wall in the second half of the season. Left tackle Rodger Saffold: "One thing I've learned is that you don't just get better in the offseason; you get better during the season. A lot of people think, 'I'm not doing too well this year. Next year I'll be able to have time to work on this, work on that.' Actually, you have to continue to get better during the season. That means doing the little things on and off the field, as well as doing the extra. I do an extra 10 or 15 minutes of just getting the hands right, feet right, things like that."
Brian Stull of 101ESPN St. Louis
says Saffold missed practice Thursday.

Kent Somers of the Arizona Republic
says the Cardinals' Clark Haggans expects to return from injury against Seattle, but Beanie Wells missed practice again, an indication Tim Hightower could get more playing time. Hightower ran more effectively than Wells when the Cardinals last played Seattle, but fumbling problems diminished his effectiveness.
Also from Somers
: The Cardinals need more from Adrian Wilson, whose play has dropped off since a strong showing in Week 1. Somers: "This has not been a strong season for the three-time Pro Bowler, who has been exposed in coverage. Despite having many veterans, this defense needs some leadership and not via the spoken word. The group has enough guys who can talk. It needs someone to make a play in crunch time. Through most of his 10 year career, Wilson has been that kind of guy. But after coming up with big plays in the opening-day victory over the Rams, Wilson has been noticed more for his poor plays. At this time of year, stars have to play like it."
More from Somers
: The Cardinals' defense has lacked consistency.
Darren Urban of azcardinals.com
says coach Ken Whisenhunt expects all injured players to practice Friday. Whisenhunt: "It's pretty fortunate this time of year."
Also from Urban
: LaRod Stephens-Howling has come up big for the Cardinals despite standing barely taller than 5-foot-6. Larry Fitzgerald: "I have a tremendous amount of respect for small guys like (cornerback) Michael Adams, LaRod, because ever since they were small they were looked at as the small guy. They continued to fight and battle and persevere."

Clare Farnsworth of seahawks.com
examines the relationship between Seahawks cornerback Marcus Trufant and Fitzgerald. Fitzgerald: "He's definitely a technician. He's probably got the best transition of any cornerback in the league -- getting out of his (back) pedal, man, he really breaks on the ball tremendously well. He's playing the football well and, when he's healthy, he's one of the premier guys in the NFL. And I love to tell him, when I step it up with him, I've got to be at my best."
Also from Farnsworth
: Matt Hasselbeck is excited about returning from a concussion.
Eric D. Williams of the Tacoma News Tribune
says Hasselbeck has learned to deal with constantly changing combinations on his offensive line. Hasselbeck: "I think that's just become normal for us. So, it's like we don't really talk about it. It's just almost expected. We've just had the injury bug there a little bit, and that's just normal. It seems like it's been different every week. We practice that way. Everybody plays every position. It's very different from the years where we knew who the five were (going to be), every single play, every single practice -- it's not that. We're mixing and matching and just doing what we can."
Danny O'Neil of the Seattle Times
offers an updated Seahawks injury report. Lofa Tatupu missed practice again.
Liz Mathews of 710ESPN Seattle
says Seahawks offensive coordinator Jeremy Bates wants more continuity on the offensive line.
John Boyle of the Everett Herald
says Seattle held Fitzgerald to 30 yards receiving last month largely because of the Cardinals' issues at quarterback.

Matt Maiocco of CSNBayArea.com
says the 49ers' improved health gives offensive coordinator Mike Johnson additional options. Maiocco: "One wrinkle Johnson unveiled against the Broncos was '13' personnel, consisting of one running back and three tight ends. Normally, used in short-yardage formations, the 49ers used three tight ends on two running plays on first-and-10 from the middle of the field in the first quarter." By my count, the 49ers used that personnel grouping against Houston and Atlanta last season, both times on first down. They used it more extensively under Mike Martz during the 2008 season.
Also from Maiocco
: a chat transcript in which Maiocco says he thinks the 49ers would wait til the end of the season before making a coaching change.
Matt Barrows of the Sacramento Bee
looks at how the 49ers plan to use new linebacker Thaddeus Gibson.
Also from Barrows
: The 49ers are shuffling their secondary to prevent big plays.
Taylor Price of 49ers.com
says defensive end Justin Smith thinks opposing quarterbacks are getting rid of the ball more quickly to avoid hits. Price: "Perhaps no player highlights the trend better than Rams quarterback Sam Bradford who has a league-low average of 5.7 yards per completion of all quarterbacks who average 14 pass attempts per game."
Tim Kawakami of the San Jose Mercury News
offers thoughts on what contingency plans the 49ers should have in place.
Daniel Brown of the San Jose Mercury News
says the 49ers' coaches have lots to learn about their own quarterback, Troy Smith.
David White of the San Francisco Chronicle
checks in with the 49ers' rookie offensive linemen, Mike Iupati and Anthony Davis. White: "Davis has given up six quarterback sacks and committed six false starts, tying him for second-most in the NFL in both categories. No one will say who allowed the sack that left Alex Smith with a separated left shoulder at Carolina, but it came through Davis' side."
Also from White
: Joe Staley says he's enjoying his finest season despite some unfavorable reviews. Staley: "I'm grading out the highest I have my whole career. I know everybody doesn't think that. Everyone thinks I'm struggling for some reason. I just kind of laugh." Staley has set a high standard. Those standards have risen further since the 49ers rewarded Staley with a lucrative long-term deal. Expectations might be higher and that could be affecting perceptions. My notes show Seattle's Chris Clemons and Kansas City's Tamba Hali getting pressure through Staley early in the season. I saw Staley appear to hold more than usual in games against Atlanta and Philadelphia. I thought Staley appeared to injure his left leg against the Falcons, perhaps affecting him. But I also think Staley is telling the truth about his performance reviews, and those reviews ultimately carry more weight than outside perceptions. He's a good player being held to a higher standard.
Eric Branch of the Santa Rosa Press-Democrat
wonders to what degree Taylor Mays' struggles might be contributing to the team's decision to give more snaps to Reggie Smith. The team would not take Mays off the field if Mays provided a better alternative in their eyes.
September, 6, 2009
9/06/09
10:27
AM ET
Posted by ESPN.com's Mike Sando

Kent Somers of the Arizona Republic
says the Cardinals want more consistency this season. Coach Ken Whisenhunt: "For us to become a respected team that can make a run at the playoffs every year, we have to have that consistency week in and week out. We can't have those games where we give up so many points and lose by so many points. You know, where we get blown out. That's the big thing."
Also from Somers
: the front office is key in the Cardinals becoming successful.
Dan Bickley of the Arizona Republic
relates anecdotes involving Whisenhunt and Kurt Warner while saying both are leading the Cardinals franchise.

Greg Johns of seattlepi.com
doesn't expect Walter Jones or Chris Spencer to be available for "at least several more weeks" as both recover from injuries. Jones would seem to have a chance to beat that timetable, although the Seahawks haven't updated his status following arthroscopic knee surgery.
Danny O'Neil of the Seattle Times
ranks the Seahawks' roster surprises, putting D.D. Lewis' release ahead of Brian Russell's release. Will Herring's strong play apparently made him more than just a special-teams linebacker in the Seahawks' eyes. O'Neil: "When Seattle re-signed Lewis last year, he was considered Seattle's top reserve linebacker, someone capable of playing all three spots among the linebackers. He started for Lofa Tatupu at middle linebacker for a game and later replaced Leroy Hill at the weakside linebacker after Hill was injured. The decision to let Lewis go reflects on the development of Will Herring and David Hawthorne, but Herring specifically."
Eric D. Williams of the Tacoma News Tribune
offers comments for each position on the Seahawks' roster. Williams on the situation at running back: "Overall playmaking ability might be a concern here, but I think the team has enough depth to get them through the year, and I expect Julius Jones to rush for 1,000 yards this season if he stays healthy."
John Morgan of Field Gulls
thinks Derek Walker could become a Cory Redding type for the Seahawks.
Rod Mar of seahawks.com
updates his photo blog with shots from the team's final game of the 2009 exhibition season.
Clare Farnsworth of seahawks.com
goes over the team's roster moves while acknowledging the team isn't done yet.

Jim Thomas of the St. Louis Post-Dispatch
says Rams rookie Jason Smith appears ready to break into the starting lineup in time for the regular season. Thomas: "Smith might not be totally ready for the right tackle position in the NFL, but it's not like he embarrassed himself in the preseason, either. Sure he's had a few rough plays, including one early in the Kansas City game when Tamba Hali beat him around the edge for a pressure on quarterback Kyle Boller. But he hasn't given up a sack this preseason and has steadily improved over the course of exhibition play." I thought Smith improved after a rough outing against the Falcons. The transition from Baylor requires significant technique adjustments.
Also from Thomas
: Youth prevailed for the Rams in the No. 3 quarterback spot and at receiver.
Bernie Miklasz of the St. Louis Post-Dispatch
says first-year Rams coach Steve Spagnuolo has made a positive impression to this point.
Bill Coats of the St. Louis Post-Dispatch
says Rams offensive lineman John Greco will miss time following wrist surgery.
Steve Korte of the Belleville News-Democrat
sizes up the Rams' situation at running back after the team released Antonio Pittman.

Gwen Knapp of the San Francisco Chronicle
says the 49ers wanted to run the ball 60 percent of the time when Mike Nolan took over in 2005. I'm guessing the 49ers' new offensive coordinator, Jimmy Raye, will come closer to hitting that mark.
John Crumpacker of the San Francisco Chronicle
looks into the cult of personality -- Mike Singletary's personality -- as it pervades the 49ers. Crumpacker: "Singletary doesn't necessarily like the attention but he understands that at least for now, he is the face and voice of the 49ers franchise."
Matt Maiocco of the San Francisco Chronicle
runs a transcript with Singletary's comments following the 49ers' roster cuts. Singletary on Micheal Spurlock winning a spot (for now): "All offseason, I think Spurlock continued to show up. He's a versatile guy. He can help you in special teams areas and continue to better as a receiver and run better routes. And he works at it. It's important for us. Felt it was a good opportunity and a good fit."
Matt Barrows of the Sacramento Bee
says the 49ers kept linebacker Diyral Briggs on their roster because they like his "raw" talent and want to work with him.
Daniel Brown of the San Jose Mercury News
says the 49ers cut tight end Bear Pascoe because he didn't catch up to the speed of the NFL game.
September, 4, 2009
9/04/09
12:36
PM ET

Posted by ESPN.com's Mike Sando
Thoughts and observations from the Rams' exhibition game Thursday night against the Chiefs:
Two tight. The Rams used two tight ends on eight of their first 10 offensive plays, pairing Randy McMichael and Daniel Fells. The personnel packages should even out if fullback Mike Karney and No. 1 receiver Donnie Avery return to full health. But without a deep stable of receivers, the Rams could use two tight ends quite a bit. McMichael, Fells and Billy Bajema played extensively.
Protection issues. The Rams had problems protecting Kyle Boller early in the game. Left guard Jacob Bell, returning from a concussion, blocked no one when the Chiefs blitzed successfully early in the game. Tamba Hali beat right tackle Jason Smith around the corner on the next play. Protection issues will be critical when the Rams open the season with three of their first four games on the road and Marc Bulger returning from a broken finger.
Carter fades. Veteran receiver Tim Carter didn't affirm the Rams' earlier optimism over his prospects. Carter failed to secure two passes when the Chiefs hit him hard. The Rams took a long look at him in the first half, when my unofficial count had Carter playing 24 snaps, tied with Bajema for most among the Rams' non-quarterbacks (Brock Berlin played 26).
Avery should be ready. The Rams' No. 1 receiver played nine of the first 11 snaps, his first game action since suffering a broken bone in his left foot. That seems like a strong indication Avery will be ready to contribute in Week 1.
Secondary pretty good. With Leonard Little sitting out, the Rams generated little pass rush early in the game. Their cornerbacks seemed to hold up well anyway. The Chiefs have significant problems on offense, so it might have been telling if the Rams' corners struggled.
Jackson needed badly. Steven Jackson watched from the sideline as the Rams smartly protected him from suffering an injury in a game with little meaning for a Pro Bowl player. The Rams without Jackson aren't a pretty sight offensively, particularly with Bulger out and Avery limited. Backup running back Samkon Gado appears adequate in short relief. He's willing in pass protection, but potentially unreliable as a receiver. He also suffered injured ribs and did not return.
One in the box. Defensive coordinator Ken Flajole moved from the sideline to the coaches' booth midway through the exhibition season. Offensive coordinator Pat Shurmur remains on the sideline. Coaches change vantage points for a variety of reasons. The chaotic sideline atmosphere isn't for everyone. Having Flajole upstairs and defensive-minded head coach Steve Spagnuolo on the sideline could create a balance.
We're down to one remaining NFC West exhibition game, with the 49ers closing out their preseason schedule against San Diego.