May, 12, 2011
5/12/11
9:46
AM ET
NFC West teams touched off two runs on wide receivers during the 2011 NFL draft.
Austin Pettis
, selected 78th overall by the
St. Louis Rams
, was the first of four receivers selected during a six-pick span of the third round.
Kris Durham
, selected 107th overall by the
Seattle Seahawks
, was the first of four receivers selected during an eight-pick span of the fourth round.
Which teams came away with the best receiving prospects? We'll revisit the subject as the players' careers progress. Some are heading to teams with established quarterbacks. Those players could have an early advantage.
The first chart shows all receivers drafted in the third round.
The second chart shows the first four receivers drafted in the fourth round. Baltimore also drafted one at No. 123, selecting Tandon Doss from Indiana.
April, 26, 2011
4/26/11
9:30
AM ET

Dwight Chapin and Tom FitzGerald of the San Francisco Chronicle
put Joe Perry's career in perspective following the 49ers great's passing Monday. Perry remains the 49ers' all-time rushing king. Said Y.A. Tittle: "He was the fastest player off the ball in the history of the world. You'd take the ball from center and turn, and he was already gone through the hole. ... He was a wonderful, big-hearted guy. He was a super team player, one of the greatest players I've ever been around." Check out Perry's Hall of Fame Bio
here
. NFL.com has
video highlights
.
Matt Maiocco of CSNBayArea.com
passes along thoughts on Perry. Maiocco: "Perry came to the 49ers after team owner Tony Morabito personally scouted him as a player for the Alameda Naval Air Station. Perry and Morabito developed a close bond. ... Perry also received comfort from Morabito, as he went through some difficult times early in his career." Perry recounted his experiences in 2005: "I was one of the few black players in the league, so I'd get the hell kicked out of me. Wherever you went, it was the same thing. It didn't matter whether it was Los Angeles, San Francisco or anywhere. You got the N-word and all of that stuff. I'd just say, 'Bring it on.' That's what I got from Tony. He'd tell me, 'Whenever they hit you hard, just hit back harder.'"
Matt Barrows of the Sacramento Bee
sits down with 49ers coach Jim Harbaugh for thoughts on how to find quarterbacks. Harbaugh: "Watching their athletic instincts, watching them play basketball, watching them play football. Being around them. Being around them, seeing if they're fiercely competitive guys, courageous guys when they play. A lot of qualities -- just being around them -- they've got it. The ability to light up a room and people really want to follow them, a lot of qualities like that."
David White of the San Francisco Chronicle
says the 49ers are leaning heavily on Harbaugh to identify their next quarterback.

Liz Mathews of 710ESPN Seattle
checks in with Seahawks receiver Mike Williams for thoughts on whether players will show up at team headquarters following the ruling to end the lockout. Williams is in Florida and will not show up Tuesday. He thinks players will have time to report and collect workout bonuses should the league open for business in the coming days. Williams: "The offseason has been long enough. I think players across the league are ready to get back to the facilities and get back to building their teams and putting on shows for the fans on Sundays. We hope this thing gets figured out. In the meantime, I'll be enjoying the sunshine in either Florida and L.A. and I'll get to Seattle as soon as this is ready to go. If the lockout was over today, I would be totally fine with coming up there tomorrow and weighing in and making my money on the bonus, showing these guys that this first year wasn't really a fluke and I'm ready to come back this year and do even better."
Clare Farnsworth of seahawks.com
runs through six first-round projections for Seattle, including his own: Baylor guard Danny Watkins.
Also from Farnsworth
: a look inside Paul Allen's new book as it relates to his ownership of the Seahawks. Allen says his love for basketball pulled him toward purchasing the Portland Trail Blazers, while a sense of civic duty was the driving force behind his decision to purchase the Seahawks. Allen: "Football is much more than a civic chore for me now. I've gotten hooked on the weeklong buildup to Sunday, to the point where I can't tell you which I enjoy more, the Seahawks or the Blazers."
Eric D. Williams of the Tacoma News Tribune
checks in with draft analyst Rob Rang for thoughts on which running backs could make sense for Seattle by round (the team has no third-round selection). The list: Mark Ingram, Jon Baldwin, Tandon Doss, Jeremy Kerley, Anthony Allen and Kealoha Pilares.
Also from Williams
: The Seahawks' troubles begin on the offensive line.
More from Williams
: a chat transcript featuring Rang's thoughts on the draft. Rang: "I understand the perception that Andy Dalton is flying up the board, but I spoke to NFL scouts back in February that anticipated his dramatic ascension. I didn't grade him as a first-round pick then -- and still don't -- but he is considerably more pro-ready than some of the other options and teams are desperate for QB help."
Dave Boling of the Tacoma News Tribune
explores how acquiring Charlie Whitehurst has muddied the situation at quarterback for Seattle. Boling: "If Whitehurst had been better last season, he might have taken over from Matt Hasselbeck and proven himself as the man for the future. And if he'd been worse, he wouldn't have been effective enough to lead the Hawks to the win over St. Louis, an effort that got the Hawks in the playoffs, but also cost them more than a dozen spots in the draft -- and probably took them out of the range of landing one of the few elite prospects."
Art Thiel of Sportspress Northwest
says the Seahawks should do Jake Locker a favor by not drafting him.

Kent Somers of the Arizona Republic
says the Cardinals need an outside pass-rusher such as Von Miller. Somers: "The Cardinals haven't had an elite outside pass-rusher since end Bertrand Berry had 14.5 sacks in 2004. That's the most-recent time the Cardinals had a player with double-digit sacks. Since then, the pass rush has been performed by committee. Ends Darnell Dockett and Calais Campbell have some skills, and safety Adrian Wilson is a dangerous blitzer. But the Cardinals haven't had that one player who keeps offensive tackles and coordinators awake at night."
Darren Urban of azcardinals.com
checks in with scout Malik Boyd for thoughts on finding lesser-known prospects such as Michael Adams and Brandon Keith. Boyd: "Scouting, I wouldn't call it a science. It's very subjective. You may have seen two or three of his best days, and I may have seen him at his worst. We've got to try and be realistic, give him his best day in court so to speak. What can he bring to the team?"

Jim Thomas of the St. Louis Post-Dispatch
does not expect the Rams to find a receiver in the first round of the draft. That might be fine, too, based on what former 49ers scout Dave Razzano said: "Back in the glory days with the Niners, I always pointed out that we completely de-emphasized the position, because we believed in quarterback and defense. Our first Super Bowl [with San Francisco], we had two free agents at receiver: Dwight Clark and Mike Wilson. It's proven over and over again that you don't need [first-round] receivers. Look at the Steelers and the Packers. They have a bunch of second-, third-, fourth-round-type guys."
D'Marco Farr of 101ESPN St. Louis
says the Rams should draft for need this year. Farr: "There are some positions on this team that are so talent depleted and under-skilled that trying to compete another season with the same players would be folly. The needs of this team should far outweigh the allure of drafting purely based on talent alone."
April, 12, 2011
4/12/11
9:33
AM ET

Seth Rubinroit of the Daily Trojan
checks in with former Cardinals quarterback Matt Leinart, who says his NFL career has been a "roller coaster" to this point. Leinart seemed to have fallen off the map since signing with the Texans as their third quarterback. His contract ran through the 2010 season. Leinart: "Houston helped me get my confidence back, being around great coaches and a great team. It has jumpstarted me this offseason. ... I am not going to give up. I am not going to say it has been unfair, but I am just hoping for the opportunity to come. ... You can either give in to all of the criticism, or you can use it as fuel and motivation. I know what I can do. I am just waiting for the opportunity to go show it. ... I have had a lot of learning experiences and ups and downs, but I know that I have grown as a player and as a person, on and off the football field. I am totally ready to take advantage of the next opportunity I get."
Darren Urban of azcardinals.com
introduces the Cardinals'
latest video
in their "All In" series. The video shows the Cardinals meeting with Blaine Gabbert and others at the combine.

Clare Farnsworth of seahawks.com
looks back at the team's inaugural season. Jim Zorn: "We only won two games that first year, but you would have thought we almost went to the playoffs. That's how enthusiastic not only we were, but the fans were. Everybody was excited."
Danny O'Neil of the Seattle Times
lays out draft expectations for the Seahawks during his latest chat. O'Neil: "Well, if Seahawks are on the clock at No. 25 and Mark Ingram is still there, the Seahawks would have to look long and hard at that one, and it would be tough to justify passing up a young back with that power and that talent just because you have Marshawn Lynch signed for another year. Remember back in 2006 when a quarterback went tumbling down the draft order, and Green Bay -- with John Schneider in that front office -- didn't have a pronounced need at quarterback. But they took Aaron Rodgers. I think the evidence points to the fact that say all you want about drafting to fit the team, but if you've got a player who is seen as a significant value at an important position, they're going to draft him." O'Neil thinks Seattle is most likely to select a defensive end.
Eric Williams of the Tacoma News Tribune
thinks the Seahawks should address their defensive line in the first round. Williams: "I would take Corey Liuget if he is on the board at No. 25 if I was Seattle. He will be an impact player, and with all the injuries they had along the defensive line last year, with Brandon Mebane, Red Bryant and Colin Cole missing a combineed 19 games, I think he makes some sense. Both Pete Carroll and John Schneider said getting more physical up front on both sides of the ball is the team's top priority."
John Clayton tells 710ESPN Seattle
he thinks there's a good chance Matt Hasselbeck will not re-sign with the Seahawks. Clayton: "I'm not optimistic now. I'm starting to think that it may not happen. It seems like they did put a good effort in, but they didn't come to the right number. And now it's put the Seahawks in a position where I think what'll happen is, if free agency would start -- and we all don't know when -- I think they'll let him test the market. And that could be dangerous because he could go someplace else. But at this stage I'd say the odds are now slipping away that Matt's going to be here (in Seattle)."

Jim Thomas of the St. Louis Post-Dispatch
previews visits the Rams have set up with draft prospects. Thomas: "Heading the list of scheduled visitors is Alabama wide receiver Julio Jones, but several other potential Rams selections at No. 14 overall are scheduled to visit Rams Park today and Wednesday. Among them are Missouri defensive end Aldon Smith, Illinois defensive tackle Corey Liuget, North Carolina defensive end Robert Quinn and California defensive end Cameron Jordan. At least four scheduled visitors are running backs, a sign that the Rams may mean business this year in finding a bona fide backup to Steven Jackson."
Nick Wagoner of stlouisrams.com
looks at receiver options for the Rams in the draft. Wagoner: "Should A.J. Green or Julio Jones somehow fall into the Rams' range, though, they would both almost certainly draw serious consideration for the pick. More likely, should the Rams opt to land a pass catcher; it will have to come after the first round barring a trade down in the first round. There are some intriguing options after Green and Jones. Boise State's Titus Young, Maryland's Torrey Smith, Kentucky' Randall Cobb and Indiana's Tandon Doss figure to land somewhere in the second round or early in the third."

Matt Maiocco of CSNBayArea.com
revisits Gary Plummer's dismissal as the 49ers' radio color commentator. Maiocco: "Plummer certainly did not sugarcoat what he witnessed. There were two separate episodes last season in which Plummer's words on the broadcasts angered many in the organization. In games against Seattle and Philadelphia, Plummer stated flatly that receiver Michael Crabtree and guard Chilo Rachal should be benched. The organization, which controls the broadcasts on flagship station KNBR, does not deny there was friction over those isolated occurrences. But the man in charge of the move is adamant Plummer was not fired because he criticized the team. He says Plummer was given freedom to criticize as he saw fit."
Also from Maiocco
: a look at how fans envision the first seven picks of the draft unfolding.
Matt Barrows of the Sacramento Bee
says ex-49ers quarterback Gio Carmazzi decline to participate in an ESPN piece looking at the six quarterbacks drafted ahead of Tom Brady in 2000. Barrows: "The second quarterback taken that year was Hofstra's Gio Carmazzi, who was selected by the 49ers in the third round. The 49ers were so jazzed about Carmazzi that one of the offensive coaches at the time -- I will spare him the embarrassment and not identify him -- stood up on a table during a draft meeting and passionately extolled Carmazzi's virtues. He was the 49ers' quarterback of the future, the heir to Joe Montana and Steve Young. Carmazzi, as any decade-long suffering 49ers fan knows too well, never threw a regular-season pass for the 49ers. (And if you saw his preseason passes, you know why). The Boston Herald, which had a sneak preview of the 50-minute feature, writes that 'Carmozzi (sic) is now a yoga-obsessed farmer who has five goats. He was the only one who did not agree to an interview.' "
Also from Barrows
: Two running backs are scheduled to visit the 49ers.
Kevin Lynch of Niner Insider
says Cam Newton's ability to lead comebacks at Auburn reminds him of Joe Montana's comeback efforts at Notre Dame.
February, 16, 2011
2/16/11
2:30
PM ET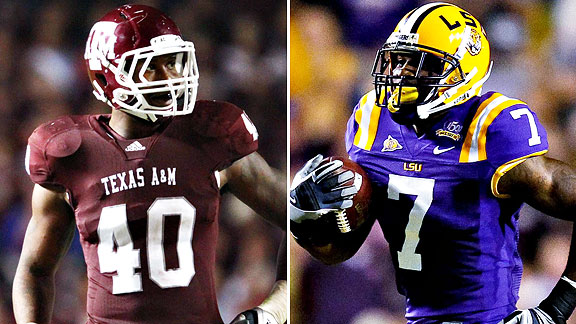 US PresswireVon Miller and Patrick Peterson would fill immediate needs for the Cardinals and 49ers, respectively.
Thanks to labor unrest, NFL teams cannot bank on free agency, offseason programs, training camp or even the 2011 regular season.
The draft
is one of the few certainties, with the first round set for April 28 -- whether or not the NFL and its players have a new collective bargaining agreement in place.
The NFC West is, once again, figuring prominently in the draft conversation.
With the division holding two of the top seven choices this year after St. Louis snagged
Sam Bradford
first overall in 2010, I checked in with Steve Muench of Scouts Inc. for the first of several conversations sizing up options for teams in the division.
Here we go ...
Arizona Cardinals
First-round position:
Fifth overall
Top three needs:
QB, OLB, OL
In the spotlight:
Von Miller
, OLB, Texas A&M
Mocking it up:
Mel Kiper has the Cardinals taking Miller. Todd McShay has them taking Missouri quarterback
Blaine Gabbert
.
Muench's thoughts:
"If Gabbert is there, he is a great pick. Todd has Miller going third. You could easily flip those and then Von Miller makes a lot of sense. I think he might fit best as a 4-3 linebacker because of his size, but he knows the 3-4 position. He is athletic and he can drop into coverage. The value isn't there for another outside linebacker that early. There are differences between each 3-4. The Pittsburgh-style that Arizona wants to run is a little more aggressive, whereas New England is more read and react. When you have a read-and-react defense, you want a guy who is taller, has longer arms and he has to be stout, able to lock out in a two-gap scheme and locate the ball. A guy in Pittsburgh's scheme can beat you with speed. Miller is not perfect in terms of body and frame and size, but he has experience playing in that kind of system and he is going to get to the quarterback. That is why you can justify doing it. He is the best pass-rusher in the class."
Sando follow-up:
The Cardinals need fresh talent at outside linebacker.
Clark Haggans
is 34.
Joey Porter
turns 34 next month.
O'Brien Schofield
and
Will Davis
have potential, but the Cardinals cannot bank on them. Cody Brown, a second-round choice in 2009, suffered a career-altering wrist injury as a rookie and has never played in a regular-season NFL game. He is off the roster. Arizona's new defensive coordinator, Ray Horton, keeps emphasizing how much pressure he plans to unleash on opposing offenses. He's going to need a talent upgrade to make that happen. Adding Miller, advertised as the best pass-rusher in the draft, would qualify as a good start. Drafting a quarterback this early amounts to betting the franchise, so Arizona would have to feel very good about the selection to go in that direction.
San Francisco 49ers
First-round position:
Seventh overall
Top three needs:
QB, CB, OLB
In the spotlight:
Patrick Peterson
, CB, LSU
Mocking it up:
Kiper and McShay have the 49ers taking Peterson.
Muench's thoughts:
In terms of value, corner is going to be the best in that spot unless they trade. The Cam Newton situation is going to be very interesting to see how it unfolds. Based on the film, I am scared to death of the scheme he ran in college and I think his footwork needs a ton of work. The 49ers could take him at No. 7 if they fell in love with him. I just don't see that happening. Jim Harbaugh, coming from Andrew Luck, isn't going to want as big a project as he'll have in Cam Newton. As for the corners, we all have Peterson and Nebraska's
Prince Amukamara
high. Peterson is a little bit faster and gives you more in the return game, but I think both those guys are big, strong, fast corners with pretty good instincts. The other kid who is in the same category, to me, is
Jimmy Smith
from Colorado. Those three are very good values in the top half of the first round. I think that is their best bet, to be honest with you.
Sando follow-up:
The 49ers' new defensive coordinator, Vic Fangio, held the same job in Houston when the Texans drafted cornerback
Dunta Robinson
with the 10th choice in the 2004 draft. That decision worked out well. Also that year, Fangio's high opinion on pass-rusher
Jason Babin
fueled a push to trade up in the draft to select him 27th overall. That decision did not work out. Fangio wanted a cover corner and a rush linebacker to build that Houston defense, and he'll likely want the same in San Francisco. Peterson or one of the top corners would make sense. Fangio thought Babin might project in the Kevin Greene mold. He could be looking for that type of player for the 49ers in this draft.
St. Louis Rams
First-round position:
14th overall
Top three needs:
WR, OLB, DT
In the spotlight:
Julio Jones
, WR, Alabama
[+] Enlarge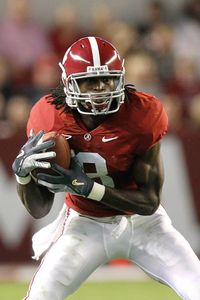 Kevin C. Cox/Getty ImagesAdding Julio Jones would give Sam Bradford a true home-run threat.
Mocking it up:
Kiper has the Rams taking Illinois defensive tackle
Corey Liuget
. McShay projects Jones to the Rams.
Muench's thoughts:
The Rams are in good position at No. 14. Julio Jones is a good value there. He doesn't do a great job of sinking his hips and exploding away from man coverage, but he is strong and fast enough to produce after the catch. It is a good receiver class, so if they want to take care of that later, they could try to get someone like
Jonathan Baldwin
from Pitt. Two underclassmen in the second round are interesting -- Maryland's
Torrey Smith
and Indiana's
Tandon Doss
. Smith is a vertical threat who I expect to run really well at the combine. He is a raw route runner. Doss will not run as well as Smith, but he is two inches taller, has OK speed and is very quick. I love his hands. He makes some really remarkable catches.
Sando's follow-up:
The Rams are picking late enough to make for some nervous moments as highly rated players slip further than anticipated. A year ago, the Seahawks were the ones hoping safety
Earl Thomas
would fall to them at No. 14. Thomas was there, Seattle drafted him and the move is panning out. The Rams could be in a similar situation with Jones if they wind up rating him as highly as anticipated. The need at receiver isn't great enough to force a selection, however. The team could use a front-line defensive talent as well. The Rams have used their first-round choices for offense both times since Steve Spagnuolo became head coach. The one early defensive selection, 2009 second-rounder
James Laurinaitis
, has been a hit. The Rams could do worse than giving Spagnuolo another piece to the defensive puzzle.
Seattle Seahawks
[+] Enlarge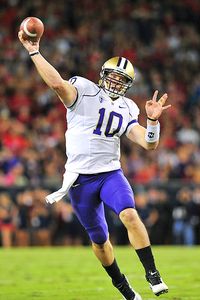 Chris Morrison/US PresswireJake Locker will be a familiar prospect to Seahawks coach Pete Carroll.
First-round position:
25th overall
Top three needs:
QB, OL, DE
In the spotlight:
Jake Locker
, QB, Washington
Mocking it up:
Kiper has Seattle drafting Florida interior offensive lineman
Mike Pouncey
. McShay is going with Locker.
Muench's thoughts:
The quarterback class didn't shape up the way we thought it would heading into the season. We expected Luck to come out, Locker to take the next step and
Ryan Mallett
to have a stronger performance. Luck stayed while Locker and Mallett faltered, Locker more so than Mallett. Gabbert has been a pleasant surprise, but there are too many questions after him -- the biggest of which is, will Newton reach his awesome potential? The Seahawks have needs on their interior offensive line and Mallett doesn't move well enough in the pocket to avoid trouble. When forced to move, his accuracy suffers. The story is going to be Locker, if he is there. Pete Carroll should have a feel for him from going against Locker in the Pac-10. If one of the top three quarterbacks is not available, I think it would be a mistake to take a quarterback at 25.
Sando's follow-up:
Addressing the offensive line in this range could qualify as a relatively safe move. Even disappointing first-round selections along the offensive line tend to become at least serviceable starters. What about drafting a more complete defensive end to eventually succeed or augment pass-rusher
Chris Clemons
? Muench thought
Robert Quinn
would be ideally suited for the role, but he'll be long gone at No. 25, according to all the projections.