February, 28, 2014
Feb 28
2:30
PM ET
EARTH CITY, Mo. -- If the No. 13 overall slot itself in this year's NFL draft was a person, it would undoubtedly have its feelings hurt by now.
The
St. Louis Rams
hold that pick in the 2014 draft, but based on discussions here and elsewhere, you probably wouldn't know it. That's because the Rams also hold the 13th pick's younger, more attractive cousin, the No. 2 overall pick.
To this point, most of the discussion centered on the latter of the Rams' two first-round picks has been as some sort of an add on to what the Rams will do with the second pick. Something to the effect of "if the Rams draft X position at No. 2 (or in a trade down), they can draft Y position at No. 13."
The 13th pick has really done nothing but add to the proliferation of run-on sentences found in cyberspace.
It's only natural to focus on the higher of the two picks. It's the one that is easier to peg, comes with the most recognizable names and there are less moving parts. Attempting to predict what might happen in the middle of the round is far more difficult as the picture gets fuzzier the further down the draft order you go.
Really, though, any discussion involving the Rams taking a certain player at No. 2 and then another particular player at 13 is a setup for disappointment.
When it comes to the Rams' draft needs, the most commonly cited are offensive line, wide receiver and secondary. In an ideal world, the Rams could get a top tackle at No. 2 and top receiver at 13 or vice versa.
There are two popular combinations that are often thrown out: Clemson receiver
Sammy Watkins
paired with Michigan offensive tackle
Taylor Lewan
or Auburn offensive tackle
Greg Robinson
(or Texas A&M tackle
Jake Matthews
) paired with Texas A&M wide receiver
Mike Evans
.
Either combination would undoubtedly be a boon for the Rams, especially if they could trade down and add picks before drafting the first piece of those puzzles. The reality is that both are unlikely.
In conversations with scouts and personnel types at the NFL scouting combine, there seemed to be something of a consensus on the top 10-12 players that will come off the board in May. By no means is there a definitive list or, especially, an order to that group. But here are the names that many believe will be the first group of players taken:
South Carolina defensive end
Jadeveon Clowney
, Robinson, Matthews, Watkins, Buffalo linebacker
Khalil Mack
, UCLA linebacker
Anthony Barr
, Lewan, Central Florida quarterback
Blake Bortles
, Texas A&M quarterback
Johnny Manziel
, Louisville quarterback
Teddy Bridgewater
and Evans.
If that group comes off in some order, the Rams wouldn't be able to land two of them. Likewise, according to Mel Kiper Jr.'s latest
big board

, that group plus North Carolina tight end
Eric Ebron
forms the top dozen talents in the draft.
Of course, anything is possible when it comes to the NFL draft and things can change, but it's probably best to assume that the draft won't work out exactly how one might hope. It never does.
February, 20, 2014
Feb 20
4:30
PM ET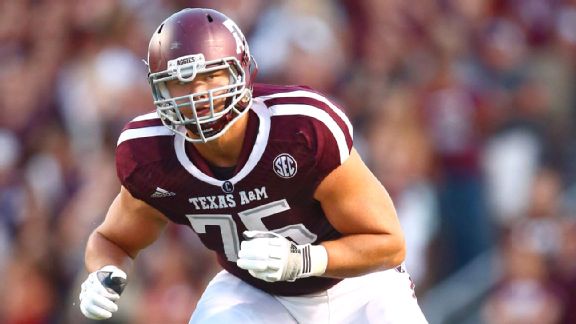 Mark J. Rebilas/USA TODAY SportsA player the caliber of Jake Matthews could help solidify the Rams' offensive line.
INDIANAPOLIS -- In Jeff Fisher's nearly two decades as an NFL head coach, his teams have never drafted an offensive lineman in the first round.
It's a streak that should come to an end in 2014.
The
St. Louis Rams
might have individual spots more in need of help, but there's no position group requiring more attention across the board than the offensive line.
The Rams started the 2013 season with an offensive line of (from left to right)
Jake Long
,
Chris Williams
,
Scott Wells
,
Harvey Dahl
and
Rodger Saffold
.
By the end of the year, the Rams had started seven different line combinations, and that doesn't include in-game adjustments made to account for injuries.
It would be easy for the Rams to lean on the tried and true methods of draft and develop that have been tenets of Fisher's coaching years. Offensive line coach Paul Boudreau has a reputation for taking late-round picks or undrafted free agents and molding them into productive or better NFL starters.
Boudreau did just that in 2013, despite all the aforementioned moving parts. The Rams finished tied for 14
th
in the league in sacks allowed per dropback, giving up a sack on 6.5 percent of those attempts -- despite facing three of the top seven defenses in the league a total of six times.
"He did an outstanding job," Fisher said. "We didn't track how many combinations of guys and who was playing where, but there were a lot of people playing. It was a good group. He puts together a really unique group in the classroom and they enjoy working together. They get close. They're very disciplined and, for all intents and purposes, each one of them really wants to come back, which is good."
The reality is, however, that it's unlikely they all return.
When the 2014 season begins, it's a possibility the Rams could have as many as five new names in place on the offensive line. That's because Williams and Saffold are scheduled for unrestricted free agency, Wells and Dahl are potential salary-cap casualties and Long is recovering from a torn ACL and MCL.
Fortunately for the Rams, if ever there was a time to revamp the offensive line through the draft, this is it. The team holds two picks in the first round: Nos. 2 and 13.
According to one AFC scout, Auburn's
Greg Robinson
and Texas A&M's
Jake Matthews
are top-five-caliber talents. But that doesn't mean the Rams would have to pursue one of them with their second overall selection. The same scout believes as many as four offensive tackles, adding Michigan's
Taylor Lewan
and Alabama's
Cyrus Kouandjio
, could go in the top 15, which means the Rams could wait and address the position at No. 13.
As always, the draft is about finding a way to marry need and value. While many believe South Carolina defensive end
Jadeveon Clowney
is clearly the best player in the draft, two scouts believe Robinson and Matthews aren't far behind.
While Fisher's streak of not drafting linemen in the first round is worth noting, it also doesn't tell the whole story and assumes he was making all the decisions with the Titans.
In 18 NFL drafts, Fisher's teams have selected 23 offensive linemen. Two of those came in the second round and two came in the third. Then-line coach Mike Munchak also made a habit of developing picks lower on the totem pole.
Of course, Fisher's Titans/Oilers teams also never found themselves with the pressing needs the Rams figure to have on the offensive line, either.
Brad Hopkins held down one tackle spot from 1993 to 2005 and Bruce Matthews was an All-Pro guard and center for the franchise from 1983 to 2001.
When Fisher's team did need to fortify the line, it often did so through free agency, adding the likes of Fred Miller, Wells and, most recently, Long.
Boudreau has done fine with linemen of all shapes, sizes and ability, but considering what the Rams are going to see from the front sevens in the NFC West for the foreseeable future, it's time to start investing some draft capital that doesn't require the Rams to go shopping for new linemen seemingly every offseason.
That could mean drafting a tackle in the first round, adding to the interior in the second round or any number of possible combinations. Much will depend on what becomes of Saffold, who is the Rams' top priority to retain in free agency.
In his day-after-the-season news conference, Fisher said the Rams needed to score more points to be more competitive in 2014, particularly against the likes of San Francisco, Seattle and Arizona. Three of the four tackles to land on the All-Pro team in 2013 were first-round picks.
The Rams can probably get by with drafting and developing lower-ranked offensive linemen, but against the dominant defenses in the NFC West, getting by simply isn't good enough.
February, 19, 2014
Feb 19
4:00
PM ET
The workout portion of the NFL scouting combine begins on Feb. 22 with the entire football world closely watching every prospect's every move. With that in mind, we're counting down the top five things the Rams and their fans should be watching as the NFL converges on Indianapolis.
Free agency officially begins on March 11 with a small window for teams to begin negotiating with targeted players coming just before that. But the NFL scouting combine also serves as a sort of unofficial kickoff to the free-agent period as team executives and agents huddle in the same city for the better part of a week.
For the
St. Louis Rams
, free agency will go a long way in determining the shape of one key area of the team in 2014. Starting linemen
Rodger Saffold
and
Chris Williams
are scheduled to become free agents and guard
Harvey Dahl
and
Scott Wells
are potential salary cap casualties.
[+] Enlarge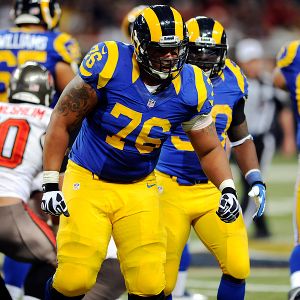 AP Photo/L.G. PattersonThe Rams would like to retain Rodger Saffold, but other teams will have interest as well.
With all of those moving pieces on the current roster and the best prospects in this year's draft converging in Indianapolis, it brings us to the final pressing combine question for the Rams:
What will become of the offensive line in 2014 and will any prospect do enough to break the nearly two-decade drought of Rams coach Jeff Fisher not taking an offensive lineman in the first round?
Rams general manager Les Snead and Fisher have made it clear that they'd like to retain Saffold if possible. That will depend largely on how the market shakes out for him and how much the Rams are willing to spend on a player who has showed great promise as a guard but has struggled to stay healthy. Interest in Saffold could only increase after teams tag their own valuable offensive linemen.
Theoretically, the Rams could bring Williams back and/or find a way to cap Wells or Dahl at a lower price. Regardless, it's a safe bet that the Rams are going to enter the new league year in need of more reinforcements for the offensive line.
Snead has vaguely referenced a "plan" for addressing the offensive line but, like every other position on the roster, declined to provide clues as to what that might entail. The Rams spent big money to land left tackle
Jake Long
in free agency last offseason. This year, there doesn't appear to be much in the way of difference making linemen heading to free agency pending the players receiving tags.
More likely, the Rams are probably going to have to invest more draft capital in the offensive line than they have in the recent past. Since Fisher and Snead took over in 2012, they've used just two picks on offensive linemen, both on guards, and none higher than the fourth-round choice of
Barrett Jones
in 2013.
The issue figures to be more pressing this year and the Rams are probably going to be vetting the draft's best line prospects in Indianapolis. A pair of tackle prospects with strong ties to Fisher and Snead currently sit atop most of the media draft boards in the form of Auburn's
Greg Robinson
and Texas A&M's
Jake Matthews
.
Robinson is considered the player with the most upside, perhaps the most of any player in the draft regardless of position, and played with Fisher's son, Trent, for the Tigers. Auburn is also Snead's alma mater, meaning if nothing else, the general manager has seen him play multiple times this year when cheering on his team.
Matthews has his ties to the Rams too and is regarded as one of the safest picks in the draft. Matthews' father, Bruce, was a bedrock of Fisher's offensive line for the Oilers/Titans for many years and that pedigree will be hard to ignore. Both players are expected to show well at the combine but could do something to boost their respective stocks.
Robinson will need to show the short area quickness and agility that can help project his ability as a pass blocker after getting few one-on-one edge blocking opportunities for the Tigers. Matthews would do well to show some power in the bench press and athleticism in testing to show that he's not simply a finished product without much ceiling.
Beyond that duo, there are plenty of other talented linemen expected to work on the Lucas Oil Stadium turf. Michigan's
Taylor Lewan
, Notre Dame's
Zack Martin
, Alabama's
Cyrus Kouandjio
and Virginia's
Morgan Moses
are among the top tackles who will be in Indianapolis. On the interior, the area the Rams are almost certain to need reinforcements, guards such as UCLA's
Xavier Su'a-Filo
, Mississippi State's
Gabe Jackson
, Stanford's
David Yankey
, Clemson's
Brandon Thomas
and Baylor's
Cyril Richardson
could also draw the attention of the Rams.
Teams are limited to 60 15-minute interviews during the combine but generally speak to nearly every prospect in some capacity during the week. Don't be surprised if the Rams use plenty of their time with offensive linemen in Indianapolis.