NFC West:

Ted Marchibroda
November, 18, 2011
11/18/11
4:30
PM ET
Elias Sports Bureau has corrected information on the longest winning streaks since 1970 for first-time NFL head coaches.
The San Francisco 49ers' Jim Harbaugh ranks tied for fourth on the list with seven consecutive victories. His team would have to win its remaining regular-season games to tie Jim Caldwell for the top spot.
The chart breaks out the leaders. Just passing along.
.
November, 17, 2011
11/17/11
3:42
PM ET
Ronnie Lott witnessed one of the greatest coaching jobs in NFL history during the Bill Walsh years in San Francisco three decades ago.
The Hall of Famer thinks the 49ers' current coach, Jim Harbaugh, might be doing something more spectacular in leading the team to an 8-1 record against all expectations.
"This might be the greatest coaching that I've ever seen in the history of the game of professional football," Lott told Sirius NFL Radio recently. "It's his first [season as an NFL head coach] and not only is he hitting it out of the park but, man, he's hitting all the notes. Everything that you can think of, he's done."
Lott pointed to the 49ers' ability to play well and win under a first-time NFL head coach following a lockout-shortened offseason. The turnaround from eight consecutive non-winning seasons has been striking. Kenton Wong of ESPN Stats & Information put together a Harbaugh-related packet with the following key points:
Stanford went from 1-11 the year before Harbaugh arrived as head coach to 4-8, 5-7, 8-5 and 12-1 over his four seasons at the university.
The 49ers brought back most key players, notably Alex Smith, from a team that went 6-10 last season. Their eight victories this season match the rest of the NFC West combined. The 49ers have a .889 winning percentage, compared to .296 for the rest of the division. They are plus-95 in points. The rest of the NFC West is minus-198. The 49ers have one more road win (four) than the rest of the division combined.
Smith is on pace for career bests in yards per attempt (7.2) and touchdown-to-interception ratio (3.7).
Harbaugh's seven-game winning streak is tied for second longest by a rookie head coach since the 1970 NFL-AFL merger, according to Elias Sports Bureau. Ted Marchibroda's Colts won nine in a row in 1975. Bobby Ross' Chargers won seven straight in 1992. Chuck Knox's Rams (1973) and Nick Saban's Dolphins (2005) each enjoyed six-game streaks. Corrected info from Elias: Steve Mariucci won 11 in a row during the 1997 season, his first with the 49ers. And Jim Caldwell went 14-0 with the Colts in his first season. Those are the two longest streaks.
This is the best start for a rookie NFC West coach since Mariucci's 49ers opened the 1997 season with an 11-1 record. They finished 13-3.
Mike Martz's
St. Louis Rams
went 8-2 to open the 2000 season. Mike Holmgren's Seahawks opened the 1999 season with an 8-2 record.
I've put together a chart showing NFC West head coaches' first-year records since 1997, excluding interim coaches.
.
May, 21, 2011
5/21/11
12:53
PM ET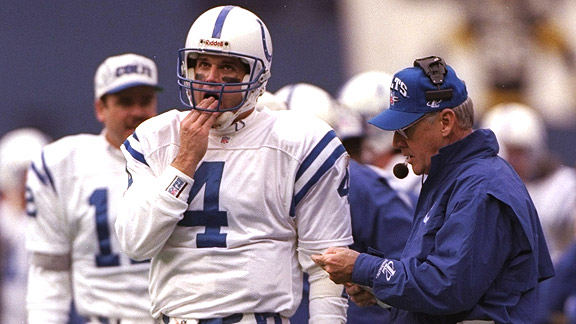 Doug Pensinger/Getty ImagesJim Harbaugh, left, says former coach Lindy Infante, right, had a huge impact on his career.
Jim Harbaugh
's reverence for Bill Walsh has been palpable since the
San Francisco 49ers
named him head coach this offseason.
Harbaugh has sought to round up
old coaching tapes
featuring Walsh installing game plans. He has embraced Walsh's offensive philosophy, pledging to run
a similar version
of the West Coast system. He has paid homage to 49ers tradition. Before Walsh died in 2007, he backed Harbaugh at Stanford, where Walsh was twice head coach. Walsh even
spoke to players
at Harbaugh's first spring practice.
Harbaugh has also been around the NFL long enough to know the league has produced a long list of outstanding coaches, even if few match Walsh in terms of success and overall legacy.
Lindy Infante
was one of those coaches in Harbaugh's eyes.
"Lindy doesn't get near the credit that Bill Walsh does," Harbaugh said this offseason, "but in many ways they are equals in terms of football minds. I never played for Bill Walsh, but there's no question in my mind."
This statement struck me as profound, but context is key. Harbaugh wasn't comparing their careers. He was comparing football acumen. One of the things Harbaugh admires most about Infante, who coached him in Indianapolis and is now retired, applies directly to Harbaugh's current challenge with the 49ers.
"It would be the ability to make a quarterback really play well," Harbaugh said.
Not just any quarterback, but quarterbacks with limitations.
"I went to the Pro Bowl playing for Lindy and up until that point, I wasn't thought of as a good quarterback at all," Harbaugh said. "But coaching made a difference."
Bernie Kosar and Don Majkowski enjoyed their best statistical seasons with Infante coaching them.
[+] Enlarge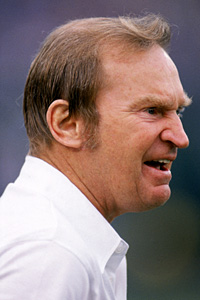 Photo by George Rose/Getty ImagesThe passing concepts taught by longtime NFL coach Don Coryell influenced the coaches who influenced Jim Harbaugh.
All of this came to mind Thursday during our blog discussion measuring
Don Coryell's impact on Walsh
and, by extension, on the 49ers.
Coryell never won a championship as a head coach, but he affected modern football tremendously through his innovative scheming.
Though Walsh and Infante never worked together, Coryell influenced both. Infante expanded upon Coryell's innovations while serving as offensive coordinator for the
Cincinnati Bengals
during the early 1980s. The concepts became staples within offenses around the league, including the one Infante taught to Harbaugh while both were with the Colts during the 1990s.
Infante, reached by phone at his Florida home, spoke specifically of the option routes Coryell used in San Diego to make Chargers tight end Kellen Winslow more dangerous.
The way Infante tells it, he was studying the Chargers' offense under Coryell when something unusual stood out on film. San Diego would run what appeared to be the same play from the same formation, but Winslow seemed to be acting on his own.
The first time, Winslow might run 12 yards and break toward the outside right. Ten or 12 plays would pass, and then the same play would come up again, but this time Winslow would run a tight hook to the inside, getting open for a first down. A quarter might pass and the same play would appear, with Winslow breaking across the field to his left.
"I kept writing these things down and diagramming them and I sat back and said, 'It looks to me like they are giving Winslow the right to go where he wants to go,' " Infante said. "We started playing around with what we call the 'Y' or tight end option. The first day out on the practice field, we had a full scrimmage and I said, 'Here goes, we're going to find out whether this thing is going to work.' "
It worked.
"By about the third or fourth time we ran it, Kenny Anderson and the tight end, Danny Ross, ended up on the same timing-type situation, but the quarterback got to the point where he could tell where the receiver was going to go way before he went," Infante said. "He was trying to get the ball there early and we had the ball hit Danny Ross in the face because he couldn't get turned around fast enough. We had to do some on-the-job training, but that is what got us thinking."
If the tight end could make such adjustments, Infante thought, why couldn't wide receivers do the same? If wide receivers could do it, why not the running backs? Before long, receivers could have as many as five options on a particular route based on the coverage, blitzes and the other factors.
Ross caught 71 passes for 910 yards and five touchdowns in 1981. He was on pace for even bigger numbers a year later, finishing the strike-shortened 1982 season with 47 catches for 508 yards in just nine games. Ross went to the Pro Bowl that season.
"It evolved to the point where we were doing a lot of option-route running, a lot of route adjustments after the snap of the ball and the quarterback would have the right to change certain plays if certain things were going on," Infante said. "It was exciting because it was inventive and you had to feel free to go and try to invent something. When I started coaching with Harbaugh, they brought me in to Indianapolis and the idea was I would bring my offense with me."
Harbaugh finished his playing career under Ted Marchibroda (
Baltimore Ravens
), Mike Riley (
San Diego Chargers
) and Marty Mornhinweg (
Detroit Lions
). He coached under Bill Callahan in Oakland before becoming a head coach at the University of San Diego and then Stanford.
The lockout has prevented Harbaugh and offensive coordinator Greg Roman from installing their offense with the 49ers. The coaching staff has used the time to refine exactly how they'll present information to players once the lockout finally does end.
Players might not know it, but former coaches will influence the process, at least indirectly.
"For this offense, there's a lot of Lindy Infante principles," Harbaugh said, "but I don't think it's exclusive to this offense. You talk about the option routes. The
smash route
now is a universally run route, but that was Lindy Infante.
"From a quarterback standpoint, I learned from him that there were more ways to read a route than just through a progression. I learned how to throw people open from him, that covered did not mean covered. That is a huge part of football now. The whole option game, the option routes, the smash concepts -- all those things I learned from him. He was very technical, very detailed. Just a
different way to understand the passing game
is what I learned from him."
Update:
This item originally said Coryell and Walsh worked together with the Chargers. Walsh predated Coryell in San Diego.
December, 7, 2010
12/07/10
12:40
PM ET
Ted Marchibroda isn't coaching the
San Francisco 49ers
. The team might be heeding one of the former NFL coach's axioms about backup quarterbacks, however.
As Marchibroda
likes to say
, a good backup quarterback might be apt to win three games in relief, but if a team leans on him for six games, he'll likely lose three as well.
The 49ers have gone 3-2 with former third-stringer
Troy Smith
at quarterback. They've lost two of his last three starts, however, and with the 49ers' season on the line Sunday, the team is giving the job back to former starter
Alex Smith
.
Troy Smith has accomplished what a team should expect its backup quarterback to accomplish. He sparked the team. He won a few games. But the longer a backup is on the field, the tougher his job becomes. Opponents become better prepared for what the backup offers. Over time, the backup quarterback often shows why he's a backup.
We can debate whether Alex is better than Troy, but there's no question Troy Smith's play has leveled off. That was expected. "
Unsustainable
" was the word I used to describe his initial numbers. He was averaging 17.9 yards per pass attempt on first down through his first two starts with the team.
The chart shows how Troy Smith's first-down passing numbers have plummeted. Taking away the threat of
Frank Gore
, lost to a season-ending hip injury, makes it even tougher for the 49ers to fool defenses on first down.
On a side note: The 49ers' inability to prevent word of their impending quarterback change from getting out before Wednesday gave the Seahawks two additional days to prepare for Alex Smith. Perhaps Pete Carroll should thank Mike Singletary for the heads-up. That seems only fair after Singletary thanked Carroll following the Seahawks' 31-6 victory over San Francisco in Week 1.