August, 29, 2014
8/29/14
2:30
PM ET
With cuts looming hours away, at least 22 players are wondering if they'll have a job by time Saturday night rolls around.
Arizona Cardinals
coach Bruce Arians has been firm that five or six players were fighting for spots on the roster Thursday night.
Here are three Cardinals whose stock rose Thursday night:
Walt Powell, WR: With 140 return yards and a catch on third down in the fourth quarter that Powell turned into a first down, I think he landed himself a job on the roster. Arizona has been flirting with keeping five or six receivers, but always left the door open by saying that someone contributing on special teams would make the team. Powell is that guy.
Teddy Williams, CB: The last cornerback spot came down to Williams and Bryan McCann but Williams broke up a couple passes Thursday night and used his size – 6-foot-1, 207 pounds – to make his presence felt. He established last season he can play gunner and his transition from receiver to corner should help him make the roster.
Glenn Carson, LB: While a long shot to make the team, Carson had 10 tackles Thursday night – eight of which were solo – and he missed a huge interception by inches. He's put enough on tape this preseason to get a good look from another team, but if he can slide through waivers, he might find himself on the Cardinals' practice squad.
August, 9, 2014
8/09/14
2:00
PM ET
GLENDALE, Ariz. – With the
Arizona Cardinals
' first preseason game approaching Saturday against the
Houston Texans
, the starters have been written about, dissected and analyzed plenty during the first two weeks of camp. The coaching staff knows what they're capable of. It's the guys behind them who will be fighting for their jobs.
Here's a breakdown of five defensive reserves to watch Saturday against Houston:
Williams

Teddy Williams, CB: Williams isn't just returning from an Achilles' tendon injury, he's making his debut at cornerback. Last season he displayed his speed at wide receiver but was moved across the line of scrimmage due to added depth at receiver. He's a special-teams dynamo, especially at gunner, but Williams will need to prove starting Saturday that he could be a reliable backup for an already deep cadre at cornerback. Mistakes are expected, but he's confident he'll make this team.
Kenny Demens, LB: After spending all but two games either on practice squad or injured during his rookie season, Demens returned in 2014 in the middle of a stiff competition at inside linebacker. He's the youngest of the trio competing for one spot alongside Kevin Minter, and while Larry Foote and Lorenzo Alexander have the experience, Demens has youth, quickness and durability on his side. The biggest knock on Demens has been his size but he can start proving Saturday that's irrelevant.
Justin Bethel, CB: He made the Pro Bowl last year as a gunner on special teams, but since returning from Hawaii, Bethel has been making major strides as a defensive back. He'll starting showing his new skills – which Cardinals coach Bruce Arians said this offseason could end up be being better than Patrick Peterson's – on Saturday. Expect him to have a solid game because he's a relative unknown as a cornerback and the tape that's out on him isn't strong, but in practice he's been light years better than he was a year ago, getting his hands on passes and making plays. But there's still work to be done.
Kareem Martin, DE: Like Ed Stinson, the other defensive lineman drafted in May, Martin will be charged with proving he's a viable backup on a defensive line that finished last season as No. 1 against the run. Martin's reputation to get to the quarterback will follow him this year. Saturday will be his first chance to show any improvement to his pass-rushing techniques. With John Abraham still not in camp, Martin could be working toward a pass-rush role.
Ed Stinson, DE/DT: The rookie will get his first shot as a backup on the Cardinals' vaunted defensive line, a role he and Martin will share all season. And this will be coaches' and fans' first chance to see the guy who Darnell Dockett tweeted will be the next Dockett, if not better. The pressure is on.
November, 18, 2013
11/18/13
8:00
AM ET
A review of four hot issues from the
Arizona Cardinals
' 27-14
win
over the
Jacksonville Jaguars
.
Bethel
Williams
Backup ammo:
With gunner
Teddy Williams
out for the rest of the season with a torn Achilles and Pro Bowl candidate
Justin Bethel
having suffered a concussion in Jacksonville, the Cardinals find themselves looking at a slew of potential replacements. However, who they pick to be the gunners can dictate how this team goes during the next few games. Bethel had become a one-man game-changer, getting to punt returners quickly and flipping the field with his speed alone. With Williams on the opposite side, the Cardinals had maybe the fastest and most formidable gunner tandem in the league. That's changed, and it could cost the Cardinals.
Just the Jags:
How long until someone brings up the fact that the offense played well only because it played the Jaguars? While the Jaguars' front seven gave the Cardinals' running game fits, Arizona took advantage of the young secondary over and over again. But the Cardinals still didn't make as many mental errors and formation mistakes that have plagued them all season. The receivers and tight ends finally seemed to understand the playbook against Jacksonville and it resulted in 419 passing yards for quarterback
Carson Palmer
.
Playoff mentality:
Whether the Cards are on the inside of the wild-card race heading into Sunday will be determined Monday night when Carolina, currently the fifth seed, plays New England. If the Panthers lose, Arizona will be the sixth seed while San Francisco moves to fifth. But Cardinals coach Bruce Arians isn't waiting for the playoffs to start putting his team in a postseason mentality. They've already been playing like it's the playoffs.
"We have talked about how the playoffs have already started [for us] -- you lose, you're out," Arians said. "We are a game behind teams so we have to keep winning. We have to take a playoff attitude every week, that this game is a playoff game and we have to win to catch up. The guys have done it."
Indy week:
Forget Seattle, San Francisco and St. Louis. Sunday's game against the Colts was the matchup Bruce Arians had circled since the schedule was released in April. It would have more of an impact if the Cardinals were returning to Indianapolis, where Arians won Coach of the Year by going 9-3 as interim coach of the Colts last season. But with Chuck Pagano and the Colts coming to town, Arians will still be a ball of emotions. Even a weathered veteran like Arians won't be able to contain his emotions about his opponent, as he usually does.
November, 17, 2013
11/17/13
4:11
PM ET
A few thoughts on the
Arizona Cardinals
' 27-14
victory
against the
Jacksonville Jaguars
.

What it means:
The Cardinals will hear it all week: Sure they won handily, but they beat the Jaguars. It doesn't matter who Arizona played, what mattered was the Cards didn't play down to their opponent's level. They started out sluggish, which has become the status quo, but both the offense and defense found a rhythm.
Carson Palmer
topped 400 yards passing for the first time since Nov. 4, 2012. After allowing the Jags to score their first two touchdowns of the season at home, the Cards' defense held the Jags to just 32 yards on the ground. Sunday's win was more of a mental boost than anything. It showed that Arizona could win when it needed to, despite a few hiccups. And the offense proved it's truly coming along to complement a stout defense.
Stock Watch:
Michael Floyd
was questionable heading into Sunday's game, and all he did was set a career high with 193 receiving yards, including a 91-yard touchdown catch in the third quarter. His previous high was 166 yards last season against San Francisco, but this is the game Floyd needed. He's played well, but hasn't shown that breakout ability that comes with being a first-round pick. The Cards needed Floyd to show he's capable of being a first option, because too many teams are doubling or bracketing receiver
Larry Fitzgerald
.
Injured gunners:
While their offense was clicking, the Cardinals' special teams took a major blow when both their gunners went down with injuries. In the first half,
Justin Bethel
left the game with a concussion and didn't return. Then in the third quarter,
Teddy Williams
went down with an Achilles injury and was carted off the field. The Cards' punt coverage suffered when Bethel went down, then it was rendered almost obsolete without Williams. That could be a turning point for the Cards, who have relied on Bethel to get to punt returners quickly.
Another option:
The play calling early in the first quarter was telling for how far the offense has come. Palmer looked for his tight ends early and often, and it helped stretch the Jaguars' defense.
Rob Housler
had a season-high 70 yards,
Jake Ballard
had one catch for 29 yards, and
Jim Dray
add 18 yards on two catches.
What's next:
The Cardinals host Indianapolis next Sunday at University of Phoenix Stadium.
November, 13, 2013
11/13/13
8:00
AM ET
Flush the Pocket will be your daily morning dose of the
Arizona Cardinals. It'll recap the top storyline from the previous day and give you a look at what everyone is saying locally and nationally.
TEMPE, Ariz. – If Michael Floyd can't play Sunday in Jacksonville, the Cardinals will be "a little bit slim" at wide receiver, Cardinals coach Bruce Arians said during his weekly appearance on SiriusXM NFL Radio.
Floyd sprained the AC joint in his right shoulder in the first quarter of the Cardinals' 27-24 win over the Houston Texans. On Monday, Arians said Floyd is day-to-day.
If Floyd can't play, rookie Jaron Brown would take his place in the lineup, meaning the Cardinals would be sending out Larry Fitzgerald, Andre Roberts, Brown and most likely Teddy Williams. Brittan Golden is still recovering from a hamstring injury.
Arians said Brown played "extremely well." Roberts also stepped up with 72 yards, and Arians said the Cardinals "never really miss a beat when Andre's in there." But with Williams, who played cornerback last season in Indianapolis, the Cardinals have a project that's not finished. They're still teaching him how to play receiver, Arians added.
The Cardinals lost receiver Kerry Taylor last week when he was signed off the practice squad by Jacksonville.
A few other notes from Arians' radio spot:
Arians is still surprised that recently signed tight end Jake Ballard played 22 snaps, but once the Cardinals started running the ball, they began using plays that were very similar, which helped Ballard adjust. "We believe if a guy can help us, we'll find a role for him and don't overload him," Arians said. "Let him go out and let him play with his instincts while we're teaching him on our techniques."
Arians feels it helps the Cardinals' preparations knowing that the Jaguars have won a game. When his team watches tape, Arians said they see a team that has a stout defense and a solid run game, and a squad that's clearly capable of winning games. "I don't think we're full of ourselves to the point where we're going to think we're better than anybody unless we show up on Sunday," Arians said with a chuckle. "Of course, I got to hammer them while [I] keep hitting them in the head about it."
Tuesdays are always slow around Cardinals headquarters, but here are the top headlines:
October, 28, 2013
10/28/13
2:00
PM ET
A review of four hot issues from the
Arizona Cardinals
' 27-13 win over the
Atlanta Falcons
.
[+] Enlarge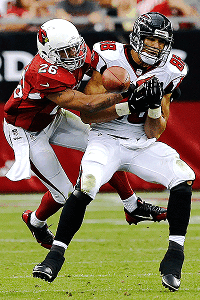 AP Photo/Rick ScuteriSafety Rashad Johnson helped Arizona shut down star Atlanta TE Tony Gonzalez on Sunday.
Fast Teddy in the house:
Cardinals coach Bruce Arians made it clear that
Teddy Williams
wasn't signed to be a threat at receiver. Arizona has plenty of those. Williams was signed as a gunner to complement
Justin Bethel
, but Arians likes to take advantage of speed when he has it. Thus, the Cardinals implemented a play for Williams to take the top off Atlanta's defense. It worked, but almost too well. Williams had to slow down to catch a 51-yard pass, which the Falcons weren't expecting.
"I don't know if they knew who he was," Arians said. "I knew he could run. I didn't know if he could catch.
"I'm just happy he caught it. I'm really happy he caught it. I was holding my breath. I know he was holding his."
Containing a tight end:
It's no secret tight ends have been the Cardinals' lone defensive liability, but they were able to limit Atlanta's
Tony Gonzalez
to three catches for 26 yards. Arizona did it by rotating defenders on him, that way the Falcons couldn't adjust their plans according to coverage. Arizona mixed traditional defenses on Gonzalez with gimmick schemes, such as lining up two defenders on him like a punt situation.
"It was a team effort -- team defense, playing with great technique on the back end, defensive line getting pressure," linebacker
Karlos Dansby
said. "We did it together."
Time off needed for Fitz's hammy:
He might've said he's fine, but
Larry Fitzgerald
's hamstring hasn't been at 100 percent for a while and it showed again Sunday. He had 48 yards and a touchdown on four catches. Arians said Fitzgerald played a solid game. But Fitz can't wait for the bye.
"I'm glad we're going into the bye to get some time to really get after it and nip it in the bud and have smooth sailing for the next eight games," Fitzgerald said. "That would be ideal for me."
Ellington still looks to Mendenhall:
Despite staking his claim for the starting running back job, rookie
Andre Ellington
still sees it as
Rashard Mendehall
's. When Mendenhall returns, Ellington said it won't be hard to accept a lesser role -- if he does.
"Rashard is our bell cow," Ellington said. "He's our leader in the room. This guy earned that respect. I'm waiting for him to get healthy and get out there and make plays."