March, 7, 2012
3/07/12
3:40
PM ET
The
Seattle Seahawks
looked around the NFC West in 2003 and decided they needed a cornerback with
Marcus Trufant
's size, speed and skill.
They made Trufant the 11th pick of the draft.
Trufant
"In this division we're in, you can't have enough good corners," then-coordinator Ray Rhodes said on draft day 2003.
Trufant wound up covering
Torry Holt
,
Isaac Bruce
,
Anquan Boldin
and
Larry Fitzgerald
while all were at or near their primes. He fared well enough to earn Pro Bowl honors during the 2007 season, but age and injuries eventually caught up with him.
As Danny O'Neil reports
, the Seahawks plan to release Trufant in a move that seemed inevitable for various reasons.
Trufant, 31, missed 12 games to injury last season.
Brandon Browner
and
Richard Sherman
flourished in his absence. There was no way Seattle was going to bring back Trufant at his $7.2 million salary for 2012. The question was whether the sides might work out something allowing Trufant to return at a diminished rate, and in a diminished role. He had taken a reduced salary for 2011 heading into the season.
Trufant was the longest-tenured current Seahawk. He started at least 15 games in seven of his nine seasons, picking off 21 passes. Trufant started the only Super Bowl in franchise history. He made an immediate impact, starting every game as a rookie and playing well early.
"It's hard to put into words when you've been at this a long time how a young player like Marcus, who's a rookie, can be as consistent and solid as he has been," then-coach Mike Holgmren said at the time. "I'm one of those who has said, 'Let's not anoint him yet.' But he has been playing very, very well for us."
Terence Newman
,
Andre Woolfolk
and
Nnamdi Asomugha
were the other first-round cornerbacks entering the NFL with the 2003 draft class.
Back trouble slowed Trufant in 2009 and again last season. He started the first four games in 2011 before landing on injured reserve.
March, 11, 2011
3/11/11
12:31
PM ET
LSU's
Patrick Peterson
might be the best player in the 2011 NFL draft, but history stands firmly against him becoming the first overall choice.
A cornerback has never gone first overall in a draft.
Pat Yasinskas' piece
on the matter got me thinking about the
Arizona Cardinals
' and
San Francisco 49ers
' outlook for the position this year. Arizona picks fifth. San Francisco picks seventh. A cornerback could stand as the highest-ranked player available when the Cardinals and 49ers choose. San Francisco in particular has a clear need at the position.
[+] Enlarge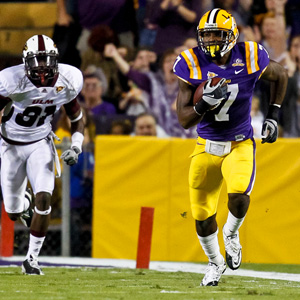 Derick E. Hingle/US PresswireCoverage skills and the ability to return kicks make Patrick Peterson a valuable commodity.
What to do? And what about that history on taking cornerbacks early in the draft?
Let's set aside quarterback for the sake of this discussion. The 49ers and Cardinals both need one. Both would have to strongly consider drafting one in the first round if they had one of the prospects rated highly. Let's assume, for our purposes, that they head in another direction near the top of the draft.
Scouting reports on Peterson suggest he's a special talent, not only at cornerback but as a returner. The 49ers could use his services in both capacities.
The Cardinals have more pressing needs in other areas. Their new defensive coordinator, Ray Horton, is a former secondary coach and NFL cornerback. He'll have a strong opinion on Peterson, but he also badly needs pass-rush help at outside linebacker. If the Cardinals have an outside linebacker rated nearly as high as Peterson, they'll have to consider upgrading their pass rush.
A quick look at the eight cornerbacks drafted among the top seven overall choices in the past 15 drafts, ordered by overall position:
Third overall
Shawn Springs, Seattle Seahawks (1997):
Springs picked off 33 passes and went to one Pro Bowl in 13 seasons. Injuries dogged him. He started 10 or fewer games six times. Springs also
served a four-game suspension
for violating the NFL's policy on steroids and anabolic substances. Springs was a good player for a long time, but his raw talent suggested he would make a greater impact.
Fourth overall
Charles Woodson, Oakland Raiders (1998):
Woodson is a seven-time Pro Bowl choice. He was the NFL's Defensive Player of the Year in 2009. He played a key role in Green Bay's development into a Super Bowl champion. Woodson has 47 interceptions and has returned 10 of them for touchdowns. These are the sorts of credentials that will make Woodson a candidate for the Pro Football Hall of Fame.
Fifth overall
Terence Newman, Dallas Cowboys, 2003:
Newman has two Pro Bowl appearances in his past four seasons and 28 career interceptions. He has started 16 games six times in eight seasons. The Cowboys signed Newman to a lucrative extension in 2008. They like him. Newman is a very good player. Sometimes that is good enough, even for prospects drafted this early. The two players drafted immediately after Newman --
Johnathan Sullivan
and
Byron Leftwich
-- make the Cowboys' decision look quite smart by comparison.
Bryant Westbrook, Detroit Lions, 1997:
Injuries derailed Westbrook's career, preventing complete analysis. Westbrook suffered a torn Achilles' tendon in his fourth season and another one in his sixth season. He was out of the league by age 28. Westbrook picked off 13 passes and bounced back from injuries admirably, but they caught up to him in the end.
Quentin Jammer, San Diego Chargers, 2002:
The Chargers named Jammer one of the 50 greatest players in their history despite perceptions that he hasn't quite lived up to expectations. Those perceptions could be misguided. Jammer is not flashy, but he is a good, durable cornerback.
Nnamdi Asomugha
and
Champ Bailey
have overshadowed him in the AFC West and made it tough for Jammer to earn Pro Bowl recognition.
Sixth overall
Pacman Jones, Tennessee Titans (2005):
Off-field problems ran Jones out of the league. He returned with Cincinnati but has not come close to meeting expectations.
Seventh overall
Joe Haden, Cleveland Browns (2010):
Haden picked off six passes during his rookie season. It's too early to size up his career, obviously, but Haden is off to a promising start.
Champ Bailey, Washington Redskins (1999):
Ten Pro Bowl appearances and shutdown coverage skills make Bailey an obvious choice for the Pro Football Hall of Fame. Not much more to say.
November, 4, 2009
11/04/09
8:48
AM ET
Posted by ESPN.com's Mike Sando

Matt Maiocco of the Santa Rosa Press-Democrat
checks in with quarterback Alex Smith regarding the 49ers' offensive tactics against the Colts, followed by a look at every player on the roster. The 49ers abruptly went away from their personnel group featuring Delanie Walker and I am not sure why. More on that from me as the day progresses. Maiocco on Barry Sims: "He entered the game on the 49ers' second offensive play after Joe Staley's injury. He was matched up mostly against Colts DE Dwight Freeney. Sims played very, very well. In fact, I'd go so far as to say he pitched a shutout against Freeney. Sure, Freeney had a sack in the game, but it came on a stunt in which Gore picked him up. Even then, that was more of a coverage sack." The hard part comes now that opponents have time to prepare for an offense without Staley.
Matt Barrows of the Sacramento Bee
looks at potential options for the 49ers as they deal with significant injuries to Staley and cornerback Nate Clements. Barrows: "Look for Sims and Adam Snyder to be the starting tackles while Staley is out. Newly-signed Chris Patrick also is an option, and the 49ers also could elevate rookie Alex Boone from the practice squad. Boone is strictly a right tackle. Bringing him to the active roster would require the 49ers to release someone on the 53-man squad, likely a receiver." The 49ers did release receiver Micheal Spurlock before adding cornerback Keith Smith. I'd be surprised if Boone made it into a regular-season game. Practice squad tackles generally aren't ready for prime time.
Ray Ratto of the San Francisco Chronicle
takes a look at Mike Singletary's first year as the 49ers' head coach. Ratto: "In the meantime, the real fun here is not in wondering if Alex Smith has suddenly been cured, or if Joe Staley can miraculously heal himself, or if the secondary can grow in the absence of Nate Clements and his cracked scapula, but what comes next in Singletary's development as a coach. Does he become a headset guy? Probably not, because he is who he is and that's all who he is, to quote the one-eyed maritime philosopher. Does he more forcefully encourage Raye to open up the offense to accommodate Smith's skill-set while finding a way to protect Smith from being obliterated? As yet unproven. Does he keep promising the playoffs? Oh, bank on it. But what he's already done in what is essentially one year's time already is remarkable, at least when you compare with his original, rigid plan."

Kent Somers of the Arizona Republic
says the Cardinals need to bench Anquan Boldin for the receiver's own good. Somers: "By playing at considerably less than optimal health, Boldin is hurting the team. It's hard to make him a big part of the game plan, because no one is sure how long Boldin's ankle will hold up. It doesn't appear he can accelerate as fast on his pass routes, or move quickly enough to evade tacklers when he does make the catch." I thought Boldin moved better against the Panthers than against the Giants, but his subsequent re-injury will probably diminish his effectiveness.
Also from Somers
: The Bengals signed fullback Tufui Vakapuna from the Cardinals' practice squad.
Dan Bickley of the Arizona Republic
says the Cardinals are testing their fans' patience with repeated home defeats. Bickley: "If you haven't noticed, these Cardinals are a strange bunch. In trouble, they're often at their best. At their best, they're often on the brink of trouble. They frequently bemoan a lack of respect. Once they attain it, they do everything possible to give it away. They are in first place, and unbeaten on the road. Yet only a goal-line stand against the Texans prevents them from being winless at home."
Darren Urban of azcardinals.com
says coach Ken Whisenhunt is taking an even-keeled approach despite the team's inconsistencies. Whisenhunt: "I think our team has seen me get upset a few times when I'm with the team [in the locker room]. Maybe they need to see that a little bit more from the standpoint of being able to establish that consistency. [But] I don't really buy into that. We have enough good football players that … no matter what the temperature of the game, we can play the style of football that can allow us to win."
Revenge of the Birds' Andrew602
breaks down the Cardinals' defensive effort against the Panthers. There's plenty of blame to go around.

Clare Farnsworth of seahawks.com
details nine roster moves made by the Seahawks. Was this what coach Jim Mora meant when he said jobs were on the line? A team generally cannot release valuable players for the sake of making statements. Edgerrin James was the biggest name to go, but he wasn't a factor.
Danny O'Neil of the Seattle Times
expects Louis Rankin to get more playing time following James' release. The Seahawks are valuing players with knowledge of their offense. Rankin played for Seahawks offensive coordinator Greg Knapp in Oakland.
John Morgan of Field Gulls
points out how Seattle receivers Nate Burleson and T.J. Houshmandzadeh jogged out their routes on a running play, possibly by costly consequences. Morgan: "Seattle runs an inside draw. It gets good push from Chris Spencer and Rob Sims. (Justin) Forsett slips through a seam and streams out the other side behind the pulling Spencer. He has the first. Before he's blindsided and the ball pops from his grasp, let's rewind and look around. It's a shotgun snap and the handoff to Forsett is quick and definitive, so the wide receivers have to hustle to influence the play. They're not going to run off their guys, but they could put a body on them. Burleson inches up towards (Terence) Newman and when it's clear he's beat, stops, stands and spectates. Houshmandzadeh starts quicker but slows and instead of engaging nickelback Orlando Scandrick, he jogs up and behind the referee. Newman forces the fumble and Scandrick recovers for 15 yards."
Greg Johns of seattlepi.com
quotes Seahawks receiver Deion Branch's explanation for what Branch said following his touchdown reception Sunday. Branch: "When you're 2-5 a lot of stuff is going down. I want to win. I want to play. I'm not sitting on the sideline complaining. I've accepted my role on the football team, I just want to go out and help my team win and I feel I can help my team win by playing."

Jim Thomas of the St. Louis Post-Dispatch
provides an appreciation for Rams running back Steven Jackson. Thomas: "These days, few in the NFL pound the rock as well as Jackson. At the midpoint of the 2009 season, he's tied for the NFC rushing lead with Minnesota's Adrian Peterson with 784 yards. And he's tied for second overall in the NFL, trailing only Tennessee's Chris Johnson, who has 824 yards. Add his 186 receiving yards, and Jackson trails Peterson by a scant 3 yards -- 973 to 970 -- for the NFL lead in yards from scrimmage. There can be no doubting that he's at or near the top of the NFL pecking order at running back."
Bill Coats of the St. Louis Post-Dispatch
says rookie K.C. Asiodu made a key contribution to the Rams' first victory of the season.
October, 14, 2008
10/14/08
3:02
PM ET
Posted by ESPN.com's Mike Sando
Adam Jones' suspension weakens an already thin Dallas secondary heading into a suddenly interesting matchup between the revived Rams and the limping Cowboys.
The Rams are finally getting some breaks. Their defense won't have to worry about injured Cowboys quarterback Tony Romo. Dallas will also be without cornerback Terence Newman, running back Felix Jones, receiver Sam Hurd and punter Mat McBriar.
After surprising the Redskins in Week 6, the Rams have to feel better about their chances for a rare winning streak. The team hasn't won consecutive games since the 10th and 11th weeks last season.
October, 11, 2008
10/11/08
9:55
AM ET
Posted by ESPN.com's Mike Sando
Kent Somers of the Arizona Republic breaks down the Cardinals' injury situation. Both starting cornerbacks are questionable. Tight end Ben Patrick is doubtful. Also, former Cardinals offensive lineman Leonard Davis has found a home in Dallas.
Also from Somers: Ken Whisenhunt says Adrian Wilson wasn't trying to hurt Bills quarterback Trent Edwards.
More from Somers: Wilson says he'll appeal the $25,000 fine even though he knows it's probably a losing battle.
Mike Tulumello of the East Valley Tribune has a notebook with items on Wilson, Cowboys cornerback Terence Newman, Cardinals receiver Steve Breaston and Arizona's first outright division lead after five games since 1988.
Darren Urban of azcardinals.com quotes Wilson as saying he was fined $12,500 for a hit on Ravens tight end Todd Heap last season. This was counter to my initial understanding. Also, Anquan Boldin will not play against the Cowboys.
Sean McClain of the Courier-Post says 49ers safety Michael Lewis has gotten over his unceremonious exit from the Eagles.
John Crumpacker of the San Francisco Chronicle quotes 49ers coach Mike Nolan as botching the name of Eagles running back Correll Buckhalter. Last week, Nolan referred to "Wesley Walker" in reference to Patriots receiver Wes Welker.
Matt Barrows of the Sacramento Bee says 49ers rookie first-round choice Kentwan Balmer has stayed after practice to work on technique.
Matt Maiocco of the Santa Rosa Press-Democrat says the 49ers have allowed more sacks than any team this season while their Week 6 opponent, Philadelphia, has more sacks on opposing quarterbacks than any team. Time to hand off to Frank Gore, in other words.
Mark Emmons of the San Jose Mercury News asks former Rams tight end Ernie Conwell about the role tight ends play in Mike Martz's offense. Conwell sounds a lot like Martz when he says the 49ers' Vernon Davis is helping the offense even when he's not catching passes.
Eric Goska of packersnews.com says the Seahawks' passer rating falls well below any associated with a Mike Holmgren offense since 1986.
Jose Romero of the Seattle Times says the Seahawks expect third-stringer Charlie Frye to start at quarterback against the Packers. Frye's voice got a workout this week as he barked out signals more than during a typical week.
Michael Steffes of Seahawk Addicts offers 10 keys for the Seahawks against the Packers. The first one -- having Matt Hasselbeck on the field -- appears unlikely.
Clare Farnsworth of the Seattle Post-Intelligencer compares a third quarterback to a spare tire: "No one pays him much attention. He gets almost no reps in practice. And when needed, you just hope he's got enough in him to get the job done."
Greg Johns of the Seattle Post-Intelligener looks at the Seahawks' road-home success disparity, noting that only the Ravens have a wider one since 2002.
Bill Coats of the St. Louis Post-Dispatch says Dane Looker's career remains in flux while doctors figure out what's wrong with the Rams' receiver.
Also from Coats: Receiver Derek Stanley is eager to play. Also, the Rams picked off more passes than usual during practice this week.
Steve Korte of the Belleville News-Democrat says the Rams are concerned about a possible aneurysm for Looker, but tests remain inconclusive.