April, 30, 2014
4/30/14
5:30
PM ET
Seattle Seahawks
general manager John Schneider had some interesting things to say in an informal conversation with team beat writers Wednesday. Here are a few points:
•
Michael Bowie
is the next man up. The 2013 seventh-round draft choice, who started eight regular-season games because of injuries to starters on the line, will get a chance to earn the starting spot at right tackle to replace
Breno Giacomini
, who signed with the
New York Jets
as a free agent.
Pryor
• Schneider said
Terrelle Pryor
is coming to Seattle to compete at quarterback.
"Right now, no other options have been discussed," Schneider said.
The key words there are "right now." The Seahawks sent Oakland a seventh-round pick to acquire Pryor, who is 6-5, 245 pounds and can run a 4.4-second 40.
"We felt he was a better athlete than what we could have gotten with a seventh-round pick," Schneider said, "so we felt it was worth it to bring him in."
• Schneider wouldn't say whether strong safety
Kam Chancellor
or left tackle
Russell Okung
had surgery since the Super Bowl. Schneider will leave those questions for coach Pete Carroll to answer.
"I don't think it's appropriate for me to comment on those things," Schneider said. "It will be addressed by Pete once the players starting practicing."
Baldwin
Chancellor reportedly had minor hip surgery and Okung may have had surgery on the ligament tear in his big toe that caused him to miss eight games last season.
• Schneider didn't know when or if receiver
Doug Baldwin
plans to sign his tender offer of $2.187 million as a restricted free agent. Baldwin has until Friday to receive offers from other teams, which is unlikely now.
But Schneider did say Baldwin is part of the Seahawks' long-term plans. Signing the tender does not stop Seattle from trying to work out a contract extension with Baldwin. But Baldwin also has the option of signing the one-year deal and testing the free-agent market after the 2014 season.
• Schneider said he expects
Sidney Rice
to be 100 percent healthy by the start of the 2014 regular season. Rice, who was released before re-signing with the Seahawks in a one-year deal worth $1.4 million, had ACL surgery last October. Rice says he'll be ready by training camp in late July.
April, 21, 2014
4/21/14
9:40
PM ET
Will
Terrelle Pryor
be a quarterback for the
Seattle Seahawks
, or will they try to convince him to play another spot?
The Seahawks made one of their surprising moves (are any of their moves surprising anymore?) Monday evening by making a trade with the
Oakland Raiders
to acquire Pryor, who was about to be released by the
Oakland Raiders
. Seattle general manager John Schneider gave up a seventh-round draft pick to get Pryor.
In that case, he's worth it. Pryor is scheduled to make $705,000 in 2014. At 6-foot-6, 235 pounds with 4.4 speed, Pryor is an exceptional athlete. But is his future at quarterback or somewhere else on the field?
"Terrelle is an incredibly explosive athlete and we're excited for him to come in and compete," Schneider said in a Seahawks news release.
[+] Enlarge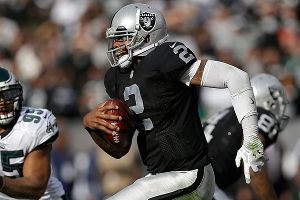 AP Photo/Marcio Jose SanchezWill Terrelle Pryor play quarterback or will the Seahawks move him to another position?
A running quarterback certainly fits into the Seahawks' offensive scheme, as fans have seen with
Russell Wilson
. Pryor, 24, is similar to Wilson as far as running read-option plays. Maybe the Seahawks see Pryor as a long-range answer as a backup.
Backup quarterback
Tarvaris Jackson
, who turned 31 on Monday, was a free agent before signing a new one-year deal at $1.25 million for 2014. The Seahawks players love Jackson. He knows the offense and he is the ultimate team guy.
So could the Seahawks talk Pryor into considering a move? Pryor could be sort of a hybrid tight end/receiver that the Seahawks are looking for, something the team sought in its interest in former Green Bay tight end
Jermichael Finley
.
Maybe, but I'm guessing Pryor is coming to Seattle to compete at quarterback for the backup spot behind Wilson. Reportedly, the 49ers also were interested in signing Pryor.
Pryor, the former Ohio State quarterback, started nine games last season and passed for 1,798 yards. He completed 57 percent of his passes with seven touchdowns and 11 interceptions. His total QB rating of 30.5 was third-lowest in the NFL last season, but he set a franchise rushing record for a quarterback with 576 yards while playing behind Oakland's porous offensive line.
Interesting side note: Wilson now is the third-highest paid quarterback on the team, making a base salary of $662,000 this year. Obviously, that's about to change dramatically.
It's also interesting that Oakland and Seattle have made two quarterback deals in the past year. The Seahawks traded
Matt Flynn
to Oakland last April.
This is what the Seahawks do, bring in talented athletes and find a place for them where they can help the team and excel as individuals. Maybe that's still at quarterback for Pryor, maybe it's elsewhere. For Seattle, it certainly is worth the cost of a seventh-round pick.
October, 24, 2013
10/24/13
12:00
PM ET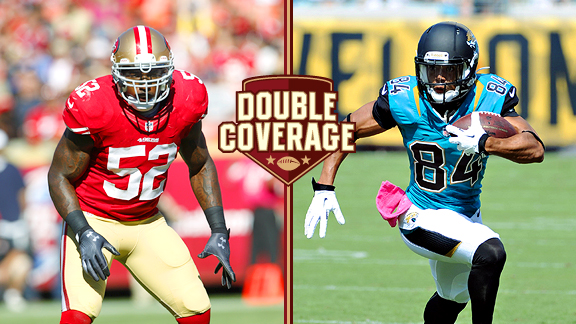 Getty Images, USA Today SportsPatrick Willis' 49ers meet Cecil Shorts' Jaguars in the second NFL game in London this season.
JACKSONVILLE, Fla. -- The
San Francisco 49ers
have righted the ship after a shaky start. The
Jacksonville Jaguars
are still sinking.
The teams going in opposite directions will meet Sunday in London's Wembley Stadium in the second of two NFL games being played in the United Kingdom this season.
The 49ers (5-2) have won four games in a row -- and scored at least 31 points in each of those games -- since starting the season 1-2. The Jaguars are 0-7 and are the first team since the 1984 Houston Oilers to lose their first seven games by double digits.
That makes Sunday's game look like a giant mismatch, yet the Jaguars were 28-point underdogs to the
Denver Broncos
two weeks ago but lost by only 16 points -- and trailed by just two at halftime.
ESPN.com Jaguars reporter Michael DiRocco and 49ers reporter Bill Williamson break down the matchup:
DiRocco:
The 49ers used the read-option the most they have all season against Tennessee in Week 7. Will that be a bigger part of the offense again as the season progresses?
Williamson:
Mike, I think it is going to be a week-to-week situation. The 49ers used the read-option seven times last week after using it a total of nine in the first six games. The 49ers saw they could exploit Tennessee's defense using it. I think we will see it again, but probably in more challenging games and only in certain situations, when the 49ers are confident it will work. We could maybe see it some in London, but I have a feeling it will be more like the first six weeks of the season.
Mike, if the 49ers do run a lot of read-option offense, do you think the Jaguars can handle it?
DiRocco:
Probably not. The Jaguars are last in the NFL in rushing defense (153.3 yards per game) and have given up a league-high nine rushing touchdowns. The defense's biggest problem against the rush is that it has given up a lot of explosive plays. Jacksonville has allowed an NFL-worst 10 rushing plays of 20 or more yards. Stopping the read-option is assignment football and the Jaguars' ends have not been as disciplined as needed. For example, Oakland's
Terrelle Pryor
ran for 50 yards in Week 2, including a 27-yard run in which the entire defensive front bit on the inside fake.
Bill, the Jaguars have had trouble with tight ends all season and now they face
Vernon Davis
. Who is the last team that's shut him down how?
Williamson:
Davis hurt his hamstring late in the Seattle game in Week 2. He was pretty well shut down in that game before getting hurt. He missed Week 3 against the Colts and then came back against the Rams. He's been good and he is healthy. If the Jaguars have trouble against tight ends, the 49ers will exploit it. Davis and quarterback
Colin Kaepernick
have a great chemistry going this season. The 49ers' coaching staff is great at exploiting weaknesses.
Mike, do you seeing this being a big problem for Jacksonville?
DiRocco:
Absolutely. Tight ends have combined to catch 42 passes for 401 yards and five touchdowns against Jacksonville this season. Depending on the defense called, the Jaguars will either have a safety or linebacker on the tight end. At times, the job has fallen to middle linebacker
Paul Posluszny
, who is very good against the run but not fast or quick enough in pass coverage. The Jaguars won't use the approach New England did against New Orleans standout
Jimmy Graham
-- the Patriots put their best corner,
Aqib Talib
, on him -- so I'd expect Davis to have chances to exploit some matchups with linebackers on Sunday.
Speaking of exploitation, the
Anquan Boldin
trade looked like a steal in Week 1. How is it regarded now?
Williamson:
Still, unabashed thievery. Sure, Boldin had 13 catches in the first week and a combined 21 catches in the following six. But the 49ers would be in trouble without Boldin. He had three circus catches at Tennessee and he's been the team's only reliable wide receiver with
Michael Crabtree
and
Mario Manningham
out. The 49ers would not be 5-2 without Boldin.
Mike, do you think the Jaguars will keep him in check Sunday?
DiRocco:
The Jaguars have done a solid job the past two weeks of playing umbrella coverage and making sure they don't give up deep throws. That does leave the short and intermediate routes open, though, and that's where Boldin thrives. He's a physical receiver and the Jaguars don't yet have the kind of personnel to match up with him. Coach Gus Bradley wants to build a secondary similar to the one he helped build in Seattle, which includes big, physical corners. The Jaguars still have work to do there, although rookie third-round pick
Dwayne Gratz
(5-foot-11, 201 pounds) is finally back from his high-ankle sprain.
.
June, 27, 2011
6/27/11
2:21
PM ET
Some quarterbacks stand out right away as face-of-the-franchise types.
Sam Bradford
and
Matt Ryan
left that impression when they spoke with reporters at recent NFL scouting combines. Both looked the part physically in terms of size/stature. Both played extensively for major programs. They seemed to have their lives in order. They held up well under questioning, showing the polish needed to handle difficult situations.
Few quarterbacks measure up so well on so many fronts.
Ohio State's Terrelle Pryor heads toward the supplemental draft hoping to convince teams he's worth their consideration. It's a tougher sell after Pryor left Ohio State amid a brewing scandal. The NCAA had already suspended him for the start of the 2011 season. The scouts I've spoken with doubt Pryor's credentials as a passer.
Will NFC West teams line up to draft Pryor?
I doubt it
. Every team in the division appears to have a No. 2 quarterback. An NFC West team using more than a late-round pick for Pryor would come as surprise.
Perhaps my expectations were too low, but I thought Pryor held up well when ESPN's Jon Gruden gave him the
Cam Newton
treatment
recently
.
Pryor made a positive impression, I thought. At the very least, Pryor should be fine if opposing defenses ask him to explain the merits of the bubble screen.
June, 16, 2011
6/16/11
8:00
AM ET

Matt Maiocco of CSNBayArea.com
passes along comments from 49ers coach Jim Harbaugh regarding receiver Michael Crabtree, via KNBR radio. Harbaugh was apparently alluding to recent interactions between Crabtree and Alex Smith. Harbaugh: "I've been around him a little bit. And Crab to me is a good guy and a good football player. Just some of the things lately kind of goes back to the analogy I gave a little bit ago, when you're kids and working it out and sometimes you get into some tussles and shirts get ripped and noses get bloodied, but that's part of figuring it out. I know he's a good guy. I know the other guys on our team are good guys. That's another interesting part of watching these guys figure it out. ... From my experience begin around him, I think he's a guy who's about us and about the team being successful."
Matt Barrows of the Sacramento Bee
says 49ers receivers coach John Morton has high expectations for Crabtree and Josh Morgan. Morton said he expects Crabtree to become "a phenomenal football player in this offense." The 49ers should have high expectations for Crabtree in particular. Encouragement and optimism from the coaching staff can be constructive, particularly at a time when lockout rules prevent the team from reaching Crabtree directly.
Eric Branch of the Santa Rosa Press-Democrat
says Harbaugh spoke more about the 49ers in general than Alex Smith in particular.

Nick Wagoner of stlouisrams.com
says the Rams are asking fans to help determine which game the team selects to wear its throwback uniforms. Said team exec Kevin Demoff: "We wanted to find a way to engage our fans and give them a voice on which game the club wears our throwback uniforms. The reason to wear the throwbacks is to celebrate the Club's history and our fans are an important part of that history. What better way to recognize our fans' passion for our team past and present than to give them the opportunity to select the game we wear our throwback jersey?"
Also from Wagoner
: a look at Rams rookie draft choice Jermale Hines. Wagoner: "Hines' versatility to come up in the box and stop the run or drop into coverage could allow him to work at either safety position or perhaps even fill in as the second linebacker in the team's nickel packages. Will compete for playing time on defense right away but figures to help on special teams immediately."

Kent Somers of the Arizona Republic
checks in with Cardinals coach Ken Whisenhunt, who will visit Kuwait on a USO trip later this summer. Somers: "Whisenhunt's father, brother and father-in-law served in the Air Force. His brother, Harry, who is two years older, flew F-16s for eight years in the Air Force and is now a pilot for United. Whisenhunt and his family, coincidentally, are vacationing with the families of his brother and two sisters, an annual occurrence."
Also from Somers
: He expects the Cardinals to show no interest in Plaxico Burress or Terrelle Pryor.
Darren Urban of azcardinals.com
has this to say about the USO trip featuring Whisenhunt and former Seahawks coach Jim Mora, among others: "In the end, it doesn't really matter how you stand on why soldiers are where they are in the world. It matters that they are willing to do a job many, frankly, aren't. For what they do for us, it makes sense to send over celebrities -- in this case, NFL coaches -- to remind them their work isn't forgotten." More from Urban
here
.

Clare Farnsworth of seahawks.com
says David Sims' 15 touchdowns stood as one of the bigger surprises from the team's 1978 season.
Also from Farnsworth
: Sims recalls the 43-yard scoring pass he threw to Steve Largent.
Brady Henderson of 710ESPN Seattle
quotes Mora on quarterback Matt Hasselbeck. Mora: "I just think he's got a lot left. I watched what Kurt Warner did when he went from the Rams to the Cardinals and kinda revived his career again, and I see that happening for Matt. I know Matt's work ethic. I know Matt's commitment. I know his drive to succeed and I just think that he's going to have a few more good years left in him." For Hasselbeck to follow Warner's lead, he would need to change teams. Warner was not an immediate success with Arizona, however.
June, 15, 2011
6/15/11
9:17
AM ET

Matt Barrows of the Sacramento Bee
does not anticipate the 49ers showing interest in Ohio State's Terrelle Pryor. He thinks Pryor would have to play receiver for the team to have even remote interest. Barrows: "But the 49ers have several younger prospects, including Ronald Johnson, a sixth-round pick in April, and Kyle Williams, a sixth-round pick last year. Furthermore, the supplemental draft likely will occur in early to mid July, which could coincide with the start of free agency. That is, the team could be adding other wide receivers -- especially undrafted college players -- just as the supplemental draft is occurring. Pryor may not be a priority."
Matt Maiocco of CSNBayArea.com
explains why Anthony Dixon does not project to fullback for the 49ers even though he has apparently bulked up to 250 pounds and said he would like to play the position some. Maiocco: "It's not difficult to envision a scenario in which the 49ers try to get Frank Gore and Dixon on the field at the same time in a split-back formation. But a full-time switch to fullback for Dixon is not a good fit. Veteran Moran Norris is under contract and set to return for his 11th NFL season. And the 49ers selected Central Florida defensive end Bruce Miller to convert to fullback. (Miller did not attend the get-together of offensive players last week at San Jose State.) The 49ers also plan to use tight ends Delanie Walker and Nate Byham occasionally out of the backfield."
Taylor Price of 49ers.com
profiles quality control coach Peter Hansen. As a player at Arizona, Hansen blocked seven field goal tries. Price: "At 6-foot-8 with a 39.5-inch vertical leap, Hansen offered his services as a field goal block specialist. The selfless act would pay huge dividends. Hansen would go on to block a combined seven field goals and extra point attempts for the Wildcats. For his efforts, Hansen was named second-team all-conference as a special-teams performer in 2000."

Clare Farnsworth of seahawks.com
says Shaun Alexander was an easy choice for the 35th anniversary team after scoring at least 15 touchdowns in five consecutive seasons. Farnsworth: "After being the 19th pick overall in the 2000 NFL Draft, Alexander grew into his role. He split time with Ricky Watters as a rookie and again in 2001. But in '01, Alexander began a run that would see him become the only player in league history to score 15 or more touchdowns in five consecutive seasons: 16 in 2001; 18 in 2002; 16 in 2003; 20 in 2004; and 28 in '05." As Jim Brown once said: "He's a mystery man to me. I cannot see what he possesses that allows him to do what he does. I look at his results; I just can't look at the methodology."
Danny O'Neil of the Seattle Times
offers thoughts on why the Seahawks selected receiver Kris Durham in the fourth round. They wanted a big receiver.
Brock Huard and Mike Salk of 710ESPN Seattle
project what the Seahawks might do once the lockout ends. Huard points to Robert Gallery, Deuce Lutui, Johnathan Joseph, Sidney Rice and Manny Lawson as players the Seahawks could logically target during the signing period. The team would have to be selective, however, if forced to proceed under Final Eight rules limiting free-agent options for the final eight playoff teams.

Scott Bordow of the Arizona Republic
catches up with former Cardinals linebacker Garth Jax, whose career highlight stemmed from the time he beat Cowboys guard Nate Newton into the backfield and drilled Emmitt Smith in a Christmas game. Jax remains best known for another tackle he made, however. That one was on a fan who ran onto the field. Jax: "That was Buddy Ryan's first home game. I'll never forget it. . . . I was so dehydrated they must have had five IVs in my veins. I was miserable, we were losing, it was not fun, and I was trying to do everything I could to keep a job. There was a lot of anger and frustration -- and out comes a drunk fan and I was like, 'No you don't.' I laid him out. I remember after the game Buddy said we didn't do very much good that night, but the one good thing was the form tackle Garth Jax laid out on the drunk fan. It's funny. When people recognize me or find out who I am and Google my name, that's the one thing that pops up."
Darren Urban of azcardinals.com
reflects on the game when then-Cardinals kicker Bill Gramatica suffered a knee injury during a celebration. Turns out there was quite a bit more to the story.
Also from Urban
: O'Brien Schofield and Daryl Washington are among the young players Arizona is counting on in 2011. Schofield has impressed the coaching staff with his diligence in returning from a serious injury.

ESPN's John Clayton
thinks the Rams should sign Randy Moss once the signing period opens. Clayton: "Why Randy Moss? The answer is speed. Moss may have a reputation of taking a few plays off when things get tough, but he can still get off the line of scrimmage and get downfield. Moss admittedly made the mistake of talking himself off the New England Patriots' roster, but there are still enough big plays left in his 6-foot-4 body to help an offense." I see the question as one of whether the payoff is great enough to justify whatever negatives might come with such an investment. Were three teams wrong on Moss last season, or was Moss the one without enough to offer them? I do think signing Moss under the right terms would make sense. The ability to release Moss without significant financial ramifications would be key if the situation did not work out.
June, 14, 2011
6/14/11
4:01
PM ET
Thoughts and questions after former Ohio State quarterback Terrelle Pryor and agent Drew Rosenhaus issued
statements
Tuesday:
[+] Enlarge

AP Photo/J Pat CarterFormer Ohio State QB Terrelle Pryor, right, and his agent Drew Rosenhaus discuss Pryor's future at a news conference in Miami Beach, Fla.

Rosenhaus said he expects an NFL team to select Pryor in the first round of the supplemental draft. I've heard nothing from anyone in the NFL suggesting Pryor would command that much value. Rosenhaus might have a better idea, or he might be simply promoting his client. But if Pryor does go early in the supplemental draft, I cannot see him landing in the NFC West.

The St. Louis Rams have their current starter. The San Francisco 49ers have their current and projected future starter. The Arizona Cardinals have multiple developmental quarterbacks. They need a veteran to step in and start right away. Pryor does not fit. The Seattle Seahawks said they could not afford to invest early draft choices in a quarterback given the state of their roster in other areas, notably the line. They addressed the line, but still have holes.

Rosenhaus represents more NFL players than any agent. However, he generally is not the choice for quarterbacks. Does Pryor even project as a quarterback? Depends who you ask.

Pryor does not perform like the typical quarterback on the field, having rushed for 2,164 yards at Ohio State. His choice for representation also goes against convention for quarterbacks. Three of the 145 signed players Rosenhaus represented during the regular season were quarterbacks, according to NFL Players Association records from November. Rex Grossman, Thaddeus Lewis and Billy Volek were those quarterbacks. David Dunn (17) and Tom Condon (13) had more than 28 percent of quarterbacks.

The dynamics change if Pryor remains available late in the supplemental draft. There's much less risk at that point. In the meantime, ESPN's Chris Mortensen says we should expect to see Pryor meeting with Jon Gruden for a session similar to the ones Gruden put together for Cam Newton and others. Gruden reveled in putting pressure on prospects to prove how much they understood about offense. How well Pryor understands the game from a quarterback's perspective will affect how well he would fit even as a No. 3 quarterback.
Rosenhaus and Pryor refused to answer questions following their statements.
"I think I've said it all," Rosenhaus told reporters.