January, 18, 2013
Jan 18
1:30
PM ET
»
NFC Championship
:
49ers-Falcons
»
AFC Championship
:
Ravens-Patriots
Five nuggets of knowledge about the NFC Championship Game matchup Sunday between the San Francisco 49ers and Atlanta Falcons in the Georgia Dome:
Quarterback equalizers:
The 49ers went 5-2 this season when facing top-10 quarterbacks by regular-season
Total QBR scores
. They can make it 6-2 with a victory over
Matt Ryan
's Falcons.
Colin Kaepernick
was the 49ers' quarterback when the team defeated
Tom Brady
(Patriots),
Aaron Rodgers
(Packers) in the playoffs, and
Drew Brees
(Saints).
Alex Smith
was under center for the 49ers when the team defeated Rodgers in Week 1 and
Russell Wilson
(Seahawks) in Week 7. Kaepernick lost to Wilson in Week 16. Smith lost to
Eli Manning
(Giants).
[+] Enlarge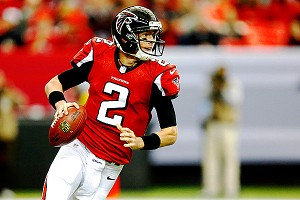 Josh D. Weiss/USA TODAY SportsThe Falcons have won 34 of their 40 home games with Matt Ryan as the starting quarterback.
Tough tasks on road:
The 49ers are heading into an unfriendly NFL venue for the third time in 35 days. The Falcons are 34-6 at home during the regular season and playoffs when Ryan starts at quarterback. The 49ers won last month in Foxborough, Mass., where the Patriots are 86-15 when Brady starts. More recently, the 49ers lost at Seattle, where the Seahawks were 8-0 this season. The home win-loss records for Brady (.851) and Ryan (.850) rank first and second among quarterbacks who entered the league during the Super Bowl era (minimum 20 home starts). Terry Bradshaw (75-14) and
Joe Flacco
(35-7) are next on the list. The 49ers also won on the road this season against Brees, who has gone 32-11 in the Superdome since 2008.
Mixing it up:
The 49ers or Falcons will become the ninth franchise to represent the NFC in a Super Bowl over the past 10 years. New England, Pittsburgh and Indianapolis are the only AFC franchises to play in Super Bowls over the same period. This will change only if Baltimore defeats the Patriots in the AFC Championship Game. Carolina, Philadelphia, Seattle, Chicago, Arizona, New Orleans, Green Bay and the
New York Giants
(twice) have represented the NFC over the past nine years. On a side note, the Falcons defeated the 49ers in the 1998 postseason on their way to their lone Super Bowl appearance.
Tight ends should flourish:
Falcons tight end
Tony Gonzalez
has 99 receptions in 17 games this season and could be wrapping up a Hall of Fame career. His 49ers counterpart,
Vernon Davis
, finished the 2011 postseason with 10 receptions for 292 yards and four touchdowns. The numbers suggest one or both could make a significant impact on Sunday.
When opponents target tight ends, the Falcons' defense ranks last in the NFL in Total QBR allowed (96.8), last in yards allowed per drop-back (9.3) and 31st in yards allowed per completed pass (12.6). Those figures count the postseason.
Although the 49ers have allowed a league-low 8.78 yards per completion to tight ends through the divisional round, tight ends caught eight of the 19 touchdown passes San Francisco allowed during the regular season. That was the second-highest percentage in the NFL behind Denver. Only five teams allowed more scoring passes to tight ends.
Nice option to have:
The Falcons allowed a league-high 8.9 yards per carry to opposing quarterbacks this season, ranking just worse than Buffalo (8.8) and Green Bay (8.5). Kaepernick set an NFL record for quarterbacks with 181 yards rushing against the Packers in the divisional round.
Atlanta has allowed a respectable 3.9 yards per carry on the 36 regular-season and postseason option rushes when quarterbacks handed off the ball. But opposing QBs gained 124 yards on six carries when quarterbacks kept the ball.
Cam Newton
accounted for nearly all that yardage thanks to option runs covering 72, 32 and 10 yards against the Falcons.
The 49ers often run the option from Pistol formations. The team gained 233 yards rushing and passing from the Pistol against Green Bay. That matched the 49ers' total from the formation beginning in Week 11 -- when Kaepernick became a starter -- through the end of the regular season.
Kaepernick is getting most of the attention, but wouldn't it be fitting if one of the 49ers' most respected and longest-tenured players,
Frank Gore
, wound up leading the team to the Super Bowl? Gore says he's getting more comfortable with the changes implemented when Kaepernick became the quarterback. His 119 yards and 5.2-yard average against the Packers marked season highs for Gore since Kaepernick became the starter.
ESPN Stats & Information contributed to this item.
September, 3, 2012
9/03/12
11:50
AM ET
The camera showed
Alex Smith
on the sideline before a recent preseason game.
Smith
In the broadcast booth, two Hall of Fame quarterbacks offered their takes on the
San Francisco 49ers
' quarterback.
"He did not have a great year statistically, but he had a great year," Troy Aikman said. "As someone who played that kind of game when I was playing, I can certainly appreciate what he was able to do last year. His remarks this offseason were very well put in the fact that, 'Hey, it doesn't matter how many yards I threw for (because) I played in the NFC Championship game."
"You're right, Troy," Terry Bradshaw said. "When you were in Dallas, it wasn't about throwing for 5,000 yards and 50 touchdown passes. It was about running the football, playing great defense and converting third down. That is what you did and that is what Alex Smith did last year."
Almost. The third-down conversions were too infrequent for the 49ers last season, but Smith did put up Aikman-like numbers for a highly successful team.
Aikman won three Super Bowls and a spot in the Pro Football Hall of Fame, but his raw passing stats -- what 49ers coach
Jim Harbaugh
would call "low-hanging fruit" -- were never all that impressive. Aikman exceeded Smith's 2011 total for touchdown passes (17) just twice in 12 seasons. Smith's NFL passer rating over the past three seasons exceeds Aikman's career mark (81.6).
Aikman, like Smith, was a No. 1 overall draft choice. Both endured brutal rookie seasons. Aikman benefited from organizational continuity early in his career. The Cowboys surrounded Aikman with elite players. They had coaching stability.
All of this came to mind Monday upon reading Chris Mortensen's rationale for
predicting San Francisco
would reach the Super Bowl this season (he has them losing to Houston).
"Everyone seems to forget what Alex Smith did against the Saints in the final minute in the divisional playoffs last season," Mortensen wrote. "He's not going to be
Drew Brees
, but he will be better than last season.
"San Francisco's great defense, superior running game and an improved passing game give it the look of a team that can make it all the way to New Orleans."
The chart compares Mortensen's picks with those made by other ESPN analysts.
May, 19, 2010
5/19/10
1:34
PM ET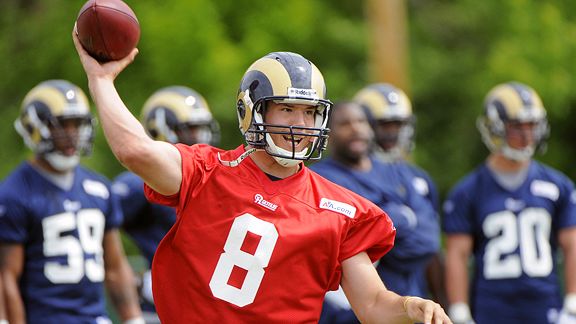 G. Newman Lowrance/Getty ImagesIt remains to be seen how the Rams will handle quarterback Sam Bradford during his rookie season.
The
St. Louis Rams
need not look far to see what can happen when an overmatched NFL team mishandles a quarterback drafted first overall.
The division-rival
San Francisco 49ers
are still trying to recoup their investment in 2005 first overall choice
Alex Smith
.
The Rams probably will not change offensive coordinators every year for the next five seasons, as the 49ers improbably did in Smith's first five, but they still need to be careful with rookie No. 1 overall choice
Sam Bradford
.
Early indications suggest the Rams would like to follow the plan Philadelphia took with
Donovan McNabb
back in 1999, when Rams offensive coordinator Pat Shurmur was coaching the Eagles' tight ends. Doug Pederson opened as the Eagles starter that season, allowing McNabb to ease into the starting role. McNabb got some reps off the bench before taking over as the starter in November.
In setting expectations for Bradford, I looked at production by rookie quarterbacks since 1970. The list featured several older players, some with experience in the CFL or USFL. I filtered out those players by focusing only on quarterbacks who were 25 or younger as NFL rookies. A quick look at them by games started:
16-game starters
There were only five, in part because the NFL season spanned only 14 games until 1978.
Peyton Manning
,
Matt Ryan
,
Joe Flacco
, Rick Mirer and
David Carr
pulled it off. All but Flacco, chosen 18th overall by Baltimore in 2008, were drafted among the top three overall choices in their class.
The ones who took the most sacks as rookies -- Carr (76) and Mirer (47) were the only ones to absorb more than 32 -- had the poorest careers. That might suggest the players had a hard time recovering from the beatings they took early in their careers. It also might reveal something about the quarterbacks' ability to process information quickly enough to get rid of the football before trouble arrives.
Offensive lines tend to take disproportionate blame for sacks, in my view. Quarterbacks are often responsible for them as well.
11- to 15-game starters
None in this group threw even 20 touchdown passes in a season (Manning and Dan Marino are the only rookie quarterbacks since 1970 to reach that barrier as rookies).
We should expect modest production from Bradford even if he starts most of the Rams' games.
Ben Roethlisberger
was a rarity among this group by completing at least 60 percent of his passes, but rookie completion percentage wasn't a reliable indicator for career success overall.
Some quarterbacks ranking lower played when teams ran higher-risk offenses and rules made it tougher to complete passes.
6- to 10-game starters
Hall of Famers Marino, John Elway, Terry Bradshaw and Dan Fouts fell into this group.
This group featured a solid middle class headed by McNabb,
Eli Manning
, Bernie Kosar, Jim McMahon, Neil Lomax, Steve Beuerlein, Pat Haden, Doug Williams and Rodney Peete.
There were a few disappointments -- Ryan Leaf, Cade McNown,
Kyle Boller
and the 49ers' Smith, who still has a shot at redemption -- but this seems like a reasonable number of starts for a quarterback drafted early.
Matthew Stafford
and
Josh Freeman
fell into this category last season.
3- to 5-game starters
Some high picks fell into this category, including Bert Jones, Vinny Testaverde, David Klingler, Tony Eason,
Rex Grossman
, Akili Smith,
Jay Cutler
, Tommy Maddox, Jim Everett and 1984 supplemental choice Steve Young.
This group produced relatively few true stars, however. Young was an obvious exception. Boomer Esiason was a good value.
In looking at the list, though, my sense is that a really good quarterback -- particularly one chosen early -- will start more than five games if he gets a chance to start at all in his first season.
2 or fewer starts
Hundreds of rookie quarterbacks failed to start a game and
69 did not attempt a pass
. The latter group featured
Tony Romo
and in-the-news quarterbacks
Kevin Kolb
and
Charlie Whitehurst
, but
Daunte Culpepper
, the 11th player chosen in 1999, stood out as a rare high draft choice among the group.
Unlike
Carson Palmer
, who sat out his rookie season as a high choice in Cincinnati, Bradford is going to play as a rookie unless he gets hurt.
It's reasonable to expect Bradford to start at least half the games, putting up modest numbers. He'll probably struggle some, and that is OK, but it's a bad sign if the Alex Smith comparisons apply by season's end. Smith tossed one touchdown pass with 11 interceptions as a rookie. He wasn't ready and his supporting cast gave him little chance. That's a bad combination.
February, 8, 2010
2/08/10
11:15
AM ET
The Colts' loss to the Saints prevented
Peyton Manning
from joining seven other quarterbacks with undefeated Super Bowl records in multiple starts.
The chart shows those seven quarterbacks, including 49ers great Joe Montana (4-0).
The Steelers'
Ben Roethlisberger
, 2-0 as a Super Bowl starter, has the best chance of joining Troy Aikman in the 3-0 club, which once featured
Tom Brady
.
Terry Bradshaw (4-0), Montana and Aikman held a significant advantage over more recent Super Bowl quarterbacks. Each played before salary-cap implications prevented their teams from stockpiling talent. The cap was in place while Aikman was playing, but the Cowboys weren't affected as much until later in the decade.
January, 15, 2010
1/15/10
11:56
AM ET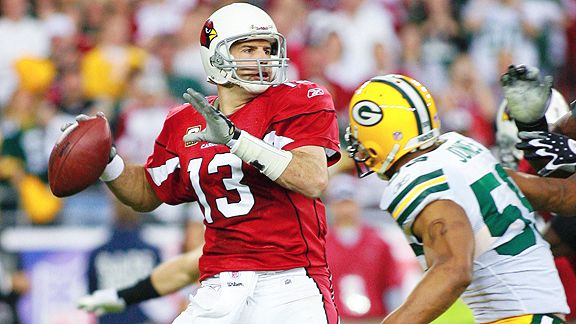 Chris Morrison-US PRESSWIRE
Arizona quarterback Kurt Warner is making a strong case to get into Canton.
Arizona Cardinals
coach Ken Whisenhunt announced a fateful decision Aug. 30, 2008.
Kurt Warner
had beaten out
Matt Leinart
as the starting quarterback. It was big news at the time.
"If you look at just our (2007) season where we ended up playing three (quarterbacks), I think it is a pretty high percentage that Matt is going to play this year at some point for us," Whisenhunt said heading into that 2008 season.
At that stage of his career, Warner was still convincing coaches he could limit turnovers well enough to make all those touchdown passes matter more. Though he had led the NFL in touchdowns over the second half of the 2007 season, he was still breaking free from a five-year period featuring 27 touchdowns, 30 interceptions and questions about his viability.
Seventeen months since Whisenhunt chose his starting quarterback, Warner has helped his coach
rank among the greats
in postseason winning percentage. Counting playoffs, Warner has thrown 72 touchdown passes with 31 interceptions and a 23-13 starting record over the past two seasons.
Instead of debating whether Warner should start over Leinart, the more relevant question has become whether Warner deserves Hall of Fame induction once his career is finished. The case is getting stronger by the week.
An updated look at his Canton credentials:
1. Longevity.
The great quarterbacks had staying power. Warner has played in 124 regular-season games, about 60 fewer than the average for the 14 quarterbacks enshrined over the last 25 years. This is one of the few categories where Warner doesn't measure up.
On the other hand, Roger Staubach played only seven more games. Like Warner, he was an elite big-game quarterback. No one questions Staubach's Hall of Fame credentials. And Warner, playing in a pass-happy era he helped christen, certainly has better stats.
2. Production.
Here is where Warner's relatively short game log works to his advantage. He has put up Hall of Fame-caliber numbers in less time than players already enshrined. His offenses in St. Louis scored 526, 540 and 503 points in consecutive seasons, setting a standard that holds up well across any era.
Of those 14 quarterbacks enshrined since 1985, none could match Warner in completion percentage, yards per attempt or yards per game. Steve Young is the only one with a higher passer rating than Warner. Dan Marino is the only one with more 300-yard games (Warner has 52, twice as many as Jim Kelly, who played in 36 additional games).
3. Postseason success.
Only Bart Starr (104.8) has a higher postseason passer rating than Warner (104.6) among NFL quarterbacks all time. Warner closed the gap to within a couple tenths of a rating point with his five-touchdown, zero-interception performance against the Packers in the wild-card round.
Warner has averaged 312.3 yards per postseason game, most in league history. And unlike the other four players in the top five on that list, Warner has won a Super Bowl. He has played in three of them, posting the three highest yardage totals in the game's history.
Joe Montana,
Tom Brady
, Terry Bradshaw, John Elway,
Brett Favre
, Troy Aikman and Staubach are the only quarterbacks with more postseason victories than Warner.
Warner, with a 9-3 record in postseason, needs two more victories to match Aikman and Staubach on the all-time list. Beating the Saints in the divisional round Saturday would move Warner out of a tie with Starr (9-1),
Donovan McNabb
(9-7) and Kelly (9-8) for sole possession of eighth place on the list.
Warner has passed for at least 365 yards in half his 12 playoff starts. No other quarterback has hit that mark more than three times in postseason (
Peyton Manning
). Warner owns three of the 23 postseason performances in which a quarterback threw at least four touchdown passes (Montana, Manning and Daryle Lamonica each did it twice).
4. Unique legacy.
Warner's rise from supermarket shelf stocker to Super Bowl hero gives his legacy another dimension. Leading two previously dormant franchises to the Super Bowl also separates Warner from the typical Hall of Fame candidate.
Not many Hall of Famers would lose jobs to
Marc Bulger
and a young
Eli Manning
before working feverishly to beat out Leinart. A thumb injury doomed Warner in St. Louis. The Giants and Cardinals weren't going to leave a first-round choices on the bench (Warner's passer rating with New York, by the way, was higher than any Manning posted until this season).
It's been a strange career for Warner, no question.
"Regardless of how it happened, I just think Kurt has done things that I don't know anyone else has done," Young told Bernie Miklasz during a
recent radio interview
.
It's tough to write the history of the game without sharing Warner's remarkable story.
April, 14, 2009
4/14/09
9:22
AM ET
Posted by ESPN.com's Mike Sando

Jim Thomas of the St. Louis Post-Dispatch looks at the likelihood of the Rams trading down from the second overall choice. General manager Billy Devaney says it's unlikely teams will find trading partners as they consider moving down from the top of the draft.
Also from Thomas: Former Rams GM Charley Armey advises against trading down from the top of the draft. Armey: "The No. 1 cardinal rule for me absolutely, without question, is do not trade out of an impact position. Because there's only a few impact players. Some years I've been in the draft, it was only around six impact players. The year Orlando Pace was in the draft [1997], there was only about six. The year we took Torry Holt [1999], there was about 13." He advises the Rams to draft a tackle second overall unless another team offers a blockbuster package in return for that choice.
More from Thomas: A list of 22 college players who have visited or plan to visit the Rams.

Gwen Knapp of the San Francisco Chronicle uses Matthew Stafford's visit to the 49ers as a vehicle for analyzing first-round quarterbacks. Knapp: "From 1970 to 1990, only seven quarterbacks were No. 1 [overall] picks, and only one was a bust, the latest one -- Jeff George in 1990. All the others made at least two Pro Bowls or won a Super Bowl. [They were Terry Bradshaw, Jim Plunkett, Steve Bartkowski, Vinny Testaverde, John Elway and Troy Aikman.] Of the eight most recent picks, only one has matched Elway, Aikman and Bradshaw's success -- Peyton Manning. Tim Couch is out of football. Michael Vick is behind bars. [Alex] Smith and David Carr have become back-ups, for now at least. [JaMarcus] Russell is unproven. Carson Palmer started off brilliantly but hasn't been able to recover from injuries."
Kevin Lynch of Niner Insider doesn't rule out Stafford falling all the way to the 49ers at No. 10.
Matt Barrows of the Sacramento Bee lists Bay Area college players scheduled to visit the 49ers. Cal center Alex Mack heads the list.
Floriday Danny of Niners Nation continues his pre-draft analysis by looking at draft tendencies during Bill Walsh's second run with the team, from 1999 to 2001. Walsh stockpiled picks, accumulating 27 over the three-year period.

Danny O'Neil of the Seattle Times lists the Seahawks' draft needs in this order: Defensive end, wide receiver, cornerback with size and quarterback for the future.
Eric D. Williams of the Tacoma News Tribune summarizes Greg Knapp's comments to KJR radio's Mitch Levy. Knapp, the Seahawks' new offensive coordinator, downplayed the need for a running back. Knapp: "From my experiences of running the zone scheme, a lot of guys have had some career-best seasons in the zone scheme when they didn't have it before ... So, we feel pretty confident in what we saw in practice, and what these guys' traits are."
Also from Williams: Seattle receiver Logan Payne did not undergo knee surgery to repair a damaged MCL last season. Instead, he let the injury heal on its own. Payne said he felt good by December.
John Morgan of Field Gulls looks at running back Cedric Peerman as a potential draft choice for Seattle with the 104th overall pick. Morgan on the running backs: "Let's say this is an unusually weak running back class. A running back class comparable to last year's wide receiver class. Could the first round end without a running back selected? It would be the first time since 1963 -- the first time in the modern era. But it's not a stretch."

Kent Somers of the Arizona Republic lists Mel Kiper's projections for the Cardinals through four rounds of the draft. He thinks the team would be thrilled to come away with outside linebacker Larry English, running back Shonn Greene, tight end Chase Coffman and defensive tackle Corvey Irvin.
Also from Somers: He doesn't think James Harrison's deal with the Steelers will have an immediate impact on Karlos Dansby's negotiations with the Cardinals. Both are linebackers in name, but their roles are vastly different. Harrison has 24.5 sacks over the last two seasons. Dansby has 24.5 sacks during his five-year career.
Darren Urban of azcardinals.com checks in with players on the fringes of the Cardinals' roster. Rodney Leisle was working for a company that sells mobile shelving units when the Cardinals called.
Revenge of the Birds' Hawkwind says Antrel Rolle is entering a critical season with Arizona. Will the former cornerback command a lucrative extension as a safety? The deal Adrian Wilson eventually signs -- assuming Wilson does re-sign with the team -- could influence how much Arizona wants to spend on the other safety spot.