NFC West:

Thomas Dimitroff
April, 26, 2013
4/26/13
1:20
AM ET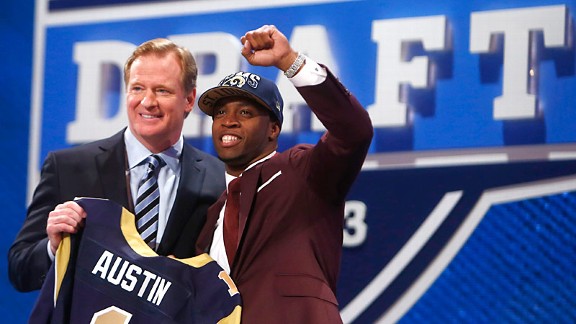 Jerry Lai/USA TODAY SportsThe St. Louis Rams haven't drafted a receiver in the first round since 1999.
For three years, the
St. Louis Rams
lacked sufficient offensive weapons to properly support and evaluate prized quarterback
Sam Bradford
.
They drafted
Tavon Austin
eighth overall Thursday night to change the dynamic.
The pressure isn't necessarily on Bradford to instantly produce in a huge way or else, but for the first time in the quarterback's career, the Rams have given him a highly drafted and versatile young group of targets to grow along with him.
Bradford is still just 25 years old. He's a few days younger than
San Francisco 49ers
quarterback
Colin Kaepernick
, hard as that is to believe.
Austin, a wideout unlike any other in this draft, just turned 22.
Chris Givens
, who had a reception of at least 50 yards in five consecutive games as a rookie in 2012, won't turn 24 until December.
Brian Quick
, a second-rounder last year, turns 24 in June.
Austin Pettis
is 25 next month. The newly acquired
Jared Cook
just turned 26. Fellow tight end
Lance Kendricks
is 25.
The targets for Bradford range in height from the 5-foot-8 Austin to Givens (5-11), Pettis (6-3), Quick (6-3), Kendricks (6-3) and Cook (6-5).
"They're going to create mismatches which are going to have to be dealt with defensively," Rams coach Jeff Fisher said of Austin and Givens in particular.
Austin's selection marked the first time the Rams have used a first-round pick for a receiver since taking
Torry Holt
sixth overall in 1999. About time, right?
No wide receiver has more than eight touchdown receptions for the Rams since the team drafted Bradford first overall in 2010. Fifty-eight NFL wideouts have at least nine scoring receptions over the same three-year period.
Bradford shares some of the blame, of course. But the supporting cast has let him down too frequently. The offensive line, undermanned and ravaged by injuries, has exposed Bradford to undue punishment.
Danny Amendola
's injury troubles prevented Bradford from building upon an on-field relationship that appeared so promising at times, including against the 49ers last season.
"Tavon will play a similar position as Danny," Rams general manager Les Snead said by phone Thursday night. "He will also return punts and return kickoffs. And you can do some things with him that may cause defenses to wonder if the play is a throw or a run. Put him with fast tight ends, with our receivers and we're trying to create mismatches."
The Rams could have paid a premium to keep Amendola, arguably their top receiver, from leaving in free agency. They could have paid a few million bucks to keep their other starting receiver,
Brandon Gibson
.
Instead, the Rams have bet big on their ability to scout fresh talent. They have entrusted Fisher and Snead to build the type of supporting cast Snead helped Atlanta assemble around quarterback
Matt Ryan
previously. Snead was working under Falcons general manager Thomas Dimitroff when Atlanta traded up 21 spots in the first round to select receiver
Julio Jones
sixth overall in 2011.
"They made a larger jump and their team was probably at a more mature state," Snead said of the Falcons. "But we stated all along how we wanted to get this offense weapons."
The move from No. 16 to No. 8 for Austin could be just as significant for the Rams if they're right about Austin possessing unique qualities as a 5-foot-8, 174-pound dynamo with touchdowns as a runner, receiver and return specialist at West Virginia last season. Austin finished the season with 114 receptions for 1,289 yards and 12 receiving scores.
To get Austin, the Rams sent picks in the first, second, third and seventh rounds to Buffalo for first- and third-round choices.
"They did give up a lot," Austin told reporters in St. Louis, "but I'm definitely going to try to work my hardest to give out a lot. I'm going to come out every day at work ready to play."
The first round ended for the Rams with the team moving back from 22nd to 30th in a trade with Atlanta, then selecting outside linebacker
Alec Ogletree
.
"To be honest, the plan No. 1 was to come away with Tavon Austin and Alec Ogletree, and it worked out," Snead said. "We knew we would have to give up some things to get Tavon. We felt we could recoup some of those things and still get Alec."
Austin's status as the first skill player selected verifies the first part of Snead's statement. According to ESPN Stats & Information, Thursday marked only the fourth time in the common-draft era (since 1967) that no team selected a quarterback, running back or wide receiver before the eighth overall pick.
Herman Moore
(1991) and Al Toon (1985) went 10th overall in their draft classes. Austin and Larry Csonka (1968) went eighth in theirs.
There can be no denying the Rams got the receiver they wanted.
Rookie wideouts sometimes need time to adjust. Austin should contribute right away on special teams, at least. The biggest challenge could be digesting an NFL playbook. Processing terminology in the huddle can be much tougher than reading simplified signals from the sideline, as the case can be in college.
"I never came out of the big playbook in college [like] they have in the NFL," Austin said. "I did all signals. I don't know how it's going to be when I get to the league. That's probably going to be my biggest challenge right now."
The Rams could still use a starting safety. They could use another running back to round out a backfield featuring committee backs
Isaiah Pead
and
Daryl Richardson
. Getting a big back Friday should be a priority as the Rams continue to build around Bradford.
"One of the things was, when it tipped and we gave up a second-rounder, our board was looking like the better value for our team and our fits and the roles we want them to execute the next few years was going to be more in the third, fourth, fifth and sixth rounds," Snead said.
The Rams won't be shy. Snead has demonstrated that. A year after the Rams swung a blockbuster trade with the
Washington Redskins
to secure two additional first-rounders and more, they were navigating their way up the board for Austin.
"You have decisions to make and don't be scared to get what you want," Snead said.
April, 11, 2012
4/11/12
4:56
PM ET
The latest NFC West chat went into overtime, but there's more ground to cover.
Joe from Fort Worth
asked about the
Arizona Cardinals
' chances for acquiring a second-round choice to replace the one they sent to Philadelphia in the
Kevin Kolb
trade.
"I'd like to hear your thought process regarding your answer -- the philosophy of the decision makers, needs of the team, depth and/or positional strength of this draft, etc.," Joe wrote.
The Cardinals hold the 13th overall choice, so we start there.
In 2001, Buffalo traded the 14th pick to Tampa Bay for the 21st and 51st picks.
In 2010, Denver traded the 13th overall choice (acquired from San Francisco) to Philadelphia for the 24th choice and two third-rounders (70th, 87th).
In other cases, teams moved back five or six spots from No. 13 for packages including a pick in the 70s or 80s overall, plus lesser considerations.
Sliding back five or six spots would be a realistic expectation for the Cardinals.
San Diego picks 18th and Chicago 19th, to name two potential trading partners in such a scenario. Both teams have acted aggressively and with urgency this offseason. That could indicate a willingness to move up in the draft for a specific player.
The Chargers' front office and coaching staff narrowly averted getting fired following a disappointing 2011 season. The Bears replaced general manager Jerry Angelo with Phil Emery, who traces some of his philosophy to New England's Bill Belichick via Atlanta's Thomas Dimitroff.
Dimitroff, who orchestrated the Falcons' bold trade to acquire the sixth overall choice of the 2011 draft, described Emery as "aggressive" and part of a new wave of GMs.
"I believe this is indicative of where we are as team builders in this league as far as making bold, aggressive moves if we deem they'll be impactful for our team,"
Dimitroff told the Chicago Sun-Times
, speaking of Emery's move to acquire receiver
Brandon Marshall
.
Arizona needs a tackle and might see little choice but to select one if, say,
Riley Reiff
or another highly rated prospect were available. But if the tackle-needy Bears were willing to part with the 19th and 50th choices for a chance to move up, would they consider it?
San Diego could use a guard to replace the recently retired
Kris Dielman
. Would the Chargers part with the 18th and 49th choices for a shot at, say,
David DeCastro
? Might they consider moving up for other players, as AFC West blogger Bill Williamson suggested
they might
? And what might they pay to do so?
We cannot answer such questions definitively. The teams themselves might not know the answers. But we can have fun considering the possibilities, and hopefully learn something along the way.
Thanks, Joe, for advancing the conversation.
February, 11, 2012
2/11/12
7:24
PM ET
The
St. Louis Rams
wanted their next general manager to work well with new head coach Jeff Fisher.

Snead
They found a candidate whose history suggests that will not be a problem.
Atlanta Falcons
director of player personnel Les Snead, who
accepted the job
Saturday, has worked with four head coaches and two interim coaches during a Falcons tenure dating to 1998. Dan Reeves, Bobby Petrino, Jim Mora and Mike Smith were the head coaches. Wade Phillips and Emmitt Thomas were the interim coaches.
Snead's ability to rise through the ranks with the Falcons across multiple regimes and an ownership change suggests he's adaptable. The Rams hired Fisher to remake the team. They wanted a GM to provide the personnel expertise to facilitate the transformation.
Snead worked under Falcons general manager Thomas Dimitroff most recently. He replaces former Rams general manager Billy Devaney, who had also come to St. Louis from the Falcons' front office.
Snead,
listed by the Falcons
as 37 years old entering the 2011 season, is about 15 years younger than Fisher. He was a tight end at Auburn from 1992-93, where he played with NFC West alums Chris Gray and Frank Sanders.
The Rams did not immediately announce the hiring.
Snead interviewed
over the phone for the
San Francisco 49ers
' GM job a year ago, but the team hired Trent Baalke instead.
April, 11, 2011
4/11/11
4:32
PM ET
The
contract extension
general manager Thomas Dimitroff signed with the Atlanta Falcons last month came to mind Monday when another NFC South GM, Mark Dominik,
extended his deal
with Tampa Bay.
The NFC West should offer hearty congratulations followed by a barely audible "you're welcome" under its breath.
While both GMs found quarterbacks to build around, setting up their teams for success that will transcend schedules, there is also this: Their teams went 8-0 against the NFC West in 2010, compared to 7-5 in other non-division games.
The Falcons were tough against most teams, losing only three times during the regular season. The Bucs went' 4-0 against the NFC West and 6-6 against everyone else.
As the chart shows, NFC East and AFC North teams match up against the NFC West in 2011. The NFC West went 2-2 against the NFC East and 0-0 against the AFC North last season.
February, 21, 2009
2/21/09
11:58
AM ET
| | |
| --- | --- |
| | |
| | Getty Images |
| | Former first-round picks David Terrell, Charles Rogers and Donte' Stallworth haven't measured up to their lofty draft status. |
Posted by ESPN.com's Mike Sando
INDIANAPOLIS -- The last time a current NFC West general manager watched his team draft a receiver among the top five overall choices, the Arizona Cardinals emerged with Larry Fitzgerald.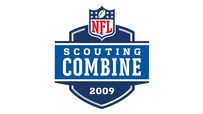 If only it were that easy every time.
The Cardinals' division rivals lack dynamic wideouts now that Torry Holt is winding down in St. Louis.
Unlike Arizona, which rode Fitzgerald to an appearance in Super Bowl XLIII, the rest of the NFC West is drafting early enough to consider the top college receivers.
The Rams, picking second, or Seattle Seahawks, picking fourth, could be in position to select the top receiver in a potentially deep 2009 class.
Even the San Francisco 49ers, with the 10th choice, could get that chance depending upon how perceptions change over the next two months.
No team drafted a receiver in the first round last year. The Rams made Donnie Avery the first receiver drafted when they selected him 33rd overall.
"There are some wide receivers certainly capable of being taken in the first round, much moreso than last year," Tennessee Titans general manager Mike Reinfeldt said.
Capable does not necessarily mean worthy. Teams consistently use first-round choices on receivers without realizing the anticipated payoff.
For every Fitzgerald, whom the Cardinals selected third overall in 2004, there's a David Boston, whom the Cardinals selected eighth overall in 1999. And a Koren Robinson, whom the Seahawks selected ninth in 2001.
Teams have more often found success selecting receivers at the very top of the draft, at least in recent seasons. The first receiver chosen generally justifies the investment:
January, 1, 2009
1/01/09
11:29
AM ET
Posted by ESPN.com's Mike Sando
Three of the eight playoff teams participating in the wild-card round have first-year head coaches. The Cardinals face one of them when the Falcons visit University of Phoenix Stadium.
The Falcons have gone young on offense in the starting lineup, but the overall roster remains a work in progress as general manager Thomas Dimitroff and coach Mike Smith establish their program. For a closer look at the Falcons -- and the Cardinals -- download this file featuring roided-out 25-column rosters for each team.
A few notes:
The Falcons have the seventh-oldest 53-man roster in the league, but their starters rank as the 17th-oldest (with Coy Wire starting ahead of Michael Boley at linebacker). The Falcons' offensive starters are 25th-oldest in the league.

While the Cardinals have the third-oldest starting quarterback in Kurt Warner, the Falcons have the second-youngest in Matt Ryan. Only the Raiders' JaMarcus Russell is younger (based on starters heading into Week 17).
The Falcons' starters are older than the league averages at running back, tight end, defensive tackle, center and strong safety. The Falcons have the second-oldest offensive backups in the NFL, behind only the Saints. But they have only one offensive starter in his 30s (the league average is 2.6).
Overall, half the Falcons' starters were drafted among the top 50 overall choices. Three NFL teams have more (the Cardinals have six, while the league average is 8.7).
None of the Falcons' third- or fourth-round draft choices is starting for the team. That is unusual. Based on lineups I updated late in the regular season, the Browns were the only other team without a starter from those rounds (not counting players drafted by other teams). Expect that to change in Atlanta as Dimitroff and Smith build the team and attempt to develop younger players.
The Falcons are heavy on players from the SEC. They have 12 on their 53-man roster. Only the Broncos have more.
Note to the uninitiated:
The term "roided-out" refers to the nature of the rosters we provide here. With 25 columns of information on current and former players, these are like rosters on steroids. The term has nothing to do with real steroids.