NFC West:

Three things: Arizona-New Orleans 2012
September, 2, 2014
Sep 2
8:00
AM ET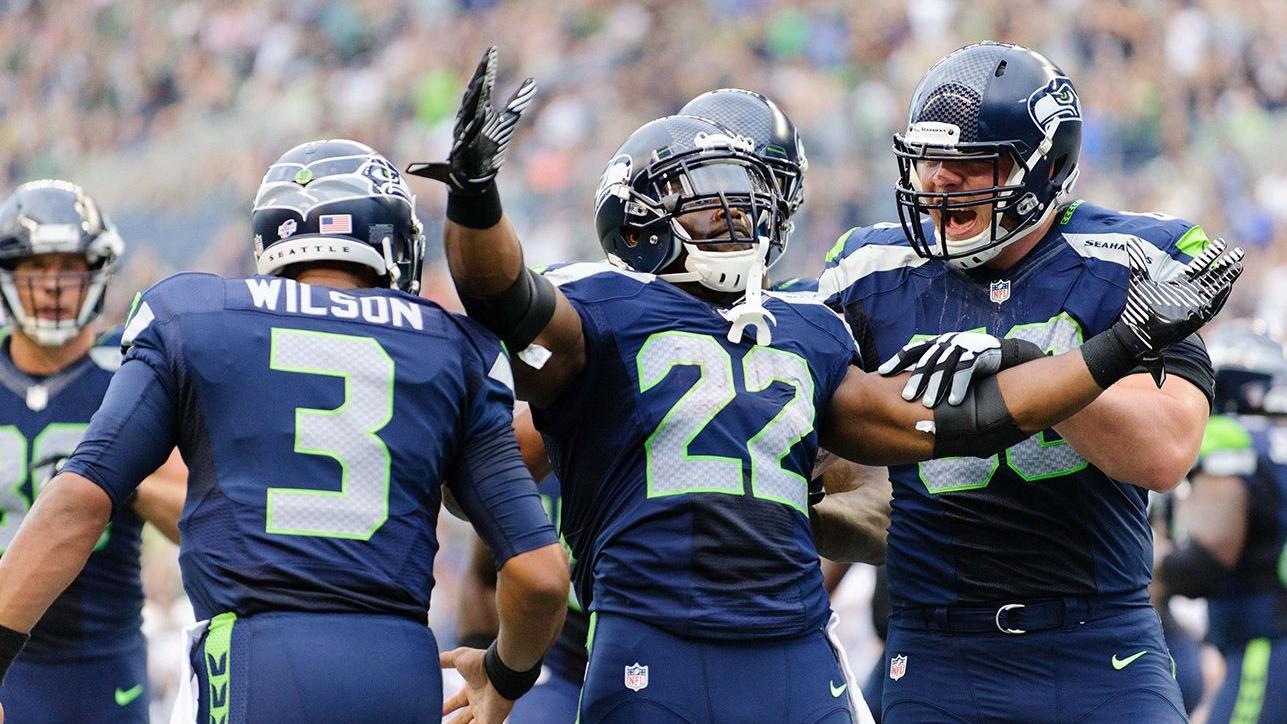 ESPN.com
Seattle Seahawks
reporter Terry Blount makes his game-by-game picks for the 2014 season.
Week 1: Green Bay Packers
All the pregame hype will center around the so-called Inaccurate Reception, the controversial Hail Mary catch by Golden Tate two years ago that won the game over the Packers at Seattle on a Monday night. Tate has moved on to Detroit, but the Seahawks now have too many weapons for the Packers to stop, no Hail Mary required. Prediction: Win
---
Week 2: at San Diego Chargers
The Chargers better hope they play a lot better than they did in the preseason game at Seattle, a 41-14 victory for the Seahawks on Aug. 15. San Diego will play better, but not good enough to beat a much better team. Prediction: Win
---
Week 3: Denver Broncos
The Broncos and their fans got a tiny bit of meaningless Super Bowl revenge in the preseason opener with a 21-16 victory over the Seahawks in Denver. Enjoy it while it lasts, boys. Repeating that outcome in Seattle is not an option. Prediction: Win
---
Week 5: at Washington Redskins
Traveling coast to coast to play on the road for a Monday night game is a tough task against any NFL opponent, and even tougher against quarterback Robert Griffin III. But the Seahawks catch a break in this one by coming off a bye week with plenty of time to prepare and be fresh for the journey. Prediction: Win
---
Week 6: Dallas Cowboys
Cowboys owner Jerry Jones gave Seattle a little bulletin-board material last month when he said the Seahawks were to blame for the increase in penalty flags during the preseason. There won't be near enough flags against Seattle for the Cowboys to win this one. Prediction: Win
---
Week 7: at St. Louis Rams
Any division game in the NFC West is a rugged battle. The Rams have a defensive line that gave the Seahawks problems a year ago. But they aren't strong enough overall to beat Seattle, even at home in their out-of-date dome. Prediction: Win
---
Week 8: at Carolina Panthers
The Seahawks were fortunate to win the season opener at Charlotte a year ago. That Panthers team was better than this one, but back-to-back road games against very physical defensive teams will end the Seattle winning streak. Prediction: Loss
---
Week 9: Oakland Raiders
Coming off their first loss of the season and returning home against an outmanned opponent, is there any doubt? Prediction: Win
---
Week 10: New York Giants
The Seahawks easily defeated the Giants 23-0 last year in New Jersey, a dress rehearsal for their Super Bowl victory at the same location -- MetLife Stadium. The Seahawks won't need a rehearsal to roll past the Giants in this one. Prediction: Win
---
Week 11: at Kansas City Chiefs
This likely will be a low-scoring game between two strong defensive teams. Odds are against any team that has to try to win by matching its defense against the Seahawks' D. Prediction: Win
---
Week 12: Arizona Cardinals
The last time the Cardinals played at CenturyLink Field was last December when they handed the Seahawks a 17-10 loss. That won't happen again unless the Seahawks get caught looking ahead to the 49ers game. The Seahawks don't look ahead. Prediction: Win
---
Week 13: at San Francisco 49ers
It's a Thanksgiving night, national TV game in the 49ers' shiny new stadium against the hated Seahawks. If San Francisco can't win this one, its time as a championship contender is over. Prediction: Loss
---
Week 14: at Philadelphia Eagles
This is the toughest part of the season for the Seahawks with back-to-back road games against likely playoff contenders. But the 10 days between games will help and be enough of a cushion to keep Seattle from losing two in a row. Prediction: Win
---
Week 15: San Francisco 49ers
This is a game that could decide which team wins the NFC West. No way the Seahawks lose to the 49ers twice in three weeks, especially not in front of a rabid full house of 12s. Prediction: Win
---
Week 16: at Arizona Cardinals
The Cardinals probably will be fighting for a playoff spot, and the Seahawks already will be in at 12-2. That difference will be just enough for Arizona to win at home in the same stadium where the Seahawks will win the Super Bowl a few weeks later. Prediction: Loss
---
Week 17: St. Louis Rams
For the second consecutive year, the Rams close the regular season in Seattle. And for the second consecutive year, the Seahawks will beat them without much trouble. Prediction: Win
---
Predicted Record: 13-3
August, 5, 2012
8/05/12
12:34
PM ET
Three things to watch for in the Arizona Cardinals' preseason game against the New Orleans Saints at 8 p.m. ET:


1. Kevin Kolb's performance.
The Cardinals' quarterback competition includes
John Skelton
as well, so his performance also matters. But Kolb is the most intriguing variable on the team's roster this summer. Can he command the offense and finally appear comfortable running it? Can he make it through the game healthy after injuries derailed his 2011 season? We shouldn't expect an all-world performance right out of the gates. We shouldn't read too much into a seemingly shaky one, either. Quarterbacks and offenses in general can struggle during preseason if opponents decide to crank up the pressure or get creative. But perceptions matter for Kolb or any highly paid player trying to prove his worth. In a best-case scenario, Kolb connects with
Larry Fitzgerald
and rookie first-round choice
Michael Floyd
for meaningful gains. For reference, Kolb completed 4 of 7 passes for 68 yards in his 2011 Cardinals preseason debut. Skelton completed 6-of-10 for 94 yards and a touchdown in that game.
2. Right side of the OL.
The Cardinals have a new look on that side of their offensive line. Right guard
Adam Snyder
signed from San Francisco in free agency. Veteran
Jeremy Bridges
remains at right tackle for now after replacing
Brandon Keith
during the 2011 season. The team hopes rookie Brian Massey can grow into the starting role and take over for Bridges at some point in the near future. This game against New Orleans provides a first look. The Saints have been working with left defensive end
Cameron Jordan
to drop into coverage in zone-blitz packages, a change for him. We should still see Jordan, a 2011 first-round choice, get some pass-rushing reps against the right side of the Cardinals' line.
3. Cornerback competition.
The Cardinals know
Patrick Peterson
will be starting at left corner this season. They feel great about the likelihood of him emerging as a Pro Bowl-caliber force at that position. Arizona also likes the possibilities on the other side, but it's unclear how that race will settle out. Free-agent addition
William Gay
represents the known.
Greg Toler
, coming off ACL surgery, has starting potential. So does
A.J. Jefferson
, who made seven starts last season after Toler was injured. Throw in third-round choice
Jamell Fleming
, the team's most impressive rookie during minicamps, and the Cardinals have a genuine camp competition on their hands. The assumption is that
Michael Adams
would project more in a nickel role, not as a starter. He's as competitive as anyone in the Cardinals' corner mix.