December, 28, 2012
12/28/12
1:30
PM ET
»
NFC Final Word
:
East
|
West
|
North
|
South
»
AFC
:
East
|
West
|
North
|
South
Five nuggets of knowledge about Week 17:
Three of a kind.
Not since 1991 have three NFC West teams finished a season with winning records. It could happen in 2012 if the
St. Louis Rams
upset the
Seattle Seahawks
on Sunday. The Rams would finish 8-7-1 with a victory. Seattle and San Francisco already have 10 victories apiece. The 1991 NFC West race finished with New Orleans (11-5), Atlanta (10-6) and San Francisco (10-6) ahead of the Los Angeles Rams (3-13). Also with a victory, the Rams would become the second team since the merger to post an undefeated division record without qualifying for postseason.
[+] Enlarge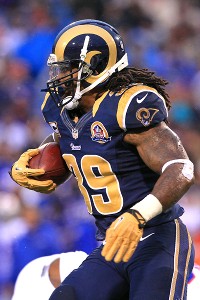 Kevin Hoffman/USA TODAY Sports Steven Jackson is nearing another milestone. closing in on his eighth consecutive 1,000-yard season.
Making history.
The Seahawks have never finished a season ranked first in fewest points allowed. Seattle enters Week 17 having allowed 232 points, fewest in the NFL by 21 points. Chicago has allowed 253. The 49ers have allowed 260. Seattle has allowed 17 or fewer points in its past four games, the Seahawks' longest streak since 2003 and 2004.
Milestone weekend.
Steven Jackson
,
Russell Wilson
and
Aldon Smith
are chasing milestones as the regular season wraps up.
The Rams' Jackson needs 10 yards rushing for his eighth consecutive 1,000-yard season, which would tie LaDainian Tomlinson and Thurman Thomas for fourth behind Emmitt Smith (11), Curtis Martin (10) and Barry Sanders (10).
Seattle's Wilson has 25 touchdown passes, within one of
Peyton Manning
's rookie record. Wilson, with a 98.0 NFL passer rating, also has a shot at breaking
Matt Hasselbeck
's single-season franchise record (98.2).
Smith, with 19.5 sacks, needs three to break Michael Strahan's single-season record for sacks. Houston's
J.J. Watt
(20.5) is nearer the record, however.
Stopping the bleeding.
The 49ers have been outscored by 50 points and allowed more than 700 yards over their past five-plus quarters. That is nearly as much yardage as the 49ers allowed over a 12-quarter stretch of games against Chicago, New Orleans and St. Louis. The trend is about to end. The 49ers' Week 17 opponent, Arizona, has 735 yards in its past four games. The Cardinals'
Brian Hoyer
is making his first NFL start at quarterback.
Crabtree's time.
The NFC West is in danger of finishing without a 1,000-yard receiver for the first time since the NFL realigned into eight four-team divisions in 2002. The 49ers'
Michael Crabtree
needs 67 yards against Arizona to become the team's first 1,000-yard receiver since
Terrell Owens
in 2003. Arizona's
Larry Fitzgerald
needs 215 yards to reach 1,000 for the sixth consecutive season. Seattle's
Sidney Rice
needs 252 yards for 1,000. Crabtree is averaging 91.5 yards per game since Week 13, sixth-most in the NFL.
ESPN Stats & Information contributed to this item.
August, 4, 2012
8/04/12
10:00
AM ET
CANTON, Ohio -- Sights and sounds from a magical first 30 hours in Canton for festivities relating to the upcoming 2012 Pro Football Hall of Fame enshrinement ceremony:
Batting 1.000

[+] Enlarge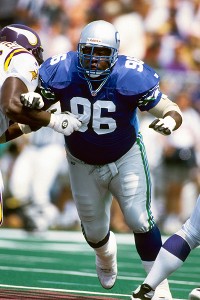 US PresswireNo doubt, Seattle's Cortez Kennedy was one of the most dominant defensive players of his era.
Cortez Kennedy was the person I hoped to see first Thursday night after unloading bags for check-in at the McKinley Grand Hotel. He was the 2012 enshrinee I'd covered years ago and gotten to know while presenting his case to the other Hall selectors. Having the retired Seattle Seahawks great step out from the hotel's entrance before I could get my bags to the curb foreshadowed good fortune.
A trip to the hotel bar a couple of hours later found the place mostly empty except for a couple of reporters from Minnesota. I sat down with them and soon discovered Hall of Famer John Randle, Kennedy's teammate on the 1990s All-Decade team, seated across the way. Two-for-two and three full days in Canton still to come.
I'm not much of a drinker -- a six-pack lasts a year in our house -- so when tequila shots appeared unexpectedly on our side of the bar, visions of "
Frank the Tank
" from Old School came to mind.
My hesitance must have been easy to spot. Randle rose from his chair and looked my way.
"Hey, you in?"
Enjoying the ride(s)
Trip 1 to the elevator produces a five-story ride with Thurman Thomas and his wife, Patti.
Leroy Kelly, Elvin Bethea and Roger Wehrli are along for the ride on a subsequent trip.
By then, my wife, Kim, and our two sons, Derek (10) and Cade (7), have arrived via red-eye flight from Seattle to Cleveland. We'd decided to make this a family trip, a mini-vacation for them, upon learning months earlier that Kennedy had earned enshrinement.
"We were just in the elevator with Gale Sayers!" Derek announced upon entering our room.
Heading to the Hall
The lobby was packed with Hall of Famers, most wearing their gold jackets, as they assemble for bus rides (police escorts included) to the Hall for a dedication ceremony. Buffalo Bills owner Ralph Wilson Jr. will be there when NFL commissioner Roger Goodell and Hall officials cut red ribbon for the new Pro Football Research and Preservation Center in Wilson's name.
Another chance meeting with Kennedy produces a lucky break. He graciously invites me to ride along in his car, along with Mark, an off-duty police officer from Las Vegas and Kennedy's friend since 1994.
The weather is already sizzling when we arrive, but it doesn't get much cooler than this: Hall of Fame corner Lem Barney, who averaged five picks per season for 11 years with the Detroit Lions, practically intercepts us as we get out of the car. He shakes Kennedy's hand. Mark and I get handshakes, too. Kennedy follows the red carpet to the special seating area for Hall of Famers.
All in the family
Mark and I wind up sitting next to Patti Thomas, Thurman's wife, in the front row of the general-seating area. Sayers and Joe Greene sit across the rope divider about 6 feet away. She's moved when Wilson, 93 and a World War II veteran, delivers a speech marked by self-deprecating humor after initially needing assistance to stand.
The Hall experience can be as much for the families as for the enshrinees themselves.
"I'm his wife and I'm blown away," Patti Thomas said. "These guys that you grow up watching ... my brothers come. They are huge sports fans. They're like kids in a candy shop. They've met 'em all and they're still like that, over and over again. Ninety-five percent of the guys are very outgoing. It's been an amazing thing. What a huge blessing."
Ray Nitschke Luncheon
From the Hall, it's off to the annual initiation luncheon, a chance for the new class to socialize with existing Hall of Famers in a private setting. Goodell is there, as are Hall officials, Class of 2012 presenters and some selection committee members. There are no wives or family members. And when lunch is served, enshrinees head into their own private room. No one else is allowed inside.
A microphone gets passed around, but the current class only listens. What happens beyond that, no one can say for certain.
"Thurman has so much fun when we come," Patti Thomas said. "He tells me his favorite thing of all is the Ray Nitschke Luncheon because it's only Hall of Famers, just the guys in there. And he said that is the coolest event because 'it's just us.' Nobody else is allowed to come in there and he loves it."
A Butler and a dentist
Former Pittsburgh Steelers cornerback Jack Butler waited 50 years for enshrinement, a record. His son and presenter, John, would give a guy the shirt off his back. John Butler did just that Friday. When one of the Hall of Famers showed up with the wrong shirt -- all were supposed to wear official blue Hall polos -- the younger Butler gave up his.
While the Hall of Famers were enjoying their privacy and camaraderie at the Nitschke luncheon, John Butler and Willie Roaf's father, Clifton, a retired dentist, sat down at the table I'd chosen in our less exclusive luncheon room.
What an honor it was for me, a first-time visitor to Canton, and the two other Hall selectors seated at our table.
I'd approached Jack Butler in the hotel lobby earlier in the day, congratulating him on his enshrinement. With Ted Hendricks, James Lofton and several other Hall of Famers gathering nearby, the elder Butler said, "it's starting to have a meaning to it all."
"It's amazing, just incredible," John Butler said. "You think about it in the past, we would look at his numbers, ever since I was a kid, and say, 'Wow, his numbers match up.' But it's not like an expectation he'll get in. When it happens, it's overwhelming."
Gold Jacket Dinner
[+] Enlarge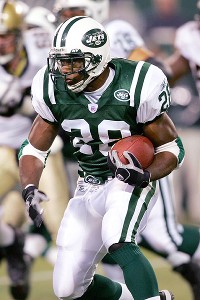 Linda Cataffo/NY Daily News Archive/Getty ImagesBeing steady in his career and patient with his rushing attack earned Curtis Martin a Hall of Fame induction.
Kennedy, Roaf, Butler, Dermontti Dawson, Chris Doleman and Curtis Martin received their gold jackets during an emotional ceremony at the local civic center Friday night.
Our family purchased tickets and arrived with a group featuring Greene, Dave Casper, Tom Mack and others.
"Is that the ghost-to-the-post guy?" Cade, our youngest, asked later.
That was him. Of course, Casper accomplished much more for the Oakland Raiders than his famed overhead grab for a 42-yard gain against Baltimore on Christmas Eve 1977. A 7-year-old raised on NFL Films drama might not know that yet.
Dozens of previously enshrined Hall of Famers took their turn walking an aisle through guest tables before greeting the 2012 class on stage. My wife heard our oldest, Derek, gasp when Marshall Faulk's name was called.
The boys craned to see Warren Moon make his entrance.
The video highlight packages are what got me.
Dawson pulling from his center position and flattening the same defender twice on one play. Doleman forcing fumble after fumble with blind-side hits on quarterbacks. Kennedy beating the center and then dragging the guard into the backfield to stop a runner in his tracks. Roaf collapsing one side of the formation with devastating power. Martin setting up his runs with patience and accelerating away from trouble. Butler picking off passes, scoring as a receiver and lighting up opponents (I feared Goodell might fine him retroactively).
There were poignant moments, too. The elder Roaf hugged his son and wouldn't let go. When he finally walked away, leaving his son to sport his new jacket alone on the stage, Clifton Roaf squeezed the bridge of his nose between finger and thumb, as if to stop the tears.
The after party
Once the Gold Jacket Dinner broke, Hall of Famers and their families returned to the hotel for a reception.
My kids headed straight for the ice cream sundae bar, of course.
Not to worry, a nearby bartender offered. Bill Parcells, presenter for Martin, had done the same thing. A weekend such as this one makes all of us feel like kids.
January, 4, 2012
1/04/12
1:00
PM ET
»
NFC Wrap-ups
:
East
|
West
|
North
|
South
»
AFC
:
East
|
West
|
North
|
South
Arrow indicates direction team is trending.

Final Power Ranking:
31
Preseason Power Ranking:
17
[+] Enlarge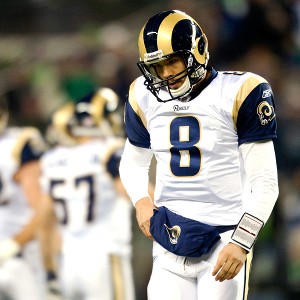 Jay Drowns/Getty ImagesSam Bradford could not build on a promising rookie campaign and struggled in his second season.
Biggest surprise:
The Rams ranked eighth in sacks per pass attempt, one spot ahead of the 13-3
San Francisco 49ers
, even though they rarely forced opponents into obvious passing situations.
Chris Long
broke out with a career-high 13 sacks. Long had been improving since moving to the left side. There were indications he might hit double digits for sacks if the Rams forced opponents into obvious passing situations frequently enough. Long came within a half-sack of matching his combined total for the 2009-10 seasons.
Biggest disappointment:
Failing to build on
Sam Bradford
's promising rookie season. Bradford was the NFL's offensive rookie of the year after setting rookie records for completions (354) and pass attempts (590). Only
Peyton Manning
had thrown for more yards than Bradford as an NFL rookie. There were challenges this season with the lockout, a tough early schedule and all that goes with learning a new scheme. Bradford and first-year coordinator Josh McDaniels liked their chances, but the offense suffered huge setbacks when injuries sidelined
Steven Jackson
and
Danny Amendola
in the season opener. The Rams approached the season eager to see how Jackson, Amendola,
Brandon Gibson
,
Mike Hoomanawanui
and
Lance Kendricks
functioned together. That group never took a snap together. Bradford completed only 53.5 percent of his passes. He took 36 sacks in 10 starts and threw for only six touchdowns.
Biggest need:
Offensive playmakers. Bradford completed only 1 of 16 attempts in goal-to-go situations. For perspective, consider that Tampa Bay's
Josh Freeman
, another young quarterback facing struggles in 2011, completed 14 of 20 passes with eight touchdowns in these situations. Picking up
Brandon Lloyd
by trade helped, but the veteran receiver might wind up being a one-year rental. Lloyd's contract expires in March. The man influential in bringing him to St. Louis, McDaniels, might not be back. The Rams need to draft a difference- maker at receiver. That could be tough to justify with so many needs elsewhere on the roster.
Team MVP:
Jackson was an obvious choice. If only he hadn't strained a quadriceps while breaking a 47-yard touchdown run against Philadelphia on his first carry of the season. That injury limited Jackson to six carries over the first three games. Jackson still topped 1,100 yards for the season. He joined
Emmitt Smith
,
Thurman Thomas
,
Curtis Martin
,
Barry Sanders
,
Eric Dickerson
and
LaDainian Tomlinson
as the only players with seven consecutive 1,000-yard seasons. He rushed for 159, 130 and 128 yards during a three-game stretch when the Rams went 2-1.
Starting over up front:
The offensive line was supposed to be a strength for St. Louis after the team signed guard
Harvey Dahl
in free agency. Dahl held up his end, but the rest of the line fell apart.
Rodger Saffold
will be back at left tackle or somewhere along the line. Dahl will return. Right tackle
Jason Smith
, chosen second overall in 2009, will not return at his current salary. Center
Jason Brown
lost his starting job during the season. Left guard
Jacob Bell
took a pay reduction and a one-year deal right before the season. The team has not developed young depth on the line. How will the team protect Bradford?
December, 26, 2011
12/26/11
12:48
PM ET
The facts:
The
St. Louis Rams
fell to 2-13 with a 27-0 road defeat to the
Pittsburgh Steelers
in Week 16.

The upside:
Even the worst defeats tend to feature a bright spot or two.
Steven Jackson carried 24 times for 103 yards, his fourth 100-yard game of the season and 31st of his career. Only Ray Rice and Arian Foster had topped 100 yards against the Steelers previously this season.
Jackson joined Emmitt Smith, LaDainian Tomlinson, Eric Dickerson, Curtis Martin, Thurman Thomas and Barry Sanders as the only running backs with seven consecutive 1,000-yard rushing seasons.
Cornerback Josh Gordy picked off a pass for the second game in a row.
Nick Miller had a 17-yard punt return and a 10.3-yard average.
The Rams committed no turnovers. In fact, they became the first team since at least 1940 to rush for 164-plus yards and commit no turnovers while getting shut out by 27 or more points. I'm not sure whether that counts as a silver lining, but it's an amazing note.
The Rams held the Steelers to one third-down conversion in seven attempts, one reason they narrowly won time of possession.
Rookie Robert Quinn had a tackle for loss.
Looking ahead
: The Rams close the regular season with a home game against the
San Francisco 49ers
.
December, 23, 2011
12/23/11
8:00
AM ET
San Francisco officials are running a power sweep at Candlestick Park after the stadium went dark twice during the 49ers' recent victory over the
Pittsburgh Steelers
.

Mike Rosenberg of the San Jose Mercury News
has the details from Mayor Ed Lee: "Investigators have known the first outage shortly before kickoff was caused when the main power line that feeds the stadium broke. Now, Lee said an investigation by state utilities officials and city fire inspectors showed the second outage at the beginning of the second quarter was caused by a malfunctioning switch on the stadium's backup power system. Lee said officials expect to start replacing the switch Friday and should have the work completed by the middle of next week. He said officials will test the new equipment before putting it into use."
Matt Maiocco of CSNBayArea.com
says cold weather in Seattle and concerns about having
Patrick Willis
ready for the playoffs could lead to the 49ers giving Willis' injured hamstring additional recovery time. Maiocco: "With temperature at Qwest Field expected to be in the mid-40s with showers in the forecast, the 49ers will have to weigh the risk of playing Willis when
Larry Grant
has done a good job in his absence. The 49ers want Willis healthy for the playoffs."
Noted:
Willis returned to practice on a limited basis Thursday. It's unlikely the team would rush him back into a game situation only two days after Willis returned on a limited basis. It's an upset if Willis plays Saturday.

Jim Thomas of the St. Louis Post-Dispatch
says Rams guard
Harvey Dahl
has become a bit of an online sensation after referee Jerome Boger's microphone caught Dahl using choice language while disputing a holding call Sunday. Thomas: "Although what transpired Sunday wasn't exactly what the Rams had in mind when they signed him to a four-year, $16 million free-agent contract from Atlanta on July 31, they did want an offensive lineman with toughness and attitude. And that's what Dahl has delivered this season."
Noted:
The call did seem pretty weak, although the replay angle I saw did not allow for a clear view of the play. Boger also made questionable calls while working the Houston-Indianapolis game Thursday night.
Also from Thomas
:
Sam Bradford
almost certainly will not play against the Steelers in Week 16.
Kathleen Nelson of the St. Louis Post-Dispatch
says
Steven Jackson
is looking forward to his first career game against the Steelers in Pittsburgh. Jackson needs 34 yards to reach 1,000 for the season. Nelson: "Jackson would join elite company. The only other backs to reach the milestone seven consecutive times are Emmitt Smith, Barry Sanders, Thurman Thomas, Eric Dickerson, Curtis Martin and
LaDainian Tomlinson
."
Noted:
Jackson figures to reach 1,000 even though the Rams face two tough run defenses to close the season. They return from Pittsburgh to face the 49ers in the final game of the regular season.

Darren Urban of azcardinals.com
previews the pending matchup between Cardinals cornerback
Patrick Peterson
and Bengals receiver
A.J. Green
. Urban: "In Green's two games against LSU while Peterson was playing, he had three catches for 89 yards and a touchdown in a Georgia win and five for 99 and a score in a 2009 loss. This year, he already has become the Bengals' top pass target, catching 61 passes for 1,006 yards and seven touchdowns already. Peterson, who has been hooking up against the opponents' top receivers for a few games now, figures to shadow his former college nemesis."
Also from Urban
:
Calais Campbell
's dominance is easy to see despite his role as a 3-4 defensive end. Urban: "Campbell is third on the Cardinals in tackles -- 65, trailing the 89 of both
Paris Lenon
and
Daryl Washington
, linebackers -- an impressive feat for any defensive lineman. He leads the team in sacks with seven. His nine passes defenses (nothing like a good knockdown at the line of scrimmage) is by far the most of any player who doesn't play in the secondary. And his 10 tackles for loss is second only to Washington's 13."
Kent Somers of the Arizona Republic
says he'll be "very surprised" if
Kevin Kolb
starts at quarterback against the Bengals even though coach Ken Whisenhunt isn't saying much.
Also from Somers
:
Adrian Wilson
broke a recent boycott of local reporters.
More from Somers
: Second-year outside linebacker
O'Brien Schofield
has made significant strides.

Danny O'Neil of the Seattle Times
says the Seahawks are getting big results from their big secondary. O'Neil: "Seattle has 21 interceptions this season, already its most in any season since 2004. The secondary has accounted for all but five of those picks, and of the five turnovers Seattle forced in Chicago last week, the secondary produced four of them. The Seahawks have the youngest secondary in the NFL. They might also have the most unlikely. One starting cornerback played the past four years in Canada. That would be the 6-foot-4
Brandon Browner
, and all he's done is become the first Seahawk since Eugene Robinson in 1991 to intercept a pass in four consecutive games. Then there's
Richard Sherman
, who's 6-3. He's a rookie who was catching passes up until three years ago at Stanford, not defending them."
Clare Farnsworth of seahawks.com
offers post-practice notes, including result from a locker room dance-off between Sherman and defensive lineman
Anthony Hargrove
. Sherman: "I am definitely claiming victory. I put a couple of things on tape that he was unable to match. He put a lot of good plays out there with the 'wheel chair.' He pulled out all the stops. It was an incredibly impressive effort from a 300-pounder."
July, 18, 2011
7/18/11
3:25
PM ET
Skip Bayless and Dan Graziano took up the case for
Charles Haley
as a Pro Football Hall of Famer on ESPN's First Take.
Bayless thought Haley should have qualified on the first ballot as a key championship variable for the
San Francisco 49ers
and
Dallas Cowboys
. Bayless and Graziano also touched upon to what degree Haley's sometimes disagreeable and disruptive behavior affected his candidacy. Those are relevant factors, but this discussion is incomplete without acknowledging what role the process plays in enshrinement.
To say that Haley or another player should have earned enshrinement in a given year usually suggests another player wasn't as deserving. The Hall accepts no more than seven candidates per year, including a maximum of two seniors candidates, meaning even deserving candidates must be more deserving than those actually enshrined to raise a serious beef.
Haley was first eligible in 2005.
Steve Young
and
Dan Marino
were the only modern-era candidates elected that year.
Michael Irvin
and Harry Carson were also finalists that year, but neither received the 80 percent approval rating required for enshrinement. Both became Hall of Famers later. Was Haley obviously more deserving than those four?
Troy Aikman
,
Warren Moon
, Reggie White and Carson comprised the 2006 modern-era class. Irvin,
Bruce Matthews
,
Thurman Thomas
and Roger Wehrli comprised the 2007 modern-era class. Fred Dean,
Darrell Green
,
Art Monk
and
Gary Zimmerman
made it in 2008.
Randall McDaniel
,
Bruce Smith
,
Derrick Thomas
,
Rod Woodson
and Ralph Wilson made it in 2009. The 2010 class featured
Rickey Jackson
,
John Randle
,
Jerry Rice
and
Emmitt Smith
.
The current class includes
Richard Dent
,
Marshall Faulk
,
Deion Sanders
,
Shannon Sharpe
and Ed Sabol.
We could argue that he was more deserving than a candidate here or there, but only a very few elite candidates -- Rice, White, Emmitt Smith, Bruce Smith, etc. -- have credentials strong enough to transcend any Hall class.
Tim Brown
,
Roger Craig
,
Dermontti Dawson
,
Andre Reed
,
Cris Carter
,
Cortez Kennedy
, Bob Kuechenberg, Randy Gradishar, L.C. Greenwood and several of the above-mentioned Hall of Famers have also been finalists since Haley became eligible.
Was Haley obvious more deserving than each of them? It's a debate worth having, but also one that goes beyond whether Haley should get in at all.