September, 8, 2011
9/08/11
11:02
AM ET
Cool note from ESPN Stats & Information: First-year
San Francisco 49ers
coach Jim Harbaugh is the last quarterback other than
Peyton Manning
to start a regular-season game for the
Indianapolis Colts
.
That will change when
Kerry Collins
replaces an injured Manning in the Colts' lineup for Week 1.
The first preseason game I covered as an NFL beat reporter featured Manning making his first start against the
Seattle Seahawks
in the Kingdome. His very first pass found
Marvin Harrison
for a 49-yard touchdown. Preseason games are generally without much meaning, but could there have been a more fitting beginning for Manning?
For a fuller appreciation of Manning's durability and consistency in starting 227 consecutive games, I went through Pro Football Reference counting how many quarterbacks had started for current NFC West teams since Manning made his regular-season debut. There have been 48. That figure includes 14 for the
St. Louis Rams
, 13 for the 49ers, 11 for the
Arizona Cardinals
and 10 for the Seahawks.
A few notes on the 48 players to start for current NFC West teams since 1998:
There have been two Brocks (Berlin, Huard), two Charlies (Frye, Whitehurst), two named Chris (Chandler, Weinke), two Jeffs (Plummer, Martin), three Johns (Friesz, Navarre, Skelton), one Jon (Kitna), two Matts (Hasselbeck, Leinart), two Shauns (Hill, King), three Steves (Young, Bono, Stenstrom) and two Trents (Dilfer, Green).
Two, Young and Warren Moon, have been enshrined in the Pro Football Hall of Fame since Manning's streak began.
Dilfer and Warner started for more than one current NFC West team since Manning's streak began. Warner started 57 games for Arizona and 50 for St. Louis. Dilfer started 12 for Seattle and six for San Francisco.
Hasselbeck has the most total starts for current NFC West teams with 131, followed by Marc Bulger (95 for St. Louis), Jake Plummer (73 for the Cardinals) and Jeff Garcia (71 for the 49ers).
Smith -- Alex, not Troy -- owns the most starts among current NFC West players with 50, all for San Francisco.
Eight of the 48 were one-and-done as starters: Berlin, Scott Covington, Ty Detmer, Glenn Foley, Friesz, Frye, Navarre and Weinke. Nineteen have made at least 10 starts.
The NFC West will have two starters new to the division in Week 1:
Tarvaris Jackson
and
Kevin Kolb
.
The chart shows start totals by team for the 48. The NFC West changed membership with realignment in 2002. I'm going back to 1998 for the four teams currently in the division.
April, 17, 2011
4/17/11
9:45
AM ET
Some narration is in order while looking back at every quarterback current NFC West teams have selected over the past 15 NFL drafts.
Back up the Brink's truck. We're all in with these guys ...

Rolling the dice at the top of the draft is risky. Good thing so many top quarterbacks are available a little later ...
How are these guys still on the board? We must know something other teams do not ...
You mean we haven't selected a quarterback yet? Better grab one now ...

Signing free agents after the draft is a pain. Let's save some time, and if we luck into the next Tom Brady, everyone will call us geniuses ...

February, 2, 2011
2/02/11
12:48
PM ET
Thank you, Seahawks fan Shane Rego, for
pointing me
toward
Football Outsiders' in-depth look
at the 1992 NFL season.
[+] Enlarge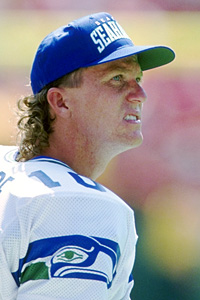 Earl Richardson/Getty ImagesQuarterback Dan McGwire was part of a much-maligned Seattle offense in 1992.
Football Outsiders' statistical analysis has revealed the
Seattle Seahawks
' infamous, notorious, sulfurous 1992 offense to have been even worse than the
San Francisco 49ers
' historically, hysterically inept 2005 version. The analysis compares each play during a season with similar plays for every team in the league. The resulting metric, termed Defensive-adjusted Value Over Average (DVOA), generates positive or negative percentages. Negative percentages are bad for offenses and good for defenses.
"The Seahawks' minus-45.9 percent offensive DVOA sets a new FO record, surpassing the 2005 San Francisco 49ers (minus-42.0 percent) as the worst offense we've ever tracked," Football Outsiders reported. "It gets worse if you isolate the passing game from the running game."
The 2005 49ers' pass offense was the worst on record since 1993 at minus-57.9 percent. The 1992 Seahawks' pass offense came in at minus-71.0 percent. The chart breaks down passing stats for the quarterbacks on those teams' rosters. The seven players combined for 17 touchdowns, 44 interceptions and a 41.7 rating.
While justifiably ragging on Seattle's 1992 offense, Football Outsiders acknowledges the strength of its defense, which ranked third in DVOA that season thanks largely to AFC Defensive Player of the Year Cortez Kennedy. I'll have more on Kennedy as Hall of Fame voting approaches. I consider him to have been the best, most complete defensive tackle of the 1990s, when counting Reggie White as a defensive end.
November, 11, 2010
11/11/10
8:49
AM ET

Bernie Miklasz of the St. Louis Post-Dispatch
says the Rams' offensive coordinator, Pat Shurmur, has done a pretty effective job overall. Same goes for quarterbacks coach Dick Curl. Miklasz: "The major flaws are sacks allowed in the red zone (five) and the inability to run it in the RZ. And that's an area where Shurmur must be more creative. Shurmur also has to find more ways to keep the offense moving in the second half. That's been another issue. The Rams rank ninth in the NFL in first-half yards and 15th in first-half points. In the second half, they rank 30th in yards and 31st in points. Shurmur certainly has it in him to implement fresh ideas in the latter stages of games. But the Rams can't stand still in the second half. They can't be predictable. They need to add some second-half flourishes." It's sometimes tough to evaluate how well assistant coaches are performing. I know this: Quarterback Sam Bradford is going to make a lot of coaches look smart.
Also from Miklasz
: five key areas for the Rams.
Bill Coats of the St. Louis Post-Dispatch
says Jason Smith's concussion symptoms dissipated quickly.
Jim Thomas of the St. Louis Post-Dispatch
says the Rams rank eighth on run defense after finishing no higher than 20th since 2002. Defensive end James Hall on facing Frank Gore: "When you hit him, you feel him. He's a one-cut guy, and he's downhill. He can hurt you. I've got a lot of respect for the guy playing him over the years."
Also from Thomas
: Hall and Chris Long have combined to give the Rams a strong pass rush so far.
Brian Stull of 101ESPN St. Louis
passes along this quote from Smith regarding Bradford: ""I really have fun with Bradford being our quarterback. He's serious, but he cracks jokes and he knows when to do it. Sometimes everybody gets a little tight, tensed up but he knows when to smile and get us settled down. He's one of those -- it seems like he's been around this thing for a long time. I'm just happy he's on my team. I see why we could never beat OU when he was playing for them because the guy is so poised, so confident. He's a leader. He's standing back there with the ball in his hand directing traffic and leading the offense, which in turn soon one day he'll be leading the team. I'm sure you can ask any older guy, the vets--he doesn't seem like a rookie. He's real, he's just a complete guy."

Clare Farnsworth of seahawks.com
says players have voted Leon Washington as the Ed Block Courage Award winner for 2010. The award, named for the former longtime trainer of the Baltimore Colts, honors players for their sportsmanship and courage. From
edblock.org
: "The Ed Block Courage Award recipient symbolizes professionalism, great strength and dedication. He is also a community role model. With this honor, he enters into an association which contrasts his fierce profession by becoming a major component of the Courage House National Support Network for Kids. He becomes an Ambassador of Courage for victims of abuse, violence and neglect." Washington's return from a career-threatening leg injury would have been remarkable even if the running back had merely become a modest contributor. Washington leads the NFL in kickoff return average.
Also from Farnsworth
: The Seahawks are happy to welcome back Brandon Mebane.
Danny O'Neil of the Seattle Times
says the NFC West has not had two teams finish above .500 since 2003.
Eric D. Williams of the Tacoma News Tribune
passes along Brian McIntyre's defensive personnel notes for the Seahawks through eight games. Aaron Curry has played about 68 percent of the defensive snaps.
Also from Williams
: Mebane has made a few changes while recovering from a calf injury. Williams: "Mebane said along with rehabilitating his injury, he changed his diet and is drinking more water as a preventive measure to keep him healthy. And although it has been a struggle having to watch from the sideline, Mebane said he looks forward to getting back on the field on Sunday."
Dave Boling of the Tacoma News Tribune
sizes up the Seahawks halfway through the season. Coach Pete Carroll: "The feeling is we're getting some guys back we've been waiting for. ... It feels better than it has. There's a good feeling in the [locker room] that guys are coming back. We're starting off again; it's really like we're starting all over again."
Liz Mathews of 710ESPN Seattle
links to Mebane audio.

Kent Somers of the Arizona Republic
says Beanie Wells thinks he could play more this week even if he misses practice time. Ken Whisenhunt's record says less practice time means less playing time.
Also from Somers
: The Cardinals have already given up more sacks than they allowed last season. Kurt Warner's departure explains some of the difference. Warner could get rid of the ball just in time. Whisenhunt: "Teams are playing us with a lot more eight-in-the-box, bringing pressure. I don't think it's as much our linemen getting beat ... that's the way it's characterized. We've made quite a few mental mistakes with our backs in protection and completely missed guys. There was one guy a couple games ago where we had three sacks that were all on the backs -- poor decisions and missing blocks."
Darren Urban of azcardinals.com
looks at the Cardinals' knack for scoring on return touchdowns.
Also from Urban
: Derek Anderson talks about getting comfortable with the offense. Wells defends himself from criticism.

Matt Maiocco of CSNBayArea.com
says Bradford and 49ers safety Reggie Smith were college teammates and high school rivals. Bradford admitted that Smith picked him off a couple times in high school.
Matt Barrows of the Sacramento Bee
says 49ers coach Mike Singletary was OK with quarterback Troy Smith heading home to Ohio during the team's bye week. Singletary: "Troy Smith was here enough to get what he needed to get. And he's a guy that really works his tail off. He was here last night really late. But that's all of his personal business. But I have no issues with him leaving and going home and taking care of his family and doing the things that he needed to do."
Taylor Price of 49ers.com
says the team has allowed only seven sacks in its past five games, with the offensive line generally doing a good job springing Gore.
Eric Branch of the Santa Rosa Press-Democrat
says Alex Smith sounded very doubtful for Sunday when reporters spoke with the 49ers quarterback.
Also from Branch
: Reggie Smith will play more as the 49ers try to defend deep passes more effectively.
Lowell Cohn of the Santa Rosa Press-Democrat
says Alex Smith hasn't won enough games, regardless of whether Smith has good leadership skills.
Tim Kawakami of the San Jose Mercury News
says the 49ers' quarterback situation this year resembles the Raiders' situation last season. Kawakami: "If Troy Smith plays decently on Sunday -- and by all appearances, he will be the 49ers' quarterback against St. Louis -- Singletary should get directly to the point: Troy Smith represents more of what Singletary wants in a QB and leader than Alex Smith ever could, so Singletary should just commit to Troy Smith for the rest of the season."
Dan Brown of the San Jose Mercury News
says Troy Smith stands as one of the shorter starting quarterbacks in 49ers history. Brown: "According to the team historian Donn Sinn, no one shorter than Smith has started at quarterback for the 49ers since 1969, when George Mira (5-11) was under center — way under center. There have been only a handful of 6-footers over the years, including Billy Kilmer, Jeff Kemp, Tim Rattay -- and now Troy Smith."
David White of the San Francisco Chronicle
says the 49ers need to do a better job of defending against the deep pass.
October, 29, 2010
10/29/10
4:00
PM ET
»
NFC Final Word
:
East
|
West
|
North
|
South
»
AFC
:
East
|
West
|
North
|
South
Five nuggets of knowledge about Week 8:
Too early to sit down Hall.
Kurt Warner
generously said he saw a little of himself in new
Arizona Cardinals
quarterback
Max Hall
. That was before Hall played in a game. Hall hasn't led a touchdown drive in any of
his 25 possessions
. Warner, meanwhile, tossed 21 touchdown passes with only three interceptions in his first eight NFL starts. Even so, the Cardinals are right to stick with Hall in Week 8 amid
negative reviews
. Once the Cardinals made the decision to give Hall a chance, they needed to give him more than two games. Hall does own a 1-1 starting record. There's a decent chance that record will hit 2-1 after facing Tampa Bay. Plenty of time remains to bench Hall if he doesn't improve. It could happen Sunday if Hall falters.
[+] Enlarge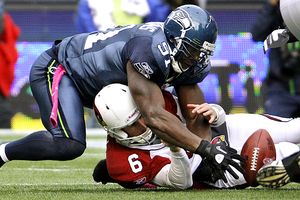 AP Photo/Elaine ThompsonChris Clemons returned to Oakland, where he had his best season as a pass-rusher in 2007.
Oakland homecomings.
The Seahawks' game at Oakland could mean a little more to three of Seattle's most significant players. Running back
Marshawn Lynch
, acquired from Buffalo, grew up in Oakland and sports an "OAKLAND" tattoo across his chest.
Mike Williams
, the Seahawks' leading receiver, started one of the six games he played for the Raiders in 2007. Defensive end
Chris Clemons
set a career season high with eight sacks for the Raiders, also in 2007. Clemons already has 5.5 sacks in six games since the Seahawks acquired him from Philadelphia. That puts Clemons on pace for 14.5 sacks. Oakland has allowed seven in its past two home games (and only four in its past two road games).
Troy Smith, come on down.
Nine quarterbacks have started games for the
San Francisco 49ers
since the team last posted a winning record in 2002. Troy Smith becomes the 10th when the 49ers face the
Denver Broncos
in London. The others, ranked by most starts:
Alex Smith
,
Shaun Hill
,
Tim Rattay
,
Jeff Garcia
,
Ken Dorsey
,
J.T. O'Sullivan
,
Trent Dilfer
,
Chris Weinke
and
Cody Pickett
. Four threw more touchdowns than interceptions during that time: Hill (23-11), Rattay (22-18), Garcia (18-13) and Weinke (1-0). None owns a higher rating in those games than Hill (87.3). Carr is the only 49ers quarterback since 2003 to attempt passes for the team without starting a game, according to
Pro Football Reference
.
Saluting Isaac Bruce.
The Rams are honoring one of their all-time greats, Isaac Bruce, during a ceremony before the game. Unfortunately for rookie quarterback
Sam Bradford
, Bruce might be good enough in retirement to help the Rams against Carolina in Week 8. Bradford badly missed injured receiver
Mark Clayton
when the Rams needed to make a play in the second half against Tampa Bay.
Danario Alexander
provided a short-term spark, but his knee is bothering him and he might not play Sunday.
Danny Amendola
has turned into a solid option from the slot, but Bradford needs more targets. With Bruce in the building and
Steve Smith
returning to the Panthers' lineup last week, top-flight receivers will be everywhere in the Edward Jones Dome except where the Rams need one most: in a St. Louis uniform.
Must-win for the Rams.
Sure, it's only Week 8, but after squandering opportunities in close defeats to beatable opponents (Arizona, Oakland and Tampa Bay), the Rams are just about finished with the easier portion of their schedule. Losing at home to the 1-5 Panthers could send this team plummeting following its bye week. The Rams play four of five games on the road following their Week 9 bye. The lone home game falls against Atlanta, arguably the best team in the NFC.
December, 18, 2009
12/18/09
4:00
PM ET
»
NFC Final Word
:
East
|
West
|
North
|
South
»
AFC
:
East
|
West
|
North
|
South
Five nuggets of knowledge about Week 15: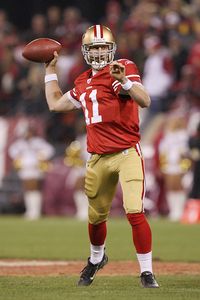 Jed Jacobsohn/Getty ImagesSan Francisco's Alex Smith is hoping to fare better than most quarterbacks have in Philly this season.
Alex Smith in perspective.
The 49ers' quarterback has a much higher rating on the road (93.3) than at home (73.8) this season, but he is facing an Eagles defense that makes life rough on quarterbacks. Quarterbacks have 21 touchdowns, 20 interceptions and a 77.3 rating against the Eagles this season. Those numbers could be helpful when analyzing how Smith performs in this game. It's a bigger deal if Smith plays well and leads the 49ers to victory than if he struggles some and the 49ers lose the game. The progress Smith is making should be measured over the second half of the season -- not one game, even with the 49ers' playoff chances potentially at stake.
Wakeup call in Philadelphia.
Upsetting the Eagles at Lincoln Financial Field would keep alive the 49ers' playoff hopes no matter what division-leading Arizona does against the Lions. Few teams have found themselves in the 49ers' current predicament. San Francisco is only the third West Coast team to visit the Eagles for an early kickoff since the beginning of the 2005 season. The Seahawks won a close game there in 2007. The Chargers lost a close game there in 2005. The 49ers also lost there in 2005, 42-3, but Smith was behind
Tim Rattay
on the 49ers' depth chart back then. Only two current 49ers starters -- center
Eric Heitmann
(then at right guard) and cornerback
Shawntae Spencer
-- were in the lineup for that 2005 game at Philly. While much has changed, including the stakes, the 49ers are 0-4 this season and 2-21 since 2005 in games kicking off at 1 p.m. ET.
Shuffling along the lines.
All four NFC West teams could have new starting combinations on their offensive lines this week. The Seahawks are moving right guard
Max Unger
to center. The Rams will have two new starting guards after releasing
Richie Incognito
and placing
Jacob Bell
on injured reserve. The 49ers could get left tackle
Joe Staley
back from injury. The Cardinals could move
Jeremy Bridges
into the lineup at left tackle while
Mike Gandy
continues to battle an injured pelvis. The changes appear most problematic for the Rams, who are already a mess offensively. They haven't scored more than 23 points in a game this season (the Texans, who visit St. Louis in Week 14, scored 24 points in the first 18 minutes of their game against Seattle last week).
Wells, Hightower in focus.
The Cardinals can probably beat the Lions over ground or through air. This might be a good week for the team to restore confidence in running backs
Beanie Wells
and
Tim Hightower
after both lost critical fumbles last week. Arizona faces a Lions team that allowed 308 yards rushing to the Ravens last week. Wells ranks second in rushing yards to Denver's
Knowshon Moreno
among rookie running backs. He has appeared due for a 100-yard game for some time. Despite the fumble against San Francisco, Wells carried 15 times for 79 yards, an impressive showing against a strong run defense. Wells runs hard and seems to relish contact. If he's going to have a breakout game during the regular season, this would seem like a good time.
Seahawks have been here before.
For the second time this season, Seattle coach Jim Mora has challenged his team following a blowout defeat in Texas. Just like last time, the Seahawks are facing one of the NFL's worst teams the following week. Last time, Mora suggested jobs were on the line following a 38-17 defeat to the Cowboys. The Seahawks failed to respond, falling behind 14-0 at home against the Lions before finally rallying to win the game. This time, Mora shook up his offensive line following a 34-7 defeat to the Texans. The Seahawks face the 1-12 Bucs at home this week. Tampa Bay has failed to exceed seven points in three of its past four games. For the Seahawks, falling behind 14-0 cannot be an option. Can it?
November, 19, 2008
11/19/08
5:13
PM ET
Posted by ESPN.com's Mike Sando
A couple of notes regarding achievements within the division, real and potential:
Shaun Hill is the first 49ers quarterback since Tim Rattay in 2004 to be the NFC's Offensive Player of the Week.
In Arizona, the Cardinals are seeking their fifth consecutive home victory of the season. Every NFL team but the Cardinals and Texans has won at least five consecutive home games in one season since 1977. Houston joined the NFL in 2002. The Cardinals last accomplished the feat in 1976.

Giants cornerback Aaron Ross is the NFC's Defensive Player of the Week. No defensive back from either conference has won the award this season immediately after facing Larry Fitzgerald, Anquan Boldin and the Cardinals' passing game.
November, 5, 2008
11/05/08
10:25
AM ET
Posted by ESPN.com's Mike Sando
Collin from Syracuse writes: Hey Sando, any chance on the 49ers making a move for Hall now that he is on his way out in Oakland?
Mike Sando: The 49ers invested lots of money in Nate Clements. They have drafted at the position. I'm not sure that's where they need to spend their money. Guess it depends some on what Hall might command on the market. I haven't spoken with anyone at the 49ers about it given that this news is pretty fresh.
---
Kevin from Seattle writes:
ESPN is reporting the Raiders may release
DeAngelo Hall
this week ... would the Seahawks consider picking him up to help shore up a terrible pass defense?
Mike Sando: Jim Mora likes DeAngelo Hall and stays in touch with him. The Seahawks are happy with Marcus Trufant and Josh Wilson, however. They also have 2006 first-round choice Kelly Jennings. So I'm not sure about the fit. Looking around the NFC West, he might fit better in St. Louis or Arizona, just based on those teams' situations at cornerback.
October, 15, 2008
10/15/08
9:35
AM ET
Posted by ESPN.com's Mike Sando
The mailbag has buzzed with questions about possible trades involving NFC West teams heading into the deadline that recently passed. My answers followed a familiar course. Yes, the trade makes sense on some level, but I'll be surprised if it happens.
A quick look at four of the biggest NFL trades made shortly before the trading deadline the last four seasons:
We've seen several other trades involving lesser-known players -- the Colts landed John McCargo from the Bills in one example Tuesday -- but we spend a lot more time talking about potential trades than actual ones.
Teams generally are not willing to part with their best players. When they are willing, financial factors often complicate the ability to get a deal done.
September, 12, 2008
9/12/08
10:37
AM ET
| | | | | |
| --- | --- | --- | --- | --- |
| 49ers Starting QBs since 2004 | Won | Lost | Pct. | Status |
| Shaun Hill | 2 | 0 | 1.000 | 49ers backup |
| Alex Smith | 11 | 19 | .367 | IR, 49ers |
| Ken Dorsey | 2 | 8 | .200 | Browns backup |
| Trent Dilfer | 1 | 5 | .167 | Retired |
| Tim Rattay | 2 | 11 | .154 | Free agent |
| J.T. O'Sullivan | 0 | 1 | .000 | 49ers starter |
| Chris Weinke | 0 | 1 | .000 | Free agent |
| Cody Pickett | 0 | 2 | .000 | Free agent |
Posted by ESPN.com's Mike Sando
How did Alex Smith fare as the 49ers' starting quarterback? Not as bad as the team's other quarterbacks since Jeff Garcia left following the 2003 season.
The 49ers were 11-19 (.367) in games Smith started. Their record is 7-28 (.200) in all other games since Garcia's departure. No 49ers quarterback with more than two starts has a higher winning percentage as a starter during that time.
Current starter J.T. O'Sullivan can rocket toward the top of the list by posting a 6-10 record as a starter this season. That would give him a .375 winning percentage.
August, 11, 2008
8/11/08
5:53
PM ET
Posted by ESPN.com's Mike Sando
Matt Maiocco of Instant 49ers says the 49ers' defense was spectacular in practice today. Coach Mike Nolan even stopped practice to congratulate the defense. Once a defensive-minded coach, always a defensive-minded coach. In Seattle, Mike Holmgren tends to stew when the defense has its way during practice. Once an offensive-minded coach, always an offensive-minded coach.
Matt Barrows of the Sacramento Bee provides equal time in his dispatch from 49ers practice, noting the offense was pretty much horrendous. Barrows: "I was here when the quarterbacks were Rattay, Dorsey and Pickett. I was here when the 49ers won only two games. In other words, I've seen some pretty putrid practices. But I gotta tell you -- I'm having a hard time remembering an offensive performance as lousy as the one I saw this morning."
Steve Korte of Ramblings lists positives and negatives from the Rams' performance against Tennessee in the exhibition opener. He notes, correctly, that the first-team offense hasn't scored a touchdown during the exhibition season since Mike Martz was coach. These exhibition games can be meaningless, but I'm thinking Scott Linehan doesn't want to keep hearing about that streak.
Kent Somers of the Arizona Republic doesn't ride a Segway around Northern Arizona University when the Cardinals are at camp, but a few players do. Kurt Warner, Matt Leinart and Larry Fitzgerald were seen riding them today.
Clare Farnsworth of the Seattle Post-Intelligencer delivers more potentially bad news on the injury front for Seattle. Center Chris Spencer was supposed to practice this week, but his bad back is still a problem. Spencer can't even reach down to tie his shoes. An admittedly premature thought: What if Steve Vallos grabbed hold of the center job and never let go? Vallos outperformed expectations in the exhibition opener. We can't know if he'll become viable as a long-term starter. But as Ron Heller told former Seahawks guard Chris Gray, the fastest way out of the league is via injury.
Seahawks president and emerging blogger Tim Ruskell ponders the likelihood of converting two exhibition games into regular-season games. Ruskell: "More people are talking about it. There are pros and cons for either side. It's already a long season. It will be an interesting debate. I haven't really made my mind up, nor have I heard how really serious this is just yet. It will be a pretty dramatic change the way we've done business if that does happen. We'd be in trouble this year if that were the case because we'd be going into regular season games missing a lot of players."