February, 28, 2013
Feb 28
8:30
PM ET
Ryan from Denver
points to the
San Francisco 49ers
' interest in
Peyton Manning
last offseason as evidence the team would consider adding a high-profile, high-priced veteran such as
Darrelle Revis
. He questions
my assertion
that the 49ers do not splurge on these types of players from other teams.
"The 49ers may not make a run at Revis, but it won't be because they don't chase high-priced players from other teams," Ryan writes. "You don't think it would be in the 'Niner Way' to offer two second-round picks and $30 million to Revis on a two-year deal? They would obviously cut
Carlos Rogers
, meaning they would have a little less than $10 million a year over what they're scheduled to pay Rogers and they'd be upgrading to the best corner in the game."
Sando:
49ers brass is on the record saying it views veteran acquisitions as retail and drafted acquisitions as wholesale. They like to pay wholesale. Is the gap between Revis and Rogers really worth $10 million annually and multiple second-round choices, with Revis set to cash in a couple years later? Not to me.
Second-round picks have great value in the right hands. The 49ers recently used a second-round choice to get a franchise quarterback who will count $1.4 million against their cap this season. That's the way to build a team. I could maybe make a case for acquiring Revis if he were a free agent and not coming off ACL surgery, but giving up multiple second-round picks? Doesn't make a great deal of sense to me.
---
Jim from Norwalk, Conn.,
gets the feeling Seattle has to dump
Matt Flynn
for cost considerations. As a Seahawks fan, he fears San Francisco will come out ahead twice on its
Alex Smith
trade. One, the 49ers get additional picks. Two, the 49ers could be in position to snag Flynn if the Seahawks released him.
Sando:
No need to panic, Jim. The Seahawks are in a more favorable cap situation than the 49ers are in, and they can afford to keep Flynn on their roster as the second quarterback. I'll expand on this one Friday. In short, the 49ers had much more to gain from a cap standpoint by trading their backup quarterback than Seattle would gain from trading Flynn.
---
Terry from San Diego
asks whether the
Arizona Cardinals
should consider acquiring
Nick Foles
from Philadelphia.
"Bruce Arians is good with rookie QBs, and Foles fits the mold Arians likes at 6-foot-6 with big hands and a strong arm," Terry writes.
Sando:
The Cardinals should explore all options, but it's not like they're brimming with extra draft picks this year. They already got burned sending a second-round choice and
Dominique Rodgers-Cromartie
to Philadelphia for
Kevin Kolb
. They would have to feel strongly about Foles to make another deal for an unproven Philadelphia quarterback. Arizona should monitor the price on Foles, but I lean toward drafting a quarterback in the first few rounds after signing veteran insurance and reworking Kolb's deal.
---
Tom from Minot, N.D.,
asks whether the
St. Louis Rams
had to pay
Titus Young
while the receiver was on the roster briefly.
Sando:
They might have paid for his flight to St. Louis, but they would not have paid any salary. There are no salary-cap implications associated with Young's brief stay on the roster. The Rams brought him in, checked him out, took notes and sent him on his way.
If the Rams spend real money on a receiver in the near future, it figures to be for
Danny Amendola
. That could be a challenging negotiation, however. Amendola can claim he's a big part of the offense when healthy, pointing specifically to a memorable performance at San Francisco last season. The Rams can point to all the games Amendola has missed, and to
some statistics
calling into question Amendola's impact before third down.
February, 6, 2013
Feb 6
9:13
AM ET
But if Young does stick around, might he give the Rams options from the slot? The team's current slot receiver, Danny Amendola, is scheduled to become a free agent. The Rams would ideally retain Amendola on a long-term deal, but questions about the receiver's durability could affect their thinking.
Jim Thomas of the St. Louis Post-Dispatch explores the
Young-as-insurance-for-Amendola
angle Wednesday. That was my initial inclination when hearing the Rams had claimed Young off waivers from the Detroit Lions. But in looking up Young's production through ESPN Stats & Information, I noticed Young caught only six passes for 30 yards from the slot last season. In two NFL seasons, Young has run 56 routes from the slot and 759 routes from other places in the formation.
So, even though Young is on the smaller side at 5-foot-11 and 174 pounds, he hasn't projected as primarily a slot receiver to this point in his career. Of course, the Rams hope little about
Young's career to this point
applies to the receiver's future.
Titus Young has to earn a roster spot in St. Louis before he can affect the team's receiving rotation. And given Young's career to this point, that could be a long shot.
February, 5, 2013
Feb 5
5:30
PM ET
Titus Young
caught all nine passes thrown his way for 100 yards and two touchdowns, including the game-winner, during a Detroit victory against Seattle in 2012.
Yeah, the
St. Louis Rams
would take that kind of production against their division rival.
Recent evidence suggests they're unlikely to get it from Young, but they are willing to give the recently
released
receiver a chance, at least. They
claimed Young
off waivers from the Lions.
NFC North blogger Kevin Seifert recently wrote a post-mortem on Young's disappointing tenure with the Lions. The Lions benched Young early in the season after the receiver head-butted Rams cornerback
Janoris Jenkins
during a game. Later, the team unofficially
suspended Young
for defying coaches. There has been more.
"Last month's bizarre set of
tweets
suggested Young has much work left to do,"
Seifert wrote
. "Those of you who have been asking if the
Minnesota Vikings
, or any other team, should claim him are missing how serious of a situation he is in."
The Rams are bringing along young receivers in 2012 draft choices
Chris Givens
and
Brian Quick
. Adding a volatile young talent to the mix would seem to carry some risks. But the Rams can always release Young if the situation appears headed in the wrong direction. They're in the business of adding talent at receiver by any means necessary. They have a strong head coach, Jeff Fisher, who hasn't been afraid to draw a hard line with players, including when he benched Jenkins and Givens for a big game at San Francisco.
Young was the 43rd player chosen in the 2011 NFL draft. He caught 48 passes for 607 yards and six touchdowns as a rookie. He caught 33 passes for 383 yards and four scores this past season.
Young ranks ninth in receiving yardage (990) among players drafted in 2011. Six players drafted lower than Young have more receiving yardage.
Still, Young clearly has talent. As a rookie, he caught 14 passes for 256 yards and a touchdown on third down alone. That's an 18.3-yard average.
It's telling that the Lions are releasing such a highly drafted player so quickly. The situation in Detroit had become untenable. Perhaps the Rams can do better with him.
October, 31, 2012
10/31/12
4:20
PM ET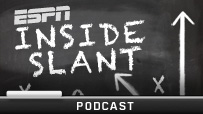 After appearing on
MVP Watch
and before visiting the
Seattle Seahawks
in Week 9,
Adrian Peterson
dominated much of the "
Inside Slant" podcast
discussion Wednesday.
The
Minnesota Vikings
running back is challenging what we've thought about serious knee injuries by disregarding standard timetables for rehabilitation.
Peyton Manning
, another player thriving improbably following career-altering surgery, also stars in this podcast.
Russell Wilson
, Romeo Crennel,
Brett Favre
,
Jamal Lewis
,
Terry Allen
, Norv Turner, Leslie Frazier,
Titus Young
,
Richard Sherman
,
Alex Smith
, Joe Namath and Johnny Unitas surface at various points.
Listeners also receive special Halloween access to a photo showing a certain NFC West blogger in costume as though right off the set for
that John Clayton commercial
.
October, 28, 2012
10/28/12
4:02
PM ET
Thoughts on the
Seattle Seahawks
'
28-24 loss
to the
Detroit Lions
at Ford Field in Week 8:
What it means:
The Seahawks fell to 4-4 with their second consecutive road defeat after their defense faltered late in the game. Seattle got what it needed in the fourth quarter from rookie quarterback
Russell Wilson
, who led a 12-play, 87-yard drive for the go-ahead touchdown. That was a positive and something the Seahawks can build upon. However, letting this game get away puts pressure on Seattle to win its five remaining home games to finish with a winning record.


What I liked:
Wilson and the offense converted on third-and-10 and fourth-and-short during the go-ahead scoring drive in the fourth quarter. Receiver
Sidney Rice
and tight end
Zach Miller
caught scoring passes.
Marshawn Lynch
's 77-yard touchdown run was the Seahawks' longest since
Shaun Alexander
had an 88-yarder at Arizona. The run allowed Lynch to top 100 yards rushing even though the ground game wasn't consistently strong for Seattle, a bit of a surprise. Seattle shut out
Calvin Johnson
in the first half and prevented him from emerging as a dominant threat. Jackson couldn't handle the potential go-ahead scoring pass in the final minutes.
Earl Thomas
picked off a pass deep in Seahawks territory to ward off a Lions scoring chance.
What I didn't like:
The Seahawks' defense gave up a season-high four touchdowns while struggling to defend third-and-long situations. That has been a problem at times, particularly on the road. The team sought to upgrade its pass rush in an effort to win those situations more frequently. The Lions converted 12 times in 16 third-down chances.
Matthew Stafford
topped 300 yards passing, joining
Tom Brady
in racking up yards against Seattle. The Seahawks, geared up to face Johnson, couldn't stop
Titus Young
, who caught nine passes for 100 yards and two scores, including the game winner in the final minute.
What's next:
The Seahawks face the
Minnesota Vikings
at CenturyLink Field in Week 9.
June, 21, 2012
6/21/12
8:30
PM ET
NFC West teams landed the second (
Michael Floyd
), fourth (
A.J. Jenkins
) and fifth (
Brian Quick
) wide receivers selected in the 2012 NFL draft.
ESPN's fantasy analysts, gathered in the video above, mentioned Floyd just long enough to dismiss his rookie prospects based on the
Arizona Cardinals
' quarterback situation. They mentioned nothing of the others, instead focusing on what production Jenkins' teammate in San Francisco,
Randy Moss
, might provide this season.
I wondered, however, to what extent our perceptions about quarterbacks match up with the production rookie receivers actually provide. Eleven rookie receivers caught at least 27 passes last season. Several, including undrafted Seahawk
Doug Baldwin
, fared well without benefiting from what anyone would have called an ideal quarterback situation.
A year ago, we might have downgraded Cincinnati's
A.J. Green
based on the Bengals decision to go with a rookie quarterback. Baldwin was largely unknown, and critics were questioning Seattle's decision to go with
Tarvaris Jackson
at quarterback. In Cleveland,
Greg Little
caught 61 passes despite the Browns' obviously deficient quarterback situation.
In 2010,
Brandon LaFell
and
David Gettis
ranked fourth and fifth, respectively, among rookies in receptions despite playing in Carolina, where
Jimmy Clausen
and David Moore were the starting quarterbacks.
Receivers benefit from solid quarterback play, obviously, but they don't always need it to produce.
April, 29, 2011
4/29/11
9:33
PM ET
The
St. Louis Rams
weren't going to let the 2011 NFL draft get away without selecting a wide receiver. They took one in the third round Friday, selecting
Austin Pettis
from Boise State with the 78th overall pick.
Pettis was the eighth receiver selected in this draft.
A.J. Green
,
Julio Jones
and
Jonathan Baldwin
were first-round picks.
Titus Young
,
Torrey Smith
,
Greg Little
and
Randall Cobb
were second-rounders. Pettis was the first receiver chosen in the third round; Washington took
Leonard Hankerson
one pick later.
Pettis is a big receiver -- 6-foot-2 and 209 pounds -- known for having sure hands and the ability to make the spectacular grab. He does not fall into the "burner" category, but he fits the mold of bigger receivers favored by new coordinator Josh McDaniels.
April, 29, 2011
4/29/11
7:01
PM ET
The
St. Louis Rams
were three picks away from being on the clock at No. 47 when the
Detroit Lions
made Boise State's
Titus Young
the first receiver selected in the second round of the 2011 NFL draft.
Denver is on the clock at Nos. 45 and 46, thanks in part to a trade with San Francisco. Can the Rams stand pat at No. 47 and still get the receiver they want? Or do they even want a receiver at this point?
April, 12, 2011
4/12/11
9:33
AM ET

Seth Rubinroit of the Daily Trojan
checks in with former Cardinals quarterback Matt Leinart, who says his NFL career has been a "roller coaster" to this point. Leinart seemed to have fallen off the map since signing with the Texans as their third quarterback. His contract ran through the 2010 season. Leinart: "Houston helped me get my confidence back, being around great coaches and a great team. It has jumpstarted me this offseason. ... I am not going to give up. I am not going to say it has been unfair, but I am just hoping for the opportunity to come. ... You can either give in to all of the criticism, or you can use it as fuel and motivation. I know what I can do. I am just waiting for the opportunity to go show it. ... I have had a lot of learning experiences and ups and downs, but I know that I have grown as a player and as a person, on and off the football field. I am totally ready to take advantage of the next opportunity I get."
Darren Urban of azcardinals.com
introduces the Cardinals'
latest video
in their "All In" series. The video shows the Cardinals meeting with Blaine Gabbert and others at the combine.

Clare Farnsworth of seahawks.com
looks back at the team's inaugural season. Jim Zorn: "We only won two games that first year, but you would have thought we almost went to the playoffs. That's how enthusiastic not only we were, but the fans were. Everybody was excited."
Danny O'Neil of the Seattle Times
lays out draft expectations for the Seahawks during his latest chat. O'Neil: "Well, if Seahawks are on the clock at No. 25 and Mark Ingram is still there, the Seahawks would have to look long and hard at that one, and it would be tough to justify passing up a young back with that power and that talent just because you have Marshawn Lynch signed for another year. Remember back in 2006 when a quarterback went tumbling down the draft order, and Green Bay -- with John Schneider in that front office -- didn't have a pronounced need at quarterback. But they took Aaron Rodgers. I think the evidence points to the fact that say all you want about drafting to fit the team, but if you've got a player who is seen as a significant value at an important position, they're going to draft him." O'Neil thinks Seattle is most likely to select a defensive end.
Eric Williams of the Tacoma News Tribune
thinks the Seahawks should address their defensive line in the first round. Williams: "I would take Corey Liuget if he is on the board at No. 25 if I was Seattle. He will be an impact player, and with all the injuries they had along the defensive line last year, with Brandon Mebane, Red Bryant and Colin Cole missing a combineed 19 games, I think he makes some sense. Both Pete Carroll and John Schneider said getting more physical up front on both sides of the ball is the team's top priority."
John Clayton tells 710ESPN Seattle
he thinks there's a good chance Matt Hasselbeck will not re-sign with the Seahawks. Clayton: "I'm not optimistic now. I'm starting to think that it may not happen. It seems like they did put a good effort in, but they didn't come to the right number. And now it's put the Seahawks in a position where I think what'll happen is, if free agency would start -- and we all don't know when -- I think they'll let him test the market. And that could be dangerous because he could go someplace else. But at this stage I'd say the odds are now slipping away that Matt's going to be here (in Seattle)."

Jim Thomas of the St. Louis Post-Dispatch
previews visits the Rams have set up with draft prospects. Thomas: "Heading the list of scheduled visitors is Alabama wide receiver Julio Jones, but several other potential Rams selections at No. 14 overall are scheduled to visit Rams Park today and Wednesday. Among them are Missouri defensive end Aldon Smith, Illinois defensive tackle Corey Liuget, North Carolina defensive end Robert Quinn and California defensive end Cameron Jordan. At least four scheduled visitors are running backs, a sign that the Rams may mean business this year in finding a bona fide backup to Steven Jackson."
Nick Wagoner of stlouisrams.com
looks at receiver options for the Rams in the draft. Wagoner: "Should A.J. Green or Julio Jones somehow fall into the Rams' range, though, they would both almost certainly draw serious consideration for the pick. More likely, should the Rams opt to land a pass catcher; it will have to come after the first round barring a trade down in the first round. There are some intriguing options after Green and Jones. Boise State's Titus Young, Maryland's Torrey Smith, Kentucky' Randall Cobb and Indiana's Tandon Doss figure to land somewhere in the second round or early in the third."

Matt Maiocco of CSNBayArea.com
revisits Gary Plummer's dismissal as the 49ers' radio color commentator. Maiocco: "Plummer certainly did not sugarcoat what he witnessed. There were two separate episodes last season in which Plummer's words on the broadcasts angered many in the organization. In games against Seattle and Philadelphia, Plummer stated flatly that receiver Michael Crabtree and guard Chilo Rachal should be benched. The organization, which controls the broadcasts on flagship station KNBR, does not deny there was friction over those isolated occurrences. But the man in charge of the move is adamant Plummer was not fired because he criticized the team. He says Plummer was given freedom to criticize as he saw fit."
Also from Maiocco
: a look at how fans envision the first seven picks of the draft unfolding.
Matt Barrows of the Sacramento Bee
says ex-49ers quarterback Gio Carmazzi decline to participate in an ESPN piece looking at the six quarterbacks drafted ahead of Tom Brady in 2000. Barrows: "The second quarterback taken that year was Hofstra's Gio Carmazzi, who was selected by the 49ers in the third round. The 49ers were so jazzed about Carmazzi that one of the offensive coaches at the time -- I will spare him the embarrassment and not identify him -- stood up on a table during a draft meeting and passionately extolled Carmazzi's virtues. He was the 49ers' quarterback of the future, the heir to Joe Montana and Steve Young. Carmazzi, as any decade-long suffering 49ers fan knows too well, never threw a regular-season pass for the 49ers. (And if you saw his preseason passes, you know why). The Boston Herald, which had a sneak preview of the 50-minute feature, writes that 'Carmozzi (sic) is now a yoga-obsessed farmer who has five goats. He was the only one who did not agree to an interview.' "
Also from Barrows
: Two running backs are scheduled to visit the 49ers.
Kevin Lynch of Niner Insider
says Cam Newton's ability to lead comebacks at Auburn reminds him of Joe Montana's comeback efforts at Notre Dame.
April, 4, 2011
4/04/11
10:38
AM ET
Mike Tirico, Trent Dilfer, Chris Mortensen and Mel Kiper put the
St. Louis Rams
on the clock in their continuing 2011 NFL draft preview.
Dilfer expects Sam Bradford to put up big yardage numbers in 2011, but the key will be turning those yards into points through better play in the red zone. To do that, of course, the Rams will want more playmakers.
Kiper mentioned Boise State's
Titus Young
, Miami's
Leonard Hankerson
and Maryland's
Torrey Smith
as potential second-round options at receiver for the Rams if the team doesn't find one with the 14th overall choice.
January, 27, 2011
1/27/11
9:42
AM ET

Darren Urban of azcardinals.com
says Larry Fitzgerald's offer to fly Cardinals fans to the Pro Bowl produced a result more meaningful than anticipated. The winner, like Fitzgerald's late mother, had battled cancer. Fitzgerald: "I was touched after he told me how much weight he lost and the battle to stay alive and how his wife was there every step in the way helping him to get back to health. That's how we supported my mother as a family. God is good."
Dan Bickley of the Arizona Republic
checks in with former Cardinals quarterback Josh McCown, who somewhat inexplicably turned down the Bears to remain with a UFL franchise. McCown: "There were times when I wondered what the heck I was thinking, and I don't know too many people who would've done something like this. But I made my decision, I stuck with it, and I believe in my heart I'm a better person and a better player. Does that mean I'll get another opportunity? I don't know."

Danny O'Neil of the Seattle Times
checks in with former NFL center Jeremy Newberry for thoughts on new Seahawks line coach Tom Cable. Newberry: "These guys are in for a rude awakening as far as the tempo of practice and how they're going to work under him. The guy is intense as hell. He cares about what he does. He loves his players, but it's going to be a rude awakening because the tempo, you can't wait to go to team drills and 9-on-7 just to get a break from individual with that guy."
Dave Boling of the Tacoma News Tribune
says Seahawks players aren't excited about extending the regular season to 18 games. Boling: "The Seahawks finished the 16-game regular season with 15 players out for the season on the injured-reserve list. Of players expected to be starters, only eight made it through all 16 games … and just one of those (center Chris Spencer) was on offense. And Spencer played much of the season with a broken hand. Will the quality of the product be enhanced? Hardly. Besides, did anybody really need to see the race for the NFC West title go an extra two weeks?"

Jim Thomas of the St. Louis Post-Dispatch
says the Rams aren't rushing to hire a quarterbacks coach. New offensive coordinator Josh McDaniels will work closely with quarterback Sam Bradford. McDaniels remained in St. Louis while coach Steve Spagnuolo and others headed to the Senior Bowl. Spagnuolo: "I want to get back there and sit down with Josh. We've got to hone in on [the quarterback coach]. Josh has done it both ways as a coordinator. Josh has had a quarterback coach, and has not had one. He'll still have a lot to do with the quarterback even if we do have a quarterback coach."
Also from Thomas
: Drafting a receiver might mean finding one after the first round for the Rams. Thomas: "Besides (Leonard) Hankerson, there are several other wideouts here who could go in Rounds 2 through 4. Among them are: San Diego State's Vincent Brown, who had a breakout year in 2010; Nebraska's speedy Niles Paul, who also had kickoff return value; and the talented Boise State tandem of Titus Young and Austin Pettis."
Nick Wagoner of stlouisrams.com
continues his game-by game look at the Rams' 2011 season.

Matt Maiocco of CSNBayArea.com
says 2011 marks the first time in recent memory a 49ers coaching staff has not attended Senior Bowl practices. General manager Trent Baalke: "Well, there's nothing to that. If the coaches would've been on staff and ready to go, they'd certainly be down here. The reason they're not down here is because most of them just came in as of Monday and coach [Jim Harbaugh] just felt it was a better opportunity to get them all together, get them working on the schedule for the offseason."
Also from Maiocco
: Frank Gore's agent says the running back is "feeling great" during his recovery from a hip injury and on pace to play in 2011 without restriction.
Matt Barrows of the Sacramento Bee
says former 49ers defensive coordinator Greg Manusky would not have moved Taylor Mays into the starting lineup if the decision had been his to make. According to Manusky, most safeties need three offseasons to grow into the role.
Eric Branch of the Santa Rosa Press-Democrat
offers 49ers notes, including one about assistant offensive line coach Ray Brown taking a job with the Panthers.