January, 31, 2011
1/31/11
5:04
PM ET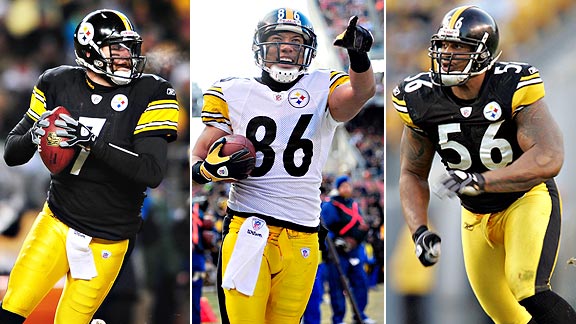 US PresswirePittsburgh's Ben Roethlisberger, Hines Ward and LaMarr Woodley are all playing in Super Bowl XLV, but could they have ended up in the NFC West coming out of college?
FORT WORTH, Texas -- The
Pittsburgh Steelers
appeared loose and comfortable during their first Super Bowl 45 media session.
They've been in big games before, and frequently, thanks largely to shrewd drafting.
This is the Steelers' third Super Bowl appearance in the last six seasons.
The team made available
James Farrior
,
Flozell Adams
,
Hines Ward
,
Brett Keisel
,
Ben Roethlisberger
and
LaMarr Woodley
during its initial media session Monday -- just the opportunity I needed to produce an item corresponding to the one titled, "
Draft hindsight: Aaron Rodgers and beyond
".
The idea: to examine a Super Bowl team's featured players -- in this case, the ones made available Monday -- with an emphasis on draft status and the decisions NFC West teams made in the same rounds. Not every team held a choice in every featured round.
The
Arizona Cardinals
had a shot at Steelers quarterback Ben Roethlisberger, but they came out OK.
Here goes ...
1997 Draft: James Farrior, LB, Virginia
Round:
First (eighth overall, by the
New York Jets
)
NFC West spin:
Farrior is a two-time Pro Bowl choice, but the NFC West offers no apologies for passing over him.
Orlando Pace
and
Walter Jones
became perennial Pro Bowl tackles. Jones became the best player in Seahawks history, in my view.
Shawn Springs
made one Pro Bowl trip and picked off 33 passes during a 13-year career. The Cardinals had no shot at Farrior. They chose Tommy Knight one pick later. He started 54 games in six NFL seasons. Rumor says the 49ers selected a quarterback in the first round of this draft.
First-round selections in the division:
1998 Draft: Flozell Adams, T, Michigan State
Round:
Second (38th overall, by Dallas)
NFC West spin:
Adams became a five-time Pro Bowl choice with Dallas. His career appeared finished, or close to it, until injuries led the Steelers to call on him this season. Arizona passed on Adams twice. Safety
Corey Chavous
, chosen five spots before Adams, went to a Pro Bowl with Minnesota. He was a productive player for roughly a decade. Tackle
Anthony Clement
, chosen two spots before Adams, started more than 100 games for three teams.
Second-round selections in the division:
1998 Draft: Hines Ward, WR, Georgia
Round:
Third (92nd overall, by Pittsburgh)
NFC West spin:
The Rams and Seahawks found Pro Bowl-caliber players when they passed over Ward in the third round. Seattle gave up on
Ahman Green
prematurely, however, after coach Mike Holmgren grew weary of early fumble problems. The 49ers missed on tackle
Chris Ruhman
three choices before Ward went to Pittsburgh. Ruhman played in six games with the 49ers, starting none. He played in 11 NFL games with two starts overall. The 49ers passed on Ward even though
Jerry Rice
had suffered a devastating knee injury in the 1997 opener.
Third-round selections in the division:
2002 Draft: Brett Keisel, DE, BYU
Round:
Seventh (242nd overall, by Pittsburgh)
NFC West spin:
The 49ers drafted longtime starting guard and center
Eric Heitmann
three spots before the Steelers found Keisel. Pittsburgh could use Heitmann this week after the Steelers' starting center,
Maurkice Pouncey
, suffered a severely sprained ankle during the AFC Championship Game. Keisel became a Pro Bowl choice for the first time this season, distinguishing him from 2002 NFC West seventh-rounders. The Rams found their mainstay snapper in this draft. Keisel was gone when the 49ers found guard
Kyle Kosier
, who started 29 games for them and remains a starter with Dallas.
Seventh-round selections in the division:
2004 Draft: Ben Roethlisberger, QB, Miami of Ohio
Round:
First (11th overall, by Pittsburgh)
NFC West spin:
The Cardinals passed over Roethlisberger and came away with a potential Hall of Fame receiver. No complaints there, even though quarterbacks are more valuable than receivers. None of the other NFC West teams had a shot at Roethlisberger. Seattle and St. Louis were set at quarterback, anyway.
First-round selections in the division:
2007 Draft: LaMarr Woodley, OLB, Michigan
Round:
Second (46th overall, by Pittsburgh)
NFC West spin:
The Cardinals could certainly use Woodley now, and badly, but they had already invested millions in the position heading into the 2007 draft. Free-agent additions
Chike Okeafor
and
Bertrand Berry
had combined for 14.5 sacks during the 2006 season. Unfortunately for the Cardinals, they haven't gotten enough from their second-round investment in
Alan Branch
.
Second-round selections in the division:
OK, all done, and just in time. ESPN.com teammates Mike Reiss, Kevin Seifert and I are heading out to the Packers' media session next. Seifert is driving and he doesn't wait for anyone. Gotta jam.
July, 13, 2010
7/13/10
9:25
AM ET

Darren Urban of azcardinals.com
says Cardinals safety Kerry Rhodes eventually did respond to challenges from teammate Darnell Dockett regarding Rhodes' preparation for the upcoming season.
Rhodes via Twitter
: "that's why I was elected captain b4 I would think and all pro and that's what I'm getting back to. U?" Rhodes did earn Associated Press All-Pro honors in 2006. Rhodes' response makes it seem as though he wasn't entirely comfortable having a teammate publicly bust his chops. If he does return to an All-Pro level, Dockett can take credit for motivating him. Dockett
tweeted
Monday by saying he'd have no trouble taking down Rhodes if the safety failed to meet expectations.
Revenge of the Birds' Andrew602
sizes up the Cardinals' secondary, offering this on Michael Adams: "Adams' leadership and heart play a large role in playing for the Cardinals. He's experienced and possesses a no-quit mentality. Adams can also contribute on special teams. His biggest weakness is that he struggles covering just about any receiver that is taller than him in jump-ball situations."

St. Louis Rams executive vice president Kevin Demoff
plans to answer fans' questions during an online "Town Hall Meeting" Thursday. From the Rams: "Demoff works closely with general manager Billy Devaney and head coach Steve Spagnuolo to develop the club's strategic plan for player signings and player acquisitions. As the club's chief negotiator, Demoff is responsible for the Rams' salary cap planning and compliance with the NFL's collective bargaining agreement. Demoff also partners with Devaney and Spagnuolo in aspects of the team's football operations." Demoff's top priority in the coming weeks will be to reach a contract agreement with first-round draft choice Sam Bradford in time for training camp.

Matt Maiocco of CSNBayArea.com
says 2008 first-round draft choice Kentwan Balmer must prove himself in training camp or the 49ers might release him. Maiocco: "Last summer, 49ers defensive coordinator Greg Manusky raved about Balmer's offseason work. In watching Balmer in his first two seasons, I've never gotten the impression he does not work hard. He hustles from drill to drill, and he seems to take the game seriously. He appears willing to put in the work to become a good player. But can he play at this level? At this point, we don't know. Balmer is still searching for a valued role on the team. He backs up Isaac Sopoaga at left defensive end. He can also play the right side. Demetric Evans does the same things as Balmer. But Evans is an eight-year veteran who knows how to play the game. The coaches trust him."
The San Francisco 49ers
have scheduled their next "State of the Franchise" event for July 27.

Clare Farnsworth of seahawks.com
profiles offensive line coach Alex Gibbs through the eyes of those who know him. Former Seahawks offensive lineman Todd Weiner, who played for Gibbs in Atlanta, put it this way: "Alex is one of those guys that, after everything is said and done, you really appreciate how hard he was on you because he kind of gets you to that next level."
Also from Farnsworth
: Seahawks broadcaster and Hall of Fame quarterback Warren Moon is launching his own sports agency.
Greg Johns of seattlepi.com
lists the Seahawks' training camp practices that are open to the public. This includes practices on July 31 and Aug. 1, 2, 3, 5, 6, 7, 8, 10, 11, 12 and 16.
April, 20, 2010
4/20/10
10:41
AM ET
Danny O'Neil's item
about the Seahawks not drafting a first-round tackle since 2000 sent me back through past Seattle drafts for a closer look at the offensive linemen.
The centers, guards and tackles Seattle drafted from 1994 through 1998 -- the Randy Mueller and Dennis Erickson years -- have combined to start 818 regular-season games. Three of the five long-time starters from that era left Seattle relatively quickly, opening spots on the line for future Seahawks draft choices. But the 15 offensive linemen Seattle has drafted since 1999 have combined to start only 460 regular-season games, 132 by Steve Hutchinson.
What to make of this disparity? A few things:
Quite a few of the players drafted more recently aren't finished. They'll rack up lots more starts. Hutchinson, Sean Locklear, Chris Spencer, Rob Sims, Max Unger and possibly Steve Vallos could combine for hundreds of starts over the next five seasons.
Four of the five primary starters drafted from 1994 to 1998 -- Kevin Mawae, Pete Kendall, Walter Jones and Todd Weiner -- were selected among the top 47 overall choices (27.5 on average). The five most promising active linemen from the more recent group -- Hutchinson, Locklear, Spencer, Sims and Unger -- were drafted 61st overall on average.
Chris McIntosh, the 22nd player chosen in 2000, suffered a debilitating neck stinger early in his career. His early retirement was a freak occurrence costing the 1999-present group quite a few starts. McIntosh wasn't necessarily impressive early in his career, but it's reasonable to think he would have started for years and improved.
It's important for Seattle to find another long-term starting tackle in this draft. Seattle holds the sixth overall choice, a slot once used to find Walter Jones. It's unrealistic to think Seattle could find a tackle of Jones' caliber with the sixth pick this year, but it's reasonable to expect any tackle taken that early to start a lot of games.
The charts rank these two groups of Seattle draft choices by most games started.
March, 5, 2010
3/05/10
10:03
AM ET

Jim Thomas of the St. Louis Post-Dispatch
says the Rams' decision to offer Oshiomogho Atogwe the lowest possible tender might not go over well in the locker room. Thomas: "It's doubtful the move will go over big in the locker room. With 10 days to go before the start of the team's offseason conditioning program, Rams players remain scattered all over the country. But one player's reply to the move, via text message Thursday, was: 'What!!!' " The Rams either had to offer $1.226 million non-guaranteed or more than $6.9 million guaranteed. Their decision reveals the team's true feelings for Atogwe. The Rams like him, but only so much. They do not consider him to be a franchise cornerstone or they would have paid him the higher number. In other Rams news, Thomas notes that Marc Bulger and Richie Incognito were at Rams Park.
Howard Balzer of the St. Louis Globe-Democrat
says Atogwe's representatives knew the team would not offer the higher number, which almost would have amounted to naming Atogwe their franchise player for a second consecutive season. Balzer: "The Rams have been trying to reach a long-term agreement with Atogwe since last year when he was the team's franchise player, but Kevin Demoff, the Rams executive vice president of football operations/chief operating officer, said, 'I have met numerous times with his representative at the combine and Senior Bowl and they knew we weren't going to franchise him again. We just haven't been able to agree on his value. We are hoping market forces come into play and help get a deal done.' "

Kent Somers of the Arizona Republic
says the Cardinals hope to re-sign Antrel Rolle even as the safety tests the market. Somers: "Rolle was good but not great last year in his second season at safety after moving from cornerback. He was a Pro Bowl alternate and played in the game after several other safeties backed out. But Rolle is a player who should continue improving in years to come. The eighth overall pick in the 2005 draft, Rolle struggled at cornerback for three seasons before moving to free safety."
Also from Somers
: Cardinals safety Matt Ware could have a visit planned to an unnamed NFC West rival.
Darren Urban of azcardinals.com
quotes Karlos Dansby as telling ESPN he plans to visit the Dolphins.

Matt Barrows of the Sacramento Bee
says the 49ers re-signed veteran linebacker Matt Wilhelm. Barrows: "Wilhelm, 29, was added last year to fill in for Jeff Ulbrich after Ulbrich suffered a career-ending concussion in an early-season game against St. Louis."
Matt Maiocco of the Santa Rosa Press-Democrat
provides a quick overview of protocol in free agency. Maiocco: "The 49ers are expected to take it slow and easy in free agency. The club is not expected to schedule any free-agent visits over the weekend. And there's a better-than-even chance the 49ers will not gather any starters during the free-agent signing period."
Tim Kawakami of the San Jose Mercury News
says this about the 49ers' draft plans: "What we know about McCloughan: He values game performance over combine measurements. Last year, ultra-productive Michael Crabtree was nursing a broken foot and didn't run at the combine, which surprisingly made him available for the 49ers, who were picking 10th. Crabtree held out for several months, but when he showed up to play, he produced."

Clare Farnsworth of seahawks.com
says he would be "shocked" if the team drafted two offensive linemen in the first round. Farnsworth: "The line (Alex) Gibbs had in 2004 with the Atlanta Falcons 'featured' a fourth-round draft choice, a trio of seventh-rounders and a player they signed in free agency – former Seahawk Todd Weiner, who was a second-round pick. The Falcons led the league in rushing for three consecutive seasons without having a first-round pick on their line. Gibbs looks for smart, mobile, athletic players, even if they don't fit the prototype when it comes to height and weight."
Danny O'Neil of the Seattle Times
confirms Nate Burleson's departure from the Seahawks to the Lions. O'Neil: "Burleson said repeatedly his hope was to remain in Seattle, his hometown and where he attended O'Dea High School. He wasn't offered a contract he found satisfactory. Free agency began at 9 p.m. Pacific on Thursday. By 11, he had a deal in Detroit."
Eric D. Williams of the Tacoma News Tribune
says the Seahawks appeared to take a slow approach to free agency Thursday night.