July, 11, 2013
7/11/13
3:00
PM ET
ESPN's Robert Flores, Jay Soderberg and I used the latest
"Football Today" podcast

to consider two subjects: Hall of Fame snubs and NFL teams whose championship windows are closing.
Flores pointed to Ray Guy and asked about another former Raider, ex-coach Tom Flores. Soderberg stumped for a Canadian Football League legend. I offered thoughts from my perspective as a Hall of Fame voter.
One key point: Selectors do not vote "against" candidates. We vote for them, and some miss the cut because only five modern-era players can qualify in a given year. The very best candidates get in quickly, while others get in eventually.
The bar for enshrinement rises and falls depending upon the strength of the field. In that way, the process resembles a golf tournament. Shooting even par would have won the Masters in 2007. It would have fallen short by 19 strokes in 1997.
Still, there are some valid questions surrounding Hall of Fame candidates repeatedly considered as finalists before fading from the conversation. We discussed some of the considerations during this podcast.
The chart ranks candidates by most appearances as finalists without being enshrined to this point. Thirty-one others have been finalists up to three times, including NFC West favorites Eddie DeBartolo Jr., Roger Craig and Aeneas Williams.
February, 6, 2012
2/06/12
6:17
PM ET
Greg from Seattle
thought
Victor Cruz
's first-quarter non-fumble in the Super Bowl, rendered irrelevant by a penalty for 12 men on the field, resembled the forward-progress call involving
Ahmad Bradshaw
that hurt San Francisco during the 49ers' game against the Giants two weeks ago.
"The only discernible difference I saw was that there were two men involved on Bradshaw's fumble two weeks ago," Greg wrote. "If this week's play had been ruled a fumble while the Niners were not permitted even to challenge, I would have been outraged. Curious to hear your perspective."
Mike Sando:
I had the exact same thought, but it was a fleeting one because of the penalty. The 49ers weren't necessarily victimized by a horrible call, in my view. It seemed like one of those unlucky ones, along the lines of the chop-block call against
Frank Gore
in Baltimore. I disagreed with the call against Gore and thought the 49ers caught a bad break on the Bradshaw ruling. The Cruz play looked similar when watching the game live. (
Update
: Gore chop block was obviously at Baltimore; I mistakenly wrote Philadelphia originally).
Former NFL officiating boss Mike Pereira, now a Fox analyst,
offered this take
: "Without this penalty, fans would have been left wondering why the play in San Francisco was ruled forward progress and this one wasn't. In my opinion, both plays should have been ruled forward progress and not fumbles."
I dislike the forward-progress ruling when it's close. Rules require players making receptions to hold onto the ball through the conclusion of the play. Why not enforce the same standard for players running with the ball? If officials think forward progress has been stopped, then they should blow the whistle. Had the whistle blown when Bradshaw lost the ball? How about when Cruz lost the ball? If not, the play was live, right?
I'm open-minded on this, but that's how it looks from this angle.
---
Bruce from Port Angeles, Wash.,
was among several writing to express satisfaction after seeing
Cortez Kennedy
become the second longtime
Seattle Seahawks
player enshrined in the Pro Football Hall of Fame. He appreciated whatever work was done in presenting Kennedy's credentials to the selectors.
Mike Sando:
The Mount Rushmore of Seahawks history would include Steve Largent, Kenny Easley, Kennedy and
Walter Jones
, in my view. Shaun Alexander deserves consideration as well, but I think those other guys were the elite of the elite in the pure ability to dominate their opponents.
Easley, Kennedy and Jones played extremely physical positions, too, so their dominance was a cut above simply by the nature of their jobs. I tend to favor candidates who flat-out dominated even when two or three opponents at a time matched up against them. Kennedy fit that criteria.
Kennedy's candidacy suffered some from the Seahawks' struggles during the 1990s. The team kept hiring offensive-minded head coaches in an effort to fix that side of the ball, going from Chuck Knox to Tom Flores to Dennis Erickson to Mike Holmgren during Kennedy's tenure.
Holmgren's arrival in 1999 led to an 8-2 start and playoff appearance that season. Kennedy had 6.5 sacks and two interceptions that year, with three of those sacks during Holmgren's return to Green Bay on the Monday night stage. Overall, Kennedy appeared in prime time only five times during his career. For that reason, many of the selectors rarely saw him play.
One key to Kennedy's enshrinement was making sure the selectors had
the relevant facts and testimonials
before them. Presenting Kennedy was straightforward. His credentials made it so.
---
Ted from San Carlos
thought
Wes Welker
was taking far too much criticism for the pass he failed to catch with four minutes remaining in Super Bowl XLVI. He questioned whether I had even watched the game. "How could you
blame Welker
for that 'drop' when the pass was terrible? Brady had a wide-open Welker and made a bad pass. It would have been a GREAT catch had he caught it. This is on Brady."
Mike Sando:
Welker blamed Welker. He is a credible source on the subject. The ball hit both of his hands.
---
Suzy from Dallas says Welker
"manned up" and took the blame for missing what would have been a "miracle" catch. "When you review the tape," she wrote, "please retract your entire story (like a man)."
Mike Sando:
David Tyree
made a miracle catch in Super Bowl XLII. Welker has a clear opportunity to make this catch. He is one of the best receivers in the NFL. Many sources,
including the Boston Globe
, have described this pass for what it was, a bit behind Welker, but catchable. If Welker had made that catch, people would not be talking about it in the vein they discuss Tyree's catch. Not even close.
---
Andy from Syracuse
was among several fans asking whether the 49ers' move to Santa Clara on game days will result in a name change.
Mike Sando:
They will still be the
San Francisco 49ers
. Their headquarters have been in Santa Clara for years. The team's history and heritage is very important to team persident Jed York. Santa Clara is not that far away.
---
Darren from Vacaville, Calif.,
did not like reading in our recent
Super Bowl losers story
the word "outclassed" to describe the Los Angeles Rams during their Super Bowl defeat to Pittsburgh following the
1979 season
. "This team had the feared Steelers on the ropes," he wrote.
Mike Sando:
I'm going to grant you this one. I actually did not write that part of the item. Jamison Hensley and I worked on that together. He wrote the part on the Rams. I saw it and did not disagree strongly enough to talk to him about adjusting it. It was a reasonable take given the Rams' status that season as a 9-7 team without its starting quarterback, Pat Haden.
Sorry, no Arizona Cardinals questions this time. There weren't any fresh ones atop the mailbag. My flight is making its way across the country. Figured I'd better file this while the laptop battery was strong, the wireless was working, etc.
June, 23, 2011
6/23/11
10:12
AM ET
By
ESPN.com staff
| ESPN.com
Arizona Cardinals
Quarterbacks, free agency and a look back at the draft are topics that are discussed by Paul Calvisi, Darren Urban, and Ron Wolfley in the
latest podcast on the team's website
.
Cardinals safety Kerry Rhodes, in an
in-depth Q&A with FOXSportsArizona.com
, on the Cardinals in 2011: "We're a couple players away from being right back in the mix and contending for a title. We have a nice mix of veterans and young guys, so if we can come out and attack it the way we can, barring any major injuries, we'll be right back in it."
San Francisco 49ers
Linebacker Scott McKillop
appears to be on track to be cleared to practice
if training camp opens at the end of July.
Niners Nation profiles the
kickers who might be available
once free agency starts.
Seattle Seahawks
Seahawks.com
looks back on the 1994 season
, which culminated with Tom Flores being fired.
Art Thiel weighs in on the nickname
that is inevitably going to stick with the renaming of the Seahawks' stadium: the Clink.
St. Louis Rams
Nick Wagoner
breaks down Rams rookie safety Jonathan Nelson
, who says he grew up a Tennessee Titans fan and recalls being upset following the Rams' victory in Super Bowl XXXIV.
Rodger Saffold calls himself a "
new breed of left tackle
. We're almost like bigger tight ends. With defensive ends getting lighter and faster, we have to do the same, but still keep our power."
March, 5, 2010
3/05/10
2:13
PM ET
I've counted 43 unrestricted free agents with Pro Bowls on their résumés.
Four are in their 40s, 15 others are at least 35, 21 more are at least 30 and the other three -- specialist
Kassim Osgood
, safety Roy Williams and running back
Willie Parker
-- are 29.
Some of them broke into the league under head coaches Dan Henning, Tom Flores, Bruce Coslet, George Seifert, Lindy Infante, Dom Capers, Pete Carroll (the first time), Ray Rhodes (in Philadelphia), Mike Holmgren (in Green Bay) and Dick Vermeil.
Great crop.
The restricted market could be more interesting, but even then, it's tough to justify parting with first- or second-round choices for players seeking lucrative long-term contracts.
January, 14, 2010
1/14/10
6:19
PM ET
Let's say you visited the Pro Football Reference
coaching archive
and singled out head coaches with at least five playoff games on their résumés.
Let's say you sorted the qualifying coaches by highest winning percentage.
Vince Lombardi would be at the top. The Cardinals' Ken Whisenhunt would be tied for second.
This goes to show how precious playoff victories can be, even for coaches with long track records. The great Bill Walsh enjoyed 10 playoff victories during his career. Whisenhunt can claim his fifth Saturday.
January, 8, 2010
1/08/10
2:09
PM ET
[+] Enlarge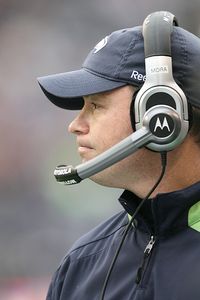 Otto Greule Jr/Getty ImagesJim Mora is the first Seattle coach to last only one season.
Following a legend can be rough.
Ray Rhodes found out when he tried to replace Mike Holmgren with the Packers. Rhodes lasted one season. The team managed to finish 8-8, but quarterback Brett Favre was floundering and Rhodes' leadership style came into question.
Jim Mora became the next Rhodes when the Seattle Seahawks, fresh off a 10-year run with Holmgren,
fired him Friday
after one season.
The organization is making a statement that the Seahawks need a complete makeover after putting together 4-12 and 5-11 seasons, the latter under Mora. A franchise that valued continuity in naming Mora to the job ahead of time has now decided a complete makeover is in order. There's no use in sticking with the wrong plan, the organization seems to be saying.
The Seahawks are a little tough to figure right now. That is understandable to a degree. Owner Paul Allen has been undergoing cancer treatments recently. He certainly has more important things on his mind. His top Seahawks executive, CEO Tod Leiweke, had advocated Mora's continued employment during the early December news conference to announce Tim Ruskell's resignation as general manager. What was Leiweke supposed to say in that situation? Exactly.
Ruskell was the one primarily responsible for landing Mora and installing him as coach-in-waiting. Ruskell's resignation foreshadowed potential trouble for Mora, although the general feeling was that every head coach should have more than one year to establish his program.
Allen, famous for co-founding Microsoft, is basically hitting control-alt-delete to trigger a forced system restart. The move makes Mora the first coach in Seahawks history to last only one season. Tom Flores lasted three. Dennis Erickson lasted four. Jack Patera lasted six and change. Chuck Knox led the team for nine seasons.
Did Mora deserve to be fired? We could make that case after a 5-11 season that saw the team getting worse in some areas. Was firing him fair? Not really. Most head coaches should get more than one season.
Those are not necessarily the most important questions here.
The key question is whether the Seahawks can hire someone demonstrably better, and whether the next coach can field a superior staff.
Finding the next GM should become easier now that it's clear the next GM will have input in hiring the head coach. The Seahawks can now move forward with their front office and coaching staff in chronological alignment for the first time in the better part of a decade. That is important as long as the Seahawks hire the right people.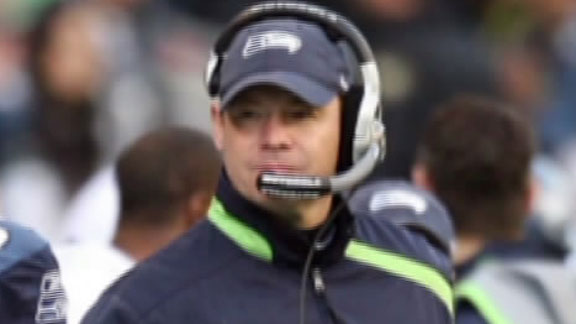 May, 23, 2009
5/23/09
10:30
AM ET
Posted by ESPN.com's Mike Sando

A trick question to test your divisional knowledge on a May Saturday: Which veteran head coach has led teams in three of the four current NFC West cities?

Hint: He's a current head coach.


NFC WEST SCOREBOARD
Saturday, 12/20
Sunday, 12/21