October, 19, 2014
Oct 19
11:35
PM ET
OAKLAND, Calif. -- When
Arizona Cardinals
left tackle
Jared Veldheer
woke up Sunday morning, he knew his return to the O.co Coliseum wouldn't be just another game.
"It was kind of nostalgic -- more than I thought would even hit me being back," the former Raiders third-round draft pick said. "Coming out pregame and running around back on the field, being back in the Coliseum and all the familiar things coming back from the last four years, it's a lot of emotion.
"I knew it was going to be a special game."
Leaving Oakland with a
24-13
win made it even more special.
Veldheer was one of three former Raiders on the field for Arizona. A lot was made last week about quarterback
Carson Palmer
's return, but defensive tackle
Tommy Kelly
played the first nine years of his career with the Raiders.
He said he wanted to get a win for Palmer, who played half of 2011 and all of 2012 with Oakland before a trade landed him in Arizona, but Kelly wanted the win for himself.
"As a football player, I learned a lot," he said. "I have a lot of love for this city and I wish the team nothing but the best. But on the football field, it's not anything personal. It's business. We just wanted to go out there, execute and win."
While Kelly didn't talk to any of his former Raiders teammates on the field -- "They kind of leave me alone. They know how I am," he said -- he discussed playing a former team with his new head coach, Bruce Arians.
"You can see the smiles on their faces all week and [the] energy they brought to practice and meetings," Arians said. "It was special for them, especially Tommy Kelly."
Palmer and Kelly left the Raiders in 2013, and Veldheer in 2014. Veldheer, who was drafted by Oakland in 2010, returned with a chip on his shoulder because of how his departure went down.
"It was a big win for both of us," Veldheer said.
"It meant a ton," he added.
Palmer, who completed 70.9 percent of his passes for 253 yards, two touchdowns and his first interception of the season, downplayed having a chip on his shoulder. He did, however, make sure to get a box of favorite sandwiches delivered to the locker room after the game. He also talked about seeing his former Oakland teammates still on the roster.
"It was a great environment to play in," Palmer said. "This place is awesome. It was great to play [here] when you're wearing silver and black and it's a fun place to play as an opponent. Great to get a win."
October, 3, 2014
Oct 3
8:00
AM ET
One has been a league power broker, one wants to be.
And when the
Denver Broncos
and
Arizona Cardinals
get together Sunday afternoon in Sports Authority Field at Mile High, the Broncos (2-1) will try to knock some of the rough edges off while the Cardinals (3-0), one of just two teams to arrive to Week 5 undefeated, will try to show they are ready to be at the front of the line.
Cardinals reporter Josh Weinfuss and Broncos reporter Jeff Legwold take a look at the game.
Legwold:
At 3-0, how do the Cardinals see themselves? Upstart in NFC? Or team that believes it should have made the playoffs last year and is ready to take the next step to be in this postseason mix this time around?
Weinfuss:
If there's one thing the Cardinals don't see themselves as, it's an upstart team. That much was instilled in them by Bruce Arians last season. Especially after upsetting Seattle at home last December, this team believed it should've been in the playoffs. And with how they played in the second half of the season, it's hard to argue with them. But the Cardinals who returned this year learned a lot from last season's first half, most notably how important it is to win those early games. What they're doing now isn't a surprise to those who pay attention to this team, and a lot of it is a direct result of Arians' demeanor. His straight-shooting personality -- curse 'em out on the field but hug 'em off of it -- has rubbed off on everyone in the locker room. It has led to this team to believe it could win for the first time since Kurt Warner was here.
Speaking of learning from last year, what was the main thing the Broncos took away from last season's loss in the Super Bowl, and how have they used it in 2014?
Legwold:
The main thing GM John Elway took away was he wanted far better personnel on defense and some more receivers who could battle their way through physical play from defensive backs. The result was an offseason spending spree that reeled in
DeMarcus Ware
,
Aqib Talib
and
T.J. Ward
on defense to go with wide receiver
Emmanuel Sanders
. The Broncos also used a first-round pick in the draft on cornerback
Bradley Roby
and a second-rounder on wide receiver
Cody Latimer
. So, the 35-point loss certainly forced a roster makeover and for the holdovers it did provide plenty of incentive as they went through the offseason workouts. There is a feeling, after the overtime loss to the
Baltimore Ravens
in the divisional round of the 2012 playoffs followed by the Super Bowl blowout, of trying to finally close the deal this time around.
In terms of roster makeover, with all that has happened to the Cardinals' defense with the injuries, etc., how have they pushed themselves into the league's top five?
Weinfuss:
Nobody expected Arizona to be among the league's top five defenses this year after losing the likes of
Karlos Dansby
and
Daryl Washington
before the season and then
Darnell Dockett
during training camp and
John Abraham
in the first few weeks of the year. But credit must be given to the Cardinals' front office. The brain trust has done a good job of finding veterans who still have gas in the tank, such as linebacker
Larry Foote
and defensive lineman
Tommy Kelly
. But the biggest reason for the defense's success is defensive coordinator Todd Bowles. His single-gap scheme revitalized this defense last year and all he has been doing is adding wrinkles here and there to adjust to his personnel. For example, Arizona is running a lot of nickel and dime packages because it gets rookie safety
Deone Bucannon
on the field. For as good of an offensive mind as Arians is, Bowles is his equal on the defensive side.
Have the additions to the Broncos' defense been paying off? Or is it too early to see a difference? Do you think they'll be the difference between another ring and a consolation prize?
Legwold:
The new arrivals have all had impact in the season's early going. Ware leads the team in sacks (2.5), Talib has been every bit the No. 1 corner they hoped he would be and Ward is one of two players on defense who have played every snap in the first three games, having been used in a variety of roles. The Broncos have seen enough from Roby. They've tossed him into the deep end of the pool as the rookie and he has matched up with some of the league's front-line receivers. All of that said, however, the Broncos still haven't consistently shown the kind of play they'll need to hoist a trophy, particularly on third down. As linebacker
Von Miller
and cornerback
Chris Harris Jr.
, who both had ACL injuries last season, continue to work back to full speed, the Broncos should continue to improve. Also, linebacker
Danny Trevathan
, who was the team's leading tackler last season and who suffered a fracture on the top of his tibia in training camp, will play in his first game of the season Sunday. It will mean the Cardinals will be the first team to face the revamped defense with all of the starters in place.
Sticking to defense, Manning heads into this game with 499 career touchdown passes. Between the two of them, Cardinals' assistant head coach/offense Tom Moore and head coach Bruce Arians have seen many of those up close as former Colts assistants. To that end, with that kind of up-close-and-personal knowledge, how do you think the Cardinals will defend Manning and the Broncos' offense?
Weinfuss:
One thing the defense has stayed consistent on this week is that they don't want to tip their hand to Manning before the snap. With that being said, I think they'll blitz him constantly -- all three of his sacks this season have come off the blitz, which, I can imagine, was good news to Bowles. But they won't blitz Manning like they'll blitz other quarterbacks because he's so good at adapting so quickly. Arizona plans on giving Manning the same look every snap. But guys who have played Manning know he'll wait until the very last second to make a decision because the defense will have to show their blitz by then, but the Cardinals will try to hold their disguise as long as possible.
With Manning coming up on such a historic mark, has it been a distraction for this team in the sense of more non-football attention has descended upon them? Are they ready for Manning to pass Brett Favre so they can just get back to focusing on football?
Legwold:
One thing about this team is the swirl around them doesn't get to them very often. Last season they had Miller's suspension in training camp, John Fox's open-heart surgery during the bye week and five defensive starters on injured reserve by the time they were preparing to play in the Super Bowl. The Super Bowl loss may have been the first, and worst, time for the Broncos not to play to the level of a game's standing last season. Before the title-game blowout, they had handled everything that had come their way without losing their edge. This time around players here simply assume Manning will hit 500 and then go on and break the record through the natural course of things. The record is nice, but they want another shot at the title and, for the most part, they see whatever happens along the way as issues that must be dealt with to get that chance.
September, 23, 2014
Sep 23
4:25
PM ET
TEMPE, Ariz. -- It's easy to laugh now at the film of
Tommy Kelly
's blocked field goal.
At the time, however, the
Arizona Cardinals
weren't aware of the situation they had just avoided by having nine men on the field for a fourth-quarter field goal attempt by San Francisco kicker
Phil Dawson
.
Kelly
"When they showed us in the special-teams meeting, I was like, 'Damn,'" Kelly said. "They could've just raised up and ran the ball over there where
Pat (Peterson)
was at. So, we got lucky. It was our day."
The Cardinals got away with one.
It would've been almost too easy for Niners holder
Andy Lee
to take the snap and just run left with it. The Cardinals had lined up six of their nine players either in line with or to the right of San Francisco long snapper
Kyle Nelson
. But the Niners had overloaded the left side of the line, sending five blockers to the left of Nelson, who ended up being responsible for three Cardinals.
"We could've done nothing about it," Kelly said.
"They would've trampled Pat P., that's all that would've happened."
It was Arizona's 17th blocked field goal since 2008, which leads the NFL.
Cardinals coach Bruce Arians wasn't surprised the Niners didn't run a fake field goal down 20-14 on fourth-and-17 with 13:40 left in the game -- even though they had the manpower to bulldoze their way for a first down.
"Those points are too critical, especially at that point," Arians said. "That was going to get it back to a three-point game. We did have our corners out there, but our outside 'backers came off the field."
Rookie
Kareem Martin
said he was one of the 'backers Arians was talking about.
It was either impressive or lucky that Kelly was able to get his hand on Dawson's kick with just nine players on the field.
Dan Williams
, who was on the field, said he didn't know the Cardinals were short-handed but said the momentum swing carried Arizona through the rest of its
23-14 win
.
Next time, however, the Cardinals will stick to blocking kicks with everyone on the field.
"We're going to try that with 11 guys next time instead of just nine," Arians quipped. "We had the right guys in the right spots, we just didn't have anybody on the outside of it."
September, 3, 2014
Sep 3
6:45
PM ET
TEMPE, Ariz. – When
Tommy Kelly
joined the
Arizona Cardinals
last Wednesday, he was handed a playbook and told to learn his new defensive scheme.
Not a big deal. He hadn't practiced with the team yet and was about to play in a meaningless, vanilla preseason game the next day. Flipping through the playbook was just like learning a new language in a week, Kelly said.
Kelly has been glued to his iPad and his book for the past week, learning the plays, the nuances of the scheme and the personality of defensive coordinator Todd Bowles. But following his first practice with the Cardinals on Tuesday, the playbook came to life as Arizona began preparing for San Diego on Monday night, making Kelly's job easier.
Kelly
"I figure, everything's been streamlined now," Kelly said. "You know exactly what we're going to run. Then it's much easier to learn the defense than just looking at the playbook and flipping through it, not knowing what the coach is going to call. But when I know what he's going to call, I kinda got a feeling at how he likes to call stuff."
His first week in Arizona was like preparing for a test without knowing what would be on the test, Kelly said. His second week will like taking the same exam, but with knowing the answers.
Cardinals coach Bruce Arians said Kelly has been able to pick up the defense just fine.
"It's not real hard," Arians said. "It's just what gap to get in. Defensive line, that playbook isn't real deep."
Kelly, who signed a one-year contract worth $955,000 with Arizona, said he "kinda asked" to be released by the
New England Patriots
on Aug. 24.
He had 22 tackles and 2.5 sacks in five starts last season in New England before tearing his ACL. Upon returning to training camp this year, Kelly resumed his role with the first team and started the first three preseason games.
But he could sense something was changing.
"I saw what was going on," Kelly said. "I mean, you're starting me, but you're taking me out. I don't know why you're taking me out. I had a situation with my deal and I saw what he was doing, so I got on my agent and we got together and I was just happy."
Kelly landed in Arizona, a team that was in need of depth on its defensive line and a spark in the pass rush ever since
Darnell Dockett
was lost for the season with a torn ACL suffered in training camp.
The 33-year-old Kelly could provide both.
"I think I can do anything you need me to do," he said. "I can stop the run. I definitely can rush the passer."
But Kelly will do it his way without trying to be Dockett.
"I can't go out there trying to be him," Kelly said. "I got to be Tommy. I've been in the league same amount of the years. I can do the same thing, baby. All I've got to do is worry about learning the playbook. I'll learn the playbook and play hard and I'll be OK."
August, 27, 2014
Aug 27
6:30
PM ET
It's often hard to read into what Bill Belichick is thinking, but he has a reputable track record when it comes to adding veteran free agents.
By the looks of how defensive lineman
Tommy Kelly
played in the first five games of last season before suffering an ACL injury, Belichick hit on another risk. Kelly, the 33-year-old tackle who was signed by the Cardinals on Wedesday, was on pace for the best season of his career before getting hurt last October. But philosophies change, personnel is turned over, schemes are altered and Kelly found himself without a job, regardless of the fact that he was running with the Patriots' first team during training camp.
Kelly
On Wednesday, he landed in a place where he might be able to have an instant impact because of the defensive linemen around him.
Throughout his career, when Kelly has played alongside another talented defensive lineman, such as Warren Sapp or Richard Seymour, his production grew. His career-high 7.5 sacks were with Seymour in 2011 and he shared a defensive line with Sapp for his career-high 67 tackles.
In Arizona, Kelly won't be the center of attention on the line –- that honor goes to
Calais Campbell
, who's coming off a career season with nine sacks. But coupled with the likes of
John Abraham
and
Matt Shaughnessy
off the edge, Kelly won't feel the need to be the main cog of the defense. He can rush the quarterback alongside them, giving the Cardinals much-needed depth in their pass rush.
With
Alameda Ta'amu
returning from ACL surgery, he and
Dan Williams
will rotate at nose tackle, leaving Kelly as a solid backup for
Frostee Rucker
. Add
Ed Stinson
to the rotation, and possibly
Isaac Sopoaga
, and Arizona's defensive line depth has been solved.
August, 21, 2012
8/21/12
4:25
PM ET
FLAGSTAFF, Ariz. -- The
Arizona Cardinals
weren't hurting for storylines as the team broke training camp Tuesday at Northern Arizona University.
Unsettled situations at quarterback and offensive tackle continue to command attention, but the pending 2012 preseason debut of running back
Beanie Wells
also deserves consideration.
Wells has been practicing with the team following offseason knee surgery. The team expects him to play against Tennessee on Thursday, probably in a limited role.
Wells has shown good speed in practice from what I've seen this week. He did seem to favor the surgically repaired knee slightly when I watched him running hard Monday. Making it through a few live carries Thursday could help him take the next step in his return. Players often speak of clearing mental hurdles. The first big hit can be one of them. That was the case for the team's other top runner,
Ryan Williams
, who made his post-surgery debut against Oakland last week.
Wells and Williams have the potential to give Arizona an enviable one-two punch in the backfield. Wells topped 1,000 yards rushing as the team's power back last season. Knee trouble did slow him, however. Williams is the shiftier of the two. He was the most promising young player in camp a year ago until suffering a torn patella against Green Bay.
A few other notes from Cardinals practice Tuesday:
I'll be driving down from Flagstaff to Phoenix before catching a flight back to Seattle's
Russell Wilson
International Airport. Or is it still called Sea-Tac?
Cardinals "Camp Confidential" to come this week.
August, 18, 2012
8/18/12
5:10
PM ET
Arizona Cardinals
quarterback
Kevin Kolb
has issued a strong response to an accusation that
he lacks toughness
.
Kolb, responding to comments
Oakland Raiders
defensive lineman
Tommy Kelly
made,
said this
to Darren Urban of the team's website:
"Scared? Scared of what? Taking a hit? I have never been afraid of anyone on the field and that will never change. That includes No. 93 (Kelly). There's a fine line between holding in the pocket and trying to escape to make a play. Tommy Kelly is too clueless to know the difference. I don't mind people criticizing my play. Don't ever question my toughness."
Kolb probably needed to say something after Kelly's comments made headlines. Kolb mostly needs to produce better results on the field. He needs to demonstrate the fighting spirit reflected in his comments.
This isn't the first time a quarterback has had his toughness questioned.
Alex Smith
had his own coach, Mike Nolan, question his toughness years ago.
Smith stood up for himself
in the short term and then went about proving his toughness on the field. The manner in which he handled that situation helped him survive it and emerge, with help, as a viable quarterback.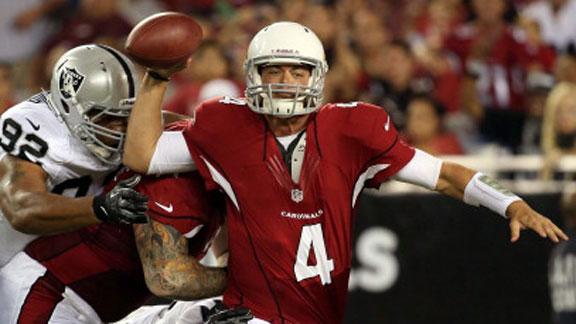 August, 18, 2012
8/18/12
2:00
PM ET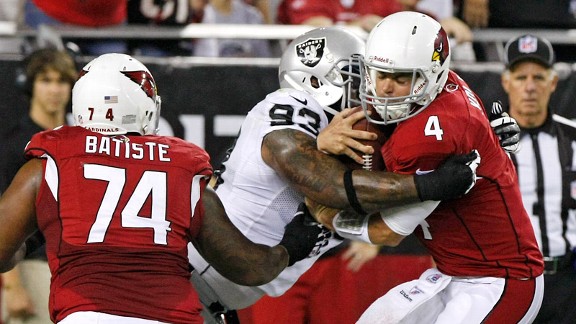 AP Photo/Rick ScuteriThere has been mounting criticism of Arizona quarterback Kevin Kolb's presence in the pocket.
The
Arizona Cardinals
were so much better on several fronts during their
31-27 exhibition victory
over Oakland on Friday night.
The game could wind up being a disaster for them anyway.
Left tackle and especially quarterback are two of the most important positions on an NFL roster. Bad things happened for the Cardinals at both of those positions. Let's consider the potential ramifications:
Left tackle
Starter
Levi Brown
suffered a torn triceps that will keep him out at least three months and possibly for the full 2012 season,
ESPN's Adam Schefter reported
.
Brown, though heavily criticized as a pass protector in particular, is the best tackle on the roster. The Cardinals faced tough questions at tackle even when Brown was available to them. Subtracting Brown from the equation stings, especially because the Cardinals haven't done well drafting or developing younger players for the line.
Arizona is one of two NFL teams, with Tennessee being the other, to draft zero offensive linemen in the first three rounds over the past five drafts. A few good teams have similarly ignored the position early in those drafts -- New Orleans, Philadelphia and the
New York Giants
have each taken just one that early since 2008 -- but that is little consolation. The Cardinals could use young reinforcements.
Veteran
Jeremy Bridges
has played left tackle in the past. Perhaps he can do so again. He's tough and will battle. Ideally, though, Bridges would have provided a veteran fallback on the right side. Brown's absence could push Bridges to the left side. That could, in turn, push rookie fourth-round choice
Bobby Massie
into the lineup at right tackle on an accelerated schedule.
D'Anthony Batiste
is another veteran tackle on the roster. He is 30 years old and has four career starts, all with Atlanta in 2007.
D.J. Young
, an undrafted free agent in 2011, worked at left tackle after the Cardinals lost Brown. He has never played in a regular-season game. Rookie fifth-round choice
Senio Kelemete
, a left tackle in college, has projected at guard with the Cardinals.
Quarterback
What began as a promising night for
Kevin Kolb
turned into another referendum on his overall suitability for the position. We've heard coaches and analysts criticize Kolb for bailing from the pocket prematurely when pressure arrives. We haven't heard these people say Kolb bailed prematurely out of fear, but Raiders defensive lineman
Tommy Kelly
came right out and said it Friday.
"He is skittish. He is scared back there,"
Kelly said
. "Anytime anybody gets close to him, he starts looking at the refs. As a defensive lineman, you love a quarterback like that. He ain't even trying to look at the routes no more. He is paying attention to us and you ain't going to get nothing done like that."
Kelly's criticisms line up with the comments Cardinals coaches have made about Kolb. They've wanted him to hang longer in the pocket. They've also said the Cardinals' quarterbacks failed to find wide-open receivers last season. Connecting the dots, it's tough to hang in the pocket if you're afraid, and tough to find wide-open receivers if you're focused on defensive linemen.
If Kelly is saying these things, some Cardinals players are likely thinking them, in my view. Throw in the March report suggesting the Cardinals had "
lost confidence
" in Kolb and the picture is not a pretty one for the quarterback.
We have so far seen in Kolb a player who has:
Received nearly $20 million from the team in about one year, setting high expectations;

Missed four games with a turf-toe injury and three more with a concussion -- this after failing to last one full game as Philadelphia's starter in 2010, suffering a concussion then as well;

Tossed an interception on his first preseason pass of 2012;

Exited the 2012 exhibition opener with an injury;

Taken three sacks, one for a safety, in limited work against the Raiders;

Invited the most damning kind of criticism a quarterback can take, this from an opponent.
Kolb has completed 5 of 15 passes for 47 yards with no touchdowns, one interception and four sacks in three relatively short preseason appearances.
I've gone from giving Kolb a slight edge to favoring Skelton by default to thinking there's little hope for Kolb to salvage the situation. The confidence I thought Kolb showed during the early days of his first training camp with Arizona (in 2011) was either imagined or fleeting.
The Cardinals can still come out OK if Kolb pulls a reversal or if Skelton winds up being the answer. Until then, Cardinals fans have reason to be a little skittish, even scared, as the regular season approaches.
August, 17, 2012
8/17/12
11:54
PM ET
Looking back on three things discussed here before Arizona's preseason home opener Friday night against Oakland, a game the Cardinals led at halftime 24-11 when I filed this entry, and eventually won 31-27:


1. Ticking QB clock.
Kevin Kolb
and
John Skelton
led first-half touchdown drives on short fields. Kolb completed a pass for a third-down conversion on the opening drive. He held the ball too long on subsequent drives. Pressure was a problem as well. Kolb did not handle it well. He took a penalty for intentional grounding at the Arizona 1-yard line, then got sacked for a safety on the next play. Oakland defensive lineman
Tommy Kelly
ran off the field and yelled of Kolb, "That boy's scared," according to the Raiders' preseason TV coverage. Kolb completed 3 of 6 passes for 22 yards.
Skelton completed all three pass attempts for 23 yards on his only meaningful first-half drive, the final one for a touchdown to fullback
Anthony Sherman
.
Rookie Ryan Lindley opened the second half as the Cardinals' quarterback. Skelton hardly played as a result, leaving the impression coach Ken Whisenhunt wasn't looking for additional information on his top two passers. By then, the Cardinals had also lost left tackle
Levi Brown
to a triceps injury, raising additional questions about the offensive line. Pass protection was already an issue.
Skelton would appear to have the edge in this competition, in my view. Two exhibition games remain, however.
2. RB health.
Ryan Williams
played in a game for the first time since suffering a torn patella during the preseason 364 days earlier. This was a promising performance for Williams. He carried five times for 25 yards and a touchdown, with a long run of 15 yards.
Alfonso Smith
took over from there. Starter
Beanie Wells
, back at practice recently after undergoing offseason knee surgery, did not play.
3. Outside pass-rush.
Outside linebacker
Quentin Groves
was the player I had in mind, but the Cardinals got most of their pressure up the middle, at least in the first half. Defensive end
Darnell Dockett
drew a penalty for hitting
Carson Palmer
in the legs. Nose tackle
David Carter
got pressure to force an incomplete pass near the goal line.
Reggie Walker
and
Stewart Bradley
got pressure on inside blitzes. I'll check out the second half and report back Saturday if warranted.
August, 21, 2011
8/21/11
10:24
AM ET
Looking back upon three things discussed
here
before the
San Francisco 49ers
'
17-3 victory
against the
Oakland Raiders
on Saturday night:


1. Progress on offense.
The 49ers opened the game with a 16-play drive to the Oakland 2. Their first four drives in the preseason opener totaled 12 plays. That is progress.
Alex Smith
completed 8 of 13 passes for 126 yards and one interception. He made good use of timing throws to beat pressure early in the game, another improvement. One pass for
Vernon Davis
on a quick slant drew a pass-interference penalty. Another found
Braylon Edwards
after the 6-foot-3 receiver pushed off without officials noticing. On the down side, Smith didn't see Raiders defensive end
Matt Shaughnessy
dropping into coverage on a third-and-8 play. Schaughnessy picked off Smith's pass intended for Davis, killing the 49ers' second drive. The highlight for Smith and San Francisco: Edwards' one-handed, diving grab for a 32-yard gain. Overall, the 49ers can feel better about how their offense is performing.
2. More Aldon Smith.
The 49ers' rookie first-round draft choice worked with the starters late in the first half. Before that, Smith affected the game without even being on the field. His presence on the roster and strong showing in the first preseason game gave the man ahead of him on the depth chart,
Parys Haralson
, ample incentive. Haralson stood out early in the game, including when he brought down Raiders quarterback
Jason Campbell
for a fourth-down sack in the red zone. Once Campbell left the game injured, backup
Trent Edwards
threw an interception into double coverage even though Raiders left tackle
Jared Veldheer
locked down Smith on the play. Early in the third quarter, Smith fought off Raiders tight end
Brandon Myers
to make a tackle against the run. Later, Smith beat backup left tackle
Seth Wand
to the inside, pressuring
Kyle Boller
into an incomplete pass on third-and-7.
3. Right guard Chilo Rachal.
The 49ers are seeking better consistency from their right guard. They got it during a 16-play drive to open the game. Rachal caught my attention early by peeling off his original man,
Richard Seymour
, to pick up
Tommy Kelly
. Rachal's awareness on the third-down play allowed Smith to find Davis for a reception past the first-down marker. Later in the drive, Rachal pulled to the right and impeded
Jerome Boyd
just long enough for
Anthony Dixon
to reach the corner for a 12-yard gain on second-and-10. As the drive wound down, Rachal trapped Shaughnessy to free
Frank Gore
for a 4-yard gain to the 2. On the 49ers' second drive, Rachal strung out Kelly long enough for Dixon to cut back and knife into the secondary for a 9-yard gain. The 49ers ran the ball almost at will and Rachal did his part from what I could tell. His replacement,
Tony Wragge
, helped spring
Kendall Hunter
for a 53-yard touchdown run.
August, 19, 2009
8/19/09
8:25
AM ET
Posted by ESPN.com's Mike Sando

Kent Somers of the Arizona Republic says veteran nose tackle Bryan Robinson is making it tough for Gabe Watson and Alan Branch to take his job. Somers: "A year ago, no one envisioned Robinson starting at nose tackle. The Cardinals signed him to a two-year contract in spring 2008, thinking he would be a rotation player at end or tackle, a veteran who would be willing to mentor the younger players."
Also from Somers: Ken Whisenhunt canceled practice and took his team to the movies, an annual custom this far into training camp.
Darren Urban of azcardinals.com checks in with Cardinals cornerback Michael Adams, who is trying to earn a roster spot despite concerns about his height.

Taylor Price of 49ers.com says the team liked practicing with the Raiders as a change of pace. Price: "On the very first play of 11-on-11 work, center Eric Heitmann leveled Raiders defensive tackle Tommy Kelly at the line, allowing Frank Gore to burst for a nice gain down the right side of the line."
Matt Maiocco of the Santa Rosa Press-Democrat says 49ers running back Frank Gore is learning from running backs coach Tom Rathman. Maiocco: "Gore said he takes great pride in his ability to block. He said Rathman has helped him tremendously in that area, showing him how easy it can be as long as he takes proper angles."
Also from Maiocco: "Defensive coordinator Greg Manusky singled out safety Reggie Smith and defensive lineman Ricky Jean-Francois for their play in Friday's exhibition opener. Smith, of course, had an interception and also picked off a two-point conversion attempt. Jean-Francois held up well at the point of attack on run plays, Manusky said."
Matt Barrows of the Sacramento Bee says 49ers safety Michael Lewis suffered a concussion in the morning session Tuesday, possibly jeopardizing his status for the second exhibition game.
Daniel Brown of the San Jose Mercury News says Mike Singletary's emphasis on avoiding fights paid off while the 49ers practiced with the Raiders. Also: "Shaun Hill was the sharpest 49ers quarterback on Tuesday, especially during the morning practice. During 11-on-11 drills, Hill completed 12 of 14 passes -- and one of those incompletions was a spike to stop the clock. Alex Smith was 7 of 13. It would have looked better had Arnaz Battle hauled in a downfield pass over the middle during the two-minute drill."

Danny O'Neil of the Seattle Times had this to say, among other things, during his most recent chat: "People might disagree, but I thought Julius Jones looked good in Saturday's game. I think he's got a shot to be a very productive starter. I think [Justin] Forsett is promising and ahead of where the team had hoped, but I don't think he's ready to displace Julius Jones."
Also from O'Neil: Seahawks tight end John Carlson appears on the verge of a tremendous season. Carlson has improved his lower-body strength to become a better blocker, and it showed early in the Seahawks' exhibition opener, offensive coordinator Greg Knapp said.
Clare Farnsworth of seahawks.com also sees very good things from Carlson. Also, Steve Mariucci showed up at practice and went after Matt Hasselbeck.
John Morgan of Field Gulls saw good things from Seahawks linebacker Will Herring in the exhibition opener.

Jim Thomas of the St. Louis Post-Dispatch thinks Craig Dahl will be the fourth safety for the Rams. He thinks Alex Barron appears more comfortable at left tackle. He thinks Joe Klopfenstein, Adam Carriker and Quinton Culberson have been disappointments so far. All part of Thomas' weekly Rams chat.
Bill Coats of the St. Louis Post-Dispatch says Barron's knee checked out OK. Also, Mark Setterstrom and John Greco took first-team snaps at left guard while Jacob Bell recovered from a concussion.
Turf Show Times' VanRam raises concerns about Marc Bulger's injury while wondering whether Chris Long will step up as a pass-rusher.
February, 27, 2009
2/27/09
11:06
AM ET
Posted by ESPN.com's Mike Sando
We can now say definitively what I've been telling hopeful NFC West fans for weeks: Your team probably wasn't going to make a play for Albert Haynesworth.
The Redskins signed Hayesworth to a deal that makes it virtually impossible for the defensive tackle to exceed expectations. Haynesworth will be looking to do what nine of the highest-paid defensive tackles failed to do last season: win a playoff game.
Most of the highest-paid defensive tackles signed new or renegotiated contracts over the last two offseasons. The nine leaders in average annual salary:
Haynesworth was very difficult to contain while playing for a new contract. Will he prove as dominant over the long haul without short-term incentive? Will NFC West teams regret diving into the Haynesworth sweepstakes?
August, 4, 2008
8/04/08
5:17
PM ET
Posted by ESPN.com's Mike Sando
KIRKLAND, Wash. -- Pass-rush drills make for some of the most entertaining spectating at NFL training camps.
Seattle's Rocky Bernard took down center Steve Vallos with a powerful move at Seahawks practice this morning. Down the coast, Matt Barrows of the Sacramento Bee provided a scorecard for the pass-rush drills between the Raiders and 49ers today
I went through and totaled up the results: The 49ers' Joe Staley went 2-0 in his matchups against the Raiders' defensive linemen. Teammate Barry Sims went 2-0-1. The 49ers' Jonas Jennings went 1-0. Teammate and fellow offensive lineman Joe Toledo went 1-0-1.
For the Raiders, defensive tackle Josh Shaw went 3-0, beating Adam Snyder twice and Tony Wragge once. Raiders defensive linemen Terdell Sands went 2-0 against the 49ers. Raiders defensive tackle Tommy Kelly went 2-0-1. No player participated in more than three matchups.
The 49ers' Chilo Rachal, Damane Duckett and Eric Heitmann each won two of three.
Additional results, first for the 49ers: Adam Snyder (1-2), Brian De La Puente (1-1), Cody Wallace (2-2), Alan Reuber (0-1-1), John Booker (0-1-1) and Tony Wragge (0-2). For the Raiders: Gerard Warren (1-2), Derrick Gray (1-2), Greg Spires (0-2-1), William Joseph (1-2), international player Mauricio Lopez (0-2), Jay Richardson (1-1), Trevor Scott (0-2-1), Greyson Gunheim (1-0-1), Kalimba Edwards (0-2), Derrick Burgess (0-1).