November, 17, 2012
11/17/12
1:30
PM ET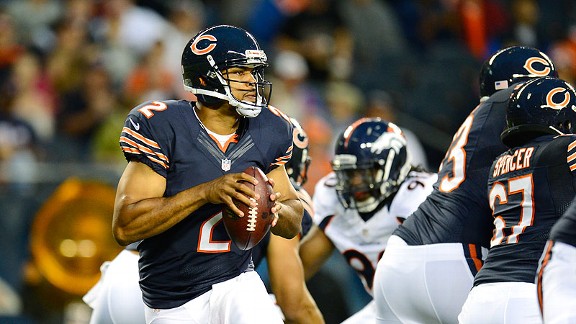 Mike DiNovo/US PresswireBears backup Jason Campbell's career stats are similar in many ways to starter Jay Cutler's.
The
San Francisco 49ers
won't have to face
Chicago Bears
quarterback
Jay Cutler
on "Monday Night Football" in Week 11.
They'll draw backup
Jason Campbell
instead.
This would seem to increase the 49ers' chances for victory, but based on what? Cutler has a better won-lost record as a starter. He has greater experience running the Bears' offense. But if you're looking for additional evidence, you won't find it in the traditional or advanced stats used to evaluate quarterbacks over time.
You'll see a couple of quarterbacks who have produced similarly over the past five seasons. Cutler has played more and for better teams. But his NFL passer rating since 2008 is 83.0, compared with 85.1 for Campbell and 84.1 for every other NFL quarterback. Cutler's Total QBR score since 2008 checks in at 56.5 when 50 is about average and 65-plus represents Pro Bowl-caliber play. The figure was 50.9 for Campbell and 52.0 for all others.
The point is that the 49ers might not be catching a big break while Cutler sits out the game after suffering a concussion in a 13-6 home defeat to the
Houston Texans
in Week 10. The Bears paid a $3.5 million salary for Campbell to be their backup because they figured they could win with him.
"We feel like he is a starting quarterback in the NFL that we have being our backup, and we feel very comfortable with him leading us," Bears coach Lovie Smith told reporters.
NFC North blogger Kevin Seifert and I discussed on a recent
Inside Slant podcast
how aggressive the Bears should be in re-signing Cutler after the season. I had some general impressions of Cutler but was curious to see how he stacked up against the highest-paid quarterbacks the past few seasons.
Peyton Manning
,
Aaron Rodgers
,
Tom Brady
,
Drew Brees
and
Matt Ryan
all had QBR scores in the 70s among regular starters over that period. Cutler was at 56.5. The figure for Cutler is 50.3 since 2009, compared with 50.5 for former Bears starter
Kyle Orton
and 47.7 for Campbell. Again, all the top quarterbacks were closer to 65-plus.
Cutler does have a 31-19 starting record with the Bears. That is far better than the 31-39 mark Campbell has posted for his career. But the Bears were 30-20 in the 50-game period before Cutler arrived. Orton,
Rex Grossman
and Brian Griese were their starting quarterbacks in that span.
Campbell's former team, Washington, was 31-39 in the 70-game span before Campbell posted the same starting record for the Redskins and Oakland Raiders. Tony Banks, Shane Matthews, Patrick Ramsey, Danny Wuerffel, Tim Hasselbeck and Mark Brunell were the starting quarterbacks during that run.
Quarterback play matters a great deal. Teams with the higher QBR scores have won 86 percent of games since 2008. Teams with higher NFL passer ratings have won 79.7 percent of the time over the same period. Those figures outrank even the winning percentages for teams winning the turnover battle (78.5 percent, a figure related to the previous two in that QBs are leading contributors to turnover stats).
The Bears are most dangerous for their defense, however. They rank among the NFL's top five on defense in passer rating, QBR, yards, rushing yards, net yards per pass attempt, interception percentage, third-down conversion rate and points. They were built to win without great quarterback play.
So, if Cutler has been only slightly above average and Campbell plays an average game Monday night, the drop won't be as pronounced as it usually is when a journeyman replaces a big-name quarterback. And if Campbell plays poorly, well, Cutler has done that, too. He has thrown more than three picks in a game four times since 2008, a league high.
January, 21, 2012
1/21/12
3:58
PM ET
With Brian Schottenheimer in line to become the
St. Louis Rams
' offensive coordinator, I'll republish a chart
we discussed recently
. This one shows the
New York Jets
' offensive production with Schottenheiemer as coordinator.
About one year ago, our AFC East blog featured
an item
leading this way: "Brian Schottenheimer's prospects for being a head coach never have been higher."
That item noted that Schottenheimer had worked with
Tony Banks
,
Jeff George
,
Drew Brees
,
Doug Flutie
,
Philip Rivers
,
Chad Pennington
,
Kellen Clemens
,
Brett Favre
and
Mark Sanchez
over the years -- quite a varied group.
Clemens' presence on the Rams' roster right now could mean the team already has its top two quarterbacks for 2012, with
Sam Bradford
as the starter. Clemens would presumably know Schottenheimer's offense. That would enable him to assist Bradford and other players as the Rams learn a new system.
Opinions on Schottenheimer are mixed. Some think he became too predictable as a play caller and contributed to Sanchez's stunted development. A case could also be made that Schottenheimer did the best he could with a limited quarterback.
It's possible neither of those things is true. Those seeking context should check out
this Newark Star-Ledger piece
on Schottenheimer and the Jets from earlier in the 2011 season.
The Rams also interviewed former
Oakland Raiders
coach Hue Jackson for the role. They are also working on
additional staff hires
.
September, 8, 2011
9/08/11
11:02
AM ET
Cool note from ESPN Stats & Information: First-year
San Francisco 49ers
coach Jim Harbaugh is the last quarterback other than
Peyton Manning
to start a regular-season game for the
Indianapolis Colts
.
That will change when
Kerry Collins
replaces an injured Manning in the Colts' lineup for Week 1.
The first preseason game I covered as an NFL beat reporter featured Manning making his first start against the
Seattle Seahawks
in the Kingdome. His very first pass found
Marvin Harrison
for a 49-yard touchdown. Preseason games are generally without much meaning, but could there have been a more fitting beginning for Manning?
For a fuller appreciation of Manning's durability and consistency in starting 227 consecutive games, I went through Pro Football Reference counting how many quarterbacks had started for current NFC West teams since Manning made his regular-season debut. There have been 48. That figure includes 14 for the
St. Louis Rams
, 13 for the 49ers, 11 for the
Arizona Cardinals
and 10 for the Seahawks.
A few notes on the 48 players to start for current NFC West teams since 1998:
There have been two Brocks (Berlin, Huard), two Charlies (Frye, Whitehurst), two named Chris (Chandler, Weinke), two Jeffs (Plummer, Martin), three Johns (Friesz, Navarre, Skelton), one Jon (Kitna), two Matts (Hasselbeck, Leinart), two Shauns (Hill, King), three Steves (Young, Bono, Stenstrom) and two Trents (Dilfer, Green).
Two, Young and Warren Moon, have been enshrined in the Pro Football Hall of Fame since Manning's streak began.
Dilfer and Warner started for more than one current NFC West team since Manning's streak began. Warner started 57 games for Arizona and 50 for St. Louis. Dilfer started 12 for Seattle and six for San Francisco.
Hasselbeck has the most total starts for current NFC West teams with 131, followed by Marc Bulger (95 for St. Louis), Jake Plummer (73 for the Cardinals) and Jeff Garcia (71 for the 49ers).
Smith -- Alex, not Troy -- owns the most starts among current NFC West players with 50, all for San Francisco.
Eight of the 48 were one-and-done as starters: Berlin, Scott Covington, Ty Detmer, Glenn Foley, Friesz, Frye, Navarre and Weinke. Nineteen have made at least 10 starts.
The NFC West will have two starters new to the division in Week 1:
Tarvaris Jackson
and
Kevin Kolb
.
The chart shows start totals by team for the 48. The NFC West changed membership with realignment in 2002. I'm going back to 1998 for the four teams currently in the division.
April, 17, 2011
4/17/11
9:45
AM ET
Some narration is in order while looking back at every quarterback current NFC West teams have selected over the past 15 NFL drafts.
Back up the Brink's truck. We're all in with these guys ...

Rolling the dice at the top of the draft is risky. Good thing so many top quarterbacks are available a little later ...
How are these guys still on the board? We must know something other teams do not ...
You mean we haven't selected a quarterback yet? Better grab one now ...

Signing free agents after the draft is a pain. Let's save some time, and if we luck into the next Tom Brady, everyone will call us geniuses ...

April, 4, 2011
4/04/11
5:42
PM ET
Facebook friend Barrett
was on the right track when he said NFL teams have struggled finding quarterbacks in the second and third rounds.
Teams tend to overvalue quarterbacks in the draft, which means the most promising ones rarely escape the first round. Teams tend to focus on other positions in the rounds immediately following the first round before "taking flyers" on the position later in the draft.
We see this when looking at the number of quarterbacks drafted by round since 2000. There have been 31 in the first round, 16 in the second, 17 in the third, 20 in the fourth, 24 in the fifth, 36 in the six and 32 in the seventh.
The chart, updated since
it ran in February 2010
, ranks second-round quarterbacks since 1995 by number of games played.
While we're on a hot streak, let's take a quick look at third-round quarterbacks drafted since 1995, arranged by team:
Count Schaub and Whitehurst among those who were more valuable to their teams as trade bait than as quarterbacks.
March, 10, 2010
3/10/10
12:00
PM ET
»
NFC Recent History
:
East
|
West
|
North
|
South
»
AFC
:
East
|
West
|
North
|
South
»
Draft Watch
:
Biggest needs
(2/17) |
Busts/gems
(2/24) |
Schemes, themes
(3/3) |
Recent history
(3/10) |
Needs revisited
(3/17) |
Under-the-radar needs
(3/26) |
History in that spot
(3/31) |
Draft approach
(4/7) |
Decision-makers
(4/14) |
Dream scenario/Plan B
(4/21)
Each Wednesday leading up to the NFL draft (April 22-24), the ESPN.com blog network will take a division-by-division look at key aspects of the draft. Today's topic: Recent history.

Arizona Cardinals
Seven of the nine players Arizona has drafted among the top 50 picks since 2005 project as starters for the upcoming season. That's not bad, although one of the seven --
Antrel Rolle
, selected eighth overall in 2005 -- will do so for the Giants.
The Cardinals have generally done a good job in recent years finding and developing players throughout the draft.
Dominique Rodgers-Cromartie
(first round),
Beanie Wells
(first),
Deuce Lutui
(second),
Calais Campbell
(second),
Early Doucet
(third),
Greg Toler
(fourth),
Steve Breaston
(fifth),
Tim Hightower
(fifth),
Ben Patrick
(seventh) and
LaRod Stephens-Howling
(seventh) have become building blocks or at least promising prospects. All were drafted in the past four years. All but Lutui were chosen since Ken Whisenhunt arrived in 2007.
Two potential mistakes -- drafting
Levi Brown
fifth in 2007 and
Matt Leinart
10th in 2006 -- could significantly affect the team this season now that
Kurt Warner
's quick release and accurate throws aren't around. The Cardinals aren't set at either position. Another mistake -- selecting nose tackle
Alan Branch
33rd in 2007 -- could lead the team to address that position early in 2010.

San Francisco 49ers
The 49ers have drafted four players among the top 11 picks since 2006, and three of them --
Vernon Davis
,
Michael Crabtree
and
Patrick Willis
-- are either stars or heading in that direction. It's the fourth guy --
Alex Smith
, selected first overall in 2005 -- whose fate could determine whether the 49ers realize the fruits of recent draft classes.
San Francisco headed into the 2009 draft needing an offensive tackle and a pass-rushing outside linebacker. The team drafted neither, pouncing on Crabtree when he was available unexpectedly at No. 10. Tackle in particular remains a need heading into the 2010 draft. It's an upset if the 49ers, with two first-round choices, let another draft pass without addressing that position in a meaningful way.
The 49ers have gotten old in the secondary, particularly at corner; they haven't used a first- or second-round choice on a defensive back in any of the past five drafts. Of course, it's tough to draft players in that range when sitting out the second round. The 49ers have selected only twice in second round since the 2005 hiring of Scot McCloughan, who was promoted to general manager before the 2008 season. San Francisco used both second-rounders for guards.

Seattle Seahawks
Success through the middle of the decade left the Seahawks picking later than their NFC West rivals. The team has selected only one player --
Aaron Curry
, the fourth overall choice in 2009 -- among the top 25 overall picks since 2005.
Unlike the Colts, who have consistently drafted well late in the first round, the Seahawks have come away with
Chris Spencer
,
Lawrence Jackson
and
Kelly Jennings
with selections made in that range. Trading away a 2007 first-rounder for
Deion Branch
stands as another misuse of prime draft capital. No wonder the organization is starting over.
For all of the failures on the offensive and defensive lines, no Seattle draft choice since
Shaun Alexander
in 2000 has become a dynamic threat to score touchdowns. Coach Pete Carroll has lamented the lack of offensive firepower. The Seahawks must reverse that trend starting in the 2010 draft. They need playmakers.
Whether the Seahawks land Broncos receiver
Brandon Marshall
as a restricted free agent will largely determine how much flexibility the team has on draft day.

St. Louis Rams
The Rams haven't selected a quarterback in the first five rounds since using a 1996 second-rounder for Tony Banks (update: they did take Joe Germaine in the fourth round of the 1999 draft).
Lucking into Warner more than a decade ago stands as one of the great stories in NFL history. It's not very repeatable.
The Rams know this. They also know the value of drafting a quarterback in the first round, even though risks can be high.
St. Louis has gone the safe route in recent drafts, using four of their last five first-round choices to build their lines. Too many of those early picks --
Alex Barron
,
Tye Hill
,
Adam Carriker
-- haven't worked out as planned.
Chris Long
and
Jason Smith
, linemen selected second overall in the last two drafts, do not appear to be dynamic talents even though both should start for years to come.
The Rams absolutely, positively need to find a difference-maker with the first overall choice.
No position affects a team the way quarterback does, one reason Oklahoma's Sam Bradford could be tempting. It's not like the Rams can count on finding a quarterback later in the draft, particularly this year. The question, really, is whether Bradford is promising enough to warrant such a high pick.
February, 22, 2010
2/22/10
10:38
AM ET
The earlier item
showing where teams target positions among the first 32 draft choices raised questions about quarterbacks in particular.
Fourteen of the 37 quarterbacks drafted in that range since 1995 went first or third overall. None went in 15 of the 32 highest spots, including 13th through 16th or 27th through 31st.
"The interesting point on second-round QB picks will be who they were, how long until they were a starter (if ever) and if they stuck with their drafting team," Bcook122 wrote in response. "I'm hoping this year's crop may yield a good prospect without having to exact one of those two first-round picks the Niners have."
The first thing I did was break out all second-round quarterbacks selected in the last 30 drafts, figuring this would provide big-picture perspective. One of the quarterbacks in question,
Drew Brees
, appeared on the previous list because the Chargers selected him 32nd overall before the NFL expanded to 32 teams. Some of the best ones --
Boomer Esiason
,
Randall Cunningham
and Neil Lomax -- were drafted between 1981 and 1984. Another,
Brett Favre
, went in 1991.
The next step involved narrowing the search range to all drafts since 1995.
NFL teams have drafted 17 second-round quarterbacks during that period, including Brees. The Dolphins (three) and Lions (two) drafted five of the 17, including four since 2007. Eight of the 17 were drafted since 2006. Three of the 17 have gone to Pro Bowls, but Brees is the only one with a career passer rating higher than 77.9.
The chart ranks these 17 quarterbacks by regular-season games played. Of course, the earlier a quarterback is drafted, the more chances an organization will generally give him.
October, 30, 2009
10/30/09
8:14
AM ET
Posted by ESPN.com's Mike Sando

Kent Somers of the Arizona Republic
says Cardinals coach Ken Whisenhunt prefers being aggressive to playing it safe, one reason he called pass plays while leading the Giants in Week 7. Whisenhunt: "When we're aggressive, when we go after things, it gives us a better chance to be successful. I think our players seem to rise to the challenge a lot better."
Also from Somers
: The Cardinals have received 24-hour blackout extensions three times in four home games this season despite improved local TV ratings.
More from Somers
: The Cardinals apparently do not plan to wear white uniforms Sunday despite posting a strong record when wearing them recently.
More yet from Somers
: Tackles Mike Gandy and Levi Brown played relatively well against the Giants. I thought center Lyle Sendlein threw some good blocks as well, particularly in the run game.
Darren Urban of azcardinals.com
thinks the Vikings-Cardinals game Dec. 6 could be flexed into prime time on NBC. That move cannot be made until Nov. 22.
Also from Urban
: The Cardinals' third-down defense has been good enough for linebacker Karlos Dansby to yell "See you in three" between series. Urban: "The Cardinals have put together nine three-and-outs for the opposition the past two games, and their third-down defense has been outstanding. The Cards have allowed just 24-of-84 third downs to be converted this season, with a 28.6 percent mark that is third in the NFL."
Pete McElroy of azcardinals.com
says the Cardinals are guarding against a letdown as they head into a softer part of their schedule. Their next five opponents have a combined record of 7-24.
Revenge of the Birds' Andrew602
takes a position-by-position look at the Cardinals and Panthers. He gives Carolina the edge at running back, tight end and along the offensive line.

Clare Farnsworth of seahawks.com
says quarterback Matt Hasselbeck's injured ribs feel "tight" and "sticky" as they heal.
Also from Farnsworth
: a look at what Marcus Trufant went through in rehabilitating a back injury. Trufant: "I had some long days -- some long, hard, rough days. Not really being around the guys as much and not being on the field, it's rough. It's kind of a mental game that you've got to play with yourself. You've just got to be strong and you've just got to know there is some light at the end of the tunnel."
Danny O'Neil of the Seattle Times
says Lofa Tatupu's season-ending surgery will hurt the Seahawks' defense, but the unit cannot blame injuries for its inconsistencies. Coordinator Gus Bradley: "Offensively, there are some injuries that have taken place that maybe hurt their consistency. I can't sit here and talk to you and say those same things."
Greg Johns of seattlepi.com
says Hasselbeck practiced fully Thursday after taking a slower approach earlier in the week.
John Morgan of Field Gulls
thinks Tatupu became less effective after trying to bulk up. The Seahawks listed Tatupu at 238 pounds as a rookie. They list him at
242 pounds
now.

Bill Coats of the St. Louis Post-Dispatch
says the Rams will probably be looking for a new quarterback during the offseason. Coats: "The franchise hasn't used its first-round draft pick on a quarterback since 1964, when it selected Utah State's Bill Munson seventh overall. It hasn't taken a QB on the first day of the draft since 1996, when it chose Michigan State's Tony Banks in the second round."
Jim Thomas of the St. Louis Post-Dispatch
checks in with Rams receiver Ruvell Martin, who is hoping to rebound from a hamstring injury. Also, Quincy Butler will probably replace Bradley Fletcher in the lineup at cornerback. Coordinator Ken Flajole: ""Quincy's done a nice job for us. Now, he hasn't gotten all the reps that the other guys have because we had some people in front of him. We've had some injuries there, so he's getting a chance to step up. He's done a nice job this week and hopefully he'll continue and play like a seasoned vet on Sunday."

Matt Barrows of the Sacramento Bee
says 49ers receiver Michael Crabtree will finally get to run in Indianapolis -- not at the combine, but against the Colts. Also, Takeo Spikes might not play much even if he's healthy enough to start. Barrows: "How much the 'Ted' linebacker plays against the Colts, however, depends on how often Indianapolis goes with three wide receivers. Spikes usually is the first linebacker to come off the field on passing downs and when teams go three-wide, the 49ers bring in an extra defensive back."
Matt Maiocco of the Santa Rosa Press-Democrat
checks in with Crabtree and offensive coordinator Jimmy Raye for a look at the 49ers' offense. Raye says quarterback Alex Smith is more comfortable than predecessor Shaun Hill when throwing to all areas of the field. Smith has a stronger arm, in other words.
Daniel Brown of the San Jose Mercury News
provides a transcript to Raye's interview session.
Also from Brown
: Twelve players have started at quarterback for the 49ers since the Colts drafted Peyton Manning. Who could forget Chris Weinke?
John Crumpacker of the San Francisco Chronicle
looks at the personnel adjustments the 49ers will make against the Colts' offense.
April, 30, 2009
4/30/09
10:45
AM ET
Posted by ESPN.com's Mike Sando
Ryan from Phoenix writes via Facebook: Some of the talk radio guys were saying there's a chance that boldin will hold out to get a new contract. Have you heard anything about that and do you think that the fact no one came out and offered much for Boldin during the draft that plays in favor for the Cards saving some money?

Mike Sando: The Cardinals said from the beginning they weren't shopping Anquan Boldin. They were willing to listen if teams wanted to initiate talks. It's tough for the Cardinals to know what they could really get for Boldin -- his ultimate value to another team -- without the Cardinals actively trying to find out what they could really get for Boldin. In that respect, the process worked against Boldin. He comes out of this looking like a guy no one wants seriously to acquire. And that diminishes his leverage in future negotiations with the Cardinals.
The deck is stacked against Boldin right now. He has two years left on his deal, he'll be 30 when it expires and Larry Fitzgerald has supplanted him as the Cardinals' best receiver. The team is coming off a Super Bowl season. The head coach is highly popular. The Cardinals were generally effective without Boldin last season, so there's no pressure on management to move quickly.
If Boldin holds out and the Cardinals open quickly while playing three of their first four at home, then what?