August, 23, 2013
8/23/13
5:40
PM ET
A few statistical notes on recently acquired
San Francisco 49ers
receiver
Jon Baldwin
:
Career stats: Baldwin has 41 receptions for 579 yards (14.1-yard average) and two touchdowns in 26 games over two NFL seasons. He has run 477 pass routes. Quarterbacks have targeted him 100 times.
Slot or not: Baldwin has made the vast majority of his receptions lined up wide to the left. He has 28 receptions from there and eight after lining up wide to the right. He has three receptions from the left slot and two from the right slot. The 49ers' Michael Crabtree and Anquan Boldin have significant receptions from each of those four areas. The chart breaks down Baldwin's production by where he lined up. "WL" is wide left, "SL" is slot left, and so on.
Red zone: Baldwin is a big target at 6-foot-4 and 230 pounds, but he has only one career reception and eight targets inside the red zone. The lone reception was a 3-yarder for a touchdown. Dwayne Bowe (35), Tony Moeaki (16), Dexter McCluster (14) and Jamaal Charles (10) had more red zone targets for the Chiefs over that span. Crabtree (28), Vernon Davis (23), Frank Gore (17) and Delanie Walker (16) have led the 49ers in red zone targets over the past two seasons.
Catches by down: Baldwin has a similar number of receptions across first (16), second (10) and third (15) downs. He has more targets on first down (43) than on second (28) or third (27). Not much to choose from there.
Outlook: Trading A.J. Jenkins to Kansas City for Baldwin spared the 49ers from making a decision on Jenkins at the mandatory reduction to 53-man rosters. The move should buy a grace period for each player with his new team. Both players will need time to learn their new offenses. It's notable that Kansas City's new leadership gave up on Baldwin so quickly. The 49ers' front office and coaching staff remains largely unchanged since the team drafted Jenkins. San Francisco should have had a better feel for the player it was unloading.
March, 6, 2013
3/06/13
10:20
AM ET
The
St. Louis Rams
'
Danny Amendola
, like
Wes Welker
of New England, is a cat-quick slot receiver from Texas Tech with experience in Josh McDaniels' offense.
Neither receiver has a contract for the 2013 season. Neither was named his team's franchise player. Both could become unrestricted free agents March 12.
McDaniels' presence in New England as the Patriots' offensive coordinator would seem to make Amendola a viable fallback option for the team if Welker were to leave in free agency. As
Mike Reiss of ESPNBoston.com wrote
Monday, there were increasingly reasons to think Welker and the Patriots would reach agreement before the signing period opens. But with
ESPN's Adam Schefter reporting
Wednesday that Welker planned to test the market, it's good to remember that there are no guarantees.
If Welker were to re-sign with the Patriots, where would Amendola fit beyond New England or St. Louis? Would any team value him more than the Rams would value him?
Those aren't easy questions to answer. Amendola, like Rams teammate and fellow free-agent candidate
Brandon Gibson
, was with Andy Reid and the
Philadelphia Eagles
before coming to the Rams. Before that, Amendola was with Jason Garrett and the
Dallas Cowboys
in 2008, when Garrett was offensive coordinator.
Sometimes those past connections come into play when a player reaches free agency. Reid is the new head coach in Kansas City. Garrett fills the same role in Dallas. Reid's receivers coach, David Culley, is the same one he had in Philadelphia when Amendola was there in 2009.
But even if Amendola's ties to those teams' coaches were relevant, neither Kansas City nor Dallas appears to have a pressing need for a slot receiver. The Chiefs'
Dexter McCluster
and
Tony Moeaki
combined for 62 receptions from the slot last season, according to game charting from ESPN Stats & Information. The Cowboys'
Miles Austin
and
Jason Witten
combined for 83 slot receptions.
There could be other suitors, of course. There are other connections, too.
Amendola's offensive coordinator in Philadelphia, Marty Mornhinweg, has the same role with the
New York Jets
. One of his former offensive coordinators in St. Louis, Pat Shurmur, has the same job with the Eagles.
Again, though, does either team have a pressing need?
Jeremy Kerley
caught 43 passes for 612 yards from the slot for the Jets last season.
Jason Avant
had 50 catches for 609 yards from the slot for Philadelphia.
With Amendola coming off two injury-shortened seasons, the Rams should have a better shot at keeping him without overpaying, particularly if Welker re-signs. That would be good for St. Louis given the value Amendola has provided on third down in particular.
"He has great quickness in a short area and when you talk about a smaller guy, he has that great ability to create some separation," McDaniels said of Amendola in 2011, when he was the Rams' offensive coordinator. "You gotta be really tough, you gotta be able to create some separation quick because you don't have all day to run a 5-yard route sometimes. You gotta get open. He does that and he has great hands and he's really tough. He is everything you want in that regard."
February, 22, 2013
2/22/13
6:00
PM ET
Steve from Palisades Park, N.J., used the most recent
NFC West chat
to say the
San Francisco 49ers
should add to their receiving corps "a big guy who can go up and get jump balls" -- perhaps someone such as
Ramses Barden
.
"The 49ers have
Vernon Davis
," I replied. "He should be able to do those things."
Paul from San Francisco wasn't having it.
"Davis has never been that guy," Paul wrote to the NFC West mailbag. "Have you ever noticed that he's always jumping in the air when he catches a pass? Not the same as the high, contested end zone passes mentioned above.
"It's like he can't stay on his feet, catch a ball, and continue up the field without breaking stride. He needs his body to remain relatively stationary (in the air) while he concentrates on the ball because he can't do too many things at once while focusing on the ball.
"Watch the tape, you'll see!"
I've seen Davis catch touchdowns passes in stride. It's tough to quantify passes caught high in the air, away from the body and the like. With Davis, the big plays probably overshadow the routine ones in our minds. As the chart shows, Davis has averaged 18.9 yards per touchdown reception over the past five seasons, second only to Seattle's Zach Miller among qualifying tight ends.
Davis has 33 touchdown receptions over the past five seasons. Davis was already in the end zone when he caught 19 of them.
I did think there were times last season when Davis should have factored more prominently in the red zone.
Forty NFL tight ends ran at least 20 pass routes in the red zone last season, according to ESPN Stats & Information. Of those 40 players, Davis ranked 35th in percentage of targets per route (14.8). The average was 24.2 percent for the others and more than 30 percent for
Clay Harbor
,
Heath Miller
, Rob Gronkowski, Owen Daniels,
Aaron Hernandez
,
Joel Dreessen
,
Tony Moeaki
,
Anthony Fasano
and
Benjamin Watson
.
Davis' average was around 20 percent over the previous four seasons. The 49ers' offense is changing.
Michael Crabtree
is playing a more prominent role in the receiving game. That has affected Davis. It isn't necessarily bad for the team, either.
Let's count this as an initial look into a subject that could use additional exploration.
July, 12, 2011
7/12/11
10:11
AM ET
To the weary, our
Dream Team project
smells like an attempt to mask the NFL lockout's foul odor with cologne we wouldn't consider wearing during less malodorous times.
[+] Enlarge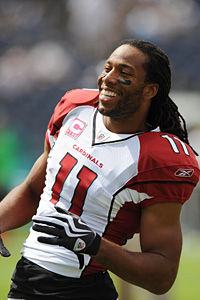 Christopher Hanewinckel/US PresswireArizona led the NFC West in selections to the NFL Dream Team, including receiver Larry Fitzgerald.
Go ahead and inhale. I've opened a window and sniffed out greater meaning from the ballots showing players deemed most likely to succeed well down the road, beginning in 2014.
The ballots aren't perfect. I'm sure we could justify subbing in a few players into the eight spots set aside for each position. But in looking at the bigger picture, these ballots offer insight into which teams arguably have the most appealing young core players.
A few quick observations:
Five defensive linemen from the NFC West earned spots on various ballots: Calais Campbell, Aldon Smith, Chris Long, Robert Quinn and Dan Williams. Brandon Mebane will be 29 in 2014, so it's possible he'll be playing at a high level at that time.

Arizona had the most players listed in the NFC West: Dominique Rodgers-Cromartie, Patrick Peterson, Campbell, Dan Williams, Ryan Williams, Larry Fitzgerald and LaRod Stephens-Howling. Peterson appeared as a cornerback and return specialist. Stephens-Howling appeared as a kick returner, but that is tough duty over an extended period. Fitzgerald, who turns 28 next month, will be only 31 in 2014. That's a scary thought.

The St. Louis Rams' Sam Bradford was the only NFC West quarterback on the ballot. The NFC South had three quarterbacks listed. Two of them, Josh Freeman and Matt Ryan, have shown enough to qualify as more than hopeful projections.

Long, Quinn, linebacker James Laurinaitis, tackle Jason Smith, tackle Rodger Saffold and Bradford gave the Rams six candidates.

Safety Earl Thomas and tackle Russell Okung were the only Seattle players listed. Mebane also has star potential in the right scheme, Matt Williamson of Scouts Inc. has suggested. But Thomas and Okung possess more frontline talent. Seattle selected them among the first 14 choices of the 2010 draft. Aaron Curry, chosen fourth overall in 2009, was not listed.

Some of the candidates at safety seemed weak. The San Francisco 49ers' Taylor Mays appeared on the defensive ballot despite an underwhelming rookie season. The 49ers' Vernon Davis and Patrick Willis joined the Cardinals' Fitzgerald and Rodgers-Cromartie as the only NFC West candidates with Pro Bowls already on their resumes.

The 49ers' seven candidates were: Mays, Aldon Smith, guard Mike Iupati, Willis, tackle Anthony Davis, Vernon Davis and receiver Michael Crabtree. Free safety Dashon Goldson needed a stronger 2010 season to appear on the defensive ballot. He'll turn 30 early in the 2014 season.

Davis was the only NFC West tight end to earn a place on the offensive ballot. The division invested heavily in the position during the 2011 draft, however. We could see Arizona's Rob Housler and/or St. Louis' Lance Kendricks emerge as strong candidates.

Eleven of the 180 total candidates remain in college. Green Bay and Buffalo each placed nine players on ballots, most in the league. Kansas City, New Orleans, Philadelphia and Arizona were represented eight times (twice by Peterson in Arizona's case). San Francisco and the New York Giants were next with seven apiece. St. Louis was part of a group with six.

Some of the Bills' candidates -- Leodis McKelvin, Donte Whitner and Andy Levitre -- are either coming off down years or do not seem to posses star potential.

Chicago and Indianapolis had only one candidate apiece, fewest in the league. Seattle and Minnesota had two apiece. Jacksonville had three. Five teams had four. Eight had five. The Packers appear far better positioned than the Bears to remain among the NFC North's best, according to these ballots.

The AFC East was the only division without a tight end on the ballot. That was an upset given New England's strength at the position. The eight tight ends on our ballot: Jermaine Gresham, Marcedes Lewis, Zach Miller, Tony Moeaki, Jason Witten, Jermichael Finley, Jimmy Graham and the 49ers' Davis. Witten will be 32 by 2014, however.
The first chart breaks down NFC West candidates by team and position.
The second chart breaks down candidates by division and position.
Dan Graziano, Pat Yasinskas, James Walker and I offered additional thoughts in the video below.
May, 24, 2011
5/24/11
12:39
PM ET
NFC West teams value their tight ends.
The division has drafted seven in the first three rounds since 2006, when the
San Francisco 49ers
made
Vernon Davis
the sixth overall choice. The other seven divisions have drafted 24 in the first three rounds over the same period.
Davis has subsequently become a Pro Bowl selection, but he needed time, seasoning and some tough love from former coach Mike Singletary to get his career on the right track.
The subject came to mind Tuesday upon listening to
the latest podcast
from Matt Williamson of Scouts Inc. Williamson, a former coach at Pitt and scout for the
Cleveland Browns
, explained why tight ends are increasingly difficult to evaluate coming out of college.
While NFL teams expect tight ends to know blocking schemes and pass routes, limitations on college staffing prevent even top programs from dedicating significant resources to coaching the position.
"When I was at Pitt, our tight ends coach was also our special-teams coach," Williamson said. "Rarely are you sitting there with a true tight ends coach and getting coached like other positions do."
As a result, rookie tight ends face steep learning curves while also adjusting to far more physical defensive linemen than the ones they've blocked in college.
Back to the NFC West. The
St. Louis Rams
recently used a second-round choice for tight end
Lance Kendricks
. The
Arizona Cardinals
used a third-rounder for
Rob Housler
, another tight end. Both enter the NFL amid high expectations, but recent history provides needed perspective.
Jeremy Shockey
,
John Carlson
and
Jermaine Gresham
are the only
tight ends since 2000
to reach 50 receptions in their first NFL seasons. Wide receivers also face difficult NFL adjustments;
18 of them
have reached 50 receptions as first-year players since 2000. By my count, teams have drafted 391 receivers and 188 tight ends during that time.
The chart breaks out first-year stats for tight ends since 2000, based on info from Pro Football Reference.