June, 11, 2010
6/11/10
10:09
AM ET

Daniel Brown of the San Jose Mercury News
checks in with Hall of Famer Rod Woodson for thoughts on Patrick Willis. Woodson: "Ray (Lewis) was a great leader, but it took him some time to grow into it. Willis knows that his teammates are his friends. But he has to understand that sometimes, the truth doesn't always feel good. Sometimes you have to hold guys accountable. Willis is to the stage now where knowing the defense is going to help him. He's going to know when the nose tackle is out of position. He's going to know when the edge is out of position. And it's going to be up to him to say so." Getting a lucrative new contract should also help Willis emerge as more of a leader.
Phil Barber of the Santa Rosa Press-Democrat
checks in with 49ers pass-rusher Ahmad Brooks, who hopes to go from situational contributor to breakout player. Brooks: "Yeah, there's always a personal goal. I want to be the sack leader. That's just me. I tell myself I'm gonna get 20. I might not, you know what I mean? But I might end up with like 17 or something, but I always shoot my goals high."
Also from Barber
: Taylor Mays stands up for Pete Carroll and the USC program. Mays: "I just feel it's unfortunate that it's being taken out on the university, on kids that really did nothing wrong, or coaches that did nothing wrong. But that's just the reality of the situation. I feel like it would happen to anybody or any university. But it's tough being the University of Southern California. Maybe they came down harder on them because of who we are as a school."
Matt Maiocco of CSNBayArea.com
says Ricky Jean-Francois is benefiting from Aubrayo Franklin's decision to stay away from the 49ers this offseason. Defensive coordinator Greg Manusky: "With Aubrayo not being here right now, he's benefiting from all of those reps Aubrayo would have had. Trust me, he's seen enough of them. He's really grown with the calls, grown with the technique."
Also from Maiocco
: The 49ers' young safeties enjoyed a strong day of practice. Rod Woodson, a visitor at practice, had this to say about Taylor Mays: "I think it's going to take a couple years. It's still a process. I think what people have to do with all players, including Taylor (Mays), is slow down and let the guy be taught. Until then, let the guy be a rookie. I got eaten up as a rookie. That's just part of being a player."
Matt Barrows of the Sacramento Bee
says David Carr seemed to make a positive impression in practice Thursday. Barrows: "At this point in his career, Carr said, he knows all the routes and can make all of the throws. It's the verbiage of the Jimmy Raye system that Carr is trying to learn right now. The 49ers will have a minicamp, their only mandatory session of the spring, late next week. When it ends, the 49ers will have more than a month off before they report for training camp. Carr said he typically has thrown the ball during that month break. This time, the two-a-day sessions will involve calling a play in the huddle, barking out directions at the line of scrimmage and then running the play."
Gary Peterson of the Contra Costa Times
offers thoughts on the 49ers' stadium measure.
Kevin Lynch of Niner Insider
says Glen Coffee gained about 15 pounds of muscle this offseason because he was determined to bounce back from a rookie season that disappointed him.

Clare Farnsworth of seahawks.com
says retired Seahawks great Jacob Green has plenty of advice for his son-in-law now that Red Bryant is playing defensive end. Bryant: "Mr. Green is excited. In fact, he called me last night just to see how my practice is going. With me playing D-end now, he's got so many suggestions – from how to use my hands, to getting off the ball, to losing weight. He's really proud, and I'm proud that I'm making him proud. He's just excited to see finally see me get an opportunity, and I'm excited and grateful."
Also from Farnsworth
: a visit with Seahawks offensive coordinator Jeremy Bates. Bates: "The football IQ on the team is incredible. They really look forward to coming to meetings and then taking it out here. There aren't many mental mistakes. But we've got to keep growing and working on the fundamentals of the game."
Pat Kirwan of NFL.com
lists Bates among five coordinators to watch this season. NFC West alumni Mike Martz and Mike Nolan also made the list. Kirwan, a longtime Carroll friend: "The Seahawks were minus-8 in turnovers last year, but I would be very surprised if Carroll team didn't flip that number to a plus-8. The big 'if' is the health of quarterback Matt Hasselbeck, although the team does like what they have in backup Charlie Whitehurst."

Darren Urban of azcardinals.com
says Adrian Wilson hopes to play five more seasons in the NFL. Wilson: "I plan on playing another five years and then hanging it up. If it was all said and done today, though, I'd be happy with my career. I'd be content with it."
Also from Urban
: "Nothing was necessarily solidified during the Cards' minicamp and OTA work. (Ken) Whisenhunt has talked about being happier with his secondary depth than when practices started. Whisenhunt also said he has been happy with the work new quarterback Matt Leinart has done in place of the retired Kurt Warner. Most determinations for the depth chart and some roster spots won't come until training camp, however."
Revenge of the Birds' Andrew602
ranks Leinart third among starting quarterbacks in the NFC West. Alex Smith is second, with Matt Hasselbeck first. Andrew602: "Cardinal fans may hate me for this but Smith has shown more in the present then Leinart has. Smith is riding in a similar boat then Hasselbeck, in that he also has this year to prove that he can be the quarterback the 49ers hoped he would have been in 2005. Smith possesses the quickness and arm-strength to lead the Niners offense, and with playmakers like Frank Gore, Vernon Davis, and Michael Crabtree, he's finally been gifted with a talented supporting cast. It's a matter of if he can get his head on straight and handle the pressure of leading the 49ers back to the playoffs."

Jim Thomas of the St. Louis Post-Dispatch
says the Rams' Mardy Gilyard is playing catchup after rules prevented him from joining practices until this week. Thomas: "Gilyard spent his time in exile in Cincinnati catching passes from former Bearcats quarterback Tony Pike, a sixth-round draft pick by Carolina, as well as current Bearcats QB Zach Collaros. And when a human arm wasn't available, he caught balls from a JUGs machine, sometimes having them fired over a chair while on his rump -- the better to work on his concentration. The Rams sent him study materials to try to stay current with what was taking place 300-plus miles away in St. Louis."
Bill Coats of the St. Louis Post-Dispatch
says the Rams' signing of Chris Hovan was their latest move designed to add seasoning to a team that ranked among the NFL's youngest in 2009. Also: "Tackle Jason Smith, who left practice early Tuesday with a toe injury, was back at the morning workout Thursday. But he felt irritation in the toe afterward and was sent for an MRI exam. The results were not immediately available."
Jim Rodenbush of the St. Louis Globe-Democrat
says Rams quarterback Sam Bradford is getting more comfortable. Bradford on progress since his first Rams practice: "It really is night and day. The more I'm out there, the more reps I get, the more comfortable I feel. From day one to now, it's night and day, how much more comfortable I feel just calling the plays in the huddle, getting to the line of scrimmage, making reads."
December, 4, 2009
12/04/09
3:40
PM ET
Thanks to those who kept the latest NFC West chat moving. Lots of 49ers excitement out there this week. Chat transcript
here
. Highlights below:

Danny: Mike, let me apologize for all the upset 9er fans! After years of waiting there is actually an actual glimmer of hope. Being actually realistic and the niners not making the playoffs but finishing 8-8 at best, what are out chances next year with a good draft?
Mike Sando: The 49ers have good young talent in key spots. I think a lot of it comes down to what we see from Alex Smith over the final five games. So far, not so bad. It's important for this organization to have the answer at that position. Smith looks like he could provide the right answer. The outlook brightens considerably if he makes that happen. Some optimism is indeed warranted right now.

Luke (Bellingham, WA): All this time and not one question about the future of the Hawks front office?! What's your take on Holmgren, is it his job if he wants it? Do they reach out to an up and coming talent?
Mike Sando: The Seahawks will do their diligence in the search process. They hired a firm to assist. They will follow NFL protocol, which requires interviewing at least one minority candidate. They know Mike Holmgren is there and they know he would love to have the job, so they can afford to let the process play out. Holmgren isn't going anywhere without giving Seattle a chance, in my view. I think the team will consider Holmgren, but I do not think the team is leaning that way at this time.

Armen Dacity (Winter Park, Florida): RAMS QUESTION!!!! Given the Rams' offensive system, which potential Round 2-3 QB do you think would be the best fit: Colt McCoy, Tony Pike, Tim Tebow or Dan LaFevre?
Mike Sando: Rams? Hmmm. The name sounds familiar. Steve Muench of Scouts Inc. answered that very question. I'll defer to him since he actually watches college games and studies the players. He went with Jake Locker, Sam Bradford, Colt McCoy and Jimmy Clausen. His direct quote: "All of our top three and McCoy could fit. I would go in order of Locker, Bradford, McCoy and then Clausen. Clausen could do it, but McCoy has better mobility. In that system, you need a little bit more of a mobile quarterback."

TJ (California): Mike, do you think Kurt Warner will start this week? Or do you think he might rest so he will be ready for the all-important 49ers game? I'm sure the Cardinals don't want Kurt re-injured. What are your thoughts?
Mike Sando: The Cardinals probably would not make the decision based on saving Kurt Warner for the 49ers. Seems to me like players play if they are cleared to play. Warner overruled that last week, but I don't think he was saving himself for any future opponents. He just did not feel right.
Apologies to Armen from Winter Park. Upon re-reading the question, I see it asked about quarterbacks in the second or third round. I do not have a great answer for you. Hopefully the answer I provided helps some.
November, 27, 2009
11/27/09
12:30
PM ET
Two weeks have passed since Steve Muench of Scouts Inc. shared
insights on offensive linemen
who might appeal to NFC West teams in the 2010 NFL draft.
[+] Enlarge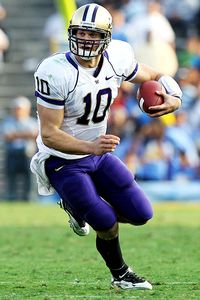 Charles Baus/Icon SMIJake Locker could be an attractive option for several NFC West teams.
Steve and I changed the subject to quarterbacks in our latest conversation.
The 49ers, Seahawks and Rams currently hold five first-round selections. All three could be in the market for quarterbacks of the future.
Mike Sando:
Are there any quarterbacks worth taking at the top of the draft?
Steve Muench:
Personally, coming into the season,
Sam Bradford
looked like that guy, no question. Now there are other concerns with the injury and also that he did not look as dominant even before the injury because he didn't have the strong supporting cast -- which, fair or unfair, is going to hurt him. They looked at times like they were playing intramural teams in 2008. I am still very high on Bradford because he made throws under pressure in the national championship game and against Texas that made me feel this is a kid who can get it done.
The issues -- how good was the supporting cast -- are overrated for me. I have seen him make throws where he is popped in the mouth and he has all the tools to do it. Teams need to check out the shoulder. In terms of skill set, he doesn't have a rocket of an arm. He can make all the throws. The thing I like is how smart he is. They did spread the field a lot. That helped him a lot to create matchups, but when he drops back and he makes reads, he rarely makes mistakes.
Mike Sando:
And yet
Jake Locker
is the name we're hearing most at the top of the QB draft class. I know Scouts Inc. has Locker first, Bradford second and
Jimmy Clausen
third among college QB prospects. Then we have Colt McCoy and
Tim Tebow
.