January, 18, 2013
1/18/13
5:55
PM ET
Todd Bowles' relationship with new
Arizona Cardinals
coach Bruce Arians makes him a logical candidate to replace Ray Horton as the team's defensive coordinator.

Bowles, who spent last season on Andy Reid's staff in Philadelphia, played for Arians at Temple and coached with him for the
Cleveland Browns
.
Arians' hiring in Arizona gives Bowles a fresh start following a rough season with the Eagles. Philadelphia's defense went from bad to worse after Bowles took over as coordinator following a Week 6 defeat to Detroit. There were multiple factors at work, including the growing inevitability of Reid's firing as the season progressed.
Cardinals fans could feel better about ditching Horton for Bowles if the Eagles' defense had suddenly come on strong following the switch. Instead, they will have to trust Arians' judgment in putting together a staff.
Bowles, like Arians, has experience as an interim head coach. The
Miami Dolphins
went 2-1 during the 2011 season after Bowles replaced Tony Sparano.
The chart compares the Eagles' and Cardinals' defensive statistics from 2012 based on which coordinator was in charge. Juan Castillo was the Eagles' coordinator through Week 6. Horton was in his second full season as the Cardinals' coordinator.
January, 16, 2012
1/16/12
9:30
AM ET
Frustrated
New York Jets
fans might chuckle over the
St. Louis Rams
' interest in their team's ousted offensive coordinator, Brian Schottenheimer, for
the same job in St. Louis
.
Frustrated
Miami Dolphins
fans might feel similarly about the Jets hiring their team's former coach, Tony Sparano, as offensive coordinator.
Such is life in the NFL, where the scapegoats are often indistinguishable from the true villains. Was Schottenheimer the reason the Jets' offense went backward and the team finished 8-8? Tough to say.
Rams fans should know this: The Jets were not yet ready to cut ties with struggling quarterback
Mark Sanchez
. They weren't going to fire head coach Rex Ryan. They weren't going to stand pat, either, after their offense plummeted in the league rankings and Sanchez failed to develop on schedule.
Schottenheimer, once an occasional head coaching candidate, was the odd man out.
For the Rams, hiring Schottenheimer would return them to the general digit-based offensive system St. Louis ran with great success during the Mike Martz years.
Sam Bradford
would be learning a third scheme in three pro seasons. Then again, if Bradford had pleaded with Fisher to retain the previous system, the Rams could have kept Josh McDaniels, in theory.
Those seeking a better feel for Schottenheimer's coaching roots and what happened with Sanchez should check out
Jenny Vrentas' piece
in the Newark Star-Ledger from October. Basically, the Jets were asking more from Sanchez this season, and the results were insufficient.
Schottenheimer began his pro coaching career with the Rams in 1997, spent several years in the college ranks and then hit stride at the NFL level with San Diego beginning in 2002. He worked under Cam Cameron there, serving as quarterbacks coach for
Drew Brees
.
The Jets hired Schottenheimer in 2006. Reading through
the ESPN.com story
at the time will show just how circular these coaching hires can be. Fisher's former coordinator in Tennessee, Mike Heimerdinger, preceded Schottenheimer with the Jets. Schottenheimer beat out another familiar name, Pat Shurmur, for the Jets job.
The Rams appear unlikely to hire Schottenheimer or anyone else as coordinator without first making official Fisher's hiring as head coach. The sides are working out the particulars on a contract.
The chart shows Jets offensive stats under Schottenheimer. Sanchez was the quarterback for the three most recent seasons, when completion percentages fell.
January, 11, 2012
1/11/12
9:57
AM ET
A few quick thoughts on
Adam Schefter's note
about former
Kansas City Chiefs
head coach Todd Haley, a potential candidate to rejoin the
Arizona Cardinals
, first considering an opportunity with the
New York Jets
:
Does Haley feel as though the Arizona opportunity will be there for him no matter what? He's obviously considering other opportunities first. The Cardinals cleared a spot on their staff by firing quarterbacks coach Chris Miller. The Jets job would include the title of assistant head coach, according to Schefter. Russ Grimm holds that title in Arizona.
Looks like Haley isn't sprinting back to the Cardinals to affix his name to an offense featuring Kevin Kolb and John Skelton as the primary quarterbacks. Then again, where are the Jets headed with Mark Sanchez?
If Haley takes a job other than coordinator with the Jets -- Schefter says the job would be assistant head coach, with Tony Sparano as coordinator -- would he essentially become passing game coordinator? And what job could he have gotten in Arizona?
Should be an interesting day on the coaching front. Seems like we should learn more on Haley and, separately, Jeff Fisher.
January, 7, 2011
1/07/11
8:30
AM ET

Matt Barrows of the Sacramento Bee
wonders whether Jim Harbaugh might wind up with the
Miami Dolphins
despite reports suggesting the Dolphins would retain Tony Sparano. Barrows: "It's entirely possible that Harbaugh was dazzled by the massive amount of money that (Dolphins owner Stephen) Ross offered and has quietly agreed to a deal. Pretending that he can't decide buys Ross and the Dolphins extra time to take care of their business -- fire Sparano, interview a minority candidate -- that they should have taken care of before approaching Harbaugh. The only thing that's clear is that Harbaugh's agent has done a masterful job. Will he? Won't he? Is he going here? Is he going there? That ping-ponging sensation you feel in your brain is the work of a master craftsman who's got at least three organizations upping their bids to astronomical heights on a man who has never been an NFL head coach. Bravo."
Matt Maiocco of CSNBayArea.com
says Andrew Luck's decision to remain at Stanford could foreshadow Jim Harbaugh's return as well. Maiocco: "A league source told Comcast SportsNet on Thursday that the timing of Luck's decision to announce he was returning for another season might not have been a coincidence. The allure for Harbaugh of having an opportunity to win a national championship next season might be too tempting to pass up."
Ray Ratto of CSNBayArea.com
says 49ers president Jed York looks bad even if the team winds up getting Jim Harbaugh after all. Ratto: "This is why you hire the general manager who's been around and knows the league terrain. This is why you let him run the football operation without interference. This is why you move aside and let the experts expertify. But no, Jed wanted this to be his big score. Putting his reputation in the middle of the table next to the insufficient pile of chips, he ends up looking weaker. Even if he does get Harbaugh, it won't be perceived quite the same way. Jed got played because he wanted too much to be a player, and he got played because he didn't bring enough jack with which to play."
The 49ers' website
offers an interview transcript featuring guard
Mike Iupati
. Iupati: "I think I'm a much better player now than I was when I first came in here. I feel like I've improved every part of my game, and its obvious when you watch the film. I learned a lot this season, especially from the coaches. Our o-line coach Mike Solari was great, and it also helps to watch guys like
David Baas
,
Joe Staley
and
Adam Snyder
who have been in the NFL for a few years. I watch and observe what they do as professional football players and I try to do the same things. I try to get any knowledge I can from them because their experiences can help me out."

Clare Farnsworth of seahwaks.com
says the team's plan all along was to start
Matt Hasselbeck
at quarterback against the Saints if he were healthy. Farnsworth: "Hasselbeck has started nine playoff games and is the franchise postseason leader in passing attempts (325), completions (189), passing yards (2,211), touchdown passes (11) and wins (four). His start against the Saints will tie the franchise record held by former Pro Bowl left tackle
Walter Jones
."
Also from Farnsworth
: Linebacker
Lofa Tatupu
offers thoughts on Hasselbeck's pregame speech from Week 17. Tatupu: "We thought that meant he was playing. But it was just good to hear from somebody else. Usually it's myself or Law (strong safety
Lawyer Milloy
). Sometimes, you don't want to think it, but maybe your words can fall on deaf ears. So I'm glad someone stepped up."
More from Farnsworth
: best friends
Marshawn Lynch
and
Justin Forsett
are headed to the playoffs together.
Joshua Mayers of the Seattle Times
says
Raheem Brock
still feels the sting of losing to the Saints in the Super Bowl as a member of the Colts. Mayers: "The 32-year-old recorded six sacks in the past five games, including at least a half-sack in four of them. In a division-clinching win against St. Louis in the regular-season finale, Brock had a personal-best 2.5 sacks, including two on the Rams' final drive."
Danny O'Neil of the Seattle Times
expresses surprise that the Seahawks did not name Hasselbeck their starter earlier.
Eric D. Williams of the Tacoma News Tribune
says Hasselbeck kidded national reporters about making a rare trip to the Northwest. Hasselbeck, referring to Seattle as "South Alaska" and saying, "Look at this -- I didn't know you guys covered the CFL."
John Morgan of Field Gulls
says starting Hasselbeck could compromise the Seahawks' ground game while mistakenly assuming the quarterback can produce the way he did against New Orleans indoors. Morgan: "The Seahawks should not pass deep, because Hasselbeck struggles to pass deep and the conditions should only exacerbate that. Further, Seattle should not pass deep because it lacks the kind of consistent passing game and run game to recover after it has burned a down on an incomplete pass. Seattle could potentially bank on the run game, but that should be harder without
Charlie Whitehurst
to boot and stretch the field horizontally. Instead, Seattle should stretch the field horizontally through screen passes and swings, outs and flats to the backs. The Seahawks should complement this ball-control passing attack with draw plays."

Kent Somers of the Arizona Republic
says Cardinals coach Ken Whisenhunt plans to go outside the organization to find a replacement for fired defensive coordinator Bill Davis. Somers: "Whisenhunt twice has shown interest in hiring Steelers linebackers coach Keith Butler for the job. In 2007, the Steelers denied Whisenhunt permission to interview Butler. Two years ago, the hiring time frame was complicated by Butler's hip surgery. Butler, 54, has been with the Steelers since 2003. He works under Steelers defensive coordinator Dick LeBeau, whom Whisenhunt greatly admires. Whisenhunt has long sought to install a defensive similar to the 3-4 scheme used by LeBeau. Whisenhunt confirmed that former Cardinals secondary coach Teryl Austin also could be a candidate. Austin left the Cardinals staff after the 2009 season to become defensive coordinator at the University of Florida."
Darren Urban of azcardinals.com
says Austin finished a "close second" to Davis when Whisenhunt replaced Clancy Pendergast as defensive coordinator following the 2008 season. Whisenhunt: "As I sit here right now, I have a couple of names (in mind), but I don't even know the availability of those guys." Knowing which candidates are available is the only way to know whether the team can upgrade the position, unless change for the sake of change is an upgrade in itself. Surely Whisenhunt has a feel for what options exist.

Jim Thomas of the St. Louis Post-Dispatch
says the Rams are not bringing back Chuck Faucette, their assistant strength-and-conditioning coach. Faucette was a holdover from Scott Linehan's staff.
Bill Coats of the St. Louis Post-Dispatch
says the Rams voted
Steven Jackson
,
Sam Bradford
,
Oshiomogho Atogwe
and
Bradley Fletcher
as their annual award winners. Coats: "Fletcher received the Ed Block Courage Award. Fletcher underwent major knee surgery in October 2009 and was expected to be sidelined at least a year. But he was back in time for the regular-season opener and wound up starting 15 games. He led the team in interceptions, with four."
Jeff Gordon of stltoday.com
says Rams offensive coordinator Pat Shurmur is getting more respect in Cleveland than in St. Louis. Gordon on the Browns' interest in Shurmur as a head coaching candidate: "Shurmur is a longshot to actually get the job, given the stiff competition, but just interviewing for this gig is a nice career step for him. It validates his standing as one of the game's emerging young coaching talents, despite how he is viewed locally."
January, 6, 2011
1/06/11
1:00
AM ET
The
San Francisco 49ers
must be feeling a little nervous now that the
Miami Dolphins
' billionaire owner is pursuing the coach they want to hire.
Stephen Ross' cross-country trip
to court
Jim Harbaugh
after the Stanford coach spent Wednesday
meeting with the 49ers
added significant drama to the equation. The 49ers cannot be sure whether Harbaugh is using them to leverage better offers. That's the risk an NFL team takes when pursuing a candidate with options.
For the 49ers, there's no shame in trying.
The Dolphins can probably offer more money. They can offer more resources over the long term. Ross has ranked 68th on
Forbes' list of billionaires
(
lower more recently
). The 49ers are struggling to get a new stadium built. ESPN's Chris Mortensen points out that the 49ers can offer
geography and draft choices
, but money tends to talk in these situations.
Harbaugh gains nothing by rushing into a deal. He might as well watch the price go up.
I don't see how the 49ers can compete with the Dolphins if Ross sets his mind on hiring Harbaugh. They could offer more and more power to Harbaugh, but other teams could, too. It's tough to envision Ross flying across the country, accompanied by assorted Dolphins brass, only to strike out.
Life could be worse for the 49ers. They could be Dolphins coach Tony Sparano, who remains employed by the team, at least for now.
Note:
I've heard from 49ers fans irate with team president Jed York's pledge that money would be no barrier. That criticism will be a valid one if/when the Dolphins outbid the 49ers. My comment about there being "no shame in trying" addressed the possibility that Harbaugh might be using the 49ers.
August, 13, 2010
8/13/10
9:58
AM ET
SANTA CLARA, Calif. -- Some players take the easy, dishonest route. They feign ignorance to public criticism and say it wouldn't bother them anyway.
Not receiver
Ted Ginn Jr
.
The
San Francisco 49ers
' new speed threat cares what people think and understands why they hold players to high standards. His conscientious nature comes through in what he says and through his actions (quarterback
Alex Smith
said Ginn has been working at 49ers headquarters every day since the team acquired him April 16). How much does Ginn care? Sometimes he'll Google his name just to see what people are saying about him following an ultimately disappointing three-year run with the
Miami Dolphins
.
[+] Enlarge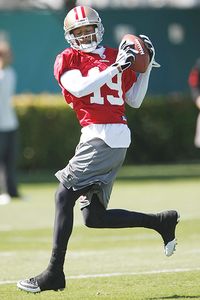 AP Photo/Paul SakumaCan a change of scenery help get Ted Ginn Jr.'s career back on track?
"You never know what you are going to find," Ginn said following a training camp practice last week. "You got the guys who love their team. You can't get mad at a fan who loves Miami that has been down there for 40 years and understands the tradition, just like you can't get mad at a fan who knows San Francisco. They want something out of you that they expect that you should do. It means I have to go out and give it to them."
That's the plan in San Francisco, where Ginn has made a positive impression with his diligence and breakaway speed. He's a leading candidate to return kickoffs and punts this season while serving as the No. 3 receiver behind
Michael Crabtree
and
Josh Morgan
. The 49ers think Ginn's speed can influence opposing safeties in ways that benefit their other receiving threats, including Pro Bowl tight end
Vernon Davis
. The team isn't expecting Ginn to carry its offense or even fulfill the expectations Miami once had for him as a first-round draft choice.
"I don't know the situation he went through down there in Miami, but since he has been here, he has been a hard worker and just attacking every opportunity he gets out there on the field, and you have to appreciate that," veteran 49ers strong safety
Michael Lewis
said.
Ginn's deep speed stood out right away during my trip to 49ers training camp. Davis called him "fast, shifty and swift" when asked to size up his new teammate. Ginn consistently got behind cornerbacks and made catches downfield during the first 49ers practice I watched. He also had a few practices marked by a dropped ball here or there, lending credence to the label that bothers Ginn the most: inconsistent. It doesn't take much online sleuthing to find that label attached to the player Miami drafted ninth overall in 2007, before Bill Parcells and Tony Sparano took over the organization and remade the roster.
"You could check a lot of things out over the Internet," Ginn said. "There are a lot of things on there when you type '
Ted Ginn Jr.
' Through the offseason and just times when you are alone, you go and look at different things like that. And you see what some people think about you and what some people don't think about it. 'Inconsistent' is one of the words that is out here about me and I don't like that. So I just try to go out every day and just try to get better."
The way Ginn sees things, he had a bad season in 2009 and there isn't much more to say. The disappointment Ginn came to represent in Miami doesn't apply to his relationship with the 49ers, who have shown him nothing but support -- from Crabtree, Morgan and Smith to head coach Mike Singletary and receivers coach Jerry Sullivan. Even defensive players have been helping him out, as when Lewis and fellow safety
Dashon Goldson
counsel him on various looks he might see from opposing secondaries.
Ginn says his confidence has rebounded as a result. It's a good feeling for Ginn after a tough stretch in Miami.
"I'm enjoying myself," he said.
Ginn posted his finest statistical season in 2008: 56 catches for 790 yards and two touchdowns, with two rushing touchdowns (including a 40-yarder). He scored twice on kickoff returns last season, but his playing time on offense fell from better than 60 percent of snaps in 2008 to less than half of them last season.
Ginn's playing time might not increase this season given how many weapons the 49ers already possess and also because the team has favored personnel groupings with two backs and two tight ends, sometimes at the same time. The team hasn't had a third wide receiver good enough for coordinator Jimmy Raye to justify taking second tight end
Delanie Walker
off the field on first or second down. Might that change with Ginn onboard? I think it will, but it's tough to say how much.
"I think he can really help this team," Smith said
As Lewis put it: "Our team in particular, having a guy like Ted Ginn out there, you almost have to have a safety over the top with whatever coverages you have, someone keeping an eye on him. And if you have that element, that is one less guy in the box, so it opens up the run game for you. It's a home-run hitter out there."
January, 27, 2010
1/27/10
4:32
PM ET
The Rams were the fifth team of the free-agency era to finish with a 1-15 record. Three of the other four won at least seven games the following season. None selected a quarterback in the first round of the next draft.
Here's a quick look at how those four other 1-15 teams responded (I might expand on this down the road):
Three of the four fired their head coaches. Three of the four signed veteran starting quarterbacks the next off season (the Jets already had one). Something to consider as the Rams decide how to acquire their next quarterback and how to proceed with the first overall choice of the draft.
April, 4, 2009
4/04/09
12:30
PM ET
Posted by ESPN.com's Mike Sando
K.C. from Wenatchee, Wash., writes: Hi Mike. I have a research question for you =)
With everything that went on with Jay Cutler in Denver it got me thinking … Bill Belicheck's former assistants haven't been faring too well out there.
Romeo Crennel was fired from Cleveland. Eric Mangini was fired from the Jets (and picked up by Cleveland). Charlie Weiss has been on the hot seat at Notre Dame since he got there. And now Josh McDaniels is losing his star QB because he was too eager to get his former star QB.
So what I'm wondering: Is there a Head Coaching family tree out there somewhere that would show us which coaches came from which coaches? Which of the current Head coaches has had the most success in developing other head coaches?
I'm measuring success by longevity in job, W-L record, and playoff experience, but feel free to throw in anything else that makes sense. Thanks in advance as always!
Oh, and Corey Redding's new deal only means one thing to me. The Hawks are playing to win this year and are looking to rebuild next year. New QB, new LT, new RB, new DL, and new DBs.
Mike Sando: This will come as a great shock to the regulars here, but my roster database does include 30 columns of information for each head coach. I added the 30th column under the heading "coaching tree" in response to your question. Thanks for the idea.
In some cases it's hard to tell which branches lead to which trees. It's not like every head coach owes his advancement to a single mentor. Some coaches spent one or more seasons under multiple head coaches early in their NFL careers.
That said, I went through and assigned mentors to every head coach, based on my judgment.
In keeping with the tree analogy, Bill Parcells leads the way with five branches: Bill Belichick, Sean Payton, Tony Sparano, Todd Haley and Tom Coughlin.
Brian Billick has four: Jack Del Rio, Mike Smith, Mike Singletary and Rex Ryan.
Tony Dungy has three: Lovie Smith, Mike Tomlin and Jim Caldwell.
Mike Holmgren has three: Andy Reid, Dick Jauron and Jim Zorn (although Jauron worked with both of Holmgren's predecessors in Green Bay, and he was with Tom Coughlin in Jacksonville).
Reid has three: Brad Childress, John Harbaugh and Steve Spagnuolo.
Bill Cowher has two: Marvin Lewis and Ken Whisenhunt (although Whisenhunt spent four years as an NFL assistant to three head coaches before joining Cowher's staff).
Belichick has two: Eric Mangini and Josh McDaniels.
The Parcells tree is holding up quite well. Six current coaches led their current teams to a combined nine Super Bowls. Belichick went to four of them. Coughlin went to a fifth. That gives the Parcells tree five of the nine Super Bowl appearances by coaches with their current teams. Belichick and Coughlin are the only current coaches to have led their current teams to Super Bowl victories.
As for your thought about the Seahawks rebuilding in 2010, that might happen, but the deal with Cory Redding wouldn't necessarily be an indication, in my view. The Seahawks saved only $1.55 million on the new deal. Redding's salary in 2010 would have been manageable.
Note: I'll be responding to mailbag submissions throughout the weekend. Thanks much for getting in touch through the comments, the mailbag, our Facebook profile and Twitter account.
February, 19, 2009
2/19/09
9:15
AM ET
Posted by ESPN.com's Mike Sando
INDIANAPOLIS -- Kevin Seifert, Paul Kuharsky, Tim Graham, John Clayton and I are among the first reporters set up inside Lucas Oil Stadium for the first media-accessible combine day.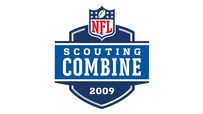 The setup is different from past combines and less conducive to tracking down various team personnel. Coaches and scouts are entering from another side of the stadium. They do not walk past the media area while heading to and from the field area. Frigid, windy conditions outside the stadium make NFL personnel less interested in stopping to chat, and I cannot blame them. It's brutally cold outside.
In past years, team personnel walked past the media area in the warmth of the convention center, which led directly to the since-demolished RCA Dome. Stopping to chat was much easier under those conditions. I'll spend quite a bit of time speaking with NFL people and agents in various hotel lobbies and restaurants this week, always a valuable way to renew contacts and make new ones. That aspect is what makes the combine so valuable beyond the scheduled interviews and news conferences.
The NFL has scheduled Thursday news conferences for Lions coach Jim Schwartz, Colts coach Jim Caldwell, Falcons coach Mike Smith, Steelers director of football operations Kevin Colbert, Saints coach Sean Payton, Dolphins coach Tony Sparano, Redskins coach Jim Zorn and Raiders coach Tom Cable. We will also have access to select offensive linemen, tight ends and specialists.
What does this mean from an NFC West perspective? We'll probably focus on offensive linemen given division teams' obvious needs on the line. The Cardinals could also use a tight end.
The media schedule for Friday is not yet firm, but the league has tentatively scheduled availability for 49ers coach Mike Singletary, 49ers general manager Scot McCloughan, former Cardinals offensive coordinator Todd Haley and Rams coach Steve Spagnuolo. Cardinals coach Ken Whisenhunt and Cardinals GM Rod Graves are expected to answer questions Saturday.
January, 4, 2009
1/04/09
10:38
AM ET
Posted by ESPN.com's Mike Sando

Paola Boivin of the Arizona Republic says the Cardinals should rethink Edgerrin James' future with the team. James, scheduled to earn $4 million in 2009, was widely assumed to be playing his final season in Arizona.
Kent Somers of the Arizona Republic says the Cardinals' offensive line deserves credit for its efforts against the Falcons.
Also from Somers (and staff): Anquan Boldin's status remains unclear after the receiver suffered a hamstring injury. Also, quarterback Kurt Warner appreciated ownership's decision to leave the roof closed at University of Phoenix Stadium.
More from Somers: Karlos Dansby had a big game with eight tackles, and Arizona bounced back from a tough ending to the first half.
Richard Obert of the Arizona Republic says the Cardinals' ground game opened up the pass, particularly during the final clock-eating drive.
Bob McManaman of the Arizona Republic says the Cardinals had a chip on their shoulder after hearing so much about their alleged weaknesses. Darnell Dockett seemed incredulous that some thought the Falcons had the edge at quarterback.
Also from McManaman: Antrel Rolle's fumble return for a touchdown was the play of the game.
Dan Bickley of the Arizona Republic says the Cardinals' victory validates their season and makes them a success no matter what happens next.
Rich Cimini of the New York Daily News says the Jets plan to interview Cardinals offensive line coach Russ Grimm for their head coaching job.
Darren Urban of azcardinals.com says the Cardinals were able to "flip a switch" come playoff time and play with the urgency needed to win.
Also from Urban: Coach Ken Whisenhunt made good on his prediction that James would reemerge as an important part of the offense.
More from Urban: The Cardinals wanted to close out the game aggressively, and that's why they threw the ball when running out the clock.
Rick Gosselin of the Dallas Morning News says the Cardinals' game plan exposed Matt Ryan as a rookie quarterback, helping Arizona prevail.
Also from Gosselin: James' reemergence comes at the right time -- when it matters.
Jim Corbett of USA Today
says the Cardinals were able to revel in their unexpected victory after coaches adjusted their approach by getting James more involved.
Mike Tulumello of the East Valley Tribune says the atmosphere at University of Phoenix Stadium helped the Cardinals prevail.
Also from Tulumello: The Cardinals knew they needed to stop Michael Turner, and they did.
Scott Bordow of the East Valley Tribune says the Cardinals are at their best when skeptics give them little chance.
Mark Heller of the East Valley Tribune sizes up James' contributions through teammate Bertrand Berry, who played with James in Indianapolis.

Jim Thomas of the St. Louis Post-Dispatch says Rams scouts are analyzing college talent at the various bowl games without knowing what skills will mesh with the next coaching staff. That makes the evaluation process more difficult. Meanwhile, the Rams' preparations for free agency remain in the beginning stages.
Also from Thomas: A position-by-position look at the Rams, with Marc Bulger as the starting quarterback for 2009.
Bernie Miklasz of the St. Louis Post-Dispatch says Rams owner Chip Rosenbloom took a chance when he publicly said the organization would spend whatever it took to hire the next head coach. Despite the proclamation, the Rams' initial list of candidates lacks star power. Miklasz: "After telling your fans that money is not a problem, and that you are willing to go out and get 'the best guy,' then how could you possibly bring Jim Haslett back?"

Gwen Knapp of the San Francisco Chronicle says 49ers coach Mike Singletary knows his limitations and isn't afraid to admit them. For example, Singletary wasn't initially sold on linebacker Patrick Willis coming out of college. General manager Scot McCloughan had to convince Singletary that Willis merited a first-round choice.
Scott Ostler of the San Francisco Chronicle says Singletary overcame his early wardrobe malfunction because he's a man of action.
Matt Maiocco of the Santa Rosa Press-Democrat answers questions about the 49ers, at one point noting that right guard Chilo Rachal could eventually play right tackle.
Matt Barrows of the Sacramento Bee says the 49ers could be in the market for a lead fullback. Former coordinator Mike Martz used tight e
nds in the role. Sean Ryan appeared increasingly as the lead blocking from the I-and offset-I formations.

William Tomisser of Seahawk Addicts continues his positional analysis of the team with a look at the linebackers. He thinks the position could be set if the team can re-sign Leroy Hill and possibly convince Julian Peterson to adjust his salary for 2009.
D. Orlando Ledbetter of the Atlanta Journal-Constitution says Falcons safety Lawyer Milloy no longer wants to finish his career with the Seahawks. Milloy would like to stay with Atlanta now that the Falcons are playoff contenders.
Brian Biggane of the Palm Beach Post revisits the Seahawks' 21-20 victory over the Cowboys in the playoffs -- the game featuring Tony Romo's botched hold -- and says Dolphins coach Tony Sparano is using the experience to help prepare for the playoffs.
November, 23, 2008
11/23/08
10:20
AM ET
Posted by ESPN.com's Mike Sando

Darren Urban of azcardinals.com
checks in with Cardinals defensive tackle Darnell Dockett, who suggests the Giants will have to earn his respect.
Sheldon Mickles of the Advocate says Kurt Warner is giving Drew Brees a run for the MVP award. Saints coach Sean Payton states his case for Brees, a case that goes beyond raw passing stats.
Bob Baum of the Associated Press reflects on the Cardinals and Giants in light of the Giants' decision to bench Warner for Eli Manning.
Kevin Shields of WCBSTV.com
says the Giants need to stick with their run-first game plan and "just run the ball down Arizona's throat."
Dan Bickley of the Arizona Republic says the Cardinals and Suns have traded places in the Phoenix sports hierarchy.
Kent Somers of the Arizona Republic says the Giants and Cardinals are a study in contrast.
Bob McManaman of the Arizona Republic profiles Fox sideline reporter Tony Siragusa, who will work the Cardinals-Giants game at University of Phoenix Stadium.
Mike Tulumello of the East Valley Tribune says the Cardinals' culture is changing under coach Ken Whisenhunt.
Scott Bordow of the East Valley Tribune takes a humorous look at the Cardinals' past futility, noting that those covering the team could always count on down time come January.
Also from Bordow: Giants coach Tom Coughlin lists stopping the Cardinals' ground game among his team's top priorities. Yeah, right.

Matt Barrows of the Sacramento Bee outlines four steps that would help Mike Singletary remain head coach beyond this season. Having Shaun Hill emerge as a long-term option at quarterback would certainly help.
Also from Barrows: A look at key matchups.
More from Barrows: Terrell Owens' dark side can appear at any time.
Matt Maiocco of the Santa Rosa Press-Democrat says Tony Romo's even keel helps keep Owens from imploding.
Also from Maiocco: A look at trends and key matchups from the 49ers-Cowboys game.
Brian McIntyre of Scout.com predicts a 20-17 victory for the Seahawks against the Redskins. He expects improved play from Matt Hasselbeck.
John Crumpacker of the San Francisco Chronicle says the 49ers are looking to reverse a five-year run of futility on the road, particularly in games that kick off at 10 a.m. PT.
Also from Crumpacker: A quick look at what to watch for in the 49ers-Cowboys game.
Gwen Knapp of the San Francisco Chronicle appreciates the versatility, intelligence and toughness of 49ers running back Michael Robinson.
Nancy Gay of the San Francisco Chronicle takes inventory at Texas Stadium, home of the $350 (and rising) used urinal.

Jose Romero of the Seattle Times says Mike Holmgren wants to win as many games as he can this season. The coach isn't interested in preparing the team for 2009.
Also from Romero: Key questions from the Redskins-Seahawks matchup. Don't expect Shaun Alexander to play much against his former team.
Danny O'Neil of the Seattle Times looks at trends in NFL coaching hires. First-time head coaches seem to be faring well, from Jim Zorn to Tony Sparano to John Harbaugh to Mike Smith.
Frank Hughes of the Tacoma News Tribune looks at the uncertain contractual future of Seahawks linebacker Leroy Hill. Will a losing season affect his value?
Dave Boling of the Tacoma News Tribune sizes up the Zorn factor in the Redskins-Seahawks matchup.
Scott Johnson of the Everett Herald says the Seahawks have become spoilers. They face five playoff contenders in their final six games.
Also from Johnson: A look at Zorn's rise through the coaching ranks in spite of Chuck Knox's refusal to hire him as an assistant coach.

Jim Thomas of the St. Louis Post-Dispatch says the Rams need a quality alternative to injured running back Steven Jackson.
Also from Thomas: The Rams are having problems with shotgun snaps.
More from Thomas: A look at key matchups in the Bea
rs-Rams game. He gives the Rams an edge when they pass the ball.
Bernie Miklasz of the St. Louis Post-Dispatch checks in with Rams owner Chip Rosenbloom, who says he's "underwhelmed" by the performance of the front office and what he sees on the field. Rosenbloom recommits to keeping the Rams in St. Louis.
September, 17, 2008
9/17/08
12:18
PM ET
| | |
| --- | --- |
| | |
| | Harry How/Getty Images |
| | Kurt Warner, right, connected with Anquan Boldin six times for 140 yards and 3 scores last Sunday. |
Posted by ESPN.com's Mike Sando
The Kurt Warner highlights blurred together during the Arizona Cardinals' 31-10 victory over the Miami Dolphins in Week 2.
Warner to Anquan Boldin for 79, 27 and 16 yards. Warner to Larry Fitzgerald for 75, 31 and 20 yards. Warner to rookie running back Tim Hightower for 20 yards. Warner to third receiver Steve Breaston for 18 yards. Warner to tight end Ben Patrick for 15 yards.
By day's end, Warner had become the first player in NFL history to attempt at least 20 passes, complete at least 75 percent of them and average at least 15 yards every time he threw. Not the first Cardinals player. The first NFL player. Ever.
"What I watched out there today was a hell of a job by Warner," Dolphins coach Tony Sparano said afterward.
It's all good in Arizona right now. The Cardinals are 2-0 for the first time in 17 seasons and Warner's numbers suggest he's back to his old MVP form. But when I asked Cardinals offensive coordinator Todd Haley to single out his quarterback's top three plays of the season, Haley pointed to an incomplete pass among them.
Yes, Haley loved the 79-yard touchdown strike to Boldin early in the Miami game. Warner recognized the Dolphins' blitz almost instantly, saw the safety out of position on the weak side and started his throwing motion before Boldin had made it even 7 yards downfield.
Haley also singled out a crucial third-down pass to Steve Breaston on a flag route during an opening-week victory at San Francisco.
But it was one of only five incomplete passes Warner threw against the Dolphins that validated what Warner also showed during the opener: a newfound ability to bail on a play with an eye toward the bigger picture. It's the No. 1 reason Arizona has a chance to sustain its fast start heading into road games against the Washington Redskins and New York Jets.
September, 14, 2008
9/14/08
11:00
AM ET
Posted by ESPN.com's Mike Sando


The Cardinals can claim their first 2-0 start since 1991 by beating a reconfigured Dolphins team at University of Phoenix Stadium today. The Dolphins were one of the more active teams in free agency as they sought to recover from a 1-15 record last season.
Those interested in taking a closer look at the Dolphins can pick up a roided-out roster with enough information to last until kickoff, and then some. The Dolphins have only 20 of their own draft choices on the 53-man roster, tied for the fewest in the league and 6.2 fewer than average. That includes seven players drafted under current coach Tony Sparano, five drafted under previous coach Cam Cameron, six drafted under Nick Saban and two survivors from the Dave Wannstedt era (Yeremiah Bell and Vernon Carey).
The Dolphins' 53-man roster features 25 players drafted by other organizations, four more than any team in the league and 7.4 more than the league average.
Led by rookie No. 1 overall choice Jake Long at left tackle, the Dolphins are very young on offense. Only the Packers were younger on offense heading into games today. The Dolphins' defensive players are eighth-oldest on average.