September, 18, 2013
9/18/13
11:35
AM ET
KANSAS CITY, Mo. -- The Chiefs have issued their final injury report before Thursday night's game against the Eagles in Philadelphia. Tight end
Anthony Fasano
(ankle) did not practice and is listed as doubtful to play in the game. Cornerback
Brandon Flowers
(knee) was listed as a limited practice participant, and his game availability was questionable.
Two other starters, tackle
Branden Albert
(shoulder) and defensive end
Mike DeVito
(neck), were full practice participants and listed as probable to play against the Eagles.
With a second tight end,
Travis Kelce
, hobbling on a sore knee, limited in practice and listed as questionable, the Chiefs are down to
Sean McGrath
and
Kevin Brock
as healthy players at the position. McGrath joined the Chiefs off waivers from Seattle at the start of the regular season while Brock re-signed only this week. He went to camp with the Chiefs but was released before the regular season started.
McGrath has two receptions for 31 yards.
Three backup linebackers were full practice participants and listed as probable:
Nico Johnson
(ankle),
Dezman Moses
(toe) and
James-Michael Johnson
(neck).
April, 29, 2013
4/29/13
9:00
AM ET
The NFC West's fiercest current rivals, San Francisco and Seattle, both wound up selecting tight ends from Rice University in the recently completed NFL draft.
How the 49ers and Seahawks selected those tight ends invites a question: Did the 49ers snatch from Seattle a player the Seahawks would have selected?
Tight end was seen as a primary need for the 49ers and a secondary one for the Seahawks based on how each team has run its offense recently.
When NFL teams selected three tight ends between the 21st and 47th selections, San Francisco risked watching more players at the position come off the board before it was scheduled to select with the 61st overall choice. So, with Green Bay on the clock at No. 55 and Seattle scheduled to pick at No. 56, the 49ers traded into the Packers' slot to select Vance McDonald, the more prominent of Rice's tight ends last season.
Seattle then traded back six spots to No. 62 before selecting Texas A&M running back
Christine Michael
. The Seahawks later selected McDonald's teammate, tight end Luke Willson, in the fifth round at No. 158 overall.
To my knowledge, no one asked 49ers general manager Trent Baalke or his Seattle counterpart, John Schneider, about the sequence when San Francisco jumped past the Seahawks to select McDonald. The two men worked together in Washington years ago and could have a good feel for the other's tendencies. However, there is no way the 49ers could have known whether the Seahawks or any other team was going to select McDonald between the 55th and 61st selections.
"There's times when you want to sit tight and there's a lot of times where people will question, 'Well, why did you move up five when he would have been there?'" Baalke told reporters when discussing trades in general. "Well, there's no proof that the player would have been there. So, you do what you need to do to make sure you get the players you want to get."
By trading up six spots, the 49ers moved past Atlanta, New England, Denver, Houston and Seattle in the draft order. Three of those five teams selected tight ends later in the draft. Atlanta used a fourth-rounder for Stanford's Levine Toilolo. Seattle used the fifth-rounder for Willson. Houston used a sixth-rounder for Ryan Griffin from Connecticut.
Baalke could have sized up those teams' needs collectively when deciding to move up for McDonald. He might not have had only the Seahawks in mind.
The 49ers had enough picks to move around the board freely to fill needs at values agreeable to them. The price they paid Green Bay for the 55th choice -- the 61st and 173rd picks -- was lower than the price Seattle commanded for the 56th selection (Baltimore handed over the 62nd, 165th and 199th picks for that one).
[+] Enlarge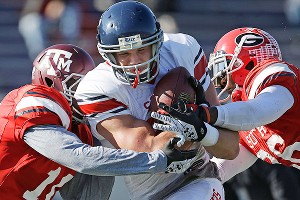 AP Photo/Dave MartinSan Francisco traded up in the second round to select Rice tight end Vance McDonald.
Comparatively, then, the 49ers got a good deal. Why not move up if the price is right? The Packers have long been known as a team willing to move back for additional picks. They simply could have made for a convenient trading partner whether or not Seattle was scheduled to select one spot later.
Teams usually have several players in mind for each selection they hold. They move up when the list of players they consider worthy of a certain value range dwindles, or if a specific player within striking distance is rated far higher than others likely to be available to them. They move down when the list of worthy players is longer.
"I don't know that you ever trade back six, seven, eight picks and hope one player's there," Baalke said when explaining why the 49ers traded back six spots to No. 40. "That's risky business. So, we had a number of players that we were willing to take. And at that time we felt that one of that group of guys was going to be available at 40, and we would have been happy with all of them."
The fact that McDonald and Willson both played at Rice before winding up in the NFC West seems coincidental.
"Vance was obviously the more stout guy, if you will," Schneider said. "Willson was more of the down-the-field threat, but there is no question Vance was much more involved in their offense."
Injuries limited Willson in 2012. He previously played first base on the Canadian national team and spent time in the Toronto Blue Jays organization. According to the Vancouver Sun,
Willson posted impressive numbers
at his pro day: 4.46 seconds in the 40-yard dash, 38-inch vertical leap, 10-plus feet in the broad jump and 23 reps of 225 pounds in the bench press.
"We like the fact that for us he was the second-best tester of all the tight ends in this draft," Schneider said. "He is 6-5 1/2, running 4.51 and great hands, can get down the field. He is quick off the ball, gets his shoulders around quick. He is a really interesting prospect for us."
Baalke said his team valued McDonald's versatility in particular. McDonald also led all tight ends at the NFL scouting combine with 31 reps on the bench press.
"He's 260-plus pounds, he's got a huge wingspan, he's got big hands," Baalke said. "He lines up all over the place. He lines up a little bit in the backfield. He lines up on the line of scrimmage. He lines up in the wing position, off the line of scrimmage. And he also lines up outside. He's smart, he's tough and he is a good fit within our system."
April, 24, 2013
4/24/13
5:25
PM ET
Predicting which teams will draft specific players can be tough work.
Last year, for instance, the
seven-round mock draft

from Scouts Inc. went 0-for-28 in projecting players to NFC West teams. Some of the projections lined up from the standpoint of position. For example, the
Seattle Seahawks
did select a linebacker in the second round, but it was
Bobby Wagner
, not
Lavonte David
. The
St. Louis Rams
did take a receiver in the second round, but it was
Brian Quick
, not
Rueben Randle
.
One unexpected turn in a draft can throw off subsequent projections. The 2013 draft appears particularly tough to handicap. John Schneider, the Seattle Seahawks' general manager, recently said he could not recall a draft quite like this one from that standpoint.
So, good luck, mock drafters.
The Scouts Inc.
seven-round mock for 2013

provides a conversation starter as we navigate the final day before the real draft begins.
A run through the picks for NFC West teams (with a head nod to similar pieces from
Kevin Seifert
and
Jamison Hensley
for the divisions they cover):
Arizona Cardinals
Jordan's availability at No. 7 might come as a surprise. The Cardinals would, in theory, improve their outside pass rush with that selection.
The Barkley projection might catch you off-guard after
Carson Palmer
's arrival changed the subject away from quarterbacks.
Drew Stanton
has some salary guarantees, too. I'm skeptical.
The Scouts Inc. projection would extend to six the streak of drafts without Arizona selecting an offensive lineman in the first three rounds. Jordan Mills, the projected choice in the fifth round, wouldn't help the situation at guard, where the team has a need, in my view.
The Cardinals would also come away without immediate help at safety and without a speed receiver. The offense wouldn't improve enough right away through this draft.
St. Louis Rams
Safety, running back, receiver, guard and outside linebacker might be the five top needs for the Rams, not necessarily in that order.
The Scouts Inc. mock addresses each of those needs with the Rams' first five picks.
The Rams will have to balance clear needs at safety and elsewhere against a big-picture desire to continue building the roster for the long term with additional choices secured from the
Washington Redskins
.
At 231 pounds, Lacy would fill the Rams' need for a bigger back after the team allowed
Steven Jackson
out of his contract. Lacy,
Isaiah Pead
and
Daryl Richardson
would give the Rams a talented young committee at the position.
San Francisco 49ers
There's very little chance the 49ers will hold onto all 13 of their selections, of course. They'll have the flexibility to move forward, move back or even trade into the 2014 draft.
The projection for Brandon Williams in the third round caught my attention.
Williams is a 335-pounder from Missouri Southern State. He cranked out 38 reps in the bench press at the scouting combine, most among defensive tackles. Scouts think he projects to multiple positions across multiple schemes in the NFL. That would appeal to a team such as the 49ers.
Williams played at the NCAA Division II level. Would the 49ers use a third-round choice for a Division II prospect? They used a sixth-rounder for Western Oregon's
Jason Slowey
last year, the only time San Francisco has selected a Division II player over the past two drafts.
It's an interesting thought. The 49ers do have a need for a big, talented, versatile defensive lineman. They could bring along a prospect such as Williams with an eye toward 2014.
Seattle Seahawks
The Seahawks are one of two teams without a first-round selection after sending theirs to Minnesota in the
Percy Harvin
deal.
The second-round projection, Sio Moore of Connecticut, would give the Seahawks a weakside linebacker to play with Wagner (middle) and
K.J. Wright
(strong side).
The team also has plans for
Cliff Avril
at linebacker, at least in some capacity. There's room for a standard weakside linebacker after the Seahawks allowed
Leroy Hill
to reach free agency.
Tavarres King
, the Georgia receiver projected in the fifth round, is known as a vertical threat. He averaged 22.6 yards per reception last season.