May, 25, 2011
5/25/11
3:05
PM ET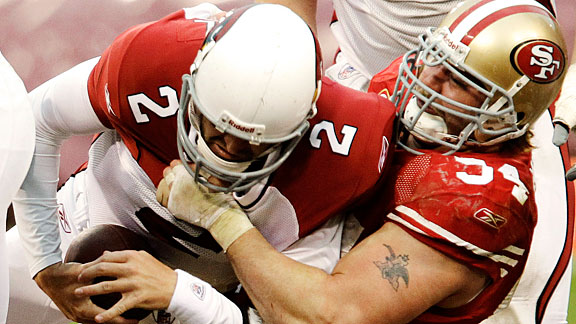 AP Photo/Paul SakumThe 49ers' Justin Smith has collected 8.5 of his 21.5 sacks after the third quarter since 2008.
The try-hard guy, long revered by NFL fans for overcoming physical limitations with all-out effort, has not been universally loved.
Established veterans with a feel for how to practice during long, demanding regular seasons can become resentful when the try-hard guy's misplaced fury produces unwanted collisions.
So, for the sake of clarity, the try-hard guy is excused from this conversation about pass-rushers so relentless, they wear down opponents over the course of a game.
We're talking about players with enough talent to command significant playing time, many as high draft choices or big-ticket free agents. We're talking about the
San Francisco 49ers
'
Justin Smith
, one of two NFC West players to receive votes in
ESPN.com's Power Rankings
for defensive players.
Patrick Willis
was the other.
"Justin Smith is a relentless player who wears down opponents by coming after them each and every play,"
BigBrad184
wrote in response to
this item
Wednesday morning. "I don't have any stats to back this up, but it seems like he often gets many of his sacks in the fourth quarter because of the fatigue he causes to offensive lineman."
Interesting thought.
"Maybe breaking out Smith's sacks by quarter over the past few years is a project for Sando,"
BigBrad184
concluded.
Done deal. John Fisher of ESPN Stats & Information responded to my request for the statistical evidence
BigBrad184
was seeking. Smith does rank among the NFL leaders for fourth-quarter sacks in recent seasons, but two other NFC West players, including one of Smith's teammates, rank higher on the list.
More on the results in a bit. First, a look at the methodology.
Fisher provided a file with quarter-by-quarter sack totals for every player since 2001. I filtered the information to consider:
The last three seasons. There was no sense comparing totals for eight-year veterans against players entering the league more recently. At the same time, three seasons was long enough to pile up adequate numbers.

Players with at least 10 sacks. This reduced qualifying players from 668 to 99, a more manageable number featuring more "name" players.

Late-game production. I then divided the remaining 99 players' fourth-quarter and overtime sack totals by their total sacks, producing percentages that might tell us which players tend to wear down opponents.
The 49ers' Smith collected 8.5 of his 21.5 sacks in fourth quarters or overtimes since 2008. That worked out to 39.5 percent, which ranked 22nd among the 99 qualifying players.
Philadelphia's Darren Howard, who did not play in 2010, led the way with 75.8 percent of his sacks (11.5 of 16.5) after the third quarter. He was on the Eagles' roster for two of the three seasons in question and never played even half the defensive snaps in either year. But he was highly effective as a situational player, at least when measured by sack totals. Only
Jared Allen
(15) and
Joey Porter
(14) had more total sacks after the first three quarters.
There was no way to tell whether players with higher late-game sack percentages had more or better late-game opportunities for reasons unrelated to being relentless. Players operating within superior schemes or alongside better teammates certainly benefited. Overall, players collected more sacks in second and fourth quarters, no surprise given that teams attempted 6,130 additional passes during those quarters over the past three seasons, a likely reflection of two-minute situations.
The San Francisco 49ers' Parys Haralson (52.9 percent) and the
St. Louis Rams
' Chris Long (48.6 percent) ranked highest in fourth-quarter sack percentage among current NFC West players with at least 10 sacks over the past three seasons. Haralson was seventh in the league. Long was ninth. Former 49er Tully Banta-Cain was 10th (48.4 percent), while Arizona's Joey Porter (44.4 percent), St. Louis'
Fred Robbins
(44.4 percent), ex-Seahawk
Lawrence Jackson
(44.0 percent) and current Seahawk
Chris Clemons
(41.0 percent) ranked among the top 20.
Were these guys merely slow starters? Were they strong finishers? Did they wear down opponents over the course of games? The numbers do not answer those questions definitively, but they provide a starting point for discussion.
I was also interested in seeing which players collected a disproportionate number of sacks earlier in games. They were, at best, tone setters. At worst, they failed to finish or failed to adequately wear down opponents. The previous disclaimers applied to them as well.
As the chart below shows, three of the 10 qualifying players with the lowest percentages of late-game sacks have NFC West roots.
Arizona's Calais Campbell has 5.5 of his 13 sacks in first quarters, but only one in fourth quarters or overtimes. The 49ers' Manny Lawson collected 11 of his 12 sacks in the first three quarters. Darryl Tapp, traded from Seattle to Philadelphia in the deal for Clemons, has 4.5 sacks in each of the first two quarters, but only two in second halves (one after the third quarter).
A few other observations with an eye toward the NFC West:
Porter (six) and Campbell (5.5) rank among the top seven in most first-quarter sacks. The 49ers' Smith is right behind with five.

Arizona's Darnell Dockett has nine of his 16 sacks in second quarters. Eight players have more second-quarter sacks over the past three seasons, but all are edge-rusher types. Dockett plays end in a 3-4 scheme.

Pittsburgh's James Harrison and LaMarr Woodley are a third-quarter nightmare for opposing quarterbacks. Harrison leads the NFL with 15.5 sacks in third quarters. Woodley is second with 12. Former Cardinal Calvin Pace ranks in the top 10 with 7.5.

Porter and Allen are tied for the most fourth-quarter sacks in the NFL over the past three seasons. Each has 14 (Allen also had one in overtime). DeMarcus Ware and Robert Mathis are next with 13.5, followed by Dwight Freeney and Julius Peppers with 12.5.
Back to the original question: Is the 49ers' Smith a relentless player who wears down opponents, producing fourth-quarter payoffs?
He might be, but he produces well enough across all quarters to transcend the try-hard label and probably even the relentless label as well. He's a beast.
August, 23, 2009
8/23/09
11:46
PM ET
Posted by ESPN.com's Mike Sando
Thoughts and observations from the 49ers' exhibition game Saturday night against the Raiders:
How to evaluate Alex Smith. Yes, he was a bit high with the throw that bounced off Josh Morgan for an interception, but Morgan also short-armed the ball as if to protect himself from a looming collision with Raiders cornerback Chris Johnson. Some of Smith's passes appeared difficult to catch, though, and this was one of them. When plays break down, Shaun Hill is more effective at moving and finding a receiver, even though Smith is more athletic.

Morgan still made an impact. The second-year receiver caught only one pass for 7 yards, but did you see him sealing Raiders linebacker Jon Alston to help spring Glen Coffee for 16 yards on the 49ers' second possession? Bet the 49ers' coaches saw it.
Coffee does more than run the ball. He picked up blitzing Raiders linebacker Ricky Brown early in the game. Brown recovered and eventually hit Smith, but Coffee's willingness and ability to pick up the blitz makes it easier for coaches to trust him in game situations. I think the 49ers could win with Coffee.

The 49ers love to run block. Tight end Vernon Davis and left tackle Joe Staley form a powerful combination. Davis can often block defensive ends one-on-one. Case in point: the last play of the first quarter. It was second-and-10 from the San Francisco 16. Coffee was alone in the backfield. The 49ers had three wide receivers on the field. Davis drove defensive end Trevor Scott across the formation. Staley did the same with defensive tackle Gerard Warren, finishing the 330-pounder with a violent blow that twisted Warren's upper body. Coffee shot through behind Davis and Staley for an 18-yard gain.
They really love to run block. Davis and Staley sealed the left edge on Coffee's 35-yard run midway through the second quarter. Left guard Tony Wragge and center Eric Heitmann pulled left and delivered decisive blocks. It's refreshing to watch the 49ers play to their strengths.
Pass rush, anyone? The 49ers are not winning one-on-one pass rush battles on the outside. They rushed four and got no pressure on the Raiders' third-and-21 touchdown pass. Manny Lawson rushed against the left tackle, got nowhere, then peeled off into coverage when tight end Zach Miller released from the other side.
Jimmy Raye found a rhythm. The successful run call on third-and-7 was a nice touch. Play calling becomes easier when the run game is working.
Adam Snyder could have been hurt worse. The 49ers' right tackle was about to get up after making a block when Coffee was tackled hard on the back of Snyder's right leg. Snyder was kneeling and had his back to Coffee. His right foot was turned outward and pressed into the grass. Snyder walked off the field, but he was obviously hurting. The 49ers hope to know more about the injury Monday.
Those are among the things I saw during the first half. About to watch the second half.
August, 4, 2008
8/04/08
5:17
PM ET
Posted by ESPN.com's Mike Sando
KIRKLAND, Wash. -- Pass-rush drills make for some of the most entertaining spectating at NFL training camps.
Seattle's Rocky Bernard took down center Steve Vallos with a powerful move at Seahawks practice this morning. Down the coast, Matt Barrows of the Sacramento Bee provided a scorecard for the pass-rush drills between the Raiders and 49ers today
I went through and totaled up the results: The 49ers' Joe Staley went 2-0 in his matchups against the Raiders' defensive linemen. Teammate Barry Sims went 2-0-1. The 49ers' Jonas Jennings went 1-0. Teammate and fellow offensive lineman Joe Toledo went 1-0-1.
For the Raiders, defensive tackle Josh Shaw went 3-0, beating Adam Snyder twice and Tony Wragge once. Raiders defensive linemen Terdell Sands went 2-0 against the 49ers. Raiders defensive tackle Tommy Kelly went 2-0-1. No player participated in more than three matchups.
The 49ers' Chilo Rachal, Damane Duckett and Eric Heitmann each won two of three.
Additional results, first for the 49ers: Adam Snyder (1-2), Brian De La Puente (1-1), Cody Wallace (2-2), Alan Reuber (0-1-1), John Booker (0-1-1) and Tony Wragge (0-2). For the Raiders: Gerard Warren (1-2), Derrick Gray (1-2), Greg Spires (0-2-1), William Joseph (1-2), international player Mauricio Lopez (0-2), Jay Richardson (1-1), Trevor Scott (0-2-1), Greyson Gunheim (1-0-1), Kalimba Edwards (0-2), Derrick Burgess (0-1).