August, 22, 2012
8/22/12
8:00
PM ET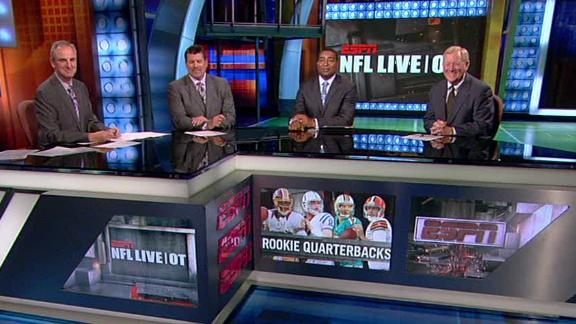 The first four NFL quarterbacks drafted in 2012 have already won starting jobs as rookies.
Seattle's
Russell Wilson
, third-round choice from Wisconsin, has a chance to make it five of the top six. He'll get a chance to work with recently cleared receiver
Sidney Rice
when the Seahawks visit Kansas City for their third exhibition game, set for Friday night.
We can excuse Denver's
Brock Osweiler
, the only second-round quarterback this year, for failing to crack the lineup. He'll get time to develop behind
Peyton Manning
.
"What it tells you that this is probably the most talented class since the '83 Marino-O'Brien-Kelly class," ESPN's Bill Polian said on NFL Live.
But there was also a word of caution from Polian, the former
Indianapolis Colts
exec, regarding the current crop of rookies: "Let's take a look three years from now. Then we'll know."
Recent history backs up the cautionary tone.
Three of the first four quarterbacks from the 2010 class have lost their starting jobs (
Tim Tebow
,
Jimmy Clausen
and
Colt McCoy
). St. Louis'
Sam Bradford
is the exception among the four. The sixth quarterback drafted that year, fifth-rounder
John Skelton
, could start in Arizona. None of the eight quarterbacks drafted later than Skelton holds a starting job.
The first five quarterbacks drafted in 2011 are starters now that
Jake Locker
, chosen eighth overall by Tennessee, has ascended into the Titans' lineup over
Matt Hasselbeck
.
Cam Newton
,
Blaine Gabbert
,
Christian Ponder
and
Andy Dalton
are the others. Locker, Gabbert and Ponder have the most to prove.
San Francisco backup
Colin Kaepernick
was the sixth quarterback drafted in 2011, ahead of
Ryan Mallett
,
Ricky Stanzi
,
T.J. Yates
,
Nathan Enderle
,
Tyrod Taylor
and
Greg McElroy
. Kaepernick might be starting by now if
Alex Smith
hadn't put together a career-best season.
Twenty-three of the named 30 starters for 2012 entered the NFL as first-round draft choices. Dalton and
Drew Brees
were second-rounders.
Matt Schaub
, like Wilson, was a third-round pick.
Tom Brady
(sixth),
Ryan Fitzpatrick
(seventh) and
Matt Cassel
(seventh) were late-round picks.
Tony Romo
was the only one undrafted.
August, 11, 2012
8/11/12
11:54
AM ET
There are no blockers or play-action fakes to deal with when prospective NFL athletes compete at the scouting combine each February.
That helps explain why
Minnesota Vikings
cornerback
Chris Cook
could not catch
San Francisco 49ers
quarterback
Colin Kaepernick
during a 78-yard touchdown run Friday night.
Officials clocked Cook at 4.44 seconds in the 40-yard dash during the 2010 combine. Kaepernick ran the 40 in 4.53 seconds the following year, an outstanding time for a quarterback.
Kaepernick was already approaching full stride when Cook disengaged from the man blocking him (
Brett Swain
) to give chase after the 49ers' backup quarterback fooled the Vikings' defense with a designed run off play-action. That put Cook at a clear disadvantage even though he had perhaps a one-yard head start.
Still, with 70 yards remaining til the end zone, most cornerbacks would like their chances against most quarterbacks in that situation.
Kaepernick is not most quarterbacks, of course. He rushed for more than 4,000 yards at Nevada. He was one of four quarterbacks at the 2011 combine to break 4.6 seconds in the 40.
Tyrod Taylor
(4.51),
Jake Locker
(4.59) and
Cam Newton
(4.59) were the others.
Cook was close to catching Kaepernick near the goal line, but Kaepernick held him off with his arm and made one last cut to ensure safe travel to the end zone.
That is one fast quarterback.
April, 30, 2011
4/30/11
9:37
PM ET
Once the
Arizona Cardinals
selected LSU cornerback
Patrick Peterson
fifth overall in the 2011 NFL draft, there was less chance, in my view, of the team selecting a quarterback this year.
My thinking: If the team could not get a franchise quarterback, why invest a choice in a player unlikely to alter the depth chart in a meaningful way?
The Cardinals apparently agreed. They did not draft a quarterback, instead coming away with a cornerback, running back, fullback, tight end, defensive end, receiver and two linebackers.
"It's a little unrealistic to think that you could address every need in the draft," coach Ken Whisenhunt told reporters Saturday. "The thing that kind of really stood out to me was we had three, that I know of, what we considered the best players at their positions in the draft, and we got them. That's kind of unusual."
Those players: Peterson, second-round running back
Ryan Williams
and fifth-round fullback
Anthony Sherman
. Kansas City traded into the 135th spot to draft quarterback
Ricky Stanzi
right before the Cardinals chose Sherman at No. 136.
Teams selected five quarterbacks between the Cardinals first and second selections, including two --
Andy Dalton
and
Colin Kaepernick
-- within three spots of where Arizona landed Williams.
"If you look at our roster now, we have a lot of young, talented football players," Whisenhunt said. "And when we put this together, when our guys get it, we're going to be a pretty good football team and that's really exciting. We're definitely going to have a chance to make some plays."
The chart shows the players Arizona drafted in relation to where other teams drafted quarterbacks.
April, 30, 2011
4/30/11
9:01
PM ET
RENTON, Wash. -- The
Seattle Seahawks
have yet to draft a college quarterback under Pete Carroll despite saying they'd like to select at least one every year as a matter of philosophy.

Whitehurst
Charlie Whitehurst
, who has started two games in the NFL, is the only quarterback under contract heading toward an as-yet-unscheduled free-agent signing period.
Cause for concern?
"No," general manager John Schneider said following the draft Saturday.
"We don't feel like that," Carroll added.
"We had a plan going in and we still have our plan," Schneider said. "We just can't execute that plan right now."
That plan could include acquiring a quarterback by trade, pursuing one in free agency or re-signing
Matt Hasselbeck
. With none of those options a certainty and with Hasselbeck no longer the definite starter, Carroll is expressing more confidence in Whitehurst.
"The fact that Charlie is here, Charlie is part of this draft class in a sense," Carroll said. "We used a third-round pick to get him (via trade in 2010). We have a young, up-and-coming quarterback. I know you are looking, 'Hey, let's go get another one,' but we are happy with Charlie and hoping he is going to continue to flourish and blossom. I'm not feeling like we missed out on a quarterback opportunity because Charlie is growing with us."
The Seahawks were in a tough spot selecting 25th overall in this draft. They would have been picking eighth had they lost to St. Louis in Week 17 last season. Under those circumstances, I suspect they would have drafted Missouri's
Blaine Gabbert
. That was never a realistic option the way things worked out.
As for Whitehurst, the team had several opportunities to name him the starter last season. Hasselbeck struggled for stretches and was playing through injuries that affected him. I found it telling at the time when Carroll stuck resisted multiple opportunities to get playing time for the quarterback Seattle acquired and needed to see in action.
"That is how you perceived it," Carroll said, "but we had a starting quarterback and we supported our guy throughout his opportunities. When it was time, we got Charlie in there. Charlie had never even played before. He has now started two football games in his career in the NFL. He is just getting started, to me. He is just a young guy proving himself and is going to show us in time where he fits. We thought we had a young guy coming up and we still do."
Schneider said the Seahawks never valued a quarterback in the draft enough to select one over the players they chose.
The chart shows the players Seattle drafted and the quarterbacks other teams selected subsequently.
April, 1, 2011
4/01/11
8:14
AM ET

Seahawks owner Paul Allen
adapts a section of his new memoir for use by Vanity Fair. I've read through the piece and learned more about Allen than I had learned in nearly 15 years of covering his NFL team. Allen goes into detail regarding his relationship with Bill Gates during Microsoft's formative years. Allen: "My style was to absorb all the data I could to make the best-informed decision possible, sometimes to the point of over-analysis. Bill liked to hash things out in intense, one-on-one discussions; he thrived on conflict and wasn't shy about instigating it. A few of us cringed at the way he'd demean people and force them to defend their positions." I found this to be a fascinating look inside the partnership that ultimately armed Allen with the resources needed to purchase professional sports franchises.
Danny O'Neil of the Seattle Times
takes an in-depth look at Golden Tate in relation to other rookie receivers drafted in the second round. O'Neil: "The first question is just how bad was Tate's rookie season? And truthfully, it wasn't as awful as many have described. He was one of three receivers drafted in the second round in 2010, none of which caught more than 25 passes last season. Tate's regular-season statistics: 21 catches for 227 yards, an average of 10.8 yards per catch. He did not score a touchdown. In the past four drafts, there were 17 wide receivers chosen in second round. Nine of them finished their rookie season with fewer receptions than Tate's 21."
Brady Henderson of 710ESPN Seattle
passes along comments from an interview with Seahawks general manager John Schneider. Schneider: "Well, starting any organization or any football team I think you have to look at both sides of your line. So I would say offensive, defensive line are priorities for us, no question. But we're looking for depth at every position."

Kent Somers of the Arizona Republic
reflects on the limited quarterback options for the Cardinals, noting that recently injured veteran Chad Pennington had been considered a candidate to compete for playing time somewhere despite age and previous injury concerns. Somers: "So to those who can't believe the Cardinals are considering Marc Bulger, what other free agent intrigues you? Alex Smith? Rex Grossman? Tavaris Jackson? Matt Hasselbeck? A strong case can be made against each of them. When signing a quarterback in free agency, a team needs some vision and a ton of luck. The Saints took a risk on Drew Brees' shoulder in 2006 and it paid off. The Cardinals thought Kurt Warner had a little something left in 2005. It took two-plus years and a coaching change, but Warner proved himself again."
Jason La Canfora of NFL.com
says University of Arizona defensive end Brooks Reed plans to visit with the Cardinals next week. La Canfora: "Reed has been somewhat overlooked in a deep class of elite defensive linemen, but he's generating a lot of interest from teams drafting in the 25 to 40 range, sources said Thursday, and is meeting with many of them."

Matt Maiocco of CSNBayArea.com
says the 49ers' coaches -- led by Jim Harbaugh, Greg Roman and Vic Fangio -- are more familiar with college prospects based on their experiences at Stanford last season. Maiocco: "Harbaugh, Roman and Fangio coached or coached against at least 52 of the 329 (15.8 percent) prospects invited to the NFL scouting combine last month in Indianapolis. They recruited countless others. The 49ers are looking to add a quarterback in the draft. Stanford played against three draftable quarterbacks -- Washington's Jake Locker, TCU's Andy Dalton and Virginia Tech's Tyrod Taylor -- during Harbaugh's time coaching the Cardinal. Moreover, Harbaugh recruited Missouri's Blaine Gabbert, expected to be one of the top two quarterbacks selected."
Matt Barrows of the Sacramento Bee
says 49ers general manager Trent Baalke and college scouting director Joel Patten watched Robert Quinn and other North Carolina players work out at their pro day.

Tim Klutsarits of examiner.com
says the lack of consensus atop the 2011 NFL draft suggests this might be a weak year for top prospects. Klutsarits: "This could mean great things for the St. Louis Rams because since there is so much uncertainty with these guys there will be players that fall and will become productive members of teams to the later picks in the first round. The risk of course is that because the bust rate seems higher in this year's Draft that the Rams have a higher chance of picking the next Adam Carriker or Tye Hill with the 14th pick in the draft."
Aaron Wilson of National Football Post
says Hawaii running back Alex Green has a visit scheduled with the Rams. The visit could mean the Rams have genuine interest in Green. It could mean they have unanswered medical questions about him. It could mean nothing much at all. It's tough to say. The team does need a backup running back, however. Green is 6 feet tall and 225 pounds. He's known for his skills as a receiver out of the backfield.