August, 24, 2012
8/24/12
1:30
PM ET
The
Seattle Seahawks
' new uniforms are different. We can agree on that.
My wife thinks the neon green piping along the outside pants seam resembles lighted arrows guiding plane passengers or moviegoers toward the exits.
She also once steered me away from a pair of white New Balance sneaks with blue lettering, informing me that those would instantly give me an old-guy look. I've been hyper-aware of those shoes ever since and can tell you she's pretty much 100 percent correct. Sorry, old guys.
To each, her own.
As for the Seahawks' new unis, I had a harder time identifying green jersey numbers on the dark blue background, at least in person (some said the numbers were easier to read on television).
Paul Lukas of the Uni-watch blog thinks about such things for a living. His team-by-team uniform rankings for the NFL will entertain you, I promise. Please check them out
here
. I've broken out NFC West teams' rankings and his corresponding comments below. I'll throw in my own thoughts too.

8. San Francisco 49ers
Lukas:
"Wouldn't it be great to have been in the room when they decided how to design the 49ers' sleeve stripes? "We don't really have room for three full stripes," someone must have said, "so let's just use partial stripes!" And then they presumably went back to whatever they were smoking. Aside from that, though, the Niners look very, very good these days."
Sando:
The top four uniforms in the rankings belong to iconic franchises with long traditions of success. The 49ers are in that category as well. Does on-field success enhance our feelings for a uniform over time? I think so. Great-looking uniforms will rank highly, but success makes decent-looking ones rate higher in our minds. That's my theory, anyway.

21. St. Louis Rams
Lukas:
"The helmet design is still the class of the league, but the Rams' aesthetic stock has fallen in recent years. They wear blue-over-blue too often, and this season they've mothballed their gold pants -- a major mistake, since their white-over-gold look was one of the sharpest in the NFL."
Sando:
Kevin Demoff, the Rams' chief operating officer, has said the team is evaluating its uniforms this season. Demoff to
Rams on Demand
: "I personally love the old blue and white uniforms as I have said on many occasions and our fans have fond memories of the blue and yellow. Maybe a new fresh look would be appropriate. Heck, I even like the Cleveland Ram uniforms as a throwback option."

27. Seattle Seahawks
Lukas:
"Nike's signature design for the 2012 NFL season is great if you think sports is about superheroes wearing costumes, but not so great if you're into athletes wearing uniforms. Truth to tell, the white jersey and pants aren't so awful, but the blue set has way too much of that Day-Glo green tone (here at Uni Watch HQ, we call it neon snot). Meanwhile, the only real difference between the gray alternate and the white-on-white uni is that the gray one looks like it needs laundering."
Sando:
Check back in a couple years. Best-case scenario for Seattle, the look is ahead of its time and other teams will follow suit.

29. Arizona Cardinals
Lukas:
"What a mess. The old-school helmet doesn't match the newfangled jersey and pants. All the black piping and white sleeve paneling on the jersey needs to go, and the pants piping is a joke. And if someone in the Arizona legislature would kindly pass a law prohibiting the blood-clot look, the entire sports world would no doubt do an end zone dance of joy."
Sando:
Paul's risking a flag for unnecessary roughness. I'll never look at the Cardinals' uniforms the same way again.
April, 3, 2012
4/03/12
9:35
PM ET
Tying up loose ends on a Tuesday that began with the NFL and Nike unveiling new uniforms for the 2012 season:
All for now. Enjoy your Tuesday night.
April, 3, 2012
4/03/12
2:30
PM ET
The Nike literature
regarding the new "Elite 51" uniforms made available to NFL teams Tuesday includes the following terms: technology, Thermoregulation, hydrophobic, aircraft-grade, zonal, articulated and Hyperfuse.
Nike chairman Phil Knight's writers could have been describing spacesuits instead of football uniforms, except there's a lot more money to be made from the latter.
Nike saved some of its most descriptive writing for the
Seattle Seahawks
' total uniform redesign, which has so far trumped subtler styling tweaks for the other 31 teams.
"The new uniform colors are rooted in Seattle's own environmental hues -- the deep blue of the ocean water that tucks into the harbor near downtown and the Seahawks' stadium," Nike proclaims. "The new color addition called Action Green represents the green of the ubiquitous trees, ferns and moss literally covering the Pacific Northwest landscape."
While the Seahawks underwent the most dramatic uniform overhaul, including 12 markings on the pants and collar to honor the 12th Man, all teams' uniforms are functionally identical (check them out via Nike for
Seattle
,
Arizona
,
San Francisco
and
St. Louis
).
"The uniform is completely engineered from the inside out, focusing on creating a system where the baselayer, padding, jersey and pant work in concert," Nike said. "A few of the new innovations include increasing sleeve articulation for better range of motion and integrating new four-way stretch fabrication to provide a streamlined shrink-wrap fit."
The numbers on the jersey also stretch, according to Nike.
The 49ers made available a shot of
their white away jersey
. It looks similar to the ones we've
seen the 49ers wear
previously. While
this shot
of QB
Alex Smith
makes him look like a bad dude, the Seahawks are the ones calling their threads "the new look of intimidation," according to their website.
The comments section on
our previous item
shows a range of opinions on the Seattle redesign. I asked those leaving comments to disclose their ages, figuring younger fans might be more apt to welcome what Nike obviously considers to be a cutting-edge concept.
A sampling, with listed ages:
dizzog22 (age 24): "LOVE them. Gives the hawks a tougher look... Much better than the shiny blue... That was ridiculous."
luckier_12thman (no age listed): "I love these jerseys! The Hawks and Nike are just setting the tone, everyone outside the NW will hate the hawks look as always, but all the more reason to love them."
J3ffro19 (31): "I think they all look pretty good, the blue on blue or white on white especially."
Willy2535 (22): "LOVE THEM!!!!!!!"
nwdave (28): "At first I was like 'ugh,' then I was like 'meh,' and now they're growing on me. I like the gray alternates, and I like the helmet design. The overall look is pretty busy, though."
shorne25 (29): "Why do I think Arena Football League?"
SirDro (26): "I'm in the minority, but these look like MLS uniforms circa 1996. To each their own, I guess. Just glad my Niners aren't wearing anything like that."
NickMinnott (24): "Horrible, just awful. I'm embarrassed."
linemanmax64 (22): "I'm really digging the away and alternate jerseys. The home might take a bit more getting used to; I feel like it'll look good in the sunlight."
usceahawk (29): "Initially a little shocked, I think I like them."
bkbailey76 (36): "I had bigger hopes for the unis. I'm glad the Seahawks are doing something different, but not sure if this was the way to go."
Stormballa1986 (25): "We are in an ever changing world. NASCAR couldn't use 1934 Ford Coupes forever. Point is, the new uniforms are going to be something that when they change them again in 10 years, I am going to be the one saying, 'They were fine the way they were' about these new ones. They have to change, we can't wear the same uniforms we wore in 1992. Whether you like it or not, it is going to happen. Might as well be optimistic about how much of a beast Money Lynch looks in them."
crus9041 (no age): "Awesome of them to remember the 12th Man!"
Flynnsane in the Membrane (23): "I would have liked the home one more, if it wasn't for the neon green patch on the shoulder. I did like the grey ones the best. Might be getting a kam or lynch grey jersey."
ser4ph1m (26): "I completely agree, the neon green patch is distracting."
daveb_dc (32): "I think it'll take a while to get used to the new 'Nike' look, rather than the classic NFL look. I like the gray as the alternate, and I like the all whites. I hate the name across the back."
BaneDaBakBreakah (30): "These are the ugliest uniforms in the history of the NFL. The Nike logo is on the uniform more times that our own. If the jersey didn't have the actual word 'Seahawks' on it, then I wouldn't be able to discern it from a generic high school jersey. I think I'll save my money and skip buying a Matt Flynn jersey and stick with my retro Jim Zorn one."
Charbonneau85 (18): "Seahawks are so close to having perfect uniforms. The helmet is absolutely beautiful. The green should be darker, but otherwise the design is fantastic."
Battles 4 Seattle (26): "The helmet exceeded my expectations. Think it looks so sleek and yet very cool. The uniforms did not meet my expectations. I dislike the green and some of the other detail pieces."
SFC_12thMan (32): "At first I was bothered, but then I remembered that they were showing three uniforms, and not just one. The new dark jerseys look AWFUL when worn with the new dark pants, but are actually kinda cool with the gray or white pants. I LOVE the all-gray look. The helmets were the best change by far!!"
cubicalhabitation (no age): "So if the Seahawks are joining the XFL, who is going to replace them in the NFC West?"
Thanks for sharing. We haven't heard the last on this subject, I'm sure. Most of the reviews I read seemed positive.
April, 3, 2012
4/03/12
11:52
AM ET
The new Seattle Seahawks uniforms from Nike are ... different.
If Nike gets this right, younger players will
love
the changes
right
away,
with
others
realizing at some point that Nike was simply
ahead of the game
.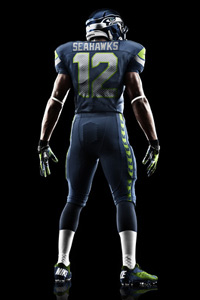 NikeThe new Seahawks uniforms were unveiled on Tuesday.
And let's face it: Reebok didn't exactly set the bar high with some of its offerings. Take
this jacket
, for instance. Take it into a time machine and give it back to 1991.
"How many Reebok uniform reveals did you follow?"
@robertlong asked
.
Point taken.
Those wanting to check out Seattle's full redesign can do so
on the team's website
.
The fit is definitely trimmer, the look cleaner. They're showing
blue-on-blue
,
white-on-white
and
other
combinations
.
"New unis are nice!" Richard Sherman, 24-year-old Seahawks cornerback,
tweeted
. "Glad I'm on the team that is spearheading the movement.
One unrelated observation: Marshawn Lynch appears to be in fighting shape. His weight climbed late during the 2010 season, but he reported in top condition last season and apparently took this modeling opportunity seriously.
Your thoughts? And please give your age range when opining. Bet we'll see a split by age demographic.
April, 2, 2012
4/02/12
7:56
PM ET
Wrapping up (for now, anyway) the first Monday in April:
The NFC West could be playing musical guards. Arizona already signed former San Francisco 49ers guard/tackle Adam Snyder. Former Cardinals guard Deuce Lutui visited the 49ers last week and met with the Seattle Seahawks on Monday, according to Howard Balzer. The Rams previously met with former 49ers starter Chilo Rachal. The 49ers met with long-ago Cardinals starter Leonard Davis.
Lutui played for Seahawks coach Pete Carroll at USC. Weight problems have raised questions about his commitment, leading the Cardinals to seek alternatives at right guard. They went with Rex Hadnot last offseason, then added Snyder this offseason. Seattle could use depth at guard after releasing Robert Gallery.
How would Lutui look in a Seahawks uniform? That might depend on which uniform. The new ones from Nike are expected to feature a tighter fit. That might be welcome news for Kam Chancellor and other statuesque players, but did anyone consult the big guys?
Quite a few Seahawks observers have sent photos purporting to offer clues regarding the new uniforms set for unveiling Tuesday. Some of them might be right, wrong or close to the real thing. Experience has taught me patience regarding "leaked" uniform photos. I recall seeing similar photos in the past, not all of them accurate. Nike's site was showing preview items for every team but Seattle earlier Monday, further affirming expectations of a full redesign for the Seahawks.
The Rams have made available a highlight video for the retiring Torry Holt. Holt's diving catch against Green Bay in the playoffs is worth another look.
The Cardinals have put together a video showing quarterbacks coach John McNulty checking out University of Arizona quarterback Nick Foles' workout. The Cardinals gave McNulty a raise and moved him to quarterbacks coach after blocking Tampa Bay from pursuing him as its offensive coordinator.
The Rams have the NFL's third-youngest roster after signing Jo-Lonn Dunbar and re-signing Tom Brandstater. Both are relatively young at age 27, but they actually made the revamped Rams slightly older on average. Tampa Bay and Seattle are tied for the youngest roster on average, with the Rams right behind. The 49ers (24th youngest) and Cardinals (25th) are older. Filtering out specialists produces slightly different rankings: Seattle second-youngest, St. Louis third, San Francisco tied for 11th and Arizona 21st.
Until next time, enjoy your Monday evening.