November, 11, 2011
11/11/11
4:03
PM ET
Chris Brown's piece for Grantland
on the
San Francisco 49ers
' passing game is a must-read for anyone hoping to better understand how
Alex Smith
is avoiding mistakes.
The premise, in short, says the 49ers have eliminated sight-adjustment routes from the playbook, instead building into the offense alternatives against blitzes by design, not simply in reaction to what the defense might be doing. This is spot on, and a reflection of what Harbaugh learned from Lindy Infante during his days as the
Indianapolis Colts
' quarterback.
[+] Enlarge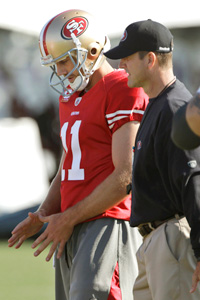 AP Photo/Paul SakumaCoach Jim Harbaugh has made philosophical changes to the offense that allow Alex Smith to feel more comfortable.
I've tried to
explain
those
Infante-based roots
at
various points
. Brown's piece has brought into focus the application of those coaching principles. And, as
joe_cool35
noted in the comments section, Eric Branch of the San Francisco Chronicle has
covered some of this ground
as well.
The changes Harbaugh has made are not specific to Smith. They are philosophical. The
Green Bay Packers
are using similar principles to an even greater degree. The 49ers would be using the same concepts if
Aaron Rodgers
or
Peyton Manning
were their quarterback. They are running their offense, not an Alex Smith offense, independent of whether or not the team would be more pass-oriented with another quarterback.
The approach suits Smith well because it eliminates doubt about whether or not the receiver has seen the same thing and reacted the same way. Smith knows what the receivers are going to do before the snap. He adjusts based upon what he sees from the defense. He should not have to wonder whether or not the receiver read the defense the same way he did.
"If you are in a three-step tempo to one side of the field, you could run a three-step tempo to that side, check it out, if it's not there, you are in rhythm to a five-step tempo to the other side," Harbaugh said when I asked him about the concepts during training camp. "Or you could go a five-step tempo to this side, check it out, it's not there, then come back to the other side of the field, you didn't take any more steps, but you are still in seven-step timing on a five-step drop."
Smith's college coach, Urban Meyer, has long maintained that Smith is at his best when he's comfortable with every aspect of an offense. Some of the NFL's top quarterbacks have similar mindsets. Manning,
Tom Brady
and others, including
Matt Hasselbeck
, also covet more certainty. Others -- think
Jay Cutler
and
Brett Favre
-- have an easier time cutting loose.
The principles Harbaugh and his offensive staff have implemented were new to Harbaugh when he signed with Infante's Colts in 1994. Infante had expanded upon the option-route concepts Don Coryell used in San Diego.
I'm not certain how the 49ers are using these concepts, but the basic idea is relatively simple. Let's say a receiver has two options on a route. If the quarterback doesn't throw to him on the first option, the receiver goes to the second option. Either way, the quarterback knows the options and throws the ball when he's comfortable with what he sees.
"You could be reading two receivers," Harbaugh explained. "They are in a principle, say, a 'go' and then you come back to a deep option route. Five-step tempo back to a seven. If it is open, you throw it. If it is not open, I come back. It's open or it's not."
One key for the 49ers and other teams using these concepts is to make sure the the routes designed to beat blitzes don't compromise the offense if the defense plays coverage instead.
For example, let's say the offense is facing facing third-and-7. The play might feature longer routes on the front side, with slant routes on the back side. The longer routes would be set to five- or seven-step timing, but if the quarterback noticed trouble quickly, he could still throw the slant on a three-step drop. But you're still running slant routes on third-and-7.
Smith has 10 touchdown passes and only two interceptions this season. He had eight touchdowns with one interception while posting a 3-2 record in his final five starts last season, before Harbaugh arrived. For that reason, I wouldn't attribute all Smith's success to Harbaugh or eliminating sight adjustments, etc. But if Smith appears more comfortable with the offense, the changes are very likely playing a role.
August, 20, 2010
8/20/10
9:33
AM ET

Clare Farnsworth of seahawks.com
says quarterback Matt Hasselbeck was the Seahawks' best player during training camp. Hasselbeck will be looking to improve upon his performance in the exhibition opener. Coach Pete Carroll: "Matt's looking terrific. He's played great throughout and he's as physically well as he's been in some time. He had a great offseason of hard conditioning. He's leaner, stronger, faster than he's been in the last few years. And he feels that way about it, too. Now, let's take care of him and let's see how far he can take it."
Also from Farnsworth
: How far can the Seahawks' offensive line take them?
More from Farnsworth
: How Charlie Whitehurst impressed Seahawks general manager John Schneider.
Danny O'Neil of the Seattle Times
quotes Carroll as saying Marcus Trufant is more physically fit than he was last season. That appears true on first glance. Trufant appears trimmer and younger. He's probably been able to work out harder now that his back trouble has subsided.
Also from O'Neil
: Deon Butler's big opportunity.
Greg Johns of seattlepi.com
says Lawrence Jackson's departure from Seattle opens more opportunities for Nick Reed. Lofa Tatupu said earlier in camp that he thought Chris Clemons and Reed were the two best pass-rushers on the team. That's good for Reed but it also validates questions about the overall strength of the team's pass-rush. Jackson didn't seem to fit the 'Leo' role at all.
Also from Johns
: Leroy Hill will miss several more weeks.
Eric D. Williams of the Tacoma News Tribune
provides video to his interview with draft analyst Rob Rang, who calls Whitehurst's performance in the exhibition opener a surprise.
Also from Williams
: Whitehurst's Packers pedigree.
John Boyle of the Everett Herald
updates Mike Williams' situation as the former first-round pick from USC tries to revive his career. Williams: "I never doubted my talent, but I needed some time away to really clear my mind," said Williams, who played for first-year Seahawks coach Pete Carroll at USC. I went through a lot in a short period of time, some things that I could control, some that I couldn't, and I just used that time to really get my mind right. And once my mind was right, it was easy for my body to follow, for me to be disciplined and do the things that I needed to do."

Kent Somers of the Arizona Republic
checks in with Cardinals rookie free agent Marshay Green. Also, Somers looks at the depth situation at receiver in Arizona.
Also from Somers
: another look at the weight issues Deuce Lutui and Herman Johnson are facing. Somers: "A starter in 53 of the Cardinals' past 54 games, Lutui lost that job when he stayed away from off-season practices, unhappy with the team's contract offer. Reggie Wells is playing in front of him, but considering the way he's playing, Lutui will be hard to keep on the bench."
Darren Urban of azcardinals.com
offers a few Cardinals notes as the team breaks camp. Urban: "(Ken) Whisenhunt talked about a couple of young defenders today. Linebacker Cody Brown, last year's second-round pick, hasn't shown enough yet to make the Cards know he is ready to be a heir apparent for (Joey) Porter or Clark Haggans. That's what the rest of the preseason is for."
Also from Urban
: The Cardinals have three games in 11 days.
More from Urban
: Rookie receiver Max Komar fits the slot role, but he likes to play on the outside, too.

Bill Coats of the St. Louis Post-Dispatch
says Rams rookie Sam Bradford resists the notion that he's the face of the franchise. Of course, Bradford is clearly the face of the franchise, no matter what he says. Bradford: "I think that's ridiculous. I don't think one person is any face of the franchise. It takes 11 guys on offense, 11 guys on defense and however many guys you have playing special teams to win a football game. That's how I look at it. And I wish more people would look at it like that."
Kathleen Nelson of the St. Louis Post-Dispatch
says kicker Josh Brown was back participating in practice after missing time with a hip injury. Various non-kickers had been handling kicking duties in practice, with comical results in some cases. Jordan Kent wasn't bad, however. Brown: "I think everybody enjoyed it with the humor that's behind it. But the real situation is that if something were to happen, somebody's got to go in. Jordan toward the end got to be more consistent and was trying to figure things out. I think a lot of the guys would never put themselves in that situation if they had the choice."

Matt Maiocco of CSNBayArea.com
says the 49ers used Brian Westbrook and Frank Gore in the same backfield Thursday. That sounds good in theory, but teams design their offenses around basic personnel groups, and those groups do not include two halfbacks. Could putting both on the field work? Sure, but I think it's unlikely the 49ers will use that type of grouping frequently.
Also from Maiocco
: The 49ers' 2-minute offense fared better in practice.
David White of the San Francisco Chronicle
takes a look at 49ers receiver Dominique Zeigler, who has impressed coaches with his route running and all-around game. White says there is "no way" the 49ers will waive him again this summer (assuming Zeigler is healthy this time). White: "Zeigler's willingness to run the most dangerous routes is proving to be his safest bet to make the 53-man roster at last."
Matt Barrows of the Sacramento Bee
updates Diyral Briggs' conversion from defensive end to outside linebacker. Briggs stood out to me during 49ers practices and again during the exhibition opener.
Also from Barrows
: a detailed look at Mike Singletary's oversight of linebacker drills. Think he knows a little something about the position?
Phil Barber of the Santa Rosa Press-Democrat
provides a long list of 49ers players who sat out practice Thursday.
Also from Barber
: a look at Singletary's work with the linebackers, and a note about Chilo Rachal's physical play.
Daniel Brown of the San Jose Mercury News
checks in with 49ers third-string quarterback Nate Davis, who has gone without gloves in practice recently for a very practical reason. Davis: "Centers they sweat a lot, so sometimes the gloves would get wet and it's hard to hold onto the ball." Nice.
Also from Brown
: Football Outsiders expects a fourth-place finish for the 49ers in the NFC West this season, downplaying the importance of a team having carryover at offensive coordinator. The question in this case is whether the continuity at coordinator benefits Alex Smith more than it would benefit another quarterback, as suggested by Smith's former college coach, Urban Meyer.
March, 11, 2009
3/11/09
10:50
PM ET
Posted by ESPN.com's Mike Sando

Clare Farnsworth of the Seattle Post-Intelligencer says the Seahawks are unlikely to bring back cornerback Ken Lucas, released by the Panthers.
Also from Farnsworth: The Seahawks surely would have signed Joe Jurevicius if the receiver had come available during the 2008 season. The chances are less likely at this point.
Danny O'Neil of the Seattle Times says the Seahawks "have to at least consider" adding Jurevicius to their roster. The Seahawks can never have enough depth at receiver after what happened last season, but T.J. Houshmandzadeh and John Carlson give the offense two strong options in the red zone.
Eric Williams of the Tacoma News Tribune looks at the zone-blocking concepts Seattle plans to adopt under new offensive coordinator Greg Knapp. Williams: "The key to zone blocking is to stretch the defense horizontally, creating vertical seams at the point of attack which allow the running back to quickly get to the second and third level of the defense. That's why it's important to have a one-cut guy at running back who sees the hole and runs downfield quickly instead of hesitating at the line of scrimmage. Both Julius Jones and T.J. Duckett fit that description."

Darren Urban of azcardinals.com says former Browns personnel evaluator T.J. McCreight joined former Broncos general manager Ted Sundquist in interviewing for a job with the Cardinals. The team does not expect to make a hire immediately. Urban also expects the Cardinals to sign former Broncos snapper Mike Leach. Urban also counts 59 players on the Cardinals' roster, one more than I've got on my downloadable roster. Hmmm.

Bill Coats of the St. Louis Post-Dispatch says newly signed Rams safety James Butler thinks new teammate Tye Hill can realize his potential beginning in 2009. Butler and Hill are friends and business partners. Also, Butler says Rams defensive backs Oshiomogho Atogwe and Ron Bartell repeatedly hit his cell phone with text messages designed to convince the former Giants safety to sign with St. Louis.
Jeff Gordon of stltoday.com develops the Butler-Hill storyline. Gordon: "If Butler can get Hill on the upward path, this signing will be like a two-for-one special. Not only will the Rams get a new safety to replace Corey Chavous, they will get a new-and-improved cornerback as well."
Rich Cimini of the New York Daily News pours cold water all over the thought of the Jets possibly landing Torry Holt once the Rams release the veteran receiver.

Matt Maiocco of the Santa Rosa Press-Democrat thinks the 49ers will draft a quarterback, but not with the 10th overall choice. Also, the 49ers aren't showing interest in Orlando Pace at this point, and they likely will not show interest in Torry Holt if the Rams release the veteran receiver. Finally, Alex Smith's new contract does not include $4 million per season in addition to his salaries. That money was owed to him as part of his previous deal.
Matt Barrows of the Sacramento Bee revisits Urban Meyer's 2005 comments about Smith. Meyer: "I think he is the best football player that I have ever been around. He is one of those guys if you take his intangibles and put him at any position you will probably get the best player at that particular position. His greatest qualities are competitiveness, intelligence and work ethic. Then on top of that, he is very talented too. I am ecstatic that he was the first player picked and I'm excited that he is in San Francisco."
August, 21, 2008
8/21/08
8:55
AM ET
Posted by ESPN.com's Mike Sando
David from Scottsdale, Ariz., writes: Mike: regarding Anquan Boldin's latest. This is classic Drew Rosenhaus. Why do we even pay attention anymore?
Mike Sando: Reporters get paid to pay attention. Contract disputes are never fun to cover. They can run a beat reporter's life 20 hours a day. I'll share a true story. My wife and I were dating while I was a Seahawks beat reporter and Joey Galloway's contract dispute was in full swing. I was finally finished writing my story at about 10 p.m. My wife and I sat down and were about to have a glass of wine. The phone rings. Galloway was firing his agent. The night was only beginning. The glass of wine spilled on the carpet. It's an upset we ever got married.
---
Jared in Bend, Ore., writes: I may be crazy, but I still believe that Alex Smith will be the starter for SF. Nolan may be coaching for his job, but Mcloughan has stated repeatedly that he is in on the decision. If Smith doesn't start, doesn't that put [GM Scot] Mcloughan on the hook, too?
Mike Sando: I like your thinking. I'm just not sure it's going to come out that way. Most general managers would indeed like to give the high draft choice every opportunity. If you're going to go with Smith, though, shouldn't he be getting the reps?
---
Chad from parts unknown writes:
Sando- I keep reading about a bunch of WR's who are either looking to get traded or released (Boldin, Horn, Parker). Wouldn't it make sense for Seattle to try to pick up one of these guys? There's almost nothing certain in the Hawks receiving core right now, why not?
Mike Sando: The last time I checked in on the Eric Parker front, his toe was going to need considerable time to heal. Joe Horn reportedly wants to play for the Cowboys or Eagles. I feel confident saying the Cardinals aren't trading Boldin to the Seahawks. Seattle could have Branch for the first game and Engram shortly thereafter. Also, the Seahawks would be on the hook for any veteran's full season salary if that player were on their roster for the regular-season opener.
August, 18, 2008
8/18/08
6:00
AM ET
Posted by ESPN.com's Mike Sando
Matt Barrows of the Sacramento Bee offers a few notes gleaned from watching a replay of the Packers-49ers game. At the end, he puts Jamaican sprinter Usain Bolt's record-shattering 100-meter dash time into football terms. Bolt finished in 9.69 seconds even though he seemed to be coasting near the end. That works out to 3.54 seconds for every 40 yards. It doesn't mean Bolt could run a 40-yard dash that quickly, but I like the breakdown anyway.
Dan Brown of 49ers Hot Read digs up some telling quotes from Alex Smith's former college coach at Utah, Urban Meyer. The comments Meyer made in 2006 suggest Smith would benefit much more from getting all the first-team reps in practice. Meyer's comments are toward the bottom of the item. I found them interesting.
Matt Maiocco of Instant 49ers takes a player-by-player look at how each member of the roster fared against the Packers on Saturday night. Josh Morgan, Ray McDonald and Jonas Jennings were among those faring well.
Maiocco follows up with an item summarizing Mike Nolan's day-after-game news briefing. Did we say news? Sorry. Still not an announcement on the starting quarterback.
Bob Young of the Arizona Republic plays point-counterpoint in the debate over whether Matt Leinart or Kurt Warner should start for the Cardinals.
Kent Somers of the Arizona Republic breaks down the Cardinals on offense, defense and special teams. Arizona has a long list of pass rushers, but not enough depth at offensive tackle. And if the Cardinals need a clutch field goal, Neil Rackers might make it.
Darren Urban of azcardinals.com offers a few postgame notes on the Cardinals. In his view, Steve Breaston has only tightened his grip on the No. 3 receiving spot. Early Doucet's hamstring injury has taken him out of the running for now.
Dave Boling of the Tacoma News Tribune provides a scouting report from the Seahawks' latest exhibition game. Seattle must keep running back Justin Forsett, he says. Boling also thinks Jordan Kent has evolved into an NFL receiver, not just a prospect. He charts Josh Wilson's recent improvement at cornerback. He likes what he sees from fill-in center Steve Vallos. And he excluded fill-in snapper Tim Lindsey from blame for two blocked punts.
Frank Hughes of Seahawks Insider lists less-established players who performed well against the Bears: Forsett, Wilson, Kevin Hobbs, Owen Schmitt, Kent, Brandon Coutu and Lawrence Jackson. Wilson, in particular, seems to be faring better as camp progresses.
Clare Farnsworth of the Seattle Post-Intelligencer compares Forsett to the late soul singer James Brown. Forsett had 261 all-purpose yards in Seattle's exhibition victory over the Bears on Saturday night.
Farnsworth also sizes up Charlie Frye's up-and-down performance at quarterback for Seattle. Frye tossed three interceptions, but his night wasn't a total loss. The reps are sure to benefit the Seahawks' third-string quarterback.
Jim Thomas of the St. Louis Post-Dispatch has the bad news for Rams fans: Mark Setterstrom and Brandon Gorin are out for the season.