November, 2, 2011
11/02/11
9:17
AM ET
Kevin Kolb is taking much of the blame for the Arizona Cardinals' 1-6 record. So is coach Ken Whisenhunt.

Kent Somers of the Arizona Republic
says some of the blame lies with a series of blunders in the draft. Somers: "Trade away a chance to take an elite pass rusher (Terrell Suggs, 2003), and a team could find itself trying to find a similar player for years. Miss on a quarterback (Matt Leinart, first round, 2006), and a team finds itself trying to solve the problem via free agency (Derek Anderson) or trade (Kevin Kolb). Miss on an outside linebacker (Cody Brown, second round, 2009), and a team has to gamble that an old free agent (Joey Porter) has something left. Miss on a left tackle (Levi Brown, first round, 2007), and a team might be continually reminded that it passed on a star running back (Adrian Peterson)."
Bob McManaman of the Arizona Republic
checks in with Cardinals backup quarterback Rich Bartel, who offers hunting advice. Bartel: "Feral hogs and javelinas are completely different, though. We've got javelinas here in Arizona, and they're smaller. They're really dangerous, and you can't use your (hunting) dogs on them because they'll kill your dog. Feral hogs you can use dogs on. They're bigger, but it's no problem for your dog."
Also from the Republic
: reasons why the Cardinals' streak of no local TV blackouts has a chance to continue against the Rams even with about 2,000 tickets remaining.
Darren Urban of azcardinals.com
says backup John Skelton is a popular guy with Kolb and the Cardinals struggling.

Brock Huard of 710ESPN Seattle
goes to the whiteboard to break down the Seahawks' problems on fourth down Sunday, pointing to left guard Robert Gallery among the culprits for the failed Marshawn Lynch run as the first half ended.
Dave Wyman of 710ESPN Seattle
says the Seahawks, and NFL referees, need to pick up their games when it comes to the rules.
Clare Farnsworth of seahawks.com
says Chris Clemons has been playing at a Pro Bowl level against run and pass alike. Farnsworth: "It's not just that the 254-pound Clemons gets sacks, it's how he gets them -- with relentless efforts against offensive linemen who outweigh him by 70-80 pounds. And it's not just the sacks that define his role as the 'Leo' end in the Seahawks defense. As underrated as he is as a pass-rusher, Clemons is even more overlooked when it comes to his contributions to a run defense that ranks 11th in the league and tops the NFL in per-carry average allowed (3.16)."
Danny O'Neil of the Seattle Times
offers thoughts on the Seahawks, including this one: "Seattle finished with 411 yards of net offense, 159 more than the Bengals. It's the second time the Seahawks have lost despite outgaining their opponents while Seattle has been outgained in both of the games it has won this season. It's something to keep in mind as everyone goes ga-ga over the large passing totals this season. Yards don't always translate to victories."

Jim Thomas of the St. Louis Post-Dispatch
sees good things from Rams linebackers Chris Chamberlain and Bryan Kehl. Thomas: "Chamberlain really has good range, doesn't he? He got to start several games last year on the weakside but wasn't nearly as effective. But he was playing hurt all last year, and is healthy this year. But he looks like he's blossoming as a player. He's a bit undersized, so he's not always going to hold up against the run. But he's looked good in space. Kehl made at least one eye-opening hit Sunday and also runs around well. Again, he's not ideal size, particularly for strongside linebacker, but he did bring some energy to the position."
Also from Thomas
: a look at the Rams' patchwork secondary, which held up better than anticipated against Drew Brees and the Saints.

Matt Maiocco of CSNBayArea.com
notes in his offensive player-by-player review that Frank Gore played 53 snaps to Kendall Hunter's nine during the 49ers' victory over the Browns. Also, regarding Alex Smith: "Again, he did not have any turnovers. . . Showed athleticism in first quarter when he avoided pass-rusher Jabaal Sheard in the pocket about 10 yards behind the line of scrimmage, scrambled right, avoided cornerback Joe Haden and dove head-first, eluding defensive tackle Phil Taylor to pick up 3 yards on a third-and-2 play. . . . Opened himself up to a big hit from safety Usama Young with a late slide at the end of a 9-yard keeper in fourth quarter. . . . On next play, overshot a wide-open Michael Crabtree 20 yards down the left sideline."
Also from Maiocco
: player-by-player review on defense. On rookie corner Chris Culliver: "Entered game as 49ers' third cornerback and played 35 snaps. He had another good showing in coverage and he broke up one pass and recorded five tackles. . . . Had good coverage on pass intended for Little on third down down in first quarter."
Matt Barrows of the Sacramento Bee
runs through the injury list for running backs who start games against the 49ers this season.
Ailene Voisin of the Sacramento Bee
says Gore is perfectly happy. Gore: "I'm so happy, man. We're 6-1. We're winning. I'm just having fun." In previous season's, "I was young, man. I was thinking about the Pro Bowls and other crazy stuff. I was selfish. Now, I'm not thinking about yards, just enjoying the ride."
Mark Purdy of the San Jose Mercury News
says the 49ers' Alex Boone has, by all accounts, overcome the off-field issues that threatened his career.
Kevin Lynch of the San Francisco Chronicle
offers thoughts on the 49ers' first-half performance against the Browns. Second half
here
.
November, 1, 2011
11/01/11
7:52
PM ET
Five things I noticed while watching the
San Francisco 49ers
' 20-10 victory over the
Cleveland Browns
in Week 8:
The 49ers had plans against pressure. Alex Smith is the only quarterback in the NFL with no interceptions and more than four touchdown passes against five or more pass-rushers. He is the only quarterback with no interceptions and more than two touchdown passes when opponents pressure with at least one defensive back. I can see why. The 49ers protected beautifully when Smith found Vernon Davis for a 19-yard gain and Michael Crabtree for a 41-yarder, both on third-and-9 plays against five-man pressure. Smith had a quick outlet against five-man pressure on a third-and-6 play (he found Braylon Edwards for a first down). And when the Browns rushed safety Usama Young near the goal line, Smith reacted quickly, finding Crabtree for a 2-yard touchdown with Young bearing down and leaping in the quarterback's face.
Joe Thomas met expectations. The Browns' Pro Bowl left tackle encountered very little trouble against the 49ers' talented defensive linemen and outside linebackers. Justin Smith nearly got around Thomas in a two-minute situation before halftime. Aldon Smith redirected the running back after slipping past Thomas to the inside. That was about it. On one play, Colt McCoy found Benjamin Watson for a 29-yard gain after Thomas shoved Parys Haralson backward hard enough for Haralson to knock down Justin Smith, removing both men from the play. Aldon Smith got his sack on an inside rush, not working against Thomas.
Free safety Dashon Goldson got caught letting up. Josh Cribbs beat 49ers cornerback Tarell Brown for a touchdown catch up the left sideline. It's tough to know whether Goldson should have arrived earlier to help, but it's clear Goldson should have run through the whistle on this one. He let up when it appeared either Brown was going to make the tackle or Cribbs was on his way out of bounds. Goldson accelerated when he realized Cribbs had broken free, but by then it was too late. Cribbs ran the remaining 15 yards to the end zone.
Alex Smith's running is OK, to a point. The 49ers called multiple designed runs for their quarterback. A shotgun run to the perimeter behind tackle Joe Staley worked near the goal line. Smith took a big hit on another outside run when the 49ers led 17-3 early in the fourth quarter. There's a fine line between outsmarting opponents and risking quarterback injury without good reason. Jim Harbaugh might think he can win with Colin Kaepernick, but there's no need to find out. Seattle lost Tarvaris Jackson to a pectoral injury on a designed run.
Patrick Willis the pass-rusher found the QB. Willis finished last season with six sacks, a career high. Expectations surged when new defensive coordinator Vic Fangio said he thought pass-rushing was the one area Willis could improve to become an even more dynamic player. The 49ers haven't needed to blitz much this season. Willis went into Week 8 without a sack. He finally got one Sunday. Willis lined up wide to the right and easily overpowered running back Chris Ogbonnaya before taking down McCoy. As I recall, Willis has usually rushed up the middle when pressuring. Perhaps he'll get more pass-rushing chances after making this outside rush work.
This wasn't a perfect performance, but the 49ers were in control all the way. They did more than enough to win the game, rarely taking risks beyond the quarterback rushes.
November, 23, 2010
11/23/10
3:00
PM ET
»
NFC High Energy
:
East
|
West
|
North
|
South
»
AFC
:
East
|
West
|
North
|
South
A look at a player who gave his team a significant boost in Week 11:
A fat stat line isn't necessarily a requirement for this weekly award.
[+] Enlarge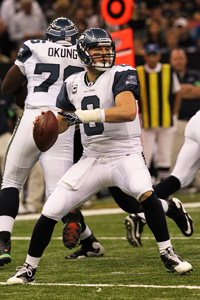 AP Photo/ Bill NicholsMatt Hasselbeck did his part in Seattle's Week 11 loss to the Saints.
It certainly helps.
The
Seattle Seahawks
'
Matt Hasselbeck
is the first two-time winner in the NFC West after passing for 366 yards against New Orleans while playing with an edge that gave his team at least a fighting chance.
"Matt's our leader, especially on that side of the ball," veteran strong safety
Lawyer Milloy
said. "We have to match his intensity."
Hasselbeck completed 72.7 percent of his passes with one touchdown, no interceptions and a 104.9 rating.
He completed seven third-down passes for first-down yardage, once for a 2-yard touchdown to
Ben Obomanu
and later on his final three attempts from third-and-7 or longer. He shoved Saints safety
Usama Young
while players fought to recover a fumble. He made unconventional handoffs to protect the cracked bones in his left wrist.
In short, Hasselbeck did just about everything he could to help his team. It wasn't enough to beat the Saints, but it stood out on a day when every NFC West team came up short on the scoreboard.
April, 4, 2009
4/04/09
11:29
AM ET
Posted by ESPN.com's Mike Sando
The Rams hold the second, 35th, 66th, 103rd, 138th, 176th and 211th choices in the 2009 draft. For perspective, I've singled out the last four players chosen in those spots.
Two of those players play for the Rams now: defensive end Chris Long, chosen second overall by the Rams last year, and free safety Oshiomogho Atogwe, chosen 66th overall by the Rams in 2005.
Going back one additional year would have shown Rams guard Jacob Bell as the 138th player chosen in 2004, by Tennessee.
October, 1, 2008
10/01/08
9:45
AM ET
Posted by ESPN.com's Mike Sando
Observations on the 49ers' pass protection against the Saints after watching the game and breaking down the team's offensive personnel use:
None of the six sacks was on third down. That means the 49ers weren't necessarily getting beat in obvious passing situations.
Right tackle Barry Sims needed more help. The Saints established early on that Sims wasn't going to handle defensive end Charles Grant. But the 49ers still took their chances. Grant beat Sims to the inside on two sacks. If the 49ers had helped him with a tight end, Sims could have set up inside without worrying so much about the edge.
Quarterback J.T. O'Sullivan is not going to make it through the season without better protection and more consistent decision making. He took a pounding. In the fourth quarter, Grant lifted Sims off the ground and hit O'Sullivan right after the quarterback threw. O'Sullivan was limping when he got up.
The 49ers either had assignment problems or got out-schemed on a few pressures. Left tackle Joe Staley and left guard Adam Snyder both blocked inside on defensive end Will Smith, allowing cornerback Tracy Porter to escape untouched to the outside for a sack. If Porter hadn't gotten there, cornerback Usama Young would have hit O'Sullivan from the other side.

Two of the six sacks came when the 49ers went with empty backfields. I know, the 49ers scored a touchdown from an empty set. But I see offenses in this division struggle more often than not when they empty the backfield. It's a cocky move by play callers and one I've seen backfire on Martz, Mike Holmgren and others. Spreading the defense makes little sense if the other team is getting immediate pressure with as few as three rushers.
Tight end Vernon Davis is one of the 49ers' better pass protectors. He blocked Smith, a talented defensive end, on back-to-back plays in the second quarter. Smith got the sack on the second play, but Davis did his job in protection. O'Sullivan held the ball too long, giving Smith time to chase him down.
The 49ers had a tight end on the field for every sack, but in most cases the tight end wasn't in position to help protect.
The Saints got pressure with only three rushers on O'Sullivan's 36-yard strike on third-and-16 in the fourth quarter. Grant beat Sims again. O'Sullivan stepped up to avoid the pressure, making an aggressive throw.
It's hard not to admire the way O'Sullivan fights through the hits. I just think he's taking too many sacks -- 19 through four games -- and too many hits to last.