September, 18, 2012
9/18/12
8:00
AM ET
The San Francisco 49ers welcomed Vince Vaughn and Owen Wilson into their locker room following a 27-19 victory over the Detroit Lions on Sunday night.
Immediately I wondered to myself whether Seattle Seahawks coach Pete Carroll would counter with a Will Ferrell reference. He did so Monday. The context suggests the reference was merely coincidental, but still, it's good to have NFC West coaches competing for status in every arena, including the entertainment industry.

Brady Henderson of 710ESPN Seattle
says Carroll mentioned hearing from Ferrell regarding the crushing block Seahawks receiver Golden Tate delivered against Cowboys linebacker Sean Lee in Week 2. Carroll: "Not to drop a name, but I did get an email from Will Ferrell last night saying, 'What a hit!' He said, 'Tell me about Golden Tate.' He was all jacked up about it, so I think that reached a lot of people."
Noted:
The block will likely reach the NFL commissioner's office, too. A fine seems likely, in my view, because Tate lowered his head to deliver a blindside block on a defenseless player.
Clare Farnsworth of seahawks.com
has Carroll's thoughts on the strength of the NFC West. Carroll: "I think it's a very aggressive division. Our style, San Francisco's style, the way the Cardinals are playing defense. I don't know much about the Rams; haven't seen them much, yet. But what else is Jeff (Fisher, the Rams' first-year coach) going to do? He's going to bring it. So, it's shaping up to be a really cool division. And I think people are going to look at it a lot differently than they have, say a couple years ago."
Also from Farnsworth
: what worked well and what needs work following a 27-7 victory over Dallas.
Danny O'Neil of the Seattle Times
asks and answers Seahawks-related questions. O'Neil: "The Seahawks didn't score a first-half touchdown until Week 4 last season, and after two games, their offense still hasn't found the end zone in the first two quarters. While Seattle led 13-7 at halftime against Dallas, its only touchdown was scored on special teams. The slow starts are as true for Seattle's pass rush as well as both of the Seahawks' sacks so far this season occurred in the second half."
Danny Kelly of Field Gulls
looks at how the Seahawks have expanded their use of personnel groupings featuring three tight ends.
Noted:
The Seahawks have run 12 snaps with three tight ends this season, the third-highest total in the NFL, according to ESPN Stats & Information. They have averaged a league-high 6.1 yards per play on these snaps (1.8 per rush on four carries, 8.3 per pass on eight attempts).

Paola Boivin of the Arizona Republic
adds detail and perspective to what Ryan Williams experienced after nearly fumbling away the Cardinals' hard-fought victory over the New England Patriots. Team president Michael Bidwill on Williams, who returned from a torn patella suffered a year ago: "He means the world to us. Those of us who were around the training facility saw how hard he rehabbed during those 12 months."
Bob McManaman of the Arizona Republic
says the Cardinals aren't celebrating their victory over the Patriots. Coach Ken Whisenhunt: "I think they were excited about the win, but you know it wasn't like we just won the Super Bowl or something like that. I think they were proud of what they had done, the significance of winning a game in New England. I think it sunk in a little bit after the game, but it seemed like they put it behind them and we're moving on."
Also from McManaman
: a Todd Heap injury update
Darren Urban of azcardinals.com
looks at the Cardinals' inability to get the ball to Larry Fitzgerald.

Jim Thomas of the St. Louis Post-Dispatch
says there's no doubt the Rams have enjoyed their victory over Washington. Safety Quintin Mikell: "It's just a great feeling, especially after what happened last year. It's something that I can't describe. Everybody's excited. All the work that we put in through camp and during the week, it just comes out right now."
Kathleen Nelson of the St. Louis Post-Dispatch
says a torn MCL will sideline Rams left tackle Rodger Saffold for at least a month.
Bernie Miklasz of the St. Louis Post-Dispatch
thinks the 2011 Rams never would have won a game like the one St. Louis won Sunday.
Nick Wagoner of stlouisrams.com
previews Austin Pettis' return to the Rams' active roster.

Matt Maiocco of CSNBayArea.com
looks at offensive options for the 49ers once Ted Ginn Jr. and Brandon Jacobs return from injuries.
Matt Barrows of the Sacramento Bee
passes along a classic Jim Harbaugh quote regarding what messages the coach wanted players to take from a couple Muhammad Ali anecdotes. Harbaugh: "We don't break it down, Barney-style, at the end of a story. We don't try to tell people what we think the message is or what it should be. We just put it there, and they relate to it in the ways they relate to it."
Also from Barrows
: Joe Staley, Michael Crabtree and Vernon Davis were among the 49ers players standing out against Detroit. Barrows: "Staley got into the second level of the Lions defense all game long and he was one of several linemen with big blocks on Frank Gore's standing up one-yard touchdown run."
Ailene Voison of the Sacramento Bee
looks at Crabtree's development.
January, 10, 2010
1/10/10
10:49
PM ET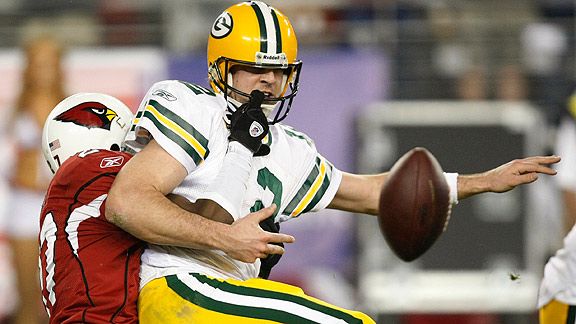 AP Photo/Matt YorkArizona's Michael Adams hits Green Bay's Aaron Rodgers on the final play of Sunday's game.
GLENDALE, Ariz. -- Cornerback
Michael Adams
was more emotional than most Cardinals players following Arizona's 51-45 victory over Green Bay in the wild-card round.
Adams' sack and forced fumble set up
Karlos Dansby
's winning touchdown return while bailing out Adams from earlier transgressions. He had missed a sack opportunity earlier in the game. Officials also flagged Adams for four penalties, including two for pass interference and one for holding.
Teammates call Adams by the nickname "Money Mike" in reference to the "Swingers" movie character played by Jon Favreau. Co-star Vince Vaughn was always assuring Favreau's character "you're so money and you don't even know it."
Adams had reason not to know it Sunday. The Packers'
Aaron Rodgers
passed for 422 yards and Adams was looking like the biggest goat not named
Neil Rackers
.
"Throughout the game, I was just praying to God, asking him for a fighting chance," Adams said.
Teammates kept telling Adams how money he was, more or less.
"
Tim Hightower
came to me in the second quarter after my second pass-interference penalty and he said, 'Keep your head up (because) you're going to make the play that wins this game,' " Adams said. "Throughout the game you can kind of lose faith and everything, but my teammates kept coming to me."
Never a doubt, right?
"Money Mike, he's just money," linebacker
Clark Haggans
said. "He's going to do whatever it takes. He's a great teammate and plays with a lot of passion, emotion and excitement. He made a great play and we're moving on to the next round."

NFC WEST SCOREBOARD
Friday, 8/22
Saturday, 8/23
Sunday, 8/24