November, 8, 2013
11/08/13
10:00
AM ET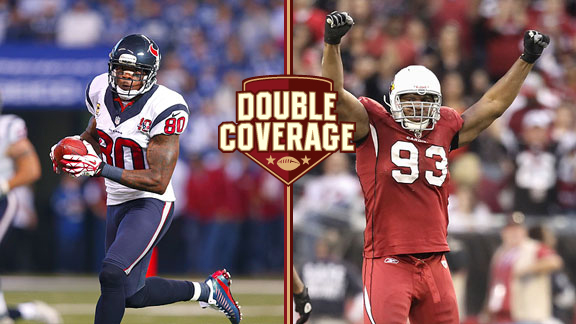 Getty ImagesAndre Johnson and the Texans visit Calais Campbell's Cardinals without head coach Gary Kubiak.
TEMPE, Ariz. -- Emotions will be at a peak for the
Houston Texans
when they make a midseason trip to the desert Sunday. They will be without head coach Gary Kubiak, who will be at home recovering from a mini-stroke, but Houston brings the league's top-ranked defense to Arizona in hopes of ending a six-game losing streak.
Awaiting the Texans will be a team with confidence. The Cardinals come off the bye week healthy and rested, having played only one game in 24 days when kickoff arrives. That'll either be a blessing or their demise, as the rust may have set in.
ESPN.com Cardinals reporter Josh Weinfuss and Texans reporter Tania Ganguli discuss Sunday's matchup.
Weinfuss:
What kind of impact will Kubiak's health issue have on the Texans this week and on Sunday?
Ganguli:
It was a chaotic, confusing and scary halftime for the Texans when Kubiak collapsed as he left the field Sunday. Kubiak is well liked by his coaches and players, so they'll miss him, but knowing he will make a full recovery will help the team emotionally. On the football side, the biggest change will be on offense. He's handing off offensive play-calling duties to coordinator Rick Dennison, who called the second half from the press box against the Colts. Defensive coordinator Wade Phillips takes over as the overall decision-maker. They've tried to let their head coach rest, but they can't keep him from thinking about the team. He calls to check in a fair amount.
Can you give me one player who has been a pleasant surprise and another who has been an unpleasant one for the Cardinals this year?
Weinfuss:
It might seem obvious but
Tyrann Mathieu
has been a pleasant surprise to a lot of people. He not only has earned playing time by making game-changing plays, but he recently has become a starter. I think the Cardinals expected Mathieu to be good eventually, but the fact that he has come on so quickly has been a pleasant surprise for everyone. As for the flip side, tight end
Rob Housler
has been an unpleasant surprise. After finishing strong last season, Housler's progress was hampered by a severely sprained ankle during training camp. It caused him to miss the first two weeks of the season and he hasn't returned to last season's form.
Does
Case Keenum
have what it takes to right the ship for the rest of the season?
Ganguli:
Keenum is still learning a lot about being a quarterback. Phillips noted Wednesday that it's important for the team to not try to do too much with a young quarterback. He's learning how to read defenses and learning what chances to take and not take. I was always of the minority opinion that the quarterback situation was only part of the problem for the Texans rather than the whole problem. They're still having issues on special teams and defense that they had with Schaub.
It has been a frustrating season for
Andre Johnson
but he has been part of a lot of bad teams and doesn't complain.
Larry Fitzgerald
is another elite receiver who has seen some lean years, though he does have a Super Bowl berth while Johnson doesn't. Has Fitzgerald ever shown frustration with his team's situation, or is he also a guy who keeps that to himself?
Weinfuss:
Larry Fitzgerald isn't the type of person to air his dirty laundry no matter how bad it gets, such as last season when he caught passes from four quarterbacks. There's no doubt he has been frustrated, especially during the past few seasons when his production has decreased. But Fitzgerald has kept his opinions to himself and I don't see him venting in the locker room. Fitzgerald has been the prototypical team player. He doesn't bash anyone and keeps talking about trying to improve and getting back to the playoffs, even making a run to the Super Bowl again.
Speaking of the playoffs, what do the Texans have to do during the final eight games to make a run to the postseason?
Ganguli:
They have to be able to finish and put together a complete game. They've got to stop committing costly penalties. The most recent example was a hold on the return after the Colts' final punt lost them critical yards on a drive that ended with a failed 55-yard field-goal attempt. And speaking of that, kicker
Randy Bullock
has to improve. Being 2-6 means the margin for error is tiny. The Texans have shown the ability to dominate good teams in spurts (they had double-digit leads over the Seahawks and the Colts and played the 9-0 Chiefs close). But spurts won't get them there.
How do you explain the discrepancy between the Cardinals' road and home records?
Weinfuss:
Like a lot of teams, the Cardinals are simply more comfortable at home. Their routines are set, they know what's coming, they know their surroundings. And University of Phoenix Stadium is also a tough place to play because of the noise levels, which the Cards have become accustomed to. Some might scoff at the notion of a true home-field advantage, but the Cardinals have one. As for why they can't win on the road, if I had that answer, I'd be making a lot more money.
November, 6, 2013
11/06/13
8:15
PM ET
TEMPE, Ariz. -- It's not just the
Houston Texans
who'll have to adjust to a new head coach and a new defensive coordinator on Sunday when they play the
Arizona Cardinals
.
Without head coach Gary Kubiak, who suffered a mini-stroke at halftime of Sunday's game against the
Indianapolis Colts
, the Texans aren't the same team. Interim coach Wade Phillips will continue to run the defense from the sideline but now offensive coordinator Rick Dennison will take over the play-calling duties. But it goes beyond the coaching personnel.
"Once you have a different playcaller, that's a change," Cardinals coach Bruce Arians said. "There are no tendencies. You have to throw all of that out the window and just play the offense the way it's designed to be played. Defensively, you play your defense.
"There's nothing that we have on Rick Dennison other than a half of football."
While the Cardinals scrambled to adjust their game plan and watch their game film, the Texans are trying to focus on Sunday. Fortunately for them, Kubiak left the hospital Tuesday morning and returned home, putting their minds at ease for the time being.
But halftime Sunday was nothing short of chaotic.
Phillips, whose coaching resume now includes three stints as an interim coach to complement his three head coaching jobs, said immediately after the Texans' loss that he didn't think halftime had an impact on Houston's second half. But as he spent more time thinking about it, Phillips now believes it did.
"Even I, along with everybody else, was kind of at halftime [wondering] 'What's going on? What happened? Where is he? Is he OK?'" Phillips said. "We didn't even know those things during the ball game in the second half. You always certainly have concerns for people that you care about and that's one that everybody cares about with our football team, our head coach.
"There were a lot of unknowns. You still have to play football and you have to do what you have to do, but there was certainly kind of a haze there as far as what was going on."
Phillips listed the types of decisions a head coach has to make compared to a coordinator, and it could be overwhelming to someone who hasn't been in that position before. A lot of the decisions made by a head coach are based on situations, Phillips said, and most of those are based on offensive strategy. There's deciding whether to go for it or kick a field goal or punt, when to use time outs, or when to slow down or speed up.
But if there's one person to assume those responsibilities, Texans defensive end
J.J. Watt
feels comfortable with it being Phillips.
"You never want to be in a situation like this but when you are put in a situation like this, it's good to have a guy who has head coaching experience and a guy like Coach Phillips, who has been around the game for a long time and is knowledgeable and knows how to handle the situation," Watt said.
Watt has texted with Kubiak, who's stayed in touch with Phillips and Dennison.
Even without Kubiak, it's business as usual in Houston. The Texans are trying to snap a six-game losing streak, which means more practice, more film study, trying to find a way to "get the ball rolling," Watt said.
And while the Cardinals are spending their time figuring out a way to defend a Dennison-coached offense, the Texans are just as focused.
"Obviously, you think about your coach and it will always be on your mind but we're professionals," Watt said. "We come in here and we know we have a job to do."
February, 11, 2012
2/11/12
7:24
PM ET
The
St. Louis Rams
wanted their next general manager to work well with new head coach Jeff Fisher.

Snead
They found a candidate whose history suggests that will not be a problem.
Atlanta Falcons
director of player personnel Les Snead, who
accepted the job
Saturday, has worked with four head coaches and two interim coaches during a Falcons tenure dating to 1998. Dan Reeves, Bobby Petrino, Jim Mora and Mike Smith were the head coaches. Wade Phillips and Emmitt Thomas were the interim coaches.
Snead's ability to rise through the ranks with the Falcons across multiple regimes and an ownership change suggests he's adaptable. The Rams hired Fisher to remake the team. They wanted a GM to provide the personnel expertise to facilitate the transformation.
Snead worked under Falcons general manager Thomas Dimitroff most recently. He replaces former Rams general manager Billy Devaney, who had also come to St. Louis from the Falcons' front office.
Snead,
listed by the Falcons
as 37 years old entering the 2011 season, is about 15 years younger than Fisher. He was a tight end at Auburn from 1992-93, where he played with NFC West alums Chris Gray and Frank Sanders.
The Rams did not immediately announce the hiring.
Snead interviewed
over the phone for the
San Francisco 49ers
' GM job a year ago, but the team hired Trent Baalke instead.
November, 11, 2010
11/11/10
10:10
AM ET
Mahmoud from Chicago writes:
Love your blog, Mike. I read it every day to get my Niners and NFC West fix. This my first time commenting and it's because I'm shocked at your belief that the Arizona Cardinals will win the division.
They are 3-5 and you could easily make a case for them deserving to be 0-8 (
Steve Breaston
game-saving forced fumble,
Sebastian Janikowski
missing a gimme field goal, Saints choke job).
Plus, they have one of the worst quarterback situations in the league, no run game and a very average defense. Their special teams are the only part of the team performing well. I'd like to hear how they could possibly win another game, let alone the division.
Mike Sando:
Take a look a their schedule and you'll see how they could possibly win several more games. I've never said which team
will
win the division. I've focused more on which teams
should
win the division.
Before the season, I thought the 49ers should win the division. Little we've seen from the 49ers this season suggests that will happen. But if the 49ers beat the
St. Louis Rams
in Week 10, they could be within one game of the NFC West lead. They would also be 3-1 since team president Jed York guaranteed they would win the division.
On Arizona, I do not trust the Cardinals' quarterbacks, either. Largely because of the quarterback situation, the Cardinals are a five- or six-win team that could get to 8-8 thanks to the easiest remaining schedule in the league. Give the Cardinals a good quarterback and they could easily become a 10-win team again. Finding that QB has to be the top offseason priority.
---
Mark from Littleton, Colo., writes:
Sando, I'd love for you to revisit
the debate you had
over whether the worst team in the AFC West could win the NFC West now that we have had half the season to see the inter-conference play. I think you still win out since the Raiders and Broncos provided two wins to the 49ers.
Mike Sando:
Bill Williamson and I have taken turns looking smart and foolish on this one.
Williamson's side of the debate -- that the Raiders would win the NFC West if they played in the division this season -- is looking better now that Oakland has won three in a row.
It's a long season, though, and the Raiders have some tough opponents ahead (Pittsburgh, San Diego and Kansas City on the road, with Indianapolis at home). At this point, the Raiders would have a better shot than I would have anticipated. I thought the 49ers would be better and the Cardinals' quarterback situation would be a little more stable.
---
Tudor from Tiburon, Calif., writes:
You sure are measuring your words about Mike Singletary. Don't you think that if he just took his grubby mitts off the offensive scheme, the entire team would respond very positively? I know I'm leading you, but having grown up through the Bill Walsh, Joe Cool and
Steve Young
years, I understand that offensive aggression.
Mike Sando:
An aggressive approach would definitely make sense with Bill Walsh calling plays for
Joe Montana
and Steve Young. Instead, the 49ers have first-time coordinator Mike Johnson calling plays for
Alex Smith
and
Troy Smith
, with big-picture direction from a first-time head coach with a defensive background and zero experience as a coordinator.
---
Mark from Seattle writes:
Hi, like your blog! Just an odd Seahawks stat. If
Mike Williams
makes that 17-yard catch for a touchdown instead of muffing it for an interception, that makes
Charlie Whitehurst
13 of 23 for 130 yards, with two touchdowns, one interception and an 83.6 rating -- not too shabby and better than
Matt Hasselbeck
's season rating of 70.3.
However, I prefer an accurate veteran over an inexperienced quarterback's arm-strength right now. Charlie's poise and demeanor looked good, but I'm glad Matt's starting again.
Mike Sando:
Whitehurst did throw that pass on the money even though he almost fell down while retreating from center on the play. I thought the cornerback,
Terrell Thomas
, made a terrific play, too. Seattle was a little unlucky when the ball bounced off Williams' helmet, giving Thomas time to pick off that pass. The play that stands out to me was the one when Whitehurst missed a wide-open
Chris Baker
on that third-and-1 trick play.
---
Ken from Bellevue, Wash., writes:
The Seahawks' quarterback situation doesn't look good right now. I was wondering your thoughts on the Seahawks going after
Kevin Kolb
? Do you think the Eagles would deal him? And would he be a good fit in Seattle? I know previously the Eagles wouldn't trade him, but he was the obviously starter then. With Vick now starting, I was thinking that the Eagles might be more willing to trade. I think Kolb would be a big upgrade over Seattle's current quarterbacks.
Mike Sando:
The trading deadline has passed for this season. Kolb remains under contract to the Eagles through the 2011 season. Vick's deal expires after this season. I could see the Eagles trading one of them after the season. Vick looks so good making the downfield throws. He would be the most intriguing prospect in my view.
---
Ben from Ohio writes:
Hi, Mike. I'm real fan of your blog, but I have one question. You said that because of St. Louis' away record, they have a bad chance at winning the division. But if you look at the first game of the season you'll see that the Rams were pretty close, and you could say that
Sam Bradford
had to get use to playing in the pros. Also, against Tampa Bay, that came down to the wire. So my question is do you think that Bradford has enough experience that they should really start to win on the road, knowing that Bradford now has experienced and the Rams have been close in two of three away games this year?
Mike Sando:
I'm waiting to see how the Rams handle their game against the 49ers. There is a sense that this team is due to break through on the road, and that it's inevitable at some point given Bradford's development.
---
Mario from Las Vegas writes:
The Cowboys just fired Wade Phillips with a record of 1-7. He had two previous seasons of success. With the Cardinals at 3-5, and only being a lucky break (Rams), and missed field-goal attempt (Raiders) away from being 1-7, how long does Whisenhunt get? Or will he be pressed to make changes on his staff prior to any discussions on his job?
Mike Sando:
Ken Whisenhunt is signed through the 2013 season. He has never had a losing season. He might still get to 8-8 this season. He has a 4-2 record in the playoffs. He is a success story. Phillips has a 1-5 career playoff record. His Pro Bowl quarterback did not retire before the season. He had not taken the Cowboys to the Super Bowl. These are vastly different situations.
---
Jon from New Jersey writes:
Love your Excel file for the power rankings. I don't know there is an easy way to perform it, but on the power flaws tab you have "higher-ranked teams beaten". I think another stong number here is the oppsoite, lower-ranked teams lost to. Just a suggestion.
Mike Sando:
Good idea, Jon. I could definitely play around with a formula and come up with something. I'll give it a shot. Thanks for the idea. I did come up with some
schedule-related breakdowns
off the power rankings. Those could become a regular part of the file, too.
---
Brent from Montana writes:
What's going on in the NFL? A lot of the teams we all thought were the most talented are losing miserably while the teams stocked with average players and good coaches are shining. Is this telling how big a coach can be? We have always looked at this league as a players' league, but it's clear now that just because a team has loads of talented players don't mean squat. Are coaches taking over this game? Is it more of a coaches' league nowadays? Teams like the Cowboys, Vikings, Bengals, 49ers, and San Diego even. Its been a crazy year. Seems to me the 49ers have all the talent in the world, but what does that matter when their coaching is bad.
Mike Sando:
Quarterback talent remains important, obviously, but the teams you mentioned all have coaching issues, in my view. Wade Phillips, Brad Childress, Marvin Lewis, Mike Singletary and Norv Turner would not rank among the best head coaches in the league. I think coaching and quarterbacking are the two most important elements for a team. One without the other might not be enough. The 49ers haven't been strong in either area, but I still thought they would be good enough to compete for the NFC West title and probably win it.
February, 5, 2009
2/05/09
8:13
PM ET
Posted by ESPN.com's Mike Sando
The Rams are interviewing former Cowboys defensive coordinator Brian Stewart to coach their secondary, Jim Thomas of the St. Louis Post-Dispatch reports.
Stewart spent the last two seasons with the Cowboys before the situation became untenable. Stewart reportedly asked for his release. The Cowboys fired him.
Clarence Hill of the Ft. Worth Star-Telegram described the situation in Dallas this way:
"The Cowboys finished ninth in the league on defense last season in Stewart's first year as defensive coordinator and eighth this season. But things began to unravel early in the season when the Cowboys' defense struggled and [owner Jerry] Jones demanded that [coach Wade] Phillips take over the play-calling duties from Stewart."
In the same story, linebacker Bradie James expressed strong support for Stewart, suggesting Phillips got the credit for what went right, while Stewart took the blame for what went wrong.
James: "I got the helmet on and Stewart was making the calls to me. But being in that position, it's always going to feel like he is being undermined. He never got his just due and the respect he deserved."
Adding a former coordinator to coach the secondary sounds like a good move. The Seahawks did it when they hired former Steelers and Giants defensive coordinator Tim Lewis to coach their secondary. The Rams already have a defensive-minded head coach. They have a first-year defensive coordinator in Ken Flajole, but Stewart would add experience. He was previously defensive backs coach with the Chargers and Texans.
January, 28, 2009
1/28/09
11:15
AM ET
Posted by ESPN.com's Mike Sando
Rick from Provo, Utah, writes: Sando, great work. With the Hawks holding such a high pick and WR's so hit or miss (especially drafted that high) what are the odds Seattle could trade down and add a young 'veteran' WR?
Also, with Jim Mora wanting to focus more on the run, is Julius Jones really the back to do that? Is a sign and trade of the recently arrested Leroy Hill and the 4th pick be sent to the Chargers for LT, Naanee and the Chargers 2nd rounder feasible? Trading down into the second round would offset Tomlinson's salary (and then some), and Naanee has shown flashed of his skills. Are there any other deals that can be swung? I just don't trust Julius Jones and a young high pick WR.
Mike Sando: Teams have actually done pretty well drafting receivers at the top of the first round. They've gotten into trouble after the first few picks.
NFL teams have drafted five receivers among the top three picks since 2003 (Calvin Johnson, Braylon Edwards, Larry Fitzgerald, Charles Rogers and Andre Johnson). Those were mostly fortunate selections.
NFL teams have drafted five receivers fourth through 10th during the same period (Ted Ginn Jr., Troy Williamson, Mike Williams, Roy Williams and Reggie Williams). Big difference.
As for the trade you mentioned, I don't think the Seahawks need to be acquiring an older running back coming off an injury-affected season. They've been down that road with Shaun Alexander. Lesson learned. Also, if the Seahawks do not see great value in that fourth overall spot, what is the likelihood that other teams will see enough value there to pay a steep price in moving into that spot?
---
Adam from Sacramento writes: Sando, in one of the articles you posted from a Dallas paper, they were saying something about Manusky being a candidate for the DC in Dallas ... at what point did Manusky's job security come into question? He seemed to pull things together on the D after Nolan left and they committed to the 3-4.
What are your thoughts? Have you heard any rumblings that he may be fired. It doesn't make sense that they would wait so long and possibly miss out on the best guys available. Have fun at the Super Bowl. I'm supremely jealous.
Mike Sando: Manusky's job security does not appear to be an issue. My understanding is that Manusky has signed or likely will sign an extension, standard procedure for the 49ers as assistants approach the final years of their deals. Manusky does have some ties around the league, including to the Cowboys' Wade Phillips and the Packers' Mike McCarthy. But I expect him to coordinate the 49ers' defense in 2009.
---
Kurt from parts unknown writes: My question is in response to something you wrote on the 22nd, about the late-2nd-quarter blooper kickoff by Rackers and subsequent Cardinals recovery. Your text:
"If referee Walt Anderson and crew thought the ball touched Abiamiri on the left arm after Abiamiri stepped out of bounds, they should have awarded possession to the Eagles at the 40-yard line, standard procedure for a kickoff out of bounds."
It's a complex scenario that wasn't fully fleshed out in the game, but I don't understand how an in-bounds live ball touching a man who is stepping out of bounds automatically kills a play, or counts as "kick out of bounds" on a kickoff.
If a kickoff was rolling in-bounds down by the goal line, for instance (short of the end zone, on the typical "I waited for this ball to roll out of bounds and it stayed in and now I'm stuck" play), couldn't the kick returner just place some part of his body out of bounds and then grab or bat the ball, causing the ball (which never touched out of bounds) to be ruled out, and a penalty for out-of-bounds kickoff along with a nice spot at the 40 yard line?
Mike Sando: Yes, a player can do that, and it has been done, and officiating director Mike Pereira discussed it on his NFL Network program this season. Not everyone knows the rule, but it is the rule.
---
Hannan from Hershey, Pa., writes: Hi Mike, I'm a huge Seahawks fan and this is how I've laid my draft plans out for the first few rounds … thoughts? 1st round: Malcolm Jenkins 2nd round: Darrius Heyward-Bey 3rd round: Trimane Goddard (S, UNC. I know him personally, so it would be amazing if they drafted him) What do you think?
Mike Sando: I just wonder how many cornerbacks a team can draft in the first two rounds within a relatively short window. Marcus Trufant can cover Larry Fitzgerald well enough to prevent Fitzgerald from taking over the game. He just can't do it if Kurt Warner frequently has an extended period to throw. I could see taking the corner that early if he's clearly the best value. But if you have a chance to upgrade the pass rush -- and that's a big 'if' -- I would tend to go in that direction. I would also consider a receiver or running back there.
---
Harold from Columbia writes: Sando Thanks for the coverage in Tampa (the city). Somehow it feels like I am there - not that feelings matter. I was at the game against Tampa last year and sat under the ship - got some beads from the Bucs crew. Sando - that may be a good picture for the blog. it is different and kind of cool. I doubt they will raise the flags - Buccaneer flags when the Cards get in the Red Zone. Maybe we could arrange a deal with the stadium crew. I am not sure what dance Antrel Rolle will do when he scores - he did the Dirty Bird vs. Atlanta - did the Muhsin Muhammed walk with the football between his legs. Maybe the Icky Shuffle for one of the Steelers divisional rival Bengals. Not sure if the steelers have a matchup or personnel package for Antel. H-
Mike Sando: You might be getting a little too confident there, Harold. Let's see if they score a defensive touchdown before predicting how they'll celebrate!
---
Clu from Phoenix writes: Hey Mike, do you think that people will say that the Cardinals are the worst team to win a Super Bowl if they do win? Or will there be no such comments since they did win the Champion
ship? Thank you, and hopefully I'll see you at the game. (years as a season ticket holder finally paid off!)
Mike Sando: I hadn't even thought of that. As a Cardinals fan, you shouldn't worry about that. Super Bowl winners are Super Bowl winners.
---
Steven from Tampa writes: Thanks for your hard work covering all 4 NFC West Teams, Sando! This question pertains to this weeks festivities. I'll be attending the NFL Experience on saturday and was wondering if they have any shops there. Thanks.
Mike Sando: You're welcome, Steven. The NFL has a Web site with lots of information on that event. I'm seeing shops open early in the week. You might consider calling them for details.
---
Mike from Los Angeles writes: Mike, now that Leroy Hill has made a fool of himself and cost himself millions of dollars, do you see the Seahawks looking in another direction? If Terrell Suggs hits the open market, would he be a possibility for the Seahawks? I realize he's a 3-4 linebacker and not a 4-3, but he can certainly rush the passer, something the Seahawks obviously really need.
Or will the Seahawks give up on Daryl Tapp as a defensive end and move him to linebacker and just cur their losses with Hill? Also, will they look at other Ravens players like Ray Lewis or safety Jim Leonhard? Lewis could push Lofa outside and bring some much needed leadership and toughness to our defense. I know (to put it mildly) Lewis has some character issues, but let's face it, the Ravens can't franchise both guys and either one could really help the Seahawks defense.
Mike Sando: Ray Lewis strikes me as a high-character player, exactly what you want on your team. His troubles seem like a lifetime ago. That said, I do not see Lewis signing with Seattle. And I don't see Suggs leaving the Ravens. It's usually wishful thinking for a team to expect those types of players to come their way.
The Seahawks have talked about their new defensive staff getting more from the young talent already assembled. As for Hill, he hurt his chances for a return, but I suspect Seattle would take him back if the money made sense.
---
Tony from Springfield, Ill., writes: Keep up the good work Mike, Let me just say GIVE IT A REST! I am sick and tired of hearing the Cardinals don't deserve to be here. Sure they were 9-7. Three others in the NFC were also 9-7. Outside of Chicago, who finished 2nd, Dallas and Tampa Bay all finished 3rd in their Divisions. As for the AFC the only real aberration were the Patriots. I have been a Cardinal fan since St. Louis. I am stoked for the Super Bowl!! Let's just all give it a rest about us not deserving to be here. Cards fans just sit back and enjoy, we have been waiting a long time and we DESERVE to be here!!!!!!
Mike Sando: Any team that wins in the wild-card, divisional and championship rounds most likely deserves to be in the Super Bowl.
---
DBullock from Greenfield, Ohio, writes: Whats your thoughts on when the play clock expires, a buzzer or horn sounds to let the refs. know the clock is at zero. They use this in basketball for a shot clock violation. Just an idea. Thanks..........lvsthisgame.
Mike Sando: I was talking with someone about this issue the other day. Why not force teams to provide play clocks in similar locations at each stadium? That would help the mechanics without complicating the process. Officials haven't had a hard time calling delays of game against the Cardinals, by the way.
---
Adam from Mesa, Ariz., writes: Hey Mike, as always great Job with the blog, this is the first and last place to go for all the information about my beloved Cardinals (and yes I've been a Cardinals Fan long before the bandwagon started offering rides).
I've heard the Giants are hoping to trade for Anquan Boldin? Is this true? I know he won't stay another season with his current contract, what would the Cardinals have to offer to make him stay, and how does that affect the rest of our salary cap and personnel decisions?
Also, if the morbidly unthinkable happens, what would the Cardinals be able to get him? (picks, players they have we could use, and don't start with the the whole Derrick Ward thing, he's a lucky 1000 yard rusher who rode Jacobs coat tails)
Mike Sando: Appreciate the compliment, Adam. The Cardinals don't need to do anything to convince Boldin to stay. They own his rights for the next two seasons. If Boldin wants to sit out, he doesn't get paid and he runs the risk of watching Larry Fitzgerald carry the offense, further diminishing his power.
Despite having the leverage here, the Cardinals are in a bit of a tough spot here. They have already extended Boldin's contract once. They don't want to get into the habit of revisiting contracts every time a player has a strong season. At the same time, they recognize what Boldin has represented during his time with the team and they should probably take care of him in some way.
---
Joe from Davis, Calif., writes: Hey Sando, I'd just like you to know that I have interviewed for the 49ers OC job.
Mike Sando: What's next? Are you going to tell me you turned it down to take a job coaching Pop Warner? That would be crossing the line, so let's not make any cracks along those lines here on the blog. Deal?
---
Nick from New York writes: Sando, as a seahawk fan my eyes are already on the 2009 season, its the only way i can occupy myself long enough to distract me from this superbowl with two hated rivals playing. ive been looking alot at what Ruskell and others say about his draft strategy and what positions usually warrant 1sr round selections. he will always say stuff like, "i believe talent at that position can be found in later rounds", there is no doubt that it can be found but what positions do u think he warrants first round status. QB, DE, DT, CB?
If that is the case, we kinda got screwed this year. the only top 5 pick that fits that description is M. Jenkins. we have used 2/3 first picks on CBs ... what do u think he will do?
Mike Sando: I would also include left tackle in that group. Seattle probably could have picked a better year to pick this early, but they do not get a free pass. This draft will undoubtedly produce future Pro Bowl players. Seattle needs to identify them and find one in that spot.
I tend to think the Seahawks will go for a playmaker instead of a "safe" pick. But I really do not have a great feel this early.
January, 27, 2009
1/27/09
7:14
AM ET
Posted by ESPN.com's Mike Sando

Kent Somers of the Arizona Republic says the Cardinals arrived in Tampa early with the wind at their backs. Emotions ran high. Defensive end Bertrand Berry fought tears.
More from Somers, with Bob McManaman: Larry Fitzgerald is 15 pounds lighter this season.
Paola Boivin of the Arizona Republic says the Cardinals don't mind the underdog role.
Dan Bickley of the Arizona Republic examines the chilly relationship between Cardinals coach Ken Whisenhunt and Steelers quarterback Ben Roethlisberger.
Darren Urban of azcardinals.com says the Cardinals didn't seem to be relishing the spotlight during their first media session at Super Bowl XLIII. Anquan Boldin said he wished this were a regular week.
Also from Urban: A look behind the scenes as Whisenhunt and Adrian Wilson made an appearance on NFL Network.
Mike Tulumello of the East Valley Tribune provides an overview of the Cardinals' first day in Tampa. Wilson says the Cardinals are here to win the game, not to enjoy the week.
Scott Bordow of the East Valley Tribune says Super Bowls are won on Sunday and sometimes lost earlier in the week.
Mike Branom of the East Valley Tribune says about 1,800 people attended a rally sending off the Cardinals from Phoenix.
Revenge of the Birds' Hawkwind looks at the Cardinals' improved running game.
More Cardinals news here: A Google news feed with the latest headlines.

Clare Farnsworth of the Seattle Post-Intelligencer looks at the Seahawks' issues in the secondary. Farnsworth: "The most glaring shortcoming was the lack of a playmaker -- and size -- at the cornerback spot opposite Marcus Trufant. Kelly Jennings, a 180-pounder who is called 'Slim' by his teammates, started the season, but was not the answer. The coaches then turned to Josh Wilson, a more aggressive player, but one who is 5-feet-9."
Jim Moore of the Seattle Post-Intelligencer wants to know what Leroy Hill was doing in a 1975 Buick Electra when authorities found him passed out behind the wheel. Moore speaks with the motorist who reported Hill to police, and with car dealers versed in all things Buick.
Pro Football Weekly corroborates the Seahawks' potential interest in receiver T.J. Houshmandzadeh, noting that Koren Robinson's knee issues are a concern.
Dave Boling of the Tacoma News Tribune looks at what the Seahawks must do to become a Super Bowl team again.
John Morgan of Field Gulls sizes up Jovan Haye as a potential free agent of interest for the Seahawks.
Also from Morgan: He really likes Seahawks defensive tackle Brandon Mebane, for good reason.

Bryan Burwell of the St. Louis Post-Dispatch says Rams fans should show patience with the team's new leadership. Burwell on the Rams' draft plans: "Of course, if you want guesswork, I can play along. Michael Crabtree. Yes, it has to be the game-changing wide receiver from Texas Tech. That's a popular pick, and it might even make sense if the Rams are able to sign a beast of an offensive tackle or two in free agency. But knowing what I have learned about the particular habits of the Rams' general manager, it's foolhardy to speculate what's on [Billy] Devaney's mind."
Jim Thomas of the St. Louis Post-Dispatch provides an update on the Rams' search for new assistant coaches. Paul Ferraro, Dick Curl and Frank Leonard have joined the staff.

Rick Herrin of the Ft. Worth Star-Telegram says he spotted 49ers defensive coordinator Greg Manusky going out to dinner with Cowboys owner Jerry Jones and head coach Wade Phillips. Herrin: "Could San Francisco 49ers defensive coordinator Greg Manusky be a possibility? He is good buddies with Wade Phillips and the two worked together in San Diego when Manusky was linebackers coach."
Jennifer Floyd-Engel of the Ft. Worth Star-Telegram previously suggested the 49ers had fired Manusky. Floyd-Engel then provides an update reading, "Just heard from the 49ers, who say Manusky is under contract and, as far as they know, not going to be fired." Hmmm.
January, 3, 2009
1/03/09
10:39
AM ET
Posted by ESPN.com's Mike Sando
Mario from Seattle writes: Are the Seahawks going to have the cap room to go after Albert Haynesworth, Julius Peppers or Terrell Suggs in free agency this year? We definitely need D-line help and any of those three would be a great addition. Also, with the Seahawks having the fourth pick in the draft what are the odds that if Crabtree enters the draft that the Seahawks take him if available? Thanks and keep up the good work.
Mike Sando: Thanks. Teams can find ways to create cap room. Seattle has the flexibility to make that type of investment if the organization chooses to go that route.
The issue would be whether those players would be available, why their previous teams failed to re-sign them, what type of premium Seattle would have to pay and whether the Seahawks might be better served drafting and developing impact players instead.
The Seahawks paid a premium for Patrick Kerney and now he's coming off another surgery at age 32. If the Titans fail to re-sign Haynesworth, that tells me they aren't sure he'll continue producing at a high level after gaining long-term financial security. And no one would have a better feel for that than the Titans. If that were the case, should Seattle or another team pay a premium for him? I might have some reservations.
Some of the teams that made splashes through trades and free agency last offseason realized insufficient return on their investments. The Jets, Raiders and Browns are three of these teams. It's rare that a Michael Turner-type free agent comes available. The Chargers only let him go because they had LaDainian Tomlinson. Their hands were tied. Most free agents hitting the market come with some fine print that deserves a team's attention.
October, 19, 2008
10/19/08
1:51
PM ET
Posted by ESPN.com's Mike Sando
ST. LOUIS -- Referee John Parry upped his record to 6-0 in replay challenges this season, shooting down Cowboys coach Wade Phillips in the first quarter at the Edward Jones Dome.
Phillips had a 4-0 record in challenges his season coming into this game. Not any more. The lost challenge allows the Rams to take possession in Dallas territory while holding a 21-7 lead late in the first quarter. Phillips had challenged a Cowboys fumble.
The Rams continue to play with the emotion they showed against the Redskins in Week 6. The Cowboys appear lost on both sides of the ball. The Rams have been able to take their pick between the ground game and throwing deep to Donnie Avery.
October, 19, 2008
10/19/08
12:37
PM ET
Posted by ESPN.com's Mike Sando
ST. LOUIS -- Replay reversals helped the Cowboys against the Cardinals last week, but Dallas coach Wade Phillips might have met his match this week.
John Parry, the referee assigned to the Cowboys-Rams game at the Edward Jones Dome, has upheld each of the three coach-initiated challenges made against him this season. Counting two booth-initiated challenges, Parry has a 5-0 record when challenged this season. He and Jerome Boger are the only referees without a reversal this season.
Phillips has a 4-0 record in replay challenges this season. I have Rams coach Jim Haslett with a 4-15 record on replay challenges since 2003. Those figures match league totals.
October, 13, 2008
10/13/08
5:18
PM ET
Posted by ESPN.com's Mike Sando
A follow-up on Mike Nolan's hotly contested replay challenge against the Eagles in Week 6: His overall challenge record is 12-17 in three-plus seasons as a head coach, but the record is only 6-13 for home games. He lost two challenges during the 40-26 defeat at Candlestick Park.

Nolan
These numbers are according to me. I have tracked replay reversal information by team, coach, referee and replay official for all games since 2003. I check the numbers against certain league totals each offseason.
By my count, the Cowboys' Wade Phillips is the only head coach with a winning reversal rate among coaches with at least 10 coach-initiated challenges since 2003. I've got Phillips at 8-3 since 2003 after he won two challenges Sunday (this includes 4-0 on the road).
Mike Shanahan is next at 25-26 (.490), followed by Jeff Fisher (13-14, .481), Marty Schottenheimer (12-14, .462), Mike McCarthy (6-7, .462), Dick Jauron (11-13, .458), Bill Parcells (10-13, .435), Scott Linehan (8-11, .421), Nolan (.414) and Tom Coughlin (16-24, .400).
Coaches have initiated more challenges at home. They have succeeded in a lower percentage of home challenges. Perhaps they take chances challenging calls at home because they feel more confident about winning those games.
Nolan isn't the only one with a particularly poor challenge record at home. I've got Romeo Crennel with an 0-13 challenge record at home, but 4-6 on the road. Gary Kubiak is 0-6 at home and 4-9 on the road. Jim Haslett is 1-11 at home, 3-6 on the road. All since 2003.
Update: This entry originally listed Nolan's challenge record as 12-18. I changed it to reflect 12-17, which is what the league lists. In re-checking gamebooks, I had recorded an extra challenge during the 2005 season.
August, 16, 2008
8/16/08
9:35
AM ET
Posted by ESPN.com's Mike Sando
Daniel Brown of the San Jose Mercury News reminds the 49ers that they could have drafted Aaron Rodgers instead of Alex Smith in 2005. That's true, but in looking at the second through 10th overall picks from 2005, the 49ers also could have fared worse. Picks two through 10: Ronnie Brown, Braylon Edwards, Cedric Benson, Carnell Williams, Adam Jones, Troy Williamson, Antrel Rolle, Carlos Rogers and Mike Williams. Nice draft.
Matt Maiocco of Instant 49ers warns readers before reluctantly pursuing the same storyline. He also describes the 49ers' thinking going into that 2005 draft. Coach Mike Nolan thought Rodgers was more NFL ready, but he figured Smith would be better over the long term.
Also from Maiocco: a look at the 49ers' receivers, notably rookie Josh Morgan.
Matt Barrows of the Sacramento Bee scored a phone interview with Rodgers after the former Cal and current Green Bay quarterback landed in the Bay Area for the Packers' exhibition game against the 49ers Saturday night. Rodgers wasn't happy about slipping into the latter stages of the 2005 draft's first round, but he's diplomatic about the situation three years later.
Mike Tulumello of the East Valley Tribune explores how the Cardinals wound up with two Phoenix-area products on their offensive line (Deuce Lutui and Lyle Sendlein). Cardinals coach Ken Whisenhunt takes a shot at Lutui for making "bonehead mistakes" -- including penalties.
Frank Hughes of the Tacoma News Tribune becomes the first NFL beat reporter to use the word "delineating" while previewing an exhibition game. He'll be watching to see how Seattle quarterback Charlie Frye and the young receivers fare.
Bob McManaman of the Arizona Republic describes Whisenhunt's approach to the quarterbacks as a balancing act. Matt Leinart is the regular-season starter, but Kurt Warner gets the start Saturday night. As Whisenhunt once said: "It's going to be a tough job for Matt to keep."
Clare Farnsworth of the Seattle Post-Intelligencer talks about the "greased pole" that can turn promising rookies into afterthoughts at about this time each summer. Rookie linebacker David Hawthorne has been highly impressive to this point, but now he must sustain the fast start. Veteran linebacker D.D. Lewis has been counseling Hawthorne. Lewis earned a roster spot unexpectedly years ago. As a service to readers, the P-I also manages to work in a photo of Seahawks cheerleader Melanie Brown. More from the photo shoot for the 2009 Seahawks calendar here.
Also from Farnsworth: Emotions run high for some as they move belongings from the Seahawks' old facility to their new one. Clare has spent an estimated 23.9 hours per day in the old facility's media room since the facility opened in 1986.
Jim Thomas of the St. Louis Post-Dispatch outlines five things to watch in the Rams' exhibition game against the Chargers: quarterbacks, rookies, Orlando Pace, the secondary and young linebackers. The Rams could look to sign a veteran linebacker if the young prospects don't show better beginning tonight.
Also from Thomas: An outline of areas in which the Rams must improve during their second exhibition game. The Chargers seem to be playing along by resting key players, including quarterback Philip Rivers. Tight end Antonio Gates remains on the physically unable to perform list, and LaDainian Tomlinson no longer plays during the fake games. The Chargers' approach to the exhibition season has changed now that Wade Phillips isn't running their defense. Phillips is known for game-planning during the preseason.
Bill Coats of the St. Louis Post-Dispatch details Richie Incognito's journey into the starting lineup at right guard. Toward the bottom of the story, coach Scott Linehan says he's more optimistic about Steven Jackson's holdout now that the sides have had some recent conversations.
July, 28, 2008
7/28/08
11:33
AM ET
Posted by ESPN.com's Mike Sando
I haven't played fantasy football in probably 15 years, back when we hurried out to pick up a USA Today on Monday mornings to tabulate scoring. You couldn't find detailed box scores anywhere else, and online options did not exist or were not readily available. In any event, I didn't win my fantasy league back then, and I'm not sure how well I would do now. But duty calls in the form of our leadoff mailbag question (note: questions appear as they were submitted).
Chris from Mankato, Minn., writes: Sando, love your stuff. What players stick out in your mind as fantasy players to own in the West? Got any sleepers for us? Keep up the good work. Go Niners.
Mike Sando: Randy McMichael in St. Louis should be on your list. Barring another injury-induced offensive implosion, I feel confident in saying the Rams will get the ball to McMichael more than 39 times this season. You're probably already onto Byrant Johnson. I would think he'll become a primary target on the outside if Alex Smith can get the ball to him. Courtney Taylor in Seattle could be another sleeper if Deion Branch isn't ready to be an every-down receiver early. Taylor might be most likely to emerge from a group of young receivers in Seattle.