June, 8, 2011
6/08/11
9:27
AM ET

Steve Wyche of NFL.com
says the Rams will hold workouts in Arizona beginning this week, with James Laurinaitis and Ron Bartell among those taking the lead. Wyche: "Not all of the work will be on field either. Bartell, Laurinaitis and other players have video of previous years' games, and players will get the chance to break down film during the minicamp. Laurinaitis stressed the importance of getting as much film and class work done now so players will be ready when the lockout ends. Laurinaitis added that quarterback Sam Bradford has plays from new offensive coordinator Josh McDaniels' playbook but without being coached how McDaniels wants the plays to be run, there is only so much to be gained."
Bill Coats of the St. Louis Post-Dispatch
says Rams coaches and staffers spent Tuesday building a playground for a school serving autistic children. Players generally would have participated in large numbers, but with the lockout, this year was different. Coats: "Other than second-year linebacker Josh Hull, who is rehabbing a knee injury, none of the players was on hand because of the lockout, although the NFL had granted a waiver for players and coaches to mix. Many were assembling in Phoenix, where a five-day session of player-organized workouts is to get under way."
Tony Softli of 101ESPN St. Louis
offers thoughts on the Rams' playground-building efforts.

Mindi Bach of CSNBayArea.com
says veteran linebacker Takeo Spikes is not attending the 49ers' player-organized workouts because he's not sure whether he'll return to the team. Bach: "Spikes turns 35 in December and is preparing just as hard as he always has for an upcoming season. In another text message Spikes told me he is currently in his hometown of Atlanta working out daily with a group of 15 players which includes OT Wayne Gandy, T Osi Umenyiora, DE Charles Grant and WR Hines Ward. Spikes' work ethic and leadership have never been questioned. Those who know him know he puts in the work. He runs the miles. He studies the film. He teaches that young player how to reach the next level. He carries himself in the same manner off the field. It takes just moments for anyone who meets Spikes to recognize those traits."
Matt Maiocco of CSNBayArea.com
offers updates from the 49ers' latest player-organized practice.
Matt Barrows of the Sacramento Bee
says left tackle Joe Staley has reduced his weight to 304 pounds in an effort to regain lost mobility. Durability is also key for Staley, who has missed 14 games over the past two seasons.
Eric Branch of the Santa Rosa Press-Democrat
says 49ers receiver Michael Crabtree rested sore feet while teammates practiced Tuesday. Branch: "Fellow wideout Josh Morgan, who has worked with Crabtree during the offseason, said the third-year wide receiver had aching feet after wearing new cleats during Monday's minicamp-opening practice on San Jose State's field turf. Morgan said Crabtree sat out as a precaution. He wasn't sure whether Crabtree would return to practice today."
Also from Branch
: "Given Crabtree's history, it would be easy to automatically add today's absence to his diva files. On the flip side, though, he did attend the classroom session and, if his feet hurt, why should he push himself during a lockout minicamp in early June? Let the debate continue and, of course, stay tuned for tomorrow's edition of the Curious Case of Michael Crabtree."
Tim Kawakami of the San Jose Mercury News
provides a transcript from Morgan's post-practice interview.
Vittorio Tafur of the San Francisco Chronicle
credits 49ers defensive players for attending the player-organized practices despite not having a playbook.
The 49ers
have announced a partnership with Stanford University, facilitated by former player Riki Ellison.

Clare Farnsworth of seahawks.com
profiles various classes of players by the years they joined the team.
Also from Farnsworth
: a look back at the Seahawks' 1998 season. Farnsworth: "The conventional thought at the time was that a one-point loss to the New York Jets in Week 14 -- when referee Phil Luckett mistook the white helmet of quarterback Vinny Testaverde for the ball in awarding the Jets a game-winning touchdown with 20 seconds left in the game -- had cost Dennis Erickson his job. The reality was that (team president) Bob Whitsitt had decided to move in another direction before that game was ever played. Whitsitt explained that he has reached the point where the Everett-born Erickson would either be fired with one year remaining on his contract, or have his contract extended."
Doug Farrar of Sportspress Northwest
says quarterback Matt Hasselbeck appeared to be in full command during the team's player-organized practice Friday.
Jim Trotter of Sports Illustrated
offers details from the Seahawks' and Cardinals' player-organized workouts in pointing out challenges players faces during the lockout. Trotter: "As well intentioned as those sessions are, they lack the NFL's full-service element. For instance, when Larry Fitzgerald and roughly 30 other players finished an on-field workout on a sunny morning in Tempe, they had to get in their cars and drive down the street to lift weights at Arizona State. Film study was done on personal laptops or in the theater room in Fitzgerald's Paradise Valley home."

Kent Somers of the Arizona Republic
offers observations from the Cardinals' practice Tuesday. Second-year receiver Andre Roberts is looking good. Somers: "Roberts, I thought, looked very quick and confident. He has come a long way since being drafted a year ago. He didn't start catching the ball consistently until the season was well underway. Stephen Williams also looked good. No question he has the skills and we've seen them on display in the preseason. But can he show them in games that count? Roberts and Williams, by the way, were particularly impressive in one drill where players had to hop over a serious of hurdles. Roberts' feet were hardly ever on the ground, and Williams, well, I'd choose him in a pickup hoops game. He could rebound my missed three-pointers."
Darren Urban of azcardinals.com
looks back at Boomer Esiason's 522-yard passing performance for the Cardinals.
Also from Urban
: a look at the Cardinals' cornerback situation.
May, 25, 2011
5/25/11
11:08
AM ET
Current NFC West teams popped up four times in
Mike Tanier's Insider list
of the 10 most disappointing NFL trades of the past 25 years.
How heartwarming.
By disappointing, Tanier meant for both teams. He was not analyzing lopsided trades, but rather those that hurt both teams.
Terrell Owens
, Kelly Stouffer,
Joe Wolf
,
Deion Branch
and
Trev Alberts
make appearances, so proceed at your own risk.
The
San Francisco 49ers
' 2004 trade sending Owens to Philadelphia for
Brandon Whiting
and a conditional fifth-round choice checked in at No. 2 on the list.
[+] Enlarge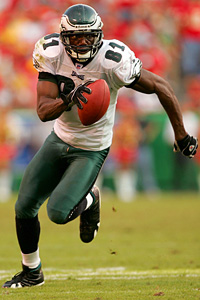 Jamie Squire/Getty ImagesTerrell Owens went to the Super Bowl with the Eagles after being traded by the 49ers.
I'm not sure how disappointing this trade wound up being for the Eagles. Owens played a leading role in getting them to a Super Bowl, and his gutsy play put Philadelphia in position to win the game. That one season was worth losing Whiting even though Owens became a headache for the team overall.
On some levels, this deal was a downer for all parties. Owens should have become an unrestricted free agent that year, but his agent failed to file the necessary paperwork to void his deal. The 49ers initially received a second-round choice from Baltimore as part of the trade, but with Owens seeking a ruling that would let him hit the market, San Francisco agreed to lesser compensation as part of a settlement. Owens did get a new contract, so he came out OK, but the trade was definitely disappointing.
The 1989 trade between Seattle and the then-Phoenix Cardinals ranked sixth on the list. The Seahawks got Stouffer, who never became the franchise quarterback they were seeking. The Cardinals drafted Wolf with the first-round pick they received from Seattle.
This deal was also memorable for the Seahawks' failed attempts to trade Pro Bowl safety Kenny Easley before settling on the first-round pick as compensation. The Easley trade fell through when doctors discovered Easley had suffered career-ending and life-altering kidney damage after ingesting massive quantities of ibuprofen over the years. The Seahawks' role in administering the ibuprofen drove a wedge between Easley and the organization. The sides reconciled 15 years later, but it was an excruciating process.
I appreciate Tanier's inclusion of the first Seattle-New England trade involving Branch. Sure, the Patriots came away with Pro Bowl safety
Brandon Meriweather
, while the Seahawks never got much in return for Branch. This trade was lopsided on the surface, but as Tanier points out, losing Branch cost New England during the playoffs following the 2006 season. I thought the move cost the Patriots a trip to the Super Bowl, and Tanier agrees.
This was a bad move for both teams even though the Patriots came out ahead. New England's relationship with Branch had soured amid a contentious contract dispute. The Patriots got significant value for a player they were unable to sign, but they missed Branch.
One more NFC West trade made the list, but I'm guessing you'll have a hard time singling it out. Tanier went with the 1994 deal between the
Indianapolis Colts
and then-Los Angeles Rams. The Colts acquired the fifth overall pick from the Rams to select Alberts. The Rams traded the seventh pick to San Francisco, which selected
Bryant Young
, while using an additional pick from Indianapolis for running back
James Bostic
. The Rams drafted
Wayne Gandy
,
Brad Ottis
and
Ernest Jones
with the picks from the 49ers.
This deal was disappointing from the Rams' perspective if the team missed out on Young. I wouldn't necessarily view it that way. The Rams came out ahead by a wide margin when we examine the trade itself. Gandy became a long-term starter. Alberts lasted three seasons and made only seven starts.
August, 29, 2009
8/29/09
12:11
PM ET
Posted by ESPN.com's Mike Sando
The 49ers confirmed tackle Marvel Smith's retirement Saturday morning. What now?
Adam Snyder is still the starter on the right side. That was not going to change even if Smith tried to continue playing despite back trouble.
Depth is the problem and this situation was predictable, even likely, given what we knew about Smith's health and how the 49ers' neglected to draft a tackle or sign a younger veteran in free agency (as someone suggested they should).
None of this will matter much if Snyder returns from his knee injury to start most of the games. The 49ers could then try to develop Alex Boone and/or target a tackle in the draft. Their thinking in drafting Michael Crabtree with the 10th overall selection hasn't worked out as anticipated so far, but I think the reasoning was sound and No. 10 was too early to select one of the remaining tackles. Right tackle is not a premium position.
The chart might look familiar. It's the same one I ran when the Seahawks found out Walter Jones needed another surgery.
Some have asked why I suggested former Eagles tackle Jon Runyan as a possibility for the 49ers without mentioning the Seahawks as a logical destination as well. Runyan is strictly a right tackle. Seattle has two players able to start at right tackle (Sean Locklear and Ray Willis) but only one player (Locklear) able to start at left tackle. Adding Runyan would not improve the Seahawks' depth at left tackle, which is their position of need while Jones is unavailable.
The 49ers need a right tackle for insurance. Runyan is coming off knee surgery. He might not be ready right away. The 49ers do not need him right away. They need insurance. I have no idea if Runyan would even consider moving across the country. But when I think of tough, physical tackles in the 49ers' mold, Runyan comes to mind.
August, 23, 2009
8/23/09
4:51
PM ET
Posted by ESPN.com's Mike Sando
Jesse asks via Facebook what the Seahawks can do to improve their situation at offensive tackle. He wants to see a list of available free agents.
Mike Sando: The best way to upgrade this situation is to welcome back Walter Jones from knee surgery and push him into the lineup early in the season.
The Seahawks could stand to add a veteran tackle as insurance. They cannot assume Jones will come back and play at a high level. They cannot even assume Ray Willis will make it through a full season at right tackle, in my view. Willis has been dealing with knee pain. It's apparently nothing major, but if he's limping in August -- and he was on the sideline Saturday night -- how will he feel 10 starts into the season? Seems like a reasonable question.
Willis has started 10 games in his career, all last season. The other starting tackle, Sean Locklear, has missed at least four games to injury in two of the last three seasons.
The good, healthy NFL offensive tackles are under contract. The list of available tackles includes Wayne Gandy, Fred Miller, Jon Runyan, Jason Whittle, Mark Tauscher, Jonas Jennings, Levi Jones, Chad Slaughter and Kwame Harris. The chart shows their ages and number of starts last season.
Gandy was with Seahawks coach Jim Mora in Atlanta, but he is also 38 years old. The Seahawks had conversations with Levi Jones' agent earlier in the offseason. Tauscher and Runyan are veteran right tackles. Jennings' injury issues make him a high-risk option. Harris was with Seahawks offensive coordinator Greg Knapp in Oakland last season.
August, 30, 2008
8/30/08
3:03
AM ET
Posted by ESPN.com's Mike Sando
Kent Somers of the Arizona Republic wonders whether Matt Leinart did enough in the Cardinals' final exhibition game to emerge as the opening-day starter. Left tackle Wayne Gandy returned to the game after suffering a knee injury. Nose tackle Alan Branch did not return after suffering a sprained ankle. Rookie running back Tim Hightower, impressive most of the summer, fumbled again.
Also from Somers: a longer look at Leinart's night. Leinart completed 10 of 14 passes for 177 yards and a touchdown against the Broncos.
Mark Purdy of the San Jose Mercury News says the 49ers should have given J.T. O'Sullivan one last tune-up before the regular season. He also thinks Alex Smith is closer to the third-string quarterback than the No. 2 guy.
Daniel Brown of the San Jose Mercury News singles out three players who helped themselves for the 49ers in the final exhibition game: Larry Grant, Jason Hill and Kentwan Balmer. Three who hurt themselves: Walter Curry, Alan Reuber and Robert Ortiz.
Also from Brown: "Smith cemented his spot on the bench with two unsightly interceptions and his general slowness in getting rid of the ball."
Frank Hughes of the Tacoma News Tribune thinks the Seahawks might keep rookie running back Justin Forsett to return punts after the team lost Ben Obomanu to injury. Mike Holmgren will want Forsett to catch the ball when opponents punt it to him.
Gary Washburn of the Seattle Post-Intelligencer checks in with T.J. Duckett following the veteran runner's impressive showing in the exhibition finale.
Kevin Lynch of Niner Insider thought O'Sullivan looked better by not playing. That's how bad the other quarterbacks looked.
Tom FitzGerald of the San Francisco Chronicle hits on several notes from the 49ers' game, including the fact that running back Michael Robinson lost a fumble. Delanie Walker's 101-yard touchdown return had to be a record for a tight end, no?
John Morgan of Field Gulls projects the Seahawks' 53-man roster. He places Deion Branch on the PUP list to open the season. Can Seattle wait that long to bring back Branch? Morgan also sees the Seahawks keeping nine defensive backs.
Matt Barrows of the Sacrament Bee says Roderick Green and Tully Banta-Cain become locks for the 53-man roster if Parys Haralson's shoulder injury is serious. Aubrayo Franklin and Ronald Fields also suffered injuries. Fields returned. Franklin did not.
Michael Silver of Yahoo! Sports says sources told him 49ers offensive coordinator Mike Martz disparaged Smith under his breath during practices.
Matt Maiocco of Instant 49ers asked Smith about those allegedly disparaging comments. Smith said he knew nothing about any such remarks. "That's news to me," Smith said. Maiocco also says Haralson's injury could force the 49ers to tweak their roster, according to coach Mike Nolan.