NFC West:

Week 7 Injury Replacements
October, 21, 2013
10/21/13
1:30
PM ET
CHARLOTTE, N.C. -- Even before the
St. Louis Rams
made it official that quarterback
Sam Bradford
would miss the rest of the 2013 season with a torn anterior cruciate ligament in his left knee, the speculation about possible replacements began running rampant.
All the usual suspects from
Tim Tebow
to
Vince Young
to former Ram Austin Davis, among others, were tossed out as possibilities. But before we dive into the options, there are a few things that should probably be established first.
First, whoever the Rams bring in will almost certainly be the backup to veteran Kellen Clemens, at least in the short term. Clemens knows coordinator Brian Schottenheimer's offense and started games in Bradford's stead in 2011.
The Rams have almost no cap flexibility to work with, which means they'd either have to find a way to save some money by restructuring a contract or releasing someone, or they'll have to settle for a younger, cheaper option.
The Rams under general manager Les Snead have proved time and again that giving up draft picks is not something they enjoy doing. Considering that many of the quarterbacks they could trade for might exceed the cap space they have available it may not matter, but it would be surprising if the Rams gave up a pick of any sort for a short-term replacement who might only be a marginal upgrade over Clemens or possible free-agent additions.
All of that said, it really doesn't matter who the team brings in. Few teams in the league are blessed with strong backups in the first place, so you can only imagine what kind of production you're going to get from a player on the street or a different practice squad nearly halfway through the season. This is likely to be a lost season regardless.
In an Insider piece here on ESPN.com, Tom Carpenter rounded up some of the
various rumors
and options that have been floated since the rumor mill started churning.
Let's start with Tebow and Young, two polarizing options with well-known names and impressive college résumés. Tebow is an unlikely fit given his inability to throw accurately, and his addition certainly wouldn't help the Rams develop their corps of young receivers. Young and Rams coach Jeff Fisher didn't exactly get along famously in Tennessee, making that match unlikely also.
For possible trades, Minnesota's
Christian Ponder
and
Matt Cassel
can probably be had, and Cleveland may be willing to part ways with
Brandon Weeden
. Washington has
Kirk Cousins
but he carries the most value of potential trade targets and Washington may not even be willing to deal him, let alone for the type of bargain-basement price the Rams would offer, if they'd offer anything at all. As mentioned above, a trade seems unlikely no matter what because of the team's lack of cap space and aversion to giving up draft picks for someone who would only be a marginal upgrade, at best.
Next, we can dive into some of the more realistic options on the free-agent market, the type of players who could actually be had for cheaper prices without having to give up anything in terms of trade compensation. Former Ram Austin Davis would seem a logical candidate given his knowledge of the system and the personnel. He's young, cheap and available. Also on the free-agent market are players like
John Skelton
,
Tyler Thigpen
,
Matt Leinart
,
Caleb Hanie
and
Trent Edwards
available. Not that any of those players move the needle much but again, we're talking about backup options here.
One other avenue is scouring practice squads around the league.
Dennis Dixon
is on Buffalo's practice squad and actually worked out for the Rams in 2012 without signing. Cincinnati's
Greg McElroy
would also make some sense after spending time in Schottenheimer's offense in 2011 when both were with the
New York Jets
.
As of early Monday afternoon, the Rams hadn't made a decision on who will take Bradford's spot on the roster nor had Bradford been officially placed on injured reserve. Given what's available, it's probably best for those waiting on that choice to prepare to be underwhelmed.
October, 21, 2013
10/21/13
1:15
AM ET
CHARLOTTE, N.C. -- The
St. Louis Rams
' worst fears were confirmed late Sunday night when, according to a source,
an MRI revealed quarterback
Sam Bradford
would miss the rest of the season with a torn ACL in his left knee.
The immediate implications of the injury could well mean a lost 2013 season in which the Rams will struggle to find wins in their final nine games.
[+] Enlarge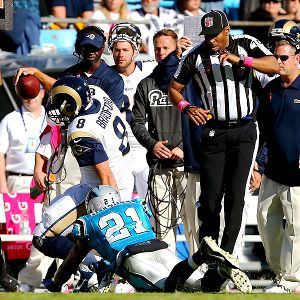 Streeter Lecka/Getty ImagesLosing Sam Bradford puts the Rams in a precarious position.
The bigger issue is Bradford's long-term future with the team.
With Bradford's contract running through the 2015 season and cap hits of $17.61 million and $16.58 million remaining, the Rams don't necessarily have to make a decision on his future anytime soon, but there's no doubt this was an important season in determining what his value would be moving forward.
Before Sunday's season-ending injury, Bradford was piecing together the best season of his four-year career, on pace for career highs in nearly every passing category and playing better in the Rams' more balanced offensive approach of the past few weeks.
As recently as three weeks ago, reports surfaced the Rams wanted to do a contract extension with Bradford and had decided he was the guy they wanted under center moving forward.
What's unknown about those reports is whether the Rams were doing what they should be doing and offering public support of Bradford while keeping their options open -- looking at a possible way of reducing his large salary-cap number -- or if they had already truly decided to keep building around Bradford.
At the time, there was a belief that Bradford was the one who didn't want to talk about an extension because he wanted to bet on himself and attempt to put up big numbers before sitting down to negotiate his next deal.
Bradford appeared to be on his way to having the type of cosmetic season that would do nothing to persuade the Rams to change their mind. Through nearly seven full games, he had 1,687 yards passing, 14 touchdowns and four interceptions for a rating of 90.9, which would be more than eight points better than his previous career best.
Now that Bradford won't return, he not only misses out on the chance to finish the job and actually post those numbers, but the Rams find themselves in a more precarious perch at the game's most-important position.
Not having the rest of the season to evaluate Bradford means the Rams head toward a 2014 NFL draft with a fair amount of uncertainty. It's also a draft in which the Rams hold two first-round picks, and many analysts are already predicting as a quarterback-rich crop.
Many had labeled this a make-or-break season for Bradford and the Rams. The franchise remained steadfast in its support of Bradford, and everyone -- from coach Jeff Fisher to general manager Les Snead -- insisted that wasn't the case.
In the early hours of Monday morning, the Rams find themselves in the unenviable position of first determining not only when Bradford can return but trying to project how effective he can be after such a serious injury.
Once those determinations are made, the Rams can truly begin to figure out what the future holds not only for Bradford, but for their quarterback position as a whole.
October, 20, 2013
10/20/13
7:45
PM ET
CHARLOTTE, N.C. -- As tensions rose and tempers flared, you couldn't help but feel that somewhere along the way the
St. Louis Rams
or
Carolina Panthers
would suffer some collateral damage beyond the sting of a simple yellow penalty flag.
While the full extent of that damage will be better determined by an MRI on Sunday night, it appears the Rams might have taken the biggest hit of all.
Rams quarterback
Sam Bradford
's left knee injury left the team clearly concerned with his status moving forward after he was taken to the locker room on a golf cart with a little less than five minutes to play.
The question quickly became whether the Rams' hopes for a successful season were also a passenger on that cart.
"It's really tough," Rams defensive end
Chris Long
said following the team's
30-15 loss
. "Sam has been playing well. Whatever that situation might be, it's just tough to see him in pain, and it's tough to see him get some bad luck on that one. It was just a bang-bang play. It's football. It's a very physical game, and, sometimes, you are going to get hurt. Hopefully, we'll have Sam back soon. Sam fights hard for this team and works his ass off. For him to have to exit early, that's really hard for the team."
[+] Enlarge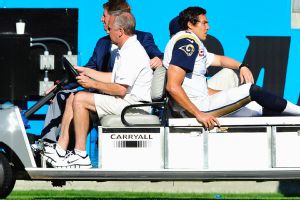 Grant Halverson/Getty ImagesRams quarterback Sam Bradford was taken to the locker room on a golf cart late in the fourth quarter.
Not that there are many teams around the league equipped to simply replace their starting quarterback and not miss a beat, but there's little doubt that Bradford -- regardless of opinions on his status as a franchise quarterback -- is the Rams' most irreplaceable player.
If the Rams do get good news and Bradford misses only a short period of time, it's possible they could bail water and stay afloat for the time being. If he's out for a long stretch, well, it's probably safe to say that any hopes of a step forward in 2013 are gone.
Before the injury, Bradford had been stringing together some of his best games as a professional, and he was having a solid outing against the Panthers, one that would've been even better were it not for some costly drops and penalties.
In the nearly seven games Bradford played this season, he was on pace for career highs in nearly every major passing category, with 14 touchdowns and four interceptions for a quarterback rating of 90.9.
The Rams' recent offensive shift to a power-run game with play-action seemed to suit Bradford well, making the sight of him on the sideline that much harder to swallow for his teammates.
"You never want to see your guy go down," linebacker
James Laurinaitis
said. "The feeling right now is it's tough. You have got to let it hurt for 24 hours and then move on no matter what the diagnosis for Sam, and we have got to watch the tape and focus on the football stuff."
The football stuff could well include another opportunity for veteran backup
Kellen Clemens
to step into the starting role. Clemens replaced Bradford for the final minutes of Sunday's loss and completed two of four passes for 19 yards.
Clemens has plenty of knowledge of the Rams' offensive system, so that part of it wouldn't be the hard part. The hard part would be getting the consistent production the team needs from the position.
Consistency hasn't exactly been Clemens' forte. Neither has production, for that matter.
In 31 career games, Clemens has a quarterback rating of 62.2 with seven touchdowns and 13 interceptions. He surprised some by winning the backup job over Austin Davis in training camp after it appeared the team might not re-sign him at all back in February.
"It's never easy when you see a teammate go down," Clemens said. "When you see a person that you spend as much time with as I do with Sam and genuinely care about as a person; I have a great respect for what he does on the field but just a genuine concern for him as a person. It was not easy to see. Hopefully, whatever it is, it's quick."
Whether Clemens' opportunity is a short cameo or a long-term situation, the Rams will have to add another quarterback to the mix this week. Perhaps Davis, with his knowledge of the offense, will get a call. Maybe the Rams will look elsewhere.
For now, it's not hard for the Rams to figure out what many will say if Bradford misses extended time: The season is over, the Rams are finished, they have no chance, will be a familiar refrain.
"Of course," offensive tackle
Rodger Saffold
said. "But what they don't know is that Sam believes in us just like we believe in him, and we're going to believe in Kellen, too."
The Rams had better, because, chances are, not many others will.