April, 6, 2011
4/06/11
4:25
PM ET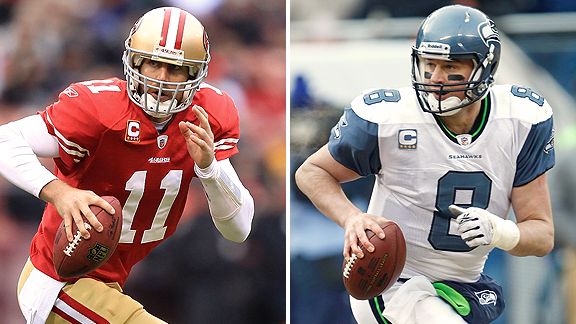 Getty ImagesAlex Smith and Matt Hasselbeck are both eligible for free agency this offseason.
It is possible, even likely, that the NFL and its players will continue their staring contest through the 2011 draft -- even with a ruling from U.S. District Judge Susan Nelson.
The appeals process could take weeks or longer, during which time it's unlikely the league would open for business. We're probably doomed to status quo, in other words.
But if ESPN legal analyst Lester Munson is correct, Judge Nelson will most likely
end the lockout
, leading to an immediate appeal -- a scenario I think would lead, eventually, to the league opening for business under 2010 rules while the sides continued their battle in the courts.
Those 2010 rules set the bar high for free agency. Only players with six accrued seasons would qualify for the unrestricted market. Starters such as Arizona's
Steve Breaston
, San Francisco's
Dashon Goldson
and Seattle's
Brandon Mebane
would lose leverage and most likely return to their teams under relatively modest one-year deals.
The players listed in the chart -- those with at least six accrued seasons and no contracts for 2011 -- would be free to explore opportunities elsewhere.
Options and implications for this type of free agency in the NFC West:
Arizona Cardinals

Overview:
The Cardinals suffered more personnel losses than they could weather last offseason. They would benefit from a return to 2010 rules, however, because the restrictions would keep multiple starters off the market. Their list of potential free agents with six-plus seasons features no front-line players. The Cardinals would be better off focusing on a new deal with
Larry Fitzgerald
, who is entering the final year of his contract.
Top priority:
Finding a veteran quarterback.
Derek Anderson
isn't expected back.
Marc Bulger
's name is heard most frequently in connection with the Cardinals. He turned 34 this week and did not attempt a pass in a regular-season game while with Baltimore last season. Bulger struggled during his final seasons with the Rams, but the team was falling apart around him. He last finished an NFL season with more touchdowns than interceptions in 2006. The down year has surely helped him get healthy.
Players in flux:
Breaston, starting guard
Deuce Lutui
and starting center
Lyle Sendlein
wouldn't have enough accrued seasons to become unrestricted under 2010 rules. The situation is particularly difficult for Breaston, who has battled through knee problems without getting a long-term deal.
Veteran variable:
Starting left guard
Alan Faneca
has considered retirement. The Cardinals invested in veteran guard
Rex Hadnot
for depth last offseason. The team lacks young depth on the line, but if Lutui and Sendlein return, the Cardinals have some flexibility.
Name to keep in mind:
Ike Taylor
, CB,
Pittsburgh Steelers
. The Cardinals are hoping
Greg Toler
can build upon an up-and-down 2010 season. Taylor would give the team options. He played under new Cardinals defensive coordinator Ray Horton.
St. Louis Rams

Overview:
The Rams' most important players tend to be younger starters under contract for the long term (
Chris Long
,
James Laurinaitis
,
Rodger Saffold
,
Sam Bradford
,
Jason Smith
). Most of their top veterans are also under contract (
Steven Jackson
,
Fred Robbins
,
James Hall
). Free safety
Oshiomogho Atogwe
is out of the picture after signing with the
Washington Redskins
following his salary-related release.
Top priority:
The Rams could use a veteran guard with some nastiness. The team has invested heavily in its line, but this group could use more of an edge. Bringing back receiver
Mark Clayton
should be another consideration even though Clayton is coming off a serious knee injury. The rapport Clayton had with Bradford was strong.
Players in flux:
Defensive tackles
Gary Gibson
and
Clifton Ryan
would remain property of the Rams under 2010 rules, as would cornerback
Kevin Dockery
and receiver
Laurent Robinson
. Gibson was the only full-time starter of the group last season. The Rams are expected to seek an upgrade at that position even with Gibson coming back.
Veteran variable:
Adam Goldberg
started all 16 games on the offensive line last season. The Rams could stand to upgrade, but I see value in bringing back Goldberg as a backup. He can play every position on the line but center. Goldberg has also taken an interest in mentoring younger players. His value off the field is a consideration.
Name to keep in mind:
Daniel Graham
, TE,
Denver Broncos
. Graham could make sense for the Rams in free agency. He played under the Rams' new offensive coordinator, Josh McDaniels, and could help upgrade the run blocking. Seattle has connections to Graham as well.
San Francisco 49ers

Overview:
The 49ers signed some of their better young players to long-term contracts well before labor pains became so severe.
Vernon Davis
,
Patrick Willis
and
Joe Staley
come to mind. The lockout has made it tougher for the 49ers' new coaches to get a feel for players. The 49ers like their talent overall and haven't been big players in free agency over the past couple of seasons. That isn't likely to change.
Top priority:
Finding a starting quarterback trumps everything else.
Alex Smith
can become a free agent. Backups
David Carr
and
Troy Smith
are not expected back. The 49ers aren't expected to use the seventh overall choice to select or acquire a quarterback. Coach
Jim Harbaugh
prides himself in coaching up quarterbacks, but he needs quarterbacks to coach.
Players in flux:
Goldson, outside linebacker
Manny Lawson
and defensive lineman
Ray McDonald
are among the 49ers players that would fall short of the six-season requirement for unrestricted free agency.
Veteran variable:
Nose tackle
Aubrayo Franklin
played last season under a one-year franchise deal. The price tag for re-franchising Franklin appears prohibitive. The 49ers took a wait-and-see approach with Franklin because they hadn't seen him perform at a high level over the long term. They'll need a new nose tackle if Franklin departs.
Name to keep in mind:
The 49ers' staff is coming mostly from the college ranks, so there aren't obvious connections to players from other NFL rosters. I expect the 49ers to focus more on re-signing some of their own players, from Spikes to
David Baas
and beyond.
Seattle Seahawks

Overview:
The Seahawks have a long list of players without contracts for 2011. That was mostly be design. The team would like to continue turning over its roster without investing too much in older players such as
Matt Hasselbeck
,
Raheem Brock
and
Olindo Mare
.
Top priority:
Figuring out the quarterback situation. Hasselbeck is headed for free agency and could leave if another team gives him some of the longer-term assurances Seattle has resisted. The Seahawks have shown some interest in
Philadelphia Eagles
backup
Kevin Kolb
, a player they inquired about last offseason. They still have
Charlie Whitehurst
. They could draft a quarterback early.
Players in flux:
Defensive tackle Mebane heads the list of Seattle players who would not reach free agency under the rules used in 2010. General manager John Schneider called Mebane a "steady pro" when asked about him at the combine. That sounded like faint praise and an indication the Seahawks are not yet prepared to pay top dollar for Mebane if, and when, he hits the market.
Veteran variable:
The Seahawks have a few of them, including Mare and Brock. But let's focus on offensive linemen
Sean Locklear
and
Chris Spencer
. They combined for 31 starts, but neither appears to be a priority for re-signing.
Stacy Andrews
is a candidate to step in for Locklear at right tackle.
Max Unger
could replace Spencer. Coach Pete Carroll thinks the team has upgraded its young depth on the line.
Name to keep in mind:
Robert Gallery
, guard,
Oakland Raiders
. Tom Cable's addition as offensive line coach makes Seattle a logical destination for Gallery, who has declared his intention to leave the Raiders.
March, 23, 2011
3/23/11
7:29
AM ET

ESPN's Adam Schefter
says Rams general manager Billy Devaney took offense to James Carville's
comments
to NFL owners comparing the Republican presidential field to the NFC West. An executive from another NFL team did tell me the Rams weren't all that amused by Carville's wisecrack. NFL spokesman Greg Aiello responded to Schefter's tweet by noting that
both laughed
and it was all in fun. If you know Devaney, however, it's easy to imagine him not letting such remarks slide. He's pugnacious and unafraid to speak his mind. Remember back in September 2009 when ESPN's Mark Schlereth, a player Devaney scouted years ago, said the Rams were in shambles? Devaney went on the radio and
fired back
with both barrels. He called Schlereth names and the team was well on its way to turning things around. The Rams went 1-15 that season, but they were indeed in the early stages of turning around the franchise.
Kathleen Nelson of the St. Louis Post-Dispatch
says Rams running back Steven Jackson commended students for participating in a reading drive. Jackson told students reading helped him overcome a fear of public speaking. Jackson: "Thanks to some good teachers and my mom and dad, I overcame the fear and became an avid reader. My passion for literacy has continued."

Eric Branch of the Santa Rosa Press-Democrat
shows where Alex Smith and Shaun Hill, among others, measured up at the 26-27-60 formula for quarterbacks. The formula favors college quarterbacks with at least a 26 on the Wonderlic, 27 college starts and a 60 percent completion rate. Smith hit in two of three categories. Hill hit in none. Drew Brees and Sam Bradford were among those hitting the mark in all three categories, but so was Max Hall.
Matt Maiocco of CSNBayArea.com
says the new rules for kickoff returns could help the 49ers. Maiocco: "The 49ers were the worst team in the league last season on kickoffs. Their return teams ranked 29th in field position -- both in returns and coverage. Moreover, the 49ers have sustained some significant injuries the past two seasons on kickoffs. Jeff Ulbrich's career ended in 2009 when he sustained a concussion while trying to break a wedge. Dominique Zeigler (torn knee ligament), Will James (concussion) and Phillip Adams (broken ankle) saw their seasons end with major injuries on kickoffs."
Matt Barrows of the Sacramento Bee
passes along comments from 49ers coach Jim Harbaugh regarding top quarterbacks in the 2011 NFL draft.

Kent Somers of the Arizona Republic
says Cardinals coach Ken Whisenhunt declined to discuss reports suggesting Arizona could have interest in Eagles quarterback Kevin Kolb. Somers: "I would be surprised if the Cardinals were willing to give up the fifth overall pick in the draft. If the Eagles hold out for that, I don't think a deal will be done."
Darren Urban of azcardinals.com
says the team supports the new rules for kickoffs, according to club president Michael Bidwill. Bidwill also offered thoughts on receiver Larry Fitzgerald, who is heading into the final year of his contract. Bidwill: "He's been very clear that he wants to be a Cardinal for life. We've been very clear that we want to take the necessary steps to make sure that happens. We'll get it done. I'm confident of that."

Danny O'Neil of the Seattle Times
offers thoughts on whether the Seahawks should bring back quarterback Matt Hasselbeck. O'Neil: "It's not an easy decision by any means, and if you built an argument around not bringing Hasselbeck back and pointed to his performance in early December as the reason, I could say I disagree, but it would be tough for me to say you're flat-out wrong. You would just have a different assessment. I just think it's so hard to find a guy capable of running your offense at a high level that it's much worse to pull the plug too early as opposed to too late. Re-signing a starting quarterback in the NFL isn't cheap. Letting one with tread on the tires walk away can prove way more costly, though."
Brady Henderson of 710ESPN Seattle
says the Seahawks' return specialist, Leon Washington, has come out against rules changes governing kickoffs. Washington: "It's going to take a lot of strategy for the coaches to come up with a plan for how to take advantage of the opportunities you do have," he said. "I think as a returner you have to really study the game, study the kickers and try to approach the game from that angle. Hopefully it doesn't go through but if it does, special teams coaches have to really, really prepare themselves and really game plan around how to take advantage of when you do have opportunities because early on in the season when kickers' legs are feeling good and strong, they're going to be kicking out of the end zone. But later in the season, there's going to be a few chances where you do have opportunities."
Also from Henderson
: NFL Network's Jamie Dukes wonders why the Seahawks haven't showed interest in Matt Leinart. Coach Pete Carroll would know Leinart better than most would know him, so no one can accuse Seattle of making an uninformed decision.
March, 22, 2011
3/22/11
7:24
AM ET

Jim Thomas of the St. Louis Post-Dispatch
checks in with Rams owner Stan Kroenke, who remains noncommittal regarding the current structure of the team's front office. Kroenke would not say whether or not the team planned to hire a team president. Kroenke: "Right now we're not hiring because we're in this lockout. A lot of this is common sense. We can parse it, but it's common sense -- nothing any different than what we would do in a normal business. We'll get some clarity at some point, and if we feel like we're going to be playing football, we'll see where we go from there." If Kroenke preferred the current structure, he could certainly say so. It's not like he has to worry about ticking off the owner. He is the owner. The more significant question would be to what extent hiring a team president would precipitate other changes.

Matt Barrows of the Sacramento Bee
says
Joe Staley
is among 49ers players leading offseason workouts away from team headquarters. Staley: "We're professional athletes. We get paid to work out and stay in shape." Not now.
Also from Barrows
: 49ers kicker
Joe Nedney
offers thoughts on the NFL proposal to change rules regarding kickoffs. As Barrows notes, the 49ers lost
Phillip Adams
,
Will James
and
Dominique Zeigler
to injuries suffered on kickoff returns.
Matt Maiocco of CSNBayArea.com
says the 49ers probably would not trade their first-round choice to Philadelphia for Eagles quarterback
Kevin Kolb
. I don't think the 49ers would give up a first-round pick for a quarterback unless they were convinced they were getting an elite player. Kolb would upgrade the position overall for San Francisco --
David Carr
is the only quarterback under contract to the 49ers, and he is not expected back -- but I've seen nothing from the 49ers to suggest they're going to make a strong play for him.

Kent Somers of the Arizona Republic
offers a few Cardinals-related thoughts. Somers on a report that the Cardinals had not given up on
Max Hall
: "True enough, but
John Skelton
is ahead of him. And Ken Whisenhunt and his staff like what they saw of Rich Bartel late in the year. Currently, Bartel is ahead of Hall for the No. 3 job . If a rookie and/or a free agent is added, Hall should hope Whisenhunt is open to keeping a QB on the practice squad."
Darren Urban of azcardinals.com
says it's possible the Eagles are floating the idea that a team or teams are clamoring for Kolb on the trade market.
Also from Urban
:
Dan Williams
finished his rookie season strong. Pro Football Focus offers statistical evidence.

Danny O'Neil of the Seattle Times
says
Matt Hasselbeck
's 5-year-old son ranks 103rd out of nearly six million participants in ESPN.com's NCAA Tournament Challenge.
Aaron Levin of q13fox.com
has additional details: "In the Southwest Region, he chose 12-seed Richmond, 11-seed VCU, 10-seed Florida St., and top-seed Kansas to advance to the Sweet 16. He was one of only 2811 entries to have all four teams advancing."
Also from O'Neil
: Defensive end remains a position of interest for the Seahawks in the draft even though
Chris Clemons
and
Raheem Brock
put up strong sack numbers last season. O'Neil: "Brock is scheduled to be a free agent for one, and then there's the fact that expecting veterans to replicate career years can be problematic. Then top it all off with the fact that defensive end just might be the deepest position in this draft."
January, 28, 2011
1/28/11
1:20
PM ET
Sean writes via Facebook:
Mike, yesterday on 710ESPN here in Seattle,
Brock and Salk
had a guest talking about the number of free agents this year is around 500, which is more than double most years because of the amount of unrestricted free agents last offseason. Seattle has 27 going into this offseason. Is it a disadvantage or advantage with the free-agent pool as large as it is to have a lot of free agents this offseason? Also, how many does San Francisco have?
Mike Sando:
There are a few key points to keep in mind here. One, there is no free agency without a new labor agreement. Two, the next labor agreement will define terms for free agents. About 500 players with four accrued seasons could become unrestricted under the previous system. Another roughly 100 players will have three accrued seasons.
Teams have had a long time to anticipate a work stoppage. It's never a good time to have a long list of good players without contracts. But in most cases, teams have already re-signed the players they think they absolutely have to keep. Some teams have a long list of free agents by design. I would put Seattle in that category.
The Seahawks promoted competition during the 2010 season by shortening contracts in a few cases. They re-signed a couple players they wanted to target, but overall, I think they feel just fine going into the labor period with unsigned players. The number you cited -- 27 -- is in the right ballpark. The totals are unofficial until the league releases its annual list.
The 49ers have a shorter projected list featuring five starters from last season:
Takeo Spikes
,
Aubrayo Franklin
,
Manny Lawson
,
Alex Smith
and
Dashon Goldson
.
I've put together an initial list of 25 projected NFC West free agents to watch. These are not necessarily ranked in order of abilities. A couple "name" players did not make the list, and I'm noting there are only two St. Louis Rams on there (could have considered
Adam Goldberg
,
Billy Bajema
,
Gary Gibson
,
Daniel Fells
,
Laurent Robinson
,
Clifton Ryan
, etc.).
November, 14, 2010
11/14/10
8:54
PM ET
SAN FRANCISCO -- The
San Francisco 49ers
will be without left tackle
Joe Staley
indefinitely after Staley suffered a fractured fibula in his left leg Sunday.
Staley suffered two injuries to the leg, according to the 49ers. X-rays were negative following the first injury and Staley returned to the game. He suffered the fracture later and hopped off the field. Staley tried to gut it out, but he could barely walk.
The 49ers' Will James (concussion),
Adam Snyder
(shoulder) and
Joe Nedney
(non-kicking knee) also suffered injuries.
Meanwhile, the
Seattle Seahawks
are not sure about quarterback
Matt Hasselbeck
's status after Hasselbeck suffered a cracked bone in his left wrist, according to reports from Arizona, where Seattle grabbed sole possession of first place with a 36-18 victory over the Cardinals.
September, 29, 2010
9/29/10
7:01
PM ET

Arizona:
Losing No. 2 receiver
Steve Breaston
to a knee injury affects the Cardinals on offense and special teams. The passing game was already producing sporadically. Opponents have contained
Larry Fitzgerald
relatively well. Take away Breaston and the job becomes less difficult, particularly with third receiver
Early Doucet
also unavailable. Undrafted rookie
Stephen Williams
becomes the No. 2 receiver.
Max Komar
, another undrafted rookie, becomes the third receiver. Rookie third-round choice
Andre Roberts
becomes the fourth receiver. Running back
Beanie Wells
was going to become a bigger part of the offense anyway. That transition should only accelerate without Breaston and Doucet, provided the Cardinals are winning or the score is close enough for Arizona to stick with its ground game. Removing Breaston also strains the Cardinals' punt-return team. Arizona doesn't have a proven, reliable punt returner. San Diego's secondary was opportunistic at home against Jacksonville. Turnovers are a concern for Arizona with so many new faces at receiver.

St. Louis:
Running back
Steven Jackson
suffered a strained groin in Week 3 and it's unclear whether he'll play a full game if the Rams do clear him. If he plays, Jackson will be facing one of the NFL's better run defenses to this point when Seattle visits the Edward Jones Dome. Rookie quarterback
Sam Bradford
proved he could run the offense without Jackson, but that becomes more difficult over the course of a full game if Jackson cannot play. Having Jackson at less than 100 percent would also put additional strain on the Rams' offense. The Rams are also light at tight end while
Billy Bajema
and
Mike Hoomanawanui
recover from injuries. On defense, the Rams remain without starting tackle
Clifton Ryan
, who is battling migraines, and safety
Oshiomogho Atogwe
missed practice to rest a thigh injury. The Rams are healthier than they've been at cornerback, but it's still not a very good situation depth-wise if Seattle floods the secondary with receivers.

Seattle:
Left tackle
Russell Okung
and left guard
Chester Pitts
are practicing following extended injury layoffs, but the Seahawks probably will not rush either into the starting lineup just yet. Okung could play a series in a reserve role as the Seahawks work him back into the lineup following a severe high-ankle sprain. Pitts is closer to being ready, but it's doubtful the team would move him into the starting lineup this week. The team expects receiver
Mike Williams
to play Sunday after suffering a shoulder injury against San Diego. Coach Pete Carroll was vague when discussing injuries to cornerback
Marcus Trufant
and defensive tackle
Brandon Mebane
. Both are key figures on defense for Seattle. The team missed Trufant in particular when he left the game against San Diego. Trufant (ankle), Mebane (shoulder) and linebacker
Aaron Curry
(hamstring) will be limited in practice.

San Francisco:
Receiver
Ted Ginn Jr.
and inside linebacker
Takeo Spikes
missed practice Wednesday. Spikes was able to play Sunday despite his knee injury. The team thought Ginn might return last week. His absence removes a speed element from the offense, although the 49ers weren't using him as much as I had anticipated before Ginn suffered a knee injury in Week 1. That could change with Michael Johnson taking over as offensive coordinator. Veteran cornerback
William James
remains limited by an ankle injury. Free safety
Dashon Goldson
is also banged up. Injuries are probably among the least of the 49ers' concerns at this point.
September, 20, 2010
9/20/10
5:51
PM ET
SAN FRANCISCO -- Outside linebacker
Diyral Briggs
was one of the
San Francisco 49ers
' more impressive pass-rushers during portions of the exhibition season.
The team cut him Monday, making room on the roster for Tramaine Brock, a cornerback signed from the practice squad.
Briggs could return to the roster, but why risk losing a once-promising pass-rusher? Briggs faded as the exhibition season concluded, and the 49ers now have depth at the position with
Ahmad Brooks
returning from a lacerated kidney and
Travis LaBoy
playing effectively. The 49ers also needed another cornerback while Will James fights through injury.
Seems to me another team could do worse than giving Briggs a look (not that, say, Seattle has shown any interest in 49ers castoffs lately).
August, 16, 2010
8/16/10
9:03
AM ET

Kent Somers of the Arizona Republic
says Cardinals receiver Larry Fitzgerald is frustrated a knee injury will sideline him because, in Fitzgerald's words, he was enjoying his best camp as a professional. Also quarterback Matt Leinart apologized for missing his postgame media obligations Saturday night, blaming a miscommunication.
Zach Buchanan of the Arizona Republic
says undrafted rookie receiver Stephen Williams has a shot at a roster spot. Williams stood out to me early in Cardinals camp for two reasons: he's unusually rangy at 6-foot-5 and 208 pounds, and he appeared more comfortable than most rookies.
Darren Urban of azcardinals.com
says Cardinals backup quarterback Derek Anderson looks good until he throws the ball. Urban: "Anderson was lucky he didn't throw a third interception (it was dropped). It's funny, he looks so confident in there. I liked his pocket presence. But the passes just don't connect. Some of that was his accuracy, a couple of times, the receivers have to make the play." It's early and Anderson should improve as he spends more time in the offense. Interceptions have been a problem for him in the past, however.
Also from Urban
: Cardinals rookie quarterback John Skelton looks good.
More from Urban
: Second-round draft choice Daryl Washington made a positive statement in his first exhibition game for the Cardinals. Washington will make it tough for the Cardinals to leave him off the field as early as Week 1. It's not as though the Cardinals are stacked at inside linebacker, either. Coach Ken Whisenhunt: "He showed up. There were a couple of times I noticed he got stuck on some blocks. He's going to have an adjustment to the speed of this game and going against some of the bigger guys. When you have the speed he has and can make plays, it's all about getting him reps."

David White of the San Francisco Chronicle
says the 49ers' first-team offense struggled Sunday, but quarterback Alex Smith faced no questions about his starting job. Smith: "I felt good, but we didn't get it done. I was getting rid of the ball. For a couple of reasons, me and some of the receivers are off a little bit, just not finishing passes. I've got to get that ironed out."
Also from White
: Backup running back Anthony Dixon fared well against the Colts.
Phil Barber of the Santa Rosa Press-Democrat
says the 49ers' Kyle Williams and Will James were playing well until injuries felled both.
Matt Maiocco of CSNBayArea.com
offers notes from the 49ers' performance Sunday. Maiocco: "Rookie right tackle Anthony Davis and left guard Mike Iupati played the entire first half and saw limited work in the second half with the second stringers. On the 49ers' second possession, Davis was called for a false start and he was beaten by Robert Mathis for a quarterback pressure."
Also from Maiocco: items on the 49ers'
first-team offense
,
first-team defense
,
second-team offense
,
second-team defense
,
second-half offense
and
second-half defense
.
Tim Kawakami of the San Jose Mercury News
says David Baas and Ricky Jean-Francois looked good for the 49ers, but question marks persisted elsewhere.

Greg Johns of seattlepi.com
sees potential for improvement this season on the Seahawks' defense. Rookie cornerback Walter Thurmond has been a surprise in camp. I could see him fighting for a spot in the nickel defense. He would give the Seahawks needed size and a physical presence. The key, of course, is for Thurmond to continue getting stronger physically following knee reconstruction.
Danny O'Neil of the Seattle Times
asks what the Seahawks learned from their exhibition opener. Among the answers: "Cornerback Josh Wilson isn't ready to relinquish a starting job. He became a backup last season after the Seahawks signed Ken Lucas only to earn it back. And when training camp opened, Kelly Jennings was working with the first-unit defense. Well, Wilson not only started Saturday's game, but he made a heck of a play to drive on a ball and pick off Vince Young in the first quarter." It's baffling to think Wilson might not have been one of the starters, but also a sign the new staff isn't reading as much into what happened in the past. As noted, the Seahawks have the potential to improve their secondary with Wilson in the lineup and Thurmond coming off the bench. The fact that rookie Earl Thomas can cover well enough to play corner if needed provides additional flexibility.
Dave Boling of the Tacoma News Tribune
says Seahawks rookie Russell Okung fared well in his first exhibition game.
Eric D. Williams of the Tacoma News Tribune
says Charlie Whitehurst enhanced his profile with a strong showing at quarterback for Seattle.
John Morgan of Field Gulls
lists Whitehurst, defensive tackle Kevin Vickerson and running back Quinton Ganther as "big winners" from the Seahawks' opener.

Bill Coats of the St. Louis Post-Dispatch
says injuries have severely limited the Rams at cornerback. Coats: "Three cornerbacks were unavailable: Ron Bartell (ankle), Bradley Fletcher (knee) and Justin King (calf). Then rookie Jerome Murphy went down with an ankle injury in the first minute of the second quarter. Dockery left later with a hip pointer."
Jim Thomas of the St. Louis Post-Dispatch
says poor pass protection was the Rams' primary concern coming out of their exhibition opener. Thomas: "(Sam) Bradford absorbed four of those sacks on just 17 called pass plays. Getting sacked roughly once every four pass plays isn't a recipe for success. At that rate, Bradford -- or anybody else -- may not make it into November healthy." Or September, for that matter.
Steve Korte of the Belleville News-Democrat
says the Rams do not plan to "panic" after one rough outing by their offensive line, according to coach Steve Spagnuolo.