February, 6, 2013
2/06/13
6:15
PM ET
Eight hours in a New Orleans Convention Center ballroom Saturday wasn't enough for Bernie Miklasz and me, so we hung out some more over the phone this week for his 101ESPN St. Louis radio show. Feel free to
eavesdrop

.
At issue, among other things: Pro Football Hall of Fame voting. Bernie and I were among the selectors meeting Saturday to vote on the 2013 class. We both think former
Arizona Cardinals
and
St. Louis Rams
defensive back
Aeneas Williams
has a very good chance in the future.
Williams was among 10 of the 15 modern-era finalists missing the cut this time. That happens every year. It doesn't mean all 10 were unworthy. Far from it. I'd expect quite a few of them to make their way to Canton eventually.
Williams and fellow NFC West alum Charles Haley made the final 10, often an indication they're headed for enshrinement at some point. Might former
San Francisco 49ers
owner Eddie DeBartolo Jr. join them? He's made the final 15 in consecutive years without advancing to the final 10, making it tough to say his candidacy has momentum at present.
Nineteen current Hall of Famers were enshrined as contributors: Bert Bell, Charles Bidwill Sr., Joe Carr, Al Davis, Jim Finks, George Halas, Lamar Hunt, Curly Lambeau, Tim Mara, Wellington Mara, George Preston Marsahll, Hugh Ray, Dan Reeves, Art Rooney, Dan Rooney, Pete Rozelle, Ed Sabol, Tex Schramm and Ralph Wilson Jr.
The 49ers had an NFL-best .633 winning percentage when DeBartolo owned the team from 1977 through 1999. That included .741 from 1981 through 1998. The 49ers won five Super Bowls during that period. They were .511 during the 10 seasons prior to DeBartolo's ownership and .425 in the 10 years after it.
February, 2, 2013
2/02/13
6:05
PM ET
NEW ORLEANS -- A strong contingent of newly eligible Pro Football Hall of Fame finalists complicated efforts to settle on five modern-era enshrinees for 2013.
I was among the 46 selectors for a fourth year and can tell you it's extremely difficult reducing the field, particularly on the final cut from 10 to five.
Larry Allen, Cris Carter, Jonathan Ogden, Bill Parcells and Warren Sapp were the modern-era candidates left standing this year. The Hall of Fame will enshrine them in Canton, Ohio, this summer.
Allen, Ogden and Sapp were eligible for the first time. Michael Strahan, also a first-timer, made the initial cut to 10 before missing the cut to five.
The strong push by newly eligible candidates contributed to former
San Francisco 49ers
owner Eddie DeBartolo Jr. missing the cut from 15 to 10. This is the second year in a row that DeBartolo has made the final 15 without advancing to the final 10. Art Modell, Kevin Greene, Will Shields and Tim Brown also missed the first cut.
While this isn't the end for DeBartolo as a candidate, some voters seem to struggle supporting contributors over players on the final reduction.
Rules allow no more than five modern-era candidates to be enshrined in a single year.
Former
St. Louis Rams
and
Arizona Cardinals
great Aeneas Williams made the cut to 10 for the second consecutive year. That's a strong indication voters consider him worthy -- eventually. Cortez Kennedy, for example, earned enshrinement last year after twice making the final 10.
Voters discussed Parcells' candidacy for more than an hour, the longest discussion for any candidate. Rules prevent voters from disclosing more specific details about the proceedings.
Curley Culp and Dave Robinson earned enshrinement as senior candidates.
Andre Reed, Jerome Bettis, Charles Haley, Williams and Strahan missed the cut from 10 to five.
January, 11, 2013
1/11/13
12:12
PM ET
Five of 15 modern-era finalists for 2013 Pro Football Hall of Fame enshrinement have ties to teams currently in the NFC West.
Their names are shaded in the chart below:
Kevin Greene
,
Charles Haley
,
Aeneas Williams
,
Jerome Bettis
and Eddie DeBartolo Jr.
The first two men listed qualify as seniors candidates. Their enshrinement does not affect the maximum five slots available to modern-era candidates.
San Francisco 49ers
great
Roger Craig
was among the 12 semifinalists not making the reduction to 15 this year. The others were:
Morten Andersen
,
Steve Atwater
, Don Coryell,
Terrell Davis
,
Joe Jacoby
,
Albert Lewis
,
John Lynch
,
Karl Mecklenburg
, Paul Tagliabue,
Steve Tasker
and George Young.
The next round of voting begins and ends one day before the Super Bowl. I'm one of the voters and will have a tough time reducing to five on the final ballot, as usual. It's a select group that makes it in the end. Strong cases can be made for each of the four players eligible for the first time. Adding them to the list makes it tougher for some of the holdovers.
January, 7, 2012
1/07/12
3:27
PM ET
The
San Francisco 49ers
' resurgence this season recalls the team's greatest years.
How appropriate, then, that Eddie DeBartolo Jr. has emerged as a Pro Football Hall of Fame finalist for the first time. DeBartolo and former St. Louis/Arizona defensive back
Aeneas Williams
add NFC West flavor to the proceedings as first-time finalists for the Hall. I'll be among those casting votes when the selection committee gathers during Super Bowl week.
No more than five of the maximum
15 modern-era finalists
can qualify for enshrinement in a given year. That makes handicapping a candidate's chances difficult. Worthy finalists miss the cut every year, in my view. They must wait their turn while other worthy finalists gain enshrinement.
Without slam-dunk candidates such as
Emmitt Smith
or
Jerry Rice
on the ballot this year, the door could open for some who have waited their turn recently.
Cortez Kennedy
,
Charles Haley
,
Jerome Bettis
,
Chris Doleman
and
Kevin Greene
are among the finalists with ties to franchises currently in the NFC West. Kennedy made the final 10 last year.
Also among the modern-era finalists:
Tim Brown
,
Cris Carter
,
Dermontti Dawson
,
Curtis Martin
, Bill Parcells,
Andre Reed
,
Willie Roaf
and
Will Shields
. Jack Butler and Dick Stanfel are eligible as seniors nominees. Their enshrinement would not come at the expense of the maximum five slots for modern-era finalists.
April, 16, 2010
4/16/10
10:00
AM ET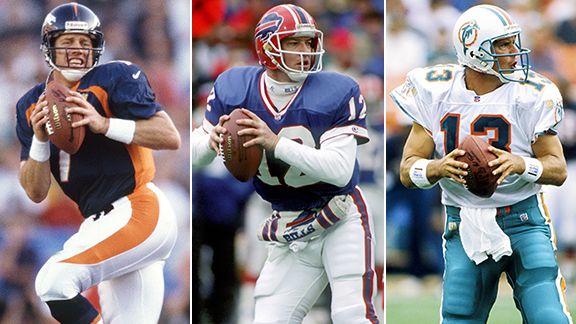 US PresswireJohn Elway, Jim Kelly and Dan Marino are a part of a draft class that may be the best in NFL history.
The 1983 NFL draft might have been the best of the modern era even without Hall of Fame quarterbacks
John Elway
,
Jim Kelly
or
Dan Marino
.
It was that good.
"I think if you asked each guy to a man, in particular the Hall of Fame guys, there has always been a pride about our class," said cornerback
Darrell Green
, the 28th overall choice in 1983 and a Hall of Famer. "Without ever discussing it, we knew we were a pretty special class of athletes."
The class produced six Hall of Famers –- Elway, Kelly, Marino, Green,
Eric Dickerson
and
Bruce Matthews
-– in addition to recent Hall finalists
Richard Dent
and
Roger Craig
. Of the 335 players drafted, 41 combined for 142 Pro Bowl appearances.
No other draft class has produced more than 34 Pro Bowl players since the NFL and AFL combined for a common draft in 1967, according to ESPN Stats & Information. That year served as the starting point for this project ranking the five best draft classes. The 1996, 1981, 1969 and 1985 drafts also made the cut.
Not that making the cut was good enough for some.
"If you took the defensive players in our draft and put them on the field against any class, we would shut them out," said
Ronnie Lott
, one of the more decorated members of a 1981 class featuring
Lawrence Taylor
, Mike Singletary,
Rickey Jackson
,
Howie Long
and Kenny Easley.
The project was biased against recent classes because their players haven't had time to achieve in ways that set apart the older classes. The 2001 class has already produced 33 Pro Bowlers, same as the 1996 class and more than every other class but 1983, 1987 and 1988. But the best players from that class aren't finished achieving.
The biggest challenge, at least to me, was settling on the right criteria. ESPN Stats & Information provided an updated version of the spreadsheet used to identify elite draft classes for
a previous project

. The spreadsheet awarded points to players based on:
Hall of Fame enshrinement (15 points)

MVP awards (8)

Player of the year awards (6)

All-Pro first-team awards (4)

All-Pro second-team awards (3)

Super Bowl victories (3)

Pro Bowls (2)

Rookie of the year awards (2)

Super Bowl defeats (1)
I used the spreadsheet as a starting point.
From there, I assigned 15 points to current or recently retired players likely destined for Canton. The players I singled out were:
Troy Polamalu
,
Dwight Freeney
,
Ed Reed
,
LaDainian Tomlinson
,
Steve Hutchinson
,
Brian Urlacher
,
Tom Brady
,
Champ Bailey
,
Peyton Manning
,
Randy Moss
,
Alan Faneca
,
Orlando Pace
,
Walter Jones
,
Tony Gonzalez
,
Jason Taylor
,
Jonathan Ogden
,
Marvin Harrison
,
Ray Lewis
,
Brian Dawkins
,
Terrell Owens
,
Derrick Brooks
,
Marshall Faulk
,
Larry Allen
,
Michael Strahan
,
Brett Favre
,
Junior Seau
and
Deion Sanders
.
I added five points for Hall of Fame finalists not yet enshrined -- Cortez Kennedy, Shannon Sharpe, etc. These changes allowed the rich to get richer, of course, because all those players already had lots of Pro Bowls on their resumés. But if it was important to recognize current Hall of Famers -- and it was, I thought -- then it was important to acknowledge the strongest candidates not yet enshrined.
Another thing I noticed: These changes didn't significantly alter results, which were predicated mostly on Pro Bowl appearances, a statistical correlation revealed.
The next challenge was making sure the formula didn't acknowledge great players at the expense of good ones. ESPN's John Clayton and Gary Horton of Scouts Inc. felt the formula should take special care in this area. I wasn't as adamant.
"You love the Hall of Famers," Horton said, "but I like the class where the guy plays at a high level for a long time. I love those third-round picks that just play and play. We shouldn't make a mistake at the first pick. That guy should be a great player."
Clayton used
approximate-value ratings
from Pro Football Reference to produce averages for each draft class. The 1993 class produced the highest average, followed by the 1996, 1983, 1975 and 1971 classes. Clayton also plugged in total games played. The 1983 class edged the 1993 class for the most, followed by the 1990, 1976 and 1988 classes.
A few key variables changed along the way.
Teams drafted at least 442 players annually from 1967 to 1976. They drafted more than 330 players each year from 1977 through 1992. The 1993 class featured only 224 players, fewer than any class under consideration. The first 224 players drafted in 1969 had much higher average approximate-value ratings than the 1993 class, for example. More recent draft classes also benefited from league expansion, which opened roster spots and opportunities for additional players.
NFL regular seasons also grew in length from 14 to 16 games beginning in 1978.
My focus was more on what the draft classes produced and less on extenuating circumstances.
The 1993 class is among those deserving honorable mention. Do the most decorated members of that class -- Strahan,
Willie Roaf
,
Will Shields
,
John Lynch
,
Jerome Bettis
and
Drew Bledsoe
among them -- hold up to the best from other years?
Take a look at my top five classes and decide for yourself.
---
[+] Enlarge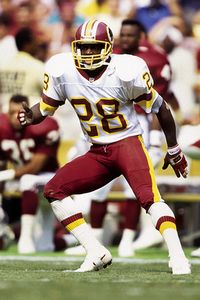 US PresswireDarrell Green was the last pick of the first round in the 1983 draft.
1983
Why it's the best:
No other class came close using the point system from ESPN Stats & Information. The 1983 class finished in a virtual tie with the 1996 and 1981 classes even when I removed from consideration the three Hall of Fame quarterbacks -- Elway, Marino and Jim Kelly. No class had more combined Pro Bowls from its top-10 picks (42) or more combined Pro Bowls from players drafted later than the 200th overall choice (26). Five of the six Hall of Famers played their entire NFL careers with one team for 83 combined seasons, or 16.6 on average.
Hall of Famers:
Elway (Broncos), Kelly (Bills), Marino (Dolphins), Green (Redskins), Dickerson (Rams), Matthews (Oilers)
Hall of Fame finalists:
Richard Dent (Bears), Roger Craig (49ers)
Other big names:
Karl Mecklenburg
(Broncos), Joey Browner (Vikings),
Chris Hinton
(Broncos),
Charles Mann
(Redskins),
Dave Duerson
(Bears),
Leonard Marshall
(Giants),
Albert Lewis
(Chiefs), Curt Warner (Seahawks), Jimbo Covert (Bears),
Henry Ellard
(Rams),
Mark Clayton
(Dolphins),
Tim Krumrie
(Bengals),
Greg Townsend
(Raiders), Gill Byrd (Chargers),
Don Mosebar
(Raiders),
Darryl Talley
(Bills).
Late-round steals:
Mecklenburg was the 310th overall choice. Dent went 203rd overall. Clayton went 223rd. They combined for 15 Pro Bowls.
Ah, the memories:
Green grew up in Houston rooting for the Oilers, but his hometown team wasn't very accommodating on draft day. His family didn't have cable TV, so they couldn't watch the draft on ESPN. They had heard the Oilers would be showing it at their facility, or at least providing real-time updates, but Green was turned away.
"They sent my little behind on out of there," Green said. "That is the way that went. What is funny, I'm a Houstonian, I played 20 years in the NFL, started 18 years and I never played in Houston but one time, so I couldn't stick it to them. ... But you always love your hometown. I was a Luv Ya Blue, Bum Phillips, Kenny Burrough, Earl Campbell, Dan Pastorini fan."
Green was used to the cold shoulder. Tim Lewis, drafted 11th overall by Green Bay, was supposed to be the superstar cornerback that year. Looking back, Green liked going one spot after Marino. Green also values being a bookend to a first round featuring Elway on the other side.
"[Redskins general manager] Bobby Beathard told me if I was there, he would take me," Green said. "I'd always been told by pro players, 'Hey, don't believe anything they say.' As an adult, I know why. Things change. But the man told me. We got down to Dan Marino at 27 and I knew I wouldn't be 27. Then when we got to 28, the last pick of the first round, now I've got nothing else to do but believe it. I was extremely excited he maintained his word."
---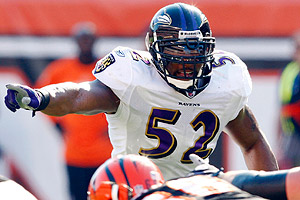 Frank Victores/US PresswireRay Lewis could be one of the best linebackers to ever play in the NFL.
1996
Why it's No. 2:
Jonathan Ogden and Ray Lewis arguably rank among the three best players at their positions in NFL history. Marvin Harrison and Terrell Owens arguably rank among the
10 greatest receivers
. Between four and seven members from this class have strong credentials for Canton. Only the 1983 class produced more total Pro Bowl appearances. Unlike some other classes -- 1988 comes to mind -- this one provided star power deep into the draft.
Hall of Famers:
none yet.
Hall of Fame finalists:
none yet.
Strongest Hall credentials:
Jonathan Ogden (Ravens), Marvin Harrison (Colts), Ray Lewis (Ravens), Brian Dawkins (Eagles), Terrell Owens (49ers),
Zach Thomas
(Dolphins),
La'Roi Glover
(Raiders).
Other big names:
Mike Alstott
(Bucs),
Willie Anderson
(Bengals),
Simeon Rice
(Bucs),
Lawyer Milloy
(Patriots),
Tedy Bruschi
(Patriots),
Eddie George
(Titans),
Jeff Hartings
(Lions),
Keyshawn Johnson
(Jets),
Donnie Edwards
(Chiefs),
Jon Runyan
(Oilers),
Amani Toomer
(Giants),
Muhsin Muhammad
(Panthers),
Stephen Davis
(Redskins),
Joe Horn
(Chiefs),
Marco Rivera
(Packers).
Late-round steals:
Fifth-rounders Thomas, Glover and Horn combined for 17 Pro Bowls. Another fifth-rounder,
Jermaine Lewis
, added two more. No other fifth round produced more total Pro Bowls during the period in question. Although expansion added additional picks to more recent fifth rounds, those picks were also later in the draft. Thomas and Glover should get strong Hall of Fame consideration.
Ah, the memories:
Glover was the 16th defensive tackle drafted in 1996. He wasn't even invited to the combine initially, and when he did get the call, there wasn't enough time to prepare for the specialized events. Glover, who weighed about 265 pounds at San Diego State, was in trouble and he knew it.
"It's funny to me now, but it wasn't funny then," Glover said. "I got a call maybe a week before the combine, so I wasn't prepared. I was out there doing my long-distance conditioning training and I wasn't doing speed-type training. I may have ran like a 5.1 or 5.2, a very bad time."
Glover performed much better at his personal workout, dropping those times into the low 4.9s. Oakland made him the 166th player chosen that year.
"I just remember feeling goosebumps and I started sweating -- the dream is coming true," Glover said. "And then I was put on the phone with Mr. Al Davis. He asked me a very specific question: 'How would you like to be an Oakland Raider?' And I damn near lost it. I didn't cry or anything. I kept my composure over the phone. As soon as I hung up and saw my name come on the ticker -- I lived in a tiny 2-3 bedroom home -- the place just erupted. All the women were crying and all the men were asking for tickets."
---
[+] Enlarge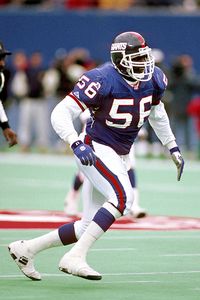 US PresswireLawrence Taylor helped the New York Giants win two Super Bowls.
1981
Why it's No. 3:
This was arguably the greatest defensive draft under consideration, particularly near the top. The NFL's best athletes typically played offense, but 1981 draftees Taylor, Lott and Easley helped change the dynamics. This draft wasn't as strong as some throughout, but its star power on defense set it apart. Key players from this draft helped the 49ers, Redskins, Giants, Bears and Raiders dominate at times during the decade. Only the 1986 draft produced more Super Bowl winners.
Hall of Famers:
Taylor (Giants), Lott (49ers), Mike Singletary (Bears), Howie Long (Raiders), Rickey Jackson (Saints), Russ Grimm (Redskins).
Hall of Fame finalists:
none.
Other big names:
Easley,
Eric Wright
(49ers),
Dennis Smith
(Broncos), Cris Collinsworth (Bengals), Hanford Dixon (Browns), Freeman McNeil (Jets), James Brooks (Chargers), Brian Holloway (Patriots), Hugh Green (Bucs), Carlton Williamson (49ers), Neil Lomax (Cardinals), Dexter Manley (Redskins),
Mark May
(Redskins),
E.J. Junior
(Cardinals).
Late-round steals:
Charlie Brown, chosen 201st overall by the Redskins, caught 16 touchdown passes in his first two seasons, earning Pro Bowl honors both years.
Wade Wilson
, chosen 210th, played 19 seasons and earned one Pro Bowl berth, in 1988.
Ah, the memories:
Once the 49ers drafted Lott eighth overall, the USC safety headed to the airport to use a ticket the team had held for him. Easley, chosen sixth by the Seahawks, was the other great safety in that draft class and the two were so closely linked that the person behind the airline counter mixed up Lott's destination.
"You are going to Seattle?"
"No, San Francisco," Lott replied.
Lott often looks back on how things might have been different if the Saints had drafted Taylor instead of George Rogers first overall. That wasn't going to happen because the Saints wanted a running back to help them control the clock, and they were especially particular about character in that draft -- their first with Bum Phillips as head coach.
"Lawrence Taylor, I didn't realize he was going to be that type of player, but Rickey Jackson did turn out to be the player we needed [in the second round]," Phillips said. "We needed a great player and a great individual. We needed some leadership and we needed the right kind of character to be leaders."
The 49ers needed a new secondary. They used that 1981 draft to select Lott, Wright and Williamson.
"I talked to Bill Walsh and his statement was, 'If I see it on film once, then my coaches should be able to get it out of a guy,'" said Horton, the Scouts Inc. founder and veteran NFL talent evaluator. "That always stuck with me. He was amazing at seeing things on tape. That '81 draft was a smart draft. You could look at that draft and you could see what teams were thinking."
---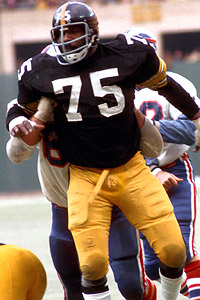 Malcolm Emmons/US PresswireJoe Greene is one of five Hall of Fame inductees from the 1969 draft class.
1969
Why it's No. 4:
Roger Wehrli's 2007 Hall of Fame enshrinement gave this class five inductees. Only three other classes managed more combined Pro Bowl appearances. Some of the names in this class won't resonate with recent generations, and that is understandable. But this was still a strong class and one worthy of our consideration.
Hall of Famers:
Joe Greene (Steelers), Ted Hendricks (Raiders), O.J. Simpson (Bills), Wehrli (Cardinals), Charlie Joiner (Oilers).
Hall of Fame finalists:
L.C. Greenwood (Steelers), Bob Kuechenberg (Eagles).
Other big names:
George Kunz (Falcons), Bill Bergey (Bengals), Bill Stanfill (Dolphins), Calvin Hill (Cowboys), Ed White (Vikings), Gene Washington (49ers), Jack Rudnay (Chiefs), Bill Bradley (Eagles), Ted Kwalick (49ers), Jim Marsalis (Chiefs), Ron Johnson (Browns), Fred Dryer (Giants).
Late-round steals:
Greenwood was a six-time Pro Bowl choice and was the 238th overall pick. The Falcons found five-time Pro Bowler Jeff Van Note with the 262nd choice. Larry Brown, chosen 191st overall, was a four-time Pro Bowl selection.
Ah, the memories:
There was no scouting combine back then. Wehrli couldn't remember seeing a pro scout, even at Missouri practices. He had never even run a 40-yard dash until a Cardinals scout asked him to run one at the Hula Bowl all-star game in Hawaii.
Wehrli agreed to run on the spot even though he was wearing pads, the playing surface was natural grass and the stakes were higher than he realized.
"At the time, I didn't know it was a Cardinals scout," Wehrli said. "I ran the 40, came back and he said, 'Man, we didn't realize you were that fast.' Later, he told me that timing moved me up to a first-round draft choice [from the third round]."
Wehrli had clocked in the 4.5-second range. He would run 4.4s on Astroturf later in the pros.
"You never really trained for it back then," he said.
---
[+] Enlarge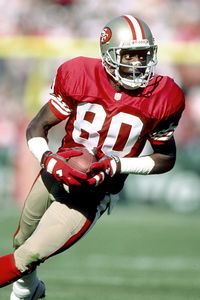 US PresswireJerry Rice, the best receiver in NFL history, helped San Francisco win three Super Bowls.
1985
Why it's No. 5:
Just as the 1983 class featured more than quarterbacks, the 1985 version offered much more than the most prolific receiver in NFL history. Yes,
Jerry Rice
was the 16th overall choice, helping set apart this class from some others. But the supporting cast featured elite talent, from
Bruce Smith
to
Chris Doleman
and beyond.
Hall of Famers:
Rice (49ers), Smith (Bills).
Hall of Fame finalists:
Andre Reed
(Bills).
Other big names:
Lomas Brown
(Lions),
Steve Tasker
(Oilers),
Ray Childress
(Oilers),
Kevin Greene
(Rams),
Jay Novacek
(Cardinals),
Bill Fralic
(Falcons),
Jerry Gray
(Rams),
Randall Cunningham
(Eagles),
Ron Wolfley
(Cardinals), Al Toon (Jets),
Jim Lachey
(Chargers),
Kevin Glover
(Lions),
Mark Bavaro
(Giants), Herschel Walker (Cowboys),
Duane Bickett
(Colts),
Doug Flutie
(Rams),
Jack Del Rio
(Saints).
Late-round steals:
Tasker became a seven-time Pro Bowl choice on special teams as the 226th overall choice (albeit with Buffalo, after the Oilers waived him). Greene was a fifth-rounder, Novacek was a sixth-rounder and Bavaro, one of the toughest tight ends, provided excellent value in the fourth round.
Ah, the memories:
Bill Polian was a little-known pro personnel director with USFL roots when Bills general manager Terry Bledsoe suffered a heart attack two months before the draft. The Bills had already landed their franchise quarterback in Kelly two years earlier, but his two-year detour through the USFL had set back the organization. Buffalo held the No. 1 overall pick, and the stakes were high.
Polian took over GM duties. Norm Pollom, a holdover from the Chuck Knox years, headed up the college scouting side.
The Bills were in great hands. Although some fans hoped the team would draft Flutie, Polian and Pollom found building blocks.
Aggressive wheeling and dealing allowed Buffalo to land cornerback Derrick Burroughs with the 14th choice, acquired from Green Bay, even after drafting Smith first overall. Reed was a steal in the fourth round. The decision to draft Smith over Ray Childress was the right one even though Childress became a five-time Pro Bowl choice for the Oilers.
April, 1, 2010
4/01/10
8:18
PM ET
The earlier item
about
Rob Sims
' status led to
a Facebook discussion
featuring thoughts on Alex Gibbs' preferences for offensive linemen.
Gibbs is the line coach in Seattle and probably the most influential assistant in the NFC West as far as shaping draft priorities in 2010. That is partly because Gibbs is a high-profile coach. It's also because he demands a specific type of player for his scheme.
I've gone through every offensive lineman Gibbs' teams have drafted (download sortable list
here
). Patterns have emerged. I filtered out the years he spent in the league prior to 1995, his first with Denver, when analyzing player weights across specific positions. The thought was that player weights from the 1980s and even early 1990s might be outdated. Also, Gibbs might have been less influential early in his career, particularly when with the Raiders.
Since 1995, the players listed as guards averaged 289 pounds. Gibbs' teams drafted them in the second, third, fourth, sixth and seventh rounds. The players listed as centers averaged 302 pounds. Gibbs' teams drafted them in the third, fifth and seventh rounds. The players listed as tackles averaged 313 pounds. Gibbs' teams drafted them in the first, fourth, fifth and seventh rounds.
The Facebook discussion brought to light
a Florida State-related blog entry
summarizing comments Gibbs made during a coaching video (extra credit for anyone who can find the video). The summary suggested Gibbs was most particular about centers, then guards, then tackles.
An inexperienced or less intelligent player would have a harder time starting right away at one of the interior positions. Look up scouting reports for Gibbs' interior linemen and they'll mention smarts and a lack of size. "Very, very smart and plays smart," the late Joel Buchsbaum wrote about eventual Broncos draft choice
Lennie Friedman
in his 1999 report for Pro Football Weekly. "Average size, speed and physical tools."
Broncos guard
Ben Hamilton
, one of the free agents Seattle has considered this offseason, fits the description. Buchsbaum summed up Hamilton this way in his 2001 preview: "Very smart and dedicated. ... Might be able to play guard or center for a team like the Broncos. ... Lacks great natural size and ability. Is a pumped-up 250-pounder."
Sims is much bigger and more powerful, which doesn't matter in a Gibbs blocking scheme.
Since Gibbs entered the NFL in 1984, his teams have drafted one offensive lineman among the top 20 overall choices -- 338-pound tackle
George Foster
, selected 20th in 2003 despite not really fitting the Gibbs mold. Gibbs' teams have held a dozen choices higher than 20th during that time. His teams have held 43 choices among the top 59 overall picks, using three of them for offensive linemen (all tackles).
Gibbs' teams have held 11 picks between the 60th and 77th slots. They used five of them for offensive linemen, all guards or centers, including
Dan Neil
and
Will Shields
. Seattle holds the 60th pick this year. Three of them were 6-foot-3, one was 6-2 and one was 6-4. That's another thing about the linemen on Gibbs' wish lists. The guards and centers aren't very tall.
It's a little tougher to project what kind of tackle Seattle might select. The Seahawks' need at the position could be great enough to justify taking the most talented player, with less regard for the things Gibbs demands from his interior offensive linemen. That might be a justification for projecting Trent Williams to Seattle at No. 6, as
some have done lately
.
March, 11, 2010
3/11/10
11:54
AM ET
Merlin Olsen was a 14-time Pro Bowl choice in 15 NFL seasons, all with the Rams.

Olsen
No one in league history went to more Pro Bowls, and none went to as many in as few seasons.
His passing Wednesday
from cancer at age 69 provides an opportunity to appreciate his career and contributions.
I'm making some calls and will have more as the day progresses. In the meantime, here's a chart showing where Olsen fits among players with the most Pro Bowl appearances, courtesy of Pro Football Reference.
March, 1, 2010
3/01/10
9:09
PM ET
Orlando Pace
was once a great offensive tackle for the Rams. He'll deserve consideration for the Pro Football Hall of Fame when eligible.

Pace
Five years from now sounds about right.
Pace was not a great player for the Bears last season. They released him Monday after a season that confirmed Pace's decline as more than a temporary condition. Pace, 34, struggled. If he does decide to keep playing, it's unclear whether he could find a starting job.
That is difficult to fathom given how dominant Pace was in his prime. Age and injuries caught up to him.
Walter Jones
and
Jonathan Ogden
were the elite offensive tackles of the last 15 years. Pace, at his best, was right up there with them. Injuries prevented him from staying as good for as long. Pace still managed to earn seven consecutive Pro Bowl appearances ending with the 2005 season. Only four offensive linemen -- Jones, Ogden,
Will Shields
and
Alan Faneca
-- have had more Pro Bowl appearances since the 1999 season.
June, 26, 2009
6/26/09
11:02
AM ET
| | |
| --- | --- |
| | |
| | ESPN.com Illustration |
| | Best of the best: Michael Strahan, Peyton Manning, Tom Brady and Randy Moss. |
Posted by ESPN.com's Mike Sando
Ranking the 25 best NFL players of the decade seemed easy.
AFC West blogger Bill Williamson sent an initial list to me for review. The list appeared strong. I suggested a couple minor tweaks.
The hard part came when we considered those who fell just short of the list.
Guard Alan Faneca has gone to eight Pro Bowls this decade. John Lynch and Will Shields went to seven. Brian Dawkins, La'Roi Glover, Kevin Mawae, Olin Kreutz, Matt Birk, Larry Allen, Chris Samuels and Zach Thomas went to six. Ronde Barber, Keith Brooking, Al Wilson, Julian Peterson, Donovan McNabb, Antonio Gates, Jason Witten and Chad Ochocinco were among those with five.
None of them made the top 25 list. Had all of them made it, only six spots would have remained for the 25 players you see in the chart.
We settled on five quarterbacks, four receivers, four offensive linemen, three linebackers, three defensive ends, two running backs, two safeties, one cornerback, one tight end and zero defensive tackles (few dominated consistently for extended periods).
Seven of 10 league MVPs this decade made the top 25. Marshall Faulk, Rich Gannon and 2003 co-MVP Steve McNair were the exceptions.
Ben Roethlisberger made the list despite only one career Pro Bowl appearance. It's not his fault Manning and Brady play in the same conference.
ESPN.com's Top 25 Players of the Decade
Rk
Player
Pos.
Team
Pro Bowls This Decade
Analysis
1

Tom Brady
QB
NE
4
The NFL's Horatio Alger hero in cleats was drafted in the sixth round and became one of the greatest quarterbacks of a generation. The four-time Pro Bowler played in four Super Bowls this decade, winning three and being named MVP of two. (TG)
2

Peyton Manning
QB
IND
8
The three-time MVP made eight Pro Bowls, was first-team All-Pro four times and won a Super Bowl this decade. Widely regarded as the league's most irreplaceable player. (PK)
3

LaDainian Tomlinson
RB
SD
5
Without a doubt, Tomlinson is the best non-quarterback to play in this decade. He has gained at least 1,000 yards in each of his eight NFL seasons. One of the most consistent running backs ever to play. (BW)
4

Walter Jones
T
SEA
8
Mike Holmgren called Jones the best offensive player he ever coached. That's saying something. (MS)
5

Jason Taylor
DE
MIA
6
Few defenders can match Taylor's résumé. The NFL's active career sacks leader was chosen for six Pro Bowls this decade. Taylor was named the league's defensive player of the year in 2006 and the Walter Payton Man of the Year in 2007 for his community service. (TG)
6

Champ Bailey
CB
DEN
8
The gold standard of cornerbacks this decade. Bailey is a complete player who shut down the left side of the field nearly all decade. (BW)
7

Marvin Harrison
WR
IND
7
Seven straight Pro Bowls, two first-team All-Pro selections and a Super Bowl win this decade. His 143 receptions in 2002 stand as the single-season record and he's got a 20-catch cushion on the next closest player. (PK)
8

Michael Strahan
DE
NYG
4
One of the most prolific pass-rushers in history of the league. He was relentless and he helped lead the way to a world title in 2007. (MM)
9

Ray Lewis
LB
BAL
7
Lewis is the top-rated linebacker of this decade with a Super Bowl victory and seven Pro Bowls since 2000. But No. 9 still seems a little low for the future Hall of Famer and one of the most dominant defenders ever to play the game. (JW)
10

Tony Gonzalez
TE
ATL
9
The best receiving tight end ever to play in the NFL. If you don't think so, look at the top of every important receiving record for NFL tight ends. You'll see Gonzalez's name on every list. (BW)
11

Jonathan Ogden
T
BAL
8
As the most consistent player on Baltimore's usually inconsistent offense, Ogden will probably never get as much credit as he deserved. But his football journey will land him in Canton soon. (JW)
12

Ed Reed
S
BAL
5
In a decade when mostly hard-hitting safeties ruled the NFL, Reed brought "ball-hawking" back to the position. His hands, anticipation and knack for the spectacular play are as good as any safety in NFL history. (JW)
13

Torry Holt
WR
JAC
7
Seven Pro Bowls, one first-team All-Pro selection, two Super Bowl appearances and a Super Bowl win this decade with the St. Louis Rams. A major component of an out-of-nowhere team that became "The Greatest Show on Turf." (PK)
14

Randy Moss
WR
NE
4
He was edged out by Torry Holt for the all-decade team, but Moss is one of the league's all-time greats. He has gone to four Pro Bowls this decade, averaging 77 catches for 1,164 yards and 12 touchdowns. (TG)
15

Derrick Brooks
LB
TB
8
Best player in Tampa Bay's history. Most important building block in Bucs going from laughingstock to Super Bowl champions. Brooks was a leader on the field and in the community. (PY)
16

Orlando Pace
T
CHI
6
At the height of his career, Pace was the most dominant left tackle in the game. No one could get around him as the St. Louis Rams set a series of offensive records. Injuries have slowed him down recently, but he hopes to finish his career strongly in Chicago. (KS)
17

Kurt Warner
QB
ARI
3
Took two franchises to the Super Bowl this decade and had three total appearances (one following the 1999 season). Still going strong. (MS)
18

Shaun Alexander
RB
SEA
3
The only player in NFL history to score 15 touchdowns in five consecutive seasons. Averaged 1,501 yards rushing and 17.4 rushing touchdowns per season over a five-year period. (MS)
19

Troy Polamalu
S
PIT
5
Polamalu is just approaching his prime, but already has two Super Bowl wins and five Pro Bowls in six seasons. He has the potential to make the next decade's list as well. (JW)
20

Richard Seymour
DE
NE
5
The Patriots defensive end has been All-Pro three times and a Pro Bowler five times. He's strong against the run and can create havoc in the pocket, collecting 39 sacks in eight seasons. (TG)
21

Ben Roethlisberger
QB
PIT
1
"Big Ben" joins Tom Brady as the only quarterbacks to win multiple Super Bowls in this decade. Despite joining the NFL in 2004, that was enough for Roethlisberger to make the cut. (JW)
22

Steve Hutchinson
G
MIN
6
Considered the best guard in the game since shortly after Seattle drafted him in 2001. Has helped Minnesota rank in the NFL's top five in rushing twice in three seasons with the Vikings. (KS)
23

Brett Favre
QB
--
5
Finished last season atop the NFL's list for all-time passing yardage and touchdowns. (Interceptions, too.) Named to his 10th Pro Bowl at age 39. (KS)
24

Terrell Owens
WR
BUF
6
He has put up Hall of Fame-worthy numbers and he continues to be a dangerous receiver into his mid-30s. (MM)
25

Brian Urlacher
LB
CHI
6
The NFL's best defensive rookie in 2000, the best defensive player in 2005 and the captain of a team that went to the Super Bowl in 2006. A quasi-defensive back in college, Urlacher is a perfect fit for the Tampa 2 scheme that requires the middle linebacker to cover the deep third of the field. (KS)
Glossary
TG -- Tim Graham (AFC East); JW -- James Walker (AFC North); PK -- Paul Kuharsky (AFC South); BW -- Bill Williamson (AFC West); MM -- Matt Mosley (NFC East); KS -- Kevin Seifert (NFC North); PY -- Pat Yasinskas (NFC South); MS -- Mike Sando (NFC West)