April, 10, 2014
Apr 10
10:00
AM ET
By
ESPN.com staff
| ESPN.com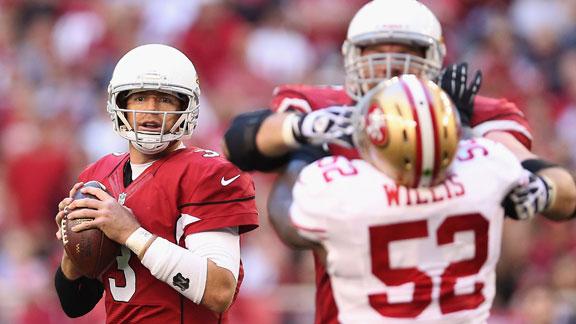 Catch us if you can.
That's a message the
Seattle Seahawks
could send out to the rest of the NFC West.
It is also something the
San Francisco 49ers
might say to the
Arizona Cardinals
and the
St. Louis Rams
. But the Cardinals and Rams might have a statement of their own: We're coming for you.
By almost everyone's estimation, the NFC West is the best division in the NFL. It includes a Super Bowl champion in Seattle along with a team in San Francisco that, arguably, came up one play short of reaching its second consecutive Super Bowl.
It also includes a team in Arizona that won 10 games, one of which was a victory at Seattle -- the Seahawks' only home loss in 2013. And there's a team in St. Louis that won two of its last three games to finish 7-9 while playing most of the season without starting quarterback
Sam Bradford
.
So the question heading into 2014 is whether the Cardinals and Rams are in position to catch the Seahawks and 49ers. Have Arizona and St. Louis closed the gap on what might be the NFL's two best teams?
The Cardinals have been active in free agency, signing cornerback
Antonio Cromartie
, offensive tackle
Jared Veldheer
, tight end
John Carlson
, receiver/kick returner
Ted Ginn
, running back
Jonathan Dwyer
and offensive lineman
Ted Larsen
.
Clearly, the competition in this division keeps getting better.
The four writers who cover the division for ESPN.com's NFL Nation -- Terry Blount in Seattle, Bill Williamson in San Francisco, Josh Weinfuss in Arizona and Nick Wagoner in St. Louis -- take a look at where things stand in the NFC West on four key topics. We also polled our Twitter followers to find how they viewed the issues.

The Cardinals have made significant moves in free agency. The Rams, aside from keeping Rodger Saffold, have mostly stood pat. Which is closer to the playoffs?
Terry Blount: This is a no-brainer for me. The Cardinals are a team on the rise with one of the NFL's best coaches in Bruce Arians. He took a 5-11 team and transformed it to 10-6 in one season. He was 9-3 at Indianapolis in 2012 while filling in for Chuck Pagano. Arizona was 7-2 in its last nine games and won three of the last four, with the only loss being 23-20 to the 49ers in the season finale. The Cardinals could become a serious challenger to the two-team stronghold of Seattle and San Francisco. However, I do believe the Rams will have a winning season if they can hold their own in the division games.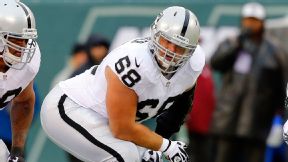 Nick Wagoner: It's hard to evaluate this without seeing what happens in the draft, especially with the Rams having two premium picks. Even then it would be unfair to judge right away. Still, I have to go with the Cardinals. They were trending up at the end of the season and patched a big hole with offensive tackle Jared Veldheer. Losing Karlos Dansby was a blow, but adding cornerback Antonio Cromartie to a talented stable at the position makes them better. The Rams, meanwhile, are clearly counting on a whole lot of in-house improvement and a big draft. Keeping Saffold was important (and lucky), but it seems risky to pin all hopes on a leap to the playoffs on a group of young players all making a jump at the same time.
Josh Weinfuss: Arizona is the easy answer, and that's not because I cover them. The Cardinals were 10-6 last season and the first team kept out of the postseason. All the Cardinals have done this offseason is fix deficiencies and plug holes. Their offensive line got markedly better with the addition of left tackle Jared Veldheer. Their wide receiver corps and kick return game were solidified with Ted Ginn, and they now have one of the best cornerback tandems in the league with Antonio Cromartie coming on board. General manager Steve Keim looked at what went wrong in 2013 and went to work on fixes. It should put the Cardinals over the playoff hump.
Bill Williamson: It has to be Arizona. The Cardinals were so close to making the playoffs last season. They would have likely been dangerous in the postseason too. I like the way this franchise is shaping up. It seems like it is well run and well coached. The roster is also getting deep. Carson Palmer will have to be replaced sooner or later, but the Cardinals are on to something. The Rams certainly have some nice pieces and are probably the best fourth-place team in the NFL, but they aren't close to matching what Arizona has going for it.
@joshweinfuss With the offseason the @AZCardinals have had I'd go with them. The rams are a solid offense away but AZ got the pieces needed.

- Joshua Bodrero (@JBodrero) March 25, 2014
---

The Seahawks and 49ers played for the NFC title in January. Any reason to believe either won't return to the postseason?
Blount: They were the two best teams in the NFL last season, and there's no legitimate reason to think they won't be among the best in 2014. Seattle has lost 10 players who were on the Super Bowl roster, but other than wide receiver Golden Tate, none of them were on the team's priority list to keep. The 49ers move into a shiny new stadium. The only question for San Francisco is the precarious relationship between coach Jim Harbaugh and team executives. Who knows what the future holds there, but it shouldn't matter on game day.
Wagoner: Aside from some debilitating injuries, it's hard to see how either team has taken a major step back. The Seahawks have lost some good players in free agency, but even those players seemingly already had replacements in place. Nobody does a better job of developing talent than Seattle. The Seahawks still have holes to patch on the offensive line and losing receiver Golden Tate is a blow, so there could be some hope the offense will regress. But the defense makes it all go, and it doesn't look like it's going to lose any of its most prized components. As for the Niners, they are the more likely of the two to take a step back, but it's hard to see them taking enough of one to fall out of the postseason. For most of their key free-agent losses they were able to quickly come up with a replacement as good or better than the player lost, and retaining Anquan Boldin says they are looking to make another run at the Super Bowl. Plus, they will have a fully healthy Michael Crabtree ready for the season. Until proven otherwise, these two teams remain the class of the NFC and probably the NFL.
Weinfuss: The only reason either of them won't make the playoffs in 2014 is because the Cardinals or Rams will take their place. The gap between the top and bottom of the NFC West has closed significantly this offseason, making the West much like the Southeastern Conference in college football; everybody will beat up on each other. It's likely the West, if it's anything like last season, can see three teams in the playoffs -- its champion and the two wild cards. If one of the teams between Seattle and San Francisco were not to make it, it's tough, but I think Seattle might slip. The Seahawks lost a significant part of their defensive line and will be going through a Super Bowl hangover. That's risky to deal with and still make the playoffs. On the other hand, San Francisco will be hungry from losing to Seattle in the NFC Championship Game.
Williamson: I believe these are the two best teams in the NFL. So it's difficult to fathom that either team won't find its way into the playoffs, barring major injuries. Arizona, though, could create an issue for the Seahawks and 49ers. The Cardinals are going to win a lot of games, so both Seattle and San Francisco have to be careful or things could get tricky. In the end, I can see all three teams making the playoffs. This is the reason this division is so intriguing and so fun: Every game is critical. There is just not much room for error. Look at the 49ers last year. They went 12-4, but a 1-2 start hamstrung them. They could never fully recover despite having a great overall regular season. The same intensity will be a factor in 2014 in the NFC West.
@TerryBlountESPN The Cards and Rams are pretty good. They'll be fighting for 2nd place behind the Seahawks.

- Danny ®" (@Dah_knee) March 26, 2014
---

Will Rams quarterback Sam Bradford come back strong from an ACL injury, and what effect will he have on St. Louis having its coveted breakthrough year?
Blount: I think Bradford will be fine as far as the ACL goes, but this is a make-or-break year for him in my view. Bradford was playing pretty well before his injury last year, but the verdict still is out whether he can be an elite quarterback. He enters this season with the best supporting cast he's ever had, but playing in this division with teams that emphasize physical defensive play makes it difficult to show improvement.
Wagoner: All indications from the Rams are that Bradford's rehab is coming along well and he's on schedule to make his return in plenty of time for the start of the regular season. He apparently had a clean tear of the ACL, but he has been rehabbing for a handful of months and should resume throwing soon. Bradford's healthy return means everything to the Rams' chances in 2014. Believe it or not, this is his fifth season in the NFL and, much like the team, this is the time to make some noise. The Rams attempted to open up the offense in the first quarter of 2013 with Bradford to miserable results. They switched to a more run-oriented attack in Week 5 and the offense performed better. Bradford also played better as the run game opened up play-action opportunities in the passing game. It will be interesting to see if the Rams choose to go a bit more balanced with Bradford at the controls or if they continue at the same run-heavy pace they played with backup Kellen Clemens. Either way, Bradford's contract has two years left on it. If he wants a lucrative extension, this is the time to prove he's worth it.
Weinfuss: Short answer, yes, Bradford will come back strong. Just look at how he started in 2013. He was on pace for a massive year statistically before he got hurt. If he can pick up where he left off, Bradford will return with a bang and show he's still one of the better quarterbacks in the league. As we've seen, a top-tier quarterback can be the difference between sitting idle in the standings and having a breakthrough year. With the talent that surrounds the Rams, with tight end Jared Cook, running back Zac Stacy and wide receivers Tavon Austin, Chris Givens and Austin Pettis, among others, Bradford may singlehandedly help close the gap between the Rams and the top of the NFC West.
Williamson: I have to be honest: I'm not a big Sam Bradford guy. I think he's just OK. Just OK doesn't cut it in this division, especially considering the defenses he has to play six times a season in the NFC West. He's serviceable, but he's not the answer. Given the state of this division, I cannot envision a scenario where Bradford is the reason the Rams become the class of the NFC West. I think they can get by with Bradford for the short term, but the Rams are going to have to start thinking about the future at this position much earlier than expected when Bradford was the No. 1 overall pick of the 2010 draft.
@nwagoner @Ryan_STL1 he's going to be the reason whether they go to the playoffs or not. If it doesn't happen this year it's time to give up

- Nick Green (@duttynick) March 24, 2014
---

If you had to start a team with either Seahawks QB Russell Wilson or 49ers QB Colin Kaepernick, whom would you choose?
Blount: You must be kidding. Give me Wilson every time, every day in every situation. Yes, Kaepernick is 5 inches taller than Wilson. Is there really anyone left who thinks Wilson's lack of height matters? Wilson also is at his best in pressure situations. He lives for it. And he is a more polished person on the field, and off it, than Kaepernick. That's not an observation. It's a fact. But this isn't a rip on Kaepernick. You would be hard-pressed to find any 25-year-old as polished as Wilson. The 49ers can win a Super Bowl with Kaepernick, and probably will soon. But if I'm starting a team, whether it is in football or almost any other life endeavor, I'll take Wilson without a doubt.
Wagoner: Wilson. For those of us covering other teams in the division, it's hard not to admire what he brings to the table. He presents himself as the consummate professional, and even opponents praise him for his work habits, intelligence and ability. He's already got the Super Bowl ring, and it's easy to see how he could add a few more. He's not all the way there in terms of his potential either, and it's probably safe to assume he's just going to keep getting better as his career goes along. That's nothing against Kaepernick, who is a unique talent in his own right, but there aren't many young quarterbacks in the league worth choosing over Wilson.
Weinfuss: Russell Wilson would be my pick, mainly because of his poise and maturity behind center. Colin Kaepernick is undoubtedly talented, but I get the sense he still has a lot of growing to do as a quarterback. He's tough to bring down, especially in the open field, but when he's pressured in the pocket, Kaepernick seems to panic and I wouldn't want that in a quarterback. I also think Wilson, despite his physical stature, is built to last. He's heady enough to stay out of harm's way, and his poise in the huddle will go a long way in leading a team.
Williamson: I'd take Kaepernick. I know it's a tough sell right now, since Wilson's team has beaten Kaepernick and the 49ers three of the past four times they've met, including the NFC title game, and the fact that Wilson has won a Super Bowl. I respect the value of Super Bowl wins and believe quarterback is the most critical position in sports. I'm sure I will smell like a homer with the Kaepernick pick. But moving forward, I just think Kaepernick has a higher ceiling. I think he can take over games more than Wilson can at a higher rate. Players built like Kaepernick and as athletic as Kaepernick just don't exist. He is special. He works extremely hard at his craft and is well coached. I'd take him, and I wouldn't look back. This isn't a knock on Wilson. He is proven and is going to be great. But if I'm starting a team, I'm taking Kaepernick, and I bet more general managers would agree than would disagree.
@BWilliamsonESPN Wilson. Controls the game & makes all the plays. Kaeps athletic advantage will fade overtime as Wilson's mental edge grows.

- HTB (@HoldenTyler) March 25, 2014
September, 29, 2012
9/29/12
8:15
AM ET
Seattle's
Chris Clemons
is coming off a four-sack first half against the
Green Bay Packers
.
The Seahawks' next opponent, St. Louis,
noticed
.
Rams fans should already be quite familiar with the veteran defensive end.
Clemons has a league-high 6.5 sacks against St. Louis since Seattle acquired him from Philadelphia for defensive end
Darryl Tapp
(Seattle also received a fourth-round choice as part of the deal). Clemons has collected five of those 6.5 sacks in the Edward Jones Dome, site of the Seahawks-Rams game Sunday. That included three sacks against the Rams in Week 11 last season, when
Mark LeVoir
was the Rams' left tackle on an emergency basis.
The chart shows sack leaders against St. Louis since 2010. Clemons appears to have a favorable matchup in Week 4.
Former Seahawks draft choice
Wayne Hunter
is the Rams' starting left tackle after the team lost
Rodger Saffold
to a knee injury. Hunter has been playing despite a knee injury of his own. He did not practice Friday and was listed as questionable on the injury report. The Rams also claimed tackle
Joe Barksdale
off waivers from Oakland.
September, 7, 2012
9/07/12
4:09
PM ET
Jonathan Vilma
and other current/former suspended
New Orleans Saints
players won reversals Friday.
What it means for the NFC West:
The decision clears Vilma to play against the San Francisco 49ers in Week 12 (and all season). Vilma had previously been suspended for the full season. The other suspended players either would have returned before facing the 49ers (Will Smith) or no longer play for New Orleans (Scott Fujita, Anthony Hargrove). Vilma is an important part of the Saints' defense. Having him should help against the 49ers' running game.
Vilma's availability to the Saints could enable the team to part with Barrett Ruud, the linebacker acquired from Seattle by trade last month. The Seahawks are in line to receive a late-round draft choice from the Saints in return if Ruud remains on New Orleans' roster for an undisclosed number of games. Seattle appears less likely to collect on that trade now that Vilma is available.
The reversals affected players, not coaches. The St. Louis Rams will remain without Gregg Williams, who was suspended indefinitely after becoming defensive coordinator for St. Louis.
Full story here
.
August, 9, 2012
8/09/12
11:00
AM ET
Quarterback
Kevin Kolb
could have played better during his brief 2012 exhibition debut for the
Arizona Cardinals
.
In taking a closer look at the Hall of Fame Game from Sunday, however, it's clear coach Ken Whisenhunt was right about protection problems putting Kolb in tough situations.

Right guard
Adam Snyder
appeared to have trouble in particular.
A quick review of the four pass plays featuring Kolb behind center:
The net effect was a negative one for Kolb. He suffered another injury and wasn't able to help his cause in competition with
John Skelton
for the starting job. But in looking closely at what went wrong, we see shared blame for what happened.
Snyder's performance will be important for the Cardinals this season. The team signed him from San Francisco to a five-year deal averaging $3.5 million per season. For all the scrutiny left tackle
Levi Brown
has attracted, the Cardinals' biggest question marks on the line originate on the right side.
May, 2, 2012
5/02/12
12:04
PM ET
The
Seattle Seahawks
appreciated
Anthony Hargrove
's contributions to their defense in 2011, including the pivotal safety Hargrove provided during a comeback victory over the
New York Giants
.
That the Seahawks decided to replace Hargrove with veteran free agent
Jason Jones
this offseason appears fortuitous now that the NFL has levied an eight-game suspension against Hargrove for his participation in the
New Orleans Saints
' bounty program.
The NFL announced its bounty investigation March 2. Seattle reached agreement with Jones two weeks later. Hargrove signed with Green Bay in late March.
Hargrove, who
defended his play
with the Saints in a statement earlier this offseason, signed with Green Bay, where the Packers expected him to
fit well
. The league hammered him in a statement released Wednesday:
"Hargrove actively participated in the program while a member of the Saints. Hargrove submitted a signed declaration to the league that established not only the existence of the program at the Saints, but also that he knew about and participated in it.

"The evidence showed that Hargrove told at least one player on another team that Vikings quarterback Brett Favre was a target of a large bounty during the NFC Championship Game in January of 2010. Hargrove also actively obstructed the league's 2010 investigation into the program by being untruthful to investigators."
The NFL also suspended Saints linebacker
Jonathan Vilma
for the 2012 season.
Will Smith
received a four-game suspension.
Scott Fujita
received a three-game suspension.
"Fujita, Hargrove and Smith may participate in all off-season activity, including preseason games, prior to the suspensions taking effect," the NFL said." Each player disciplined today is entitled to appeal the decision within three days. If an appeal is filed, Commissioner [Roger] Goodell would hold a hearing at which the player may speak on his behalf and be represented by counsel."
August, 12, 2011
8/12/11
9:08
PM ET
So much for emphasizing player safety.
Alex Smith
, making his first exhibition start under a labor agreement featuring added protections for players, took a brutal pounding Friday night.
The
New Orleans Saints
hit him hard on each of the 49ers' first three offensive possessions. Defensive end
Will Smith
drilled Smith twice. Safety
Roman Harper
tagged him on a blitz.
There wasn't much the 49ers could do to combat the pressure packages New Orleans sent at the 49ers early in the game. Smith has been practicing in the 49ers' new offense since only Aug. 4. The 49ers are installing a new offense. They're worried more about lining up right and executing center exchanges cleanly than game-planning for blitzes.
The Saints, meanwhile, benefit from a superior roster and excellent overall continuity. Their defensive coordinator, Gregg Williams, loves to
punish quarterbacks
.
This was a bad combination for the 49ers. No wonder they've asked
Colin Kaepernick
to hand off so frequently since Kaepernick replaced Smith a few minutes ago. The Saints lead, 10-0, early in the second quarter.
January, 7, 2011
1/07/11
10:52
AM ET
I've spun off the usual NFC West penalty file for a look at the
New Orleans Saints
' 2010 leaders heading into the
Seattle Seahawks
' wild-card game Saturday.
Only six NFL teams have committed fewer penalties for false starts than the Saints, but left tackle
Jermon Bushrod
has six of them.
The chart shows accepted and declined penalties, courtesy of ESPN Stats & Information.
September, 11, 2010
9/11/10
9:17
PM ET
CHICAGO -- A few thoughts on
Vernon Davis
during a layover and after the
San Francisco 49ers
extended the tight end's contract through the 2015 season:
Davis can do it all. He went to the Pro Bowl last season mainly because he caught 13 touchdown passes. Davis has caught passes thrown over the wrong shoulder. He has out muscled Pro Bowl-caliber players for the football, including the Arizona Cardinals' Adrian Wilson. He has used his speed to outrun defenders -- especially down the middle. I've also appreciated Davis' approach to blocking. In going through my notes over the past two seasons, I found examples of Davis containing or taking out Mathias Kiwanuka, Patrick Kerney, Chike Okeafor, Charles Grant, Will Smith, James Hall, Calvin Pace, Jacob Ford, David Harris and others. I recall him blocking the Chicago Bears' Nick Roach aggressively enough last season to injure the 250-pound inside linebacker. Those are the plays that can make Davis a dynamic all-around player.
Davis doesn't always do it all. He seems to have lapses in awareness at times. My notes over the past couple seasons also include dropped passes, costly penalties, an instance when he failed to get out of bounds to stop the clock, missed blocks and potential failures to recognize blitzing defenders (resulting in pressure or incomplete passes when Davis failed to look back at the quarterback). Davis can become more consistent.
Davis has good intentions. This is what makes the 49ers feel good about rewarding Davis. They can be confident he'll continue working at his craft. Naming Davis a team captain seemed to help Davis act more like one. The 49ers should expect this contract extension to promote more consistent play from Davis. He's been great at times, but not all the time. It's fair to hold him to a higher standard after this extension.
The laptop battery is about to expire. Catching a connecting flight to St. Louis here shortly. Enjoy your Saturday night.
July, 23, 2010
7/23/10
11:09
AM ET
Joel from Atwater writes:
I love your pieces on the NFC West. I'm a huge 49er fan. I was wondering if you ever thought of putting a piece together on
Vernon Davis
and his blocking. I've been a huge fan of his since he entered the NFL.
Everyone takes for granted how good of a blocker he is. I recall a few games where he completely shut down an opponent's best pass rusher, i.e.
Jared Allen
, and it would have been Joey Porter also if it were not for the last play where Porter sacked
Shaun Hill
.
It's just something that I have been trying to see film on and I just cant find any. Any help would be greatly appreciated. Thanks, Mike. Keep up the great work.
Mike Sando:
I'm with you on Davis' blocking. It jumped out at me right away when I started watching every play of every 49ers game. The first time
I broke it down
was following a 2008 game against the Saints. Davis was absolutely dominant, even against defensive ends.
As I wrote then, "Watching this game made me think Davis was one of the best pass protectors on the team. He regularly blocked (Will) Smith and fellow defensive end
Charles Grant
, tough duty for any tight end. Davis was effective as a run blocker. During the third quarter, he blocked Smith twice and Grant twice on runs that gained 9, 9, 6 and 7 yards."
The 49ers did not ask Davis to block nearly as much in pass protection last season. That is the main reason his receiving numbers took off. Davis is an every-down player, so he's in there on running plays and he's a willing blocker. It's a great sign with a talented pass-receiving tight end is a willing and effective blocker. It means he loves the game and isn't just going after stats.
---
Ryan from Dallas writes:
Hey Mike, got a Rams question for you. I was reading
an article you posted
a link to that said the Rams only rushed four players 65 percent of the time last year which was most in the league. I was a bit shocked to find this out because I really thought Spags would put together craftier schemes than just a soft four-man rush that often.
Two years ago, the Rams were blitzing like crazy and the claim was that they had to out of necessity due to lack of playmakers. So what do you think would be the better route? Or is there a happy medium to be found in here? Thanks as always. Keep it up.
Mike Sando:
I could not find that blog post, but
I did write one
discussing blitz percentages.
The knock on the Rams previously was that their schemes weren't all that sound. I had heard that from opposing players. ESPN Stats & Analysis tracked blitz numbers last season and the Rams rushed four or fewer players 71 percent of the time. The league average was 65.2 percent. The Titans, Panthers and Bucs -- all teams with defensive coaches -- all rushed four or fewer at least 76 percent of the time.
The Rams were pretty inventive with some of their blitzes, according to coaches for other teams. For example, then-Seahawks offensive coordinator Greg Knapp counted 12 unscouted blitzes the Rams used in the regular-season opener. That was a high number. By unscouted blitzes, I mean blitzes the Seahawks hadn't seen from Spagnuolo on video.
It's tough to blitz without having players who are good at it, particularly when you're running a 4-3 scheme without good coverage players. I think the Rams should be OK from a scheme standpoint with Spagnuolo influencing the defense.
---
Rick from Boise writes:
We all know there is a point value for each draft pick that teams use to determine vaule in trading picks. My question is, in any given draft, are picks for future years valued differently from current-year picks?
Mike Sando:
Yes, they are valued differently. A pick next year generally loses about one round's value. For example, a 2011 third-rounder would be worth a 2010 fourth-rounder (update: I initially had the rounds transposed).
---
Jeremy from Vallejo, Calif., writes:
Are the 49ers' training camp practices free to the public? How do I get info on times?
Mike Sando:
Tickets are
sold out
, according to the 49ers. Sorry about that, Jeremy.
---
Trevor from Kelowna, B.C. writes:
Assuming the Seahawks have no pass rush (probable), what's the solution? Don't see any free agents out there. Maybe a trade? Whadya think.
Mike Sando:
I think the Seahawks are stuck. They do not have outstanding pass-rushers and they aren't going to land one before the season.
---
Chris from San Diego writes:
Do you see the 49ers'
Navorro Bowman
playing this year and where, inside or outside?
Mike Sando:
Bowman projects as an inside linebacker even though he's not the biggest guy. Look for
Takeo Spikes
to start this season, but Bowman could get in there, particularly if Spikes wears down. The 49ers think Bowman is an instinctive player. Instinctive linebackers tend to get on the field sooner than guys who lack that feel for the game.
Lofa Tatupu
in Seattle is one example. He became an immediate starter and Pro Bowl player as a rookie drafted outside the first round.
---
Andrew from Fort Worth writes:
What really stands out about the "
Fortunate 50
" list is the fact that the list is flooded with big name-stars -- that is, until you come across recent high NFL draft picks such as
Matthew Stafford
,
Darrius Heyward-Bey
,
Jason Smith
,
Tyson Jackson
and
Mark Sanchez
. All together, these second-year players will be collecting $103,487,280 in salary next year with none proving to be elite players or achieving any outstanding accomplishments (Sanchez did lead his team to the AFC title game).
This again highlights the NFL's issue with rookie salary structures and should be a major focus in the next CBA. While I have no sympathy for NFL owners, as they are by far the most powerful owners in professional sport, this is clearly a problem that deserves attention. Given that players can be cut at any moment and lose out on non-guaranteed portions of their contracts, is it somewhat surprising that you don't see more players hold out once they've outperformed their current contracts?
Mike Sando:
Those NFL players are on the list largely because their rookie deals were structured to have massive payouts in the second year. Those players likely will not rank as high next year. I don't have a huge problem with player salaries in the NFL. These guys submit their bodies to brutal beatings. Their life expectancies shrink. They deal with life-long health issues.
NFL players generally do not hold out because teams hold the cards. Teams simply aren't beholden to a single player in the vast majority of cases. Football is such a team sport. Very few players are important enough to their teams for those teams to buckle when a player holds out.
---
Mitch from Austin, Texas writes:
Sando, can you explain how the cap works? I'm lost. In
your post
about the uncapped year helping the Seahawks, it says that the 'Hawks basically would have had to eat
Deon Grant
's salary in a capped year, correct? I don't understand why a team is punished for cutting a player and therefore not paying his salary. In theory, if you cut a player, then you don't have to pay him, so why does it count against the cap?
Mike Sando:
The base salary doesn't count against the cap after a team releases a player. Other aspects of the contract count against the cap (when there is a cap, obviously). Teams account for some bonus money over multiple years, not all at once. But when a player is released with time left on his deal, that money can accelerate against the current cap. In Grant's case, his base salary was about the same as the bonus money that accelerated upon his release.
---
Q from Victoria, B.C., writes:
Hey Mike, do we give
Louis Rankin
any shot of making the team in Seattle?
Mike Sando:
Yeah, he has a chance. I'm not sure whether the Seahawks will keep a traditional blocking fullback. If they do, it's tougher for Rankin.
---
Seth from Newport News, Va., writes:
I saw article on NFL.com about the league pushing players to wear more padding this season and that something may be mandated for the 2011 season. The NFL anticipates a lot of resistance to this. I understand players want to maximize speed, but they need to compromise to protect their investment (themselves).
I was wondering if you could give some insight into how this would affect the CBA negotiations and if this gives the owners something to use ( i.e. wear more padding or we will pay you less). Thanks.
Mike Sando:
This issue gives the owners an opportunity to show interest in player safety. I do think it's a valid issue, though. Even some linemen play without basic padding. I don't see this issue being a big one in CBA negotiations. Having padding built into pants is intriguing.
---
Jesper from Denmark writes:
Hi Mike. I think you have already talked about this in an earlier chat, but I would like to hear your oppinion on
Kevin Payne
. As far as I have understood, he played strong safety in his second year with the Bears and was a really really good player. They then moved him to free safety, which did not work out so well. Now the Rams have moved him back to strong safety. Shouldnt that make him the starter over
James Butler
, who is solid at best?
Mike Sando:
The book on Payne does say he was better at strong safety. I'm intrigued by his addition and wondering whether he'll take the starting job. Teams generally do not give away starting-caliber players, though, so we shouldn't assume Payne will win the job. He should be in the mix. It's one of the issues I'm interested in pursuing.
---
Scott from Boise writes:
I don't understand why Seattle isn't hosting Pittsburgh next year. They only meet once every four years and last time around was in Pittsburgh. What's the justification for making it 12 years since the last time they were in Seattle?
Mike Sando:
I don't understand the issue well enough to explain it as simply as I would like.
The NFL has made a couple alterations to its scheduling formula.
One tweak
spares teams from making two long trips to face West Coast teams. Also, the league reset the scheduling formula so that 2011 mirrored 2002 (instead of picking up where 2009 left off). The league wasn't able to make the home-and-home swaps match up evenly.
Let me try to get a better explanation for you. I know some readers of this blog follow scheduling stuff more closely than I do, and they might be able to explain it more concisely and definitively.
---
Keith from Seattle writes:
Regarding your column, '
Much fantasy love for Gore, 49ers
', where did you get those numbers for top TD scorers in 2009? I didn't even see
Chris Johnson
or
Maurice Jones-Drew
listed and they easily had over 10 TDs a piece!
Mike Sando:
The chart showed NFC leaders but I did not make that clear. I've updated the item with clear labeling. Sorry about that.
---
Kyle from Tempe writes:
Hey, Mike. I'm sure you record every nfc west game during the season and watch them when you return home. Is that how you plan on handling shark week being in the middle of training camp?
Mike Sando:
I do record all the regular-season games and chart them. As for shark week, I'm sure my sons would like to watch that one with me. I wind up watching Top Chef with my wife. We also try to catch Pawn Stars and some true-crime shows.
---
Dave from Covington, Wash., writes:
My question is regarding
Earl Thomas
. I just haven't heard many things on how he has done it organized team activities, and what we are to expect out of him this season and how close we are to signing both of our first-rounders. Thanks for your time and all the great insight you have for the blog.
Mike Sando:
Hey, thanks for that. Earl Thomas looks like a cornerback out there. His ball-hawking ability shined through a few times at OTAs. He did not immediately dominate to the point where it was clear he would be an instant star. But I think he generally looked like a good coverage safety. As for signing statuses, I don't worry about them for early draft choices until training camps are nearly upon us. If they aren't signed when camp starts, we can evaluate the issue then. Right now, it's a non-issue.
---
Mastermind from San Francisco writes:
Hi Mike, the 49er glory days were characterized by some great minds in the front office, coaching staffs and on on the field. Who are today's masterminds in the 49ers' organization in those three categories, and how to they compare to past greats? One of my nagging worries regarding the Niners is this aspect of what it takes to be a great franchise. I'm just not sure they have many great minds throughout their organization, even if they have much more talent than recent years. Even our best player,
Patrick Willis
, was noted for avoiding playcalling duties on the field and seemed to want to play mostly with his intincts. Thanks!
Mike Sando:
If you're looking for Bill Walsh or Mike Holmgren types, keep looking. They don't exist in San Francisco or in most franchises. The people that made the 49ers great during the 1980s and beyond were exceptional people. They were exceptions. It's unrealistic to expect an organization to have those sorts of people forever.
The 49ers do have some sharp people. I think Paraag Marathe is very bright and he has shown himself to be capable in handling the team's contracts. That is one area where the 49ers are far ahead of where they were during the years that led to their salary-cap issues.
---
Fritz from Auburn, Calif., writes:
Hi Mike.
Interesting post
on divisional age. Is there any correlation between division age and win/loss percentages? It would be interesting if divisional youth were a leading indicator for increased winning in a year or two. I don't have the raw data or I'd check myself. Thanks!
Mike Sando:
I do not think we could safely make such a connection. Teams can be young for different reasons. For example, the
Indianapolis Colts
are among the very youngest teams year after year. It's the nature of how they build their team around a few big-time veteran stars. Other young teams tend to be rebuilding teams (the Rams last season, the
Carolina Panthers
this season). Going young is the easy part. Building that young team into a winner requires skill and good fortune.
---
Shane from Los Angeles writes:
Sand-O, Can you believe
Kurt Warner
didnt even make an honorable mention on
this list
? As big as he has played in big games, I am shocked ESPN did not have him on here. Please comment on it in your mailbag or in your blog. Thanks!
Mike Sando:
There have been quite a few great quarterback performances over the years. Which of Warner's games would you single out? I know he's had games with a perfect passer rating. Another time, he completed 20 of 23 passes for 323 yards, five touchdowns and one interception (against the 49ers in 1999). His playoff performance against the Packers has to go down as one of the great efforts. The list you cited covered regular season only, however.
---
Constantine from San Francisco writes:
Mike, following up on your latest entries regarding the best lines in the NFC West, which team has the best linebacking corps? Receiving corps? One other question: I'm a bit confused as to why so many people are high on
Josh Morgan
, why is he considered an up-and-comer? His play has struck me more as a "split tight end" -- catching a few balls and being valued as a blocker. Is he really a legitimate second receiver? Thanks for the thoughts.
Mike Sando:
The 49ers probably have the best linebackers in terms of how they've played recently. The Seahawks have the potential to have the best group, but it would help if they stayed on the field past Week 1. When you talk about receivers, do you mean wide receivers? The Cardinals probably have the best ones, even without
Anquan Boldin
. If you include tight ends, I could see giving the 49ers stronger consideration. On Morgan, I think he's viewed in the context of where the 49ers drafted him -- in the sixth round. That sets the bar lower for him. I think he can be a good No. 2 receiver.
March, 5, 2009
3/05/09
11:55
AM ET
Posted by ESPN.com's Mike Sando
Add Bryan Pittman's name to the list of veteran long snappers headed to Seattle for a free-agent visit with the Seahawks.
Pittman spent the last six seasons snapping for the Texans before becoming an unrestricted free agent. He never missed a game until the NFL suspended Pittman, Deuce McAllister, Will Smith, Kevin Williams, Pat Williams and Charles Grant in a hotly disputed case involving diuretics. All six insisted they had done nothing wrong.
Pittman is making the trip to Seattle with his wife for a visit scheduled to take place Friday, agent Kevin Gold confirmed. Pittman attended Thomas Jefferson High School in Auburn, Wash., and the University of Washington. He joins former Broncos snapper Mike Leach among known candidates for the snapping job in Seattle. Leach is also visiting the Cardinals.
The Seahawks list two snappers on their roster: Ryan Senser and Tyler Schmitt. Jeff Robinson, an unrestricted free agent, handled snapping duties last season. A back injury prevented Schmitt from playing last season while raising questions about his future.
December, 2, 2008
12/02/08
5:22
PM ET
Posted by ESPN.com's Mike Sando
The NFL's decision to suspend six players for four games apiece should help the Cardinals jump-start their ground game.
Kevin Williams and Pat Williams, the Vikings' often-immovable defensive tackles, were among the six players suspended. That means neither will play when Minnesota visits University of Phoenix Stadium for a Week 15 game against the Cardinals.
The other suspended players -- Charles Grant, Will Smith and Deuce McAllister of the Saints and Bryan Pittman of the Texans -- do not face NFC West teams over the final four games.
The suspensions also disqualify the six players from consideration for the Pro Bowl, which could help the Cardinals' Darnell Dockett earn a spot. Both Williamses earned Pro Bowl berths after the 2007 season. Dockett participated in the game as an alternate after the Bears' Tommie Harris withdrew from the game.
(Note: ESPN's Chris Mortensen reports that at least one player is planning to file for an injunction in U.S. District Court on Wednesday morning.)
October, 2, 2008
10/02/08
8:09
PM ET
Posted by ESPN.com's Mike Sando
The 49ers' pass protection is probably the hottest issue facing the team through four games. The role of tight end Vernon Davis also ranks high on the list. These issues are related.
I just re-watched the 49ers' first 58 offensive plays against New Orleans to chart Davis' role in the offense.
Quarterback J.T. O'Sullivan completed 6 of 8 passes for 91 yards with two sacks on 10 plays with Davis helping in pass protection. O'Sullivan's passer rating was 112.0 on those eight passes. Davis blocked Saints defensive end Will Smith effectively enough on one of those sacks, but O'Sullivan held the ball too long and Smith chased him down across the field.
[Note: Thanks to contributor Mr. Zero for pointing out that Davis stayed in for protection on the first O'Sullivan interception. This was the pass I thougth was tipped. If you add the intercepion, that lofty 112.0 rating gets chopped down to 60.2.]
When Davis was not helping in pass protection, O'Sullivan completed 11 of 26 passes for 159 yards with one touchdown, two interceptions and four sacks. His rating on these plays was 43.6. [Note: Those stats do not count the final desperation drive, which was excluded from the 58-play sample.]
Watching this game made me think Davis was one of the best pass protectors on the team. He regularly blocked Smith and fellow defensive end Charles Grant, tough duty for any tight end. Davis was effective as a run blocker. During the third quarter, he blocked Smith twice and Grant twice on runs that gained 9, 9, 6 and 7 yards.
The broadcast video doesn't allow for analysis of route running, but Davis hasn't been known for polished routes or the surest hands. I think it's also fair to point out that offensive coordinator Mike Martz traditionally hasn't featured tight ends as receivers. And so Davis finished the game with one catch for 19 yards, on a screen, no less.
October, 1, 2008
10/01/08
9:45
AM ET
Posted by ESPN.com's Mike Sando
Observations on the 49ers' pass protection against the Saints after watching the game and breaking down the team's offensive personnel use:
None of the six sacks was on third down. That means the 49ers weren't necessarily getting beat in obvious passing situations.
Right tackle Barry Sims needed more help. The Saints established early on that Sims wasn't going to handle defensive end Charles Grant. But the 49ers still took their chances. Grant beat Sims to the inside on two sacks. If the 49ers had helped him with a tight end, Sims could have set up inside without worrying so much about the edge.
Quarterback J.T. O'Sullivan is not going to make it through the season without better protection and more consistent decision making. He took a pounding. In the fourth quarter, Grant lifted Sims off the ground and hit O'Sullivan right after the quarterback threw. O'Sullivan was limping when he got up.
The 49ers either had assignment problems or got out-schemed on a few pressures. Left tackle Joe Staley and left guard Adam Snyder both blocked inside on defensive end Will Smith, allowing cornerback Tracy Porter to escape untouched to the outside for a sack. If Porter hadn't gotten there, cornerback Usama Young would have hit O'Sullivan from the other side.

Two of the six sacks came when the 49ers went with empty backfields. I know, the 49ers scored a touchdown from an empty set. But I see offenses in this division struggle more often than not when they empty the backfield. It's a cocky move by play callers and one I've seen backfire on Martz, Mike Holmgren and others. Spreading the defense makes little sense if the other team is getting immediate pressure with as few as three rushers.
Tight end Vernon Davis is one of the 49ers' better pass protectors. He blocked Smith, a talented defensive end, on back-to-back plays in the second quarter. Smith got the sack on the second play, but Davis did his job in protection. O'Sullivan held the ball too long, giving Smith time to chase him down.
The 49ers had a tight end on the field for every sack, but in most cases the tight end wasn't in position to help protect.
The Saints got pressure with only three rushers on O'Sullivan's 36-yard strike on third-and-16 in the fourth quarter. Grant beat Sims again. O'Sullivan stepped up to avoid the pressure, making an aggressive throw.
It's hard not to admire the way O'Sullivan fights through the hits. I just think he's taking too many sacks -- 19 through four games -- and too many hits to last.