October, 8, 2011
10/08/11
11:47
AM ET
Al Davis' legend will live long after
his passing at age 82
. A quick personal recollection:
[+] Enlarge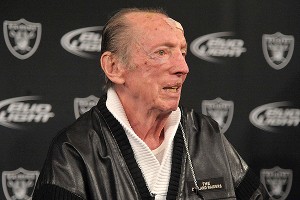 Kirby Lee/Image of Sport-US PresswireOne of the most important figures in NFL history, Al Davis stayed true to his team in all circumstances.
Colleague Bill Williamson and I were among several reporters standing in a hotel lobby at the NFL owners meeting in 2009. Davis was in failing health, but his mind remained sharp.
Using a walker, Davis made small talk as he approached deliberately and with great determination. When one of the reporters mentioned the massive contract Davis had handed to cornerback
Nnamdi Asomugha
a month or so earlier, Davis joked that Willie Brown, the Raiders' long-retired Hall of Fame corner, was asking for similar money.
Davis paused to gather himself. He asked each of us standing there to identify ourselves, at which point Davis would process the information as if determining our handshake worthiness. Each time, he would extend his hand and say, rather generously, what a pleasure it was to meet us.
This went on for a few moments before Davis turned his attention to Casey Pearce, who was standing nearby. Pearce works for the
St. Louis Rams
' media relations staff now. He worked for the
San Diego Chargers
at the time, but Davis had assumed he was one of the reporters gathered for the owners meeting.
Pearce introduced himself, and when he identified his employer as one of the Raiders' principal AFC West rivals, Davis reacted as only Davis could. He looked Pearce in the eye, sized him up from head to toe, pulled back his hand and said with a perfectly measured trace of competitive disdain, "We'll see you in the opener."
August, 9, 2011
8/09/11
8:48
AM ET

Jim Thomas of the St. Louis Post-Dispatch
says the St. Louis Rams are relying more heavily on free agents this offseason. Thomas: "In a 10-day span since the lockout ended, they agreed to terms and then signed 11 veteran free agents from other teams. Five of those new Rams are projected as starters, and it could be six if Brady Poppinga wins the job at strong side linebacker. In most of the previous 16 offseasons for the Rams in St. Louis, the team would sign two or three starters in free agency and maybe a half-dozen free agents total. Sometimes, it was a lot less. For example, over a six-season stretch from 2000 through 2005, the Rams signed only six free agents who ended up as primary starters the year they signed." The pool of free agents was considerably larger than usual this offseason. Hundreds of players who normally would have hit the market a year earlier had to wait while the labor situation played out.
Also from Thomas
: The Rams added H-back Demarco Cosby.
Bernie Miklasz of the St. Louis Post-Dispatch
rates Hall of Fame chances for various key performers from the Rams' Greatest Show on Turf teams. He gives Aenaes Williams a 70 percent change. Miklasz: "He was named to eight Pro Bowls. He was a 3-time first-team All Pro. His 55 interceptions rank 18th in NFL history. Williams has more INTs than Hall of Fame DBs such as Deion Sanders, Darrell Green, Willie Brown, Mel Renfro, Herb Adderley, Larry Wilson, Willie Wood, Jimmy Johnson and Roger Wehrli."
Nick Wagoner of stlouisrams.com
also looks at Rams Hall of Fame candidates.

Matt Maiocco of CSNBayArea.com
provides an update from 49ers camp. Maiocco: "Rookie QB Colin Kaepernick showed his speed with a boot leg from midfield that fooled everybody on defense. He hit TE Delanie Walker on back-to-back touchdown throws of 9 and 4 yards. QB Alex Smith came back to find Braylon Edwards on a 4-yard fade route over tight coverage from Tramaine Brock."
Also from Maiocco
: 49ers safety Reggie Smith hints at a setback.
More from Maiocco
: The 49ers' offense could be gaining momentum.
Matt Barrows of the Sacramento Bee
says Smith has suffered a torn meniscus in his knee.
Also from Barrows
: Coach Jim Harbaugh liked how the 49ers practiced Monday.
Grant Cohn of the Santa Rosa Press-Democrat
passes along an Alex Smith interview transcript.
Cam Inman of the San Jose Mercury News
says Smith is embracing Harbaugh's offense. Smith: "To get a chance to have him hands on, to have him demonstrate, to have him jump out there and be competitive, it's fun. For all (quarterbacks), it's great to have a visual explanation sometimes, instead of getting it told to you. To get to see it happen, even from an old guy, it's good."
Gwen Knapp of the San Francisco Chronicle
says Smith has been more colorful than Harbaugh recently, an upset.
Eric Branch of the San Francisco Chronicle
says Dashon Goldson's return came as a surprise. Branch: "The Raiders were interested in Goldson, but re-signed Michael Huff. The Cowboys were in the discussion, but signed free-agent safety Abram Elam. Goldson visited the Patriots on Sunday, but ended up right back where he has spent the first four seasons of his career."

Clare Farnsworth of seahawks.com
offers highlights from practice Monday. Farnsworth's offensive highlight: "Rookie wide receiver Ricardo Lockette taking a pass from Portis along the left sideline and then making like the sprint champion he used to be to race back to his right and score a TD." Lockette appears to be one of the more athletically gifted players in camp.
Also from Farnsworth
: The Seahawks can go bigger on offense now that they've got tight end Zach Miller from Oakland. Farnsworth: "That's the 6-foot-5, 255-pound Miller working with the 6-5, 251-pound John Carlson, as well as 6-5, 235-pound split end Mike Williams and just-signed 6-4, 204-pound flanker Sidney Rice. Connect the dots between those impressive dimensions and it creates the perfect picture of a mismatch for some overmatched defensive back."
Danny O'Neil of the Seattle Times
updates Jamison Konz's position change for Seattle.
Also from O'Neil
: a closer look at Seahawks guard Robert Gallery, who will be the 11th player to start at left guard for Seattle since Steve Hutchinson signed with Minnesota following the 2005 season.
Dave Boling of the Tacoma News Tribune
sees good things from Seahawks linebacker Leroy Hill. Boling on younger linebackers in camp: "K.J. Wright, at 6-4, 246 looks too lanky in the middle, and in the first days of camp was spinning around at times in pass coverage. He's getting more and more comfortable, and a couple times Monday showed good instinct and technique scraping and filling against the run. Malcolm Smith is another, on the outside, who will be interesting to watch. He's 6-0, 226, but has jets and really closes ground. ... Mike Morgan is another who looks lanky as a SAM linebacker, but also has come up with athletic plays."
Eric D. Williams of the Tacoma News Tribune
says Golden Tate's niche with Seattle could be as a slot receiver.

Bob McManaman of the Arizona Republic
updates Adrian Wilson's arm injury. McManaman: "Although it remained unclear as to how badly Wilson's biceps tendon is torn, most athletes who suffer the injury opt for surgery." Much depends upon which of the three biceps tendons is torn, and to what degree.
Also from McManaman
: Early Doucet is faring well in Cardinals camp so far. Whisenhunt: "I've been very impressed. He's in good shape, he's made some plays. We'd just like to see Early continue with that track. There's no question that when Early has been healthy and played, he's made some big plays for us."
Darren Urban of azcardinals.com
says Wilson wasn't giving much ground when asked how the biceps tendon injury would affect him.
Also from Urban
: Longtime Cardinals scout Bo Bolinger has passed away. Urban: "An All-America selection as a guard at the University of Oklahoma, Bolinger finished ninth in Heisman voting following his senior season and was a starter on the Sooners' national championship team of 1955. He was selected by the Chicago Cardinals in the 13th round of the 1956 NFL Draft. He went on to coach at the collegiate level for 11 seasons, including stints at the University of Denver, Tulsa, New Mexico and Utah State, and spent two seasons as the offensive line coach for the Calgary Stampeders of the Canadian Football League before joining the Cardinals organization in 1971."
September, 7, 2009
9/07/09
4:14
PM ET

Posted by ESPN.com's Mike Sando
Egravning from Santa Monica writes:
This might seem like an out-of-division comment, but trust me, if you root for the Rams, you hate the Patriots, and if you root for the Seahawks, you hate the Raiders. So, what do you make of this trade between the Patriots and the Raiders? I mean, an aging vet,
Richard Seymour
, for a 2011 first-round pick? And the Raiders are such a poorly run organization, we can almost assume that the Patriots will land a Top 5 guy. This is ridiculous!
There's no underestimating what Al Davis has contributed to the world of football, but it's time to take away the keys. The NFL needs to institute a fantasy-league rule whereby other owners can veto a trade. Davis has lost his mind, and competitive balance is at stake here.
Mike Sando:
That's a fun idea. Can you imagine the hostility that would create within the league if, say, the 49ers cast the deciding vote to block, say, the Cardinals from acquiring a player considered key to Arizona's success?
Regarding Al Davis, I've met Raiders fans who also feel he has lost the edge. While I do not know Davis, I did speak with him informally at the league meetings. He was physically frail, but mentally sharp. At least that was the impression I got. I was among several reporters kidding with him about paying all that money to
Nnamdi Asomugha
. Davis joked about how he was catching grief from "the great Willie Brown" -- the Raiders Hall of Famer who never made anywhere close to what Asomugha is making.
After several minutes, Davis asked each reporter to introduce himself. He shook each of our hands. The last reporter worked for the rival Chargers' Web site. Davis, upon learning this, withdrew his hand and said, "We'll see you in the opener." It was vintage Al and perfectly hilarious, evidence to me that his mind remained nimble. Remember, too, that people were saying the game had passed him by 10 years ago, before the Raiders returned to the Super bowl.
That doesn't mean Davis made the right move on Seymour. The move looks like a "win" for the Patriots and less promising for the Raiders. Seymour turns 30 in October and his contract expires after this season. The Raiders' recent draft record at the top hasn't been great, though, so perhaps a high pick in 2011 is less valuable to Oakland than even one good season from an excellent defensive lineman.
---
Josh from Richmond, Calif., writes:
Gene Wojciechowski's predictions
had the NFC West ending with 1-Seattle, 2-Arizona, 3-St. Louis, 4-San Francisco. I can respect Seattle bouncing back (it would be hard not to), I can see Arizona slipping a bit, I know St. Louis has a lot of room to do better than last year ... but San Francisco fourth? If San Francisco commits to the run and keeps the defense off the field,
Shaun Hill
won't have to throw more than 150 yards a game to win. It won't win them the division, but it should help them to finish ahead of the Rams (who will need to do a lot more than this to win some games) and possibly finish second. Your take?
Mike Sando:
Gene had the Rams third and said he thought five or six victories would not be out of the question for them. He then ranked the 49ers below the Rams, implying San Francisco would win fewer games. I'm with you. The 49ers should learn how not to lose this season. I'm not sure they'll learn how to win, but they shouldn't throw away games the way they did last season. And I think that's enough for them to beat out the Rams.