September, 2, 2013
9/02/13
11:40
AM ET
The NFL awarded 45 players to other teams via waiver claims immediately following the mandatory reduction to 53-man roster limits Saturday.
Most of the players probably will not play leading roles for their new teams. Some could develop over time.
We have recently considered whether having a high number of released players awarded to other teams via waivers might reflect well on a team's roster strength. The thinking is that stronger teams release better players overall, and weaker teams find more of those players appealing. This sounds logical and appears true in some cases even though the overall numbers suggest
this isn't necessarily the case
.
In any event, the chart below ranks teams by the number of released players awarded to other teams via waivers immediately following the reduction to 53 players. A league-high five players released by the
Green Bay Packers
immediately found homes elsewhere via waivers. The
Seattle Seahawks
and
Philadelphia Eagles
were next with four apiece.
On the flip side, Kansas City and Jacksonville each received a league-high seven players off waivers from other teams. Cleveland was next with six, followed by New England (four), the
New York Jets
(three) and four teams with two apiece: Oakland, San Diego, Tampa Bay and Arizona.
The total number of claims submitted exceeds the number of players awarded because some players were claimed more than once. I do not yet have the total number of claims submitted. The numbers I've referenced here pertain only to players awarded via waivers.
Note that Seattle's strength in the secondary shines through. The Seahawks were the only team to have two of the defensive backs they released awarded to other teams via waivers.
Ron Parker
went to Kansas City.
Winston Guy
went to Jacksonville. Another former Seahawks defensive back,
Will Blackmon
, was not eligible for waivers when Seattle terminated his contract. The Jaguars signed him as well. Yet another Seattle defensive back,
Antoine Winfield
, was expected to retire following his release from the Seahawks.
Connections came into play with those waiver claims. The Chiefs' general manager, John Dorsey, worked with Seahawks GM John Schneider in Green Bay. They could be looking for similar players in some cases. Guy and Blackmon join a Jaguars team featuring former Seahawks defensive coordinator Gus Bradley as head coach.
August, 29, 2013
8/29/13
6:44
PM ET
SEATTLE -- With one last warm-up before the regular season, here are four things to watch -- and one you won't get to watch -- Thursday night in the
Seattle Seahawks
game against Oakland.

The Seahawks pass rush:
Hopefully, there is one to watch. Oakland has one of the worst offensive lines in the NFL. If Seattle can't get to the quarterback in this game, it's time to worry. And they'll have to do with backups. Defensive ends
Chris Clemons
and
Cliff Avril
won't play. Neither will defensive tackles
Brandon Mebane
,
Tony McDaniel
and
Michael Bennett
.
Clemons and Avril probably won't play next weekend in the season opener at Carolina. So it is increasingly important to watch
Benson Mayowa
and
O'Brien Schofield
to see if they can continue to shine as pass-rushers.
Ty Powell
, a hybrid linebacker/defensive end, also will see some time as a down rusher.
Penalty flags:
Just keeping the yellow flags under double figures and less than 100 yards would look decent at this point. The Seahawks haf 14 penalties for 182 yards last week in the 17-10 victory at Green Bay. Seattle has 354 yards on 34 penalties in the three preseason games.
"We just want to be really disciplined with our offense and make sure we're not getting any penalties,'' quarterback
Russell Wilson
said Tuesday. "That's our No. 1 focus."
Coach Pete Carroll has harped on this for the past two weeks.
"We have to show progress before we head into the opener in terms of getting out of our own way," Carroll said. "We have to comply and we're a little out of compliance. The guys know. They don't want to play like that. They just have to make better decisions."
Pass blocking:
The Seahawks offensive line struggled to stop the blitzing Packers last week. That has to improve, along with cutting down on holding calls and false starts.
James Carpenter
finally will get back on the field at guard, which could help. This is a good line overall, especially in run blocking. But a better showing on pass plays needs to happen tonight.
Bubble boys:
No team in the NFL has tougher roster cuts to make than the Seahawks. The depth on this team is extraordinary and the coaches have difficult decisions to make after this game.
Some players need to shine to earn a spot. Receiver
Stephen Williams
probably already has done so, but one more good game wouldn't hurt. Rookie receiver
Chris Harper
needs to step up. Will the Seahawks keep three fullbacks --
Michael Robinson
(who won't play tonight) rookie
Spencer Ware
and
Derrick Coleman
?
The toughest cuts will come in the secondary, where some of the backups could start for many NFL teams. Cornerback
Ron Parker
needs a good game. So does
Winston Guy
and
DeShawn Shead
. The coaches really like rookie linebacker
John Lotulelei
, but is there room for him?
No Matt Flynn:
Some Seattle fans probably were looking forward to seeing quarterback Matt Flynn play against his former Seahawks teammates, but Flynn will watch from the sideline because of a sore arm.
He's probably got a few other sore places considering he's been sacked seven times in the preseason. Flynn hasn't played well, so it's possible he could lose out on the starting-job competition for the second consecutive year.
Terrelle Pryor
will start against Seattle. He's much better at running and avoiding the rush than Flynn, which is important with the Raiders porous offensive line.
June, 7, 2013
6/07/13
10:50
AM ET
An NFL-high five of the
Seattle Seahawks
' 11 draft choices from 2013 played in the Southeastern Conference.
Christine Michael
,
Jesse Williams
,
Tharold Simon
,
Spencer Ware
and
Ryan Seymour
joined
K.J. Wright
,
Pep Levingston
,
Kris Durham
,
James Carpenter
,
Winston Guy
and
Jaye Howard
as Seattle draft choices since 2010 from college programs currently aligned with the SEC.
The unusually large SEC haul left Seattle with a league-high 11 players selected from the conference since 2010. But in an indication that the results could be largely random, the Seahawks selected zero SEC players in 2010. New England led the way with six that year, but the Patriots selected none in 2013.
The chart shows current conference affiliations for NFC West teams' draft choices over the past four years. The four-year window appealed because 2010 was the year the Seahawks and
San Francisco 49ers
' current general managers took control of their teams' drafts.
The leaguewide totals since 2010: SEC 203, Big Ten 136, ACC 128, Pac-12 127, Big 12 100, Big East 68, Mountain West 42, C-USA 32 and Sun Belt 22, followed by 27 other conferences with between one and 19 selections.
NFC West teams have selected eight players from LSU over the time period in question, including first-rounders
Patrick Peterson
(
Arizona Cardinals
),
Michael Brockers
(
St. Louis Rams
) and
Eric Reid
(49ers).
May, 27, 2013
5/27/13
3:05
PM ET
The threat of a four-game suspension and 23.5 percent reduction in base salary did not stop five Seattle Seahawks from failing NFL tests for banned substances since 2010.
Will
a team meeting
put on by veterans do the trick? It certainly cannot hurt.
"We have to grow up and move past that," strong safety
Kam Chancellor
told SiriusXM radio. "That's pretty much the message right now, growing up and not making the same mistakes over and over."
The Seahawks have one of the younger teams in the NFL. Chancellor, with a Pro Bowl on his résumé and a recent contract extension, has the credentials to speak out on such matters credibly. Two other defensive backs,
Brandon Browner
and
Winston Guy
, have served suspensions already. Another,
Richard Sherman
, avoided punishment after prevailing on appeal because an NFL testing administrator failed to follow proper protocol.
Defensive end
Bruce Irvin
was the most recent Seattle player hit with a four-game ban. Players forfeit their weekly in-season paychecks while suspended. Losing four of the 17 weekly checks represents a 23.5 percent forfeiture.
Seattle leads the NFL in performance-enhancing drug related suspensions since 2010. That was the year Pete Carroll became the Seahawks' coach. That was also the year Seattle drafted Chancellor, a hard-hitting safety, in the fifth round. Chancellor spent a year as a backup behind veteran
Lawyer Milloy
before taking over as the starter and blossoming as a leader by example.
Team meetings can be overrated acts of desperation when called during losing streaks. Heightened awareness and accountability would seem to be the most important takeaways from the meeting Chancellor described. There can be no excuses at this point.
I'll be interested in hearing what Chancellor has to say if yet another Seattle player tests positive.
May, 20, 2013
5/20/13
10:00
AM ET
The
Seattle Seahawks
lead the NFL in suspensions for performance-enhancing drugs since Pete Carroll became coach in 2010, research by ESPN Stats & Information shows.
Defensive end
Bruce Irvin
's four-game suspension,
announced Friday
, was the fifth during that span, according to research ESPN's Steve Martinez conducted using STATS PASS.
The total does not include the 2012 suspension implicating cornerback
Richard Sherman
, who overturned a four-game ban on appeal. The botched handling of a leaky collection cup proved critical to
the successful appeal
.
Seven other teams have incurred three or four substance-abuse suspensions for PEDs over that span, including the Denver Broncos and New York Giants with four apiece, according to STATS PASS. The San Francisco 49ers are among 10 teams with zero.
Since 2010, the NFL suspended Seattle's Irvin,
Brandon Browner
,
Winston Guy
,
Allen Barbre
and
John Moffitt
for PED usage under its policy on anabolic steroids and related substances.
Moffitt said
he took Adderall
, a psychostimulant prescribed for attention-deficit disorders, under a doctor's prescription without knowing he needed a special exemption from the NFL.
Sherman, who denied violating the policy, has suggested doctor-approved
Adderall use is widespread
. He called for the NFL to lift its ban on the substance.
The chart ranks NFL teams by most PED-related suspensions since Carroll arrived as the Seahawks' head coach on Jan. 12, 2010.
Carroll and the NFL
denied a 2009 report
linking former USC players to positive steroid tests. One of the players named in that disputed report,
Brian Cushing
, later
served a four-game NFL suspension
for violating the policy on anabolic steroids and related substances.
First-time violators of the policy receive four-game suspensions. The penalty doubles for second-time violators. Third-time violators face suspensions of at least 12 months, subject to reinstatement at the commissioner's discretion. Players suspended under the policy for any length become ineligible for the Pro Bowl or any other NFL or NFL Players Association honors.
NFL policy requires annual testing for steroids and related substances when training camps begin or whenever a player reports to the team after camps begin. Preseason and regular-season protocol calls for 10 players per team to be tested at random each week. That protocol continues into the postseason for playoff teams. Players under contract can be tested up to six times during an offseason, subject to increases following a positive test.
April, 3, 2013
4/03/13
5:10
PM ET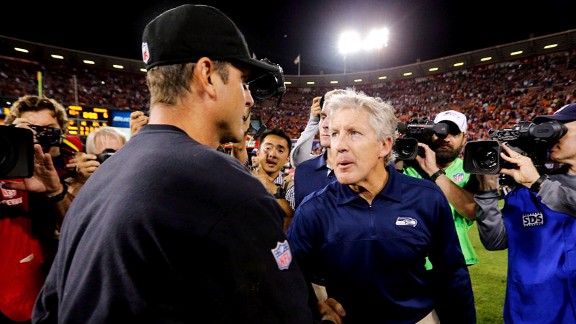 Ric Tapia/Icon SMIPete Carroll's Seahawks and Jim Harbaugh's 49ers have continued their rivalry into the offseason.
The 2012 battle for NFC West supremacy between the
San Francisco 49ers
' and
Seattle Seahawks
' has turned into
a perceived battle
this offseason.
"It just feels like the Seahawks make a move, then the Niners make a move," former NFL quarterback Damon Huard said Wednesday during
our conversation

on 710 ESPN Seattle. "The Seahawks sign
Percy Harvin
, then the Niners go get
Anquan Boldin
. The Niners just signed
Nnamdi Asomugha
, they signed
Colt McCoy
, and now it's the Seahawks' turn to sign a quarterback. It really feels like this competition that was so fun to watch last fall has carried over into the offseason between the Niners and the Seahawks."
That's what it feels like from this angle, too. So, when ESPN's Bill Polian listed 49ers general manager Trent Baalke among his
top six executives

without a mention of Seattle counterpart John Schneider, I knew some Seahawks fans would take offense.
"Schneider should be on there," SamW9801 wrote in commenting on the Polian piece.
I'm going to ratchet up the discussion with
an assist
from Tony Villiotti of draftmetrics.com. Tony identified
ranges of picks
by how frequently teams have found five-year starters within those ranges.
Using those general ranges, displayed at right, I've put together a chart at the bottom of this item comparing the 49ers' and Seahawks' draft choices since 2010.
Baalke took over the 49ers' draft room roughly a month before the 2010 draft. Schneider became the Seahawks' GM that offseason. The 49ers then underwent a coaching change after the 2010 season, at which point Baalke assumed the GM title officially. We might cut Baalke some slack for selecting
Taylor Mays
, a player then-coach Mike Singletary valued. There were surely other times when both GMs followed their coaches' input, for better or worse.
Seattle has drafted 28 players during this period, three more than San Francisco has drafted. The Seahawks had more to work with from a qualitative point as well. Their median choice was No. 130 overall, compared to No. 165 for the 49ers.
It's pretty clear both teams know what they are doing in the draft.
Aldon Smith
,
Anthony Davis
,
Mike Iupati
and
NaVorro Bowman
have earned Pro Bowl and/or All-Pro honors for the 49ers.
Russell Okung
,
Earl Thomas
,
Russell Wilson
,
Kam Chancellor
and
Richard Sherman
have done so for the Seahawks.
Both teams have found franchise quarterbacks after the first round.
Colin Kaepernick
was chosen 36th overall in 2011. Wilson went to Seattle at No. 75 last year.
Neither team has missed in that first category, which includes players taken among the top 13 overall picks. Smith and Okung are elite players at premium positions.
Both teams have unanswered questions in that 14-40 range. The 49ers are waiting on receiver
A.J. Jenkins
to produce. The Seahawks haven't gotten much from guard
James Carpenter
. But in Iupati and Thomas, the 49ers and Seahawks, respectively, found players among the very best at their positions. Kaepernick's selection puts this group over the top for San Francisco. Seattle got eight sacks from
Bruce Irvin
as a rookie in 2012, so the Seahawks aren't far behind. It's just impossible to overlook the value a franchise quarterback provides.
Seattle has the edge in the 41-66 range. Mays is long gone from the 49ers. That leaves
LaMichael James
for the 49ers against
Bobby Wagner
and
Golden Tate
for Seattle. Wagner was an instant starter at middle linebacker and a three-down player who commanded consideration for defensive rookie of the year. Tate blossomed with Wilson at quarterback.
The Seahawks also have an edge in that 67-86 range, having selected Wilson.
Seattle holds a 7-3 lead in number of picks used between the 87th and 149th choices, a range producing five-year starters 16 percent of the time, according to Villiotti.
Both teams used picks in that range for players whose injury situations dragged down their draft status:
Joe Looney
in San Francisco,
Walter Thurmond
in Seattle. Both teams found starting linebackers in this range: Bowman to the 49ers,
K.J. Wright
to the Seahawks. Both teams found developmental running backs in that range:
Kendall Hunter
to the 49ers,
Robert Turbin
to the Seahawks. Both teams found Pro Bowl players: Bowman in San Francisco, Chancellor in Seattle.
Sherman, arguably the NFL's best cornerback, gives Seattle an edge in the 150 through 189 range of picks. Both teams found backup tight ends there.
Anthony Dixon
(49ers) and
Jeremy Lane
(Seahawks) have the potential to expand their roles.
The 49ers found starting fullback
Bruce Miller
in the final pick range, which runs from 190 to the end of the draft. Seattle found a projected starting guard there in
J.R. Sweezy
.
Malcolm Smith
is a candidate to start at linebacker for Seattle. Miller and Sweezy both played defense in college. Miller already has successfully transitioned to offense. Seattle believes Sweezy will do the same.
Summing it up:
Both teams can feel good about their draft performance in the past three seasons. I doubt either team would trade its picks for the other team's. That makes sense. Teams draft the players they like best. The 49ers have six projected 2013 starters to show for their choices. The number is eight for the Seahawks, not counting Irvin or Tate. Seattle has had more choices and higher choices, and more openings in the lineup to accommodate those players. I think that shows in the results.
December, 30, 2012
12/30/12
3:11
PM ET
SEATTLE -- We've got sunshine and temperatures in the high 30s as the
Seattle Seahawks
and
St. Louis Rams
warm up on the field at CenturyLink Field.
Seahawks cornerback
Richard Sherman
is the only non-specialist I see on the field at this time. He's working on his backpedal and breaking on passes thrown by a Seahawks staffer. Sherman has every reason to revel in the opportunity Sunday after dodging a four-game suspension on Thursday.
Sherman will start for Seattle. The team will be without injured linebacker
Leroy Hill
. The speedy but inexperienced
Malcolm Smith
will start in Hill's place.
Also inactive for Seattle: safety
Winston Guy
, cornerback
Walter Thurmond
, cornerback
DeShawn Shead
, guard
Rishaw Johnson
, guard
John Moffitt
and tackle
Mike Person
. Moffitt, a former starter, is inactive for a second consecutive week. The team has decided it's better off with rookie seventh-round choice
J.R. Sweezy
in the lineup at right guard. Sweezy started in Week 1 and again against San Francisco last week.
The Rams' inactive list includes quarterback
Austin Davis
, receiver
Steve Smith
, running back
Terrance Ganaway
, tight end
Cory Harkey
, linebacker
Sammy Brown
, tackle
Joe Barksdale
and defensive tackle
Matt Conrath
. No surprises there.
October, 16, 2012
10/16/12
7:45
PM ET
San Francisco 49ers
fans periodically ask when the team's 2012 draft class might begin contributing on the field.
Like other top teams, the 49ers drafted late in the order. Their roster was already quite strong. That combination has made it tougher for the 49ers' rookies to earn playing time. It doesn't necessarily mean their draft choices are falling short. It just means they're not playing yet.
With an assist from Hank Gargiulo of ESPN Stats & Information, I've put together charts showing games played, games started and offensive/defensive snap counts for every 2012 NFC West draft choice through Week 6.
The 49ers are the only team in the league with zero snaps from their 2012 class. The 6-0
Atlanta Falcons
' draft choices have played 25 snaps, the second-lowest total. The 30 remaining teams have gotten at least 215 snaps and an average of more than 700.
Seattle ranks fifth with 1,092 snaps from 2012 draft choices, followed immediately by St. Louis at 988. Arizona ranks 14th with 806. Right tackle
Bobby Massie
has played 424 of those, more than any team has gotten from its fourth-round choices. Seattle leads the league in snaps from seventh-rounders while ranking second in snaps from third-rounders. The Rams are second in snaps from second- and seventh-rounders.
Arizona Cardinals

Quick notes:
Michael Floyd
is getting work as the fourth receiver. He had a 24-yard reception Sunday. He has seven catches for 84 yards and a touchdown. ... Massie is getting valuable experience. He's been a liability in pass protection against some opponents. That was to be expected. ... Cornerback
Jamell Fleming
's playing time has fluctuated based on
Greg Toler
's availability. ...
Ryan Lindley
becomes the No. 2 quarterback behind
John Skelton
now that
Kevin Kolb
is injured. The team could conceivably re-sign
Rich Bartel
in the future. The Cardinals do like Lindlely's potential, however.
Seattle Seahawks

Quick notes:
Bruce Irvin has 4.5 sacks, including one to help preserve a victory at Carolina. ... Second-round choice
Bobby Wagner
has provided a significant upgrade at middle linebacker. He opened the season as a starter and member of the base defense. His has become an every-down player over the past two weeks, with positive results, including when he ran down
Cam Newton
for a loss. ...
Russell Wilson
owns two fourth-quarter comeback victories in his first six starts, two more than Seattle managed last season. He is the first rookie since the 1970 merger to throw winning touchdown passes in the final two minutes of two games. ... Robert Turbin's speed and power have impressed. ... J.R. Sweezy impressed in camp and started the opener, but he wasn't ready. ... Greg Scruggs is healthy again and figuring into the pass-rush rotation.
San Francisco 49ers

Quick notes:
Trenton Robinson has played on special teams, but he has been inactive recently. A.J. Jenkins has been active without playing. The 49ers have established players ahead of him at wide receiver. They also use two backs and/or two tight ends frequently, diminishing opportunities for wideouts to get on the field.
Michael Crabtree
,
Mario Manningham
,
Kyle Williams
and
Randy Moss
are competing for those limited snaps. ... LaMichael James' arrival provided incentive for
Kendall Hunter
, who has met the challenge. Might there be a role for James later in the season? So far, the 49ers haven't even activated veteran
Brandon Jacobs
. ... Joe Looney projects as a potential future starter at guard, but there might not be an opening if
Alex Boone
continues playing well. Boone seized the job while Looney was recovering from foot surgery. ...
Darius Fleming
suffered a knee injury and remains on the physically unable to perform (PUP) list. ... The team released sixth-rounder Jason Slowey. ... Seventh-rounder Cam Johnson is on the practice squad.
St. Louis Rams

Quick notes:
First-round defensive tackle
Michael Brockers
has recovered from an ankle injury well enough to become a big part of the Rams improving run defense. ...
Brian Quick
made a key reception over the middle to help the Rams beat the Seahawks, but fourth-rounder
Chris Givens
has made a bigger impact among the Rams' rookie wideouts. Givens has a reception of at least 50 yards in each of the Rams' last three games. That is a first for any NFL rookie since
Willie Gault
in 1983. ...
Janoris Jenkins
has been a playmaker at cornerback all season. He suffered a significant lapse in coverage at Miami, but overall, Jenkins has shined. ... Fifth-rounder
Rokevious Watkins
reported out of shape and landed on injured reserve. ... Sixth-rounder
Greg Zuerlein
has transformed the Rams' offense with his extended field-goal range, although he struggled some in Week 6. ... Seventh-rounder
Daryl Richardson
has a 5.2-yard average per carry and 246 yards rushing. He has won playing time from second-rounder
Isaiah Pead
, who has not been a factor.
October, 13, 2012
10/13/12
2:30
PM ET
A periodic look at which players are playing and when, continuing with the Seattle Seahawks' defense:
September, 24, 2012
9/24/12
7:27
PM ET
SEATTLE -- Receiver news highlighted the players Seattle and Green Bay named inactive for their Monday night game.
The Packers will have
Greg Jennings
, who had missed the team's most recent game after suffering a groin injury. Seattle will play without
Doug Baldwin
, who had been listed as questionable with a shoulder injury.
Baldwin led the Seahawks in receiving last season, but the Seahawks have targeted him only six times this season, completing three passes for 13 yards.
Sidney Rice
leads Seattle in targets with 13, followed by
Braylon Edwards
with eight.
Golden Tate
returned from a knee injury last week and was targeted four times, catching three passes for 38 yards.
Seattle named Baldwin,
Jaye Howard
,
James Carpenter
,
Byron Maxwell
,
Lemuel Jeanpierre
,
Danny Gorrer
and
Winston Guy
inactive for this game. The Packers' inactive list featured
Jarrett Boykin
,
Sean Richardson
,
Davon House
,
James Starks
,
Terrell Manning
,
Jamari Lattimore
and
Tom Crabtree
.
August, 1, 2012
8/01/12
8:00
AM ET
The San Francisco 49ers visit the New Orleans Saints on Nov. 25 this season.
The pregame show is already under way.
Saints linebacker Scott Shanle blasted 49ers safety Donte Whitner after Whitner suggested his team's character would prevent San Francisco from engaging in the bounty tactics that landed New Orleans in trouble this offseason.

Matt Barrows of the Sacramento Bee
has the play-by-play. Shanle via Twitter: "Guy needs to shut his mouth and mind his own business. Don't remember them winning the superbowl. U still ringless. We got one and working on two now. Try to keep up."
Noted:
Now, now. Both guys are out of line here. Whitner suggested over-the-line comments from former New Orleans defensive coordinator Gregg Williams reflected the character of Saints players. That wasn't fair. But the fact that Shanle, not Whitner, has a Super Bowl ring has more to do with Drew Brees and the Saints' team than it has to do with a linebacker such as Shanle. The fact that Whitner does not have a Super Bowl ring has more to do with the quarterbacks and teams Whitner has played with throughout his career, not anything Whitner has done wrong.
Also from Barrows
: a chat transcript in which he says Colin Kaepernick appears in good position to win the No. 2 job behind Alex Smith. Barrows: "I think it's Kaepernick's job to lose. He's looked a lot more accurate in [training camp] than he did in the spring. It may have been that that he was working on weaknesses in the spring -- hey, that's what spring ball is for -- which skewed the perception of him. Johnson has by far the sweetest delivery and mechanics. But despite that, the ball doesn't always end up where it should."
Eric Branch of the San Francisco Chronicle
says 49ers tight end Delanie Walker deserves credit for returning so quickly from a broken jaw last season. Walker also comments on his future with the team and how he played last season. Walker: "I had a great year blocking. And that was a big concern people had about me. Can he block? And I showed it last year. So I think everyone knows that I can catch the ball and I can make things happen once I have it in my hands. I'm playing for the Niners. When that time (free agency) comes, we'll see what happens."

Danny O'Neil of the Seattle Times
says defense dominated the Seahawks' fourth day of training camp. O'Neil: "The defense had the upper hand in Tuesday's practice with three notable interceptions (two of them on passes thrown by rookie Russell Wilson). Rookie linebacker Bobby Wagner picked off a pass thrown by Wilson. So did rookie safety Winston Guy. The play of the day in the eyes of Pete Carroll, however, was when rookie defensive end Bruce Irvin chased down a reverse from behind, knocking the ball out."
Brian McIntyre of NFL.com
breaks down the Seahawks' new contract with defensive end Chris Clemons. McIntyre: "Clemons received a $6.5 million signing bonus and his $2 million base salary in 2012 is fully guaranteed. The $8.5 million more than doubles the $3.85 million in base salary and incentives Clemons could have made this season. ... Clemons is slated to earn $6 million in base salary in 2013, but just $1.5 million of that is fully guaranteed, bringing the official guarantee in the new contract to $10 million."
Noted:
Clemons was not in optimum position to maximize this deal because of his age (30) and the fact that a season remained on his previous deal.

Bob McManaman of the Arizona Republic
says the Cardinals expect Kevin Kolb to start the team's exhibition opener Sunday if the quarterback resumes practicing Wednesday, as expected.
Darren Urban of azcardinals.com
analyzes the numbers at cornerback, where five players on the roster have started more than one regular-season game. Mike Adams is working in the nickel role at present. William Gay: "Everyone wants to compete and start, but that's not the main focus. You want a good group, so if a team comes at us with more than two or three receivers, we have quality corners that can match that. Out of a whole game, say there are 70 defensive plays, your third corner is going to play 30 to 45 plays. Everybody's goal in the league is to be a starter as soon as you get to the league, but the way the game has evolved, there are a lot of ways to be involved."

Bryan Burwell of the St. Louis Post-Dispatch
sees good things from Rams quarterback Sam Bradford. Burwell: "He's relatively healthy again, and with an additional 10 pounds of muscle added during the offseason, he intends to stay healthy. And if he does, we should see more than flashes of his potential. We should see the full realization of every prediction that he can be as good and dangerous as a young Troy Aikman. That's the sort of ability he displays as he strong-arms balls into ridiculously tight windows in heavy coverage. That's the sort of ability he flashes when he lofts splendid spirals on 50-yard bombs down the sidelines."
Also from Burwell
: Rams players are eager to put on the pads. Defensive tackle Kendall Langford, who stands 6-foot-6 and weighs 309 pounds, higher than his listed weight of 295: "Big, tough and physical? Yeah, I'm all of the above. I'm a big, tough guy. I'm a physical player. I'm ready to get this thing going. I can't emphasize enough how much I'm ready to get the pads on."
Jim Thomas of the St. Louis Post-Dispatch
says Chris Long's new deal with the Rams includes $50 million in new money, to be paid beginning in 2013. Long's salary for 2012 remains unchanged at $10.3 million. Thomas: "Because nothing was done to Long's 2012 salary, he still counts $18.3 million against the salary cap this year -- the extension creates no cap relief in '12. But that is indicative of how the Rams have handled contracts under executive vice president Kevin Demoff. He doesn't like back-loading contracts. As much as possible, it's a pay-as-you-go approach."
Dan O'Neill of the St. Louis Post-Dispatch
has the latest on overweight Rams rookie Rokevious Watkins.
July, 3, 2012
7/03/12
12:00
PM ET
Our two-day look at NFC West rosters continues with projections for the Seattle Seahawks' defense and special teams.
Defensive linemen (13)
Average number kept since 2003:
8.8

Safest bets:
Red Bryant
,
Jason Jones
,
Brandon Mebane
,
Chris Clemons
,
Bruce Irvin
,
Alan Branch
Leading contenders:
Clinton McDonald
,
Jaye Howard
,
Greg Scruggs
,
Pep Levingston
Longer odds:
Pierre Allen
,
Cordarro Law
,
Dexter Davis
Comment:
The Seahawks finished the 2009 season with Bryant, Mebane,
Craig Terrill
,
Colin Cole
,
Nick Reed
,
Lawrence Jackson
,
Patrick Kerney
,
Cory Redding
and
Darryl Tapp
on their 53-man roster. Pete Carroll has transformed the line since becoming head coach before the 2010 season. The changes have been as much about fit as personnel. The group keeps getting stronger.
Linebackers (12)
Average number kept since 2003:
6.6
Safest bets:
K.J. Wright
,
Leroy Hill
,
Bobby Wagner
,
Korey Toomer
Leading contenders:
Heath Farwell
,
Matt McCoy
,
Malcolm Smith
,
Barrett Ruud
Longer odds:
Michael Morgan
,
Allen Bradford
,
Kyle Knox
,
Jameson Konz
Comment:
Toomer's arrival in the fifth round cranks up the pressure on Smith, a 2011 seventh-round choice. Farwell and McCoy could be competing for a spot. Farwell is better on special teams. McCoy offers more at linebacker. Bradford is converting from running back and has a chance to stick in some capacity. Ruud looks like insurance for Wagner, but his health is a concern.
Defensive backs (17)
Average number kept since 2003:
8.2
Safest bets:
Earl Thomas
,
Kam Chancellor
,
Brandon Browner
,
Richard Sherman
Leading contenders:
Jeron Johnson
,
Byron Maxwell
,
Roy Lewis
,
Marcus Trufant
,
Walter Thurmond
,
Winston Guy
Longer odds:
DeShawn Shead
,
Ron Parker
,
Coye Francies
,
Donny Lisowski
,
Jeremy Lane
,
Phillip Adams
,
Chris Maragos
Comment:
Three of the four starters went to the Pro Bowl last season; Sherman arguably should have gone. Trufant's conversion to a nickel role has the potential to upgrade Seattle's coverage. Injuries sidelined Trufant and Thurmond last season. Both can contribute at a reasonably high level if healthy. It's tough to bank on either one, however. Don't forget about Maxwell. He impressed in camp as a rookie, only to fade from the picture after suffering an ankle injury. Seattle likes its depth at corner. Johnson should be ready to take a step forward at safety. The Seahawks like what they've seen from Guy as well.
Special teams (4)
Average number kept since 2003:
3.1
Safest bets:
Jon Ryan
,
Steven Hauschka
,
Clint Gresham
Leading contenders:
none
Longer odds:
Carson Wiggs
Comment:
Ryan led the NFL with 34 punts downed inside the 20 (against eight touchbacks). Opponents returned two punts for touchdowns, however.
April, 28, 2012
4/28/12
7:26
PM ET
The 2012 NFL draft has finished.
I've put together a chart showing all the NFC West picks.
Seattle drafted an NFL-high eight players on defense. One, defensive tackle
J.R. Sweezy
, projects as a guard. No other team drafted more than six defensive players, by my count.
Total draft picks: Rams 10, Seahawks 10,
Arizona Cardinals
7,
San Francisco 49ers
7.