May, 9, 2014
May 9
7:00
AM ET
EARTH CITY, Mo. -- Much has been made of
St. Louis Rams
coach Jeff Fisher's history of passing on offensive linemen in the first round as a head coach. Entering Thursday night, Fisher had held 17 picks in the first round as a head coach and never selected one in the opening round.
But Fisher long insisted that his avoidance of linemen in the first was not intentional and more a matter of circumstance. His Titans/Oilers teams had players like Brad Hopkins entrenched in their spots.
[+] Enlarge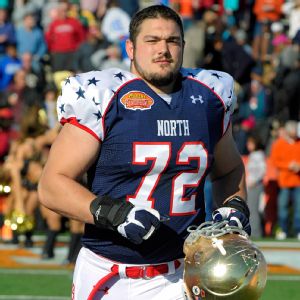 AP Photo/G.M. AndrewsThe Rams pursued avenues to land Zack Martin, which would've given them two offensive linemen from their first-round haul.
On Thursday night, Fisher bucked the trend and darn near blew it away completely by taking not one but two big uglies for his offensive line.
After using the No. 2 overall pick on Auburn offensive tackle
Greg Robinson
, the Rams were surprised to see a few of their favorite targets tumble down the board to their second pick at No. 13. Pittsburgh defensive tackle
Aaron Donald
was ultimately too much value for the Rams to pass up but had he been gone, the Rams would have gone the way of San Francisco circa 2010 and doubled down on offensive linemen.
The target was Notre Dame's
Zack Martin
, a player the Rams had been eyeing as a possible pick for some time. Even after passing on Martin, though, the Rams almost made the boldest of moves to add him to the haul that already included Robinson and Donald.
"We actually made an effort just a few minutes ago to go back up to try to get Martin but we were unsuccessful," Fisher said.
After the Rams took Donald, Chicago drafted Virginia Tech cornerback
Kyle Fuller
and Pittsburgh grabbed Ohio State linebacker
Ryan Shazier
. The Rams commenced conversations with Baltimore at No. 17 about moving up for Martin.
That would have meant a move from the second round at No. 44 overall and probably cost the Rams a boatload of picks or, perhaps, a first-round pick in 2015.
"It would've been pricey but worth it," Fisher said. "It was a good pick for the Cowboys."
Dallas quickly stamped out that possibility by drafting Martin at No. 16. Another player the Rams really liked at No. 13, Alabama linebacker
C.J. Mosley
, remained on the board and also had the Rams' attention but the Ravens took him right after Martin went to the Cowboys.
"They all went," general manager Les Snead said. "I had left and then I came back and said, 'Mosley went right after Martin.' When we got down to two, it was those three. Donald was No. 1 and it worked out for us."
As for a possible trade with the No. 2 pick, Snead said nothing ever got too serious though Buffalo, which eventually traded up to No. 4 from No. 9, did inquire.
"They were probably the one team that was the most motivated," Snead said.
May, 1, 2014
May 1
9:50
AM ET
EARTH CITY, Mo. -- In what has become sort of a
St. Louis Rams
tradition, the team is sending a large contingent of primary NFL draft decision-makers back on the road to take a final look at some top prospects.
The NFL mandated teams complete their top 30 pre-draft visits by last Sunday, meaning the only way to see players up close is to go to them on their college campuses for private workouts. It's something coach Jeff Fisher and general manager Les Snead have done in each of their first two years in St. Louis and are doing again with one week before the NFL draft.
Earlier in the week, we reported the team was planning to visit with Auburn offensive tackle
Greg Robinson
, Alabama quarterback
AJ McCarron
and Georgia quarterback
Aaron Murray
. More reports surfaced Wednesday evening indicating the Rams are putting more miles on owner Stan Kroenke's private plane.
Topping the list is what is expected to be a Friday visit to College Station, Texas, where the team will work out wide receiver
Mike Evans
, offensive tackle
Jake Matthews
and quarterback
Johnny Manziel
. The Rams have made no secret of their interest in the first two players but Manziel's name has been popping up more frequently lately. The Rams are not going to take a quarterback at No. 2 but they sure wouldn't mind a team trading up to grab Manziel. And if he surprisingly slips to No. 13, Manziel can't be ruled out as a possibility for the Rams, though they would probably again look to trade first with a team looking for the quarterback.
Before heading to Texas A&M, the Rams will spend Thursday at Alabama where they are expected to put McCarron through the paces. The team could also look at tackle
Cyrus Kouandjio
and safety
Ha Ha Clinton-Dix
but the primary purpose is to spend time with McCarron, a possible second-round choice to fit the team's need for a young quarterback.
ESPN's Chris Mortensen also reported the Rams' barnstorming tour would take them to Notre Dame, Tennessee and Ohio State. Visits to South Bend and Columbus would be no surprise given the team's pre-draft interest in Notre Dame defensive lineman
Stephon Tuitt
and Ohio State linebacker
Ryan Shazier
. But it's believed that offensive coordinator Brian Schottenheimer and line coach Paul Boudreau are also part of the traveling party, which would indicate a chance for a closer look at Fighting Irish offensive lineman
Zack Martin
and Buckeyes tackle
Jack Mewhort
.
A stop in Knoxville would also probably mean continued focus on the offensive line where the Volunteers have two prospects in tackles
Antonio Richardson
and
Ja'Wuan James
.
Another report had the Rams making a stop at Michigan, where they'd almost certainly be visiting another top line prospect they like in tackle
Taylor Lewan
.
All of those workouts would go on top of the team's trip to Clemson where it worked out receivers
Sammy Watkins
and
Martavis Bryant
and quarterback
Tajh Boyd
last week.
Last year, the Rams took a series of late trips for workouts, including one to West Virginia where the team confirmed its interest in receiver
Tavon Austin
but also fell for fellow wideout
Stedman Bailey
. The Rams traded up to No. 8 for Austin and selected Bailey in the third round. In 2012, the Rams went on a tour of the nation's top receivers and became smitten with
Brian Quick
on a visit to Appalachian State. They drafted him in the second round.
Considering the sheer number of workouts the team is reportedly setting up, it's impossible to know which way it might be leaning when it comes to the draft. But it's probably a good idea to acknowledge that at least one and perhaps more of their early picks will come from the group mentioned above.
February, 21, 2014
Feb 21
11:30
AM ET
INDIANAPOLIS -- Versatility is a valuable trait for any player trying to find his way in the NFL. The ability to play and perform well at multiple positions is a highly sought commodity. Nowhere is that more true than on the offensive line.
St. Louis Rams
offensive lineman
Rodger Saffold
was a shining example of that in 2013. Before the season, he moved from left tackle to right tackle. After an early season injury, he returned and was moved again, this time to right guard. Although he clearly showed the most potential at guard, Saffold stepped in at right tackle and fared well. He came full circle by finishing the season at left tackle after
Jake Long
suffered a knee injury against Tampa Bay on Dec. 22.
Saffold's upside at guard and versatility make him by far the team's most prized unrestricted free agent. The Rams would like to keep him. But there's little doubt his talent and versatility will be valued in other NFL cities as well. The Rams aren't exactly flush with salary cap space at the moment, though they should have no problem creating room to make a legitimate run at keeping Saffold.
[+] Enlarge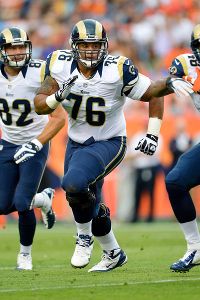 AP Photo/G. Newman LowranceRodger Saffold has played well at several positions for the Rams, making the pending free agent a valuable commodity.
So what happens if Saffold departs? The Rams are used to playing without Saffold's services. Were it not for his lengthy injury history, the team probably already would have signed him to a contract extension. Players capable of filling in at so many spots with Saffold's ability are hard to find.
It can be difficult projecting how players will fit at the NFL level. Some guards are viewed as centers, and tackles viewed as guards, and nobody really knows until they get there.
At first glance, though, this draft has one player who appears to project well at pretty much any position on the offensive line: Notre Dame's
Zack Martin
.
"I think he can play tackle, but the beauty of this kid is he can play all five positions in the NFL," NFL Network draft analyst Mike Mayock said. "Some teams look at him as a Pro Bowl guard and that therefore playing the tackle doesn't make as much sense."
That's a sentiment shared by plenty of others around the league. One league scout said Martin could step in and start at any of the tackle or guard positions right away, and though Martin's future would probably be brighter at guard he could start at tackle and be just fine.
For his part, Martin would prefer to remain at tackle, the position he played throughout a decorated four-year career for the Fighting Irish. Martin started a school record 52 consecutive games.
"I obviously want to prove to people that I can play there," Martin said. "I've played there my entire career. I had a pretty successful career, so, yeah, I want to prove to everyone I can be out there. But at the same time, if a team takes me and their plan is to put me at guard, I'm willing and happy to do that for him."
Martin's experience and pedigree would seem to be enough to keep him on the outside, but at just over 6-foot-4, and 308 pounds with 32 7/8 inch arms, Martin's frame might be better suited on the inside.
After a strong showing at the Senior Bowl and with a long resume of production in South Bend, Martin is projected as a top 20 pick. The Rams' needs on the offensive line are well-documented, but a player like Martin would seem to offer plenty of flexibility for a potentially revamped offensive line.
Much of the discussion of the top offensive linemen in relation to the Rams has centered on Auburn's
Greg Robinson
, Texas A&M's
Jake Matthews
or Michigan's
Taylor Lewan
. But if the Rams choose to wait to add a lineman at No. 13, Martin might be a name to remember. Especially if Saffold heads for greener pastures.