NFC West:

Stephon Gilmore
June, 15, 2012
6/15/12
4:00
PM ET
Arizona Cardinals
coach Ken Whisenhunt, mindful of minicamps' limitations as tools for evaluation, has regularly balanced his excitement for the coming season with disclaimers.
One recent example: "I'm excited for our defensive players because of their confidence and how they feel about where we are, but it doesn't mean anything if we don't play well and we don't win games."
Whisenhunt's excitement for rookie third-round cornerback Jamell Fleming seemed instructive in that context:
"He's been a productive player at a big-time program, one that has played in some big-time games against good talent, so you like that. But the thing that jumped off the film to me was his quickness. Even watching him out here and doing some of the stuff inside in the nickel, his change of direction is really, really outstanding. You like to see that. He's a competitive guy, he's big, he was physical off the tape, which is one of the things you like.

"But when you talk about a guy who can play inside or outside, those guys have to be physical. The bigger they are, makes it more difficult for the offenses. I'm interested to see how it's going to translate, if he can handle that position. The physical skill set is a good match for that."
Fleming, chosen 80th overall from Oklahoma, was the eighth of 34 cornerbacks selected in 2012 and the third by an NFC West team.
Cornerback depth has improved dramatically within the division over the past two seasons.
I'll be interested in seeing how Fleming develops relative to St. Louis' Janoris Jenkins (second round, 39th overall) and Trumaine Johnson (third round, 65th overall). NFC West teams did not draft another corner until Seattle chose
Jeremy Lane
in the sixth round. The Cardinals took
Justin Bethel
five picks later, also in the sixth.
May, 1, 2012
5/01/12
3:01
PM ET
St. Louis Rams
fans should know that Bob Mcginn, who recently
finished first
among
60 analysts
projecting which players teams would draft among the top 100 picks, also forecast
Trumaine Johnson
as a first-rounder in
his 2012 mock
.
The Rams drafted Johnson in the third round, with the 65th overall choice. Johnson downplayed any concerns stemming from
an arrest
following a party he hosted.
"I just decided to throw a party after a win," Johnson told reporters during a conference call following his selection Friday. "It got loud. The cops came and shut it down. As we were shutting it down, one of my buddies got tased, so I went over there to try to see what was going on and I got tased. We both got booked and arrested."
Authorities
accused
Johnson of disorderly conduct, obstructing an officer and resisting arrest.
"I believe everybody throws parties and has fun in college," Johnson said. "I feel like I was just in the wrong place at the wrong time, so I shouldn't have thrown the party in the first place just because we were in the season. I learned from it and it's behind me now."
Johnson was among the subjects
Bernie Miklasz
and I discussed during
our weekly conversation
Tuesday on 101ESPN St. Louis. Johnson was the sixth of 34 cornerbacks drafted. The Rams previously used the 39th choice, a second-rounder, for cornerback Janoris Jenkins, a player carrying greater concerns off the field.
The Rams will lean on their veteran defensive coaching staff and newly signed cornerback
Cortland Finnegan
to assist Johnson and Jenkins.
April, 26, 2012
4/26/12
8:59
PM ET
The
Buffalo Bills
' thinking at No. 10 in the 2012 draft had the potential to affect the
Arizona Cardinals
three picks later.
Both teams have needs at offensive tackle and wide receiver.
But with the Bills using the 10th choice for cornerback
Stephon Gilmore
, the Cardinals' pick approached with tackle
Riley Reiff
and receiver
Michael Floyd
both available. Kansas City (11th) and Seattle (12th) stand between Arizona and having a shot at those players.
Tackle is the bigger need for Arizona, in my view. How will the Cardinals value Reiff against the other available players?
Also:
With linebacker
Luke Kuechly
going to Carolina at No. 9, the Seahawks appear more likely to address linebacker later than No. 12.
April, 26, 2012
4/26/12
3:04
PM ET
The NFC West chat
began amid a report suggesting the
Seattle Seahawks
and
New England Patriots
had discussed a trade involving the 12th pick in the 2012 NFL draft.
By the time the chat ended, word had come that
no such talks
had taken place.
Just another NFC West chat, this one was not. Let's hit some highlights:
Birdman from Arizona thinks the Cardinals could use a first-round choice for a cornerback. He calls into question the team's quality depth at that position and says Stephon Gilmore or Dre Kirkpatrick would be the choice if tackle Riley Reiff were not available.

Mike Sando: That would be purely a value pick, Birdman. The Cardinals like their corner situation. They think they have four starting corners (Patrick Peterson, Greg Toler, A.J. Jefferson and William Gay). They also have Michael Adams, who has played a lot in sub packages. Corner is not really a big priority position for the Cardinals right now. I think we saw that in the value decision they made on Marshall. So, if they take a corner that early, it's because the value screamed at them, not because the need was primary.

Kyle from St. Louis asks whether the Rams appear likely to trade back from the sixth overall pick.

Mike Sando: My general feel is that the Rams have moved back enough in the first round, and now they need to maximize the value of the pick (unless someone makes a crazy offer). Right now, the Rams have the best of both worlds: a pick high enough to get the top-rated player at a position, but also additional picks (this year and in the future).

Gus from Seattle asks about the Seahawks possibly drafting a "touchdown maker" instead of a pass-rusher in the first round. "Does any part of you think they are playing possum and may jump on a Michael Floyd or Kendall Wright or Doug Martin instead?" he asks.


Mike Sando: Yeah, I could see them going in that direction. Mostly, I think they would like to trade back and then take what falls to them. We should account in our minds for the fact that Jason Jones' addition in free agency was seen by the team as a move to upgrade the pass rush. They could also get Dexter Davis back, with some thought he could help their pass-rush. So I would not lock in a pass-rusher as the pick in the first round. It would make a lot of sense, however.

Chex Norris from San Diego asks whether the 49ers would select Kendall Wright or Stephen Hill at No. 30 if other prospects, notably Kevin Zeitler and Janoris Jenkins, were not available.

Mike Sando: Wright was the projection to the 49ers at No. 30 in our initial Blogger Mock Draft. Hill might be the better fit from a physical standpoint. I might lean toward Wright on overall value, but Hill as the more likely fit because of his physical dimensions. Maybe they could move back a couple spots if faced with that dilemma? Thinking out loud here.
We're down to the final few hours before the draft. I'll be heading over to Seattle Seahawks headquarters and getting set up over there in the not-too-distant future.
April, 26, 2012
4/26/12
8:00
AM ET
We've made it, just about, to the 2012 NFL draft.
The anticipation kept at least
one NFC West fan
and probably a few NFL general managers from sleeping Wednesday night (throw me into that category as well, given that I was up to receive the above-linked tweet).
Let's pass at least some of the remaining time with a spin around the division.

Eric D. Williams of the Tacoma News Tribune
checks in with draft analyst Rob Rang for thoughts on defensive backs the Seahawks could consider in each round. South Carolina cornerback Stephon Gilmore is one consideration. Rang: "An athletic cover corner with the size and physicality to be successful in Seattle's press scheme, Gilmore's stock is on the rise as the draft approaches."
Also from Williams
: Sounds like the Seahawks plan to keep Kam Chancellor at safety, an indication Mark Barron isn't a likely first-round selection for Seattle. General manager John Schneider: "We usually try not to move Pro Bowl players to different positions."
Brock Huard of 710ESPN Seattle
thinks Luke Kuechly would be the best choice for the Seahawks with the 12th overall choice if the Boston College linebacker remains available at that point.

Kent Somers of the Arizona Republic
considers the Cardinals' draft options and offers this: "The Cardinals have had their shares of busts, such as linebackers Cody Brown (second round, 2009) and Buster Davis (third round, 2007). Others haven't played up to their lofty draft status, such as tackle Levi Brown (fifth overall, 2007). And others have developed slower than the team had hoped, such as nose tackle Dan Williams (first round, 2010). But early returns suggest the Cardinals had one of their better draft classes in 2011. Three of the eight picks became regular starters on a team that went 8-8."
Also from Somers
: what draft analysts are saying about Riley Reiff and Michael Floyd.
Darren Urban of azcardinals.com
has the Cardinals selecting Reiff at No. 13. He has Justin Blackmon to St. Louis, Melvin Ingram to Seattle and Amini Silatolu to San Francisco.

Matt Maiocco of CSNBayArea.com
also has the 49ers selecting Silatolu in the first round. Maiocco: "Offensive line coaches Mike Solari and Tim Drevno drove to meet Silatolu last week at his old high school. They drew up several 49ers offensive plays on the board, along with the corresponding adjustments based on the defense. And then they had Silatolu repeat the plays back to them. Silatolu told CSNBayArea.com on Wednesday that the zone blocking scheme he ran in college is similar to the 49ers' system."
Also from Maiocco
: thoughts on why the 49ers should wait until after the first round before selecting a wide receiver.
Lowell Cohn of the Santa Rosa Press-Democrat
says the 49ers would be much better off drafting Fleener than their next starting right guard. Cohn: "Right guard is the least important offensive lineman. Because Trent Baalke moved up in the draft last year to take Daniel Kilgore, so Baalke and his brain trust must feel Kilgore has potential. Because a good right guard is not hard to find in later rounds."
Tim Kawakami of the San Jose Mercury News
lays out a case for the 49ers drafting Georgia Tech receiver Stephen Hill.
Cam Inman of the San Jose Mercury News
explains why he thinks receiver Alshon Jeffery will be the 49ers' choice at No. 30.

Jim Thomas of the St. Louis Post-Dispatch
says Rams coach Jeff Fisher downplayed "rumors" regarding running back Steven Jackson being unhappy with his contract or on the trading block. Fisher: "Steven's here in the offseason program. He's upstairs every other day (where the coaches' offices are located). He's doing great. Having fun. Learning the offense. No discussion, conversation, or anything along that sort to my knowledge."
Also from Thomas
: thoughts on the Rams possibly trading down. Thomas: "If they stay at No. 6, Justin Blackmon is the logical choice -- and it looks like he'll be there when they pick. But the Rams need more picks, and if the right offer presents itself to trade down, the Rams will do that."
Bernie Miklasz of the St. Louis Post-Dispatch
says the Rams should use the sixth overall choice for Blackmon. Miklasz: "It makes no sense to draft quarterback Sam Bradford No. 1 overall, invest $50 million guaranteed in his rookie (2010) contract, then continue to surround him with mediocrity. I agree with those who say Blackmon isn't the prototype No. 1 wideout. But here are the names of the seven wide receivers on the Rams' roster: Danny Amendola, Danario Alexander, Brandon Gibson, Steve Smith, Austin Pettis, Greg Salas and Dominique Curry."
Jeff Gordon of stltoday.com
passes along highlights and notes from Fisher's news conference.
April, 25, 2012
4/25/12
2:15
PM ET
Mel Kiper Jr. is back

with his fifth 2012 NFL mock draft for the first round.
The
San Francisco 49ers
(
Kevin Zeitler
) and
Arizona Cardinals
(
Melvin Ingram
) were first up.
The
Seattle Seahawks
, picking 12th, are next.

12. Seattle Seahawks: Chandler Jones, DE, Syracuse
Kiper's give:
The Seahawks need a pass-rusher, and I really like the fit. Pete Carroll can use a player with Jones' length and athleticism in a "Leo" role, and create an added dimension to the rush. The Seahawks will built a pretty formidable defense if they can add a final piece or two up front. Jones makes sense here.
Sando's take:
Kiper will get no argument on this one. After all,
Jones was the pick
for Seattle during our recent
ESPN Blogger Mock Draft
, published Monday. In Kiper's mock, the Seahawks take Jones when Melvin Ingram,
Mark Barron
,
Stephon Gilmore
,
Quinton Coples
and
Whitney Mercilus
were also options for teams looking to upgrade on defense. Scouts give Jones high marks for work ethic, physical potential and versatility. As
Scouts Inc. put it

, "Best fit will be as a LDE for a 4-3 scheme. Can develop into 5-technique if he continues to get stronger and learns proper technique. Has good core strength, room on frame, and long arms. ... Has experience reducing inside to a three-technique on obvious passing situations, as well." Sounds like an outstanding fit for the Seahawks given their needs.
April, 25, 2012
4/25/12
10:49
AM ET
Todd McShay's most recent mock draft has the
St. Louis Rams
selecting USC tackle
Matt Kalil
with the sixth overall choice, one spot before Jacksonville selects receiver
Justin Blackmon
.
The change reflects recent rumblings suggesting Minnesota might not select Kalil with the third overall choice. It also reflects a lack of consensus after the first two overall choices.
I'll pass along a link to McShay's mock once it's available. In the meantime, the video atop this entry outlines his top 10 choices.
This version would remove Michael Floyd from consideration for Arizona at No. 13, perhaps allowing them to select offensive tackle
Riley Reiff
instead, should they value him enough to justify addressing a need at the position. Linebacker Luke Kuechly would be off the board before Seattle selected at No. 12, perhaps increasing the likelihood of the Seahawks using that choice to address their pass rush.
St. Louis, meanwhile, would emerge with Kalil and 2009 first-round choice Jason Smith as its projected starting tackles, with incumbent left tackle
Rodger Saffold
presumably moving to guard. The Rams would then consider receiver options in the second round.
April, 23, 2012
4/23/12
3:05
PM ET
The first six picks of
ESPN's Blogger Mock Draft
unfolded pretty much as expected.
That's when James Walker, our AFC East representative, put out the word: "I'm willing to make a trade back with Buffalo at No. 10."
Before anyone could respond, AFC South representative Paul Kuharsky announced he'd swung a deal with Dan Graziano of the NFC East. The Jaguars had traded the seventh overall choice and a sixth-rounder to Philadelphia for the 15th, 88th and 153rd selections.
The Eagles took defensive tackle
Fletcher Cox
at No. 7.
"By the way," I wrote in an email to the group, "Seattle would love to trade back from 12."
Then came the word from Walker, sent only to me, the NFC West rep: "Don't make your pick at No. 12 yet. I have an offer from New England coming. Working out the point chart. First, I have to figure out Buffalo's pick at No. 10."
A few seconds passed before the AFC West's Bill Williamson, unaware Walker had already made contact regarding the 12th pick, reached out to me in another email.
"If
Melvin Ingram
is on the board at 12," Williamson wrote, "I might have San Diego come up from 18."
This was intriguing. Seattle's actual leadership had swung a deal with San Diego for quarterback Charlie Whitehurst a couple of years ago, so trade talks for the 12th pick seemed realistic. But the Seahawks also have a working relationship with the Patriots, having traded Deion Branch to them not all that long ago.
"Sounds good," I replied to Bill. "James might also make an offer here."
The potential deal with Williamson and San Diego was fleeting. Walker executed a trade with himself, allowing the
New York Jets
to move into Buffalo's spot at No. 10. The Jets took Ingram, the player Williamson had wanted for San Diego.
The fun was only beginning.
Our eight divisional bloggers made four trades involving the seventh, 10th, 12th, 15th, 16th, 27th, 31st and 32nd overall choices, plus later considerations.
Five of our first-round selections in this mock failed to appear in our previous one.
Jerel Worthy
,
Kevin Zeitler
,
Chandler Jones
,
Shea McClellin
and
Coby Fleener
pushed out
Rueben Randle
,
Andre Branch
,
Peter Konz
,
Kendall Wright
and
Mike Adams
.
Courtney Upshaw
,
Dontari Poe
and
Stephen Hill
made double-digit drops from then to now.
Michael Brockers
,
Cordy Glenn
,
Stephon Gilmore
and Cox climbed at least eight spots since last time.
We drafted seven defensive ends/outside linebackers, six offensive linemen, five defensive backs, four defensive tackles, three receivers, three quarterbacks, two inside linebackers, one tight end and one running back.
Mostly, we had some fun with the process. Thanks for coming along.
***
ESPN.com's NFL bloggers went through one final mock draft leading up to Thursday's start of the NFL draft. Here is how
#ESPNbloggermock
played out.
April, 2, 2012
4/02/12
11:14
AM ET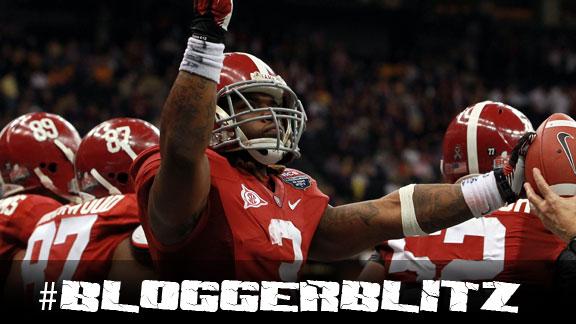 The NFL's transformation into a pass-happy league has sent teams scrambling for ways to keep up defensively.
Perhaps that explains why defensive linemen and 3-4 outside linebacker types dominated ESPN.com's first NFL Blog Network mock draft for 2012.
AFC West blogger Bill Williamson snapped up three of them for the division he covers. Six other defensive linemen and 3-4 outside linebackers found homes elsewhere in the first round.
Offensive linemen (seven), defensive backs (five) and wide receivers (five) accounted for most of the remaining first-round selections.
In keeping with the pass-oriented theme, Alabama's
Trent Richardson
was the lone running back selected, landing in Cleveland with the fourth overall choice.
And, of course, we kicked off the mock with a couple of quarterbacks.