October, 31, 2014
Oct 31
6:10
PM ET
CHARLOTTE, N.C. --
Carolina Panthers
quarterback
Cam Newton
is pressing.
You can see it in his body language. You can feel it in his performance. You can hear it in his voice.
Head coach Ron Rivera understands why.
"Because he wants to win in a very bad way," Rivera said on Friday as he explained Newton's performance in Thursday night's 28-10 loss to New Orleans that knocked Carolina out of first place in the NFC South.
[+] Enlarge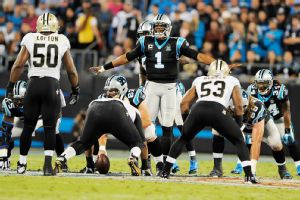 AP Photo/Mike McCarnQB Cam Newton accepted much of the blame for Thursday's loss by Carolina against New Orleans.
Until he reached the NFL, Newton seldom lost. He won a national title in junior college. He won the BSC National title and Heisman Trophy during an undefeated season at Auburn in 2010.
But a little more than halfway through his fourth season with the Panthers, who made him the first pick of the 2011 draft, Newton is 28-28-1. If Carolina (3-5-1) doesn't turn this season around, he will have suffered through three losing seasons out of four.
"You know how he gets?" Rivera said. "He wants to win in a bad way, and he puts it all on himself. One of the things he's going to have to learn and grow on is that he's got to be willing to take a step back and put the ball in the other playmaker's hands as well."
Rivera sees what others see, that Newton sometimes tries to do too much.
When Newton presses as he did against New Orleans, his footwork sometimes gets off. That in part explains nine overthrows that led to a career-worst 35.5 completion percentage and 39.4 passer rating.
Sometimes pressing leads Newton to try and make a play on his own instead of dumping the ball to a running back or other open receiver. When he does dump the ball, as he did on a 30-yard pass to running back
DeAngelo Williams
in the second half, the result often is good.
Sometimes when Newton presses he gets fixated on rookie wide receiver
Kelvin Benjamin
, who at 6-foot-5 and 240 pounds is a huge target. On Thursday Benjamin was targeted 10 times and caught only two passes.
"Absolutely," Rivera said. "He did press a little bit towards Kelvin. He had a couple of other throws he could have made. Again, he has a big target. And you'd like to see us come down with a couple of those."
To Newton's credit, he doesn't make excuses. He shouldered much of the blame for Thursday's loss even though the makeshift offensive line with four undrafted players and at least three dropped passes made his effort look worse than it was.
He said he plans to spend the next few days off reflecting on how he can be better and why he's not "firing on the cylinders."
Over the past three games, Newton has completed 48.1 percent (39 of 81) of his passes for 529 yards. He has one touchdown to three interceptions.
He has only 22 completions in the past two games combined.
If anybody needed a break, he did.
"This time off is going to allow everyone, including myself, to do a lot of self- scouting and just get back to the basics," Newton said. "It's not anything that the teams we're playing are doing that we aren't prepared for.
"It's just manning up. It's just getting out and executing."
Rivera said Newton has to get back to his comfort zone and focus on the fundamentals that had him throwing better than at any time during his career while recovering from ankle surgery.
The coaches are trying to help.
"They continue to work on his footwork," Rivera said. "Keeping his left shoulder down, staying over his front foot, bending that knee as he delivers that ball. It's all part of his fundamentals and it's something that he's just got to continue to push himself through."
And stop pressing.
NFL SCOREBOARD
Thursday, 10/30
Sunday, 11/2
Monday, 11/3
WEEKLY LEADERS