October, 1, 2014
Oct 1
6:30
PM ET
EARTH CITY, Mo. -- The only thing surprising about
St. Louis Rams
coach Jeff Fisher's announcement that
Austin Davis
is his quarterback this week and for the rest of the season is that there was an announcement at all.
There were plenty of signs along the way that Davis would retain the job after making a positive impression in his two starts against Tampa Bay and Dallas. It was the commonsense move, and Fisher wasn't going to eschew that in favor of something that wasn't best for his football team.
The reality was that, at some point, Fisher was going to have to publicly confirm what everyone's eyes were telling them. I thought that might happen after Davis started against Philadelphia this week, but Fisher got it out of the way on Wednesday.
[+] Enlarge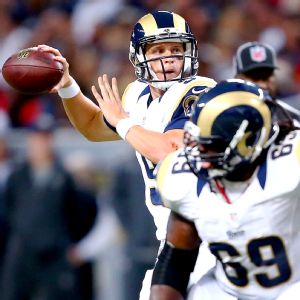 Dilip Vishwanat/Getty ImagesAustin Davis, the Rams' starting quarterback for the rest of the season, passed for 327 yards and three touchdowns against the Cowboys.
Now that Fisher has confirmed the obvious, the opportunity for Davis shifts beyond a simple game-by-game approach and into something much deeper. In his comments Wednesday, Fisher made it clear that he will have patience with Davis. Interceptions, fumbles and other miscues won't earn Davis a quick seat on the bench.
The Rams want to see what Davis has for the rest of the season.
"I'm not going to have a short hook," Fisher said. "Look at the league last week. There's some really good quarterbacks having some hard days. I understand that, so I want him to go on that field with confidence and learn how to deal with putting difficult times behind him and continue to improve."
In the short term, Davis gives the Rams the best chance to win, which is what made this decision a relatively easy one for Fisher. What makes it a slam dunk is what Davis could provide beyond the scope of the 2014 season.
Less than a quarter of the way through his third NFL season, Davis' start against the Eagles on Sunday will be only the third of his career. He is 25 years old and has plenty of room for growth in the coming weeks.
With
Sam Bradford
coming off a second ACL surgery and scheduled to count $16.58 million against the cap next year, his future in St. Louis is tenuous.
Shaun Hill
, who now reverts to a backup role behind Davis, is 34 and on a one-year contract. Rookie Garrett Gilbert is on the practice squad, and Davis clearly outplayed him in the preseason.
Put simply, if the Rams have any quarterback on the roster who could provide hope for the future of the position, it's Davis. In three games, he leads the NFL in completion percentage, led a stirring comeback win at Tampa Bay and posted 327 passing yards and three touchdowns in a loss to the Cowboys.
Beyond the numbers, Davis has a locker room full of teammates who are buoyed by his presence in the huddle and his fiery demeanor on the field.
"We definitely feed off that," tight end
Lance Kendricks
said. "You need that in the huddle sometimes, especially with a young group like us. I think that kind of helps everyone's confidence and ability to just play their game."
The humble and soft-spoken Davis is not letting his more permanent promotion change how he is approaching things. He said Wednesday he hasn't thought much about how he's come from spring roster long shot to entrenched starter in a matter of about three months.
"I think that's why you do take the cliché approach of work hard every day and take every rep like it's your last, because you never what's going to happen in this game with injuries and different opportunities and things like that," Davis said. "So, yeah, it's a bit of a wild ride. But at the end of the day, this team's looking for me to lead them, and I'm up for that challenge and excited about it."
What's left unsaid is the world of opportunity available if Davis should prove consistent. Not that he can think about that right now or that he's done nearly enough to show he should be the starter long term.
But it was only a couple of weeks ago when Davis got his first chance with the hope of turning it into something more. He made the most of it and earned a much bigger opportunity. What he does with his newest task will go a long way in determining what comes next for his career and the Rams at quarterback.
NFL SCOREBOARD
Thursday, 10/2
Sunday, 10/5
Monday, 10/6