January, 3, 2014
Jan 3
11:22
AM ET
Our attempt this year to shine light on the world of NFL officiating has revealed at least one conclusion: Jeff Triplette is the most active referee in the business.
For the second consecutive year, based on ESPN Stats & Information's database, Triplette and his crew led the league in penalties called (accepted and declined). A late charge put his crew at 244 penalties in 15 games,
a bit more than the 212 it called in 2012
. The chart provides the full breakdown, and to me the most fascinating part is the range. Peter Morelli's crew called 93 fewer penalties over the same time period, demonstrating how different a game can flow based on the assigned crew.
Triplette is one of four referees assigned to this weekend's wild-card playoff games, according to
the website FootballZebras.com
. Triplette will work Sunday's game between the
San Diego Chargers
and
Cincinnati Bengals
, Walt Anderson has Saturday's game between the
Kansas City Chiefs
and
Indianapolis Colts
, Bill Vinovich will work the
New Orleans Saints
-
Philadelphia Eagles
contest, and Ed Hochuli will be in Green Bay for 49ers-Packers, according to the website.
You can check the chart for how frequently each crew blew a whistle during the regular season. It's important to note that playoff crews are an All-Star group culled from the highest-graded officials from across the board, so a referee's playoff tendencies are less predictable.
Still, referees set the tone for any crew they head up. So below, I've provided some notes on how each of this weekend's referees called games during the regular season:
Coverage penalties
2013 range:
High was Walt Coleman (52), low was Morelli (19)
Anderson: 33
Triplette: 33
Vinovich: 33
Hochuli: 26
Offensive holding
2013 range:
High was Carlton Cheffers (55), low was Morelli (23)
Hochuli: 44
Triplette: 43
Anderson: 37
Vinovich: 26
Offensive pass interference
Range:
High was Clete Blakeman (12), low by many (2)
Triplette: 5
Vinovich: 4
Hochuli: 2
Anderson: 2
Sportsmanlike conduct
Range:
Triplette was high (48), Mike Carey was low (19)
Triplette: 48
Hochuli: 34 (including NFL-high 10 for roughing passer)
Anderson: 30
Vinovich: 27
For clarity's sake, a "coverage penalty" includes defensive holding, illegal contact and defensive pass interference. A "sportsmanlike conduct" penalty included unsportsmanlike conduct, roughing the passer, personal fouls and unnecessary roughness.
I'll provide my usual disclaimer: Penalty totals don't equate with quality of officiating. They do, however, provide a guidebook over a sizable time period for how a future game might be officiated. NFL teams routinely study similar data. They know that they're likely to be watched more closely on late hits by Triplette than Vinovich. They also know that Vinovich is less likely to call holding and, if they ever get Blakeman's crew, to be aware of his frequent calls for offensive pass interference.
I'll attempt to provide similar reports for each round of the playoffs.
October, 17, 2013
10/17/13
4:45
PM ET
LAKE FOREST, Ill. -- When leading somebody down a dark tunnel, trust is the key, and so it will be Sunday when veteran linebacker
Lance Briggs
stands alongside rookie linebacker
Jon Bostic
, who will be seeing his first significant NFL action.
With linebacker
D.J. Williams
lost for the season because of a torn pectoral muscle, Bostic will finally get his chance to shine after a solid preseason. Briggs remembers when he was in Bostic's shoes.
"Jon is further along than I was as a rookie and he understands things," Briggs said. "He understands all our concepts. For him, it's just about getting game experience. There are things that he is still learning to trust. It's just like me when I was young and Brian [Urlacher] would give me a tip off. I might be a step late because I didn't really trust what he was saying."
[+] Enlarge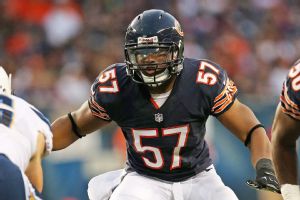 Jonathan Daniel/Getty ImagesWith D.J. Williams lost for the season, rookie Jon Bostic has been thrust into the lineup.
Anything Briggs says Sunday will likely be followed with the words "trust me."
"For him he just has to know that hey, if it's going to be there, if it's a tip off, they're probably going to run it," Briggs said.
Bostic has played primarily on special teams this season, but the second-round pick out of Florida has been taking notes when it comes to the defense and often asks Briggs why things sometimes look different on the field than they did in practice.
"I'll tell him that depending on the down and distance there are certain checks and adjustments you want to do differently than first and second down or against certain formations," Briggs said. "For him it's just allowing himself to be as sharp as he can be on Sunday."
Coach Marc Trestman is less concerned about the transition from the veteran Williams to the rookie Bostic, primarily because of Briggs' presence.
"I do know enough to watch (Briggs) work every day, his ability to communicate, his understanding of the defense and the standards that he has and wants to get to with our defense," Trestman said. "I think that Jonathan is in very good hands."
Bostic's speed could come in extremely handy as the Bears go up against
Washington Redskins
quarterback
Robert Griffin III
and running back
Alfred Morris
.
"For Jon, you don't want to think too much when you're on the field," Briggs said. "That's what practice is for, getting that kind of stuff down, getting your keys down and your reaction to be as sharp as it can so that once you get in the game you read and react. You allow your athletic ability take over."
Briggs' ability to communicate figures to be put to the test as he guides a young teammate.
"There are always certain tip-offs before a play, but once game time comes, you have to get 11 of us aligned, making some of those adjustments, throwing out some of the tips and keys to him," Briggs said. "I know [veteran linebacker] James [Anderson] will help too. Major [Wright] and [Chris] Conte, Peanut [Tillman] and
Tim Jennings
, we have a good group back there that does understand how teams will attack us."
October, 9, 2013
10/09/13
3:52
PM ET
LAKE FOREST, Ill. – The
Chicago Bears
are looking at a number of game-time decisions when it comes to player availability for Thursday night's matchup against the
New York Giants
.
While sounding positive, coach Marc Trestman said that tight end
Martellus Bennett
(knee), linebacker
Lance Briggs
(foot/hip), defensive tackle
Stephen Paea
(toe) and cornerback
Charles Tillman
(knee) all will have their status decided a few hours before kickoff Thursday.
"All would have been limited today, but we're optimistic in the next 24 hours they will be ready to go," Trestman said.
With a short week for preparation, the Bears have been doing walk-throughs all week instead of regular practices. Listed as "out" on Wednesday were defensive tackle
Nate Collins
(knee) and safety
Anthony Walters
(hamstring).
The "probables" after Wednesday's practice were wide receiver
Joe Anderson
(knee), tackles
Eben Britton
(foot) and
Jermon Bushrod
(calf), and wide receiver
Alshon Jeffery
(ankle).
"We'll know more tomorrow," Trestman said. "We're optimistic they will all be there but we don't know for sure."
Rookie defensive tackle
Zach Minter
said he had some practice time with the first-team defense Wednesday and was expecting to play Thursday. Minter was on the active roster for the first time for Sunday's game against the
New Orleans Saints
, but did not see any action.
October, 8, 2013
10/08/13
5:15
PM ET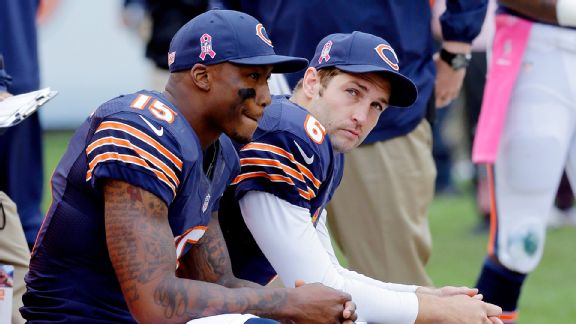 AP Photo/Nam Y. HuhJay Cutler calls Brandon Marshall an "ultra-competitor" who yearns to have an impact in every game.
LAKE FOREST, Ill. --
Chicago Bears
wide receiver
Brandon Marshall
will admit to a selfish nature, but only when it comes to wanting what is best for teammate and fellow wide receiver
Alshon Jeffery
.
After being targeted on 40 percent of pass plays last season, and then getting the double and even triple teams that went along with that kind of attention, Marshall has always felt that a productive Jeffery would make life, not to mention catches and yards, a whole lot easier.
Perhaps Marshall is staring in the face of a productive game against the winless
New York Giants
on Thursday night, especially after Jeffery went off for 10 catches, 218 yards and a touchdown Sunday in a
26-18 loss
to the
New Orleans Saints
.
"In a selfish way -- if you want to talk about selfish and 'I' -- that's the reason I wanted him down in Florida last year (working out) with me," Marshall said. "Last year, you look at some of the things teams were able to do with us, and you look at the statistics where 40 percent of our passing game came through me. Alshon was banged up and Earl (Bennett) was banged up with a hand a little bit. We really didn't have a stable guy on the other side or the tight end position to really help."
With
Martellus Bennett
already making his mark from the tight-end position and Jeffery seemingly in sync, Marshall figures to do better than the season lows of four catches and 30 yards that he delivered Sunday. Marshall expressed his frustration over his lack of production after Sunday's game.
The disappointment has caused something of a chicken-or-the egg conundrum for Marshall. Some view his desire for more production as self-serving. Others, like quarterback
Jay Cutler
, don't so much see a me-first approach, but rather a confident player who knows he can help a team to win.
"I think everyone is frustrated when you lose two games in a row like that," the quarterback said on ESPN-1000's weekly "Jay Cutler Show."
"That being said, I've known him for a long time and know what kind of ultra-competitor that he is, and when you lose a game, any competitor will think, 'Hey, what if I'd done more and what if I had more touches? Could I have impacted the game more than I already did?' I just think he's kind of feeling that."
Marshall knows the negative perception that is out there, but on Tuesday he continued to reiterate that his attitude has the team's best interest in mind.
"You pay a receiver $10 million for them to be OK with him not being productive? Get out of here," Marshall said. "When I'm a coach, or if I'm an owner of a team one day and I'm paying a receiver that much money and he's happy, if he's not complaining, or not communicating with me about wanting more (production), he got to go."
"

I don't think there is any wide receiver – well, there might be a few guys out there who really don't care – who would be happy playing in the NFL without catching balls. I want to catch footballs. I want to score touchdowns.

"

-- Bears WR Brandon Marshall
But wanting to be productive is one thing. Sometimes it's counterproductive to try and get a star receiver his catches when situations like double teams say it's best to throw the ball elsewhere. Marshall still seems to have a tough time balancing the desire to produce with the logic of why things might not always go his way.
"There was one play when I was at the 3-yard line running down the middle if the field and three in the red zone and guys were on me," Marshall said. "I was like, 'This is pretty cool.' That's respect. At the same time, the NFL, and this is where the truth thing comes in, it's a what-have-you-done-for-me-lately business. It's about production. I'm not saying it's about me, it's about our offense."
Perhaps a triple team shouldn't be about respect. It should be about loving the fact that somebody like Jeffery or
Earl Bennett
or Martellus Bennett could be working their way to an open spot on the field.
"Yeah, that's obvious, but there is so much more that comes into it, like schemes or different things we can do," Marshall said. "Of course that makes sense. You can't throw the ball into double coverage. It makes sense."
Perhaps if there is confusion as to what truly motivates Marshall, he might only have himself, and his mixed messages to blame.
"It's not a greedy instinct," Marshall said. "The quarterback touches the ball every single play, he controls the game. The offensive linemen don't care about anything outside of their box. The running backs, they'll have like 20 opportunities. Wide receivers, it's on everybody, the coaching, the offensive line, the guy on the other side, the running game. It's one of those things where you only get a few opportunities, so guys want to be productive and make plays.
"It can come off as selfish, but there are so many other variables that go into a wide receiver being successful. I don't think there is any wide receiver -- well, there might be a few guys out there who really don't care -- who would be happy playing in the NFL without catching balls. I want to catch footballs. I want to score touchdowns."
When Marshall complained about not being targeted early in the season, coach Marc Trestman called him a "palms-up guy" for coming off the field and using body language as if to say, "Why am I not getting the ball?" Trestman, though, said Tuesday that Marshall's heart is in the right spot.
"He's been as important to leading this team as anybody," Trestman said. "He's been doing it all winter. He brought players in here. Alshon Jeffery, he is playing the way he's playing because he spent time this offseason with Brandon learning how to treat his body, get himself in shape, how to eat properly. He helped recruit D.J. (Williams), he helped recruit Martellus. I've seen nothing but a guy, who when he has been on the field, has worked and has been locked in to try and help this football team. That's what I've seen."
September, 25, 2013
9/25/13
4:22
PM ET
LAKE FOREST, Ill. --
Chicago Bears
cornerback
Charles Tillman
was held out of practice Wednesday as he deals with a groin issue that cropped up late in Sunday night's victory over the
Pittsburgh Steelers
.
Tillman
In addition, cornerback
Sherrick McManis
was also held out of practice with a quadriceps injury.
Bears coach Marc Trestman categorized both players as "day to day" after practice Wednesday.
The 32-year-old Tillman has already dealt with a number of issues during the first three weeks of the season. During the first two weeks he was playing with a knee injury, while also missing time during the Sept. 8 season opener because of dehydration.
Trestman deduced that the groin issue was probably the result of overcompensating for the knee problem.
Tillman did not play late in Sunday's game as a precaution, and the injury is not deemed to be serious and he could play Sunday at Detroit.
"We moved some people around today," Trestman said about his defense. "C.J. [Wilson] got some work today, obviously. And Zach [Minter] will continue to work over there [on the defensive line] as well."
September, 18, 2013
9/18/13
5:30
PM ET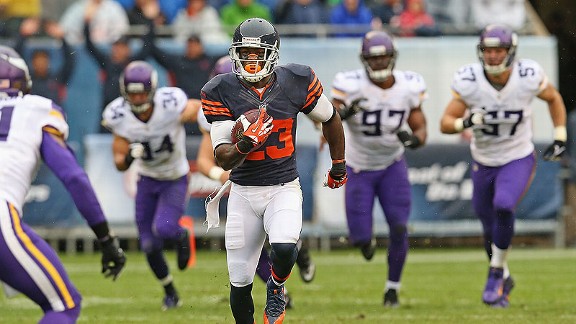 Jonathan Daniel/Getty ImagesDevin Hester had a career day against the Vikings on Sunday.
LAKE FOREST, Ill. -- Those personal-best 249 return yards
Devin Hester
racked up for the
Chicago Bears
on Sunday appear to have been born from a conversation early in the summer.
New coach Marc Trestman revealed Monday that it was Hester who suggested that a reduction in responsibilities could help him to once again be the kind of return man who used to pile up weekly honors while heading off to Pro Bowls.
"The conversation, to my recollection, was, 'It sounds to me like you just want to be a returner, and that's OK with me. I would like you to be the returner and focus solely on that,'" Trestman said.
The revelation debunks a common belief that Hester was demoted to a return-only role after years of mostly choppy results as a wide receiver.
"I don't ever remember me telling him that that was the way it's going to be," Trestman said. "I remember our conversation being more like, 'I know that's what you want to do, and I'm all-in.' That's sort of the way I remember it.
"Now, this was six and a half months ago. It was literally the second week I was here, I think. And it just stopped right there. [Special-teams coach] Joe [DeCamillis] started meeting with him, and we started developing a dialogue when we saw each other. It wasn't complicated at all. It just seemed to happen that way."
September, 13, 2013
9/13/13
2:21
PM ET
LAKE FOREST, Ill. --
Charles Tillman
and
Julius Peppers
returned to practice for the
Chicago Bears
on Friday and officially will be listed as probable for Sunday's game against the
Minnesota Vikings
at Soldier Field.
Tillman has been dealing with a minor knee issue, but he missed practice Thursday to attend to a family matter, not because of his injury. He participated in nearly all of Friday's practice. Peppers, who was out Thursday because of illness, was limited in practice Friday.
"[Peppers] is going to be fine, but he worked limited today in terms of the number of reps he had," coach Marc Trestman said.
Both players are expected to see significant action Sunday as the Bears return to action after their Week 1 victory over the
Cincinnati Bengals
.
After the Bears went into the season opener completely healthy, Tillman was the only player listed on the injury report this week.
Peppers did not have a sack, a tackle or an assisted tackle Sunday, but his play this week will be critical as the Bears' defensive line will try to slow MVP running back
Adrian Peterson
. Peppers did not have a sack in the season opener last year, but returned in Week 2 to record two sacks against the
Green Bay Packers
.
September, 11, 2013
9/11/13
5:44
PM ET
LAKE FOREST, Ill. -- The
Chicago Bears
are facing a curious conflict at Halas Hall this week as they intend to improve the pass rush just as the NFL's best running back comes marching into town.
[+] Enlarge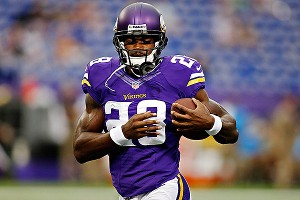 Bruce Kluckhohn/USA TODAY SportsAdrian Peterson has 1,085 career rushing yards with 14 touchdowns in 10 career games against the Bears.
There is no doubt the
Minnesota Vikings
'
Adrian Peterson
will have the Bears' full attention on the lakefront Sunday, but getting off the ball and disrupting the pass is a topic that's still being emphasized after
Cincinnati Bengals
quarterback
Andy Dalton
looked all too comfortable in the season opener.
"It's going to be a challenge, there's no doubt about it, because we're going to have to find a way to fit in the run and we're going to have to find a way to defend the play-action passes and things like that when we are in single safety coverages," coach Marc Trestman said after practice Wednesday.
So will the Bears truly emphasize what appeared to be a weakness against the Bengals, or do they put that aside for Peterson and the Vikings?

NFL SCOREBOARD
Sunday, 2/2
WEEKLY LEADERS