NFL Nation:

2013 Stock Watch
November, 12, 2013
11/12/13
9:00
AM ET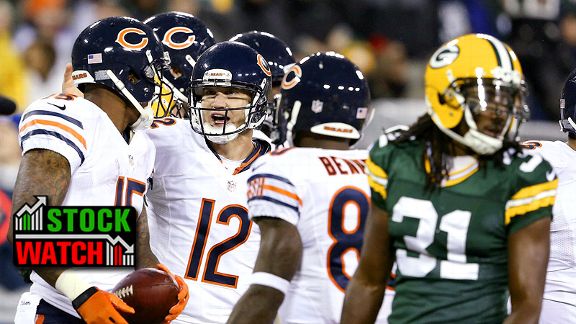 Nuccio DiNuzzo/Chicago Tribune/Getty ImagesBrandon Marshall and Josh McCown have hooked up on touchdown passes in each of the past two games.
RISING


1. Brandon Marshall, WR:
Marshall is red hot. The four-time Pro Bowl selection topped 100 receiving yards (7-139-2) for the second straight week on Sunday. Over the past four games, Marshall has 29 grabs for 408 yards and five touchdowns. He leads the Bears with 60 catches for 786 yards and eight scores, and he is on-pace for 106 total receptions, barring injury. On another positive note, Marshall seems to have chemistry with
Josh McCown
, the Bears' new starting quarterback for the foreseeable future.


2. Josh McCown, QB:
All McCown does is move the football. The veteran quarterback stepped in for Jay Cutler at the end of the fourth quarter against the Lions and promptly guided the Bears' offense on a 10-play, 74-yard scoring drive that culminated with an 11-yard touchdown pass to Marshall. On the drive, McCown went 6-of-9 for 62 yards and the score. In three appearances this season, McCown has completed 42-of-70- passes for 538 yards with four touchdowns and zero interceptions for a 103.2 quarterback rating. McCown can't be perfect forever, but the Bears hope the veteran can protect the ball and lead them to a key victory Sunday against the
Baltimore Ravens
.


3. Cutler, QB:
Sorry, but I believe Cutler had a good game against Detroit despite his physical limitations caused by the groin injury and high-ankle sprain he suffered late in the second half. Despite all that, Cutler should have finished the game with three touchdown passes --
Alshon Jeffery
failed to catch two potential scores. Cutler flashed the arm several times on Sunday, throwing rockets to his receivers. Of course, the quarterback did throw a costly interception in the end zone, and by the second half, was a shell of his former self in the mobility department. But the Bears failed to capitalize on numerous opportunities in Week 10 that were not Cutler-related. He did enough to help the Bears win that game. And let's not forget that Detroit has a pretty good front seven. While I think the Bears made an error not removing Cutler from the game sooner, he has nothing to be ashamed about. He played through injuries and put his team in position to win. He did his job.
FALLING


1. Matt Slauson, LG:
There is plenty of blame to go around on the Bears' offensive line, but Slauson's mistakes against the Lions garnered the most attention. With 10:57 left in the game, Slauson was called for a holding penalty that negated a
Matt Forte
9-yard touchdown run. The Bears eventually had to settle for a field goal. At the end of the game, Slauson failed to help center
Roberto Garza
block Detroit defensive tackle
Nick Fairley
on the second failed two-point conversion attempt. Slauson has been a solid professional all season and certainly looks to be a candidate to receive a contract extension in the offseason, but Sunday wasn't his best effort.


2. Matt Forte, RB:
Forte was a non-factor in the 21-19 defeat, rushing for just 33 yards on 17 carries (1.9 yards per attempt). Some of Forte's issues can be attributed to poor play from the Bears' offensive line, a unit that missed its share of blocks. However, Forte failed to avoid a couple of tacklers in the open field on plays that were set up to produce sizeable gains for the offense. Forte also caught four passes for 16 yards, giving him only 49 all-purpose yards in Week 10. Forte is rarely this ineffective.


3. Michael Bush, RB:
The Bears asked Bush to pick up one first down on Sunday. He failed to do it. For the season, Bush has gained 69 yards on 32 attempts (one touchdown), while catching two passes for 21 yards. There are plenty of undrafted rookie running backs who can give you that kind of production. Bush will earn $2.55 million in 2013. He's on the books for total cash payouts of $2.850 million in 2014 and $3.6 million in 2015. The Bears will have to carry $1 million worth of dead salary-cap money over the next two years to cut Bush in the offseason. In a featured role, Bush might be OK. But in his current role in this offense, Bush isn't giving the Bears much bang for their buck.
October, 1, 2013
10/01/13
11:00
AM ET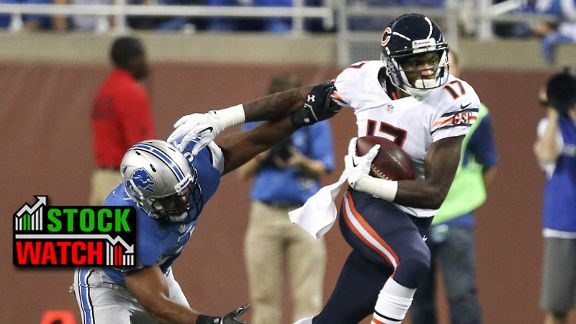 Nuccio DiNuzzo/Chicago Tribune/Getty ImagesAlshon Jeffery had five catches for a career-high 107 yards against the Lions.
RISING


1. Alshon Jeffery, WR:
Jeffery did a little bit of everything in the Week 4 loss in Detroit. He came up with a tough touchdown catch despite blanket coverage (he dropped a sure touchdown the play before), showed the ability to beat a defense deep with a 44-yard reception, and proved he can also be a weapon in the run game with a 27-yard end-around. With the exception of the Bears' win against the Vikings on Sept. 15, Jeffery has been a reliable target for
Jay Cutler
the entire season. Jeffery figures to reach 60 catches in 2013 if he continues to avoid injury -- he missed six games his rookie season. Jeffery's confidence seems to be growing every week.


2. Julius Peppers, DE:
The Bears' failure to sack the quarterback is still alarming, but Peppers had his best game of the year on Sunday, by far. According to NFL statistics, Peppers finished with six tackles and the Bears' lone sack and quarterback hurry. Peppers also dropped
Reggie Bush
for no gain on the Lions' first offensive play from scrimmage, and overall, the defensive end appeared to be moving better than in previous weeks. With the Bears' depth on the defensive line tested due to injuries, it's vital Peppers contribute some impact plays to the defensive effort moving forward.


3. Earl Bennett, WR:
Bennett's role in the offense is expanding. The wide receiver participated in 49 plays and caught a late fourth-quarter touchdown from Cutler, Bennett's second score in the past two weeks after hauling in the Week 3 game-clincher versus the
Pittsburgh Steelers
. Bennett isn't targeted often, he has seven catches on the season, but when the ball does come his way, the wideout generally makes a play. Bennett is clearly the fifth option on offense, but he is sure-handed and dependable.
FALLING


1. Jay Cutler, QB:
The Bears lost to the Lions for two reasons; (1) Cutler turned the ball over four times, and (2) the defense failed to tackle Bush. Cutler will throw interceptions. That is a fact. Sunday marked the seventh time since 2009 that Cutler tossed three or more interceptions in a game. The Bears claim Cutler's mistakes were all physical, that his decision-making was sound in the 40-32 defeat. If that's the case, then all of Cutler's miscues are correctable. But these performances are always a concern with Cutler. The Bears might be able to beat a bad Minnesota team at home when the quarterback turns the ball over three times, but on the road against a quality opponent, the Bears have no shot to win if Cutler gives the ball away at such an alarming rate.


2. Entire defense:
The whole group gets the nod for Bush rushing for 112 yards on 11 carries in the first half alone. The Lions seemed to have a solid gameplan for how they wanted to attack the Bears, but that does not excuse the poor tackling. Bush was making Bears defenders miss all over the field. The Bears have allowed way too many big plays on defense this season. The turnovers and defensive touchdowns are great, but this group is expected to produce better results. Even without Lovie Smith, Rod Marinelli,
Brian Urlacher
and now
Henry Melton
, there are enough Pro Bowl-caliber defensive players on the roster to prevent these kinds of breakdowns. And where is the pass rush? This all better improve in a hurry with
Drew Brees
coming to town on Sunday, otherwise the Bears' 3-0 head start to begin the season could evaporate over the next month.


3. Adam Podlesh, P:
He had a rough afternoon at Ford Field, there is just no other way to put it. Despite punting in a controlled climate, Podlesh averaged only 40.2 yards per kick with a net average of 28.8 yards. Heading into Week 4, Podlesh had been averaging 44.6 yards per punt with a 42-yard net average. Punters will have bad games from time to time. Podlesh had a mild slump last year but finished the season exceptionally strong. The hope is he puts the Lions game behind him and bounces back against the Saints. Field position figures to be at a premium against the high-powered Saints' offense, so Podlesh pinning the Saints deep in their own territory whenever possible will be an important key to victory.
September, 10, 2013
9/10/13
12:37
PM ET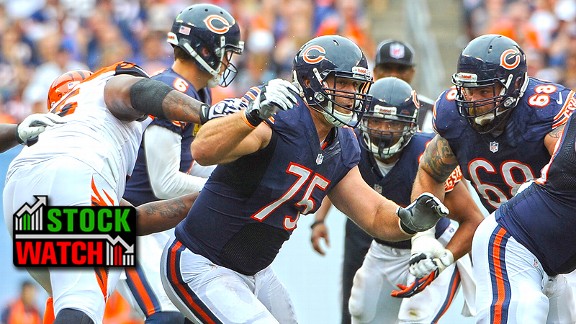 David Banks/Getty ImagesKyle Long and Matt Slauson helped neutralize Bengals defensive tackle Geno Atkins on Sunday.
RISING


1. Jay Cutler, QB:
Cutler had complete control over the
Chicago Bears
' offense in the Week 1 victory en route to posting a 93.2 quarterback rating. He connected with
Brandon Marshall
eight times for 104 yards and one touchdown, but spread around the wealth, targeting
Alshon Jeffery
,
Martellus Bennett
,
Matt Forte
and
Earl Bennett
in the passing game. Cutler also showcased his ability to keep plays alive with his feet when the pocket collapsed. Taking a cue from coach Marc Trestman, Cutler kept his composure the entire game and led the team back from an 11-point second-half deficit, displaying the leadership and temperament every playoff-caliber team needs from its starting quarterback.


2. Stephen Paea, DT:
The third-year nose tackle quietly had the best game of any Bears defensive linemen with six tackles. While the Bears lacked a consistent pass rush for the majority of the game, Paea disrupted several plays in the backfield, and helped the defense limit the Bengals to 63 total yards rushing on 21 attempts. Paea said at the beginning of training camp that he felt he was in the best shape of his life, and he was apparently telling the truth. The Bears will need another monster effort from Paea in the trenches to slow down
Adrian Peterson
on Sunday.


3. Kyle Long/Matt Slauson, G:
Both of the Bears' starting guards deserve praise after handling Bengals Pro Bowl defensive tackle
Geno Atkins
. Atkins wasn't credited with a single tackle and just one quarterback hurry, a far cry from the monster numbers he put up in 2012 when he led all NFL interior defensive linemen with 12.5 sacks. Although the guards did receive help at times from the Bears' offensive tackles, Slauson and Long were forced to win numerous one-on-one battles with Atkins, according to Trestman. Long's performance is especially impressive since he was making his first career NFL start.
FALLING


1. Julius Peppers, DE:
This is likely a blip on the radar, but it's hard to overlook Peppers failing to record a single tackle or quarterback hit despite facing the Bengals' second-string left tackle
Anthony Collins
. Peppers did battle a minor hamstring injury in camp, but his name did not appear on the injury report, so it's hard to blame health as the reason for his lack of production. Knowing the kind of competitor Peppers is, he'll probably come out with a vengeance against Minnesota. But in Week 1, he was missing in action.


2. Henry Melton, DT:
Melton also disappeared up front, assisting on just one tackle despite playing the second-highest amount of snaps (46) on the Bears' defensive line behind Peppers (51). Of course, Melton missed almost the entire preseason due to a concussion, but the Bears placed the franchise tag on the Pro Bowler for a reason. Melton has shown flashes of brilliance throughout his career, but he has never been able to sustain success on a weekly basis. Just like with Peppers, the Bears need a bounce-back effort from Melton in Week 2.


3. Major Wright, S:
Wright's statistics were fine on Sunday (seven tackles), but he committed a costly mental error that led to a Bengals touchdown. With the Bears' in zone coverage, Wright bit on an
Andy Dalton
pump fake and was late helping out over the top on
A.J. Green
's 45-yard touchdown reception in the second quarter. Green ran past cornerback
Tim Jennings
on the play, but Trestman confirmed on Monday that Jennings expected the help to come from the safety. It never did. Wright has been responsible for a host of busted coverages throughout his career, although he is coming off his best NFL season in 2012 when he snagged four interceptions.